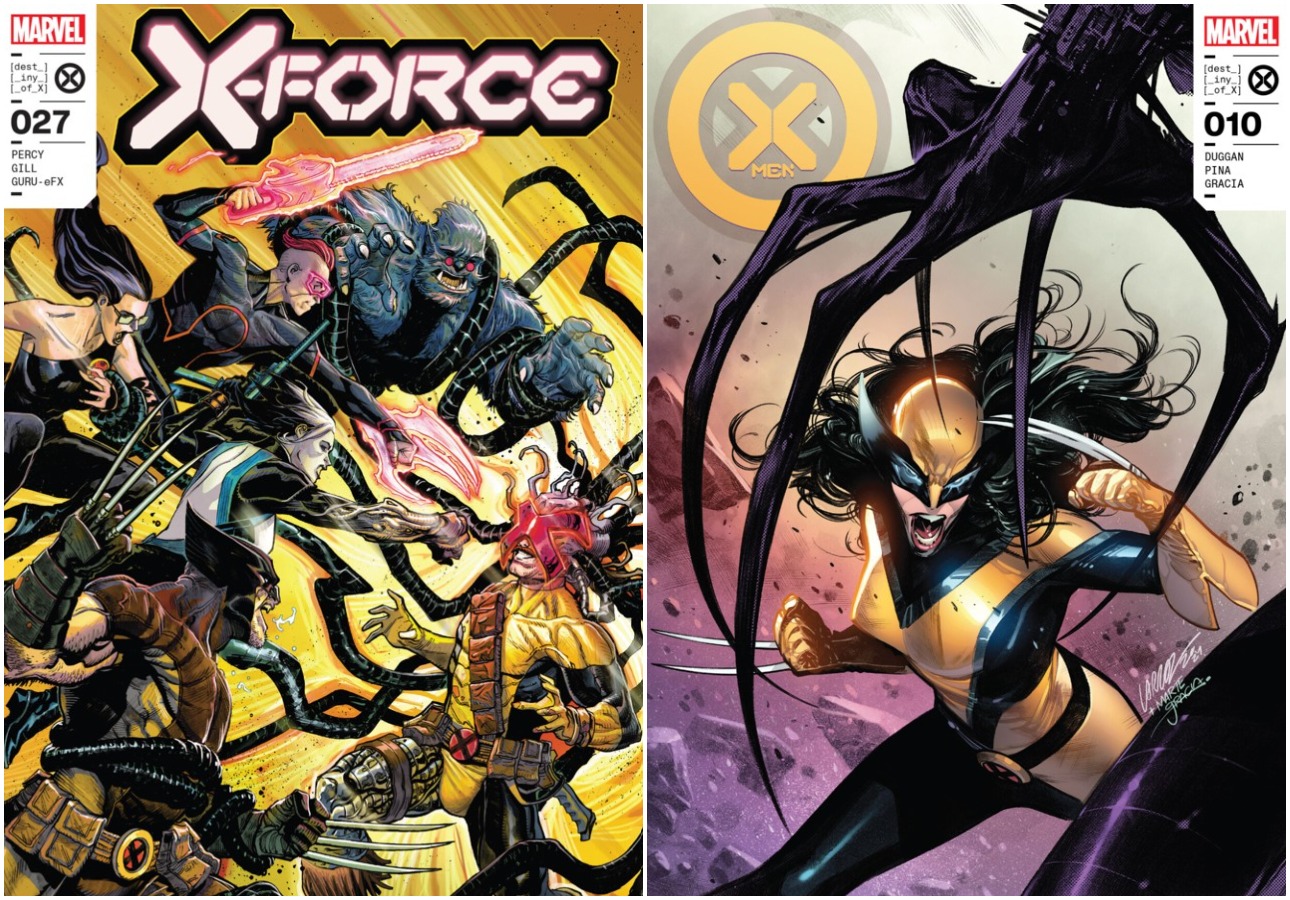 [gorgeous covers by Joshua Cassara & Dean White; Pepe Larraz & Marte Gracia]
X-Force #27
For many months now, most X-Force readers have wanted to know: When will Beast get what he deserves? He's been up to no good since at least issue #5 over two years ago—but really, for a long time. All last year, though, I was sure that writer Ben Percy's uniquely novelistic approach to comics storytelling would pay off despite quite a few fans being frustrated or on the fence about the lack of the typically quicker gratification readers have long been conditioned to expect from monthly titles. But then there was this sudden lull (actually, the second; yet the first, in the middle of 2020, was so clearly different, as the entire world stalled), followed a few months later by the "Destiny of X" era beginning in earnest with the recent inaugural issues of Immortal X-Men, X-Men: Red and Marauders. And with that exciting incursion of incoming talent and new series, with that needed springtime airing of the house, with eye-opening realignments of our attention and innovating reshuffling of the venues and their players, the longform narrative of X-Force has been found, with issue #27, wanting.
We'll find Duggan's X-Men, on the other hand, lagging far behind the other titles in an inverted manner—not just being unfocused with too many plates spinning in the air, and more with every issue, but no sense of a larger narrative build with any clear direction.
The end of 2021 was a sensible endpoint for a few books and cleared some space for focus on Inferno, but those titles that would continue—X-Force, X-Men and Wolverine—just seemed in an awkward pause, which was largely stuffed with the X Lives/X Deaths quasi-event that mostly jilted reader expectations; it turned out the post-Inferno, pre-Immortal X-Men interval was not much of a prelude to the new era (at least if you read Moira as fairly played out for now) nor did Percy's dual Wolverine narrative satisfyingly resolve anything from his ongoing series.
If all the Destiny of X books were of the same quality as the three titles carrying over from last year, I'd be checked out, maybe just catching up on Marvel Unlimited.
Support For Comic Book Herald:
Comic Book Herald is reader-supported. When you buy through links on our site, we may earn a qualifying affiliate commission.
Comic Book Herald's reading orders and guides are also made possible by reader support on Patreon, and generous reader donations.
Any size contribution will help keep CBH alive and full of new comics guides and content. Support CBH on Patreon for exclusive rewards, or Donate here! Thank you for reading!
The bottom line is that Percy's longform narrative is past the point of diminishing returns and is now deeply overshadowed by the new books with their fresher, more intriguing narrative conceits and the sense that they will better balance long-term storytelling strategy with engaging and relevant revelations each issue—or even simply fascinating worldbuilding (as especially with X-Men: Red and likely the upcoming titles, also).
The big revelation in X-Force #27 is that the Cerebro helmet Wolverine had worn in X Lives has apparently taken on a life of its own—and not only seized the hapless Forge's brain but walked off with it, having removed it from his head, which aftermath is graphically shown, and at issue's end, we see it stalking across the night on what look sort of like Omega Red tentacles. Who knows. I can't say the mere fact of this ghoulishness is at all exciting.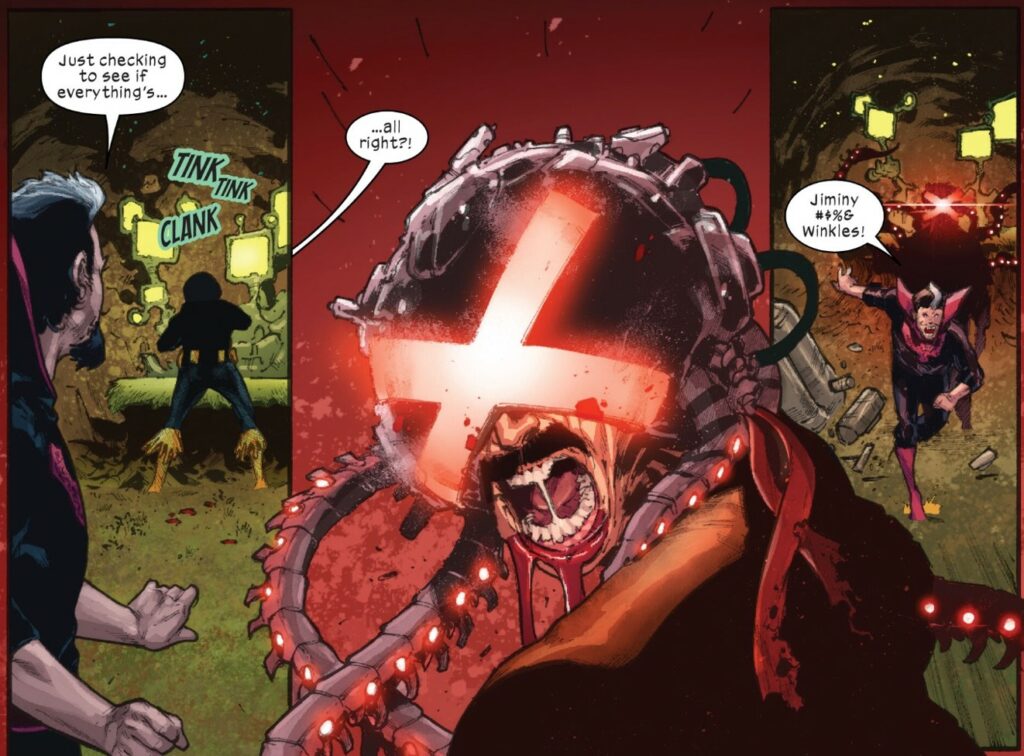 Artist Robert Gill is good, and he's filled in before on this title, but he doesn't have the intensity or gravitas or strangely melancholic beauty of Josh Cassara's work—so we're restarting this series with not the best art we've seen from it (granted, Cassara just finished up X Lives and is taking a well-deserved break).
Smaller details of some note include Beast's attempt to persuade the Council to introduce the death penalty without hope of resurrection in the case of treason against Krakoa—using Omega Red as his first example, obviously. After all, Red found out from Mikhail Rasputin in X Lives that Beast had secretly murdered him in captivity in order to surgically reimplant his carbonadium synthesizer with surveillance capability (to spy on the Vampire Nation in Russia, which never really went anywhere), resurrecting Red with no memory even of his own murder (see X-Force #15 data page, which includes objections and counter-objections from the Resurrection Five—including a request for the Council's vote on the matter—all "nullified" by Xavier, meaning this has been another Xavier state secret held back from his fellow councilmembers).
Mikhail's revelation of Beast's ghoulish betrayal of Arkady in X Lives is what caused Arkady's "defection," so Beast clearly continues to be Krakoa's primary non-Orchis security threat.
(Oh, but wait! Beast's longtime girlfriend Abigail Brand, starting with 2008's Astonishing X-Men #25 by Warren Ellis, is a top Orchis agent! So never mind—Beast is the nexus of all threats to Krakoa! 😉 Initially, she was the one that brought ick; more on their relationship below).
Another knock on both X-Force and X-Men, which handle Krakoa's earthly geopolitical nemeses, juxtaposing "the threat posed by Russia" here (only really personified by Mikhail) with the current reality we're seeing in our own world is too jarring to my suspension of disbelief now. Who cares about this schmuck Rasputin's "war crimes" next to Russia's very real ongoing apocalyptic atrocities against Ukraine (and past ones, as in Chechnya, along with their authoritarian mainstream culture's violent suppression of anyone queer and anything heterodox)? (At least when reading with a critical eye typical American evasions of acknowledging horrific acts of state violence committed in our name, it can be instructive to see how that evasiveness works to twist our everyday perception of ourselves, our nation, our society and the world itself. Percy has done well with his mutant "CIA" in holding up a mirror to us, and really any modern country, but his Russian villains reveal only that we Americans continue to exhibit our traditional inability to perceive much of the world's complexity—and it's a failing that's obviously far from exclusive to comic books.)
My favorite part of the issue is Sage interrupting his soapboxing to lay out the truth of all this to the Council, though Beast's attempts to have Xavier dismiss her right away of course makes him all the more despicable. (Clearly, the Chronicler, acting through Colossus, wants her to speak her piece!) This again brings us to what punishment would really be apt for Hank. Who knows! Certainly, a trial would be appropriate, with everything in Sage's computer brain as evidence; she has all his secrets, and her memory is superhumanly perfect. Here, she makes a strong case for Red's resurrection while condemning Hank's slimy secretiveness, keeping her cool all the while.
Hank seethes at the notion of "oversight"—and with every chapter, the tall order of his just deserts grows taller. What could satisfy? Is there a way readers could ever accept a reformed or even back-to-basics Beast? Some say, well, look at Apocalypse's redemption. Eh. How redeemed was he, really? Plus, we're talking about a cartoonish villain who's become a more complex and believable figure who is no less intimidating versus another simplistically portrayed character (either lovable or irritating depending on your tastes) who is now all too realistically vile. This is Beast's persona now, and the toxic hubris and folly of it will not wash—at least not for many years.
Note that Magneto is still on the Council here, putting this before Immortal X-Men and X-Men: Red. Also, recall that Forge was shot with his own X-gene neutralizer gun in X Deaths, so that's why he was "butchered in the Crucible arena," choosing to come back with his techno-prosthetic hand and leg—another indication of his fetishization of his own tech?
As for Brand and Beast's romance, there's actually been no indication it's a live thing anymore, until now, when her secret villainy (not so subtle if you ask Thunderbird or the new "Brotherhood" on Arakko!) has just been established. Her sexuality has always been edgy, clinical and probing—since that Ellis run mentioned above. If that sounds distasteful, well, yeah, that's probably the point! Later, this edginess was tempered and even sweetened somewhat by now familiar X writer Kieron Gillen in the original volume of S.W.O.R.D., a five-issue mini from 2009/2010. In just a few issues of his Wolverine and the X-Men, starting with issue #8, Jason Aaron traditionalized their romance a bit more.
We are now back to Brand as full-on creep, superficially well matched by Beast's dark turn—though she will certainly outplay him at every turn, because this fool is more unseeing than he knows. But maybe she still genuinely enjoys his company!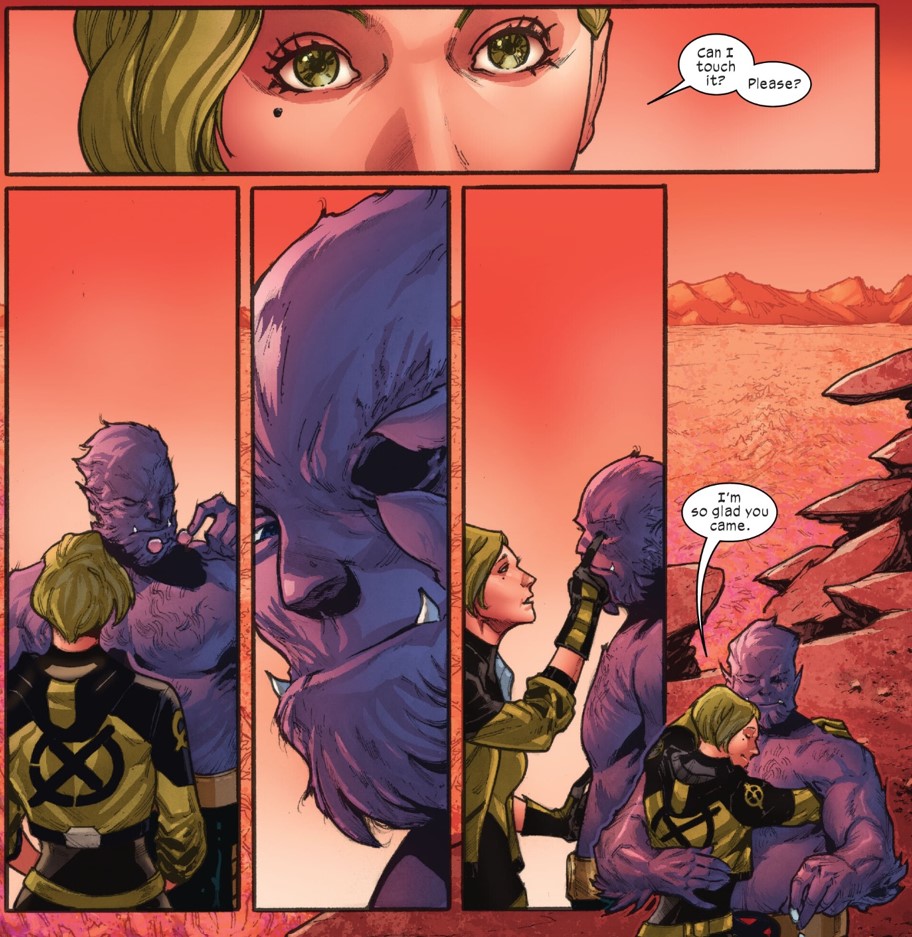 To me, the only likeable characters in this particular title are Sage, Domino and Black Tom, but unfortunately, they've rarely taken center stage here, if at all. Sort of superficially judging from the solicits through issue #30, I'm not holding out much hope for a status quo change in this regard.
X-Men #10
Javier Pina has been doing gorgeous work on Duggan's X-Men, though I hope he becomes more distinctive from the style of Pepe Larraz, who he may well be pressured to emulate on this title.
This is a gorgeous-looking issue, and the inevitable Larraz comparison almost feels unfair! But at the start, I almost forgot Larraz wasn't here this time around, especially with the issue's most beautiful image (page 2). At the same time, nothing here significantly serves the plot; so what that Rogue has a cool-looking gun that's really just a powerful telescope? Arakkii telescopic abilities could've as well been a sentence on a data page, and no drama would've been taken away—indeed we might've had room for more interesting content.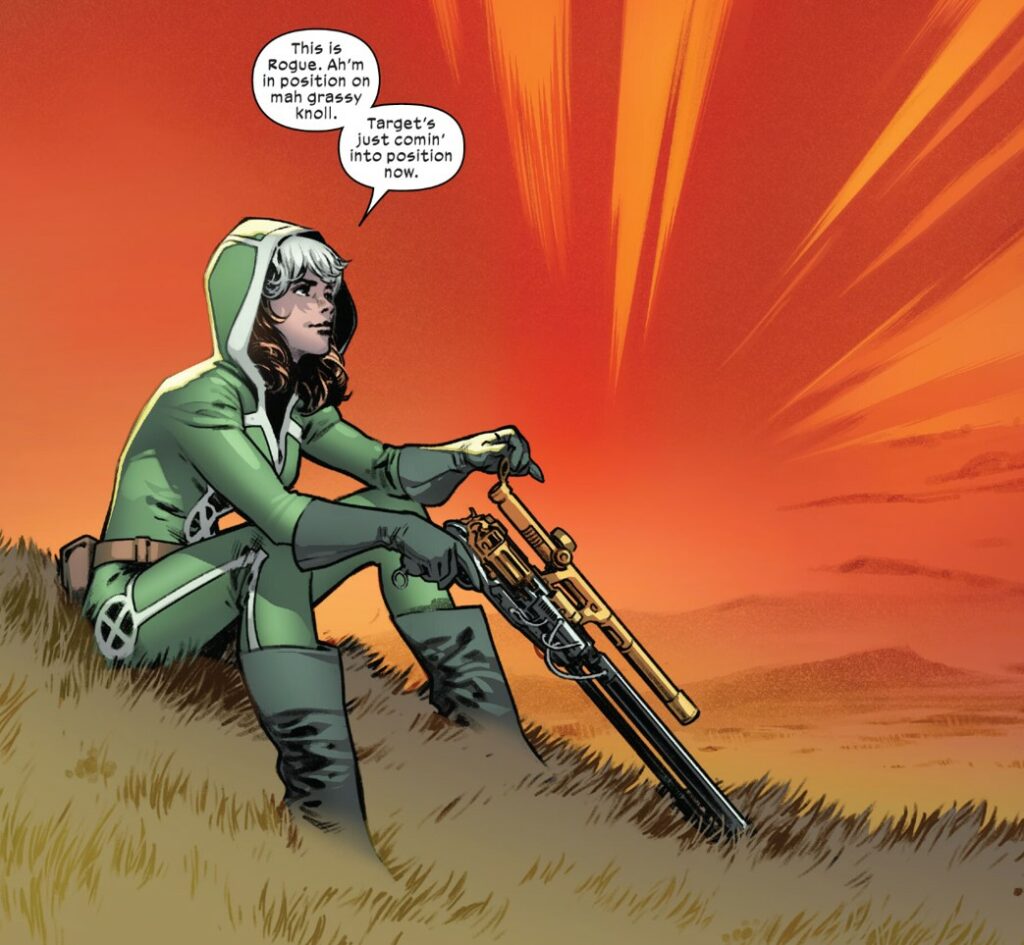 So, the lovely art is the only thing I can praise here. Unfortunately, it looks like this will be true of the series as a whole, especially with the sense that things are already starting to sail adrift as they did in Marauders.
We should certainly expect more from an issue titled "Sisterhood of the Metal Bones." And longtime fans will immediately recognize Lady Deathstrike's claws; newer readers would be intrigued—but for all that, this is a whole lot of nothing.
Duggan wastes the first page of X-Men #10 with a "mulligan" (to use Proteus' word here), which, sorry, I had to look up: "a free shot to a golfer in informal play wen the previous shot was poorly played." Indeed, this do-over makes up for Duggan's gaffe in issue #5 when Polaris magnetically piloted an unconscious Laura despite the fact that only her claws are adamantium-sheathed, per her origin story, but issue #8 already obliquely acknowledged the goof with Laura saying she's not a strong swimmer since the Vault (i.e., her last resurrection). And so we waste further space with explaining the error. For newer readers or even fans not diehard for Laura this is a rather cryptic opening to the issue.
This lack of economy is mixed throughout the issue with moments of way too much compression, the result being another wasteful chapter in what should at least be among the flagship X titles but is at this point, bizarrely, the least essential along with Percy's Wolverine.
There's not even an attempt to explain how the X-Men got Laura into an Orchis shipping container bound for Phobos. If there had been, the obvious question would have been: Why hadn't they done this already, as a team, and taken out Feilong's moon base?
In fact, right away, as they watched Feilong build his moon base, he was alone up there. At that time, there were no human shields; they could have legitimately taken him out then, which had already been my gripe with this subplot, among others (like why didn't he push the (post)human frontier out past Mars since he's clearly capable with his super-science tech? He could've established a human colony in the Asteroid belt, on the dwarf planet Ceres, which is much bigger than Phobos). But I still had expectations then for interesting cosmic drama—no longer. He's just an idiot grandstanding above Arakko, and this subplot will undoubtedly fizzle or become increasingly irritating as Ewing mines much more material on the red planet below.
Given the cover and solicit, the reader won't be surprised that Laura doesn't find any missing clone sisters but rather Lady Deathstrike, who is probably my fave Wolvie nemesis and whose return I've been awaiting with great anticipation—yet this was not the story that delivered the moment with the least satisfaction, despite the beautifully fiercely drawn first page of her reappearance here.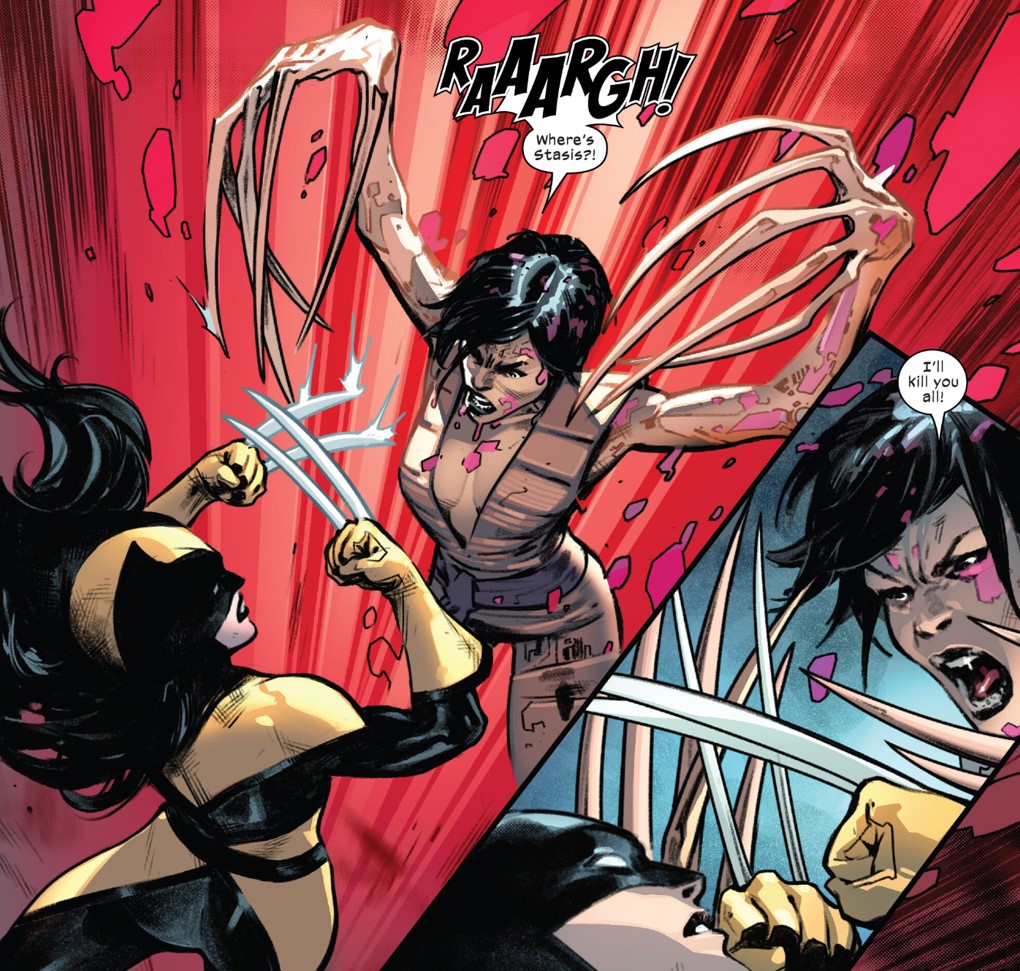 Lady D wakes out of stasis (pun intended), has a very brief misunderstanding fight with Laura, then falls sick from adamantium poisoning. Not even anything about their escape from Phobos is particularly interesting and after Yuriko's much briefer spell in the Treehouse getting a "high-octane Wolverine blood" transfusion, she just lights out without a word to the wise. Lame.
Even the way Laura's silent resentment over how her teammates doubt her capabilities (especially as she doubtlessly thinks of herself and her skills in relation to her "father") is just not well narrated. Seriously, this is the Wolverine issue? Hard pass—again, this is a nothing story and doesn't count as serious or even fun Laura content.
It's unclear if Polaris was betting Laura would last longer on Phobos undetected than the others had bet, but I guess it doesn't really matter—though Duggan's poker reference (Gambit's "small blind") is even more obscure to readers with absolutely no interest in poker. Maybe it's just Rocket's nickname? Either way, expect more casino-style games references next issue, with "High Rollers," on Gameworld.
That's right, Rocket Raccoon will guest-star next issue! Unfortunately, of the two X writers who have written the snarky little Guardian, Ewing is the one I'd like to see working his magic with the character again (and btw, Gameworld is an Ewing creation from his Rocket
miniseries in 2017, issue #4).
Judging from issue #11's cover, Jean, Laura, Lorna and Rogue—who has the connection to Rocket*—will be the high rollers. I'll be there for the Pepe Larraz art, the caliber of which would seem far in excess of whatever chopped-salad content will be thrown in from all the current or additional spinning plates—oh my.
*I had no idea when Rocket and Rogue were chummy. Rogue's nickname for him is only somewhat funny for fans who know that his 1982 creator Bill Mantlo was inspired by the 60s Beatles song "Rocky Raccoon." Okeydokey.
Rocket hadn't interacted with X-Men and company since 2015's Guardians/All-New X-Men crossover, ("Black Vortex") until last year's Ewing-helmed "Last Annihilation" mini-event, but Rogue wasn't involved. However, the mutants did give him a giant bullet made of mysterium to shoot at Dormammu.
Maybe something to do with mysterium playing havoc with intergalactic economies will be at stake soon, but I'm not sure how exciting this will be in the context of Duggan's high-rolling Gameworld.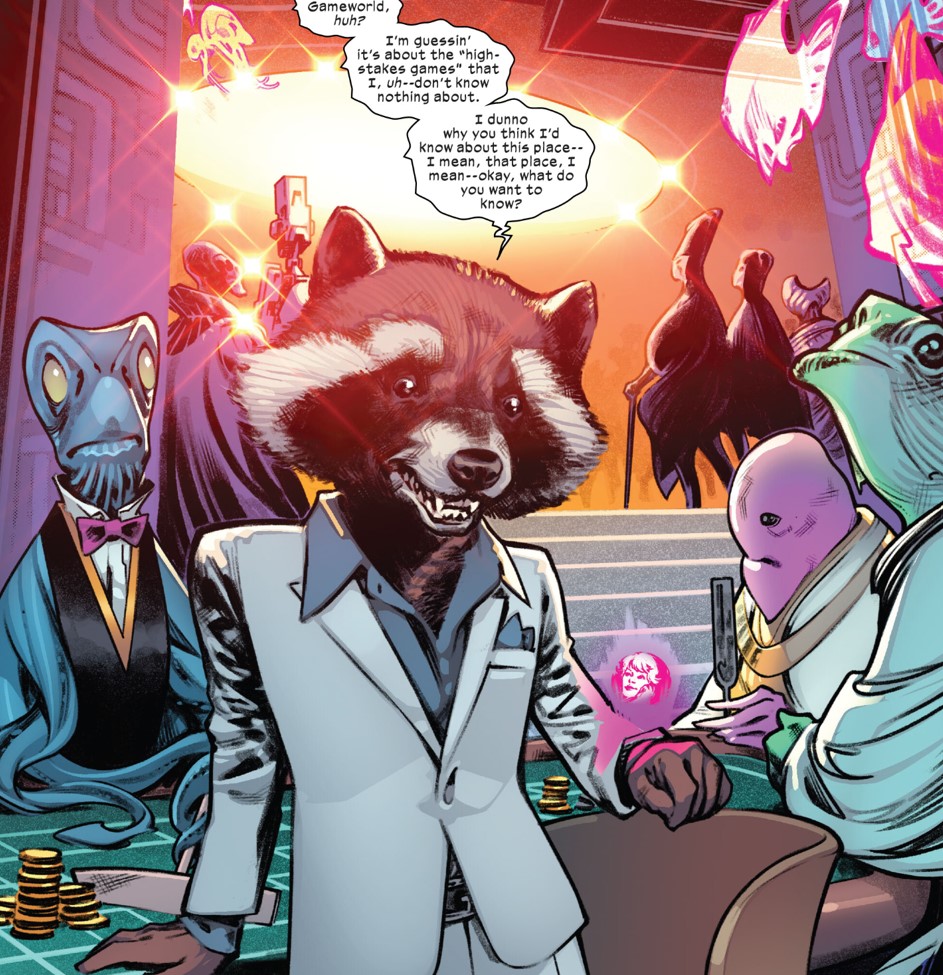 The data page that closes the issue sees a message from a mysterious lady signing off as "M" and looking to offer her services to Feilong and Stasis—to Orchis—and this is pretty obviously, Moira. Which honestly? She's now gone from the high pathos of Hickman to the ghoulish bathos of Percy—with imminent handoff to Duggan, who will likely serve up the ghoulishness as goofiness because his attempts at horror tend to light guffaws.
I sincerely hope to be proven wrong.