It seems so obvious, doesn't it? Marvel has a long history of replacement heroes–we've seen Rhodey step in to be Iron Man, the mantle of Captain Marvel has been passed down, both Falcon and Winter Soldier have been Captain America. Right now we even have Doctor Strange's wife Clea subbing in to lead her first solo series. But none of those characters have the reach, history, or cultural cachet of Elektra Natchios. It seems so obvious to have Elektra become Daredevil, but it has never happened before. As with the rest of Chip Zdarsky's Daredevil saga, the most obvious story ideas are the most satisfying.
Brand New Devil
Daredevil: Woman Without Fear
simply follows former assassin Elektra Natchios over a single superhero adventure. While the story stands fun on its own, it makes more sense when taken as a middle chapter of Zdarksy's Daredevil epic. This miniseries is far from the only Elektra-as-Daredevil story in the saga, but it falls in an interesting place, one where Matt Murdock is deciding what to do next, and Elektra is acting as the Devil of Hell's Kitchen.
The story ties in multiple running threads from that larger narrative, but is most interested in reflecting on its protagonist. So not only does Elektra get to trade blows with Kraven the Hunter, we also get to see her be a normal-ish person, getting coffee with a buddy from college. I can't imagine how this book would read as an introduction to the character. But if you are someone familiar with the different phases of Elektra's life, you'll find a lot to dig into. It's cool seeing Elektra as a tween ninja, as an intense college kid, as an intense ninja, and then as a doomed romantic. The magic trick that Chip Zdarsy pulls is making all these different version feel like the same person.
An Undead Ninja, But Sexy
Any Elektra comic is going to need a certain kind of artist. There's a lot of steamy sex scenes with Elektra and Matt. There are also scenes of balletic ninja action. Not only do you need an artist who can capture the feeling of movement, you're going to want to have someone who can draw Elektra without demeaning her.
Elektra was created by Frank Miller, so a lot of his personal interests and peccadillo are baked into the character. Miller liked to write and draw unemotional women, prostitutes, and dead women. His scripts have a leering cinematic gaze towards it's female characters, framing parts of their bodies in isolation to objectify them. And Elektra is probably Miller's greatest and most enduring character. Sex appeal is part of the genre she exists in (sexy assassin ladies) but can she be untangled from her roots?
Support For Comic Book Herald:
Comic Book Herald is reader-supported. When you buy through links on our site, we may earn a qualifying affiliate commission.
Comic Book Herald's reading orders and guides are also made possible by reader support on Patreon, and generous reader donations.
Any size contribution will help keep CBH alive and full of new comics guides and content. Support CBH on Patreon for exclusive rewards, or Donate here! Thank you for reading!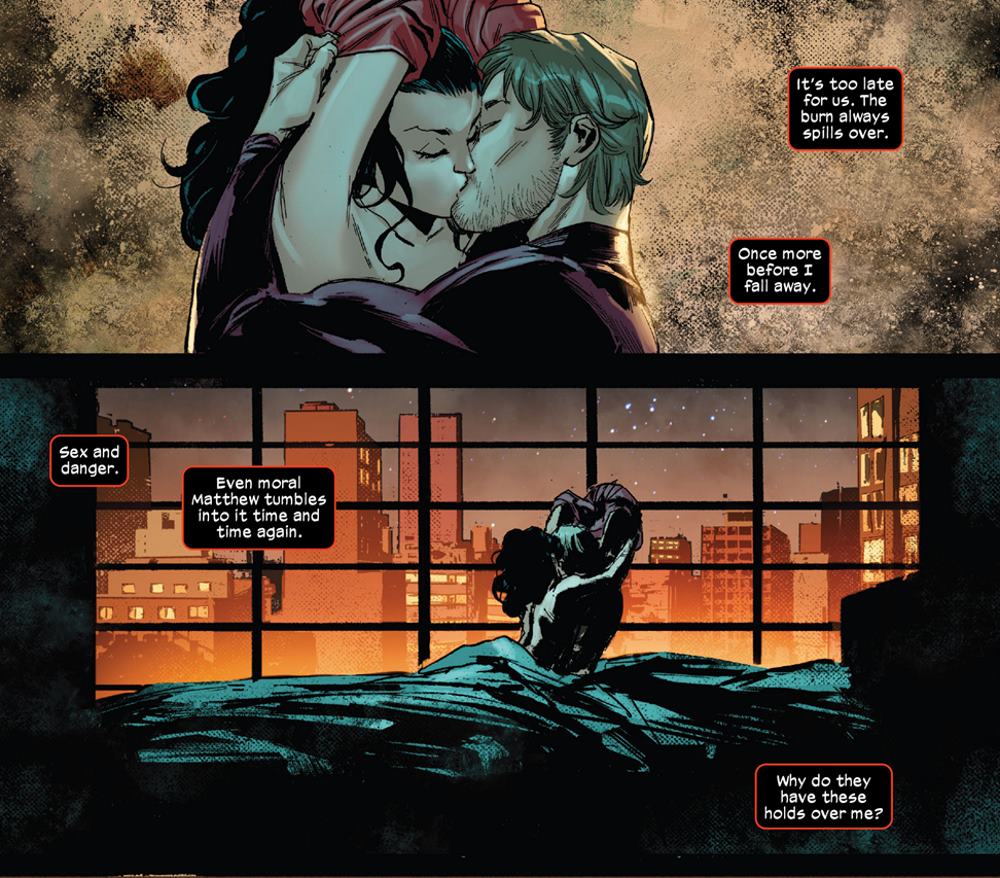 Rafael De Latorre is the artist tapped for the job. Before this miniseries, De Latorre had one major Marvel credit. He illustrated Black Widow, along with writer Kelly Thompson. The similarities between the two is apparent, right? Both characters are super-sexy seductresses on a quest to redeem their murderous pasts. Both characters love to have sex with Matt Murdock. And both characters are precise, cerebral fighters.
The Fluid Fights
Obviously, there's a subjective element as to whether an art style feels appropriate to the story but for my money, De Latorre can stay on this beat for a while longer. He takes such care with his character figures and body language. His comics would be fun to read without dialogue, just to see if the story and tone still comes across. The lighting and framing of his panels always convey this deep Gothic romance, with just a tinge of Noir. And he has a lot of fun drawing fabric in motion.
Where the creative forces (including prolific colorist Federico Blee!) come together though, are in the fight scenes. I originally read these issues in paper form, but this time around I read them in the Marvel Unlimited guided view. That really emphasized how well paced all the action is. Most comic book fight scenes feel pretty perfunctory, but Daredevil: Woman Without Fear left me breathless like I was watching The Raid. Guided view reading can turn comic panels into a flipbook, and Elektra's flips were so fluid and precise, I was playing them backwards and forwards.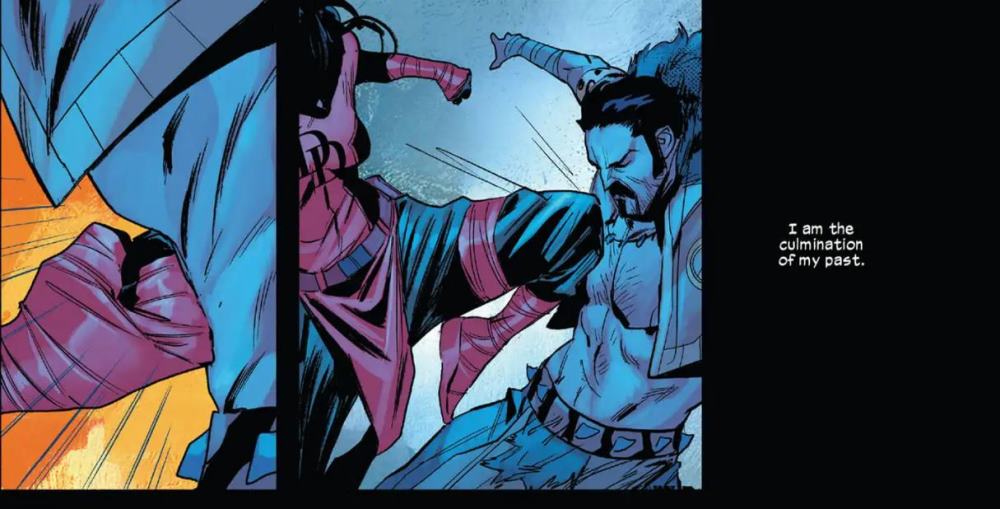 The final issue in this collection, titled Elektra #100, is a big reunion anthology. If you've been following comics for a while, you've probably come across an issue like this. A series of vignettes bring in creators from across the characters history. You get flashback stories mainly told in the past, humorous diversions, and a look towards the future of the character. As far as these sorts of issues go, this one was fine! Far be it from me to knock an Ann Nocenti Daredevil comic. Nocenti is the Elektra GOAT. But after the crackling energy of Zdarksy and De Latorre, it was sort of jarring to shift gears. I wanted to go back.
Star-Crossed Crossover
Fortunately for me, there's a lot more of the story to read. There the 36 issue series of Daredevil, the back half of which prominently followed Elektra. And Woman Without Fear loosely ties into "Devil's Reign," the big event story that roped in a ton of New York superheroes. This story itself is a set up to another volume of Daredevil (volume 7 for those keeping score) by Zdarsky and his talented artistic collaborators. And tying into that is the (perhaps misguided) Punisher series that puts him on a collision course with Matt and Elektra.
The most incredible thing about this Daredevil run has been how unoriginal it all is. Superheroes pondering murder, shadowy ninja lore, villains in positions of power… we've seen it all before. Hell, we've even seen Matt Murdock in jail before. Somehow though, this series has been the best, definitive Marvel telling of any of those themes. If a comic fan comes to me looking for good stories about Daredevil, Elektra, the Hand, I would definitely not give them this story first. This is too much of a middle chapter. But Zdarsky's Daredevil is the most readable the character has ever been. And eventually you will be treated to this diversion, and the spectacular art of Rafael de Latorre. Just look at how big he draws Elektra's hair!