Black Panther! Brilliant, heroic, royal, and woefully underrepresented in Marvel Unlimited. Nonetheless, I've put together a reading order of T'Challa's comics since the 1960s.
Black Panther Debuts
Fantastic Four
— #52 to #54
Like many 1960's Jack and Stan creations, Black Panther makes his debut in the pages of Fantastic Four. T'Challa's first appearance comes smack in the middle of one of the hottest streaks in Marvel Comics history, with Jack and Stan wrapping "The Coming of Galactus" (FF #48 to #50) and "This Man, This Monster" (FF #51) right before heading to Wakanda. As if you needed more incentive, these original issues also showcase a sweet Wakandan softball game.
Tales of Suspense #97 to #99, Captain America #100
The premiere issue of Captain America's solo comics (was previously a double feature with Iron Man in Tales of Suspense). Black Panther's adventures with Captain America leads directly into…
Avengers #52
T'Challa helps the Avengers deal with The Grim Reaper, and becomes a pretty regular Avenger from this issue forward, certainly at least until Avengers #92.
Black Panther in the 1970s
Don McGregor's Black Panther
1973 – Jungle Action #6 to #24
These classic Black Panther comics are sadly uncollected in Marvel Unlimited (3.16), but hopefully that will change with T'Challa's appearance in Captain America: Civil War. If it's a case of Marvel remaining wildly embarrassed that these Black Panther stories are in a mag titled "Jungle Action," well, I suppose I can't blame them.
The best bet for tracking these issues down is likely the Marvel Essential Black Panther Vol. 1
.
Jack Kirby's Black Panther
(1977 to 1979) – #1 to #13
The return of the King from about 1976 to 1979 gave Marvel The Eternals, Devil Dinosaur, some action-packed Captain America stories (Kill-Derby!), and of course, this run on Black Panther.
The Panther vs. The Klan
Issues included would be Black Panther #14 to #15, Marvel Premiere #51 to #53.
Black Panther in the 1980s (The Uncollected Years)
Unfortunately, none of these comics are available in Marvel Unlimited, or in any collected editions (to my knowledge!).
Black Panther #1 to #4
1988 limited series written by Peter Gillis.
Marvel Team-Up #100
Storm meets T'challa for the first time.
Panther's Quest
Marvel Comics Presents #13 to #37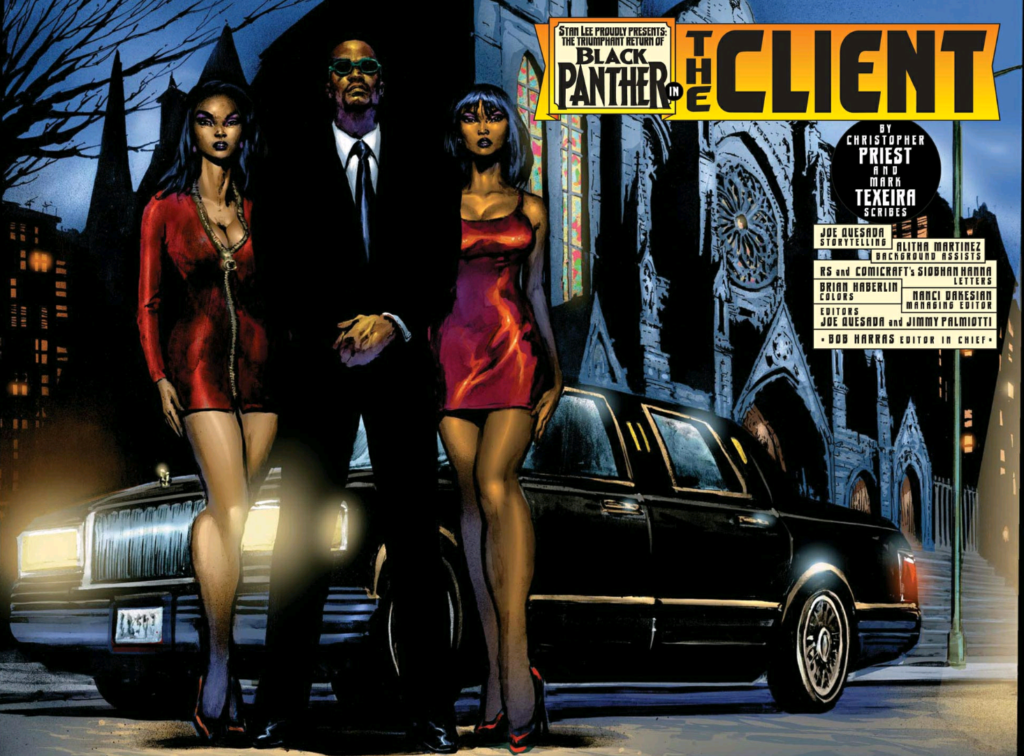 Marvel Knights Black Panther (1998 to 2005)
Christopher Priest Black Panther
#1 to #49 (1998 to 2003)
Note that the Christopher Priest run on Black Panther is semi-recently collected into three big editions, and entirely available on Marvel Unlimited. This run is one of the very first comics series I recommend in Comic Book Herald's complete Marvel reading order, and with good reason!
Black Panther #50 to #62 
New creative team following Priest. Available in Marvel Unlimited!
2000's Black Panther (2005 to 2012)
Reginald Hudlin's Black Panther
(2005 to 2008) – #1 to #41
Note that the Hudlin era includes X-Men: Wild Kingdom crossover (listed below), Civil War tie-ins, and ends with Secret Invasion tie-ins. If you want the full event experience, you can jump to those linked event guides once you hit a Civil War or Secret Invasion banner on any issue of Black Panther. The Civil War tie-ins are particularly important for the future of Black Panther.
X-Men: Wild Kingdom
Reading order for Wild Kingdom:
X-Men #175, Black Panther #8, X-Men #176, Black Panther #9
Fantastic Four #544 to #550
Takes place right after Civil War, T'Challa and Storm join Fantastic Four.
X-Men: Worlds Apart
#1 to #4
Black Panther (2008 to 2010)
Reboots with new #1 which takes place during Dark Reign, and features our first woman in the role of Black Panther. Hudlin writes #1 to #6. There is a Black Panther Annual released same month as this Black Panther #1, and can be read either before or after the first six issues (Annual jumps to the future, so not a lot of overlap).
Klaws of the Panther
4 issue limited series expanding the Black Panther vs. Klaw blood feud.
Doomwar
Black Panther: The Man Without Fear
#513 to #523 (2010 to 2012)
Black Panther takes over Daredevil numbering following Shadowland
. Final three issues are Fear Itself tie-ins.
Black Panther: The Most Dangerous Man Alive
#523.1 to #529
Immediate follow up to Man Without Fear.
Captain America/Black Panther: Flags of our Fathers
(flashback miniseries)
Black Panther & The New Avengers: Illuminati (2012 to 2015)
A+X
#3
T'Challa and Storm
Fantastic Four #607 to #608 (Hickman)
If you're invested in this era of Marvel Comics, and the Black Panther, I highly recommend you take on Hickman's Fantastic Four from the very beginning (Fantastic Four reading order). This will build up a lot of what's to come in New Avengers and ultimately Secret Wars. Otherwise, these two issues are the Black Panther reads.
New Avengers
(Hickman)
You could quite reasonably jump straight to New Avengers, with the knowledge that A v X plays an important role in the state of Wakanda.
It's important to note here that Jonathan Hickman's run on New Avengers begins to crossover with Avengers as the series approaches Secret Wars. I'd recommend checking out the Secret Wars reading order for a Hickman's Avengers guide – it's a great read even when Black Panther's not involved!
Secret Wars
The Ultimates (2015)
Black Panther (2016)