Equal parts Asgardian ally and cosmic hero, Beta Ray Bill debuted in 1983 as part of Walt Simonson's opening salvo on what would become the best Thor comics run of all time. In the hands of a less monumental creative vision, Bill could have been lost to time as an equine oddity in the Odinson's mythos, but instead he's an essential part of the Marvel Cosmic fabric and oath-brother to Thor.
As one of the most memorable characters to ever prove worthy of Mjolnir, Beta Ray Bill is forever tied to Asgardian legacy, with Odin even crafting Bill his own powerful hammer, known as Stormbreaker.
Below you'll find a complete reading order for Beta Ray Bill, including his best stories through present day. From Asgard to Galactus to the Guardians of the Galaxy, the Korbinite of Might (ok, I'm the only one who calls him that!) has made himself well known throughout the Marvel Universe.
Related Reading Orders:
Support For Comic Book Herald:
Comic Book Herald is reader-supported. When you buy through links on our site, we may earn a qualifying affiliate commission.
Comic Book Herald's reading orders and guides are also made possible by reader support on Patreon, and generous reader donations.
Any size contribution will help keep CBH alive and full of new comics guides and content. Support CBH on Patreon for exclusive rewards, or Donate here! Thank you for reading!
Beta Ray Bill Origins!
Collects: Thor #337 To #345
Beta Ray Bill debuted in Walt Simonson's first issue as the ongoing writer / artist on Marvel's Thor. It's an incredible opening story arc that considers what it means to be worthy of Mjolnir, with Beta Ray Bill proving his mettle as an equal to Thor. Following their meeting and progression to oath-brothers, Bill bounces around the remainder of the all-time great Simonson run on the title.
Thor by Walter Simonson Vol. 2
Collects: Thor 346-355
The Mighty Thor by Walter Simonson Vol. 3
Collects: Thor 357-363, Balder The Brave 1-4
Although it's not included in the linked collection, Beta Ray Bill's involvement helping Thor defeat Kurse in Thor #363 is followed up in the pages of Power Pack #19, written by Walt Simonson's wife (and fellow comics creator) Louise Simonson. Bill learns the meaning of Thanksgiving!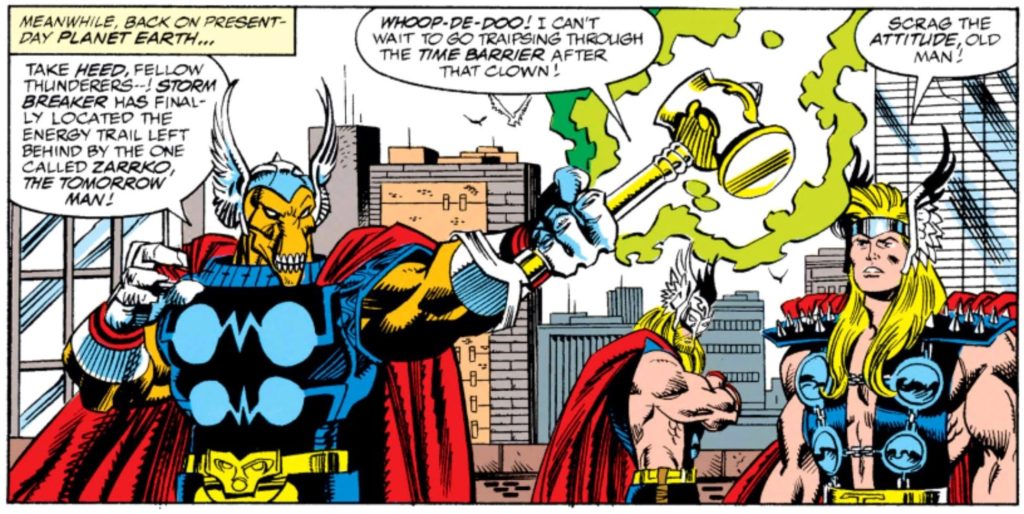 Beta Ray Bill Comics In The 90's
Collects: Thor Corps #1-4; Thor (1966) #337, 384, 433 & Material From 438-441
Set during the Eric Masterson Thunderstrike era, Beta Ray Bill is the voice of reason and experience in the Thor War, which ultimately leads to the Thor Corps!
Silver Surfer Epic Collection: Resurrection
Collects: Silver Surfer (1987) 76- 85, Silver Surfer Annual (1988) 6, Silver Surfer/Warlock: Resurrection (1993) 1-4, Secret Defenders (1993) 9-10
Collects: Thor (1966) #468-471, Silver Surfer (1987) #86-88, Warlock Chronicles #6-8 And Warlock And The Infinity Watch #23- 25
This mega crossover finds Bill and Thor's allies seeking to qualm the warrior's madness that has overtaken the Odinson. The issues can be read as follows:
Thor #468
Silver Surfer #86
Warlock Chronicles #6
Warlock and the Infinity Watch #23
Thor #469
Silver Surfer #87
Warlock Chronicles #7
Warlock and the Infinity Watch #24
Thor #470
Silver Surfer #88
Warlock Chronicles #8
Warlock and the Infinity Watch #25
Thor #471
Collects: Star Masters #1 To #5
Written by Mark Gruenwald, Star Masters is a 90's oddity that brings together a bunch of Marvel's biggest cosmic heavy hitters, and in a lot of ways predicts Annihilators
.
Cosmic Powers Unlimited (1995)
Collects: Cosmic Powers Unlimited #1 To #5
Beta Ray Bill In The 2000's Through Civil War!
Avengers / X-Men: Maximum Security
Collects: Maximum Security: Dangerous Planet, #1-3, Captain America (1998) #36, Thor (1998) #30, Uncanny X-Men #387, Bishop: The Last X-Man #15, Iron Man (1998) #35, Avengers (1998) #35, Gambit (1999) #23, X-Men (1991) #107, X-Men Unlimited (1993) #29
For the full guide, check out Comic Book Herald's Maximum Security reading order.
Collects: Thor (1998) #26-35
Collects: Thor (1998) #36-43 & Thor Annual 2001 #1
Collects: Thor: Blood Oath #1-6, Thor (1998) #80-85, Stormbreaker: The Saga Of Beta Ray Bill #1-6
Set during and immediately after the Avengers Disassembled era.
Collects: Omega Flight #1-5 And Material From Civil War: Choosing Sides
In the wake of Civil War, Canada reacts to America's sweeping superhero reform, and puts together a new version of Alpha Flight. Beta Ray Bill plays a role, but you'll definitely want to read the "Stormbreaker" mini prior to understand.
Beta Ray Bill And Modern Marvel Cosmic
Collects: Secret Invasion: Thor #1-3
The Skrull's invasion of Earth (see the full Comic Book Herald Secret Invasion reading order for more) unites Thor and Beta Ray Bill against the invading threat!
Collects: Secret Invasion Aftermath: Beta Ray Bill – The Green Of Eden, Beta Ray Bill: Godhunter #1-3
In a personal favorite, Kieron Gillen and Kano team up to send Beta Ray Bill on a quest for vengeance against the world devourer, Galactus!
Collects: S.W.O.R.D. #1 To #5
Collects: Thanos Imperative: Ignition, Thanos Imperative #1 To #6, Thanos Imperative: Devastation
Collects: Annihilators 1-4
The most "formal" inclusion of Beta Ray Bill into the post Annihilation Marvel cosmic landscape. The Annihilators are Bill, Silver Surfer, Gladiator, Quasar and Ronan the Accuser.
Collects: Annihilators: Earthfall 1-4
Collects: Journey Into Mystery #651-655
Sif and Beta Ray Bill's relationship is explored while Sif heads up Journey Into Mystery.
Collects: Nova (2013) #11-16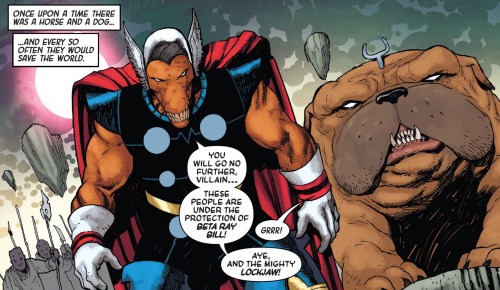 Beta Ray Bill in Donny Cates' Marvel Cosmic
Collects: The Unworthy Thor 1-5
Before becoming a regular part of the Donny Cates written Marvel cosmic universe, Beta Ray Bill makes his most prominent appearance in Jason Aaron's Thor.
Collects: Death Of Inhumans 1-5
The adventures of Beta Ray Bill and Lockjaw begin!
Guardians of the Galaxy by Donny Cates Vol. 1: The Final Gauntlet
Collects: Guardians Of The Galaxy 1-6
Guardians of the Galaxy by Donny Cates Vol. 2: Faithless
Collects: Guardians Of The Galaxy 7-12, Guardians Of The Galaxy Annual (2019) 1
Annihilation Scourge
Collects: Full event guide
Thor by Donny Cates Vol. 1: The Devourer King
Collects: Thor (2020) 1-6