Mighty Thor Vol 2 #700, cover by Russell Dauterman and Matthew Wilson, 2017The least earthbound of Earth's Mightiest, the God of Thunder has for most of his Marvel comics history been very difficult to write. After all, how do you make an ageless god interesting? Give him a hammer and a big burly target? That's proven at least an acceptable baseline for fans across the decades. But if I really wanted to convince a modern reader on the fence to love Thor, I'd have to look to those stories where the hammer blows and lightning strikes are balanced by something like character development.
Related:
This would have been a tall order before the twenty-first century. We look to the Kirby days for cosmic thunder and zany tales unhampered by the logic of mere mortals. We find in Walt Simonson's run a fuller development of the eight realms beyond Midgard, taking as many cues from classic fantasy and mythology as from Kirby. But we have to wait until Thor's apotheosis as godhead with his definitive breaking of the Ragnarok cycle and his return three years later for creators who delve into his character, treating him as more than a vehicle for mighty action and thunderous theodicy (in the case of Tom Defalco's immediately dated popcorn fun—or the long-winded anti-theodicy of the Dan Jurgens run, which no creator since has acknowledged!).
Outside the work of the aforementioned creators, some of the most interesting stories under the Thor title are much more focused on developing Asgardian or other mythologies on Marvel Universe terms, like Thor #240-245, Thor Annual #10, and the mammoth Celestial Saga (which could easily crush the unwary!). In later years, the mythic, the cosmic, and the super-scientific are more seamlessly amalgamated into Saturday morning cartoon fun in the early peak of Tom Defalco's lengthy run, #396-408. But none of this will sell the unfamiliar reader on Thor himself.
Support For Comic Book Herald:
Comic Book Herald is reader-supported. When you buy through links on our site, we may earn a qualifying affiliate commission.
Comic Book Herald's reading orders and guides are also made possible by reader support on Patreon, and generous reader donations.
Any size contribution will help keep CBH alive and full of new comics guides and content. Support CBH on Patreon for exclusive rewards, or Donate here! Thank you for reading!
So the question remains: Where do we find the multifaceted heart of this deity, prince, and king who has too often been treated as just an eternally pretty poster boy for mighty mallets?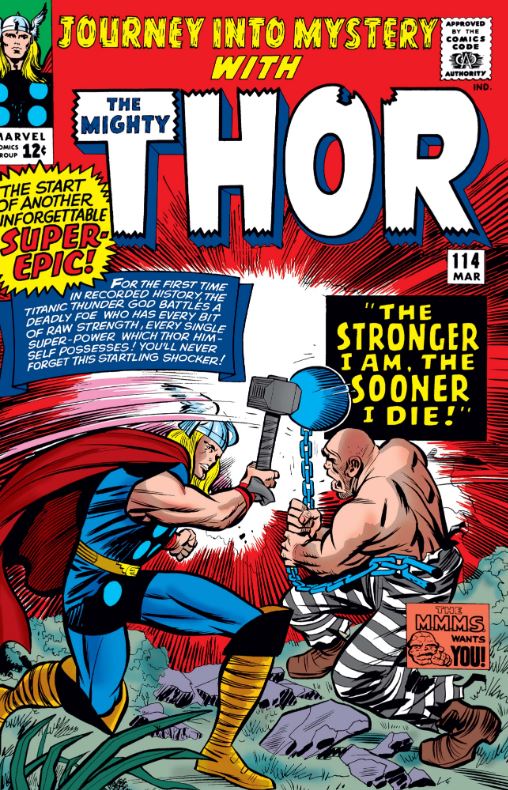 After a fun but throwaway first appearance in Journey into Mystery #83, Thor had a rocky two-year start with fairly lame stock villains—some Asgardian (Loki, the Enchantress and Executioner), some Midgardian (Radioactive Man, Hyde, Cobra)—before Stan and most of all Jack really started hitting their stride, especially with the introduction of Hercules and Crusher Creel, the Absorbing Man. My favorite inker for Kirby is Chic Stone, who favored bold dark lines in contrast to the lighter shadings of Vince Colletta. Stone's boldness made Kirby's dynamism come alive, but in either case, the art here and in Fantastic Four is early peak Kirby (presaging his New Gods for DC) and to any interested reader it's clear why it continues to be a major influence and inspiration for modern artists. Open up #114, my favorite of this early bunch, and you immediately feel involved in the action, ready to duck from Mjolnir as it soars from the panel, looking for a place to hide as Thor takes out the bizarre race-car goon.
Then there's Crusher Creel. When Thor's foster brother Loki struck not just a mortal but a loutish thug with a divine power beyond that of most Asgardians, Stan and Jack struck a new vein of gold. Thankfully, Asgardian enchantments permanently empowered only a few more thugs, but none of them is as powerful or as frightful—at least in his early appearances—as the Absorbing Man. In part, it's the indelible image of Crusher's face as he was struck with the enchantment: In #114, he looks like the stupidest, scariest brute ever faced by a Silver Age hero. Nowadays, he's basically a good guy himself. But back then, Thor had to vaporize him and let drift off into space just to get rid of his potentially apocalyptic menace for a while. But Crusher soon returned in #120-123 with Loki's help, a scheme that quickly backfired into sheer chaos as the idiot berserker ran amok in Asgard, dreaming of becoming an Asgardian tower and ruling the universe.
Also introduced during this stretch of glorious nonsense: the jovial dunderhead Hercules, a nice contrast to Thor's somber but boyish stoicism; the mysterious Destroyer armor; Kirby's mythic world-building and version of Ragnarok in the "Tales of Asgard" backups; and the title Thor taking over from JIM with #126.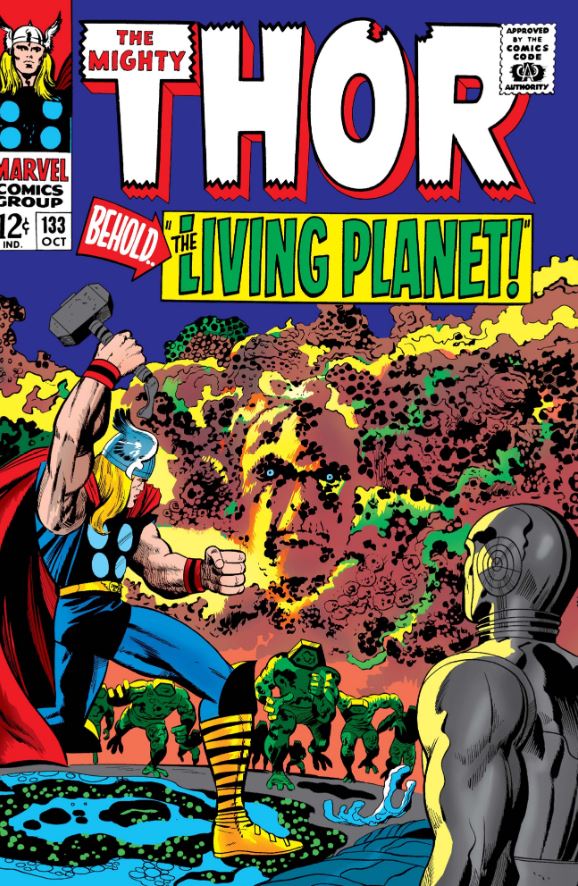 Cosmic Thunder (Or an Inconvenient Donald, And Jane)
Before the Marvel Silver Age, artists were satisfied with two-dimensional storytelling, a series of static poses. It was Jack Kirby and Steve Ditko who really shattered that mold, and there was no going back when it came to the new gold standard. Anyone who enjoys these early StanJack stories should read through Thor #177, the close of Kirby's eight-year stint on the title.
But for Kirby at his most unrestrained during this era, crackling with cosmic energies, check out Thor #131-135 and #154-167. In the first batch, we're introduced to the bizarre Rigellians, Ego the Living Planet, and, upon Thor's return from space, the High Evolutionary and his Dr. Moreau-like experiments. Increasingly, it was clear that Jack was disinterested in the affairs of mortals, especially the likes of the hapless Jane Foster. #136 is a necessary read for any Jane-heads, but it's not a happy one. Blame it on fickle Odin—or the King himself—but this is where she's summarily dropped from the title, mind-wiped and sent to dote on some other doctor who's not a divinely created android like Dr. Don Blake. On the other hand, we now get Sif, who at least superficially presents as an atypical warrioress, though she's really there as a love interest who will at least mostly manage to keep up with the Viking thunder god.
The second batch of stories runs from the introduction of the fantastic monstrosity of Mangog to a return to space, seeing Thor embroiled in a titanic clash between Galactus and Ego, before returning to tussle with Him, who would become known as Warlock, as the nebulously defined android tries to forcibly mate with Sif, the Asgardian love interest and lady warrior with whom Jack replaced Jane. For the divine origin of Donald Blake, see #158-159, which couldn't be more relevant if you're reading Donny Cates' current run. Essentially, this retcon of Don's life and Journey into Mystery #83 makes our hero a Christlike figure—both a brilliant conceit and yet thoughtlessly tossed off.
These are fun, nonsensical stories if you take them for inspiration, but reading them with a critical eye, you'll find much fault with Kirby's excesses—Stan must've been tearing his hair out trying to script his art—and careless misogyny on both their parts.
We're now late in the Marvel Silver Age, and yet unlike Spider-Man and Captain America, the motivations behind Thor haven't been made clear. The title is more of a playground for Jack Kirby's cosmic ideas and energy; the character ultimately suffers for it. For major Thor stories going forward, the biggest inspiration throughout would be found in the "Tales of Asgard" backups, which flesh out the mythic history of Asgard, Jotunheim (the land of the Frost Giants), Nidavellir (the land of the Dwarves), Surtur's fiery Muspelheim, and Niffleheim/Hel—leaving the four other mystical realms to later writers.
(The last classic cosmic Thor story for some time comes in Gerry Conway's Thor #225-228, introducing Firelord, new Herald of Galactus.)
Honorable mention number one: Thor and the Eternals: The Celestial Saga, an encyclopedic epic mashed together haphazardly by Roy Thomas and Mark Gruenwald. More illustrated info-dump than successful story, this behemoth on the cosmic bedrock of the Marvel Universe was the first try at bringing Kirby's Celestials, Eternals, and Deviants into mainstream continuity. This is also where Thor discovers his mother is Gaea (which Jason Aaron's Avengers may be bizarrely undoing).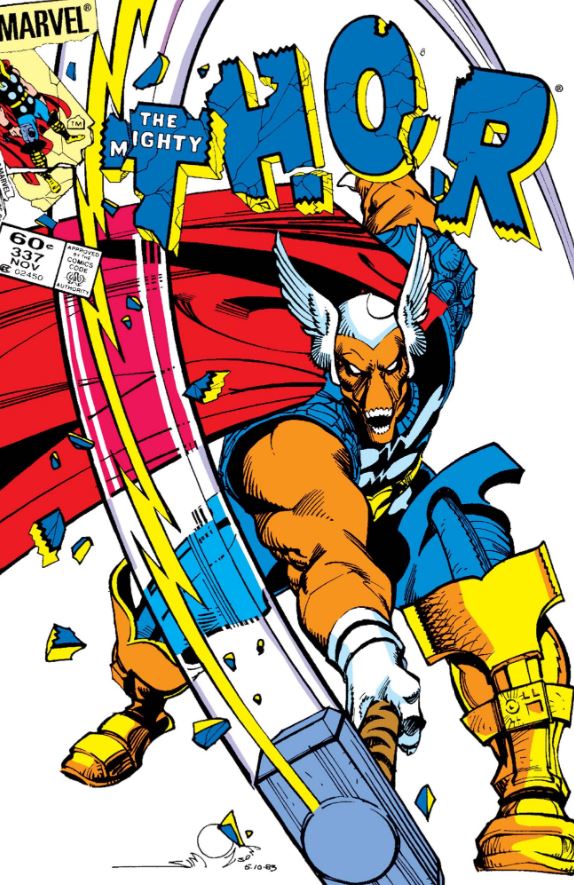 After Kirby and before Walt Simonson, Thor as a solo title was dull, frozen in barely by-the-numbers '70s house style. But on the cover of Simonson's first issue, #337 (1983), Walt shattered that tired old mold most spectacularly, turning an alien, horse-headed super-soldier into the only other being worthy of wielding Mjolnir. Odin has his son and Beta Ray Bill duke it out to see who's worthier, but the two warriors end up bonding instead—Odin's intention all along? And the All-Father orders the creation of Stormbreaker as Bill's own mighty mallet. Essentially, the alien is like an Odin-enchanted Captain America, which makes sense as we discover more of his background.
A creation of hand-wavy super-science and something uncomfortably like Social Darwinist, state-sponsored torture—perhaps analogous to Weapon X—Bill is the last hope of an entire species fleeing through space from the demon hordes of Surtur, whose early appearances in Simonson's run are brief but dreadful punctuations, a percussive motif building toward Muspelheim's putsch against Midgard and Asgard, which finally happens in issues #348-353. #337 is titled "Doom," while #353 is "Doom II." Between them, we get "The Dark Elf Saga," which introduces Simonson's second great creation, Malekith, and "The Casket of Ancient Winters," an event that spilled over into other titles, making it an early pseudo-crossover (though you miss nothing by just sticking with Thor).
Like the King he emulated, Simonson was totally disinterested in Don and Jane, but Thor here takes on an intentionally silly civilian persona Sigurd Jarlson—though it's mostly through the Warriors Three that we see Asgardian interactions with everyday mortals, or the Power Pack, the concurrent project of Walt's wife Louise Simonson. This is largely post-Surtur Saga, however, and while there are delightful moments throughout the rest of Simonson's run, none of it ever comes together like the first nineteen issues.
Many of the early subplots were sliced up finer than Claremont's in Uncanny X-Men, which might've been an inspiration—or maybe it was just an early '80s television influence—but they mostly paid off nicely by Surtur's end. For the next two years, the strongest story thread was Thor's conflict with Hela, but there was a lot of clutter mixed in. In fact, Simonson's art was often overly cluttered and compressed—a shame, because he has so much Kirby-like energy that more decompression would've been nice. Increasingly, veteran artist Sal Buscema filled in, and it is nice to see Buscema's evolution toward his peak stylization.
As a fan who loves the current iteration of Loki, I'll confess that reading his Silver Age version even here during the Bronze Age is a dull experience—though Simonson did make him minimally more sympathetic than the simple cackling trickster of yore. Add to this Simonson's occasional nod to a very '80s brand of libertarian American exceptionalism, and this legendary run starts to look increasingly dated in the 2020s.
My favorite single issue here is #355, the first Buscema issue of Walt's run (before he took over with #368). It remains one of the very best downtime issues for Thor, here on a sojourn, in mourning for his father, and recovering from his burial in an avalanche (courtesy Hela). He wakes in the sparkling cave of his ancestor Buri, who remains mysterious throughout, a mythic wise man (twice Thor's height) who helps the boy grieve—albeit roughly, in the Ancient Norse way I'm guessing! Frankly, this, the development of Thor's friendship with Bill, and his lack of jealousy over Bill and Sif's partnership were by far the most depth Odinson had ever been given. Even Simonson's depiction of him as hero of Midgard was much more persuasive than anything seen before.
Honorable mention number two: Call it Operation Niffelheim! This continues Simonson's run, but one-third of what's included is the strange miracle of Balder the Brave #1-4 by Simonson and Buscema, a highlight—but nothing to do with Thor. Thor #362 sees Thor grievously wounded by Hela and the last stand of Skurge, the Executioner (a little too Rambo here for my taste).
Honorable mention number three: Defalco's Retro Run, Pt. 1: The Return of Odin. Vastly more adroit storytelling than the Celestials Saga, but cartoonishly simplistic. Fun god-stuff fluff. With the second volume, things get a bit more interesting, but it's all very Silver Age retro.
That's right: Recommending the best Thor stories to the modern reader, I'm skipping ahead many years to a story that eclipses all that came after Simonson. Michael Oeming's six-issue "Ragnarok" is at once mythic and meta. Simonson's work drew reverently from Norse mythology, but Oeming goes deeper with retelling the Viking eschatology in eloquently compressed form, while emphasizing its unforgiving brutality. But Andrea Divito's bold, clean art never revels in the violence, which instead feels like a harrowing dying fall: our favorite Asgardian heroes felled with shocking swiftness while the apocalypse majestically unfolds. Yet Thor ultimately does the unexpected, presaged by Loki's inevitable comeuppance in a fit of gallows humor, and he breaks the endless cycle of rebooting the eight realms beyond Midgard. In snipping the cords of fate, he achieves godhead, and the epic reworks itself as a commentary on mainstream superhero comics: something like this end-of-everything barnstormer is always happening at Marvel, but everything is returned the morning after to some baseline popular expectation of who, say, Spidey or Batman are supposed to be.
With Oeming's "Ragnarok" at least, Marvel planned for the God of Thunder to just vanish for a long time. Well, almost three years is longer than would typically be expected—especially in the early aughts. This story is excellent and harrowing, but it's also so pivotal, because when Thor does make his grand return, he is—maybe subtly—quite different from who he'd been before. But that makes sense: after all, not only had he achieved godhead, but as with all the Asgardian players, he's lived through endless mythic cycles.
The Thor of the Silver Age finally ended with Oeming's mini-epic (and really, Dan Jurgens' preceding run had made it inevitable, albeit in a very over-the-top and bungled manner).
"Ragnarok" is collected with Oeming's excellent 2005 Thor: Blood Oath mini, which opens the volume with a focus on Thor's friendship with the Warriors Three, a great place to start; it ends with Stormbreaker: The Saga of Beta Ray Bill, showing the effect of the "Ragnarok" tragedy on Thor's beloved oath brother, Beta Ray Bill, the lone being left with Asgardian power for a couple of years. Matt Fraction's own little epics set in ancient Asgard were clearly inspired by the earlier successes of Michael Oeming.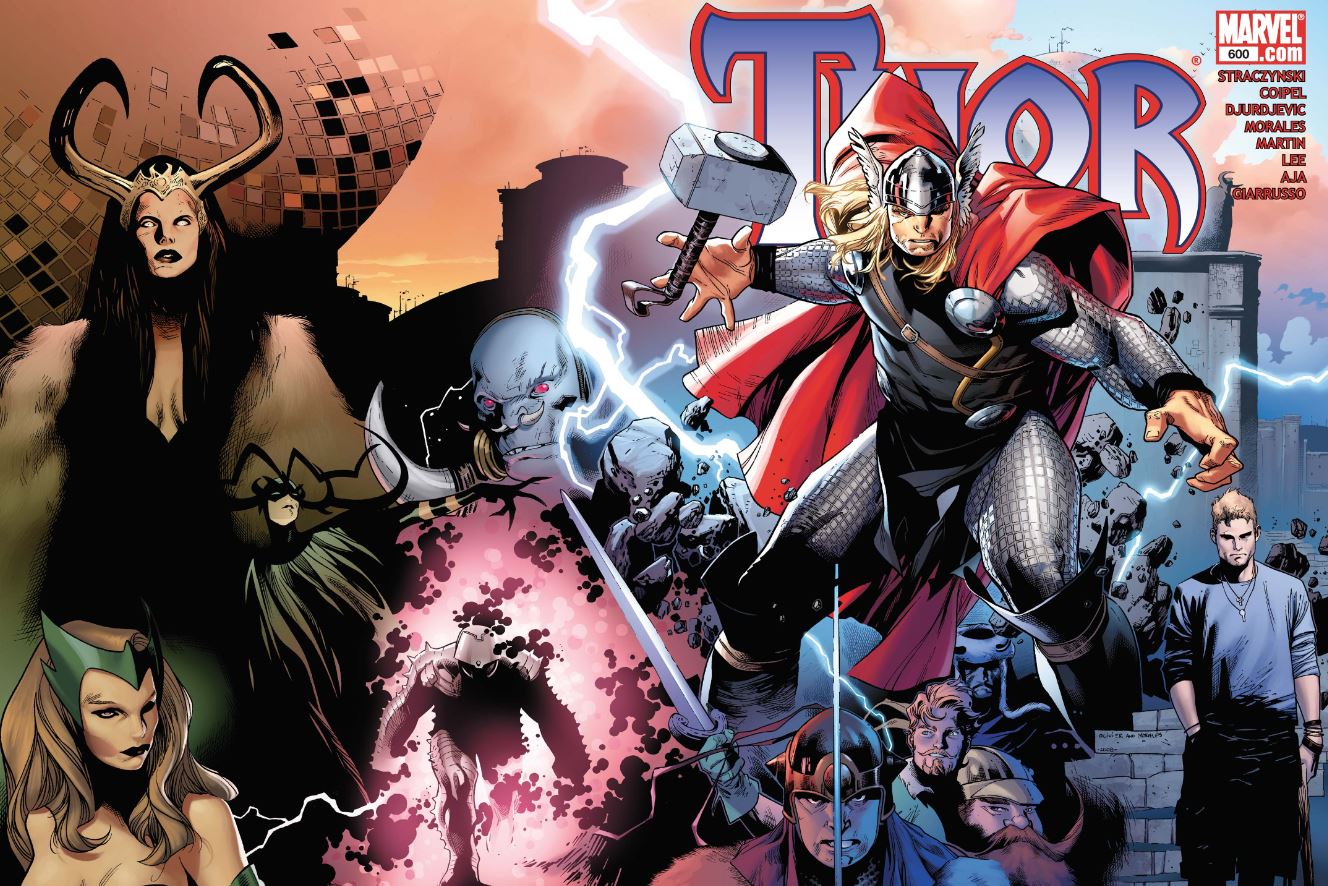 Thirty-four months after "Ragnarok," with some prior mysterious buildup in the pages of Fantastic Four, Thor returned to Midgard from wherever—transcendence maybe. And J. Michael Straczynski's God of Thunder is a god who creates. Or near enough. Certainly, he's a big step closer to primal Odin here.
He whips up a storm over Nebraska—and voila, the walled city of Asgard hath manifested, no longer a ruin. Issue by issue, he finds his erstwhile compatriots dormant within sundry mortals of Midgard. Some of this reads awkwardly now, but the telling is a wonderful balance of the modern decompressed cinematic style and the one-and-done ideal that's now extremely rare at Marvel. And artist Olivier Coipel was born to draw dark mythic majesty—a perfect fit for the Thor of the 2000s. (Also, JMS was already a veteran TV writer, most famously on Babylon 5, so the pairing of these two creatives was perfect.)
Now despite the breaking of the Ragnarok cycle, Loki does return as his old evil self. In fact, JMS explicitly models the trickster on the Great Deceiver Satan, which is all in good dark fun: this is the God of Lies at his most diabolical and scheming. The cackling stock villain is gone. That said, he's at his cringiest here too: the woman's body he inhabits is another pawn in his game (seeing Loki as trans here doesn't work at all); he resurrects and tricks Thor's grandfather into a fatal confrontation with Thor, who's consequently exiled; and then Loki fools the Asgardians into settling in Latveria, where he hangs out with Doom as the latter vivisects hapless immortals caught out alone at night.
In fact, this depiction of Doom, further embellished by excellent sci-fi horror writer Kieron Gillen after JMS abruptly left the title, will be difficult to swallow for modern fans of Latveria's benevolent dictator.
But if there's one flaw to JMS's Eisner-nominated run, it's that the Asgardians are so unbelievably naïve before Loki's evilest wiles. And yet, who knows how much more he might have done in fleshing them out after the years-long absence if not for Marvel's commercially justifiable addiction at the time. The rush of line-wide events was not amenable to the JMS brand of measured, novelistic storytelling.
Gillen does the best with what he's given, however, though the shift feels very abrupt. But Gillen's brand of sci-fi horror fits the story elements perfectly, even while JMS's methodically orchestrated momentum was lost. Still, while JMS justifiably refused to play ball on bowing to the necessity of the Siege tie-in issues, Gillen, coming in on such short notice, grapples with the event's epic action and tragedy as if he'd been writing the title for years already.
This fractured era still works as a narrative whole despite the loss of what proved to be minor elements—excepting Don Blake, I guess. JMS had brought back both him and Jane, but Gillen dropped both for expedience. The silver lining of the abrupt shift is a clarification of each author's success: a cinematic air of mystery, almost noirish at moments, defines the atmosphere for JMS's run, while the sci-fi horror of "Latverian Prometheus" and then "Siege" fittingly saturate Gillen's brief stint. Significantly, this era also sees the end of Loki as a straightforward Silver Age villain, a wonderful and permanent development.
Honorable mention number four: The period after Siege and before the start of Jason Aaron's run is a bit jumbled and tricky to parse, regarding both Thor and Loki—who fares better story-wise—but while super-event Fear Itself by Matt Fraction is underwhelming, his mid-run work on Mighty Thor goes interesting places… like Asgardia. You'll also find what was supposed to be the final fate of Don Blake.
Elements of mystery, operatic sci-fi, and mythic or cosmic horror became more interwoven in Thor's title with the Matt Fraction era, and it can't be overstated what a sea change this was from the days of yore. But if Fraction paved the way rather haphazardly, it was Jason Aaron who most skillfully brought these ingredients together right off the bat with his opening year on Thor: God of Thunder. That he would continue complexifying these genre intersections for the next seven years is astounding. But the tightest narrative within this massive, character-defining run remains that of Gorr, the God Butcher.
For the most part, I have nothing but high praise for the Aaron epoch of Thor. And this continues to astound! Because I'm not a fan at all of any of Aaron's other Marvel work. Any of it. And most especially not his Avengers. As a fellow atheist from the quasi-South (Texas), I've always had a feel for where Aaron is coming from, but whether or not that has anything to do with it, his work makes my eyes just glaze over.
Except with Thor—all of it. The Odinson. Jane as Thor. The League of Realms. The Congress of Worlds. Roxxon as a serious threat. At a time when my favorite comics franchise (X-Men) was in the doldrums, Aaron's work here and Hickman on Avengers offered me the only consistent excitement and wonder.
Unlike any of Aaron's other Marvel work, he really went all in on world-building at a scale Thor hadn't seen since Kirby transcribed in "Tales of Asgard" whatever he found interesting in Norse mythology. But Aaron did something immensely additive: while the Kirby era never resolved the tension between the mythic and the cosmic, Thor's greatest storyteller since those days did so right away and with apparently supreme ease.
And by all accounts, he only worked out the broader elements as he went along, but he had that first year of singular focus on Thor and one god-consuming antagonist to work on his world-building schemes in secret. For whatever reason, though, almost everything about Aaron's run just works beautifully in my view.
With Gorr the God Butcher hunting Thor and the darkly magisterial artwork of Esad Ribic, that first year succeeded as an unprecedentedly holistic vision for the character and his title. In terms of genre, it saw likely the best and clearest use of time travel in a single Marvel story, and Ribic's art taps perfectly into Aaron's gothic horror sensibility. Maybe it's this creative pairing—and the one Aaron had with Dauterman with Jane as Thor—that make it all so successful. It also helps that the story is so deeply felt; it's a theodicy that's uncomfortable with itself, struggling out of Gorr's anti-theodicy but never quite gaining the confidence. And who nowadays would want some pompous apology for even the Silver Age god-heroes?
The alien Job abandoned by the gods on his harsh homeworld, witnessing the cruel deaths of his family, and then happening upon the power to become a serial god-killer across space and ultimately time—he's standing in for Jason Aaron, for any reader left with the pieces of a seemingly useless and discredited myth, whether that's popularized Norse mythology or real-world religion. Gorr brought this niggling doubt to Thor's spirit, and it never leaves the Thunder God, not even after he becomes worthy of Mjolnir again.
At last! Thor was given real Kryptonite: a god's self-doubt. It only took fifty years to tap that vein.
The sequel to this story comes at the tail end of Aaron's run seven years later, in King Thor #1-4 (2019), also drawn by Esad Ribic.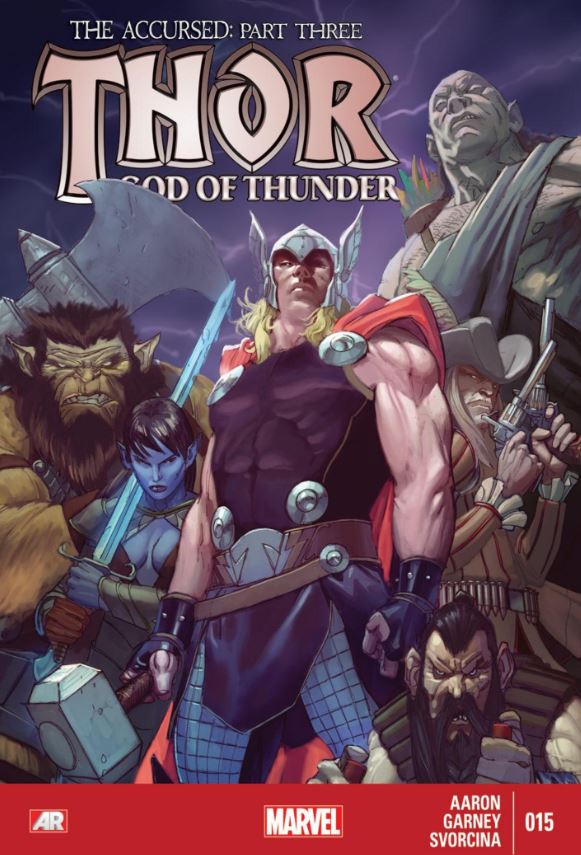 Aaron's tenure on Thor opened out expansively with his second year. And the metal-inspired lyricism that elevated Gorr the God Butcher now melded with all the exciting new voices of the League of Realms, which wasn't just a wonderfully inevitable idea for cementing the other realms' story potential with Marvel. Each member was a delight and offered Aaron a variety of generic elements and attitudes to play with: Screwbeard of Nidavellir, Ud of Asgard's Rock Trolls, Sir Ivory Honeyshot of Alfheim, and Lady Waziria of Svartalfheim. Unfortunately, after this five-part "Accursed" storyline, in which they're brought together to defeat the renewed malice of Malekith, they make only a handful of reappearances. After all, they failed with their first mission against that chaotic evil, thereby allowing Malekith's mad momentum to build toward War of the Realms.
It does seem like Aaron has a knack for introducing neat geopolitical super-teams that then swiftly fade into the backdrop of his overarching narrative. With Malekith, Aaron takes Simonson's delightfully sinister creation and makes him something more, eventually drawing a sympathetic but no less damning portrait of a young soul shattered early on by war. Like the clean modern house style of Andrea Divito on the earlier "Ragnarok," also focused primarily on the realms beyond Midgard, Ron Garney's artwork is perfect fit for this mini-epic spaghetti western fantasia. Donny Cates, why are you sitting on all this potential?! (I really don't care about Don Blake, sir.)
The two-year Thor: God of Thunder series closes out with a dark but relatably post-Recession return to Broxton, Nebraska, where Straczynski initially set Asgard afloat. Now, Roxxon's own floating island of extractive factories is ravaging the land. While Aaron's second year on the title doesn't see the same depth of character for Thor that the first had, the insurmountable two-pronged conflict across the realms added to Thor's stress and mounting sense of inadequacy—still another real breakthrough in the depiction of the Thunder God's interiority.
Honorable mention number five: The origin of the heretofore mysterious Angela, Thor's long-lost sister—and Heven, the missing Tenth Realm—as recounted in Original Sin: The Tenth Realm, the best part by far of the Original Sin line-wide event, which also saw Thor lose the ability to wield Mjolnir.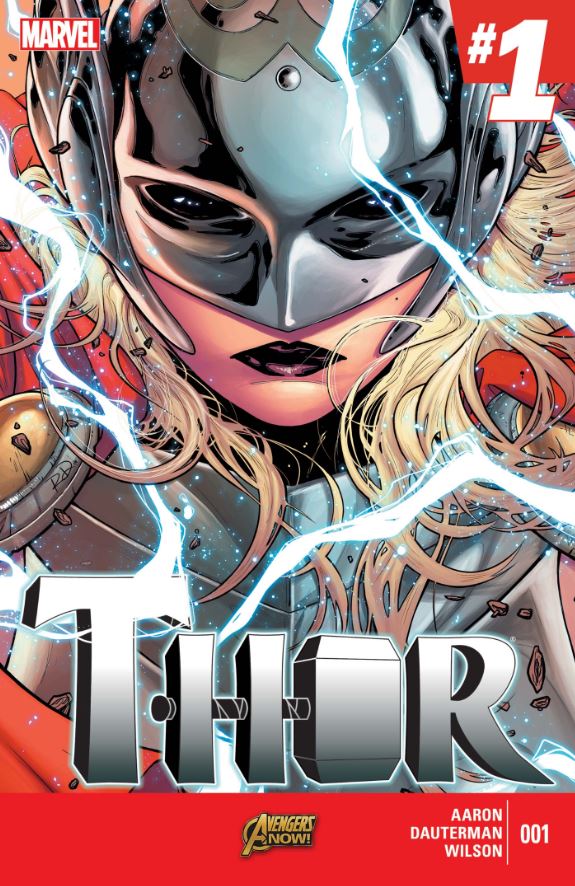 A Worthier Thor (And Yet Another Kind of God Butcher: Roxxon's CEO, The Minotaur)
That second year also reintroduced Jane Foster, now undergoing intense long-term chemo, which by itself was gut-wrenching. For the first time in her publication history, a creator had allowed her a strong stance of independence from the charms and affairs of the Odinson, and what felt like a genuine friendship blossomed. But she was already wasting away, at death's door. And yet this depiction of Jane's new status, done with care in feeling and pacing, makes the eventual revelation of the identity of Thor's successor—appearing first in Thor Vol 4 #1—that much more satisfying and inevitable.
It was sensible and just that a dying mortal and ex-lover who had been so woefully maltreated by the gods found herself the hammer wielder of a previously unquestioned legacy now imperiled on all sides by the rapine of global capital and warmongering Dark Elves and a misogynistic patriarch much in his dotage. And of course she has to pick up the slack on the most bewildering crisis the Odinson had ever faced. Given that one half of these troubles were earthbound—involving Roxxon's armies of lawyers and PR propagandists—it makes sense that a distinctly mortal heroine made headway where a typically remote immortal failed to. Further, the struggle between the worthy and unworthy resonates poignantly with the strife between Freyja and Odin. Freyja's personality was barely noticeable before Aaron started writing her in a new light, and throughout the rest of his run, the All-Mother is a show-stealer.
This eight-issue series works as a narrative whole despite the fact that the story of Jane as Thor and Malekith's dark dealings with Roxxon's CEO continue apace in the subsequent Mighty Thor. The switch only exists because the company-wide event Secret Wars ended and relaunched all Marvel titles. (That said, the Complete Collection trade also includes the Secret Wars miniseries Thors #1-4, which becomes integral to Mighty Thor's climax.)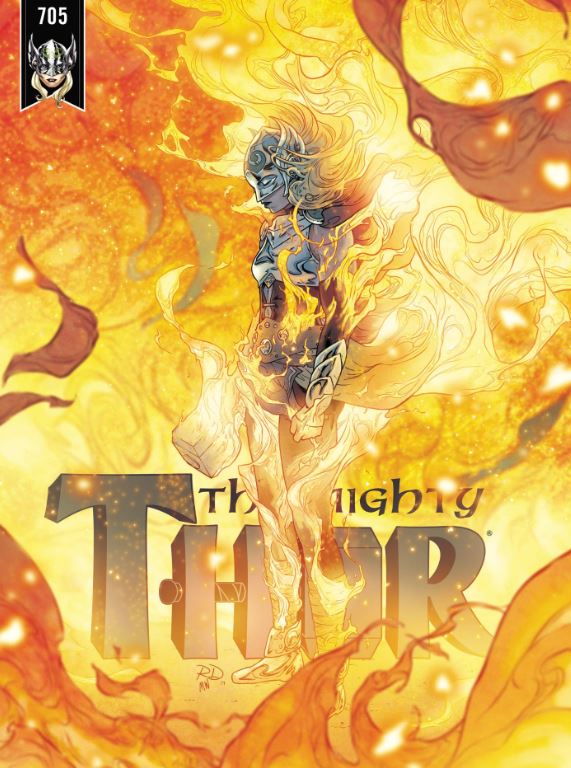 These two volumes comprising the last year of The Mighty Thor and Aaron's related titles have been repackaged as one volume with an October 2021 release date. The whole series is wonderful, but the end is where it all comes together spectacularly. But everything since Thor Vol 4 #1 really is one narrative, miraculously woven together by the artwork of Russell Dauterman and colorist Matthew Wilson. Miraculous, because there are only a handful of fill-ins across almost forty issues, and we're talking about artistry that continues to this day to be next-level for the industry. Dauterman's visionary work is spectacularly kinetic, majestically balletic, and beautifully and unusually framed and mold-breaking.
If you read comics primarily for the art, you need Dauterman's whole run here. But it also happens to be the concept of Thor at its most exciting and wondrous bar none. His later work on War of the Realms resonates strongly, as that event sets up Jane—just a regular mortal again—for her future metahuman career in her own right.
But in "The Death of the Mighty Thor," it really wasn't clear if she'd make it. And Aaron brought back Mangog as a more-than-credible threat against not just her but all of Asgard. This thunderous climax is far beyond Mangog's debut back in the '60s. Here his presence makes much more sense, going off the theme that began with Gorr the God Butcher, of gods as the arrogant bane of lowly mortals. And the send-off for Jane is poignant and beautiful, as well seeing her friendship with the Odinson deepened as never before.
(Also, Olivier Coipel makes a masterful return in the darkly textured and thrilling Unworthy Thor mini.)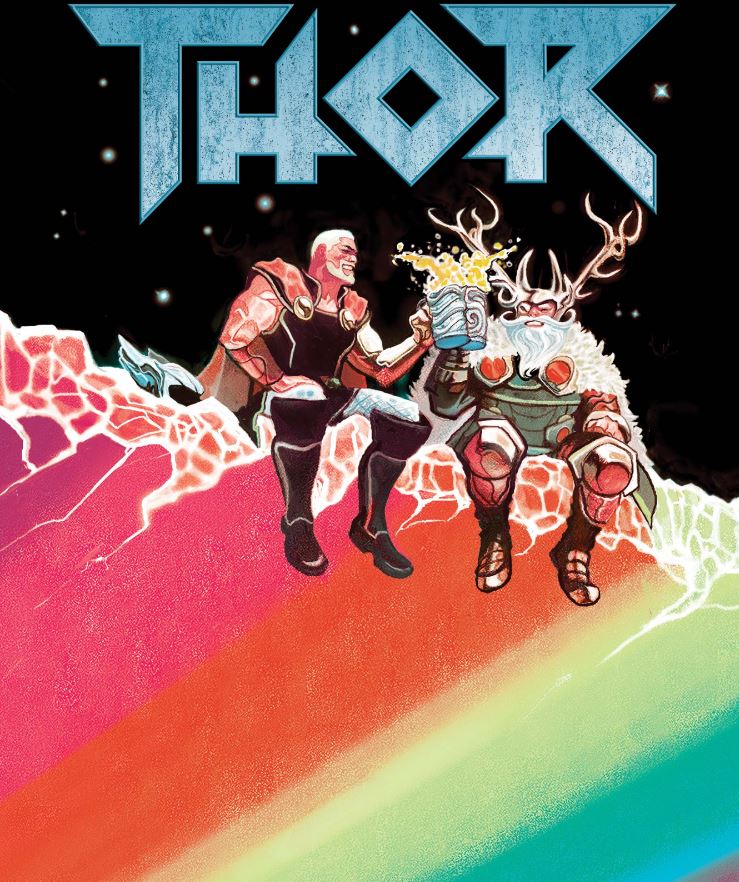 The surreal and psychedelic artwork of the painterly Mike del Mundo is the signature style of the rest of Aaron's run on Thor, here restarted after Mighty Thor #706 with the Odinson as the one and only Thor once again. That's not to say that he feels himself wholly worthy now, and with only a small shard of Mjolnir retrieved from its impact with the Sun (yes, the idea that it fell back to the Moon makes no sense—Aaron, though an atheist, hasn't ever shown himself that interested in science) that easy test of worthiness is gone. And yet Thor's friendship with Jane and familial relationships generally define his journey toward redemption in this final leg of Aaron's run.
Each issue of Thor Vol 5 is centered on familial resentment and a struggle toward resolution and renewal. Issues #5-7 might've given the series a disjointed feel upon release, but in hindsight they work well setting up the sequel to "The God Butcher" in the bookending miniseries King Thor. Dropping back into the present with #8 is violently abrupt, as Thor and Brunnhilde are caught infiltrating the sadist-ruled Heven to rescue his sister Angela. And #9 is another sudden transition, with its focus on Agent of Wakanda and Thor friend Roz Solomon. #11 sees the Odinson team up with his beloved stepmother. Obviously, there's a theme. And in retrospect, the apparently out-of-joint narrative actually needs to be read as Aaron's serial envoi: it's a long goodbye that also works as a gathering of Thor's larger family.
My two favorite issues, though, are the last one, which gathers or looks in on all the remaining players, and #10, which feels the most emotionally raw out of maybe any single comic Aaron's ever written. Yes, it can be reduced to "daddy issues," but that doesn't make it any less authentically felt and explored, at least as much as two meatheads can manage. Which isn't much. It quickly comes to savage blows—inevitably, because Odin has always been a terrible father, and so his son is who he is. The manifest tension and resentment don't resolve with the speaking of unspoken love; Odin's macho ego makes that impossible, and Thor had long been molded in that emotionally fickle and toweringly fragile shadow.
So while War of the Realms inevitably concluded that Thor's struggle with his own sense of worth proves that he's worthy enough, that conclusion is too pat, and the trouble with Thor fully on display in issue #10 remains an open wound. And I'm still hoping Donny Cates picks up the ball on this.
Of all the major Marvel heroes, Thor has overall had the least and most lopsided character growth, proving on reflection that it's relatively easy to come up with power fantasies about gods, but it's much harder to write from the alien interiority of a transcendent immortal, even one that bathes his beard in mead and sits upon the throne in the shadow of his broken father.