Series Writer:
Hope Larson
Series Writer:
Mairghread Scott
Series Writer:
Cecil Castellucci
Overview
| "
Rebirth, Batgirl
, and Genre Books"
Batgirl Rebirth picks up from Gail Simone's character-defining run and Batgirl of Burnside
during DC's New 52. Barbara is again in her early 20s, her previous continuity retconned so that she survived the events of the Killing Joke without permanent effect. More importantly, without the full trauma of the event. Pair that with Simone's empowering story of recovery and an aversion to complicated continuity, and Babs is once again the joyful, rebellious cop's daughter. Pleasantly, she also maintains a lot of the "teenage girl detective" archetype that initially made her popular, despite Rebirth depicting her as a grad student in her 20s.

Initially, this makes Batgirl something of the anti-Bat book. The first four trades are bright and colorful and all six depict a hero who is expressive, emotive, and consciously maintains a friend group for support. In fact, she has actual friends, beyond just "work buddies" like Dick Grayson and Frankie Charles (the new human Oracle created by Cecil Castellucci & co.) Best of all, these are people whose compassion and diversity remain strictly in the Barbara Gordon world, not tangled up in Batgirl's complications. 
Though the series is on its third main writer, the book remains consistent to those values, with each writer providing their own mix rather than truly starting over.
Quick Take-Away
The first four books by Hope Larson are a lightning-fast read, and would be great for new fans in the 13+ age group. Mairghread Scott takes over with volumes 5 and 6, and these take a much more mature turn. Book 7 marks the start of Cecil Castellucci's run, and thus far the maturity is somewhere between Larson's and Scotts (leaning a little more towards the 13+ range, though.)
These books aren't tangled too deeply with DC continuity. Especially not books 1-4 & 7, which are all good jumping on points. So don't be worried about a learning curve here: Batgirl is a single-hero story, one that has as much of a personal life as a vigilante career, and operates on comprehensible stakes (excepting goofy supervillainy of course). This book would be a particularly good introduction for those in the market for something female and LGBTQ+ positive.
Support For Comic Book Herald:
Comic Book Herald is reader-supported. When you buy through links on our site, we may earn a qualifying affiliate commission.
Comic Book Herald's reading orders and guides are also made possible by reader support on Patreon, and generous reader donations.
Any size contribution will help keep CBH alive and full of new comics guides and content. Support CBH on Patreon for exclusive rewards, or Donate here! Thank you for reading!
Review
| What's Good, Less Good
The Good
Hope Larson
| 60's Revival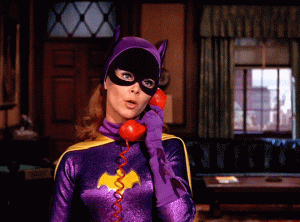 As I said at the beginning, Gail Simone's 2012 Batgirl rethink has come to define the character. With Simone's help, Babs went from the damaged, haunted hero of Crisis on Infinite Earths and victim from The Killing Joke, and reset her character closer to her joyful, free spirit days.
Larson (along with artist Rafael Albuquerque and colorist Dave McCaig) picks-up that idea and runs away with it. Straight back to the Adam West era.
The Rebirth Barbara Gordon is a modern day Yvonne Craig. She has the same cocky, unimpressed attitude as the iconic actress along with her same seriousness in the face of a ridiculous world. 
In fact, the sly, genre-aware goofiness is perhaps the element that makes the comic book work. Larson's stories share the show's general medium-aware leg-pulling absurdity for not just fun, but to create a shorthand that speed things along.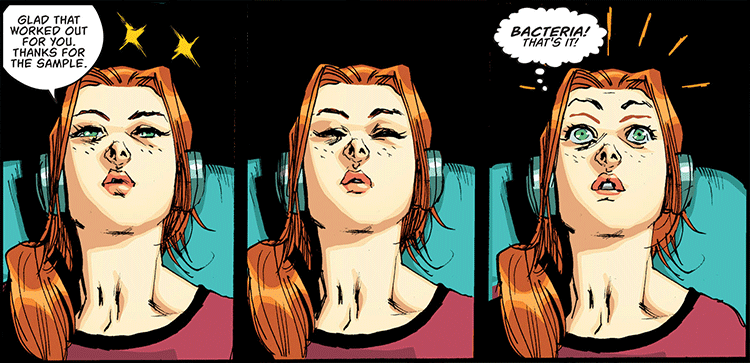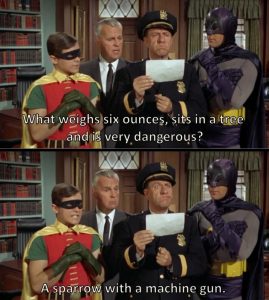 Bab's leaps in logic feel directly on point for the '66 hit, not to mention the Dutch angles, facial mugging, and even scenarios. (A first date at a last-second masquerade ball? Really? For a grad student? Who happens to have high-end formal wear? Are you sure?)
Even the way the book tries to tie-in modern concerns like transgender rights, gentrification, and tech feel in a similar vein to the way the old show highlighted women's liberation issues. (And I really have to thank this book for making me realize that parallel as I read.)
Mairghread Scott
| Pattern Reset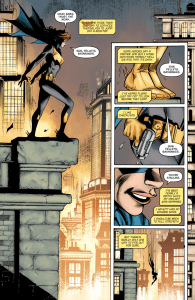 It's a mostly fresh start as Scott takes Batgirl and reintroduces her to Gotham. There are some natural affinities between the hero and the city, like the reintroduction of James Jr, (Bab's brother and the sociopath behind the events of Scott Synder and Jock's legendary The Black Mirror story. He does a little Hannibal Lecter here.) There are also some great contrasts (Batgirl giving up the mod-colored Burnside for the black and bloody underworld of Gotham, for one. Her more natural relationships with her father and friends for another.)
There's a jump back to the thoughtful noir prose employed by Snyder as well.
Cecil Castellucci
| Splitting the Difference
Castellucci takes Scott's "more Batman-y" approach, and mixes in Larson's idealism and humor.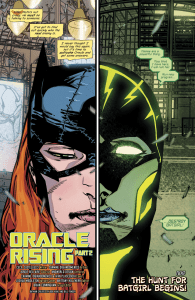 We see more influence from O'Neil/Kanigher's Diana Prince as Wonder Woman which featured the Amazonian turned depowered, ultra mod. super spy. This along with a certain kind of dramatas out of Brenda Starr or another such sixties women's liberation icon. Where Larson picked these elements to establish a look/sound for the book, Castellucci folds them deep into character and narrative.
She's also got a great handle on the canonical aspects, picking up what works, adding some welcome ludicrousness to keep them from feeling daunting. And also, just to make things fun. And honestly, a big green, glowing, anthropomorphic AI is pretty dang fun.
Genre work and idealism
Batgirl (Rebirth)  moves fast to establish three promises for the book:
The heroine is absolute (Batgirl is the big hero, always)

Everything is youthful and exciting (fast story pacing)

The book is here to educate and inspire (Progressive ideas)
As principles, these are great. Moreover, they feel comfortably in line with the sort of genre'd approach I believe the book is after. They also stay pretty firmly in place across all three series writers; Larson, Scott, and Castellucci.
And if that list is precisely what you want from a book, then grab these trades and stop reading here. On a casual read, they're a lot of fun with some great writing and fantastic artwork. To say it one last time, genre fiction exists for good reason, most critically because it can be a fun, indulgent, and traditionally pretty easy read. All of which are great.
But I couldn't maintain that mindset all the way through. And from there, my experience changed significantly.
The Less Good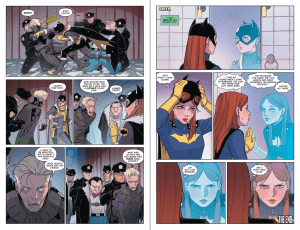 Fast, Moral, and Absolute
|
Batgirl
's Narrative Difficulties
As I said, it's not remotely unusual for genre work to have heroes who are unfailingly good and set them against oversimplified caricatures. My collection of Chandler and Hammet will attest to that much. Same goes for keeping things exciting by barreling ahead, and in introducing lingo, concepts, seedy details and so forth.
Since genre is meant to maximize fun, it very often strips things way, way down to make everything more streamlined.
And Batgirl has that problem in spades. Those three promises—Batgirl/Barbara Gordon as narrative constant, racing scripts, and authoritative positioning—go way beyond flavor or even ideals here. The three form the backbone and frame of nearly every issue, some conflicts both big and microscopic. The three promises function as laws, and have thus far made the book unsustainable… both for direction and tenure.
Simply put, this book will not risk being wrong or boring. In some cases, not even the temporary interpretation. 

An Example
Book two, Bab's friend Alysia needs help. The friend is a trans woman having an existential crisis, and we can surmise that the book's third promise of progressive positioning is helping drive this.
However, this puts it directly in conflict with the two other promises.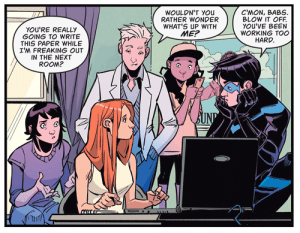 Batgirl (and in fact no character) cannot be "wrong" in this situation. Not only is that against two rules (progressive and hero in absolute) but it's also a potential PR nightmare. But reading the book's solution demonstrates how it couldn't be right either; no one delivers a speech, no one has a differing opinion… no character runs the risk of being wrong by contrast. 
On top of which, the solution it goes with is not only fast but brief, using two deus ex machina plus multiple diversions to get the story back into the action. This exact same problem of "progressive problem + hero in absolute / pace" plays out at around once per book.
At times, this is just frustrating and dissatisfying. When it's used to gloss right over Bab's abusing her coworkers, almost killing one villain or disfiguring another villain, it's profoundly upsetting. I'd held out hope that these discrepancies were intentional, and that we'd get a story line about her fearing she's becoming James J. But after Joker War, that seems impossible. As if the one problem wasn't enough already…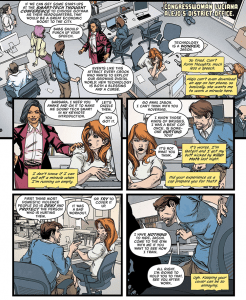 Course Over Corrections
| The Fallout of Changing Writers
Changing series writers only exacerbates this. Rather than compliment each other, reading the three runs together seems to actually point out one another's shortcomings. Larson's book seems unfocused and inconsequential. By comparison, Scott's is an overly gruesome return to status quo; its jump in writing quality removing all of the distinction between this title and any other Batman title. Castellucci's is the newest and the most balanced, but for as fun as its romance influences are, I feel they exist at the direct expense of the "superhero" nature of the book. The romance twists Babs into an unapologetic jerk, and it makes Batgirl into something of a lunatic.
Final Thoughts
| What's Good, Less Good, and Final Thoughts
Putting Batgirl in the position of overwhelmingly or even exclusively positive female role model is a solid idea with almost six decades of precedence behind it. What's even more interesting is having Barbara Gordon occupy that space, as the alter ego—with its intersections between police, technology, ableism, and gender—seems uniquely capable of addressing our culture's current concerns with justice in its many forms.
Batgirl (Rebirth) is a fun, ongoing experiment in that direction. An exploration into one of the foundational members of the Bat family, one which time and circumstance have given a unique perspective. A character given new purpose by a second chance. Maybe the one character in the entire DC universe where "Rebirth" seems the most appropriate.
That should be enough. For you, I truly hope it is.
Because while this book does struggle, it does so off-focus, in the areas that aren't its clearly intended goals. And when it works right, when it's on-focus, it delivers on not just fun, but good fun.