Jonathan Hickman is a name associated with high concept science fiction and the exploration of flawed men losing themselves in the pursuit of a greater good. Hickman's Marvel work is held in high regard with Secret Wars being one of the most memorable cross-overs in the Marvel era, and his entrance on the X-Men with House of X/Powers of X
breathing new life into the line and the fandom. Hickman is a name that objectively holds weight, which is why Jonathan Hickman's Avengers The Complete Collection
volume one comes out at such an interesting time to explore what makes a Jonathan Hickman comic a Hickman comic.
For an author known for such complete runs, it's an interesting time to take a look at how Avengers begins, figuring out how Hickman collaborates with artists on tone between titles, what kind of stories he wants to tell, how much of that comes across at the very start of this run and how we've seen all of this develop since then.
Related Reading Orders:
Jonathan Hickman's Marvel Universe
Support For Comic Book Herald:
Comic Book Herald is reader-supported. When you buy through links on our site, we may earn a qualifying affiliate commission.
Comic Book Herald's reading orders and guides are also made possible by reader support on Patreon, and generous reader donations.
Any size contribution will help keep CBH alive and full of new comics guides and content. Support CBH on Patreon for exclusive rewards, or Donate here! Thank you for reading!
Hickman's Avengers run begins with Avengers #1-5, with Jerome Opeña and Dean White on line work and colors on the first three issues, and Adam Kubert and Frank D'armata on the following two, and VC's Corey Petit along for all five issues. Hickman's goals for Avengers as the main line book is to make it feel like a grand story. Introducing phrases like an "Avengers Machine" and an "Avengers World" are both statements of intent and setting up a form of language that he gets back to time and time again. He wastes no time in going wild with the sci-fi concepts by introducing the Builders, Ex Nihilo, and the lore surrounding them, all within the first three issues.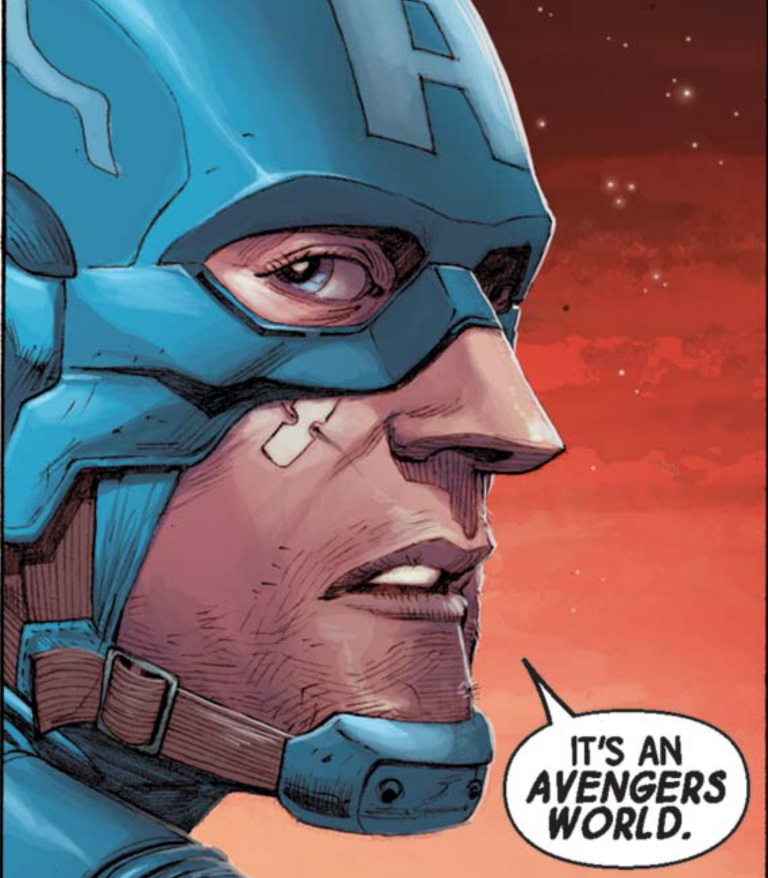 Avengers #1 to #3 feel very much like Hickman "calling his shots" in terms of setting up story concepts and tone. There are a lot of questions introduced immediately, even if the reader isn't sure they are questions. For instance, Captain Universe is one of a few new characters introduced and even though she is a new iteration on an older character, there's so much mystery involving why Ex Nihlo and his crew bow in deference to her and who is the woman underneath the star mask.
The next two issues extend a sense of mythmaking to reintroducing us to specific characters, Hyperion and Smasher. The Hyperion focused issue in Avengers #4 highlights a trope of Hickman's that works really well in this Avengers title which is repetition of a phrase. In the Hyperion story it's "There were two Hyperions." This repetition of words adds to Hickman's goal of making this story feel mythic or almost like a fable.
Also adding to this sense of mythology building are Hickman's artistic collaborators in Avengers. Jerome Opeña and Dean White are an excellent team in building an incredibly unique atmosphere to the first three issues of Avengers. Opeña's very hatched line work gives a sense of a refined art style more suited for the fine arts than a superhero comic. Opeña's style of work feels akin to Esad Ribic whose work also imbues a more mythic type of story as would become evident in Secret Wars. Dean White's coloring of Opeña's linework sets it apart from a more traditional black and white inking style into something more distinct and painterly.
Adam Kubert and Frank D'Amatta on the following two issues offer a more traditional style for the genre but fit the stories just fine. All of the artistic collaborations in this title, however, do have a shared tendency to use page layouts with horizontal panels which give certain images room to breathe, emphasizing this book's focus on big moments which is an interesting contrast to Hickman and Epting on New Avengers.
Where Avengers is the optimistic, mythic title, New Avengers is its darker, morally grey counterpart. Interestingly enough, Hickman places a much stricter focus on this book than Avengers. Avengers' goal is to explore what this "Avengers machine" is and how these myriad characters fit. New Avengers is very bluntly–the only way to save the Earth in an "incursion," a repeating multiversal event where two different Earths are in danger, is to destroy another Earth. The Illuminati, the "smartest" men in the Marvel Universe who run the world in secret, are dealing with these incursions.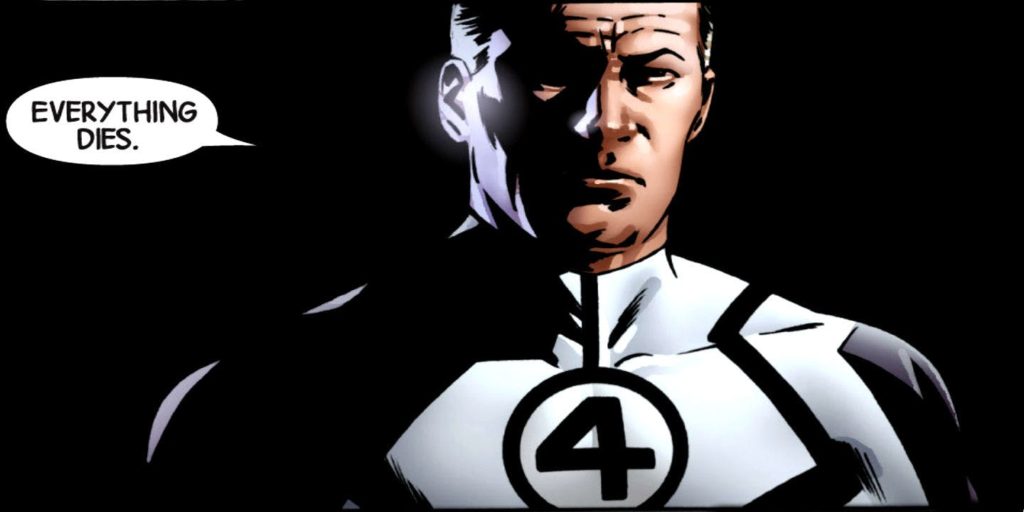 With such a tight focus, Hickman is able to really focus in on a tighter cast of characters and while the scope is still huge, the problem is much clearer. The "hook" of "how are these men going to get out of having to do a genocide" is extremely compelling. This book of morally flawed men trying to solve a desperate situation feels like one of Hickman's favorite things to write and in New Avengers it comes across.
The cast feels like a beautiful blend of the Real Housewives of the 616 with a dash of political intrigue, which is especially present in interactions between T'Challa and Namor. We still pick up on those repeated lines (i.e. "Everything Dies") and other elements that are present in Avengers that give that book a sense of weight, but in the context of the decidedly less optimistic framework of New Avengers, it's much more melancholy.
New Avengers has another benefit, by having a consistent line artist throughout the issues collected. If Opeña and White were aiming for a more mythic feel, Steve Epting, Rick Magyar, and Frank D'Armata give a very stark feel with Epting and Magyar depicting characters in shadow and very subtle acting. D'Armata's colors are very literal and clear, giving a very 2000s "widescreen comic" feel.
Ironically, another distinction of this book is how the page layouts are much less "wide" than Avengers. New Avengers is a much more dialogue focused comic, because when there's a room full of men who think they are the smartest in the room they have a bit more to say. Because of the dialogue, many page layouts go more grid based or evoke a shot and reverse shot (to steal a term from film), which fits as this book has a much more subdued filmic presentation. Where Avengers is more summer blockbuster, New Avengers is more prestige mini-series but it's a testament to Hickman and his collaborators that they feel like excellent complements of one another and a part of one story.
Another addition to this collection is Hickman's first foray into the X-characters from 2008's Astonishing Tales: Mojoworld with Nick Pittara. A few elements of Hickman's writing that are relevant in his Avengers run and his X-Men run is that he is fond of the Cannonball/Sunspot duo and that his humor is often hit or miss. Astonishing Tales follows Cannonball and Sunspot as they get roped into making movies for interdimensional media magnate, Mojo. In comparison to the rest of the issues collected, these issues have aged by far the worst with a number of jokes ranging from unfunny to fully offensive and best left forgotten. I think a crucial issue is Sam and Roberto's immaturity works more as comic relief in a more serious book, such as Avengers but here they are comic relief in a story that must out-wacky itself in every panel. Other than the novelty of Hickman's first X-stuff and seeing Hickman's own artwork in the framing story, the inclusion of Astonishing Tales in this is kind of baffling.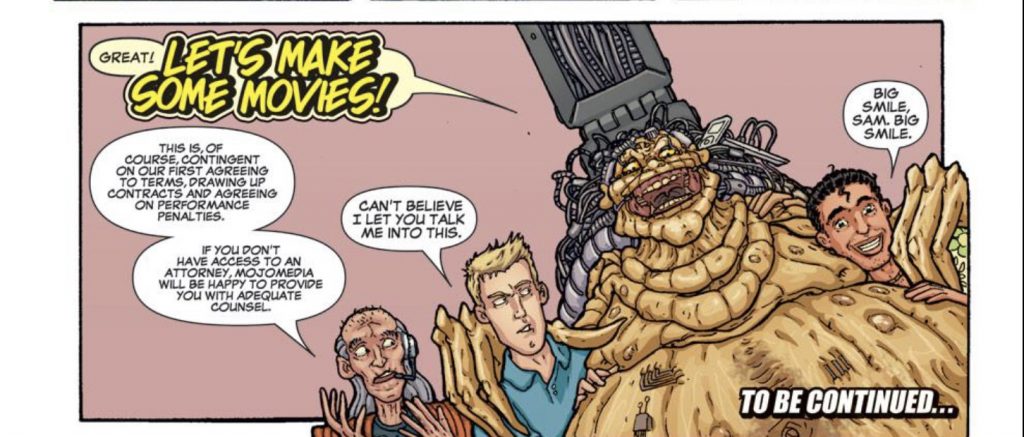 When looking at Hickman's current work on the X-Men
, it's easy to see the very clear threads of the stories he likes to tell. The bold mission statement of an "Avengers World/Machine" can be echoed in the establishment of Krakoa. Huge sci-fi concepts like Moira X, the reinvention of the Phalanx, and the Children of the Vault are presented with a similar confidence earned from presenting the Builders, Incursions, and Black Swan at the start of his Avengers run. And who can forget Hickman's love of morally flawed men attempting to achieve great goals. Charles and Erik I'd like you to meet the Illuminati. Heck we even see a pre-Mueller chart in New Avengers to explain the Incursions.
While these elements are not surprising to see resurface from readers who have followed Hickman at Marvel, what has changed is just how he tells his stories. Avengers and New Avengers being two sides of the same story with different tones and storytelling goals definitely feels exciting when reading. Getting one panel in the first issue of Avengers that teases a huge reveal in the third issue of New Avengers, or meeting Manifold in the second issue of Avengers and an alternate Manifold appearing in New Avengers are just some examples of these things that are so exciting to read. I can only imagine the speculation from these teases in real time. This dual storytelling makes the story that Hickman is telling feel like it's happening in a real universe. Hickman's story is so big it needs two different titles.
The storytelling of these books got me very excited for X of Swords, the first big crossover of the Hickman era. The crossover aims to go through every single X-book published right now, which as a recent college graduate in a pandemic economy sends shivers down my spine and wallet. However, rereading how Avengers and New Avengers build on each other, X of Swords and the entire X-Line being published right now is all the more exciting. Krakoa is a huge shift, not just for the X-Men, not just for mutants, but for the Marvel Universe. In terms of "calling his shots" Hickman is aiming big and the best part about this ambition is the opportunity it offers for creative collaboration.
The X-Writers have been described during this era as working together as more of a writer's room for television rather than individual authors playing in their own corners and dealing with crossovers as best they can. I said earlier that Avengers and New Avengers feel particularly exciting because they are two separate comics that they impact and build on each other. They feel like they are in the same universe. The X-Books right now feel like they are all happening to the same culture. Reviewing a recent X-Force issue, I was caught off guard by a reference to a team up with the Marauders that happened in Wolverine!
When auteurship is discussed in comics, Hickman is certainly one of the names floated as someone with a singular vision. But much like in film where the term is borrowed, it eliminates the collaborative nature of this artwork. The most exciting thing about the Hickman era is that it is actively not defined by Hickman. X of Swords is an event run not just by Hickman but by Tini Howard of Excalibur, which the crossover seems poised to build on, and the X-Writers all contributing. In revisiting Avengers and New Avengers, it's clear that Hickman wants to explore ideas that are bigger than just one book but with this Krakoan era and X of Swords it seems like we are taking this storytelling experiment to the next level through collaboration and I am very excited to see what comes from it.