The best way to come into Jonathan Hickman's writing is to understand what he was before. Before the dizzying page count and before the awards those pages earned him.
Before the beginning, Jonathan Hickman was a graphic designer. An exacting profession that makes order and beauty out of chaos by focusing on the slightest fraction of an inch. And an art form obsessed with ripping away what's unnecessary to reach a purer, more memorable state.
Style Notes:
Multiversal – Known for using alternative universes in his work.
Big ideas – Hickman is often compared to Grant Morrison in terms of creative reach.
Planner – Hickman works on a long, long tail. And that requires planning.
Support For Comic Book Herald:
Comic Book Herald is reader-supported. When you buy through links on our site, we may earn a qualifying affiliate commission.
Comic Book Herald's reading orders and guides are also made possible by reader support on Patreon, and generous reader donations.
Any size contribution will help keep CBH alive and full of new comics guides and content. Support CBH on Patreon for exclusive rewards, or Donate here! Thank you for reading!
This is Hickman's first published comic. The Nightly News is two different books at the same time. The main text begins with a journalist's death at the hands of a sniper. How that murder mystery spins out of control until it involves a terrorist group/information cult who demand that the media change their ways.
The second book plays out as a series of exhaustively researched "infographics" that explain the historical and legal implications of our (then) current for-profit news ecosystem.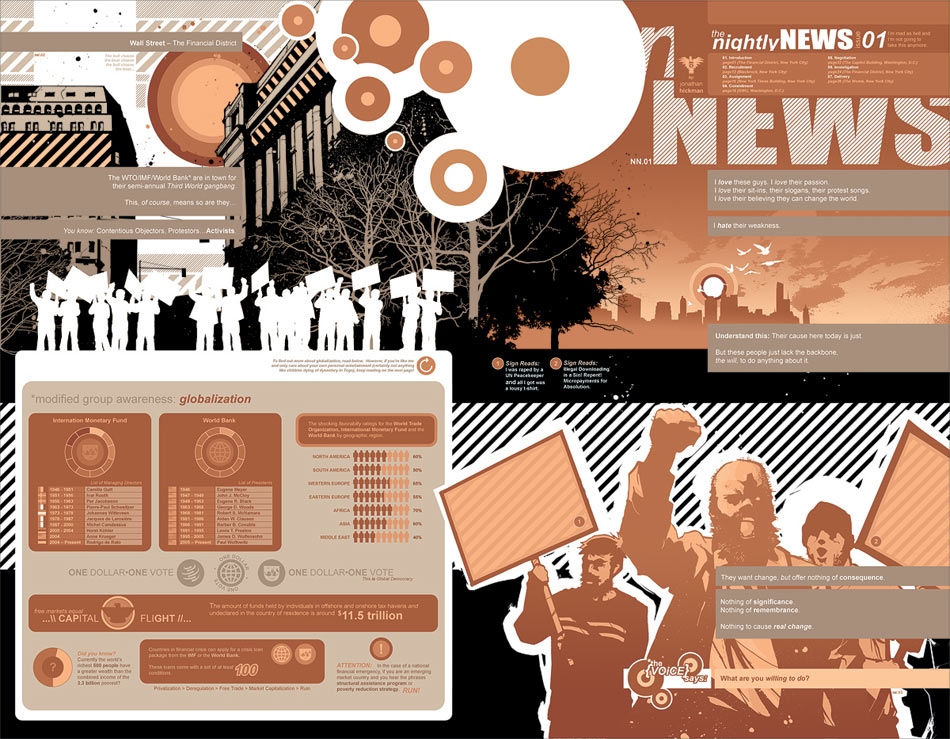 These infographics are a clever way to detail information that might otherwise be rather dry. Also, there's the manner with which they are presented, always followed with the author insisting he's actually a great guy who pays his taxes and pets dogs regularly. This sudden outburst of graphic design caused a shock throughout comics. Suddenly, after The Nightly News drops, you get artists Russell Dauterman and Jorge Molina using Swiss and Post Modernist design concepts in their work.
Unfortunately, Hickman's design sense also drives his illustration skills. His characters are clear and iconic, but they also feel flattened, rigid. Maybe they're captured in their own tabloid shot. Whatever the reason, the illustrations are incredibly legible, but this style hasn't aged the best.
What happens if the Manhattan Project you know was just the tip of the iceberg. What if nuclear bombs were the most benign thing to come out of those projects?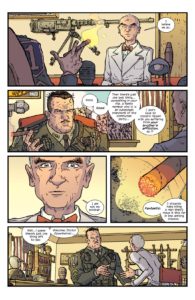 This is the basic proposition of Manhattan Projects. From there, Hickman creates a far stranger alternative universe. A timeline spread across multiple dimensions. A new history where the creator of the atomic bomb, Joseph Oppenheimer, has multiple personality disorder. So many that they can't all fit in his body, with some flanking him like ghostly apparitions. Then there's FDR, who ascends to become the first artificial intelligence. And the less said about the bloody work of Albrecht Einstein, the better.
There are strange, dark gifts here.
Brilliant ideas that can be at turns bitterly sarcastic and gruesomely brutal. The latter is expertly rendered by illustrator Nick Pitarra, whose almost flat but highly detailed worked reminds one a little of Geoff Darrow's hand. But the real stand-outs might be colorists Cris Peter, Rachelle Rosenberg, and Jordie Bellaire. Their work is every bit as carefully considered as Hickman's own.
These elements work together to take one of the most infamous moments in world history and recontextualize it in a new way, using fiction to remind us all just how violent and insane the real history was.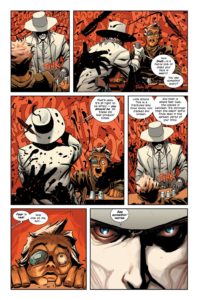 Ten years ago, the Four Horsemen of the Apocalypse died. How or why we don't know. Now, ten years in the future, all of the Horsemen resurrect save one: Death. The pale rider somehow escaped the grave. And now his former allies are laying waste to existence as they search for Death.
But the world ending is just the beginning. This book takes place after a very different American civil war. One that saw the native American tribes rise to absolute technological supremacy. After the Tribes comes the Nation of New Orleans, which has almost complete control of the global supply of sweet crude, as well as the Nation of Texas, a desiccated husk of a country hellbent on bringing on the apocalypse. And there are many, many more where that came from.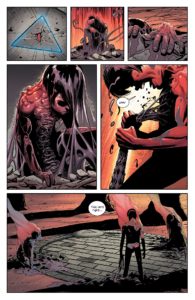 I absolutely love this book. It feels like a total vision. Every nation feels complete, with its own fashion style, color swatches, and political agenda. I also love the dreamy, zoomorphic quality that artist and co-writer Nick Dragotta brings to the technology; the way it makes the book feel like Dali's The Elephants (1948). The lone and level sands beneath the oppression of a blood-red sky. Everyone and everything become fragile beneath a violent Heaven.
This the first time I realized that Jonathan Hickman's works on a 3-5 year arc, and only then when he's in a hurry. The wait between trades has been, at times, every bit as torturous as the acts committed within their pages.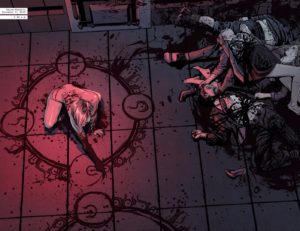 What The Manhattan Projects did to WWII, Black Monday Murders does to the world of finance. The same wild, dark, and I can't tell you much more about the story without spoiling the surprise. So instead, let's talk about "obsession."
Not only is "obsession" thematically appropriate to this book about avarice at quite literally any cost, but it's also a critical part of Hickman's process. It starts with the research that went into this book. There's market data stretching back nearly a century with patterns teased out to build a narrative support structure. Then comes the graphic design, with Hickman creating not only clever infographics but also filthy, toner-smeared projector overlays, printed emails, and the kind of recursive, Xerox-of-a-Xerox design chic of Governmental documents everywhere. And then, to top it off, one of Hickman's favorite tropes: hidden codes.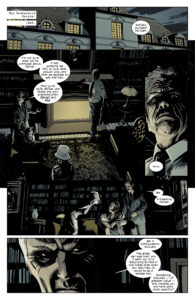 Black Monday Murders is filled with this strange, demonic-looking language which Hickman himself devised. It feels alchemical, astronomical, or maybe even astrological. Any of those might fit in this story about people who worship the market the way a cult worships a demon.
Tom Coker, for his part, is pulling out some absolutely pitch-perfect illustration and coloring. Coker's photorealisism is gorgeous and absolutely sells that some of these characters belong to the rich and the beautiful class. But the heavy shadows and posterized colors recontextualizes the whole story, giving it a perfect noir feel. Right down to the obscenely wealthy patriarch and his wild-at-heart daughter trope. 
This is the story Hickman is most revered for. A story that took six years and about as many titles to tell. It needed every day of that because Jonathan Hickman would settle for only one outcome:
Killing not just the Marvel universe, but every last one of Marvel's universes. Every alternate timeline. Everything. 
This is accomplished by a kind of ultimate cataclysm. A pan-universal cascade which is causing the collapse of the multiverse, sending timeline physically crashing into timeline, destroying both. It's also about a secret cabal called The Illuminati (above). This secret cabal has some of the brightest minds and strongest leaders in Earth-616 who have elected themselves (unelected) stewards of the timeline.
You can also see Secret Wars as a story of their failure.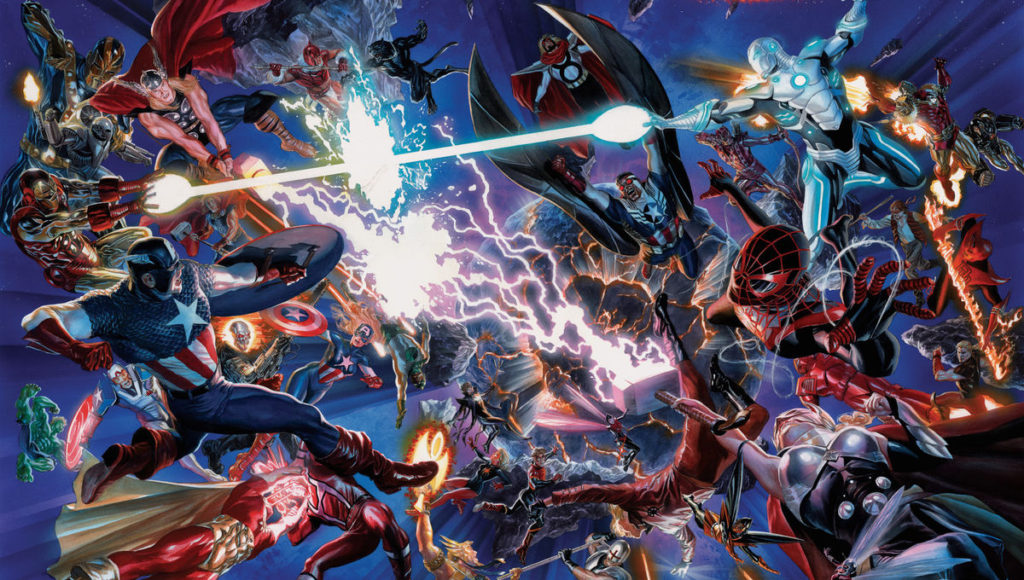 The first thing that's remarkable about this event (I mean, besides Marvel ever letting him do it) was just how well organized it was. Part of this is down to Hickman's use of plot graphing (below). The graphs form affinities and orbits rather than just linear time. The end product is an invention unique to Hickman.
It's a wonder to read through Hickman's run and realize that not only does he have so many plates spinning, but he manages to hand them off between books without a hitch. I'm sure editor Tom Breevort is due at least a little thanks for that.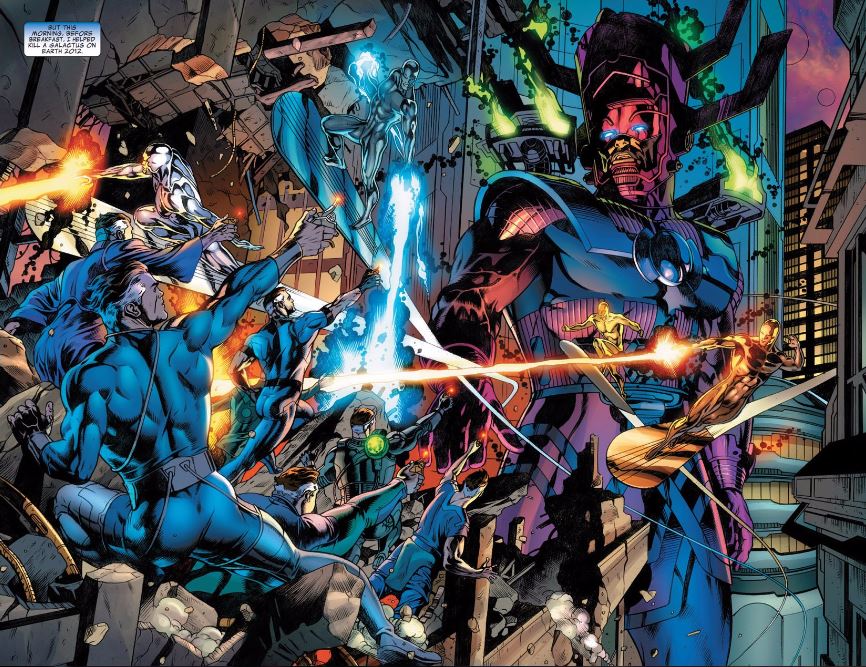 There's almost nothing else to say about that arc. It's incredible. Secret Wars is staggeringly ambitious and phenomenally executed. It's big enough to go cosmic in scale while still managing to stay character-driven. It's easy to get caught up in all the ways in which it contrasts itself. But the most impressive thing about the book is how much of it makes absolute, perfect sense.
The ways in which it pays off. The ways Hickman's deep research in the stacks makes everything feel inevitable. The big hero turn at the end, and how it could only ever happen that way. Even the way, looking back, it very nearly makes business sense to let this lunatic reform the Marvel universe in his own image.
Hickman's writing continues in Marvel's X-Men: House of X!