Now, we reach the end of Craig Kyle and Christopher Yost's first arc on Amazing X-Men. Over the previous four issues, I have not been particularly impressed with this arc. It sets up some really cool things, but then seems to hold off on actually showing really cool scenes to build up suspense for the next issue. A very good example would be when Wolverine is turned into a Wendigo, but doesn't actually do anything, and in fact the writers go out of their way to make sure he doesn't. They continued this trend all the way to the final issue, putting a lot on this issue's shoulders. So while my title might have given a way my opinions of this issue, let's just ignore that and ask, does this issue make World War Wendigo worth it?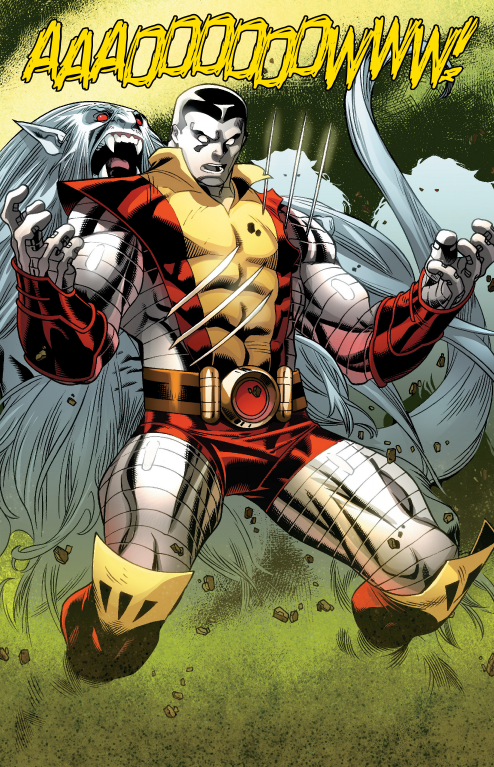 Kyle and Yost's dialogue is a mixture of fun banter (especially between Ice Man and Firestar), characters talking about how hopeless the situation is, and dry villainous monologues. Tanaraq's dialogue in particular is pretty boring. You can basically close your eyes and have a pretty good stab at what he says. Unfortunately, the biggest problem with the writing of this issue is that so many plot points and characters turn out to be pretty pointless/wasted in this arc. The biggest one is of course, the Wolverine/Wendigo who does a grand total of one thing, grapples with Colossus, and then that's it. The Northstar section of the story also turns out to be lacking, seeing as the only reason he was in this was to rescue a little girl (who did nothing) and then stay behind at the end of the story to look for her mother. Unless there is something planned for him down the line, this could have been removed from the story and we would be missing nothing. This can also be stated for just about the entire Alpha Flight team (except for maybe Sasquatch).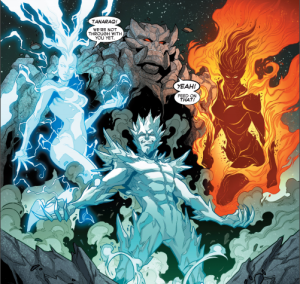 Not everything involving the story is disappointing. One of the highlights of this issue is when Storm, Firestar, Ice Man, and Rockslide are given the power of the Gods so they take on Tanaraq. This is the best part of the issue, as the four giant sized X-Men with heightened powers take on the God of the Beasts. Unfortunately, even this scene is kneecapped by ending way to soon, way to easily, and not even allowing the god X-Men to be the ones who actually beat Tanaraq.
The end of this issue in particular feels extremely rushed and goes to some pretty far lengths to have a "happy" ending for most of its characters. After Tanaraq's anticlimactic defeat (oh, SPOILER the bad guy loses), we get one page that shows everything might have ended badly, then BAM, everything's fine. The ending even goes so far as to reveal a character that seemed to be pretty dead is actually alive and apparently in perfect health. Ya ya I know, comic books and death I know, but when a comic has a panel that seems to show a character getting ripped to pieces, only to pull rug out without any explanation is still not okay for a standalone story. And while they added the little girl's mother is still missing at the end, this is basically a tacked on resolution to add "loss" or "consequences" to this who event that happened.

Carlo Barberi is joined this issue with Iban Coello. Carlo continues to do a pretty good job depicting both the characters and the action scenes, unfortunately Iban's artwork stands out, and every time you hit one of his pages it breaks the flow somewhat. It's not badly drawn, it's just never really a good thing to have multiple artists on one book drawing the same linear story (time jumps or alternate landscapes are the exception). While Carlo does a fine job here, there are several sections that don't present the action being depicted from panel to panel very well.
Support For Comic Book Herald:
Comic Book Herald is reader-supported. When you buy through links on our site, we may earn a qualifying affiliate commission.
Comic Book Herald's reading orders and guides are also made possible by reader support on Patreon, and generous reader donations.
Any size contribution will help keep CBH alive and full of new comics guides and content. Support CBH on Patreon for exclusive rewards, or Donate here! Thank you for reading!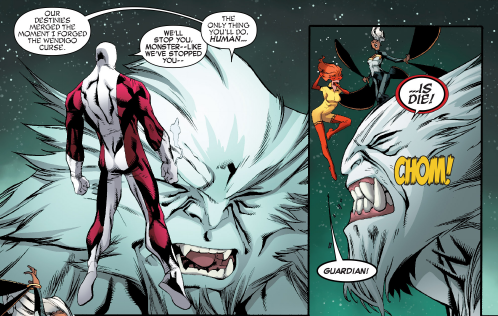 Overall, this issue does not deliver on the promises made during this arc, and in fact was a rather rushed comic. World War Wendigo started off fairly strong, setting up a giant threat for the X-Men, and then proceeded to drag its feet for three issues only to quickly rap everything up in the final issue. While there are some nice character moments here and there, this is honestly not worth the read unless you are a hardcore X-Men, or even Alpha Flight fan.
CBH Score: 2 out of 5
[schema type="review" rev_name="Amazing X-Men #12″ user_review="2.0″ min_review="0.0″ max_review="5.0″ ]