In today's Marvel Review, Comic Book Herald dives into the funnest of laughfests: Death of Icons! What does it mean for readers today when a major hero like Captain America is killed? Can it affect us emotionally anymore? Should it? How has the predictable and mockable cycle of death and rebirth in comics sabotaged the impact of the "death story"? Would it be better if dead heroes stayed dead? Is death even the end? Can what-is-not be and can what-can-not-be is? Keep reading to find out!
Comic Book Run: Captain America (25-36) – Includes Volume 2
Publication Dates: March 2007–March 2008
Writer: Ed Brubaker   Artist: Steve Epting
 CBH Score: 9.0
Support For Comic Book Herald:
Comic Book Herald is reader-supported. When you buy through links on our site, we may earn a qualifying affiliate commission.
Comic Book Herald's reading orders and guides are also made possible by reader support on Patreon, and generous reader donations.
Any size contribution will help keep CBH alive and full of new comics guides and content. Support CBH on Patreon for exclusive rewards, or Donate here! Thank you for reading!
Continuity Relevance?: Yes, major.
Who Needs It?: Anybody who gives a hoot about the Marvel Universe. Americans. Captains. Humans watching "Who Wants to Be a Millionaire?" that would be really upset at contestants who didn't know who Steve Rogers was.
It's Not Funny Anymore, Try Different Jokes
You're at the funeral for a beloved United States General. He was beloved for his unprecedented anti-war stance and also his well-groomed mustache (rumored to be anti-war as well). He fought when fighting was the only way out; not a moment sooner.
You were strangely close to this man. He was a mentor to your father and later in life to you. You could say you loved him. He wouldn't have been embarrassed by that.
You stand before the coffin at his wake, thoughts drowning in a sweltering onslaught of liquid pain. Thousands have gathered behind you to say their final goodbyes. Unable to say it yourself you turn to the man behind you in line.
"I can't believe he's really gone. I just can't believe it."
"Yeah, it's a heartbreaker," the guy, wearing jeans and an ironic tee with "What's in the box?!" plastered across the chest, says a little too cavilierly.
"He just… he meant a lot to me. I can't believe I'll never see him again."
"Oh I don't know about that."
"What?" you ask, hoping this doesn't take a religious turn. Not here. Not now.
"Dude, it won't be long before they bring him back. They do it with all the big names. Frankly at this point I'm just curious how they're going to do it. Shape-shifting alien route? Breaking out of Mephisto's hell? It should be cool to watch."
Of course, at this point you're either too flabbergasted to react in any way, or you're going to punch this man in his heretical mouth. It's no fun having a comic reader at a funeral.
Death Is Not The End
The problem here is that when we're talking comic books, this cognitive process of denial is always vindicated. Every major hero comes back from death. Whether taking their cues from religious allegories and mimicking Jesus (Gandalf if you'd like to keep religion out of the equation), or responding to marketing revenue pressures, Marvel and DC Comics have not been able to keep their heroes dead. They're really bad at it.
Let's take a look at some of the icons quickly. Superman? Killed by Doomsday in the late 90's. Batman? Killed by Darkseid during Grant Morrison's Final Crisis. Hawkeye, Human Torch, Silver Surfer? Check, Check, and Check. Current statuses in their respective universes? For the most part, they're doing great.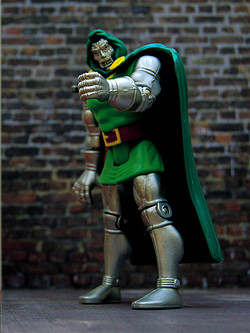 One of the only substantial examples of an iconic death that held is DC's Barry Allen, aka Flash. He's essentially the only prominent character who wasn't paraded around town crying "I'm not dead yet!" And even he couldn't hold onto to his nice little grave as the title of Geoff John's recent Flash: Rebirth clearly indicates.
Our heroes in the comic book world always come back. Frankly, I'm not even complaining, and perhaps I'll dive further into what this means for the genre at a later date. But as it pertains to The Death of Captain America, the question is really: is the story powerful enough to make us take this iconic death seriously?
Poppin' Caps
At the end of the day, the first two volumes of Ed Brubaker's The Death of Captain America are absolutely powerful and compelling enough to overcome the backlash that accompanies the hyper-marketed "Death of an Icon!" hoopla.
It's easy to forget that killing off a comic icon in a story is still a really difficult story to write, and Brubaker nails it here. He finds the perfect blend of Civil War continuity and character-specific story. Captain America has faced potentially the worst loss of his career after Civil War. The aftermath promises to get very messy. So what do you do with the comic? You turn it upside down. No more Steve Rogers.
Normally I wouldn't be so obvious about the death of a character, but seeing as these volumes are titled The Death of Captain America, I feel like I'm not giving anything away.
For those who've been reading Brubaker's Cap run up until this point, these issues continue the Winter Soldier storyline (and then some!) with plenty of additional face time for Cap favorites the Falcon, Sharon Carter, the Red Skull, Nick Fury, Dr. Faustus, and many more.
For any readers who haven't read Cap before but are interested in seeing how the Marvel Universe shakes out after their Civil War, I would recommend reading some of Brubaker's Cap run before you dive into The Death of Captain America. I tried this approach myself and was out of the loop on some major plot points including the Winter Solider, the Red Skull inhabiting someone else's body, and even Arnim Zola existing.
No matter when you read it, The Death of Captain America is one of those rare Marvel Comics that blends major continuity implications with a fantastic story that holds up on its own. It's the death of an American icon, and it gets appropriately emotional without getting sappy.
Plus Brubaker's post-death transition is so smooth, it almost makes you wonder… is Steve Rogers coming back?
Comment Buddies?
Got any thoughts you want to share? Fire away in the comments section! I'd love to talk about any of the following and also anything else you want to talk about. I just want to share jovial conversation amongst friends on the web!
– Do Superhero comics over-exploit the death of icons?
– Is it too extreme to call Captain America an icon? Where does the icon line start and end?
– What did you think of The Death of Captain America? Good enough story for a character this well known?
– Who would win in a fight: Captain America or Captain Planet?