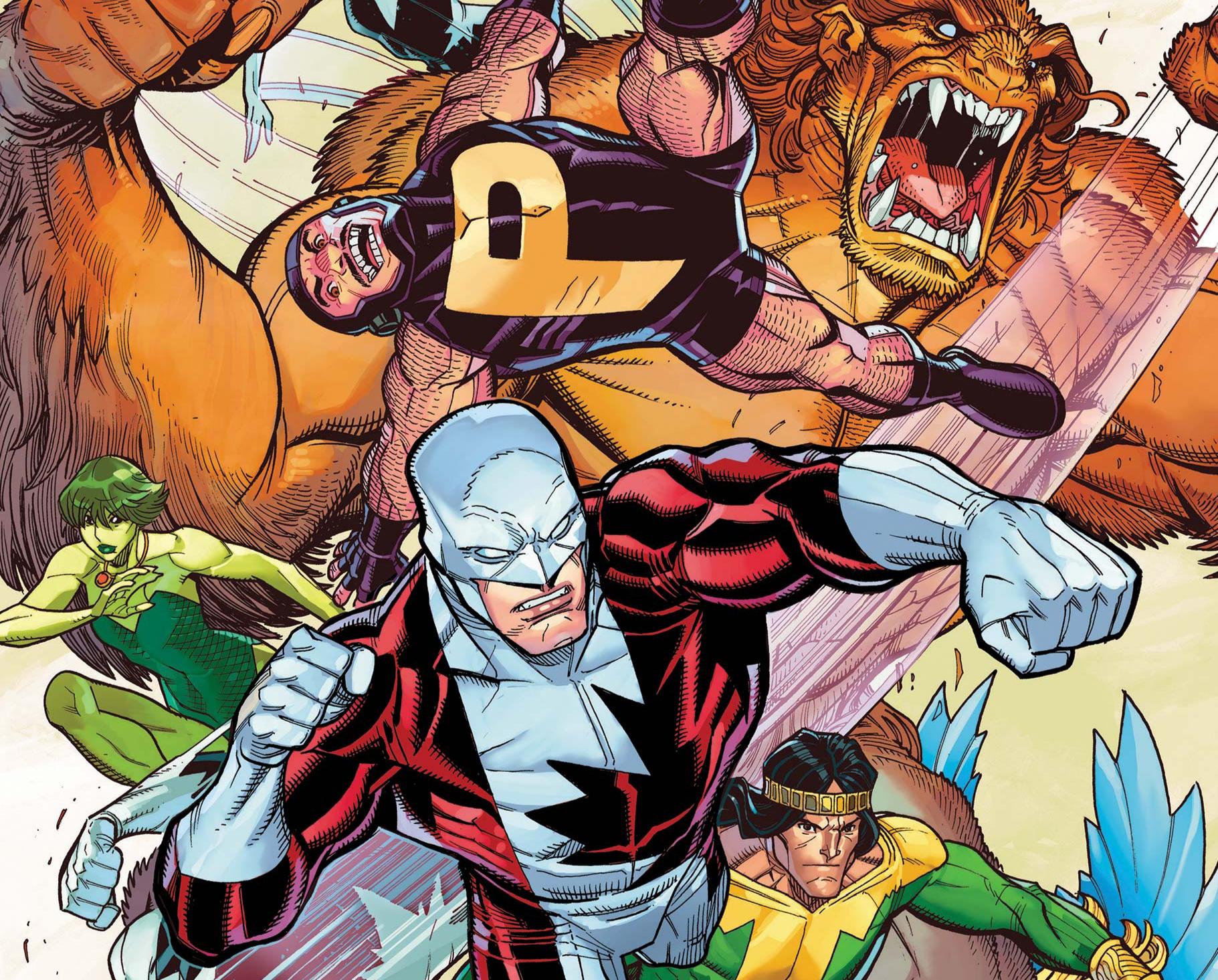 Alpha Flight is a weird team. Often summarized as "the Canadian Avengers", they are a team of superheroes working for the Canadian government's Department H, and initially created as a part of Wolverine's backstory in the pages of Uncanny X-Men #120-121. Spinning off from Uncanny, they went on to have their own ongoing series in 1983 under their original creator John Byrne. That initial series went on for most of the 80s and up until 1994, eventually ending up in the hands of various creators like Bill Mantlo, Fabian Nicieza, and others. Since its creation, Alpha Flight has undergone a number of (re)incarnations: from Beta Flight to Gamma and Omega Flight, all taking on different roles at different times in the Flight's history.
After its initial run, Alpha Flight mostly faded into obscurity (apart from a miniseries here and there,) up until 2015 when the team was reimagined as a space program led by Carol Danvers and SWORD's own Abigail Brand. More recently, a revamped Gamma Flight was formed to go after the jade giant in Al Ewing's Immortal Hulk, leading to a Gamma Flight
miniseries by Ewing and Crystal Frasier.

Alpha Flight, Alpha Test
Uncanny X-Men Masterworks Vol. 3
Collects: Uncanny X-Men #111-121
The team's first appearance comes in Uncanny X-Men #120 and #121, in which the Canadian Prime Minister sends them after the X-Men to retrieve Wolverine. This first iteration of Alpha Flight is led by James Hudson, aka Vindicator (originally known as "Guardian," he's sort of a Canadian Captain America/Iron Man proxy;) the mutant twins Northstar and Aurora; the Native magician Shaman, the Hulk-like monster Sasquatch; and the shape-shifter Snowbird.
Uncanny X-Men Masterworks Vol. 5
Collects: Uncanny X-Men #132-140, Annual #4
Alpha Flight comes back to Uncanny X-Men in issue #139, when Wolverine and Nightcrawler help the team out in their hunt for the Wendigo. In issue #140, Department H disbands the Flight because of lack of money and general anti-superhero sentiment.
Collects: Alpha Flight #1-8
The team reassembles at the call of Heather Hudson (Vindicator's wife), with the addition of Puck (a Wolverine proxy) and Marrina (Human/Shark hybrid from the Plodex alien race) from the defunct Beta Flight training team. Together, this new team fights and defeats Tundra, one of the Canadian Great Beasts. Reformed but without government funds or approval, Alpha Flight struggles to stay together, with half of the initial 8 issues being focused on solo adventures for several members of the Flight, as well as backup stories telling their individual origins.
This mini-series also introduces their main recurring villain: the Master of the World, an immortal caveman trying to conquer the planet with the help of a Plodex ship.
Collects: Alpha Flight #9-19, Uncanny X-Men #109
Vindicator dies during a confrontation with Omega Flight, a villainous team made up of former members of the defunct Beta and Gamma Flight teams. Hudson's wife, Heather, becomes the new leader of the team. Alpha Flight also takes on new members like Box (a robot piloted by inventor and amputee Roger Bochs, formerly of Beta Flight) and Madison Jeffries (a mutant with the ability to control metal).
There's also an appearance from Shaman's estranged daughter, Elizabeth Twoyoungmen, who hates her father for failing to save her mother's life. Later, Elizabeth will go on to become Talisman, a mystical figure and member of Alpha Flight.
Collects: X-Men/Alpha Flight (1985) #1-2, X-Men/Alpha Flight (1998) #1-2, Uncanny X-Men #109, #120-121, #139-140
Loki's schemes bring Alpha Flight and the X-Men together in a two-issue crossover, in which the trickster god grants humans incredible powers. Another X-Men/Alpha Flight miniseries came out in 1998, about both teams fighting HYDRA in the aftermath of the "Dark Phoenix Saga."
Collects: Alpha Flight #20-29, Incredible Hulk #313
Alpha Flight travels to the land of the Great Beasts, where Sasquatch's body is destroyed. Walter Langkowski (Sasquatch's human identity) now resides in the Box armor, and when trying to find him a new body, the team comes face-to-face with the Hulk himself, losing Langkowksi's spirit in the ensuing battle.
Omega Flight is back, this time led by what appears to be a resurrected cyborg Vindicator. And because this is 1985, the book gets a mandatory and completely unnecessary crossover with Secret Wars II (and later,  Infinity War and Infinity Crusade.)
Bill Mantlo takes over as writer with issue #29, in which Department H is refounded and Alpha Flight becomes once again a government-backed team.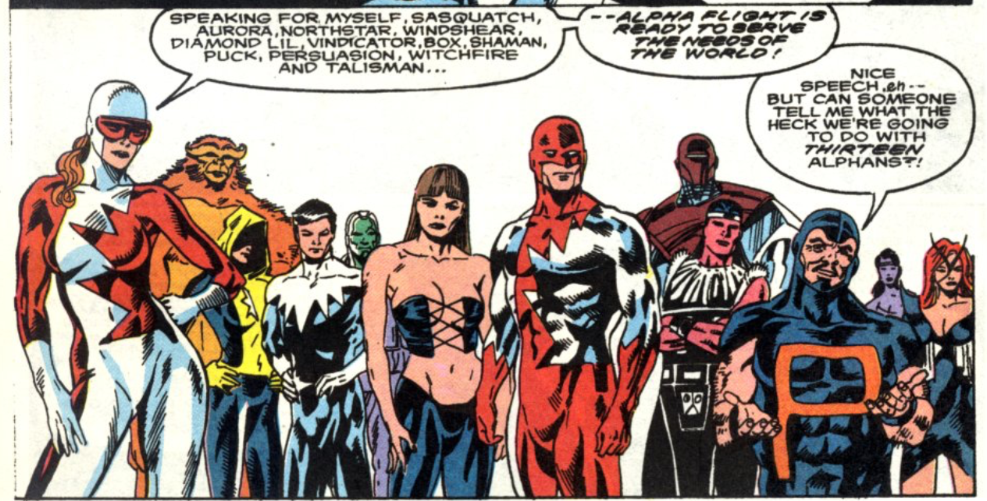 Alpha Flight: The Uncollected Edition
The original ongoing series ran mostly uninterrupted until its cancellation in 1994, but unfortunately, this original volume of Alpha Flight isn't collected beyond the John Byrne issues.
Some noteworthy moments include Heather Hudson becoming the new Guardian (issue #32,) quickly followed by the story of how the Hudsons met and rescued Wolverine in issue #33.
A new version of Beta Flight is created in issue #42, to train and care for teenagers such as Kara Killgrave, the daughter of the Purple Man. This new Beta team grows to include Manikin, a young mutant who can generate three alternate versions of himself from different points in human evolution in issue #49, as well as the mutant twin sisters Goblyn and Laura Dean in issue #54.
In issue #76, a new Gamma Flight becomes the officially sanctioned team of the Canadian government, led by the vigilante Nemesis, with members Silver, Auric, Witchfire and Wildchild; while former villain Diamond Lil joins Alpha.
Fabian Nicieza takes over as writer in issue #87, in which Gamma Flight is disbanded and Alpha Flight is once again reinstated. Weapon Omega, a newly-stable version of Wildchild, joins the team in issue #102.
In issue #106. Jean-Paul Beaubier, aka Northstar, is the first Marvel character to come out as gay in author Scott Lobdell's story about homophobia and the AIDS crisis.
Alpha Flight ended with issue #130, in which the team is suspended by the government, before mostly disappearing from Marvel Comics for a while (except for Jean-Paul Beaubier, who came back in the 1994 four-issue Northstar miniseries).
In 1997, Alpha Flight came back for an as of yet uncollected twenty-issue monthly series with returning members Heather Hudson, Puck, and a mindless Sasquatch, along with new teen members Murmur; Radius and Flex; and led by a mysterious, younger version of James Hudson. The team is reassembled to tackle the threat of Zodiac… and the sketchier parts of the Canadian government, naturally.
After its cancellation, some of this second series' main threads were concluded in Wolverine #142–143 ; and Alpha Flight appeared again in Wolverine #171–172, helping Logan fight the Wendigo. Later, the team reappeared while Heather Hudson was giving birth in X-Men Unlimited #45.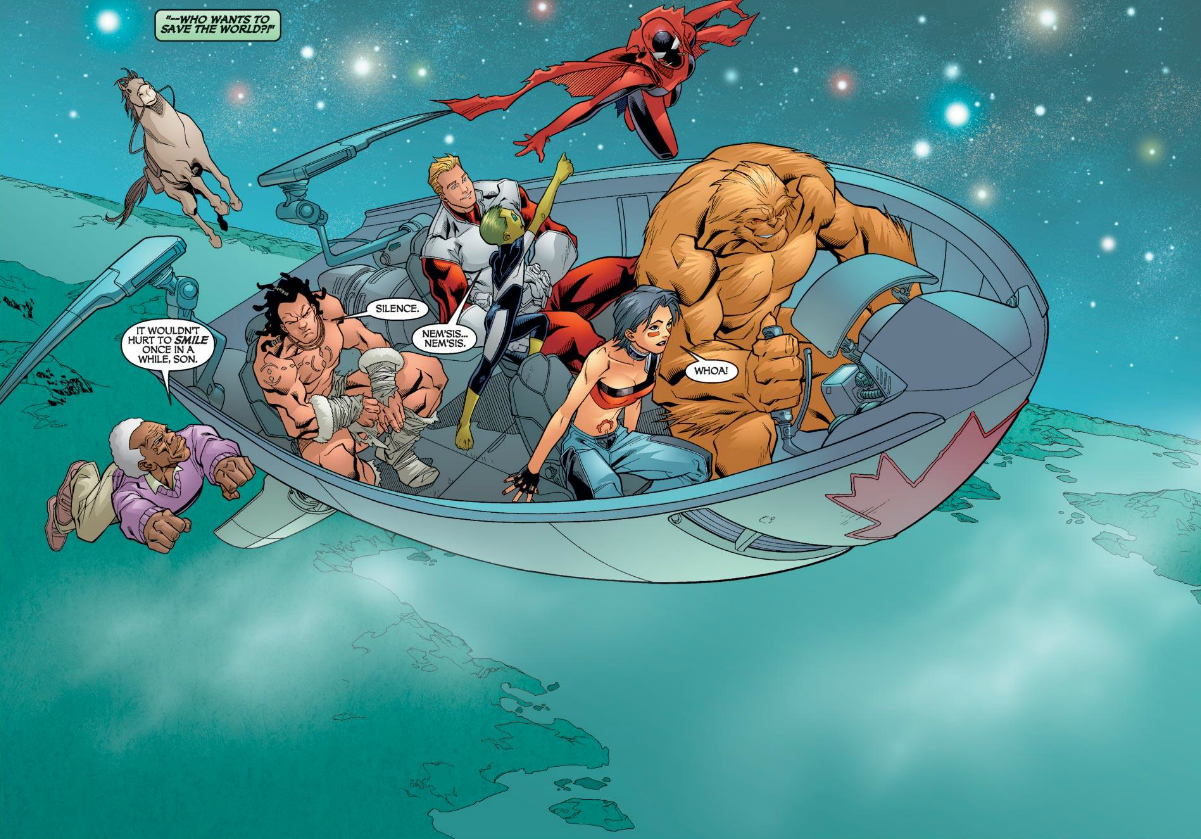 Alpha Fright: Alphans in the 2000s
Alpha Flight Vol. 1: You Gotta Be Kiddin' Me
Collects: Alpha Flight #1-6
In 2004, Scott Lobdell came back to write the third volume of Alpha Flight, with Sasquatch assembling a brand-new team to fight the Plodex. This team consists of various characters from Nemesis to Puck's daughter and the young and naive Major Mapleleaf, among others.
Alpha Flight Vol. 2: Waxing Poetic
Collects: Alpha Flight #7-12
The new Alpha Flight messes with time travel, which is probably the biggest mistake you can make in the Marvel universe.
The team is wiped out by the super-powerful mutant Collective in New Avengers #16–17.
Collects: Omega Flight #1-5
A new "Omega" version of the team, headed by Tony Stark's S.H.I.E.L.D., is introduced in Civil War: The Initiative before getting its own five-issue miniseries. The team includes Sasquatch, US Agent, Talisman, Arachne, and Beta Ray Bill, along with Michael Pointer (formerly controlled by Collective) as the new Guardian. Omega Flight went on to appear in short stories in the uncollected 2004 version of Marvel Comics Presents.
Alpha Flight by Greg Pak & Fred Van Lente Vol. 1: The Complete Series
Collects: Alpha Flight #0.1-4
After the Chaos War: Alpha Flight one-shot, in which most of the team is resurrected, the team reunites in a new series set during the Fear Itself event. Although the run is only collected up to issue #4, it goes on until issue #8.
Alpha Flight attends Northstar's wedding to Kyle Jinadu in the milestone issue of Astonishing X-Men #51.
A version of Omega Flight appears in Jonathan Hickman's Avengers #10, only to be very quickly and gruesomely killed.
Amazing X-Men Vol. 2: World War Wendigo
Collects: Amazing X-Men #7-12
The X-Men and Alpha Flight band together against an outbreak of Wendigos.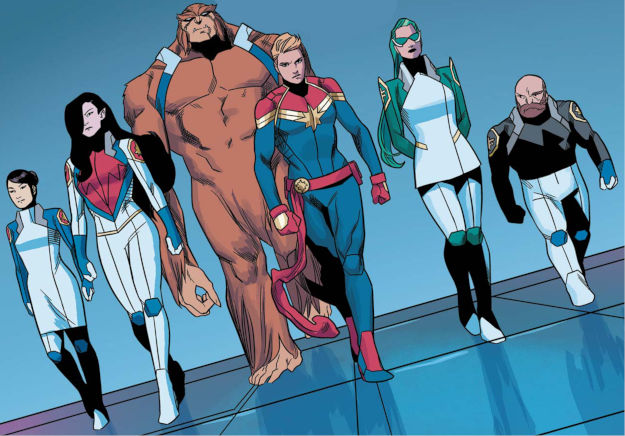 To Alpha Flight And Beyond
Captain Marvel Vol. 1: Rise of Alpha Flight
Collects: Captain Marvel #1-5
In 2015, Alpha Flight was reinvented as a space program, with former members Aurora, Puck, and Sasquatch joining Captain Marvel and Abigail Brand in the Alpha Flight Low-Orbit Space Station.
Captain Marvel Vol. 2: Civil War II
Collects: Captain Marvel #6-10
The Caol Danvers-led Alpha Flight ("Danvers' Flight") is thrown into the events of Civil War II, and the Alphans have to decide where their allegiance lies in the conflict. During that time, Alpha Flight appears in Civil War II: Choosing Sides #5, in which they're reprimanded by real-life Prime Minister Justin Trudeau before he has a sparring session with Tony Stark. Yup, you read that right.
The Mighty Captain Marvel Vol. 1: Alien Nation
Collects: The Mighty Captain Marvel #0-4
Alpha Flight helps rescue space refugees and fight the Chitauri.
The Mighty Captain Marvel Vol. 2: Band of Sisters
Collects: The Mighty Captain Marvel #5-9
Secret Empire begins, and Alpha Flight is trapped in space in a battle against the Chitauri army.
The Mighty Captain Marvel Vol. 3: Dark Origins
Collects: Captain Marvel #125-129
In an alternate universe, Captain Marvel meets a version of her team called Zeta Flight.
Champions Vol. 4: Northern Lights
Collects: Champions #19-21, Infinity Countdown: Champions #1-2
As the Champions are manipulated by Alpha Flight's old archvillain, the Master of the World, Danvers' Flight try to intervene.
Members of the first version of Alpha Flight reappeared in the Alpha Flight: True North one-shot, in three different stories from their time in the original team.
Immortal Hulk Vol. 1: Or Is He Both?
Collects: Immortal Hulk #1-5
Walter Langkowski — renowned scientist and Sasquatch alter ego — helps reporter Jackie McGee in her quest for the monster/hero's ex-college roommate: Bruce Banner. In the process, Langkowski starts losing control of his Sasquatch form, becoming more Hulk-like.
Immortal Hulk Vol. 2: The Green Door
Collects: Immortal Hulk #6-10
Captain Marvel puts Langkowski in charge of a new Gamma Flight to locate the Hulk.
Immortal Hulk Vol. 3: Hulk in Hell
Collects: Immortal Hulk #11-15
After traveling to the infernal Below-Place and back, Gamma Flight recruits Absorbing Man and Titania.
Doc Samson joins Gamma Flight in issue #18.
Immortal Hulk Vol. 5: Breaker of Worlds
Collects: Immortal Hulk #21-25
After General Fortean kills Sasquatch, Gamma Flight tries to fight back against the monster-hunting team Shadow Base.
Immortal Hulk Vol. 8: The Keeper Of The Door
Collects: Immortal Hulk #36-40
After fighting off a Roxxon monster attack in Phoenix in issue #30, Gamma Flight tries again to capture the Hulk. Doc Samson comes back in Sasquatch's body, under the oh-so-original name of Doc Sasquatch.
Immortal Hulk Vol. 9: The Weakest One There Is
Collects: Immortal Hulk #41-45
Notorious annoyance and government stooge, Henry Peter Gyrich, takes over Alpha Flight, forcing Gamma Flight to go rogue, with Shaman, Jackie McGee and Charlene McGowan joining them.
Collects: Immortal Hulk #46-50
Gamma Flight decides to help the Immortal Hulk in his final struggles, including against the Avengers.
Gamma Flight currently stars in their own five-issue miniseries, co-written by Al Ewing and Crystal Frasier.