After last night's season three premiere, Agents of SHIELD is 3 for 3 on roping me in for the season with strong opening episodes. In my opinion this was the strongest of the three, and that's of course including a season two opener that featured the Absorbing Man. Here are my top 10 takeaways from last night:
1 – We find out here that SHIELD is still an unsanctioned entity, and Captain America: Winter Soldier
is still the influencing factor on the public. All this despite Nick Fury's deus ex farm resurrection in Avengers 2: Age of Ultron
. It will be interesting to see what role – if any – Fury and his rogue SHIELD (remember, the guy had a hellicarrier just chilling in Age of Ultron) play in this series. From what I could tell, no clues so far.
2 – But while we're on the subject, if Nick Fury's out there commanding SHIELD agents, what does that make Coulson? Director never really fit him, and if we're going to have an honest performance review, he's done horribly. Tons of people have been hurt on his watch, and even his apparent victory over the terrorist Inhuman splinter cell resulted in the fish oil scandal of the century!
3 – The fish oil closing shot from season two was one of the corniest, unintentionally funniest moments on television, but it's proving to be an effective narrative thread in season three. I'm still impressed that Agents of SHIELD would essentially embrace Terrigen Bombs as their driving story.
This isn't that different than much of what we see from Black Bolt and the royal family in Infinity and Inhumanity, and on through Charles Soule's and Ryan Stegman's ongoing Inhumans
Support For Comic Book Herald:
Comic Book Herald is reader-supported. When you buy through links on our site, we may earn a qualifying affiliate commission.
Comic Book Herald's reading orders and guides are also made possible by reader support on Patreon, and generous reader donations.
Any size contribution will help keep CBH alive and full of new comics guides and content. Support CBH on Patreon for exclusive rewards, or Donate here! Thank you for reading!
. Given that terrigen mists sweeping the city would have been far too overwhelming (not to mention visually expensive) the fish oil ingestion makes for a scale appropriate to the show.
4 – Recommended reading this week: There are a few possible picks, and based on the hype heading into the season, I had the Comic Book Herald reading club check out Secret Warriors
(always and forever, highly recommended). After watching this first episode, though, it's clear Soule's and Stegman's Inhumans
is the preferred comic read, and will actually clue you in to the behavior of some of the Inhumans on display here. A special side recommendation for S.W.O.R.D., one of my favorite Dark Reign comics, may the unmentioned on TV agency R.I.P.

5 – By the great ghost of Giles, it was wonderful to see a (relatively) campy monster talking tough and fighting good looking young people. This was the Buffiest
Agents of SHIELD has ever been, and I loved every second of it.
6 – Mack looks like he put on 30 pounds of muscle, and is either destined to steal the already-cast role of Luke Cage, or sub in for The Rock when Dwayne gets tired. Between Mack's guns, Fitz's superspy stubble, and Daisy Quake's absurd good looks, this group has never been more prepped to usurp the Avengers on the MCU's cover of "People who are really, really, really good looking" weekly.
7 – No May, no Ward, no problem. I'm all for weaving plot threads, but episode one did a nice job highlighting a core group, and a core story, and I was interested in all of it. I'm sure we'll get more Ward as he tries to rehail Hydra, and I'm tentatively looking forward to that, particularly if Ward is going to recruit some powered Marvel villains onto his roster. May's more of a wild card. The obvious answer is she's on a secret spy mission, but having just seen a fun version of that with Fitz, it may need to be more involved.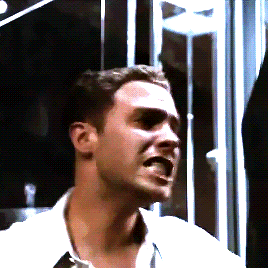 8 – Holy Fitz. He's always been one of the most interesting performances on Agents of SHIELD, but Fitz was never necessarily my favorite character until last night. His terrorist negotiations were perfect, with Fitz playing both the unflappable hero, and the scared and completely out of his element scientist. Even better, of course, was his reaction to Jemma's loss to the Living Monolith. There will be a lot of funny "internet's down – DO SOMETHING!" memes in the next few weeks, but the guttural emotion of that performance was tremendous.
9 – While I was excited that SHIELD is finally moving in the direction of threats from outer space (and now that they're dealing with Kree-created Inhumans in a post-Guardians of the Galaxy world, how could they not?), I was similarly bummed that we won't be getting S.W.O.R.D. or Abigail Brand. My completely unresearched guess is that those rights are tied up with the X-Men (ironically, they were created during Joss Whedon's run on Astonishing X-Men
). Hopefully, the MCU equivalent can bring some of the same light-hearted banter and extraterrestrial knowledge.
10 – I'm also pleasantly surprised with the similarities between last night's premiere, and my "If I Wrote Agents of SHIELD Season Two" article posted last year. I'm not saying I definitely influenced the show, but they can go ahead and list Comic Book Herald in the credits and I won't complain.