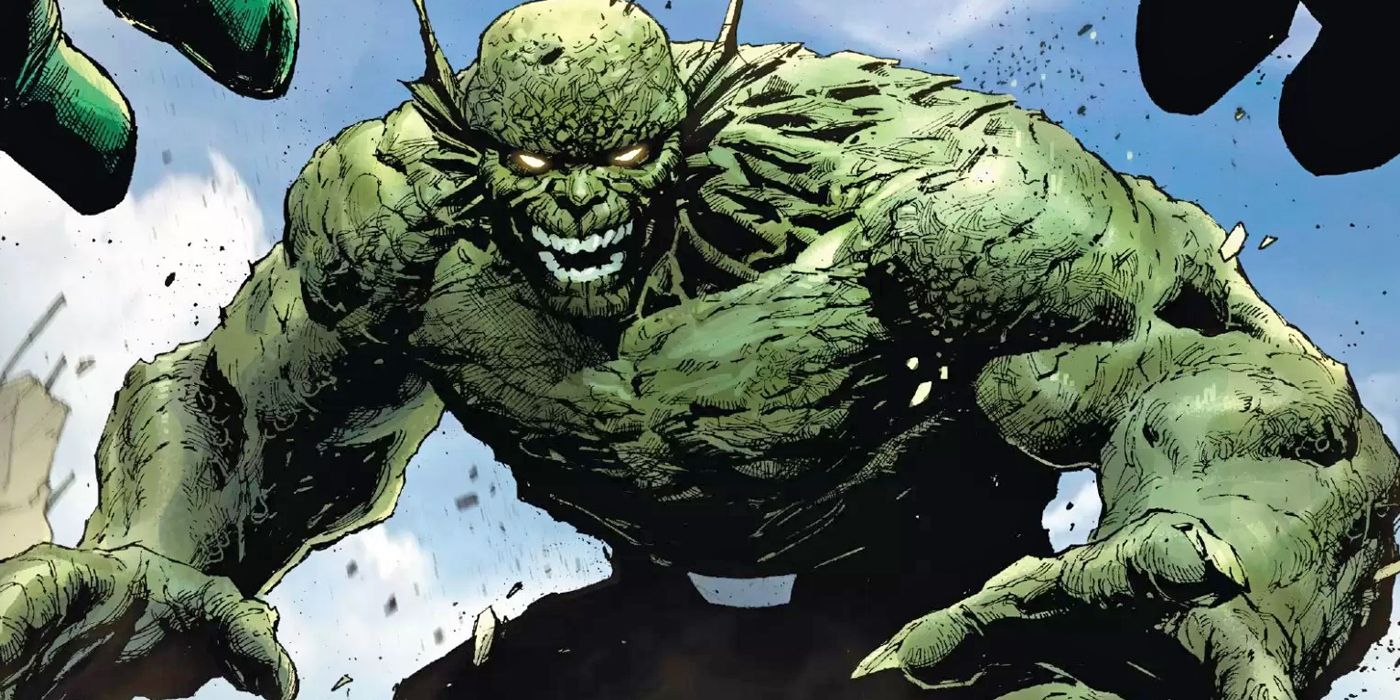 Picture this: it's 1967. You are an artist named Gil Kane, and you are working at Marvel on the comic book Tales to Astonish. Stan Lee just asked you to create a new bigger, badder, meaner antagonist for the Hulk, and you're racking your brain, trying to come up with the right design. When suddenly, genius hits: "What if the Hulk was a weird scaly fish/lizard guy?"
This is the story of the Abomination, one of the Jade Giant's most recurring foes, always ready to cause trouble for Marvel's Gamma heroes (as we will soon see on our screens with his return to the MCU in Disney+'s She Hulk), and whose most important characteristic is his ability to be an eternal pain in the Hulk's green posterior.
Related Reading Orders:
Support For Comic Book Herald:
Comic Book Herald is reader-supported. When you buy through links on our site, we may earn a qualifying affiliate commission.
Comic Book Herald's reading orders and guides are also made possible by reader support on Patreon, and generous reader donations.
Any size contribution will help keep CBH alive and full of new comics guides and content. Support CBH on Patreon for exclusive rewards, or Donate here! Thank you for reading!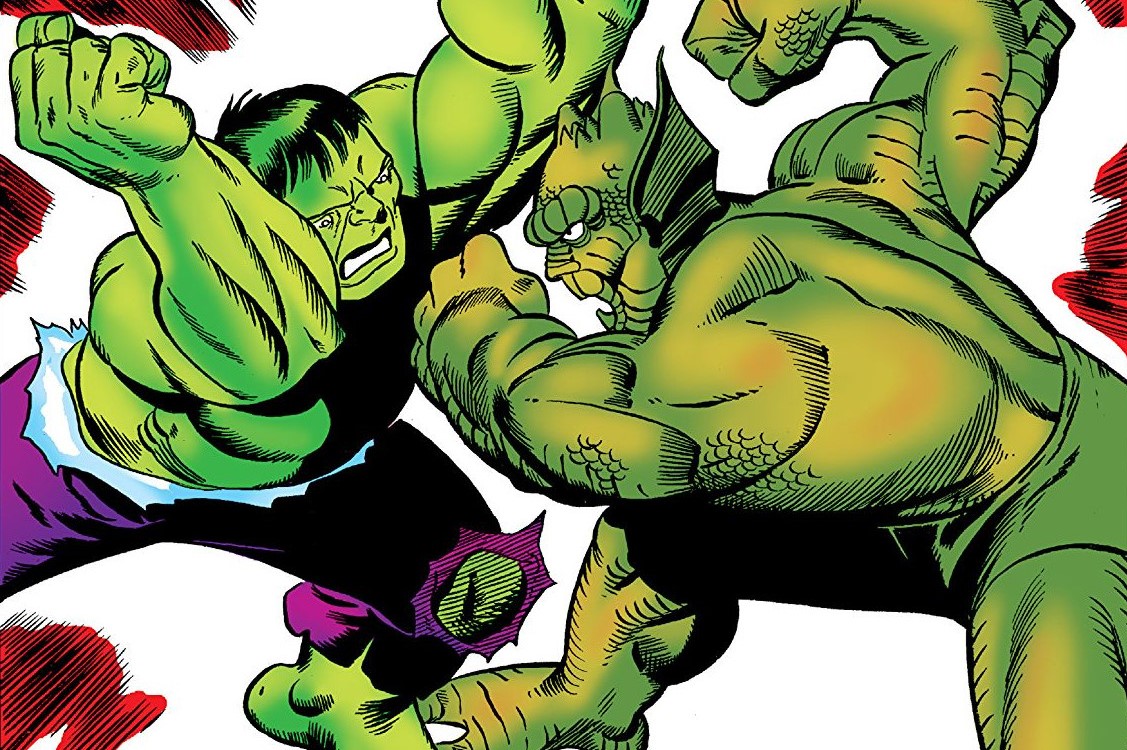 What Are You, Some Kind of Abomination?
Incredible Hulk Masterworks Vol. 3
Collects: Tales to Astonish #80-101, Incredible Hulk #102
In issue #90 of Tales to Astonish, Emil Blonsky is introduced as a Soviet spy who uses a gamma radiation machine to turn himself into a Hulk-like monster, the Abomination. Still retaining his intelligence, he battles the Hulk and is captured by the Stranger at the end of issue #91.
After being summoned by witches to fight the Silver Surfer in Silver Surfer #12, Emil Blonsky is sent back to space, once again prisoner of the Stranger. There, he tries to convince the other prisoners to revolt and join him in conquering the universe, but he is stopped by Thor in Thor #178.
Incredible Hulk Masterworks Vol. 7
Collects: Incredible Hulk #135-144, Avengers #88, Marvel Super-Heroes #16
The Abomination comes back in issues #136 and #137 as the first mate on Xeron the Star-Slayer's ship. After fighting the Hulk in the void of space, the two of them fall to Earth.
Reappearing later in issue #159, Blonsky allies himself with Thunderbolt Ross to stop the Hulk, but he loses once again. In #171, the Rhino and the Abomination band together to attack Hulk and the army.
Incredible Hulk Masterworks Vol. 11
Collects: Incredible Hulk #184-196
Once again in the army's control in #194, #195 and #196, the Abomination convinces the Hulk to work with him and take a space center hostage together.
Back in space in #270, Abomination now works for the Galaxy Master, until Hulk once again shows up to fight him.
Connects: Incredible Hulk #286-295, #297-300, Annual #12
The Abomination, traumatized after years of getting beaten by the Hulk, returns in #287 as a prisoner of MODOK, who traumatizes him further and intends to make him fight the Jade Giant. During a battle in #290, the Abomination is reduced to atoms by MODOK.
In The Incredible Hulk Annual #15, the Abomination's body is reassembled to host the mind of supervillain Tyrannus, who fights Hulk (because what else is he going to do in the Abomination's body ?). Tyrabomination comes back in Amazing Spider-Man Annual #23 and swaps back with Emil Blonsky, who is here somehow, which creates a new mindless Abomination for She-Hulk and Spider-Man to fight.
Hulk: Visionaries – Peter David Vol. 5
Collects: Incredible Hulk #364-372 and Annual #16
Hulk and Abomination (now with his mind back) get a rematch in #364, which leaves Blonsly disfigured by radioactive waste, as shown in #366.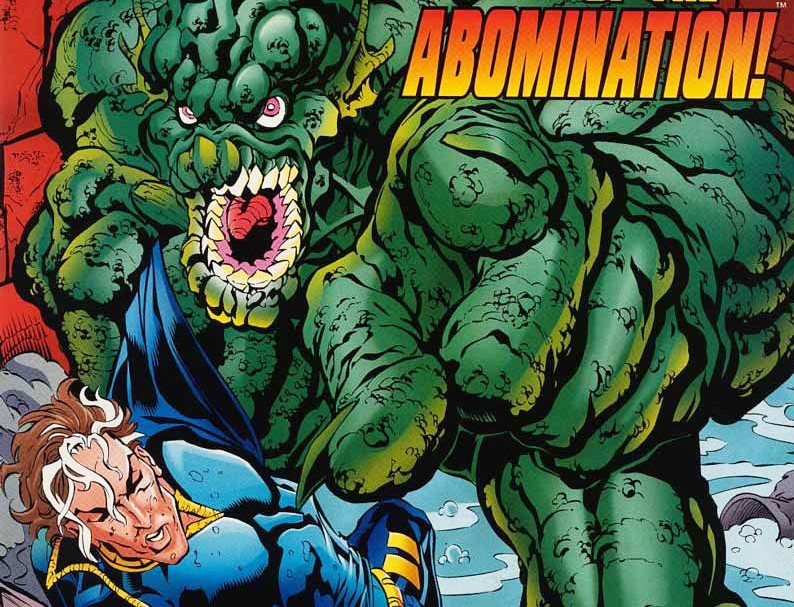 King of the Sewers
Hulk: Visionaries – Peter David Vol. 7
Collects: Incredible Hulk #383-389, Annual #17
Now living in the Manhattan sewers, Emil Blonsky captures his ex-wife Nadia in #383, before being convinced to let her go by a now miniature Hulk pretending to be the voice of God (that checks out) in #384.
In Incredible Hulk Annual #20, the Abomination saves a woman from being assaulted, and he brings her underground to a group of homeless people he is protecting. In Ghost Rider #59, this leads him to fight both Ghost Rider and S.H.I.E.L.D. in the sewers.
Incredible Hulk Epic Collection: Fall of the Pantheon
Collects: Incredible Hulk #420-435, Tales To Astonish (1994) #1, Incredible Hulk vs. Venom #1
Soldiers invade the tunnels in #431 and #432, leading to the slaughter of the people who were under the Abomination's protection. Pushed by anger and grief, he once again fights the Hulk.
In X-Man #20, Abomination goes up against mutants X-Man and Threnody.
In 1997 is published the uncollected The Abominations three-issue miniseries, taking place in the Future Imperfect timeline, in which the future version of Abomination takes over after the death of the Maestro, forcing a team of resistant fighters to go back to the present and seek help from present-day Abomination.
Back for revenge in Incredible Hulk #459, the Abomination gets absolutely destroyed by the Hulk. In X-Men #74, he hunts down Angel in the sewers, before Marrow comes to rescue the X-Man. In issues #473 and #474 of Incredible Hulk, Thunderbolt Ross faces Blonsky after he tells him he killed his daughter ,Betty Ross.
Collects: Incredible Hulk (2000) #21-33, Annual 2001
Emil Blonsky is now living a secret life as a writer and teacher in #24, until the Hulk finds him and battles him in #25, leading to his imprisonment.
Collects: Incredible Hulk (2000) #50-59
Broken out of his cell by the mysterious Home Base organization, the Abomination goes after Hulk when he learns that puny Banner is sleeping with Emil Blonsky's ex-wife Nadia.
She-Hulk Vol. 5: Planet Without A Hulk
Collects: She-Hulk (2005) #14-21
After going on a rampage and being stopped by She-Hulk, the Abomination is captured by S.H.I.E.L.D. and used as a text subject for something called Project Achilles.
In 2008's Hulk #1, the Abomination is found dead, apparently shot by a Hulk.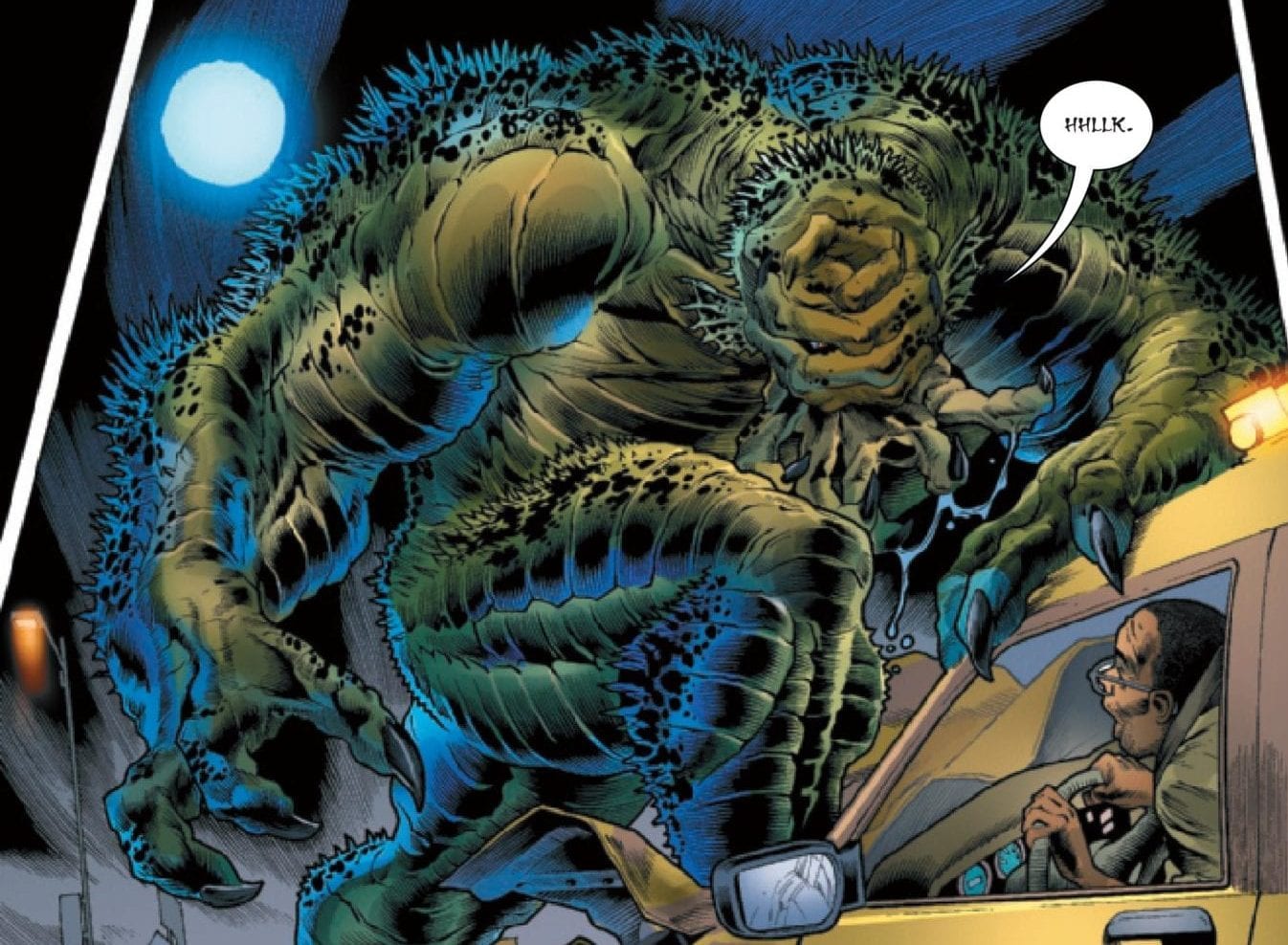 The Immortal Abomination
Collects: Incredible Hulks #618-622
Brought back to life during the Chaos War event, the Abomination is on a mission to capture Marlo Chandler and bring back Death, which brings him to fight an entire team of Hulks.
Collects: Hulk (2014) #1-4.
Sent as a mindless drone to attack the Hulk, the Abomination ends up battling several Avengers before being teleported to Jupiter by Iron Man.
The Immortal Hulk Omnibus Volume 2
Collects: Immortal Hulk #16-30
The Abomination's body is under the control of General Fortean and Shadow Base, who use it as a superpowered suit. They send it after the Hulk, with his old friend Rick Jones trapped inside. After a horrifying battle, General Fortean gets the Abomination suit back and uses it for himself, although it starts taking over his mind.
Collects: Gamma Flight #1-5
Back in control of his body, Emil Blonsky leads the Green Spring company, repowering and sending gamma mutates after Gamma Flight, such as Skaar.
In the current Maestro: World War M miniseries, we see the origins of the Future Imperfect version of the Abomination.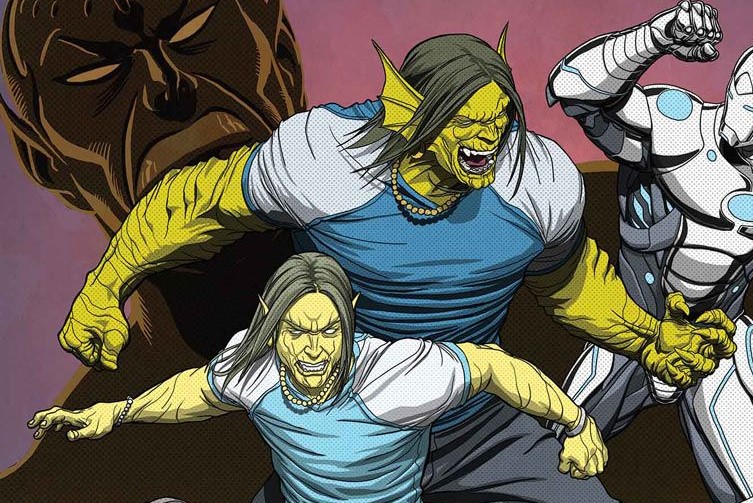 Bonus Round: Teen Abomination
Created by Tom Taylor and Yıldıray Çınar in 2015, Jamie Carlson is a teenager who develops Abomination-like superpowers, though more heroic than the original Abomination. In Superior Iron Man #8, it was hinted that Jamie might be transgender; although sadly, this plot thread hasn't been explored since, and as of now writers have continued to use he/him pronouns to designate the character.
Superior Iron Man Vol. 1: Infamous
Collects: Superior Iron Man #1-5
Jamie is trying to get Tony Stark's attention and help to turn back to human ; however, Iron Man's personality is still inverted from the AXIS event, and he is acting like a supervillain. It is revealed that Jamie is the child of Happy Hogan, Tony's deceased best friend, and that the accident that created the Teen Abomination was due to a Stark Industries experiment.
Superior Iron Man Vol. 2: Stark Contrast
Collects: Superior Iron Man #6-9
Used as muscle by the Superior Iron Man, Jamie meets Pepper Potts, who decides to help.
Howling Commandos of S.H.I.E.L.D.: Monster Squad
Collects: S.H.I.E.L.D. (2014) #9, Howling Commandos of S.H.I.E.L.D. #1-6
Teen Abomination is captured by S.H.I.E.L.D.'s S.T.A.K.E. division and joins the new Howling Commandos, a team of various monsters led by an LMD version of Dum Dum Dugan. While there, Jamie bonds with another teenage member of the team, Glyph.
Wolverine: Old Man Logan Vol. 4: Old Monsters
Collects: Old Man Logan (2016) #14-18
In issues #14 and #15, the Howling Commandos and Old Man Logan team up to rescue Jubilee and Vampire by Night from Dracula.
X-Men Red Vol. 2: Waging Peace
Collects: X-Men: Red #6-11
Under the control of Cassandra Nova, Jamie is sent to attack Atlantis in issue #6, and is stopped by Jean Grey's team of X-Men in #7.