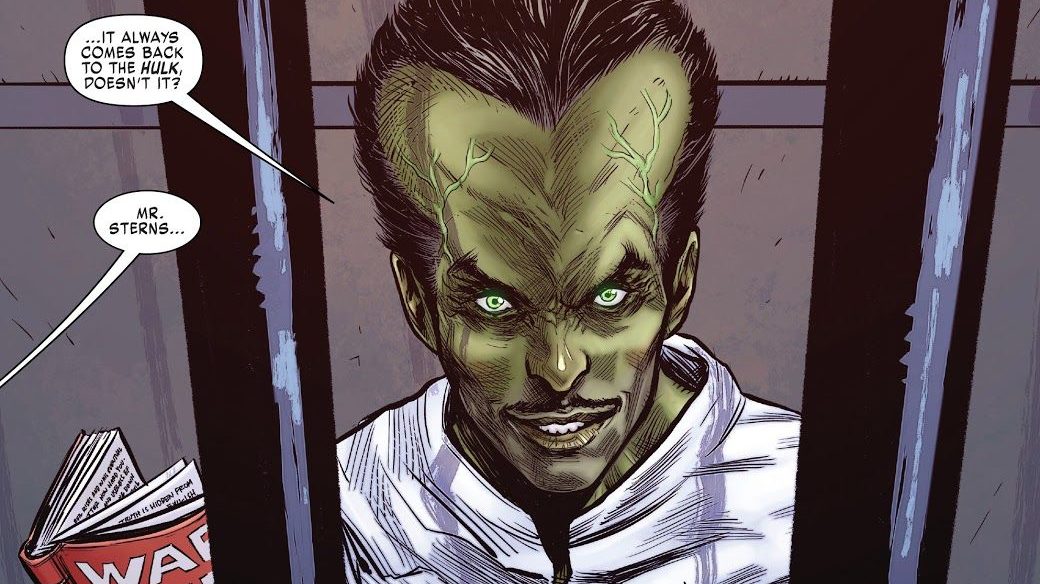 When it comes to Hulk villains, there is no greater match for the Jade Giant than the Leader. Like Bruce Banner, Sam Sterns got his powers after being bombarded with gamma rays, but instead of his muscles growing like the Hulk's, Sterns gained incredible intelligence and a brain the size of a soccer ball.
As The Leader, Sterns matches the Hulk brains-for-brawn, but it doesn't stop there. In many ways, Bruce Banner and Samuel Sterns are two faces of the same coin; one is a self-loathing and guilt-ridden man who wants to be left, while the other is a would-be Ruler of the World, reveling in the strength of his own grey (green?) matter. One man seeks isolation to protect the world from what his strength and rage might do; the other puts himself above other people because they're not as smart as him. And while other the Hulk villains — from General Thunderbolt Ross to the Abomination — might have come to blows with the emerald enforcer more frequently, the Leader is the one who feels like his true nemesis.
With The Leader featuring in both the end phase of Al Ewing's Immortal Hulk and promotional material for the upcoming M.O.D.O.K. show (and perhaps in Disney+'s She-Hulk?), now is the perfect time to catch up on Samuel Sterns' comic book history, from 1964 to today.
The Smartest There Is
Incredible Hulk Masterworks Vol. 2
Collects: Tales to Astonish #59-79
Support For Comic Book Herald:
Comic Book Herald is reader-supported. When you buy through links on our site, we may earn a qualifying affiliate commission.
Comic Book Herald's reading orders and guides are also made possible by reader support on Patreon, and generous reader donations.
Any size contribution will help keep CBH alive and full of new comics guides and content. Support CBH on Patreon for exclusive rewards, or Donate here! Thank you for reading!
An original Lee/Ditko creation, the Leader was first introduced in Tales to Astonish #62, when the series was a split book between Giant-Man and Hulk. In his first appearance, the gamma-irradiated mastermind (at first shown wearing a hood that covers his entire face) sends the Chameleon to spy on General Ross' missile base. #63 reveals Leader's shocking face and backstory as an ordinary janitor disfigured by gamma rays from radioactive materials, causing his intelligence to expand… and his skull with it.
Here, the Leader states that his objective is to take over the United States government with a plan involving stealing one of Bruce Banner's inventions. This leads to Stern's first interaction with the Hulk. Realizing the similarities he shares with the Hulk, the Leader decides to learn more about him in order to destroy his new enemy.
In the following issues, the Leader sends his Humanoids to fight the Hulk time and time again, and his motivation shifts from seeking to kill the Hulk to wanting him as an ally in his world-conquering schemes. When he finally manages to bring the Hulk to his lair, the Leader saves the Jade Giant's life by taking out a bullet that had lodged itself in his brain. Because of this, Hulk feels indebted to the glowing tyrant, helping him steal the Watcher's Ultimate Machine containing all the knowledge in the universe. However, when the Leader uses it, his brain is overwhelmed and he seemingly dies.
Incredible Hulk Masterworks Vol. 5
Collects: Incredible Hulk #111-121
Three years after his apparent death, the Leader comes back to ally himself with Thunderbolt Ross in a plan to render the Hulk powerless. Sterns reveals that he had actually been revived by one of his Humanoids, and that because he's technically been pronounced dead, he can't be prosecuted (can't argue with that logic). This leads to a small fight in which Hulk blows up a tropical island, an atrocity that allows the Leader to escape to fight another day.
Incredible Hulk Masterworks Vol. 6
Collects: Incredible Hulk #122-134
The arc where the Leader establishes himself as Hulk's nemesis, as Mr. "Head, Head, Head & Shoulders" sends the Rhino to stop Bruce Banner and Betty Ross' wedding, hoping it will bring back a more violent Hulk that could kill his would-be wife. Later, Leader forces himself to turn back into his human identity of Sam Sterns, hoping to get close to Bruce Banner in order to find the Hulk's secret weakness. (The order of operations are: steal weapons from General Ross to attack Banner, ruin his wedding, then give up and hang out with him.)
In Incredible Hulk #139, the Leader allies himself once again with the army and General Ross. However, Hulk's teenage sidekick, Jim Wilson, turns one of the Leader's inventions against him, causing the villain's mind to be once again overwhelmed, seizing the evil janitor solid.
Incredible Hulk Masterworks Vol. 8
Collects: Incredible Hulk #145-156
The Leader plots to replace the President and Vice-President with Mandroids.
Incredible Hulk Masterworks Vol. 9
Collects: Incredible Hulk #157-170
Paralyzed and now living in a space station controlled by an A.I. named Omnivac, the Leader takes possession of the Rhino's body.
Later, in Marvel Feature #11, Sterns has a contest with Kurrgo the Master of Planet X, which leads to a fight between Hulk and the Thing.
Incredible Hulk Masterworks Vol. 12
Collects: Incredible Hulk #197-209
Sam Sterns is found in the desert by Doc Samson, without any memory of being the Leader.
Incredible Hulk Masterworks Vol. 13
Collects: Incredible Hulk #210-222, Incredible Hulk Annual #6
Now living at Gamma Base, Sterns starts behaving in a strange manner, sneaking off to get to some of his old inventions.
Incredible Hulk Masterworks Vol. 14
Collects: Incredible Hulk #223-233, Incredible Hulk Annual #7, Captain America #230
Sam Sterns is the Leader once again, taking control of Gamma Base and holding General Ross and Doc Samson prisoners. Bruce Banner is forced to become the Hulk once again to stop him, especially as Sterns now appears to be able to mind-control people. In the end, the Leader disintegrates when one of his weapons shorts out.
In Incredible Hulk Annual #11, the Leader (somehow alive once again) plans to turn the entire world green by poisoning the water.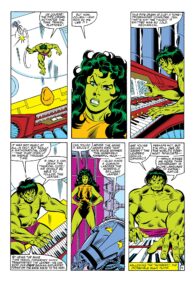 Collects: Incredible Hulk #269-285
While the Hulk (now with the mind of Bruce Banner) gets amnesty and is acclaimed as a hero, the Leader invites him to dinner on his space station in order to test him. There, he gets to show off his mathematical pipe organ, which every good villain should have. After a battle through time with Hulk and the Avengers, the Leader falls into a volcano and dies once again.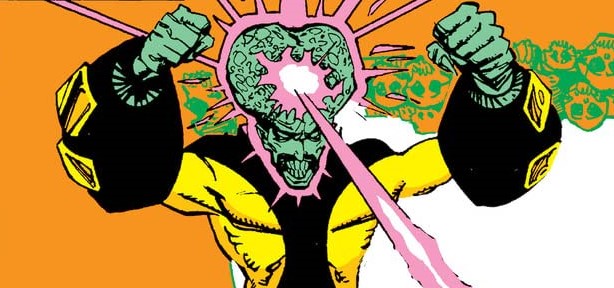 Brain Drain: Sam Sterns in the 90s
Hulk Visionaries: Peter David Vol. 1
Collects: Incredible Hulk #331-339
During Peter David's run on Incredible Hulk, Sam Sterns comes back as a powerless version of the Leader, having slowly lost his intelligence to the point of locking himself out of his own supervillain lair. Sterns convinces the new Grey Hulk that the only way to help Rick Jones (now a Hulk as well) is to transfer Rick's Gamma rays to him, making him the Leader once again. However, the Gamma energy proves too much for Sterns, and his appearance becomes more grotesque than ever, with a giant lumpy skull to contain his enormous brain. On the other hand, he also starts rocking a giant horseshoe mustache, which is a clear improvement.
Hulk Visionaries: Peter David Vol. 2
Collects: Incredible Hulk #340-348
The new and improved Leader gets hold of a gamma bomb, which he drops on the city of Middletown, killing most of its inhabitants. He takes the few irradiated survivors under his wing, thinking he's finally managed to kill the Hulk.
Hulk Visionaries: Peter David Vol. 5
Collects: Incredible Hulk #364-372, Incredible Hulk Annual #16
Now the leader of a hidden city in the Arctic called Freehold (now home to the Middletown survivors), Sterns enlists Hulk's help to kill his brother Phil Sterns, aka the Madman.
Incredible Hulk Epic Collection: Ghosts of the Past
Collects: Incredible Hulk #397-406, Incredible Hulk Annual #18-19
When Marlo Chandler dies, the Leader goes to her boyfriend, Rick Jones, and offers his help in bringing her back. Rick finally accepts, but the ritual — taking place in Freehold, where Sterns is almost worshipped — is stopped by a battle involving the Hulk and HYDRA, culminating with another apparent death for the Leader.
Incredible Hulk Epic Collection: Ghosts of the Future
Collects: Incredible Hulk #436-448, Savage Hulk #1, Cutting Edge #1, Cable #34, Onslaught: Marvel Universe
Omnibus, a former servant of the Leader, seems to be under Sterns' mental control and causes several terrorist attacks throughout the planet before being stopped by the inhabitants of Freehold.
Collects: Incredible Hulk (1999) #21-33, Incredible Hulk Annual 2001
When Bruce Banner is dying from ALS, the cure unexpectedly comes from the Leader (whose disembodied mind built itself a monstrous body). Sterns wants Banner to witness his enemy's ascension to a higher plane of existence; however, after he's gone, Bruce hears Sam's voice calling to him, apparently terrified of what he found on the other side.
In the uncollected Incredible Hulk #75 and #76, the Leader (now a decapitated head in a jar) manipulates Bruce in order to get his non-existent hands on the Hulk's body.
Brainstorming: The Leader as a Team Player
She-Hulk Vol. 5: Planet Without A Hulk
Collects: She-Hulk (2005) #14-21
The Leader is captured by S.H.I.E.L.D. and put on trial, but he is found not guilty.
Collects: World War Hulk Aftersmash: Warbound #1-5
Sterns tries to use the Warbound's powers to cure himself and become more powerful, experimenting on the inhabitants of a small town in the middle of Nevada, and barely escaping with his life.
Incredible Hulk Vol. 1: Son of Banner
Collects: Incredible Hulk (2009) #601-605, Dark Reign: The List – Hulk
Back in his original long-foreheaded form, the Leader's new schemes seem to involve the Hulk's son Skaar and a new Harpy.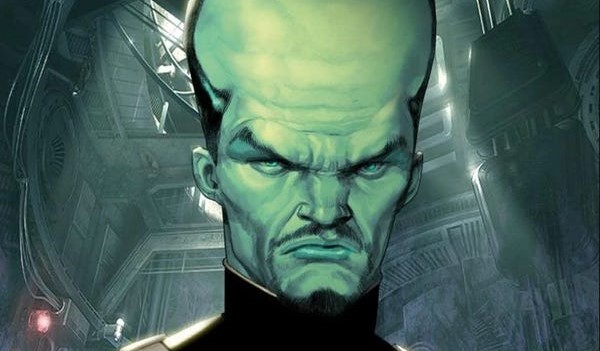 Collects: Fall of the Hulks: Alpha, Fall of the Hulks: Gamma, Incredible Hulk (2009) #606, Hulk #19-20, Red Hulk #1
During the Fall of the Hulks crossover event, it is revealed that the Leader is part of a team of supervillain masterminds called the Intelligencia, whose plans lead to the creation of the Red Hulk and the Red She-Hulk.
Collects: Incredible Hulk #607-608, Hulk #21, Savage She-Hulks #1, Red Hulk #2-4
The Leader and the Intelligencia's plans turn to an all-out war involving various Hulks, the Avengers, and the eight most intelligent people on the planet.
Incredible Hulk Vol. 3: World War Hulks
Collects: Incredible Hulk (2009) #609-611
As the Red Hulk Saga comes to a close, Sterns escapes just in time before Bruce shoots him.
Collects: Hulk #22-24
The Red Hulk, his identity now revealed, takes away the Leader's Gamma and turns him back into Samuel Sterns.
Thunderbolts Vol. 1: No Quarter
Collects: Thunderbolts (2012) #1-6
Sterns is brought in by Ross to help with a situation caused by his brother, the Madman. After getting shot in the head by the Punisher and making his own brother's head explode, Sterns gets back some Gamma energy and becomes the Red Leader, joining the team full-time.
Thunderbolts Vol. 2: Red Scare
Collects: Thunderbolts (2012) #7-12
Sterns now works as the Thunderbolts' tech guy. No one on the team trusts him, even though he appears weak and pretty much harmless at this point.
Collects: Thunderbolts (2012) #13-19
Infinity begins, and Sterns needs to access his second brain, which he uploaded on the Internet to free some data in his original one. Later, he imagines himself killing the entire team by himself, but he is quickly brought back down to reality.
Collects: Thunderbolts (2012) #20-26
On a mission to Hell, the Red Leader manages to trick Mephisto himself. Later, the Thunderbolts head to Honduras, where they all die before being brought back to life a few days earlier.
Thunderbolts Vol. 5: Punisher vs. The Thunderbolts
Collects: Thunderbolts (2012) #27-32, Thunderbolts Annual #1
The Red Leader plots to cause a conflict between the Punisher and the rest of the team, but his schemes catch up to him when both the Thunderbolts and the Avengers come to capture him.
Later, in Hulk #13 (2014), Doc Green shuts down Red Leader's lab and takes away his Gamma, but Sterns seems to have planned for this eventuality. With the help of the A.I. named Gammon, Sterns becomes the regular old Green Leader once again.
Monsters Unleashed Vol. 1: Monster Mash
Collects: Monsters Unleashed #1-5
Sterns leads a new Intelligencia, plotting to capture Kid Kaiju and use his powers.
She-Hulk Vol. 3: Jen Walters Must Die
Collects: She-Hulk #159-163
The Leader captures She-Hulk and tries to force her to kill someone, but she overcomes the rage and beats him.
The Immortal Leader
Collects: Hulkverines #1-3
The Leader escapes from Shadow Base to go after the Immortal Hulk, Wolverine, and the Hulkverine. In his quest, he runs across Dr. Alba, a Weapon X scientist with whom he has a weird flirtatious relationship.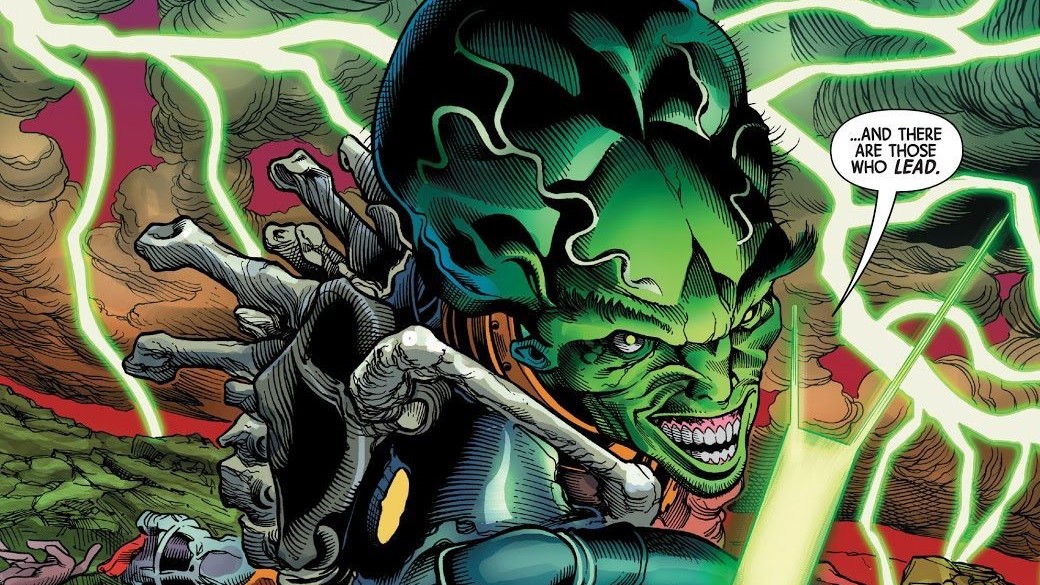 Immortal Hulk Vol. 7: Hulk Is Hulk
Collects: Immortal Hulk #31-35
After a short appearance in Immortal Hulk #25, the Leader comes back as the mastermind controlling Rick Jones' body. Issue #34 is a full recap of his entire history, retconned to make him the only person able to control the green doors that allow Gamma Mutates to come back to life.
Immortal Hulk Vol. 8: The Keeper Of The Door
Collects: Immortal Hulk #36-40
Now revealed to be the main villain of the series, the Leader is shown taking control of various Gamma Mutates. Sterns sends Doc Samson to the Below Place, the apocalyptic Purgatory where Hulks go when they die. In Bruce Banner's mind-space, the Leader has taken control of the Green Scar alternate persona and seemingly kills the Devil Hulk.
In Immortal She-Hulk, he lets Jen Walters use a green door to come back to life, but warns her to not die again.
Immortal Hulk Vol. 9: The Weakest One There Is
Collects: Immortal Hulk #41-45
After connecting with the One Below All, the Leader looks more grotesque and alien than ever, monologuing while swarming Joe Fixit and the Savage Hulk with various hellish creatures.