When we talk about comics, we're frequently talking in terms of rules. In terms of orthodoxy. These are the gospels according to Kirby, Ditko, Moore, and Lee, we'll seemingly say, and you will honor them. There is an established order here.
And then there is Bill Sienkiewicz.
The man starts on canvas as often as on bristol board, works in collage as much as inks, can mimic silver age masters on one page and Austrian Expressionists the next, and if there is an order to Bill, or any guiding rules, they're the kind that say a man can keep running in mid-air provided he doesn't look down.
And that is exactly what makes Bill Sienkiewicz such an exciting artist. He took a strong foundation in the traditions of comics and abstracted it so that every page positively drips with his emotions.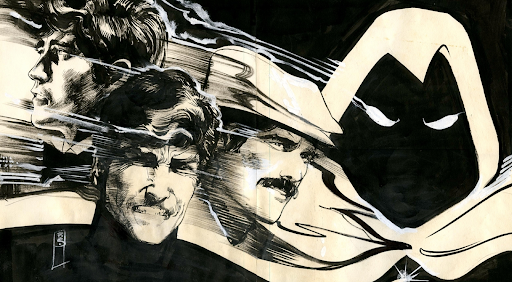 In which Bill hones his craft and finds style.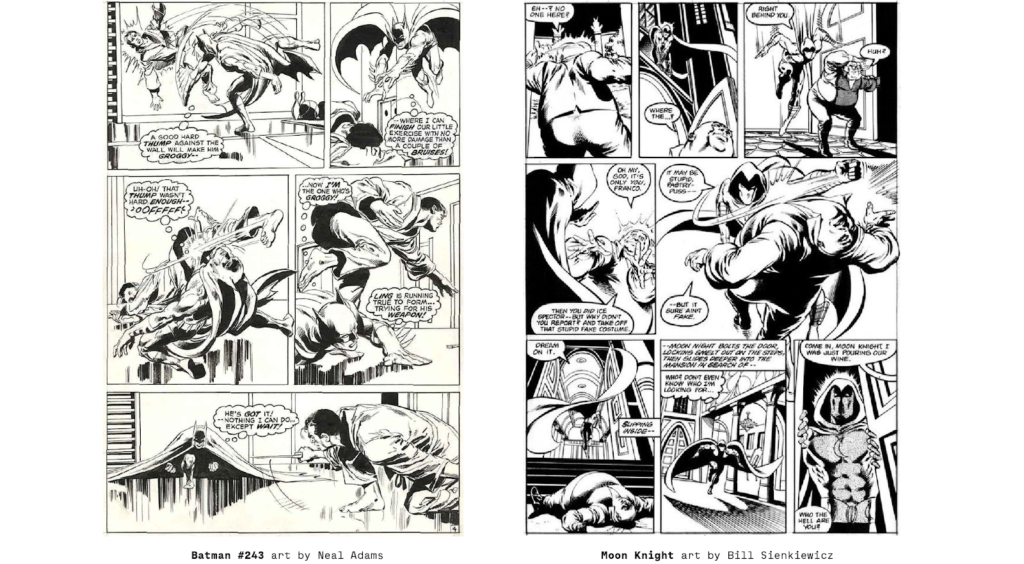 Bill started life as something of a Neal Adams disciple. As influences go, you could do worse than Neal's mixing nuanced expression with athleticism and balletic action, and you can see both clearly in Sienkiewicz's early pages. Of course, maybe that's because he was also working on Moon Knight.
Support For Comic Book Herald:
Comic Book Herald is reader-supported. When you buy through links on our site, we may earn a qualifying affiliate commission.
Comic Book Herald's reading orders and guides are also made possible by reader support on Patreon, and generous reader donations.
Any size contribution will help keep CBH alive and full of new comics guides and content. Support CBH on Patreon for exclusive rewards, or Donate here! Thank you for reading!
I'm not here to re-litigate the whole "Moon Knight is Marvel's Batman" debate. We are all adults here, there's room enough for two billionaire vigilantes to swing on ropes, throw boomerangs at criminals, and get way too hung up on a visual themes based on night punching.
Additionally, you can see hints of Curt Swan's Superman and Carmine Infantino's Flash in Bill's work so, seriously, case closed on the Batman thing.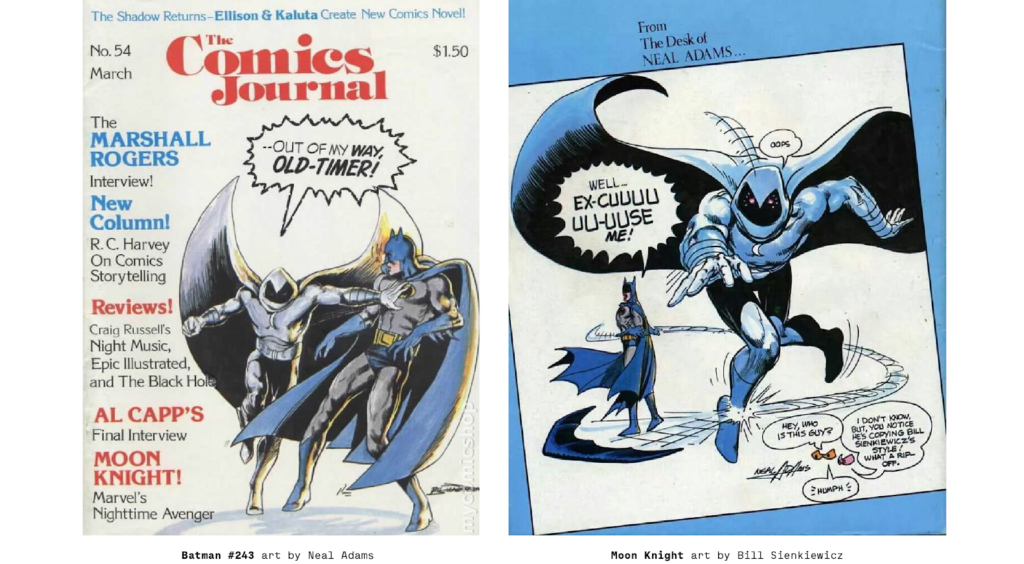 The whole early run is like a master class in old school comics, right through issues 24-25. But then something changes with issue #26 ("Hit It"). See if you can spot it in this side-by-side.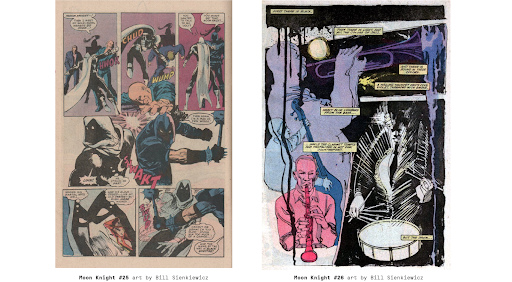 It's not just that the style has changed. It's that "Hit It" tells its story through changing styles from panel to panel; painterly here, childlike there, classic Marvel house-style between, all to shift tone and meaning in a way captions and word balloons alone wouldn't convey.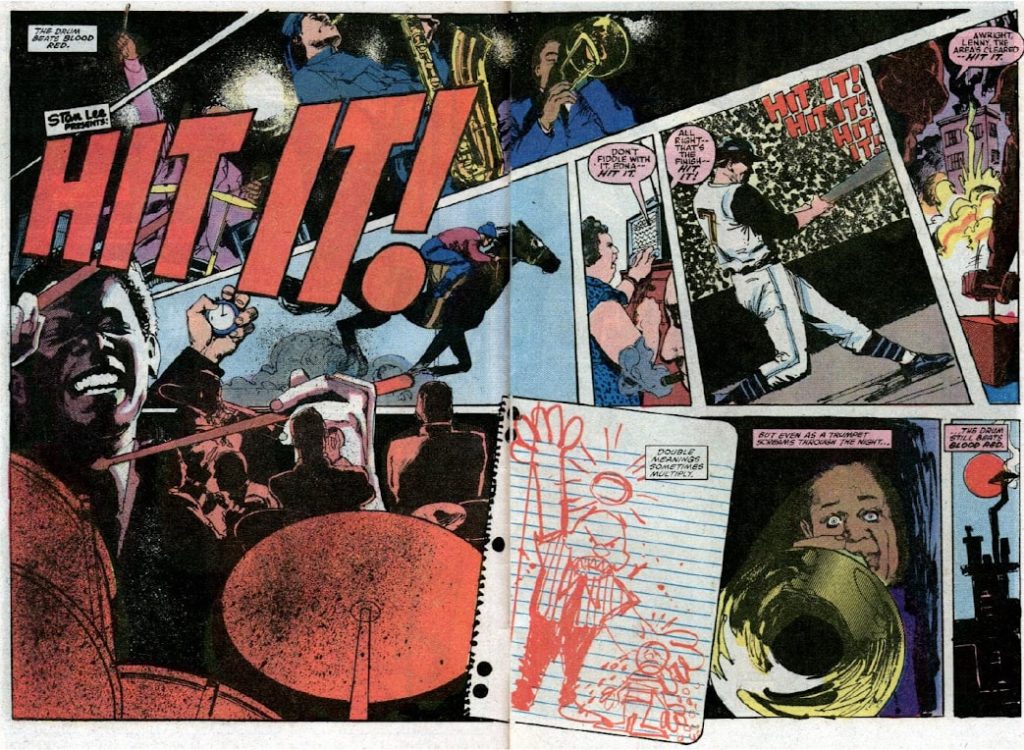 This was Sienkiewicz's idea and was about to become a hallmark of his style. Bill teamed up with Doug Moench (his writer on Moon Knight) to form the script together, resulting is an absolute explosion of an issue that captures the noisy, kinetic, violent world of Moon Knight's NYC. It takes a series known for solid — if by-the-book — heroics and turns it into its own jazz soundtrack for a lunatic who literally cannot hold himself back.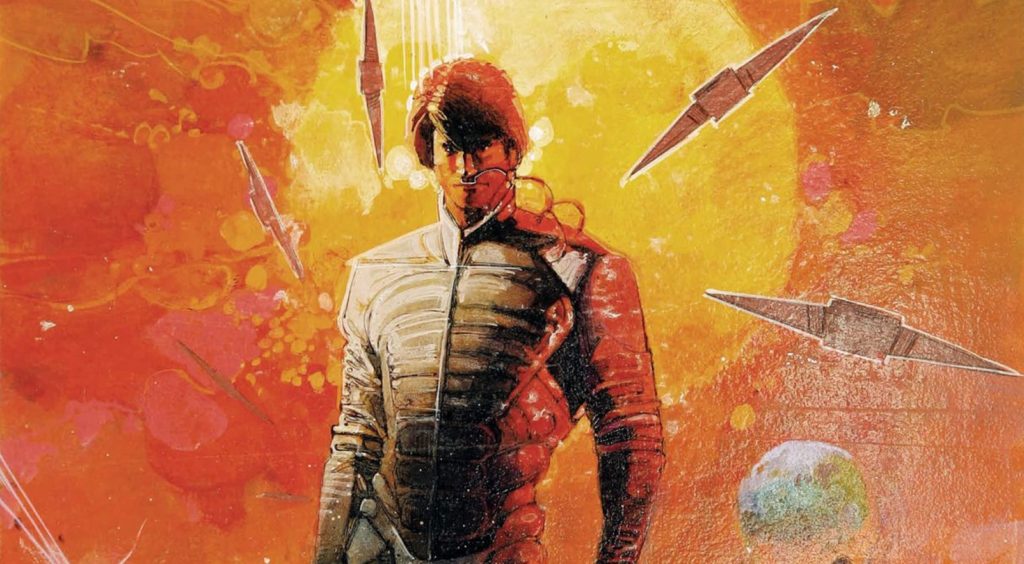 In which Bill goes big.
Movie adaptations are historically thankless, with artists describing them as more contract negotiation than comic book. The result often seems to be drawing photo-realistic actors against sound stages, and it's the reason so many of these projects turn out bad.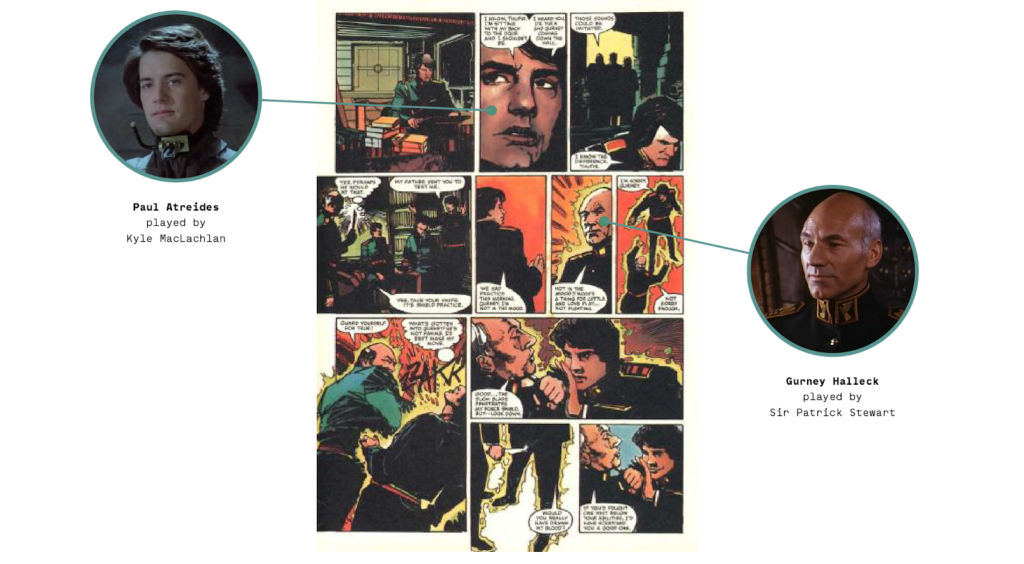 The idea that Dune, Frank Herbert's notoriously complex sci-fi epic turned blockbuster film, could turn out as anything other than a disaster seems utterly impossible. Have you seen the lawyers from Sandworm & Sandworm? I mean really…
But this is also David Lynch's Dune that we're talking about, the movie that humorist John Hodgman described as follows:
All of the characters were sexy and deformed at the same time. There was a character (…) which was a kind of giant floating fetus creature (…) who had become so deformed and so sexy in his isolation that that he had to talk through a kind of old-timey radio and could never touch them.
Seen through that sentiment, this project is the most Bill Sienkiewicz thing ever. It also illustrates why this project would go on to be so important for Bill's growth as an artist.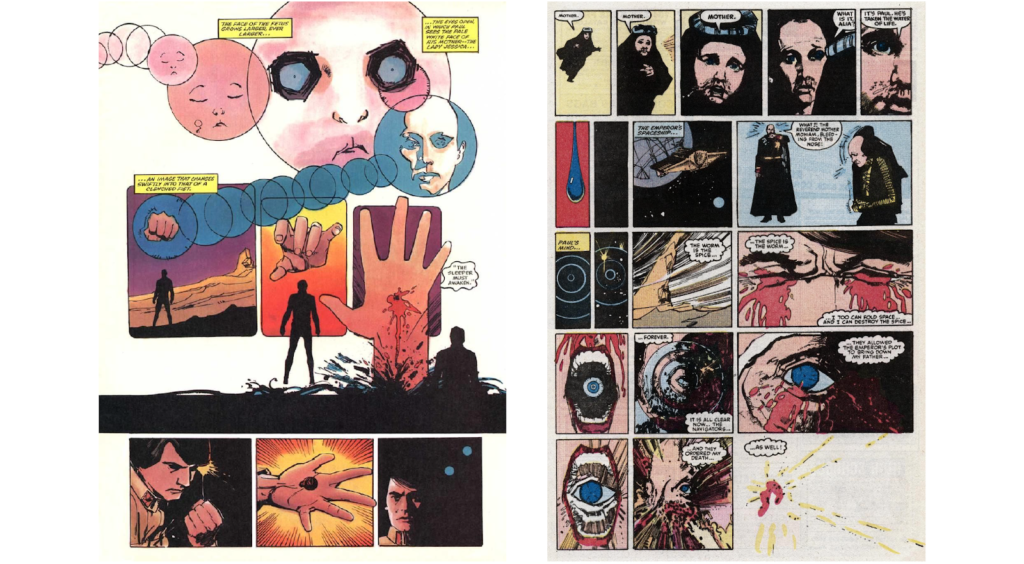 To start, the sheer, geographic scale of Dune was unlike anything else Bill had done. Moon Knight existed in only a handful of places, and all of them terrestrial. Which meant that no matter how great the visual storytelling in Moon Knight got it never went beyond the scale of New York or Cairo. Nothing near the sweeping desert vistas of Arrakis or the boundless starscape of its system.
And that new sense of scale allowed for our second change: bigger concepts.
When you have city sized stories, you tend to have city-sized ideas. Your threats are muggers, bank robbers, and weirdos in capes. But once you allow for near infinite dimension and scale, you have the room for concepts that match. Set against the backdrop of alien planets, anything becomes possible both narratively and visually. Suddenly you can have the fantastic and the unbelievable, resulting in far fetched ideas like drug-addicted fetus monsters that can bend space time. Or Sting as a knife-wielding pirate person.
These ideas and geographies allowed Bill to experiment with styles, pushing himself to create bigger and, more wildly psychedelic pages than what he'd tried before — bigger even than was possible for the films special effects — and to make something so beautifully weird in the process. If style is in service to story, than this book must have played a big part in helping Bill realize what he wanted out of both story and style. After Dune we see Bill become far more than just a Neal Adams devotee. He become his own, recognizable self.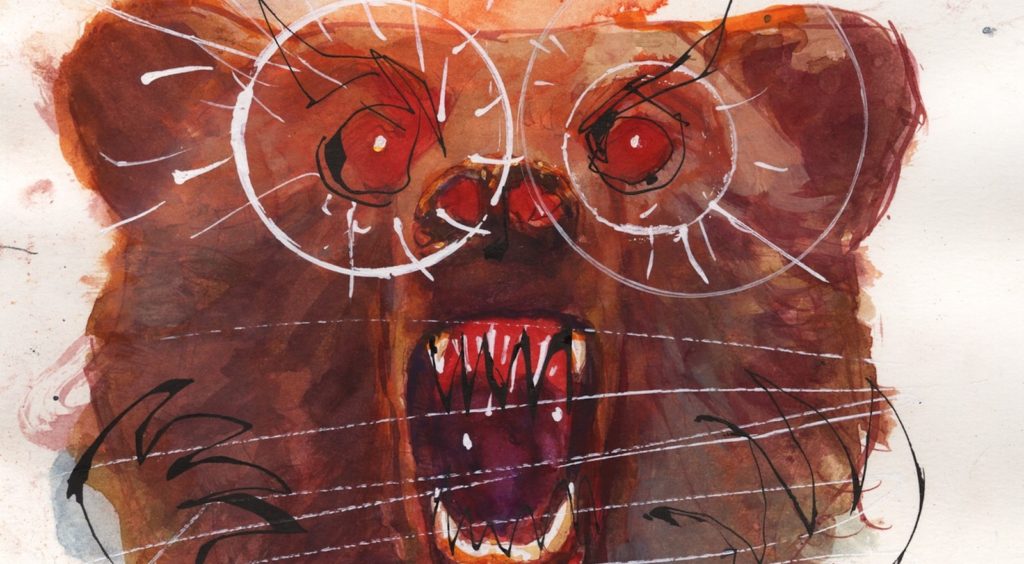 In which Bill goes abstract.
Acclaimed X-Men writer Chris Claremont chased Bill down for this project specifically and it shows.
The Demon Bear Saga uses character Dani Moonstar, a young mutant psychic from the Cheyenne nation, to create a meditation on dream logic and the kind of "spirit countries" traveled by native shamans the world over.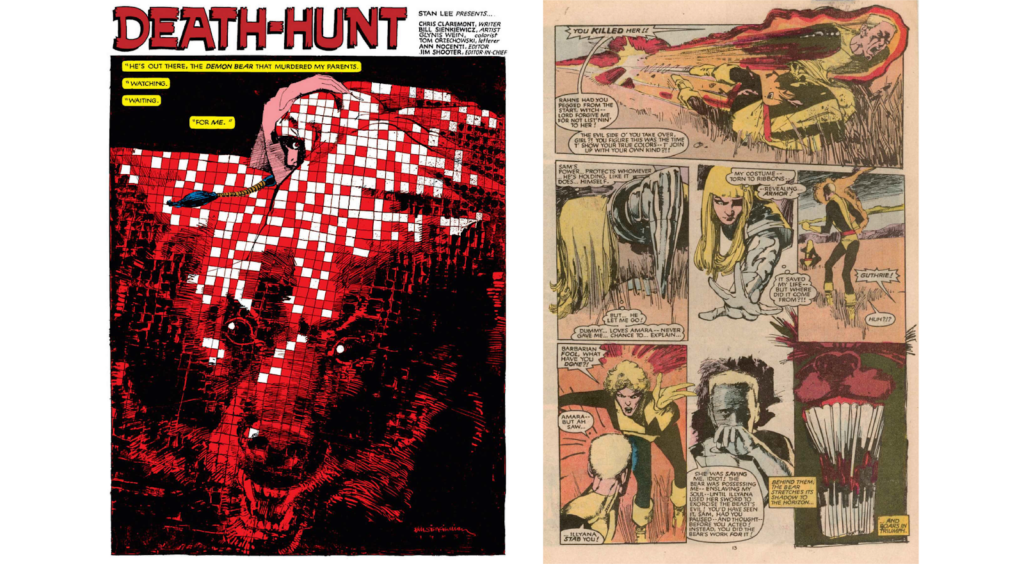 The book itself seeks to join those two worlds, putting familiar comic illustrations on some pages alongside others emblazoned with Bill's own style. A style which had now grown beyond comics to include influences like Ralph Steadman's covers, Kurt Schwitters' assemblage/collage, and Tex Avery's wild cartoon logic.
The result is a mini-arc that feels very much like a dream. Or maybe like a fever dream in the Smithsonian, because the book veers between the familiarity of the classic, Marvel "real world" and the sun-baked madness of Bill's own dreamscape. A sort of "Fear and Loathing in the Salem Center." Bill even appears to use video game style UI elements (the twisting grid patterns for one, the mini-map showing the Demon Bear's creeping domain another), along with clever nods to Austrian painter Egon Schiele and American cartoon genius Tex Avery.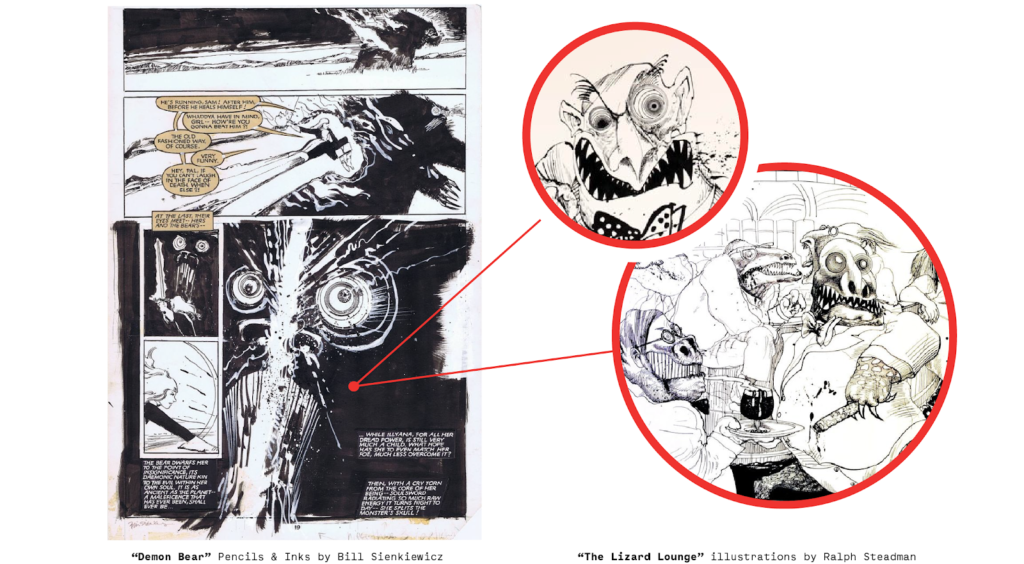 Even having said all of this, it is impossible to overstate the importance of the Demon Bear saga… but I'm sure gonna try.
Bill and Chris took enormous risks and challenged New Mutant fans with things many fans did not appreciate at the time. But for those who opened themselves up to it, the book (and the rest of Bill's run on New Mutants) helped prove mainstream comics could experiment with how stories are told and how books are made. This book was an aggressive, jarring departure from the classic lines of Sal Buscema's run, and that daring change is exactly why so many people point to it as the beginning of a modern style.
Without "Demon Bear," I don't think that mainstream comics could have people like Jeff Lemire, Sean Murphy, Tula Lotay, or JH Williams. I think it took this book to prove it was possible.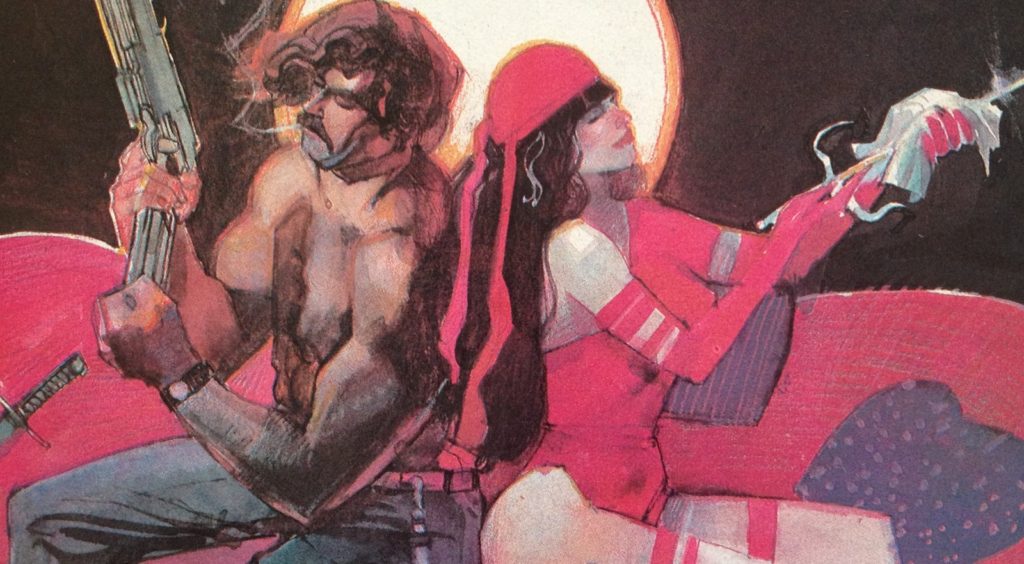 In which Bill belongs in a museum.
Frank Miller took Daredevil — a smart-alecky, also-ran Spider-Man — and turned him into the dark, gritty Devil of Hell's Kitchen. In doing so, Miller turned the title into the exciting on-going series of of the 80s.
At the same time, Bill had just come off New Mutants and the stinging critique of many of its fans. Looking back, I have to imagine Bill felt he had something to prove because the work he was about to produced on Daredevil and Elektra seemed to say "I'm not a comic artist; I'm a comic artist."
In 1985, this hard boiled writer hot off some hits and this mind-expanding artist with a chip on his shoulder got together to make something too big to be contained under one title.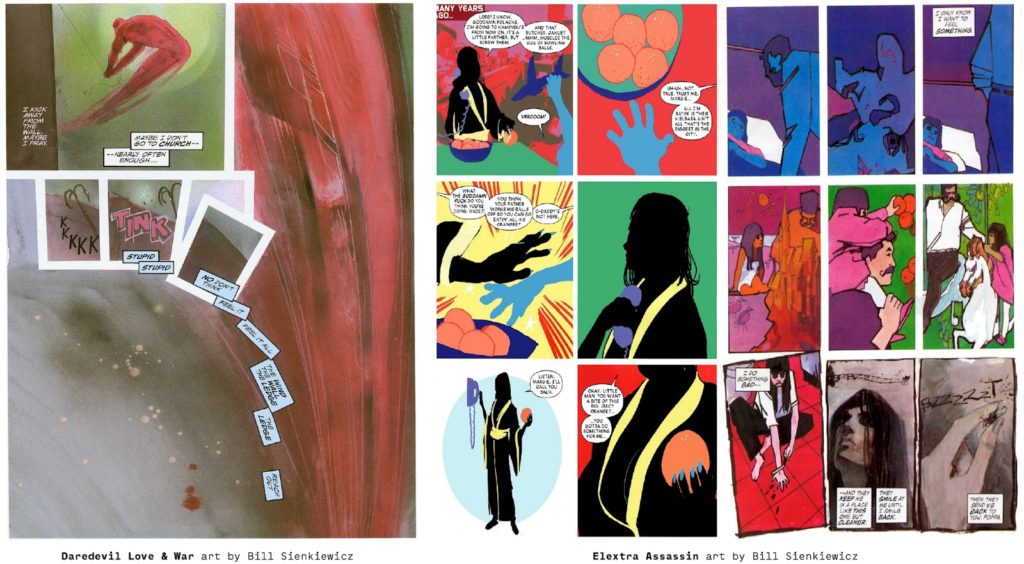 Miller and Sienkiewicz brought out the rebellious streak in one another, challenging each other to get further and further out there. Ultimately, they came up with this: two books, two halves of one whole, filled with gorgeous, fully-painted interiors filled with ninjas and robots and guns the size of a Burger King. These trades make up some of the funniest, scariest, and most beautiful pages of their generation. Emotional, expressionist work that could go on any gallery wall.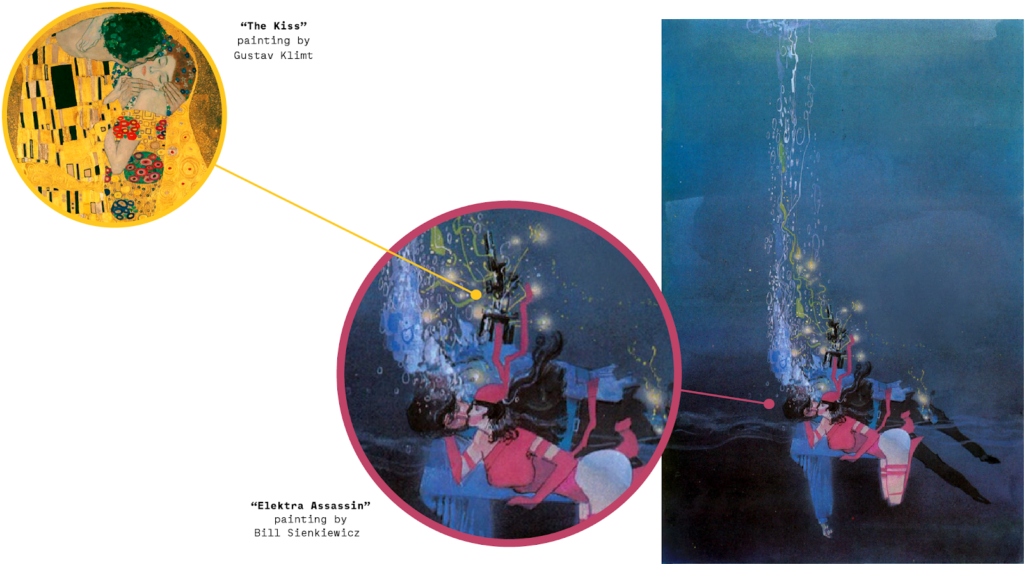 Bill's wild, cartoon logic is on full display, but here with more depth and meaning. Kingpin is the size of an elephant, but so beautifully rendered that he looks uncomfortable in his own world; the world his love, Vanessa, is asking him to leave behind.
Elektra (the titular assassin) has the pose, proportions, and stock stillness of a Robert Maguire pulp cover and yet appears to be in constant motion with her headband flying everywhere. These are books about worlds ripping at the seams and Bill literally tore apart his canvases and sewed them back together like a Rauschenberg painting. The violence and the falling apart seeps through everything.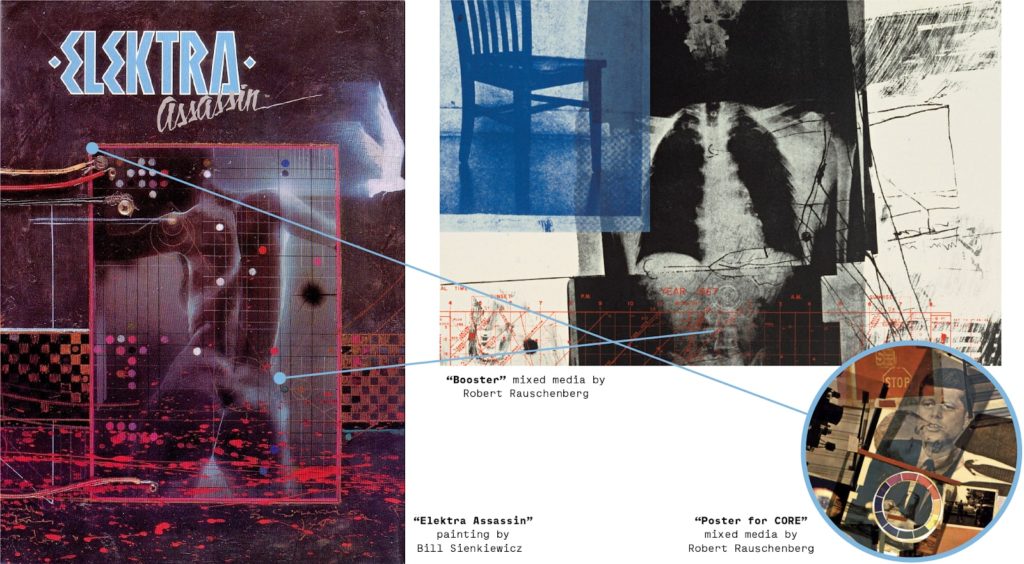 But it's not all art history. Not even close.
There's the absurdity of Jay Garrick riding a big wheel while carrying a pistol that would shame a Liefeld wet dream. There's the unsettling smile of Ken Wind, the politician with a head Sienkiewicz literally xeroxed off a male model in a Sears catalogue, embodying every presidential candidate, with only exactly two facial expressions, eyes unchanging, made false through media impressions. There is Elektra Natchios hanging upside down from a gunship helicopter.
There are motorcycle steam trains. There's a ticking clock on Daredevil's life. There are so. Many. Robots.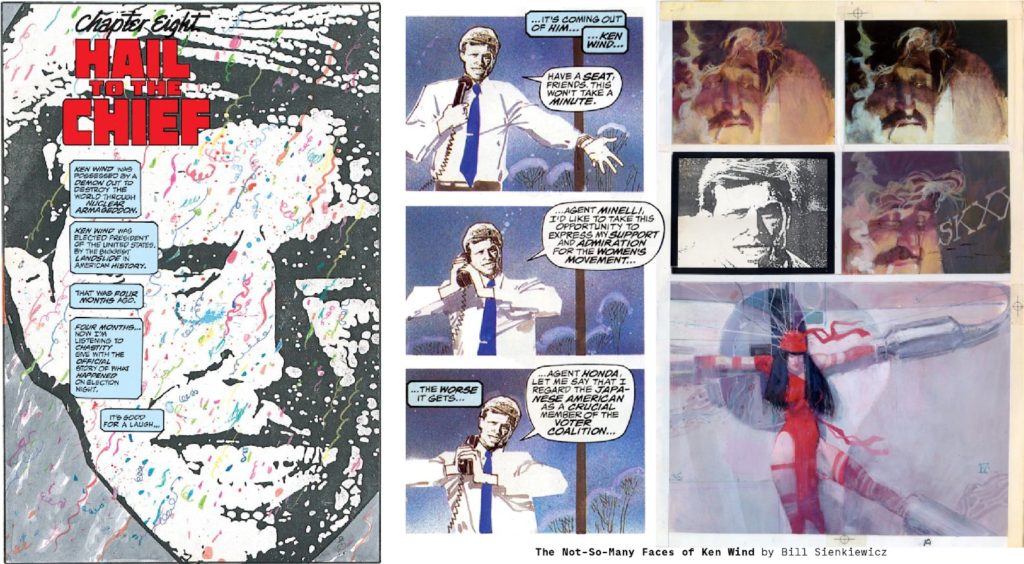 Frank and Bill manage all of this madness, all this fun, all in two companion books that swing wildly in style between the patterns of Klimt and abattoirs of Bacon to Bugs Bunny and Good Night Moon. And somehow it all just works, stitched together by the emotion on every page.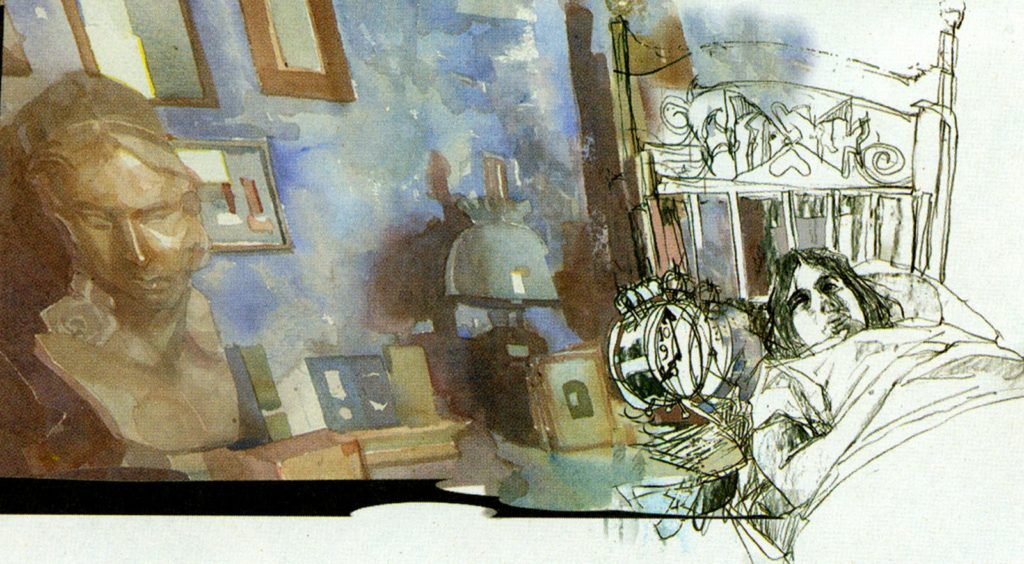 Whoever tapped Bill to do a story on Delirium of the Endless got to go home early that day. Bill's style is so absolutely perfect for capturing the wild, dream-like, and capricious nature of the character that it frankly upsets me that there aren't 30 more trades just like this one.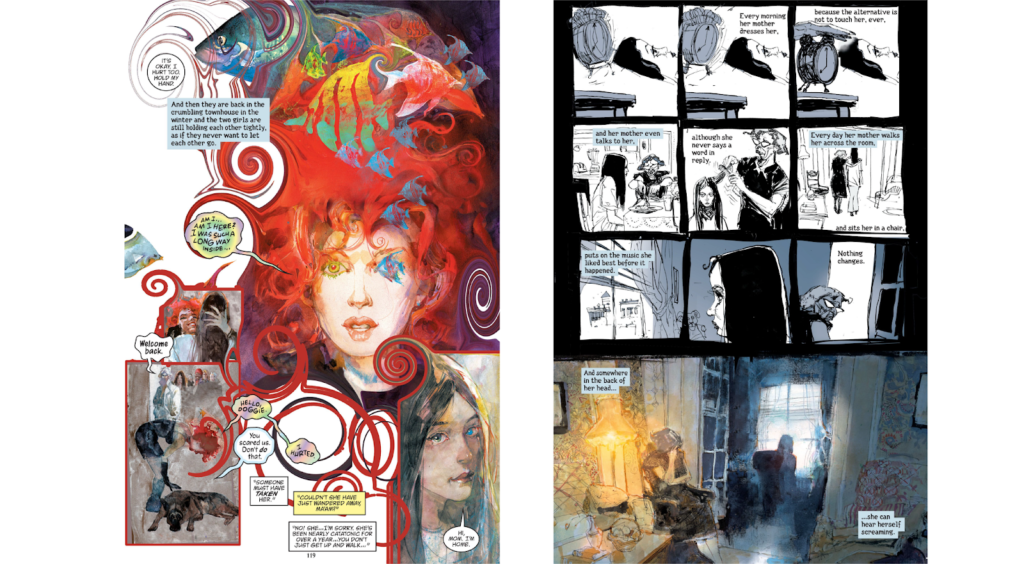 But this book goes beyond a great editorial decision. It's also about a lot of hard work on Sienkiewicz's part.
Endless Nights was released almost 20 years after Love & War / Assassin and it is astounding to see how Bill's style has matured. Bill's interiors have relaxed with confidence. They pick and choose when to dazzle readers and when to let them have a breather, building a new sense of rhythm as they do. Years of additional practice no doubt play their part, but it's also interesting to see how a judicious use of digital techniques allows the work to shine with added clarity. Although perhaps some of that computering might be a loving homage to famous Sandman cover artist Dave McKean, another fine artist who will occasionally pick up a mouse or stylus.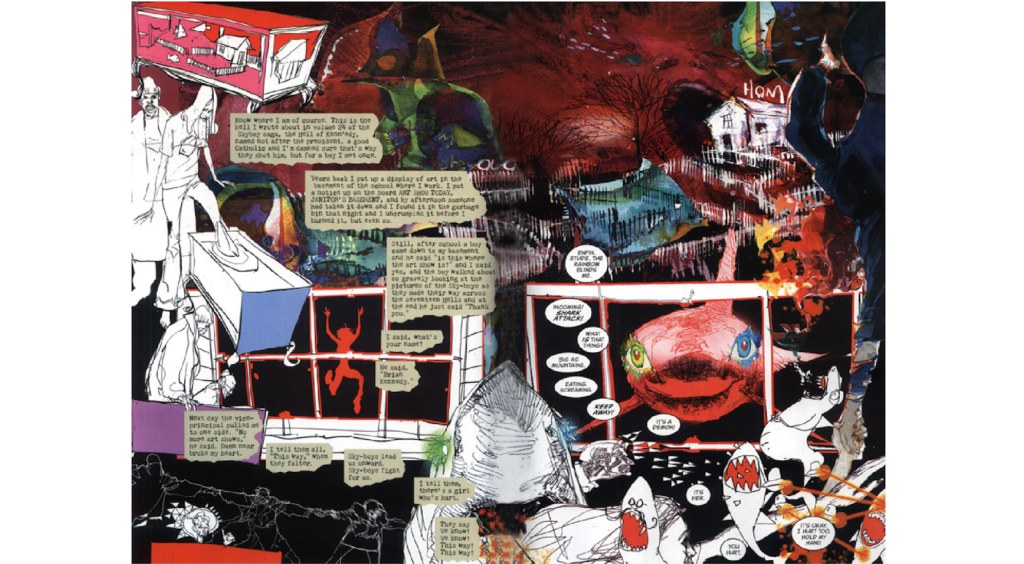 For all its crazy imagery, this book makes a kind of order to it. It's a return to the dream logic of New Mutants or Elektra, a kind of lucid dreaming that confers order. And quite a lot of fish.
What's it all mean?
I love Bill's work. Unabashedly so. His inking, his paints, his crazed collage. The gorgeous, the funny, the just plain weird. I love it all. But that's not really what we're talking about when we talk about Bill's work. We're not talking about my love of it.
Bill Sienkiewicz is, to me, the bridge from this industry's past and the foundation for its future. Over his career, he has managed to take the bedrock rules and orthodox gospels of comic book art and marry them with the intensity of the expressionists and modern artists of the 20th century. By doing this, he shook up stale tradition without destroying it. He threw ninjas and mutants into a tired cape party.
Through all his experimentation and rule breaking, Bill Sienkiewicz brought a brand new balance to comics and provided a new launching pad from which future artists could chart a course.
Special thanks
To John Siuntres and his Word Balloon interview with Bill Sienkiewicz