In Anticipation of X-Men: Red #1, Immortal X-Men #1 & A.X.E.: Judgment Day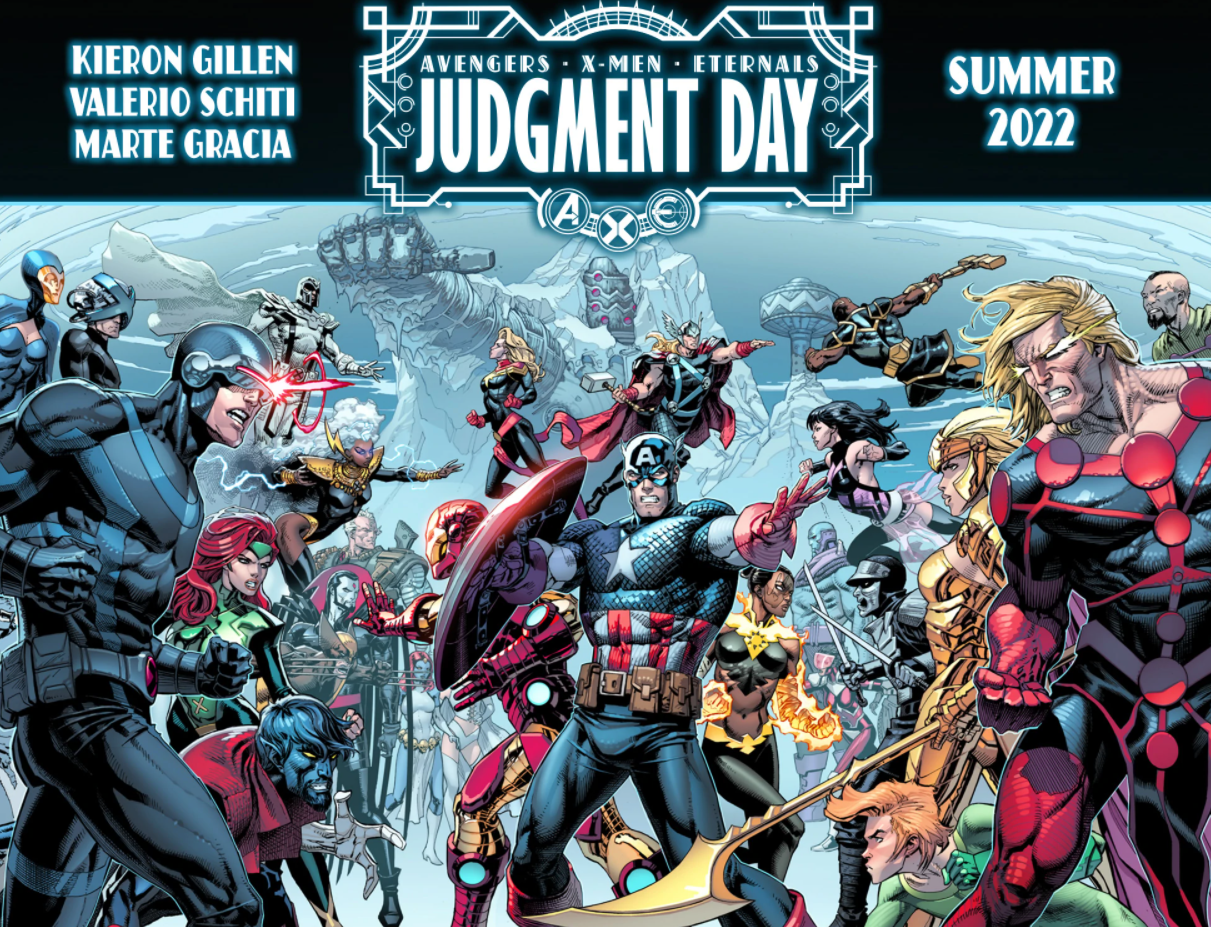 With myriad "Brand" new and "Sinister" twists around the corner with the imminent debut of X-Men: Red by Al Ewing and Stefano Caselli and Immortal X-Men by Kieron Gillen and Lucas Werneck, we're here to recap what seems most relevant from Ewing's S.W.O.R.D., his spectacular first foray into the X office, and look back briefly at Gillen's excellent Uncanny run of a decade ago, particularly his indelible transformation of Mister Sinister into true high camp villainy, before turning to his current stunningly epic Eternals, catching X readers up on how much that heretofore forgotten franchise has been utterly transformed, worked over from the ground up and made storyable at last, complexly laced with broken palace politics by the notorious gamesmaster who will no doubt ring like Machiavellian discord through the Quiet Council, much to its immortal disquiet. Plus! We shall speculate on this summer's looming three-way conflict between the Avengers, the X-Men and the Eternals—the Immortal X-Men scribe's A.X.E.: Judgment Day.
(And, with great good fortune, in order to fully enjoy this event, it appears that readers need not bother with the dreck that is Jason Aaron's Avengers.)
We'll start with a look back at S.W.O.R.D., but the majority of this piece is about Gillen's Eternals and speculation on Judgment Day…
From S.W.O.R.D. to Arakko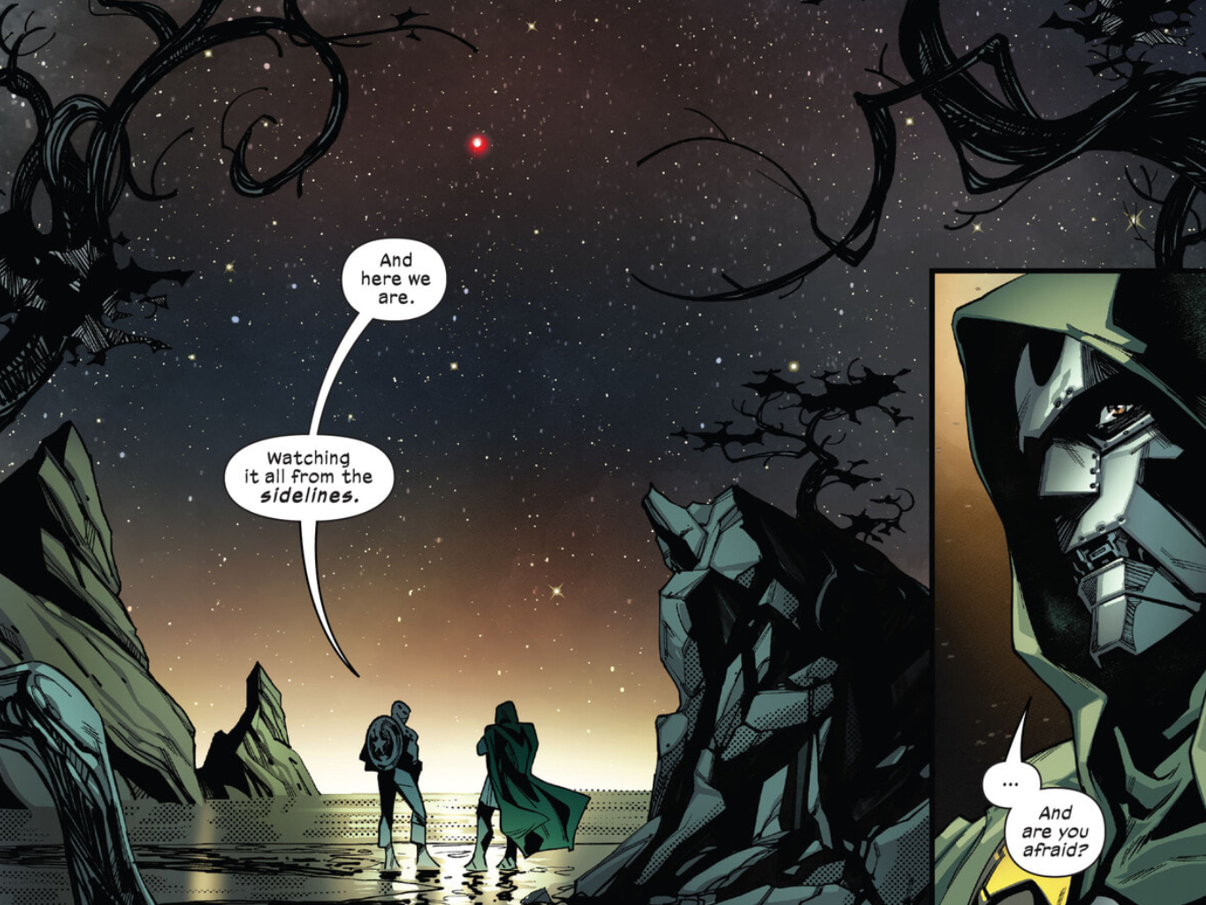 Looking back to S.W.O.R.D. and briefly glancing at the X-Men: Red solicits, we should definitely anticipate all the work Ewing did with Abigail Brand to move forward and fully develop in the new series. Moreover, Ewing is clearly going to further weave myriad classic elements of Marvel Cosmic into the narrative that will definitively no longer simply be Krakoan but Arakki. So while X-Men: Red will be the Arakko book, it's going to also be much bigger than that—which is wild to say, because Arakko is already planet-sized.
Support For Comic Book Herald:
Comic Book Herald is reader-supported. When you buy through links on our site, we may earn a qualifying affiliate commission.
Comic Book Herald's reading orders and guides are also made possible by reader support on Patreon, and generous reader donations.
Any size contribution will help keep CBH alive and full of new comics guides and content. Support CBH on Patreon for exclusive rewards, or Donate here! Thank you for reading!
But when has Al Ewing ever been satisfied with a single planet, let alone a single dimension? The man fits parallel universes in a single grain of sand! In fact, by the end of his X-Men: Red run, even if he gets only, say, two years on it, I wager that he will have done more to build out the cosmic dimension of the X-Men than any other writer. Obviously, he'll be building off Hickman's Powers of X
and Claremont's foundations (the Shi'ar and the Brood)—as well as Kirby's and as much Marvel Cosmic material that proves relevant.
Still, I wager that Ewing will the thread the needle of the cosmic loom with a sense of expansiveness and permanence not seen outside the Marvel Cosmic family of titles—and perhaps even greater for being woven into what will soon prove once again Marvel's biggest franchise (when we finally get our merry mutants back on the big screen).
So, I'm excited for X-Men: Red—and hopefully, you are too! Now, let's look back at S.W.O.R.D. to find the thread of what's sure to come…
One of the things that comes to mind immediately when thinking back on this series is the fact that five of its 11 issues were tie-ins to either a company-wide event (King in Black) or Krakoa-relevant narratives that however well integrated into S.W.O.R.D.'s own material nevertheless prevented the series from coalescing until the last four installments—though maybe it really starts with Doom's supper with the Regent of Sol, Storm, in issue #7 and the first real hints of Commander Brand's deeper game in that issue's closing pages.
What we did not see in S.W.O.R.D. was the convergence of what did feel, then, like two close but separate narrative tracks—Brand's intergalactic maneuverings centered on her S.W.O.R.D. organization (and mysterium) and the magisterial recasting of Storm as Regent of Sol on the newly established Planet Arakko.
For all that, I loved Al Ewing's S.W.O.R.D., especially with the bulk of it drawn by two of my current faves, Valerio Schiti and Stefano Caselli. Longtime Marvel artist and successful indie creator Jacopo Camagni also had a very strong showing with the last three issues. But knowing that Ewing would be continuing with what he had built on here is, of course, what really makes this short series a satisfying prologue.
We can expect not only the coming conflict between Storm and Brand but Storm's own constant wariness around her fellow Arakki Great Ring councilmembers. Solicits also tell us that the mystery of Vulcan, which was one of the biggest unresolved mysteries of Hickman's X-Men run, will be picked up on in X-Men: Red, along with probably all other business Shi'ar, including Cannonball and Sunspot. We know, as well, that Magneto, disaffected with things on Krakoa, will be joining the cast. All this, plus the Arakki themselves, who I'm really hoping will be more fleshed out as a people, with more fascinating individuals introduced and further worldbuilding for their society, which hopefully has many interesting subcultures and factions.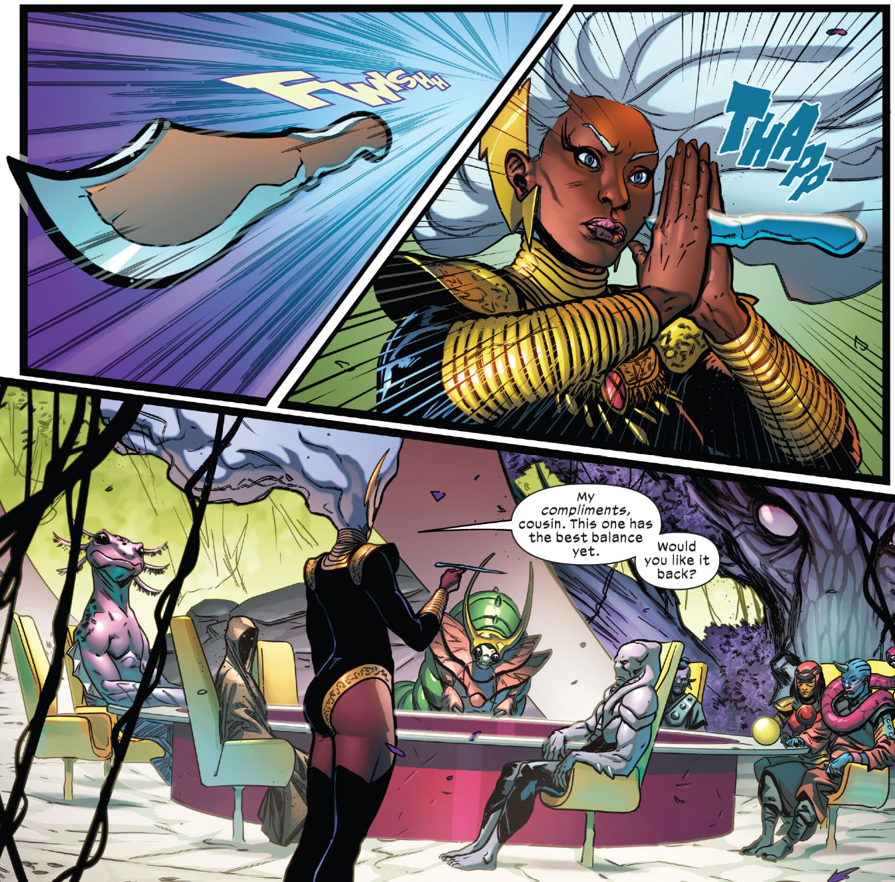 In the last arc of S.W.O.R.D., we saw Empress Xandra and her Imperial Guard arrive on Arakko, introducing those major players to Ewing's venue, but the breakout surprise of those last few issues was, wonderfully, Wiz Kid (Takeshi Matsuya). So, while he's not a big name for the solicits, I'm hope we get more Wiz Kid content throughout X-Men: Red—along with Manifold (Eden Fesi), the lovable Peepers (formerly of Magneto's Brotherhood), and erstwhile Acolytes (not so much Fabian Cortez but definitely Amelia Voght—Xavier's old flame—and above all, Frenzy; and then there's the intriguing Unuscione who hasn't been seen since Powers of X #5!).
Obviously, the biggest name I haven't mentioned yet is Cable, who—somewhat awkwardly for S.W.O.R.D.—was returned to his grizzled adult self in the middle of the series. Again, Ewing made it all work better than expected. We know from X-Men: Red #1's solicit that he will be around, likely as an irritant to Brand but certainly with his own agenda that will no doubt reach beyond present affairs between S.W.O.R.D., Arakko and Earth.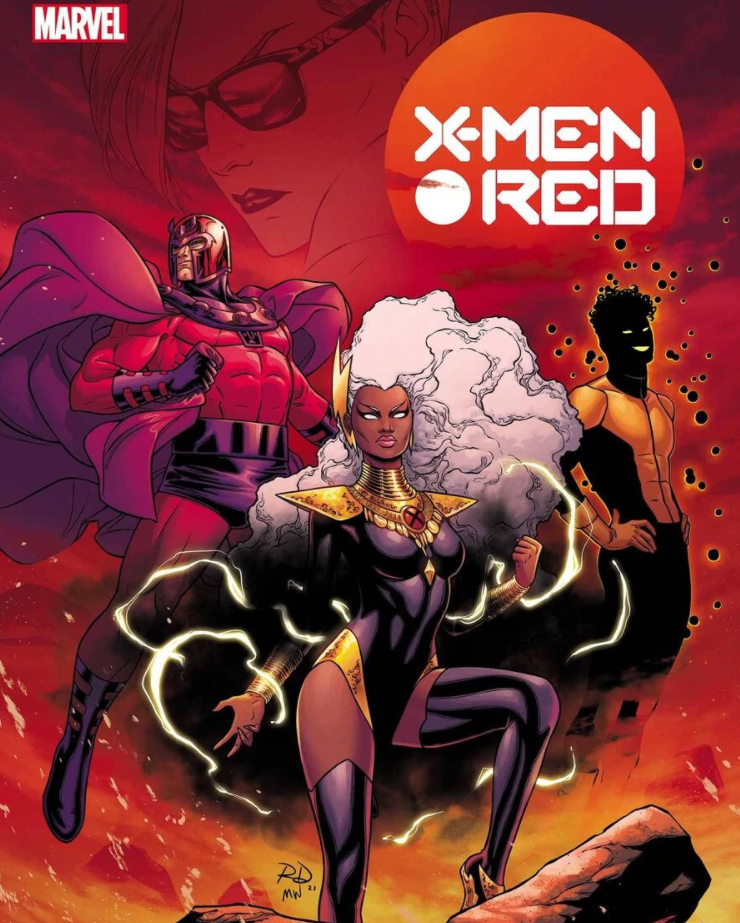 From 2012 to 2022—Kieron Gillen's Return to X
A decade ago now, Kieron Gillen penned one of the best pre-Krakoa X-Men stories of the 21st century with "Everything Is Sinister," in Uncanny X-Men
volume 2 #1-3, which redefined Mister Sinister, making him for the first time as fascinating and adorably diabolical and awful as he was simply threatening and sinister. Before Gillen's transformation of the character, Sinister always looked high camp, but his personality was rather wooden and one-note. He was menacing and creepy but never particularly interesting—except visually and potentially, in terms of what could be done with his backstory. Audiences simply had to wait 25 years for Sinister to be fully realized. And what a sinister celebration it was.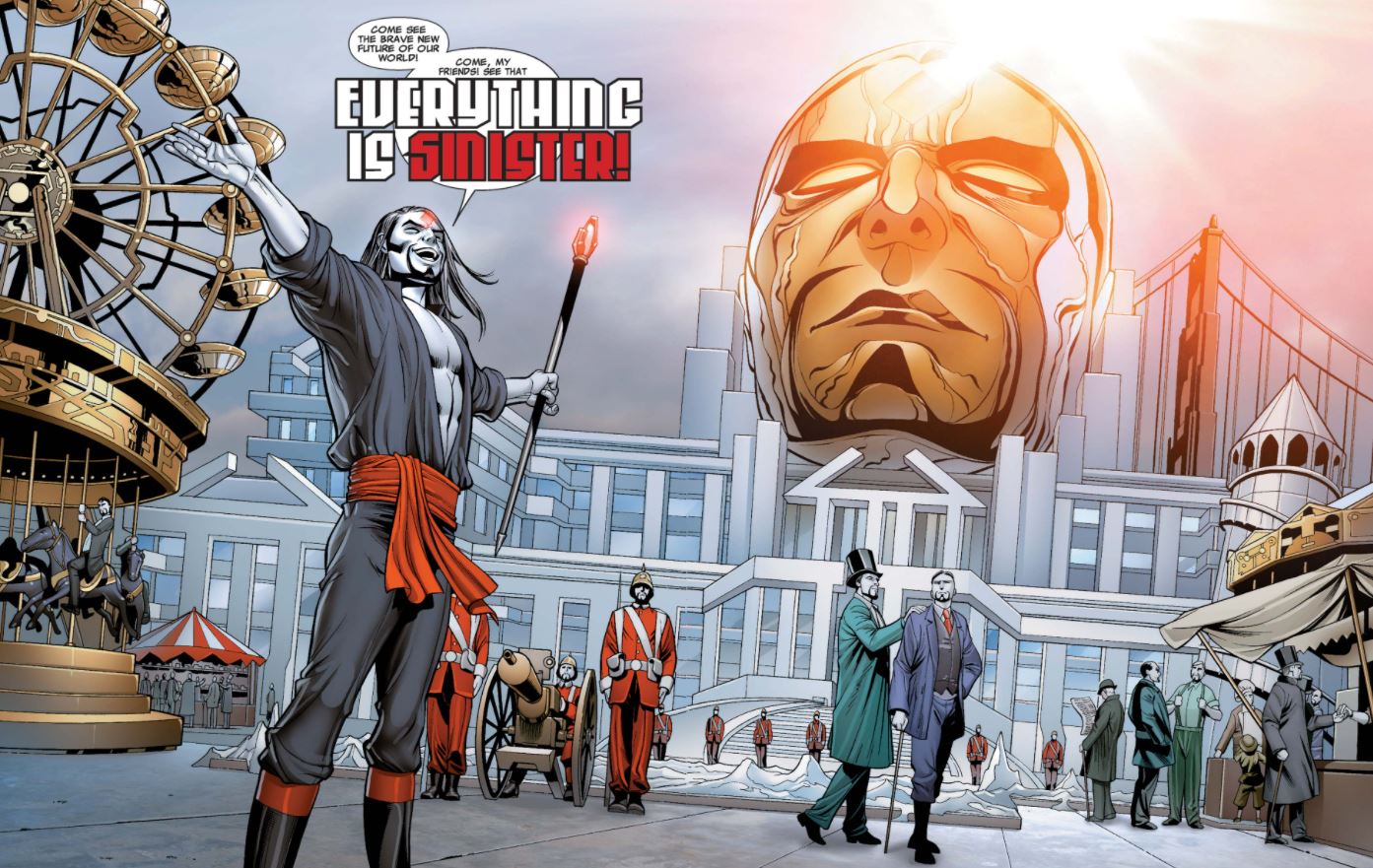 I recapped this story a year ago here, long before we knew Gillen was returning to the fold, so for now, let's just look back briefly at what else might still be relevant for the current era. What comes to mind right off is, oddly enough, that Sinister hacked into and took control of a dormant Celestial's head, which he uses somehow to transform San Francisco's Palace of Fine Arts into "Sinister's World-Fair"! Yet this carnival is far more than a funhouse for the public, for within the complex (a sufficiently large space if you've visited) are his "Creation Engines," which is Celestial biotech repurposed for creating hordes of Sinisters, a society of them, a highly stratified microcosm or Victorian aristocrat's fantasy of a static steampunk modernity frozen into the service of one person—"Sinister is a system." Of course, it's defeated thanks to our heroes, but we discover later in Gillen's run (issue #14) that it had simply teleported underground, into Subterranea. However, this perfect cosm of one (plus countless Maddie clones) collapses at last.
Yet with the later revelation in Powers of X of Bar Sinister's existence, we find that "Sinister as system" had long preexisted Sinister's World-Fair (later turned Subterranea's "Sinister London").
Regardless, since Sinister's origin was revealed long before either story, in 1994's Adventures of Cyclops and Phoenix by Peter Milligan, we already know that his very being is a product of Apocalypse's biotech*, which comes from his own ancient encounter with the Celestials (see Milligan's X-Men vol2 #186 and further back, Nicieza's X-Force #37—as well as Louise Simonson's X-Factor #43-50, a Celestial story that readers may find somewhat relevant as a very basic precursor, purely metaphorical, to this summer's Judgment Day). Whatever happened to Tiamut's head turned Sinister City, we know Gillen is likely to have something in store with Sinister having a fair deal of useful knowledge about Celestial matters. This means, as well, that returning Apocalypse to Krakoa this summer might make perfect sense. After all, did he actually fulfill his "Celestial Contract"? This is X-Men #186's revelation on the trade he made for gaining major enhancements* and materiel (like his armor)—to become of use to the Celestials someday, for whatever inscrutable purposes. However, he cheated the Celestials with his self-resurrection on Earth, as seen in the backup stories of the 2018 X-Men: Black series of one-shots, starting with X-Men: Black – Magneto—
*While acknowledging that most comics writers simply refer to Celestial stuff/quiddity as "tech," it sometimes appears to be, at least in some forms, some kind of biotech, however alien and incomprehensible. And where Apocalypse's native mutant powers end and his alien-imported abilities begin is impossible to say. It's simply never been revealed; we just know that the alien tech enhanced his mutancy, making him much more formidable than previously. Possibly, the only fully Celestial power he has is manipulation of the Celestial energies his body is imbued with, resulting in energy blasts and absorption—or even transferal (see Uncanny X-Men #295—"X-Cutioner's Song" part 5—and Age of X-Man: Apocalypse and the X-Tracts).
With the recent tease for 2022's Hellfire Gala that an unwelcome guest might crash the party, sure, it might be Thanos (see below) but it could equally be Apocalypse—with the Celestials on their way and certain to be unpleasantly surprised to find they've been cheated, even by one so relatively insignificant.
And hey, if the Celestials already got some version of Apocalypse, where's that one???
Whatever's in store, Gillen is returning to the X-Men as far more mature in his skill and perspective than he already was in 2012. The impressively and energetically original author then is now a grandmaster who is helming and steering the ship of state (no longer yoked by bad ideas like AvX or in the shadow of Bendis).
From Eternals Machinations to Immortal Machiavels
[Spoilers for the last several issues of Eternals—which will be critical to A.X.E.: Judgment Day.]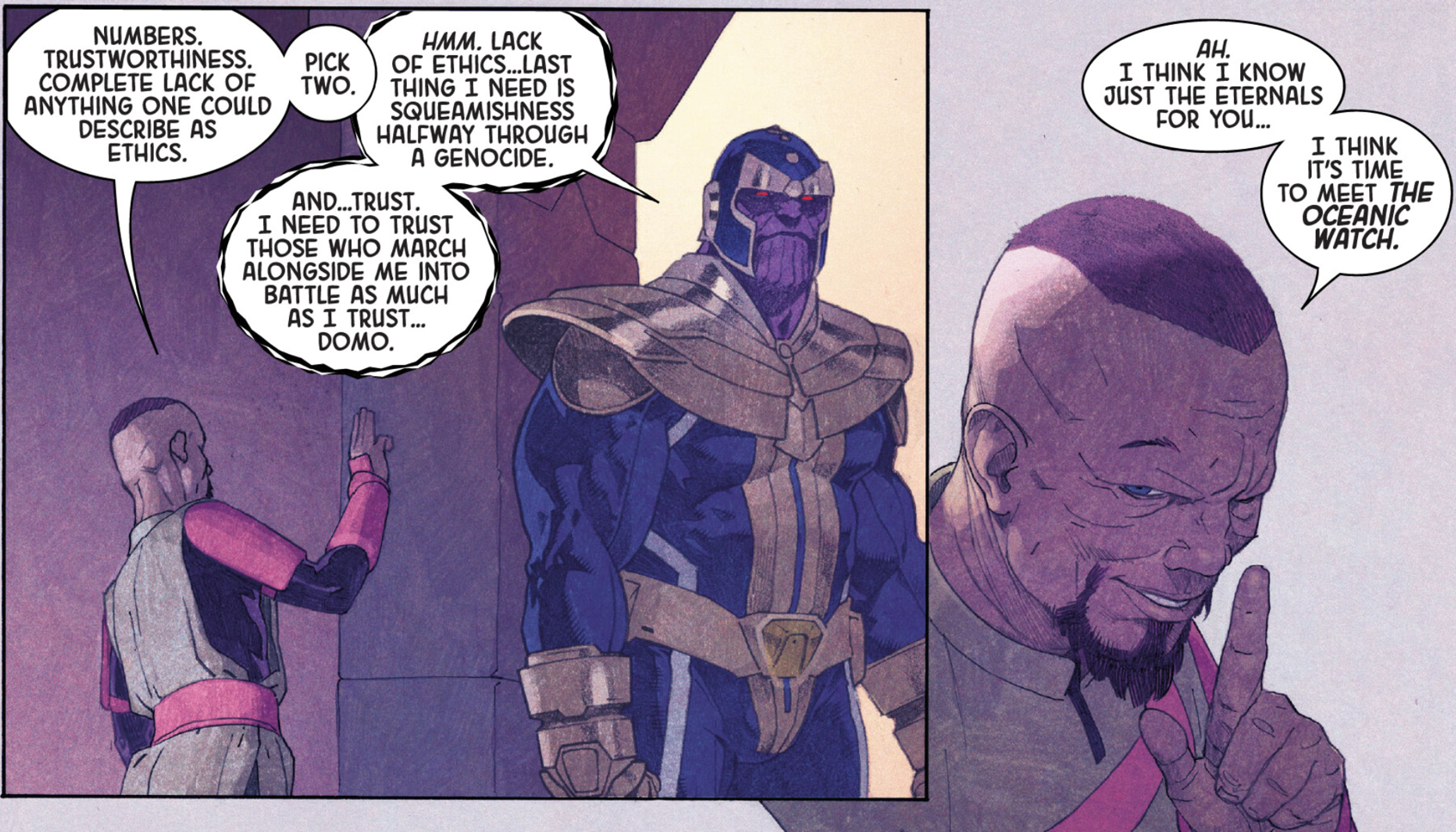 Across Gillen's superbly balanced Eternals
ensemble, almost each and every godling has their own agenda, and even where there is an alignment of, say, lawful good, no two Eternals function (by nature) the same, which constantly tips every dynamic toward potential disharmony—and very enjoyable entertainment. And since the Deviants are united only by the common threat of "excess deviation" and the consequent fear of killer Deviant monstrosities and the godlings programmed by their Celestial progenitors to eliminate those registering as excessively deviant, well, you can imagine the high drama.
Mix in the occasional miscegenation of a guilt-ridden (Thena) or immortally jaded (Sersi) Eternal with Eternals-curious Deviants, and you get even more intriguing complexity—especially when Thanos drops in after gaming the Eternals' election system to get himself elected Prime Eternal and unlock the secrets holding the great Celestial-made Machine—and thus Earth itself—together (literally), all in order to pursue his own double deviant agenda, indeed.
Now, with the already by nature immortal Selene slated to replace Magneto on the Quiet Council, expect Gillen to redefine and deepen this ancient godlike ancestress as never before. Imagine her in conversation, or battle—or otherwise entangled—with the jaded likes of ageless Sersi. Does Selene already have knowledge of the Eternals, some primeval experience? What of Apocalypse? Wouldn't this be an excellent time for the return of big daddy A, who has many times throughout the early dawn of human history styled himself, his family and his Horsemen as gods? Imagine what the Eternals think of that. There is so much untold hidden in the mists of Marvel time. Imagine what the Arakki themselves have heard of the Eternals—whatever might have been chronicled and made legend before they were lost to Earth.
There could not be a better scribe than Gillen for Immortal X-Men. The stars have truly aligned here—really, I mean, sometimes, on rare occasions, we just luck out after too much money and time wasted with mediocrity in this bizarrely narrowly focused industry 😉.
Of course, if you haven't been reading Eternals, it's hard to imagine how the Eternals and the Krakoans will come into conflict, but if you've seen how the Eternals are programmed to eliminate genetic deviance—strictly so far among the Deviants—then it becomes rather obvious. And this is what Marvel is now teasing. However, this is so on the nose and up front, that I'd be very surprised if the mutants themselves are somehow literally Deviant or vice versa. That certainly may be how the heretofore unconnected parties turn potentially mortal foes, but should Marvel's straight-faced revelation so far in advance be taken as summary outcome of the event? Not in the least—no!
Lying to the public is the stock and trade of company hype for boosting excitement around big events—and is totally valid. Also, look who Marvel has in the promo material making the likely specious connection—Druig! If you're reading Eternals, you know this guy isn't just a professional liar—he was born for mendacity and scheming, out-Loki-ing Loki in the finest Gillen manner we've all come to love.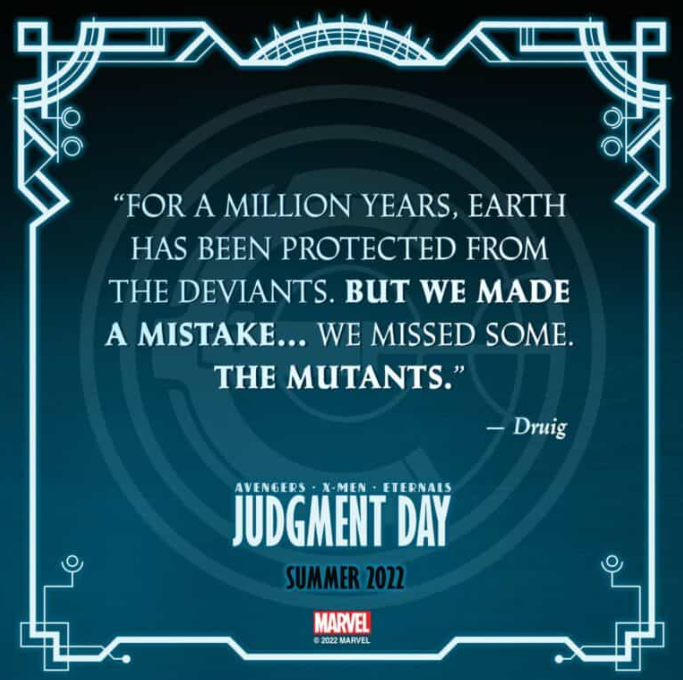 Yes, Jason Aaron's Avengers, trading on "big cosmic reveals" rather than satisfying much less enduring storytelling and characterization, revealed early on that the first Celestial to visit Earth, the Progenitor, spewed its antibodies into Earth's crust as it died from an alien insectoid infection (the Horde), which thereby gave rise to the possibility of not only metahumans but mutantkind itself. But if in the MU, mutants and mutates are not the same, then why would Deviants likewise be equated with either?
But the lies (almost) always tell us something of substance (if all goes according to plan behind the scenes), and remember how Thanos is now in officially Prime Eternal—and thus in charge of the Machine that programs the rest of the Eternals? Granted, he has yet to fully crack the heroic Phastos' mind as well as those of Thanos' eternally disdainful parents, whom he has now killed over and again to no avail, to get at the key that will unlock the Machine's secrets. However, there is an Eternal faction, the Uranites, that may happily go along with a globally genocidal interpretation of the Eternals' Celestial programmed purpose without much persuasion. Any among this vile-minded party may find it in their interest to off the Krakoans first or pitch Earth's Mightiest against mutantkind, for which there is already some ground since last year's Hellfire Gala established a whole planet of mutants next door, Mars turned Arakko.
Yet with a handful of the anti-Thanos Eternals now on the verge of falling afoul of the Avengers—currently living it up in the giant corpse of one on the Eternals' revered creator-gods—it seems that axis of the conflict will pop off first. Still, the shared history between the two groups has long been established—for instance, Sersi herself was an Avenger in the '90s—and the recent Eternals: Celestia one-shot told of Ajak's encounter with the primordial Avengers of One Million BCE (in my view the only worthwhile story of that misbegotten team thus far. Leave it to Gillen to give them a meaningful context). In the latest Eternals issue, however, we see Ajak somewhat regretting her ancient mercy, as she and three other Eternals sneak into Avengers Mountain, or—to them—their primal Progenitor. They clearly don't trust and even appear to fear Earth's Mightiest—but if they're the good Eternals, why not be open with the heroes about their needs? Well, they have sound reason to think that those using the dead Celestial as a secure, self-sufficient HQ might not want what comes of the Eternals using the vast husk as a line of communication to living Celestials out there in the wider universe, in order to call on their potentially apocalyptic help in dealing with Thanos.
Further, imagine if the Eternals had simply told the Avengers in issue #10 that not only is Thanos back, but he now has the ability to destroy the Earth on a whim—thanks to his commandeering of the Machine, which oh yeah, humanity is definitely not supposed to know about!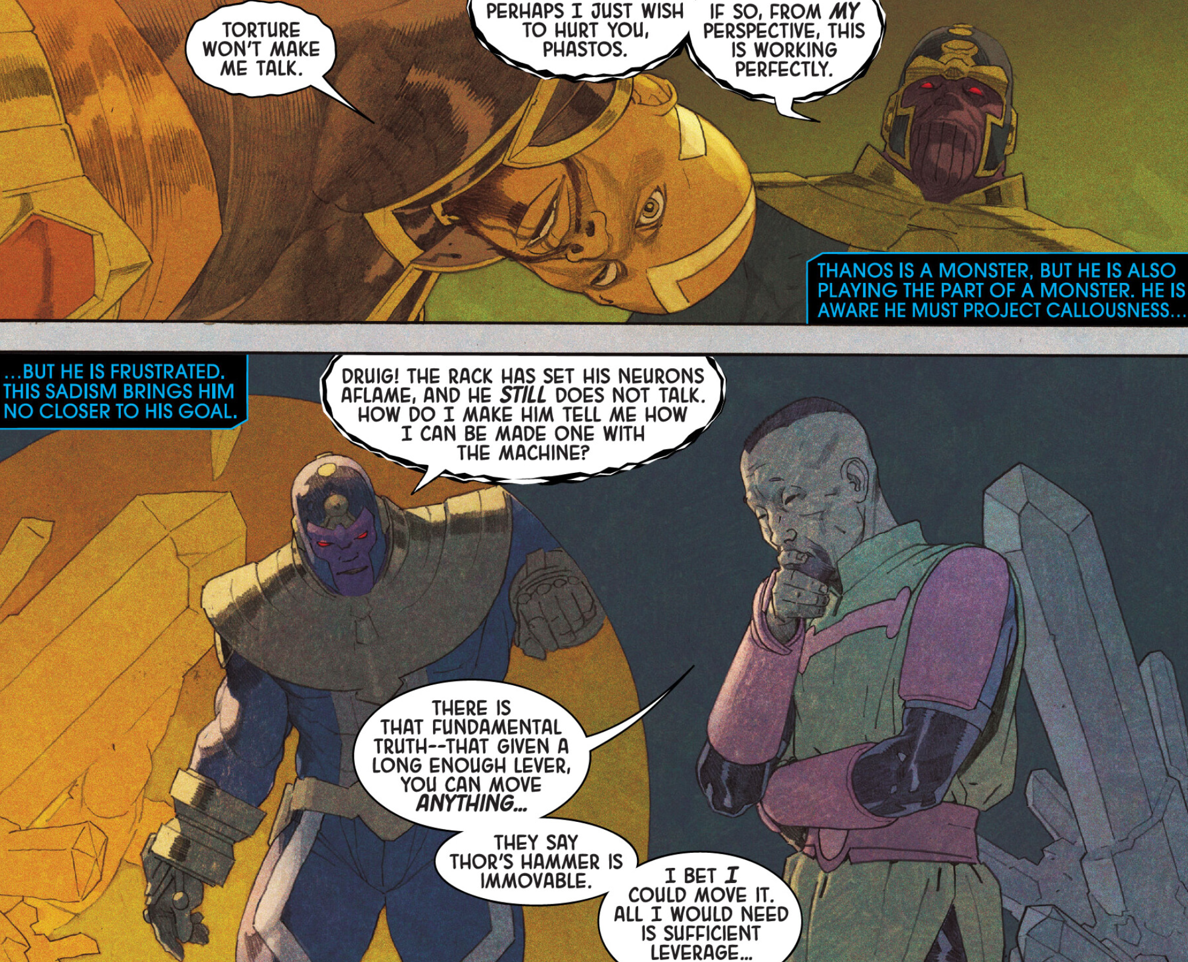 Again, if you're an X fan not reading Gillen's Eternals—what're you doing?! That title is one of Marvel's best of the past several years; in terms of quality, it stands alongside anything Hickman has done from HOX/POX on. Esad Ribic of Secret Wars and Thor: God of Thunder fame has drawn the bulk of it. And even the one-shots, which would seem to interrupt the flow of the ongoing, are 1) also gorgeous and 2) smoothly integrated into the overall narrative build. Further, unlike with not a few current mutant books, Gillen has been telling a story that narratively satisfies even as it continues to build in thrilling complexity—and now he's writing Immortal X-Men! Destiny of X is endangered by the Head of X's departure? Um—nope!
Having never been excited about Wolverine since Barry Windsor-Smith and the early days of Hama when I was a wee tot, I had to really will myself into enthusiasm for X Lives/X Deaths—which, frankly, has felt like quite a waste. Sure, I liked the villainous turn for Moira, but wearing Banshee's skin? As a novelist, Percy is stunning; as a comics writer, he has a rare talent for inhabiting a character's perspective and wringing poetry from inner darkness—but as an event maker? If that's not where he's best served, what does it do for fans?
Now of course, Gillen has never helmed a comics event, either. But I wager that he's at a point where he is primed for it, intentionally or not. As a games designer with many years of experience, he knows how to arrange and move many pieces about a multipronged venue with a complexity and deftness that somehow work together. That is an extraordinary skill. And there's no reason not to expect its full flowering soon, with Judgment Day.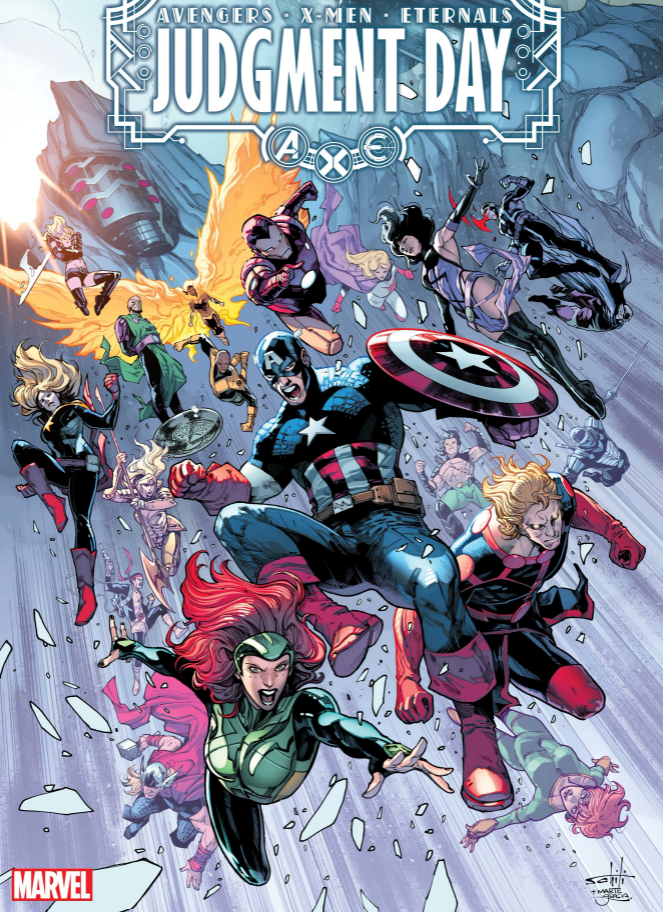 NEXT: A look back at Way of X, the last issues of Excalibur, and the Chronicler narrative in X-Force.