On my thirteenth birthday, I was given my first collection of X-Men comics. The characters were already legend. I'd spent the last few years being told stories, bits and pieces cobbled together from comics, and cartoons, and movies. When I started to read that collection, it did not disappoint. I fell in love with each character, the variety of personalities and backstories, all coming together to make a family. Each character showed a different philosophy, a different worldview, a different moral code, and they bounced off each other, creating a world that reflected the real one, creating a team that had depth and nuance.
Was it, at times, soap opera? Absolutely. But it was soap opera that worked, because each character had a beating heart. These X-Men are not those X-Men.
That birthday gift was the opening of Christopher Claremont's X-Men. X-Men: The Sentinels Live is not by Claremont, and was published a few years beforehand, the last X-Men run before their rebirth as a Marvel flagship title. The Sentinels Live, written primarily by Roy Thomas and Arnold Drake, with Neal Adams, Jim Steranko, and Werner Roth as the primary artists, collects a variety of stories, over about two and a half years. As you might expect, the stories range in quality, from clever to predictable, and from significant to filler.
Is it unfair of me to compare this run to the historic, 20 year epic that Claremont spearheaded? It really is. But by looking at it through the lens of what came later, we can see some of the strengths and weaknesses here, and how they contributed to the X-Men as they appeared later.
---
This collection wears its influences on its sleeve, from the ape-men and dinosaurs of Edgar Rice Burroughs, through to the twists and comeuppance of a Twilight Zone episode. My personal favorite story involves a hypnotist with nefarious plans for his patients. Because who doesn't love vague threats from your healthcare professional?
Support For Comic Book Herald:
Comic Book Herald is reader-supported. When you buy through links on our site, we may earn a qualifying affiliate commission.
Comic Book Herald's reading orders and guides are also made possible by reader support on Patreon, and generous reader donations.
Any size contribution will help keep CBH alive and full of new comics guides and content. Support CBH on Patreon for exclusive rewards, or Donate here! Thank you for reading!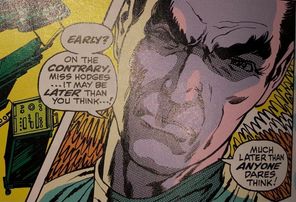 An aspect of any team book, or any story with a wide cast for that matter, is the potential for soap opera. The clashing of personalities and opposing goals. Love triangles and heightened emotional stakes. What makes it soap opera is the fact that the dramatic tension just keeps coming. Something new to break up the lovers is always just around the corner, fabricated by the creators. But what makes it good soap opera is the reader's empathy for the characters. It's this empathy, this desire for the characters to be happy, that lets us suspend disbelief when the plot turns labyrinthine and our heroes face their umpteenth problem. But if the empathy isn't there, if we haven't been led to care about these characters, then the plot twists fall flat.
Now, I'm a big fan of soap opera. Buffy the Vampire Slayer, The Office, Once Upon a Time, all shows I love, all full of star crossed lovers and unlikely happenings. But what makes them work is engaging characters. Emotional depth. A core trope that Claremont carried over into his run was the X-Men always fighting. And not in the superhero, beat-the-bad-guy sense. More in the sense they're ready to beat the snot out of each other at a moment's notice. This is appropriate, considering a core theme behind the X-Men is family. More specifically found family. But throughout this collection, it just doesn't work. The fights are so manufactured, the disagreements so minor and incomprehensible, that it's difficult to care that they're fighting at all. And when that happens, the character's cease to be engaging. There's no emotional depth.
The romantic plot that works best in this collection, is the relationship between Scott Summers and Jean Grey. The reason it works is that they've already played out the will they/won't they, so that in this collection, we finally see, yes, in fact, they will. But all the conflict, questions, and suspense, had played out in the prior comics, leaving an uninteresting relationship. (In the future Pryor comics, conflict, suspense, and questions would be restored to their relationship). We have Hank McCoy and Bobby Drake's dalliance with Vera and Zelda, a series of coffee dates and misadventures. But how can the reader want anything to come from their relationship when it's obvious the characters themselves don't? And just to really drive that point home, barely an issue after their date, Bobby completely forgets his paramour the second he sees a girl with green hair.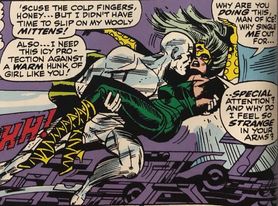 Love at first sight is a fiction mainstay, but the characters need to be interesting or charismatic enough to pull it off. Bobby's character in these issues isn't particularly interesting. The biggest trait to set him apart from his teammates is that he's younger than them. The fact that he's smitten with Lorna Dane doesn't include any dynamic that makes me cheer for him. It's hard to have sympathy for him, and when the writers, naturally, create a love triangle, it becomes even harder. As Lorna Dane and Alex Summers become closer, Bobby's response is to yell at both of them, in a way that alienates him, maybe not from his teammates, but definitely from the reader.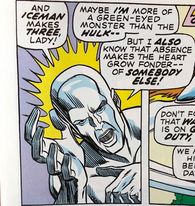 That does bring us to one of the more valuable parts of this collection though, the introduction of new characters. Most notably we meet Alex Summers and Lorna Dane, also known as Havok and Polaris, two characters who will remain in the X-Men line through the years. In addition to them, we meet Sauron, a mainstay X-Villain. Reading his first appearance, I was surprised to learn that yes, he was in fact named after The Lord of the Rings character. This was because Sauron, an evil pterodactyl, wanted everyone to know that he, just like Mordor's ruler, was the lord of evil. Sauron's first appearance is one of the strongest stories in the collection, graced with Neal Adams art, and a sympathetic villain who's simultaneously campy and creepy.
And speaking of Neal Adams, that brings us to one of the stronger elements in this collection; the art. Scattered throughout, there are examples of the early work of Jim Steranko, Neal Adams, and Barry Windsor-Smith. One good reason to pick up this collection is if you, like me, are invested in the early adventures of the characters you love now. Another is if you're interested in early work from some iconic artists.
Jim Steranko's art only appears in two issues, but they're enough to make an impact. Opening with a double-page spread, and the always fun choice to include the story title as a piece of the landscape, Steranko continues with bombastic art, letting weird and intricate sci-fi machines people the background of his pages. What I found most noteworthy was his tendency to play with pacing. By spreading a characters movement into multiple panels, the art adds a sense of rhythm to the stories that I appreciate, and is a hallmark of many of my favorite creators. This rhythm, and more subtle movement, helps draw the reader closer to the character's, and what they're going through.
The plot of our Barry Windsor-Smith story, "The Rage of Blastaar," is set out in the title, being a punch-up between the X-Men and the evil, interdimensional Blastaar. If you're looking for the style of Windsor-Smith's later work, the hyper-detail and shading found in his Weapon X stories, you won't find it here. You will find a bombastic story full of character's being thrown, through walls, and at each other.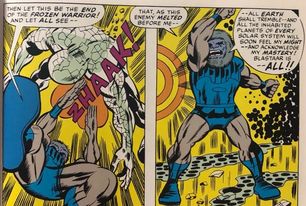 Most notable is Neal Adams, who makes up most of the back half of this collection. His art tended towards larger and more creatively formatted panels than the X-Men were used to, giving more scope to the character's movements and emotions. This, along with a tendency to allow characters movement to overlap beyond their own panels, compounds vibrancy and motion that's already a part of Adam's artwork.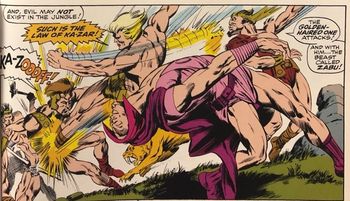 Throughout The Sentinels Live, there's entertainment, sure, but not much originality. There's soap opera, but few emotional stakes. If you're looking for the X-Men that would become famous, the complex characters and drama, this isn't the collection for you. But if what you're looking for is background to the other stories you love? If you want to see how Havok and Polaris were first introduced, or the first appearance of Sauron? If you're interested in some of the artists, and how their style changed and morphed? Then it's worth a look.