Welcome! Historia is a brand new bi-monthly series that will be examining The Amazing Amazon's rich history. The feature will span the war-haunted Golden Ages in which she was forged, through the sweeping currents of The Silver Age, the shifts of The Bronze Age, the trials of The Dark Age, all the way to The Renaissance and The Prismatic Age of the modern century.
We'll be looking at and discussing the various influences and archetypal antecedents that underlie the Wonder Legend, the power of the conceits it upholds, the politics of the whole enterprise, the terrifying nature of myths and narratives, and how the character and property have changed, evolved, or even regressed. What is this curious little experiment that began under a polyamorous polymath psychologist that became an icon of the feminist movement and a vital corporate symbol? Let's dig in.
The Allies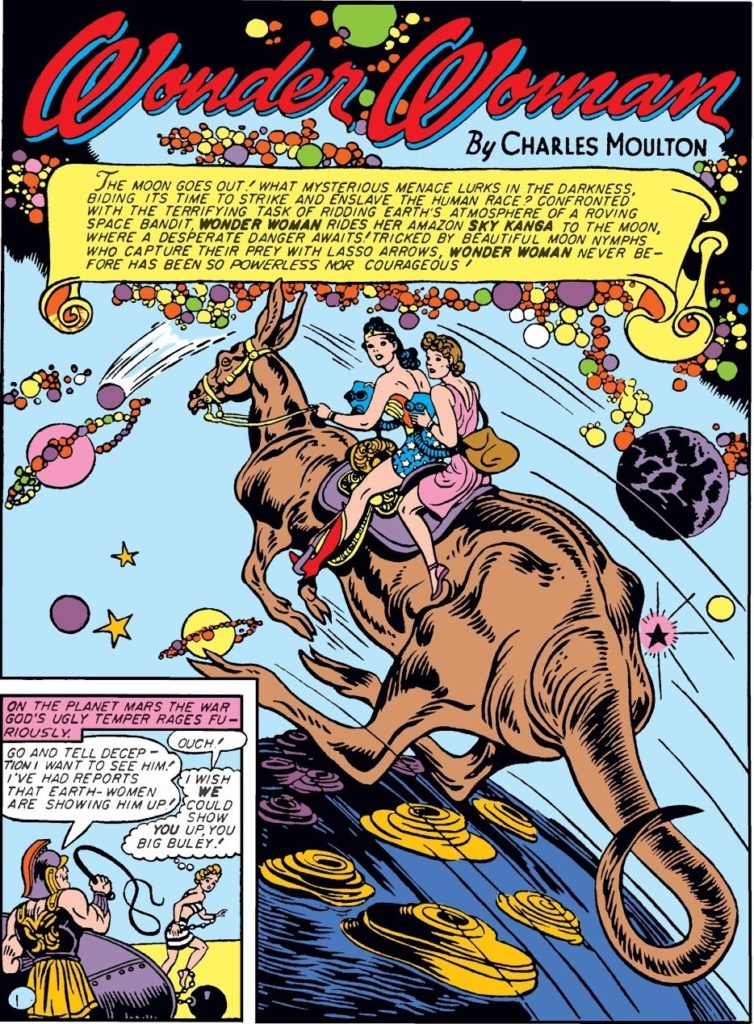 Now, it's worth tackling the cast question in-depth here, because Diana's got a really interesting set of colorful faces in her life. This will also prove useful, as in future installments of the series, we'll refer back to these profile-esque essays and build on them, allowing them to define the characters, as we trace their evolution (or perhaps even erasure) through history.
Aprhodite- The All-Mother!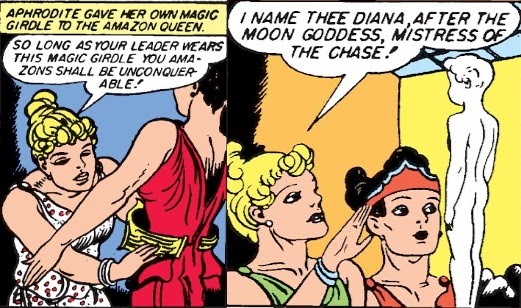 The Divine Mother of Wonder Woman! Aphrodite is at the absolute center of Wonder Woman mythology, embodying all that is worthwhile about The Amazon ideal and being the cosmic symbol of Love. It is her, as shown above, that passes her Invincible Magic Girdle onto Queen Hippolyta, who then passes on threads from it to Diana, in order to forge her Magic Lasso. And it is her, also shown above, that gives Diana her name. She's part of her queer conception. The parthenogenesis is all due to her and it is wonderful. With Athena coming in at #2, she is very much the sort of Odin-esque (ala Thor) figure for WW mythology. She is The Cosmic Mother who is ever watching, in contrast to Lyta's more material motherhood.
Support For Comic Book Herald:
Comic Book Herald is reader-supported. When you buy through links on our site, we may earn a qualifying affiliate commission.
Comic Book Herald's reading orders and guides are also made possible by reader support on Patreon, and generous reader donations.
Any size contribution will help keep CBH alive and full of new comics guides and content. Support CBH on Patreon for exclusive rewards, or Donate here! Thank you for reading!
The Amazons
The Amazing Amazons are, of course, a key fixture of Diana's mythology, even if they're not always around in her stories. We'll go through some key figures here, to give you a sense of them in a bit more detail rather than simply rely on broad ideas.
Queen Hippolyta- Wonder Mom!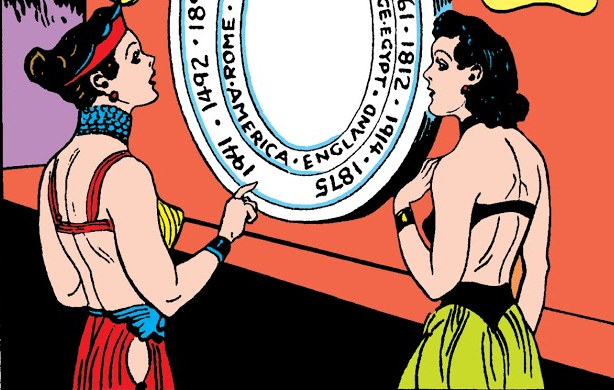 The archetypal ancestor, The Queen-Mother, she bears The Magic Girdle, which ensures the victory and success of The Amazons so long as she possesses it. Lyta is vital to a Wonder Woman comic, because it is, at heart, a book about women and female relationships. And how is such a book possible without a mother-and-daughter relationship? That dynamic is really vital.
A lot of superheroes, ESPECIALLY in this era of the 40's, had no parents. They were almost always orphans or the parents were so detached and removed, it didn't matter. But Diana always had her mum. And that's essential. The book needs that dynamic in some form to work, down to mum's occasional calls (albeit via Mental Radio) to check on how you're doing or worrying. It brings a universal quality to Wonder Woman that can otherwise seem a bit detached, in all their surreal glory.
To put it like this, if Thor is a comic eternally about fathers and sons and those patriarchal relationships, brotherhood and fatherhood, with Odin (and thus also Loki) front in key places, then Wonder Woman is a comic eternally about mothers and daughters and those matriarchal relationships, sisterhood and motherhood. It's about those relationships which barely get any play in superhero comics.
She's the super-mom, the one who's dueled Hercules, done the heroics and now just does not have the time for that. And that's a lovely and unique thing you hardly get anywhere else, especially in superhero comics. 
Lyta's also queer, despite attempts made by many to somehow make it not so over the years. Gail Simone famously wanted to marry her with her general during her tenure but was stopped. Nevertheless, let no one tell you otherwise, for even her conception of Diana is with another woman and the woman who is literally love itself. And given the Wonder Woman idea is so much about love, her love of and for Diana is irreplaceably crucial.
Mala- Good ol' Pal!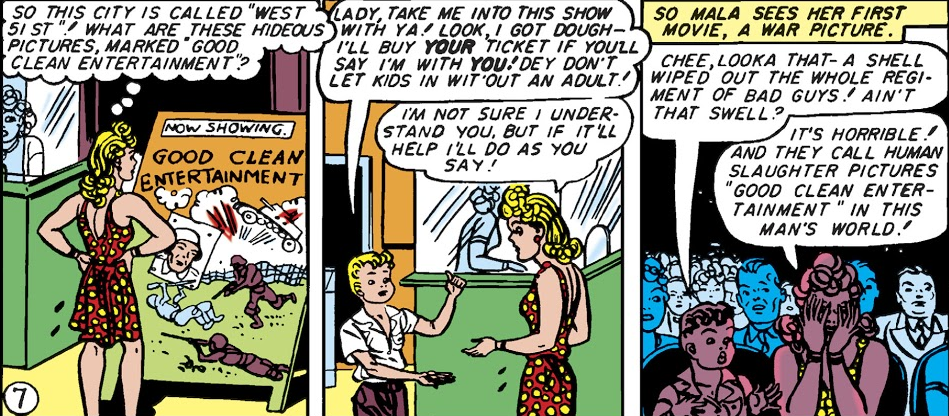 Diana's best friend from Paradise! Mala is also, per subtext, queer, like many Amazonian women. Although that wouldn't become text until 2016 with Grant Morrison, Yanick Paquette and Nathan Fairbairn's Wonder Woman: Earth One
(which is the first openly clear admission of Diana's queerness as well, even if it's not in the mainline 'canon') wherein Mala is also Diana's lover, who becomes her Ex-Lover.
But really, in this original incarnation, Mala is Diana's good ol' pal, the childhood friend, if you will. She's fiercely loyal and willing to accompany and follow Diana anywhere, even as Diana would prefer she not do that. She's very much the old BFF you grew up with and even as you've moved away and your life is different now, you still love them. You talk a lot less, your relationship and dynamic aren't quite what they used to be, but it is always a delight to see them again and it is genuinely really nice. And you always know that if you ever need anything or are in trouble, you can absolutely count on them for anything. That's Mala's role and place in Diana's life.
She takes on a number of roles, but ultimately settles into being The Prison Chief on Reform/Transformation Island, helping supervillainous women change to become better. She does on a lone isle what Diana does for the world: Try and make people better, even if through weird submission mind-affecting Amazon gear, given it is a Marston comic.
Metala- The Expert Extraordinaire!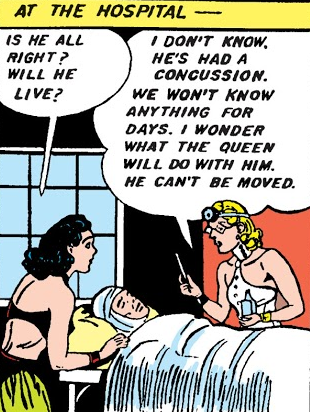 The Super-Scientist of Paradise, Metala is effectively the royal adviser and inventor for Hippolyta. She's the one who has the first pass on Steve, before Diana brings out her Purple Ray to fix things. But more crucially, Metala, aside from being a Doctor, is also a master of Metalwork, because so many of these women were skilled in numerous departments.
This is worth mentioning because as one might note in the panels above, she is the one who forges Diana's Magic Lasso from the threads of Lyta's Magic Girdle. She's not much of a character, as much as the idea of the aide and helper, which is fine, honestly. She's basically the Alfred to Lyta's Bruce. Or if you want to go in Richie Rich comparisons, the Professor Keenbean of the Amazon Isles.
Etta Candy and The Holliday Girls- Girl Gang!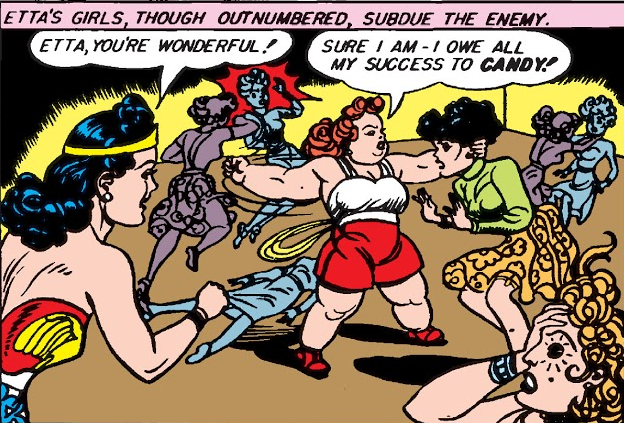 When you look at the myth of Wonder Woman and The Amazons, there is very much an idealization of women, a sort of impossible standard aspect, for sure, because who can actually be Wonder Woman or The Amazons, these supermodels of strength from paradise? It raises a problem and part of the solution to the problem are this motley crew. They express the ideas of the comic and clarify things nicely. It's not about the super-strength or the Amazonian looks or physique, as much as it is about the morals and values. Thus the eternal message of the book: Every woman can be a Wonder Woman. 
And thus we come to Etta and The Holliday Girls. We touched on them briefly in the last part, discussing both names, Etta and Holliday, but let's take a closer look. The conceit of The Holliday Girls is, if you're not familiar, they're a group of college girls from the Beeta Lambda Sorority of Holliday College, led by Etta Candy. They have strange kinky parties, inspired by that of Marston's own experiences and are meant to be Diana's gal pals in Man's World.
The fundamental purpose of The Holliday Girls is to provide that humanizing figure or group of figures you can project onto as a reader. It's the Robin or Jimmy Olsen appeal, in essence. But even beyond that, they're meant to be the representation of Amazonian philosophy in action, utilized by the women of Man's World. It's Marston running simulation trials of his beliefs via stories. It's him giving examples of women affected by Amazonian Ideas and how they fare. And the answer to how they fare? Awesomely. They're brilliant.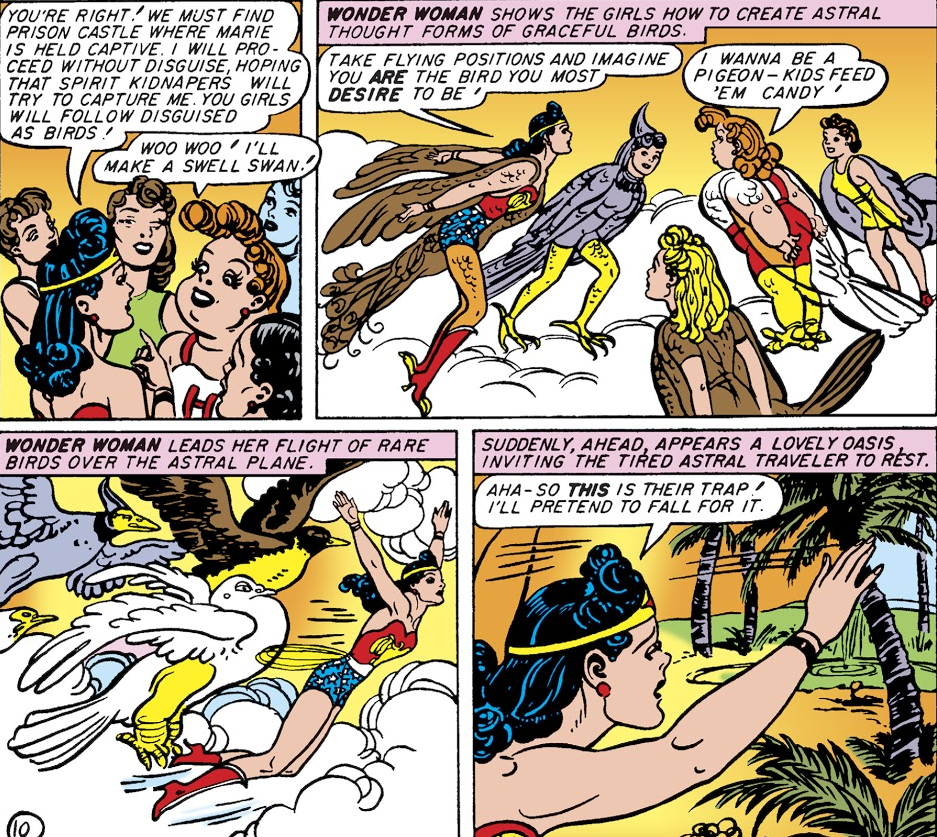 Etta Candy is a riot. She's a hell of an individual. A girl from a Texas Ranch, Etta always does the impossible, impressing Wonder Woman, Hippolyta and plenty more consistently. As do the rest of the girls, whether it be tackling nazis or traversing The Astral Plane.
Nothing is beyond these ladies and they're an energetic bunch always looking to have a good time, grab some great food and have cool adventures with Diana and also do the right thing and help, however they can. They're the group that gathers for protest, organizes rallies, they're the on-ground force of activists who'll stand with Wonder Woman, even when no one else will. They believe in her and are her best friends, with Etta being closest of all.
Steve Trevor- Dude-In-Distress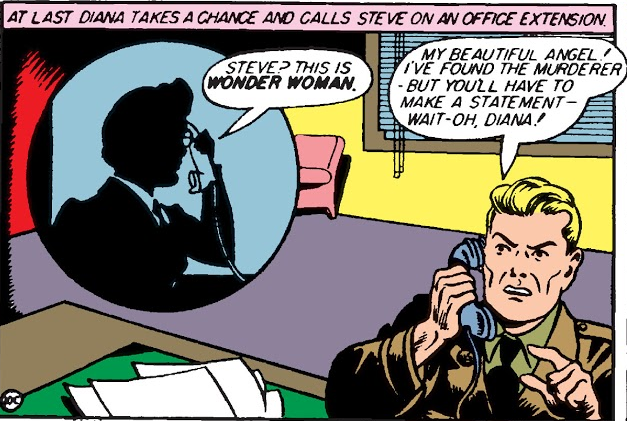 Steve needs no introduction, as pretty much everyone under the sun is aware of him, especially given Chris Pine. But nevertheless, the character here is a fairly different one to the one in the movie or in the more modern comics. The movie and the contemporary comics tend to play him as a sort of Steve Rogers-esque type, just a really great hyper-competent dude who's clever and fun and loving. And that works. But in these original comics, it's worth contrasting him with the only real comparison point of his period: Lois Lane.
If Lois was full of personality and a fire since the start, Steve Trevor was…the opposite, which, in fairness, is kind of the point. Lois is a radically different character as a love interest. She challenges Superman and there's a sort of push and pull dynamic there. Whereas Steve Trevor isn't really designed for that. Steve is a very basic Damsel-In-Distress but Dude Version, which is the creative team having fun. They're inverting that type by making it a man, who has to constantly be saved and rescued by a woman.
But that aside, let's be clear, Steve Trevor is a Himbo. There's a reason that the first thing Greg Rucka/Nicola Scott/Liam Sharp did, after declaring their mission of 'Make Steve Trevor Cool,' was take his shirt off. And for their whole Wonder Woman
run, they did absolutely everything in their power to keep it off and give readers beefcake art of a good looking dude. They knew exactly what they were doing with that.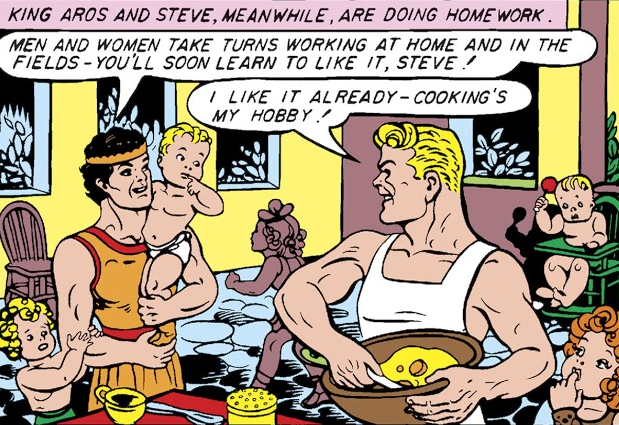 But in any case, getting a bit more serious for a second, Steve is very much a character designed to support. He's not meant to challenge Diana or her values or ask tough, difficult questions of her. He's designed to just be there for her and help her own. Be the support system. He's sort of what Cal from the recent Watchmen HBO show was, in that sense.
Diana Prince- The Secret Self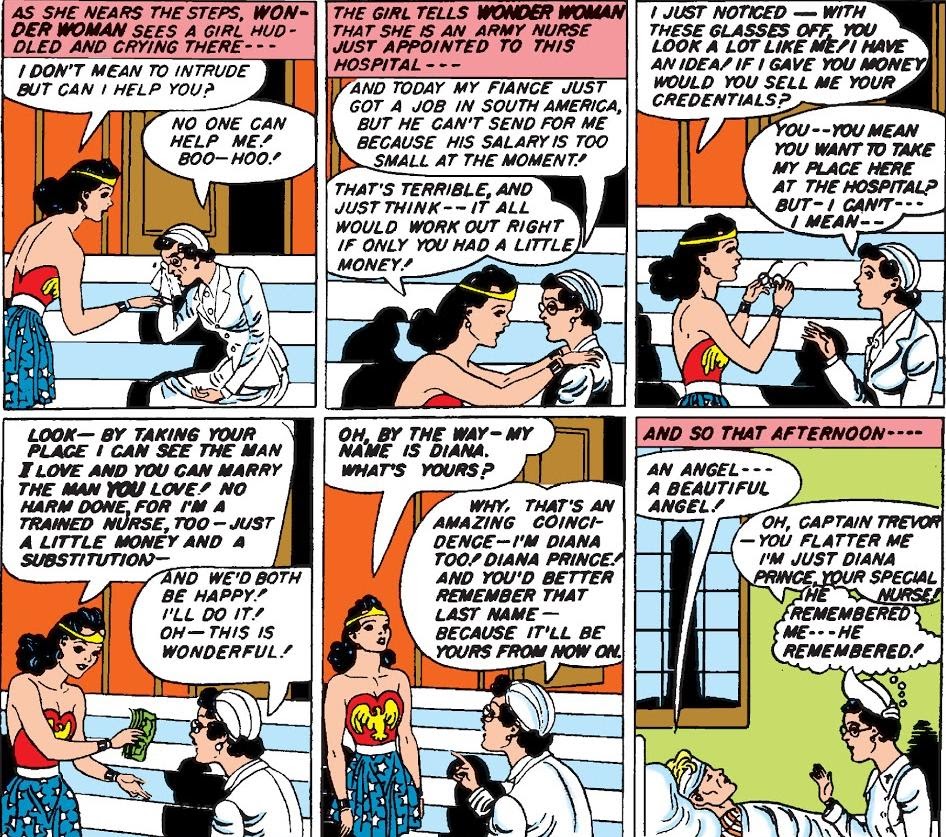 The thing nobody talks about in regards to Wonder Woman is, she bought her fake identity with a load of cash she made off a performance show. If that sounds wacky and wild, it absolutely is in context and you should absolutely check out the iconic Sensation Comics #1
, which is a delight. But yes, there are two Dianas and they look exactly alike and Diana bribes the normal one on her way to South America, gaining her identity as a Nurse.
Diana was a healer to Marston, so you have that, but also, it was a position women occupied for ages, so making Diana inhabit that literally and actually take care of patients, that makes sense to hit home the point. Eventually Diana would, once Steve was discharged, become a Secretary at his office to his boss.
Other Diana, aka Diana Prince returns a few times after this initial setup for a secret identity, and shenanigans ensue, including having to deal with her annoying husband. After that, the character fades away, having served her purpose of giving Diana a real foothold in Man's World. Understandably, there's no trace of her in the modern era. Imagine the Donald Blake presence but even more negligible. It's that.
Phil Darnell- The Boss Man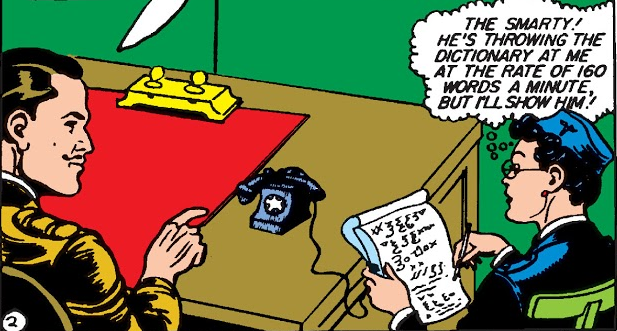 Very much the stock Perry-White type but Military Version, and the aforementioned Boss of Steve. Phil is a decent dude for his time, often sticking up for Diana, Steve and all his associates. His role was, of course, Chief Of Intelligence, so he was sort of the one who would hand out missions or help the story move along given his role. It's why he's been effectively ignored and thrown away, as his narrative relevance and purpose is now virtually non-existent. Nevertheless, during this period, he was an amusing figure in Diana's life.  
Queen Desira Of Venus- The Fairy Godmother!
Before Steve Ditko ever struck with Doctor Strange and unleashed dimensions and worlds of surreal imagery and oddities, Harry Peter and William Marston were tapping into the magical strangeness inherent to comics. As seen above, we have tales of Travels Through The Astral Plane, as a literal Fairy Godmother assigns missions. 
Desira was very much the sort of dream-like figure of fantasy that would call upon Diana for magical missions across impossible planes of existence, helping give the comic more flavor and a different type of story to play with. And giving Diana a connection to another maternal figure, especially one with Butterfly Wings from Venus, that's a fun notion and you can see why Marston, although he didn't create the character (Gardner Fox did for JSA), would use her. She fits into the magical sci-fi fairytale box that is his Wonder Woman. 
Queen Eera and Princess Octavia- Foreign Friends!

Eera and Octavia were, of course, distant riffs and takes on the concept of Lyta and Diana. A Queen and a Princess from an ancient hidden civilization of matriarchs, who unlike The Amazons, are embroiled in a war and also have a lot to learn. Both are royalty of Aurania, which is in constant conflict with Venturia, a remnant of ancient Atlantean Civilization, hidden under a volcanic isle. The women of Atleantean heritage are bigger than even Amazons, but lacking in their true power. It draws the parallels and shows why this specific thing is distinctive and unique. 
That's also the purpose with Eera and Octatavia, as Diana has to teach both the path of The Amazons, and Octavia even trains on Paradise Island for a year before becoming a full Amazon. Once more, any woman can be a Wonder Woman if they follow the Amazon Ideal.