It is often said that Watchmen
 is the most influential comic ever to be released. That comics wouldn't be where they are without it, for good and for ill. But how did we get here, exactly? More to the point, just what influence did Watchmen provide to the larger world of comics? What, ultimately, is the legacy of Watchmen? Who watched the Watchmen?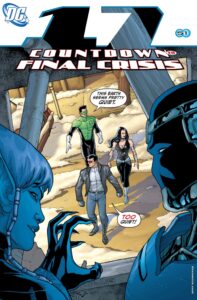 Duela Dent is dead and the Multiverse… actually doesn't care that much. In the aftermath of the fiscally successful and critically-acclaimed 52, DC launched Countdown to Final Crisis, which is, well, less fondly remembered, to put it kindly. As its title might imply, it was attempting to build hype for the then-pending Final Crisis. This weekly series followed much the same format as 52 by juggling an enormous cast of lesser-known characters, but went overboard on pointless cameos and mostly forgot to include the parts where the story would be relevant to the events it was leading into.
To say Countdown was a hugely ambitious project is no exaggeration, so where did it go wrong? Well, following up the admittedly loose but still exciting and energy of 52 with a comparatively uninspired but equally long series to keep the fiscal ball rolling set it up to fail from day one. Another one of its biggest mistakes is the act of invoking Watchmen's plot points, imagery, and themes. Regardless of your overall feelings on Watchmen, it had a meticulously written script in which a number of story and character beats dance more or less seamlessly with the larger plot. If you're going to call attention to the series, you've got to run a tight ship or you're setting yourself up to come across as a cheap imitation. Yet even a lot of cheap imitations are more charming than Countdown turned out to be.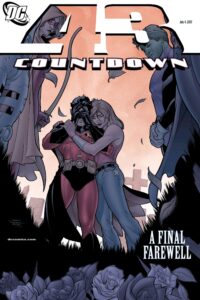 THE FINAL COUNTDOWN TO THE FINAL CRISIS FINALLY
As noted, this all kicks off with Duela Dent's death at the hands of a rogue Monitor, with a little nonsensical Darkseid rambling thrown into the first issue for good measure. A number of New Gods or adjacent characters die in this series, ostensibly setting up the "Darkseid wins!" theme of Final Crisis. Naturally, this series includes "A Final Battle!" between Darkseid and Orion, like most New Gods stories do. Meanwhile, Jason Todd finds Donna Troy, noting that they are also continuity aberrations that may be in danger (he's the Rorschach, basically). With Kyle Rayner, they go in search of Ray Palmer. Sadly, they find him. There are some random Monitors running around causing chaos as the crew reality hops, and this all leads to Donna forming the Challengers to keep an eye on the Monitors, which you will be happy to know goes absolutely nowhere.
Alongside all of this, a meandering side quest with Holly Robinson and Harley Quinn being recruited by a group of "Amazons" that are a front for Granny Goodness to… do… something happens. Meanwhile, Jimmy Olsen gains superpowers sometimes and falls in love with a sexy lady version of a "bug" from Apokolips named Forager. This all leads up to him fighting Darkseid for a few panels later on. The Legion's Karate Kid and Triplicate Girl show up to flirt with each other and to become hosts for the OMAC virus for a while. The Pied Piper runs around with the Trickster for a bit while everyone tries to kill them, then plays his pipe and… destroys… Apokolips. So… that happens.
Support For Comic Book Herald:
Comic Book Herald is reader-supported. When you buy through links on our site, we may earn a qualifying affiliate commission.
Comic Book Herald's reading orders and guides are also made possible by reader support on Patreon, and generous reader donations.
Any size contribution will help keep CBH alive and full of new comics guides and content. Support CBH on Patreon for exclusive rewards, or Donate here! Thank you for reading!
The first many issues feature a "History of the Multiverse" segment that lingers on the talking heads of the Monitors, making for four pages of space per issue that could have been used for anything else. Indeed, much of the continuity being established was rendered moot several times over when Final Crisis and then New 52 and then Rebirth shook up continuity once more, making the character bios fall flat, particularly in comparison to the Watchmen's fascinating choice of backup material. The backup later shifts to become a series of brief origin stories of characters often only tangentially related to the series. The misuse of space is notable throughout this series, and, worse, there are extended sequences in which Darkseid and a Monitor play with action figure versions of the superheroes on a gaming board while trading egotistical comments back and forth.
For more in "Who Watched the Watchmen"…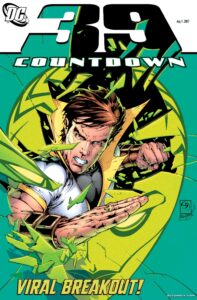 BUT WHAT DOES IT ALL MEAN
Though Countdown is packed to overflowing with characters and callbacks, not much of importance happens. Despite having already been used past capacity by the final pages of Infinite Crisis, Superman Prime shows up. This character is a direct riff on the Kid Miracle of Miracleman. In the context of the modern DC Universe, he was intended as a commentary on toxic fanboy culture, with constant references to how things "should" be, but without direction, it's just a beefy guy beating up women and graphically torturing Mxyzptlk. It's hard to understand who might have been clamoring for an extended scene of a fifth-dimension imp having an "S" burned into his face, but the question of "who exactly was this written for?" comes up a lot when reading Countdown.
Piper is forced to team up with Trickster, whose homophobia-played-for-jokes bit runs past thin within his first moments of page time. The two go on a tour of the many villains of the DC Universe attempting to kill them. One scene in which the two open up to each other is muted by constant "no homo" comments from Trickster. Jimmy Olsen is surprisingly out of character, with others reducing him to "Superman's pal" in ways that flatten how and why he's been such an integral character at DC for several decades now.
Holly Robinson is uncharacteristically snarky, Triplicate Girl acts like she's never seen action before despite being a longtime Legionnaire, Ray Palmer is surprisingly pathetic, Jean Loring as Eclipso is uncomfortably predatory toward Mary Marvel, Karate Kid spends much of the last half of the series comatose, Kyle Rayner has no defining characteristics, Jason Todd is beyond insufferable… in the end, if you were a fan of any of these characters leading in, this is a series you might just want to gloss over going forward.
If you're wondering what any of this has to do with Final Crisis, join the club! It doesn't play that much of a part in it outside of a handful of loosely-related New Gods appearances. It just isn't that deep, and no amount of effort on your part as the reader is going to make it so.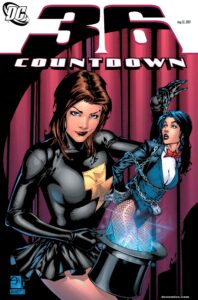 THIS COMIC IS NOT WRITTEN WITH WOMEN IN MIND
Many stories of the aughts combined the same level of gross over-sexualization that comics had come to be widely associated with and violence that had grown more acceptable in mainstream superhero books over decades. To that end, this era has plenty of gems, but it also published some of the most anti-woman comics ever to see comic shelves in greater numbers than ever before. Though Women in Refrigerators is a commonly referenced gamechanger in comics criticism today, one need look no further than this specific time period to see that the industry all but ignored its criticisms for at least the next decade-plus of publication.
Some of the biggest problems with this series are that it takes the wrong cues from everything that inspired it. To that end, discussing the misogyny of Watchmen and The Dark Knight Returns leads to the violent deaths that spurred the Women in Refrigerators website, which are in turn followed by Terra getting punched to death and Pantha having her head atomized from her shoulders in major event crossovers all the way up to Mary Marvel's portrayal here. Despite Gail Simone and some others writing great comics for DC at this time, it was countered in the extreme by the normalization of violence against female characters that writers deemed unimportant.
Indeed, the story kicks off with an "unlikeable" woman being murdered, and the only one who can summon anything nice to say about her is Donna Troy at her gravesite. This is immediately followed by Jason Todd interrupting Troy's moment of silence for the fallen former Titan by quipping, "Hey, babe, come here often?" Later, when one of the Monitors attempts to take the rogue Monitor to task, it is preceded by a lengthy monologue about how meaningless a person she was. Yet Duela Dent joined the reformed '60s team of Titans decades ago in arcs that may not have been centered on her, but which gave her at least some level of depth, intrigue, and likability. Here, she is needlessly cruel, edgy, and, in short order, dead. Falling in with the rest of the tale, it is only her paradoxical nature that made her a target for the rogue Monitor, meaning even her death has little to do with her.
Though Todd regularly notes that he's been through death's doors himself, he appears here as a roguish bad boy, while Duela Dent's death is treated as a joke when it's mentioned at all. Mary Marvel is repeatedly and openly humiliated by friends and foes alike, and Donna Troy passively bears Todd's insensitive remarks. Holly Robinson and Harley Quinn team up but Holly's POV inner monologue shows her being dismissive of Harley in the extreme. Poison Ivy appears as naïve when she briefly interacts with Trickster and Piper. Forager lacks a distinctive personality. Darkseid kills one of his "concubines" and then orders Desaad to remove the vocal cords of the next one. Donna Troy calls an alternate reality version of herself a skank. It's endless.
As much as Watchmen is notably unkind to its female characters, Laurie Juspeczyk is at least a fleshed-out character with a major role, whose willingness to fight for humanity shines bright enough that she is able to convince Manhattan that he should, too. In contrast, Countdown rolls with the edgelord themes established as the norm in mainstream comics of this time and runs them into the ground, committing violent acts against its female characters, but rarely giving them agency. It wasn't an easy read at the time, and it's not an easy read now.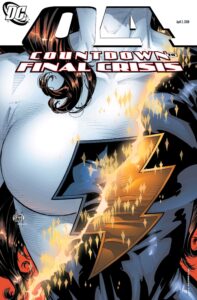 THAT LEADS US TO MARY MARVEL
As much as Countdown is overall a mess, it's important to give extra attention to what it does to Mary Marvel. A member of the Shazam family, Mary had long been characterized as good to the point of naivete. Though perhaps quicker to anger than the other Marvels, her morality was in the right place, and she delighted in her status as a hero. This series shows Mary's "corruption," but it's misguided even at its best moments.
Every male character is grossly paternalistic to Mary. When she goes in search of Captain Marvel Jr., who is becoming the new Shazam while Billy Batson takes a turn at being the Wizard, her reasons for doing so are only to gain her powers back, and she quickly forgets about Freddie in the first issues. Billy then condescends to her when she points out that it's unfair that she's being left behind while he and Freddie rise up the ranks of magic users, not to mention that neither of them bothered to check in with her. She briefly encounters Black Adam, who grabs her by the throat and chokes her before granting her his power, which she takes without comment. They meet up more than once, and it is upsetting every time, with Black Adam knocking her off her feet and flying off with a biting remark as she scrambles helplessly.
Her interactions with Jean Loring's Eclipso, already a sore subject for most readers, are similarly bleak. The older Loring praises Mary while caressing her shoulders, with one panel quite literally referring to their interactions as "seduction of the innocent." The level of homophobia in this book is a bit off the charts even with queer characters at its center, but showing sexually predatory behavior from Jean and comparing it to the comic that set off book burnings due to the allegation it caused homosexuality in children is offensive in ways that it's hard to even fully wrap one's head around.
One of the more baffling parts of this series is that Mary actually "earns" her powers back, but Darkseid shows up and promises her slightly more power and she sells her soul in an instant. This is wild because we have watched her struggle with "Dark Mary" for dozens of issues and emerge triumphant. The way Mary is treated by the other characters in this story is enough to turn your stomach, and she's given little agency, but the fact that her arc is at the center throughout much of the series only for her to be handwaved into villainy in the last issues is ridiculous. Even worse, this is all just so she can be another pointless addition to Darkseid's army in Final Crisis, meaning this whole arc was filler. She's fully transformed into a leering, sexually inappropriate weirdo by the time she appears in Crisis. What can one say but "yikes!"?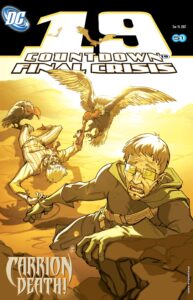 WHO… *SIGH* OK, SO "WHO MONITORS THE MONITORS?"
The last issue of Countdown features Donna Troy asking a question, "Who monitors the Monitors?", which is, of course, a direct reference to the famous "Who watches the Watchmen?" tagline of Alan Moore and Dave Gibbons' deconstructive examination of superheroes. The nod is so out of context that it becomes comical, with the feelings of conspiracy that it inspired in Watchmen replaced with a sense of utter exhaustion at the end of a fifty-plus issue mess. Again, the lack of subtlety in this series is almost a masterclass of how not to build tension, making it an interesting counterpart to Watchmen's methodical, purposeful dedication to rendering meaning from its smallest moments.
As with a number of other comics in this series, the Watchmen influence is strong. Here, however, the references are shallow to the extreme, making this a prime example of the lack of creativity that comes from reading books like Miracleman, Watchmen, The Dark Knight Returns, and their endless "homages" without tapping into your critical thinking skills or basic empathy. Though neither series is above reproach, Watchmen doesn't waste a single panel and 52 used its enormous cast to tell a story that couldn't be complete without each piece working in tandem. While Countdown takes direct cues from these two, the planning behind both of them is thrown out the window for a series that even at its best moments reads like a year's worth of filler.
Sure, it's not exactly fair to hold a rocky cash grab of early aughts DC up to a comic that is considered by many to be the greatest graphic novel ever written, but Countdown is the one that makes that comparison, and it does it repeatedly. Even going into Countdown with the intention to see it through, it's surprising how quickly it alienates. The repetitive story beats, pages upon pages of bickering among the heroes, wildly flat characterization, pointlessly cruel remarks on repeat, and lack of stakes make this one of the rockier comics from an era of DC that is seldom fun to revisit. In many ways, this is the end result of holding a comic like Watchmen up as being irreproachable: its misogyny is run with, its violence is meaningless, it sucks the already well-established personalities out of its characters, and its overall effect is not unlike that of a wet sandbag hitting a concrete floor.