It is often said that Watchmen
 is the most influential comic ever to be released. That comics wouldn't be where they are without it, for good and for ill. But how did we get here, exactly? More to the point, just what influence did Watchmen provide to the larger world of comics? What, ultimately, is the legacy of Watchmen? Who watched the Watchmen?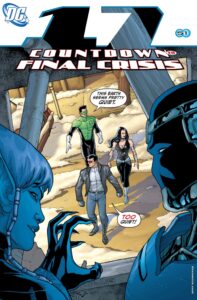 Duela Dent is dead and the Multiverse… actually doesn't care that much. In the aftermath of the fiscally successful and critically-acclaimed 52, DC launched Countdown to Final Crisis, which is, well, less fondly remembered, to put it kindly. As its title might imply, it was attempting to build hype for the then-pending Final Crisis. This weekly series followed much the same format as 52 by juggling an enormous cast of lesser-known characters, but went overboard on pointless cameos and mostly forgot to include the parts where the story would be relevant to the events it was leading into.
To say Countdown was a hugely ambitious project is no exaggeration, so where did it go wrong? Well, following up the admittedly loose but still exciting and energy of 52 with a comparatively uninspired but equally long series to keep the fiscal ball rolling set it up to fail from day one. Another one of its biggest mistakes is the act of invoking Watchmen's plot points, imagery, and themes. Regardless of your overall feelings on Watchmen, it had a meticulously written script in which a number of story and character beats dance more or less seamlessly with the larger plot. If you're going to call attention to the series, you've got to run a tight ship or you're setting yourself up to come across as a cheap imitation. Yet even a lot of cheap imitations are more charming than Countdown turned out to be. [Read more…] about Who Watched the Watchmen? Countdown to Final Crisis