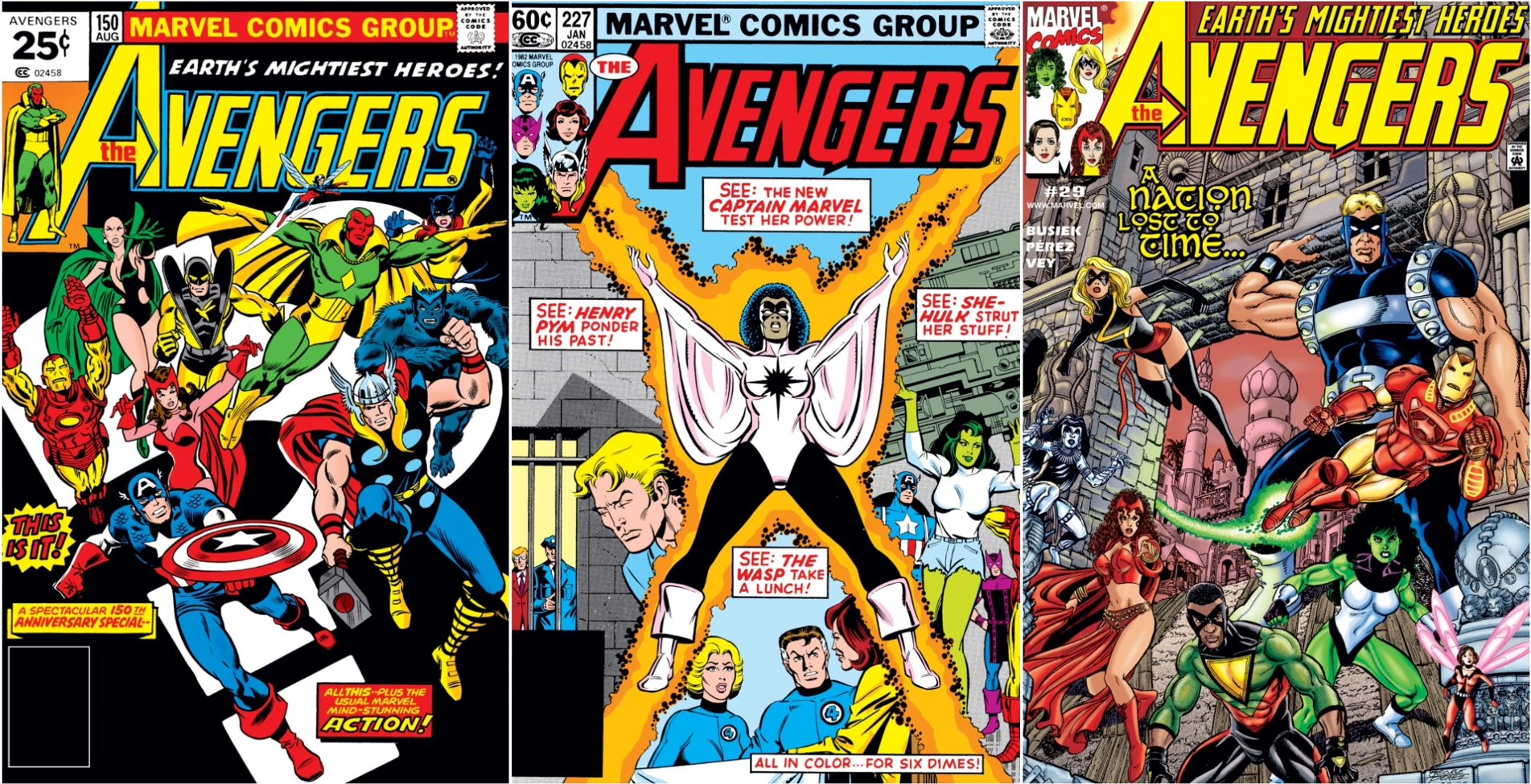 Yes, there was a time when the Avengers ruled, I mean, really ruled—ruled with genuine aspirational coolness! Or maybe, this is just a catchy title for a whole series of articles on Avengers milestones beginning in the midst of the full-steam-ahead Bronze Age and arriving one atop the other with the Roger Stern run, before the abyss of the '90s, until the revitalization of Earth's Mightiest with Kurt Busiek and George Pérez triumphant. Yet as much as this will be a love letter to some of my fave superhero comics, there will be plenty of criticism in the early going, especially when it comes to some of the more insufferably entitled men dominating this franchise. Still, I don't want to focus on the negative even as I won't shy away from addressing badness where it arises. What's more interesting is that there is so much good material in this era (which, no doubt, is not lost on Disney!), but for me, the post-Hickman era of Avengers comics has been deeply, deeply, deeply disappointing. While 21st-century professional consistency (corporate streamlining) might be glaringly absent from the earlier comics, we'll highlight those areas where those raw early times pushed in compelling directions that are almost wholly absent today.
So, hopefully, dear reader, you find this project of interest at least for all the neat ideas and characters that have fallen by the wayside in recent years. The fact that in the 1980s Monica Rambeau was Captain Marvel and held tenure as team leader of the Avengers is just one instance of the rich potential here that has been sorely neglected, especially with the dull and constrained narrowness of Aaron's current work—which bears only the most superficial trappings of epic adventure (an unfortunate downfall from his legendary Thor). Whether or not you agree on this last, though, I think most Earth's Mightiest fans will discover and rediscover some fascinating bits of forgotten lore, both in-universe and behind the scenes.
In this prelude piece, we'll do a brief rundown of two early famous epics that didn't work successfully as coherent stories. Future pieces will delve such titles as The Serpent Crown Saga, The Korvac Saga, Nights of Wundagore, Absolute Vision, Under Siege, Avengers Forever—and quite a few more! If you're familiar with these sagas, hopefully you'll still find something interesting, new or insightful to take away. Of course, enthused readers are welcome to leave a comment for friendly correction or disagreement. Learning anew and reconsidering based on well-meaning debate are essential to a healthy brain 😉. For fans unfamiliar with this earlier material, I hope only to pique your curiosity in seeking out this fascinating content.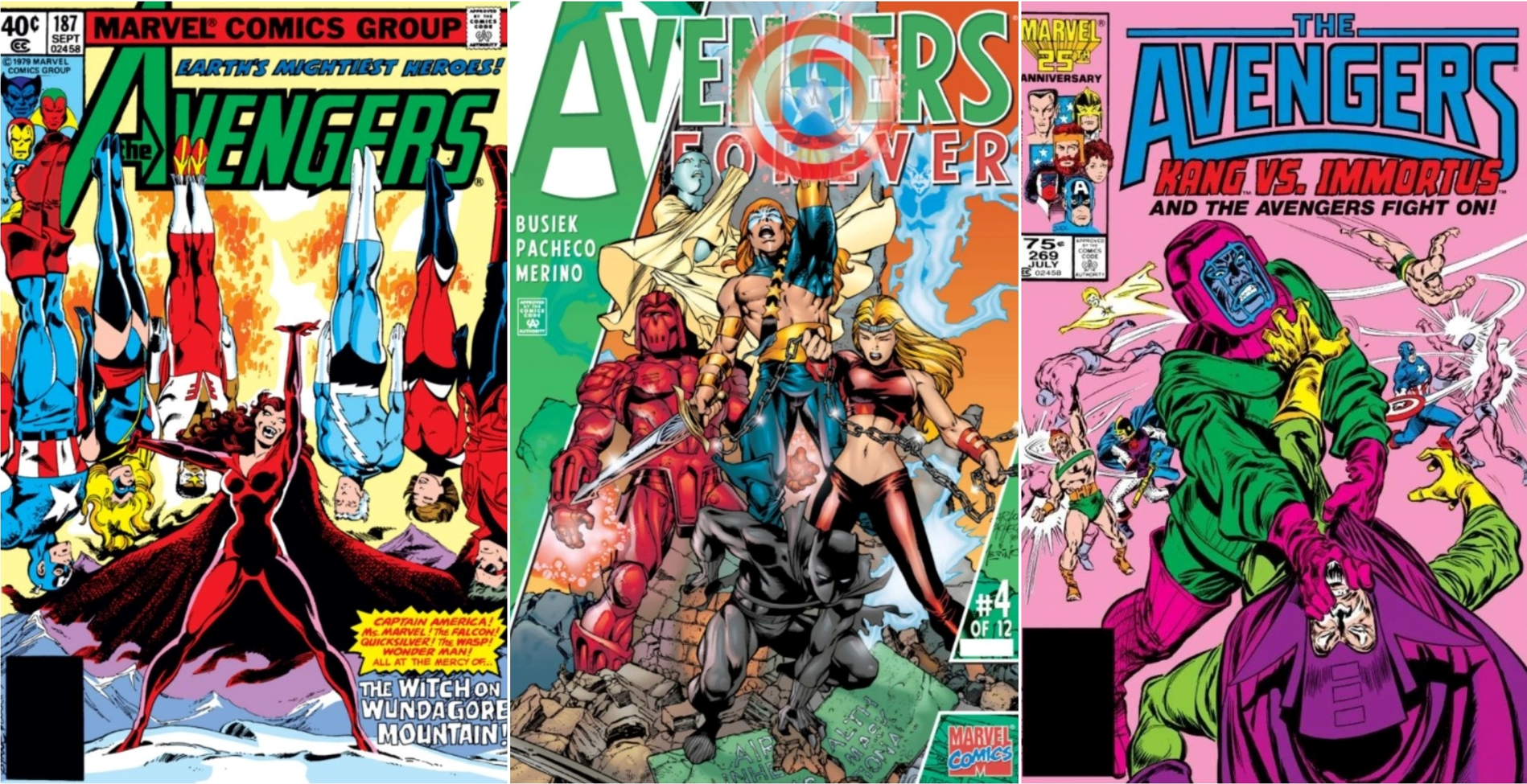 In future pieces, we'll do a brief summary of key plot points, so even readers who've read these stories shouldn't feel the need to look elsewhere to refresh. Beyond those basics though, each piece will focus on reasons I think whatever specific story or issue is worth revisiting over and again for committed fans and even creators curious about the evolution of the medium through the lens of one long-running title.
Framing the Era through Key Artists and Characters—and Characterizations
Now, it just so happens that the artwork of one of the most beloved comic artists bookends the era of highest quality for the ensemble team still recognizably rooted in the Bronze Age (albeit however bifurcated by the abyss of the mid-'90s). Throughout, we'll take plenty of opportunity to honor the man, the legend, George Pérez.
Support For Comic Book Herald:
Comic Book Herald is reader-supported. When you buy through links on our site, we may earn a qualifying affiliate commission.
Comic Book Herald's reading orders and guides are also made possible by reader support on Patreon, and generous reader donations.
Any size contribution will help keep CBH alive and full of new comics guides and content. Support CBH on Patreon for exclusive rewards, or Donate here! Thank you for reading!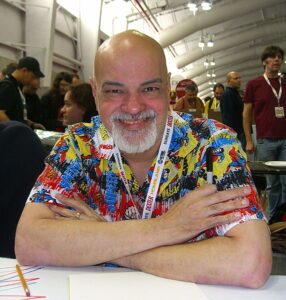 [© Luigi Novi/Wikimedia Commons]If you want to look at the twelve-year period of Avengers stories from 1976 to 1987 as a separate period from the sublime return of Pérez in 1998 with archetypal superheroics writer Kurt Busiek, that's obviously fine! Either way, most would agree that when that third volume of Avengers was infamously "disassembled" by Brian Michael Bendis, we definitively left behind, for better and worse, the franchise as established and defined by Bronze Age creators following primarily in the wake of the seven-year run by Roy Thomas.
(Someday soon, we'll be doing a series on the modern Avengers established in the 2000s, and we might find there's even more worthwhile content there that's now receding into the dusty, bottom-dwelling long boxes because there was already such an overabundance then—and even more so now, with every passing year. Still, that Avengers era remains famous for the way it overtook the Marvel Universe, and out of necessity given all the post-bankruptcy fights with Fox, owner of the X-Men movie rights for over a quarter century, until 2020.)
Granted, periodization is a subjective consensus, and here it's worth considering the way that period from 1976 to 1987 is bookended in terms of story and art. Most would have no trouble agreeing that Englehart's "Serpent Crown Saga" does not compare well at all with Stern's "Under Siege" or even his next and final "Assault on Olympus," but consider the artists at work on each end—George Pérez and John Buscema.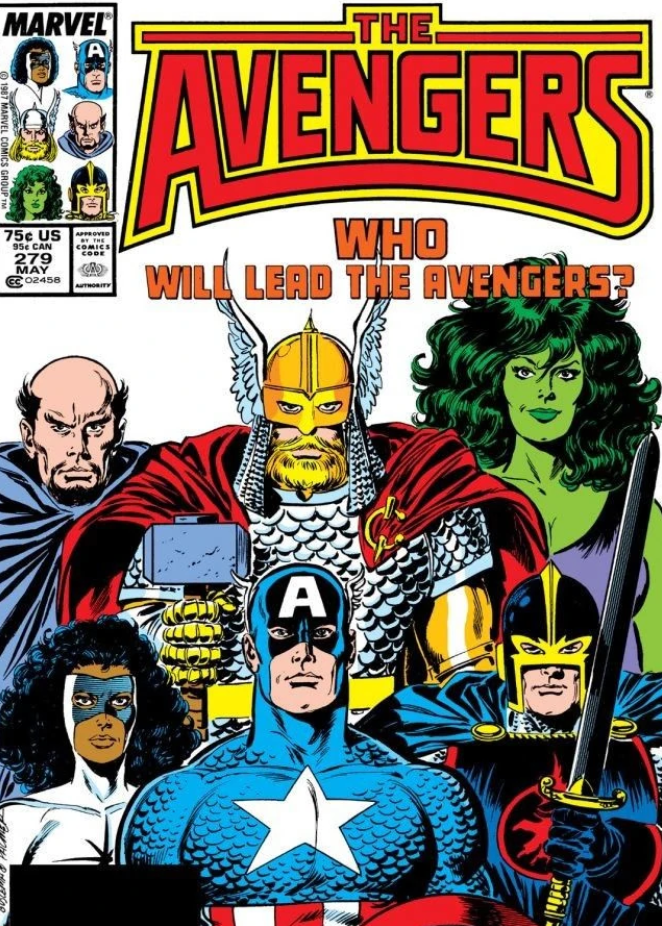 Perhaps fittingly, Buscema's late mature work, the capstone of a career that had begun in the Golden Age—the outcome of decades of serious dedication to classical figurework—marks the end of the first epoch that best defined Earth's Mightiest Heroes. Oddly enough, this is practically the inverse of the early period that we'll discuss next time, when a young George Pérez was injecting a new raw energy into the franchise, one that he continued to refine over the next several years before heading off to his breakout success at DC with the New Teen Titans. While Marvel's most popular franchise of this era, the X-Men, was mostly overseen by one preeminent figure taking on board the top fresh artistic talent of each successive generation, the story or meta-story of Marvel as a whole (as both a shared universe and an industry) is probably better captured by the (mostly messier) parallel era of the Avengers.
Throughout this series of articles, we'll look in detail at this evolution, by turns joyous and cantankerous—even as we revisit classic superhero stories (the dull spots we can just skip!).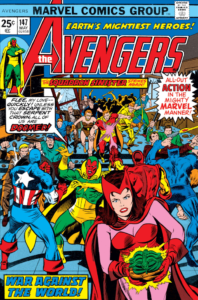 Anyway, All Beginnings Always Start in the Middle of Things
Even so, if you're a longtime fan wondering why I don't start with The Kree/Skrull War, well, the material mentioned above is just what brings me greater enjoyment. That said! This incoherent epic and another great mess, The Celestial Madonna, will be covered more deeply in another essay series you'll find on CBH running parallel to this one—my attempt to track "The Evolution of Marvel Cosmic."
But this time, we'll take a moment to run through the relevant basics of "The Celestial Madonna Saga" because it's essential to understanding the last year of Steve Englehart's Avengers run. This will be followed by a too-brief nod to the great Roy Thomas and then a hopefully not too roughshod account of the period between Englehart and Stern, which is after all rather messy, as impressive as it is chaotic, both largely due to Shooter's overbearing managerial style (which ultimately resulted in homophobia as company policy, which is beyond the matter at hand, though his tacit misogyny toward powerful women is not. Marvel's increased professionalism and consistency, both creatively and commercially, under his watch as editor-in-chief should nevertheless be acknowledged, as well).
My argument for starting with The Serpent Crown Saga is that among the big classic Avengers storylines, it's the first almost fully coherent narrative. Narrative coherence was not a strength of the young Englehart (who was not yet 30 by the end of his run here), but this last arc is where his other strengths most shine through. And with this mini epic, we are also at the cusp of a new era in which Shooter, for all his many faults, will push the series to become, at last, one of Marvel's flagship titles alongside the likes of Amazing Spider-Man and Uncanny X-Men. Of course, he would find himself surprised and only ambiguously delighted by Claremont's unexpected success. (It's been widely noted that the two were not on speaking terms throughout most of Shooter's EiC tenure.)
Granted, his direct efforts on Avengers often don't result in consistency, especially from the vantage of now, but while I'm not interested in a personal or even professional defense of the man, he did steer Marvel into a new age of both commercial success and (virtually all male) talent acquisition. Except for Claremont, arguably all the best writers of the period wrote Avengers stories—leading into the superb Roger Stern run.
Celestial Madness—in brief
Now, the first few issues of what's now called and collected as The Serpent Crown Saga are in fact primarily some Kang/Immortus resolution following "The Celestial Madonna Saga" wrap-up several months before, with a time-stranded Hawkeye in the mix—because, yeah, somebody's got to bring the Two-Gun Kid back from 1873 to go adventuring in 1976. Clint had recently used Doom's abandoned time-travel machine to go looking for the Black Knight (or his soul, or something, which will later be revealed to be happily at home fighting in the Crusades—yikes), but Kang somehow marooned him in Tombstone—which seems dumb, unless you're behind the scenes, realizing this stopover made more sense than abandoning the Archer to now-certain Black Knight limbo. Englehart's desire for some Old West Golden Age action also accounts for Kang's decision to conquer a nowhere town in the middle of the desert as prelude to world conquest.
So, yeah, it's a rocky start—but ya gotta dive into the wreck somewhere! 😉
Halfway through his four-year Avengers run, Englehart penned one of the most bizarre Marvel epics ever, "The Celestial Madonna Saga," comprised of issues #123-135 interspersed with three Giant-Size Avengers, #2-4. It is a wild and woolly mess across time and space, but basically, Kang comes to the present following a starry portent foretelling the millennialist emergence of the Celestial Madonna, who turns out to be Mantis, an Englehart original and Vietnamese orphan raised by the Priests of Pama, a pro-Cotati Kree cult based in Vietnam and believing her to be the One (she even called her "this one"—which seemed like Englehart's attempt at a philosophical pun though it really comes across as offputtingly orientalist; all this messianic vagary essentially captures the cloudiness of the Celestial Madonna as a notion).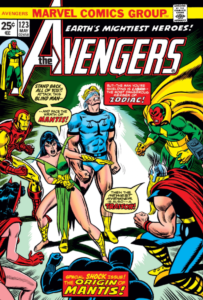 All of this may have been finally cleared up with an inevitable air of anticlimax in the 2020 Marvel event Empyre, masterminded (that is, master-wiki'd) by Dan Slott and Al Ewing (whose stunning talent in service of cosmic custodial duty is not on full display here).
To be fair to Englehart, he was an inspired youth at the time, trying to figure out his spiritual philosophy influenced by the counterculture and antiwar movement, and Mantis began as a vague work in progress, which editorial interfered with, further adding to the confusedness of this early storyline. In fact, he would try to develop the character practically intact but under a different name at DC (briefly) and elsewhere. Sadly, though, Mantis's fate following her recognition as the Celestial Madonna is totally obscure, until Englehart's opening run on Silver Surfer vol 3 in 1987, followed by the pseudo-Celestial Madonna sequel, his West Coast Avengers #37-39, where her newly introduced half-Cotati (plant) child is taken from her by the Cotati, to learn the ways of sentient plant life. Unfortunately, none of this material ever feels like anything other than a bizarre and elaborate scheme to thoroughly manipulate a poor Vietnamese orphan from childhood and use her reproductive organs for the manifest destiny of obscure plant people.
(While this is the man who brought us some of the most fascinating and progressive Captain America tales, trippily defined Doctor Strange for the Bronze Age and beyond, and with Jim Starlin as artist, cocreated Shang-Chi—he also introduced one of the most groan-inducing comic characters of all time, Mandrill, and with even less intelligent insight, turned this Shanna, the She-Devil mess, for which he may not have been wholly responsible, into an ill-considered racial allegory that reads as a dumpster fire gone wild. Thereafter, Englehart's further attempt at such allegorizing also did a good deal of damage to the Falcon's character, which later writers had to take pains to undo.)
But hey! Guess who the Celestial Madonna Saga was really good for?! (Though maybe not for long??) And married by Immortus no less!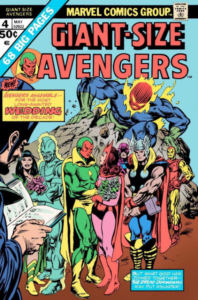 (A decade later, Englehart would write the second, far more significant but rather more dreadful volume of Vision and the Scarlet Witch, which really started the doomed couple down the road to disaster, especially the mess of Wanda's characterization.)
Relevant here is that Kang was thwarted at every turn from possessing the Celestial Madonna for himself—by the Avengers. The saga also reveals that Rama-Tut, always understood to have been a younger Kang, is also an older Kang gone soft, and Immortus turns out to be just the oldest Kang there is. Or something. This is where Kang's time-wimey biography starts to get a bit confusing.
We also get revised origins for the Vision and Moondragon, who it turns out was also in the running as Madonna, but the Priests of Pama ultimately deemed her unworthy—which is actually much more interesting for her character than what's done with Mantis here!
More on that next time—because I love Moondragon! (The Vision stuff, though, probably doesn't matter until Avengers Forever.)
(Before Englehart) Envoi to the Roy Thomas Days
Before his three-year stint as Marvel's EiC in the early '70s, Roy Thomas enjoyed a historic Avengers run, issues #35-104, 1966 to 1972—making him, I believe, the most prolific writer on the title. (And even when we include both his and Englehart's separate runs on West Coast Avengers/Avengers West Coast, Thomas's track record still comes out ahead.
Since he produced so much material, though, let's just focus here on the culmination of his Avengers run: "The Kree/Skrull War
" (issues #89-97) a rambling epic mess (though enjoyable enough in small doses), which nevertheless established among many a fan a model for greatness and ambition. Which is strange because despite it's grandiose name, there's little in the way of any kind of epic battles, and the whole thing climaxes with eternal fanboy Rick Jones birthing myriad Golden Age heroes out of his head, a parody—wholly unironic and unintentional—of Zeus bringing mighty Athena into the world. Pure bathos. Somehow, Busiek and Pacheco somewhat redeem this silliness nearly 30 years later in Avengers Forever.
The real innovation here is when Neal Adams steps in for issue #93, a milestone of comics art, wherein Hank Pym as Ant-Man enters an inert Vision to find out what's wrong with him and fix it. With Thomas dropping references to Fritz Lang's Metropolis and Salvador Dali, you get a partial sense of the wonder within Vision's body. It's maybe more akin to a wee gerbil in a chrome and plexiglass playpen, but it all comes down to Adams' boundary-breaking dynamism as an artist. His innovations were the first major gamechangers after Kirby's heyday and a clear inspiration to the wunderkinds of the next generation, like John Byrne and Alan Davis.
Without Adams on the second half of this shambling mess, "The Kree/Skrull War" would not have developed such a devoted fandom. His spaceship designs easily compete with those found on the covers of 1970s sci-fi novels. But the final issues make no more sense than the opening chapters. Nothing here sticks, except that the Kree and Skrull have been at war for millennia. At a stretch, one could say that the way Thomas uses the unfocused narrative as a vehicle to protest McCarthyism/Red Scares, the Vietnam War and other maladies of the Cold War mentality might have had an influence on the much later 2000s event Secret Invasion. Regardless, while politically Thomas was somewhat progressive for his time, and definitely within the small but fervent world of Silver Age comics, his storytelling skills are often lacking. His strengths were in being a post-Stan/Jack encyclopedic mythologizer for the Marvel Universe, a savant endeavor that along with his serious professional dedication would have him inherit the editor-in-chief title from Stan Lee during the critical transitional years of 1972-1974. But as a storyteller his seriousness and macro ambition were perhaps greater liabilities than they were strengths, certainly so purely from the perspective of storytelling.
However, as Marvel's most stalwart fanboy turned loyal company-man, Thomas was likely its greatest asset throughout the '70s, both as an editor and a creator (Shooter even credits Roy's 1977 comics adaptation of Star Wars with saving Marvel from financial ruin).
After Englehart: Shooter, Byrne, Michelinie, Stern, Busiek
Before Jim Shooter's long reign as EiC from 1979 through 1987 (currently famous for his homophobia and bouts of misogyny, but primarily known then for being an intense micromanager, leading directly to DC acquiring such luminaries as Englehart and Pérez*), Shooter did indeed help the Avengers title compete somewhat with Claremont's X-Men in terms of the clear emphasis on deeper characterization and planning multi-issue arcs. It would certainly have been nice if there had been a different writer who stepped up to bat at this time, but in fact, when we hit "The Korvac Saga," we'll see that many other writers were involved (Stern, Pérez on scripting, David Michelinie, Bill Mantlo and Mark Gruenwald). So, it's not like there wasn't anyone else wanting to emulate the Claremont formula for success in their own way; it's just that one of these guys was most full of himself. And if you've ever read a cosmic Shooter comic, you know it! Everything big he wrote, from Avengers to the dreck that is Secret Wars II, is stuffed with egoic navel-gazing that was initially novel in the '70s, like a briefly satiating replacement meal after feasting on Starlin's epics (which already tended to self-indulgence but were always redeemed by good humor and clear earnestness), but within a decade, it all read like an elder statesman rambling on about his big ideas noxiously amplified by his privileged position's command of other people's talents and resources.
*And hey, ain't it a lucky thing Claremont was already secure in his position as the X-Men scribe.
A few entries in, we'll cover "The Korvac Saga," Shooter's second biggest writing accomplishment at Marvel (after 1984's Secret Wars), though again that distracts from all the assistance he had. Indeed, the strengths of this earlier story eclipse much of the substance of the 1984 event, which aside from Doom's ascension is rather thin. But it's not surprising that Shooter excelled most at depicting self-aggrandizing transcendence—much more of a liability once the author starts repeating the same power fantasy! At least there was a gap of six years between his two major works.
One of the most memorable aspects of "The Korvac Saga" is the introduction of the original Guardians of the Galaxy into mainstream Marvel continuity—and much of this material was written by Roger Stern, who had already penned several issues of Marvel Presents volume 1, which had turned into a Guardians book and was likely about to become titled as such, except it was canceled. The Guardians' adventures continued directly, though, into Stern's Thor Annual #7 cocreated with Len Wein and Sal Buscema, a direct prelude to the main arc.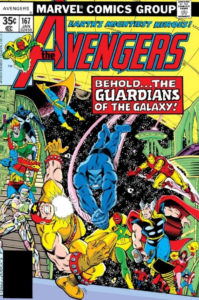 So, Shooter isn't responsible for the fascinating if tricky Korvac, but he ushered into the franchise the mode of storytelling with which not just Claremont was already succeeding but that Englehart had tried, messily, with 1974's "Celestial Madonna Saga"—a multi-issue epic with a basic tentpole plot A that stretched out with a number of B plots along the way. However, Claremont's success was that, especially early on, he almost always threaded those minor elements into major themes and happenings. Thus, for once, Avengers had Claremontian appeal with the Korvac storyline, which was chockful of moments that built out characters while never detracting from the menacing imminence of the main threat.
This is all quite different from Starlin, whose 1973 "Thanos War" and 1975/1976 Warlock masterwork are surprisingly focused and self-contained considering their spread across multiple titles.
Under intense deadline pressures and personal and health troubles, Pérez bowed out after several issues, and Michelinie and Mantlo were critical in scripting the second half.
Already, John Byrne had stepped in for Pérez with issues #164-166, a fun Nefaria arc, and he would return following Pérez's definitive departure while he was simultaneously introducing Alpha Flight and Proteus over in X-Men, where he was also co-plotting/designing Jean Grey's masterfully planned evolution into Dark Phoenix. With the consistent high quality of his work on both titles, this is hugely impressive. Fittingly, Byrne's first story with new ongoing Avengers writer David Michelinie, "The Nights of Wundagore," was also focused on an intensely powerful woman, the Scarlet Witch, though she was not then near to on par with the Phoenix-possessed Jean Grey. This story also appears to have cemented his fascination with Wanda, whom he would play havoc with, Dark Phoenix-style (the second time now, as unintentional farce) in his late '80s Avengers West Coast—to character's lasting detriment.
However, Michelinie, for his part in Avengers history, would have a much longer run on the main title, almost unbroken from issue #181 to #205, toward the end of which Pérez would return for eight issues, which unfortunately included the justly reviled issue #200. Now, Michelinie's success was in characterizing and humanizing the entire cast as never before, and he'd later bring this skill to Amazing Spider-Man, but with the Avengers it was so much more needed. The franchise had finally become both relatable and fun during his tenure—paving the way for Roger Stern (with the unfortunate interlude of Shooter's second run). But that notorious milestone issue (wherein Carol Danvers is "seduced," i.e., raped, by Kang's son in order to impregnate her with … himself) was written by five different writers, one of whom was Shooter (who had already begun micromanaging, especially with his ascent as EiC in 1979).
Essentially, given Claremont's feminist development of Carol in her own preceding Ms. Marvel series, this character-breaking plot turn would have been glaring to many readers at the time. The fact that the men writing the Avengers story didn't understand what they were doing, regardless of the fact that it was guaranteed to be mess with too many chefs in the kitchen on a tight deadline*. But with chief misogynist Shooter (a homophobe* as well as a hater of powerful women, like then Ms. Marvel—or really any woman written by Claremont), whatever the original intent of the story, it was bound to be a disaster.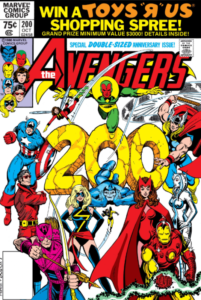 *While Michelinie and Pérez had recently created Taskmaster, the real taskmaster of deadlines was Shooter himself—of a piece with his corporate professionalization of Marvel, without which, who knows, we'd certainly have a very different comics landscape today; for better or worse is impossible to say. Definitely, his worst legacy is deciding that queer characters would be bad for the bottom line, never mind any mention of the AIDS crisis. He was merely justifying his own bigotry; it's no surprise that Claremont could not stand to be in the same room with him, much less communicate regularly.
And so, with Michelinie focusing his energy on the last year of his extraordinary Iron Man run, Avengers once more became a shambles with a number of uninspiring fill-in writers, before Shooter gave readers such cheapening titillations as Tigra and the melodramatic blowout of wife-abuser Hank Pym. This era, issues #211-224, are of almost no lasting interest—except perhaps the reintroduction of Molecule Man (#215-216), gearing up for his part in Secret Wars a few years later. (Oh, he also gets She-Hulk on the team, which was great, but little more than cheesecake until Stern stepped in.)
With issue #227 in late 1982, Roger Stern changed everything right off the bat in what is one of my favorite Marvel comics of all time, wherein his newly created powerhouse Monica Rambeau joins the big leagues after debuting a month before in his Amazing Spider-Man Annual #16 with John Romita Jr.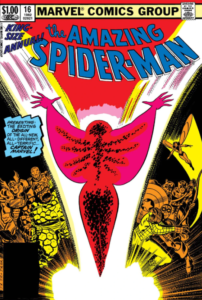 Until Stern, no Avengers writer was really any good as a writer of women. So, Stern's status on the franchise is not just as the greatest architect of its 1980s adventures and conflicts but as, to me at least, the writer closest to Claremont-like success, with his compelling ongoing plots and clear and respectful development of the main cast. However, he never dives into the depths like Claremont, never dared readers with questions of identity and sexuality. He was simply a beloved writer of archetypal superhero comics and, clearly a moderate liberal, thankfully introduced a modicum of diversity along the way. Stern's Avengers is the model for Busiek's in the late '90s.
Beyond that point, maybe you like better your Bendis or Hickman Avengers. I love those comics too, but that is as different as the Krakoa era is compared to the Claremont epoch—if not more so. And currently, with Aaron's overly long run of a massively and bizarrely oversimplified Avengers franchise, we couldn't be further removed from the pageantry that was once a much more interesting and, yes, inviting ensemble of Earth's Mightiest Heroes. (After all, Aaron does not know how to write any Avengers-related character except for—once upon a time—Thor, whom he has long since lost a grip on.)