Years ago, in 2018's Venom #1, Eddie Brock was told "God was coming" for him. He — we — took the threat seriously. Here was the promise that an all-consuming threat, a unifying evil for all of Symbiote-kind and for the numerous heroes that had crossed paths with it, was coming with ramifications. Ramifications for one of Marvel's most storied and beloved characters. Knull, one-dimensional as he is, was meant to be a catalyst for change in Eddie Brock's life.
In many ways here in 2021, having introduced a new god, a secret history of the Symbiotes, and a son now poised to take the mantle of Venom, it's fair to say that over the course of the 35 issues of the main title (not to mention numerous events, tie-ins, and spinoffs), Eddie's life was changed. The problem is that by the end of the run– one of the longest in the character's history — Eddie never became a man capable of accepting that change as his own.
Why? Because while Donny Cates and Ryan Stegman successfully reinvented the Symbiote, they failed to make a case for Eddie both inside of or outside of it. In fact, here at the end of all things, potentially Eddie's own life, it is a series that is, as a whole, characterized by his reactions to things, rather than by actions. By growth in scale, but not by growth in impact. Successes and failures that are in direct opposition to each other, and ones that really only make sense with further investigation and interrogation.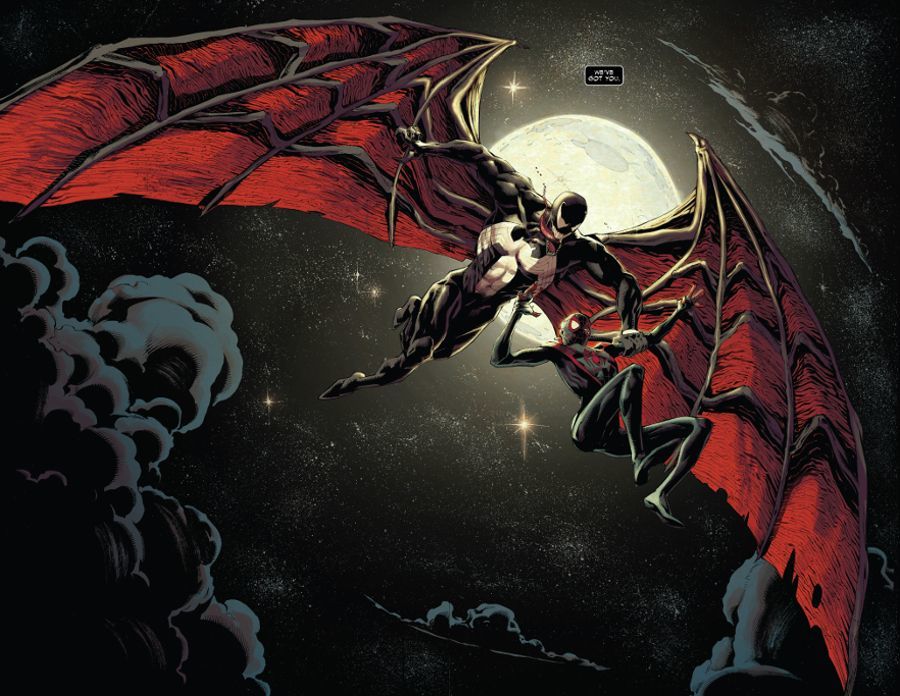 Related:
Support For Comic Book Herald:
Comic Book Herald is reader-supported. When you buy through links on our site, we may earn a qualifying affiliate commission.
Comic Book Herald's reading orders and guides are also made possible by reader support on Patreon, and generous reader donations.
Any size contribution will help keep CBH alive and full of new comics guides and content. Support CBH on Patreon for exclusive rewards, or Donate here! Thank you for reading!
The Symbiosis – The Good
Where Cates and Stegman categorically succeeded was in making Venom make sense. The series is as much a celebration of history as it is a revision of it, wholesale canonization of decades of piecemeal character history into something coherent. From the reverence for the one-off stories of the '90s: Lethal Protector
and Planet of the Symbiotes
to the embracing of the more uneven but narratively significant Carnage U.S.A.
and First Host
, the fifty-some issues of Cates and Stegman's run
act as a kind of connective tissue for all of the most famous Venom stories by answering the simple, but the often uninvestigated question "What does the Symbiote have to do with it?"
A lot, as it turns out. The introduction of an expansive Symbiote theology, a culture, a language, and a reason to exist and to fight — mostly taking place during the first arc of the book as a means to introduce Knull but stretching all the way to the narrative end — are Cates' best moments simply because he never stops the book to say "no." Yes, the Symbiote is Eddie's partner; yes, it is an ever-present observer; yes, it is a solider and an agent of change; yes, it is a parent; yes it has its own wants and desires. And most importantly, yes, it has always been all of these things — longer than Eddie, Spider-Man, and we have ever known. Have dozens of Venom events and appearances taken place solely because they sell well? Of course, but that doesn't dimmish the fact they did and will continue to happen, and taking the time to justify that is a worthwhile pursuit.
This is the codex Carnage was obsessed with in practice. Literal bits of DNA sown into the characters that have impacted Venom's life. They're gross and messy, embedded in spines and requiring a crass, almost objectionable amount of violence to extract, they're microcosmic celebrations of continuity and canonicity both for better and worse — little signifiers of publishing history — cementing events like Absolute Carnage as important, and the alienness of the Symbiote as essential to the lives of Eddie and others, even the Avengers.
Making the disparate Venomized, Venomverse, and the rest significant in real-time is no small feat, and at a basic level that's where the run succeeds. It creates a story for the Symbiote, a means to explain the how and why it has been here for so long, and it celebrates the importance of the Symbiote in Eddie's life as much as Eddie is important in its. Eddie relieving Peter Parker of his Symbiote guilt in the final issue is one of the most cathartic, deserved changes to their dynamic in literal decades, other takeaways like the green slime that Venom excretes being his…bodily waste keep this hyper-seriousness palatable with a fun balance. Cates and Stegman are cognizant of what they're asking the reader to parse, and punctuating the story with those natural bits of levity or intentional mindlessness is structurally cathartic.
Even when the whole history — Silver Surfer Black
included as a kind of cosmically expansive legend of Knull and his influence — is laid bare, the idea that the Symbiote can keep secrets all its own? Tantalizing and left underexplored, a means for future writers to continue to experiment and extrapolate.
Similarly, the heights of gothic pageantry and action brought to life by Stegman feel larger and more important, indicative of something beyond than any previous Venom run has suggested. The Symbiote grows wings and perches like a gargoyle, the Engima Force blasts holy light out of his black, oil slick body, limbs, and appendages meld and melt into weapons as needed. Knull's regal presentation is a threat to Eddie's unassuming existence, the Symbiote — viewed in a new light — being the deciding edge.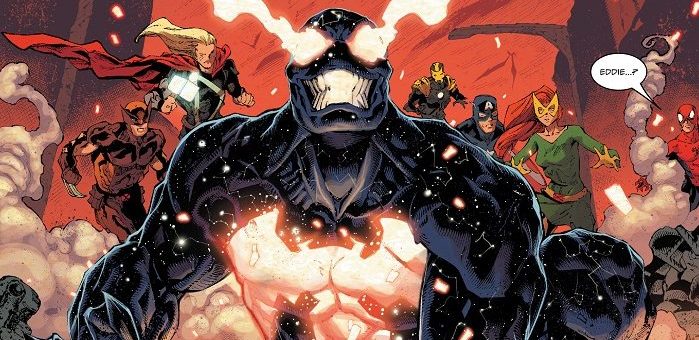 The Organ Rejection – The Bad
That being said, the wholesale success in reinventing the Symbiote is also to the detriment of nearly every aspect of the book when taken as a whole.
There are the micro, understandable problems: the constant shifting of artists (Stegman is the absolute best, one of the best artists working today, but also surprisingly unavailable throughout) the overstuffing of events, the uneven publishing schedule, the number of tie-ins, and spinoffs meant to round the story out and ship more units – all of these are typical victims of Big 2 publishing practices. Even Knull and Carnage being the only two significant villains across the series' arc is understandable as they are the most well-positioned to facilitate the changing perceptions of the Symbiote and its history that are again, central to the book's plot.
However, there are also the macro problems. Namely, two persistent problems that the narrative never moves beyond — frequently returning to them — but also refuses to allow its characters to overcome:
Firstly, Eddie is consistently characterized by his lack of agency, an issue that compounds exponentially throughout the series. From the first issue of the run, the suggestion of Knull, the idea the reader is asked to buy into is that Eddie and the Symbiote need to rely on each other to overcome great odds, a crucible of sorts. A great amount of pressure is placed on them to fight back, to save the universe, and Symbiote-kind. To the effect of a plot point about Eddie not knowing the Symbiote's name, Brock's response to this is not to fight for the Symbiote's life, for its culture or its home, or to learn about it. Eddie never actually chooses to fight back. He does so almost entirely because Rex's situation demands it of him. Their response to Knull in the first arc is one of necessity — kill or be killed. Later, in the hive of all Symbiotes, both Flash and Rex are directly, textually, stated to be better, more essential hosts than Eddie was, is, or even intends to be.
Again, the response to Carnage is of necessity, both essential to survive, and because the expectations of every other major hero in the Marvel universe are weighing on them. Peter Parker, Miles Morales, and other more traditional heroes are deployed to contrast Eddie's depiction here, to the point that his relative lack of effort becomes the catalyst for the introduction of Virus later in the series.
Again still, Virus and the final Knull confrontation are these one-sided acts of aggression, Eddie's defense against them purely reactionary. He does not seek means to overcome them, he does not grow or change in significant ways to overpower or outwit them – the aggression in Beyond is entirely informed by the people in Eddie's life that do act. He throws himself into every situation with the same degree of carelessness and near apathy in the first issue as he does across the supposedly essential King in Black.
Sure, this is partly the book's intention, Eddie has not been, is not, and will never be heroic in the sense Peter Parker is. He is not driven or regimented in the way Rex and Sleeper are. But without appropriate explorations of growth emotionally and ideologically — something Cates skirts often — this is in direct opposition to the book's expansion of Eddie's responsibilities, his legacy.
Presented with the existence of his son, Dylan, or even more narrowly with the AU version of his former wife Annie, Eddie does not make significant efforts to change for them or to protect them. Sleeper, the quasi-brother of Dylan, does more in Absolute Carnage to actively care for Dylan than Eddie does. He is selfish and singular, time and time again the narrative presents his inability to grow as more a feature of his character than it is a fault, but he is both rewarded and celebrated for it.
See the scenes in King in Black's final act where he "earns" the Enigma Force. Eddie has no intention or knowledge of earning anything. It is, in effect, gifted to him – overlooking legitimate actors like Silver Surfer.
Dylan, essentially the gift of fatherhood, is also gifted to him.
Knull's powers — central to the final act of the book and to reconceptualizing Eddie as a God and as a legacy character — are not actively assumed but placed.
Eddie exists in opposition to all of the book's central antagonists not because he chooses to be, but merely because he was there, his new role again one of necessity – great power and the suggestion of responsibility. The narrative flattens its most central character into a symbol, a signifier of good, rather than actually being good. We are told he has a destiny, but we never see him assume nor embrace it. Even his (arguably) most heroic moment, removing the burden of Symbiote-kind from Dylan's life is undermined, issues later, he allows Dylan to become Venom regardless.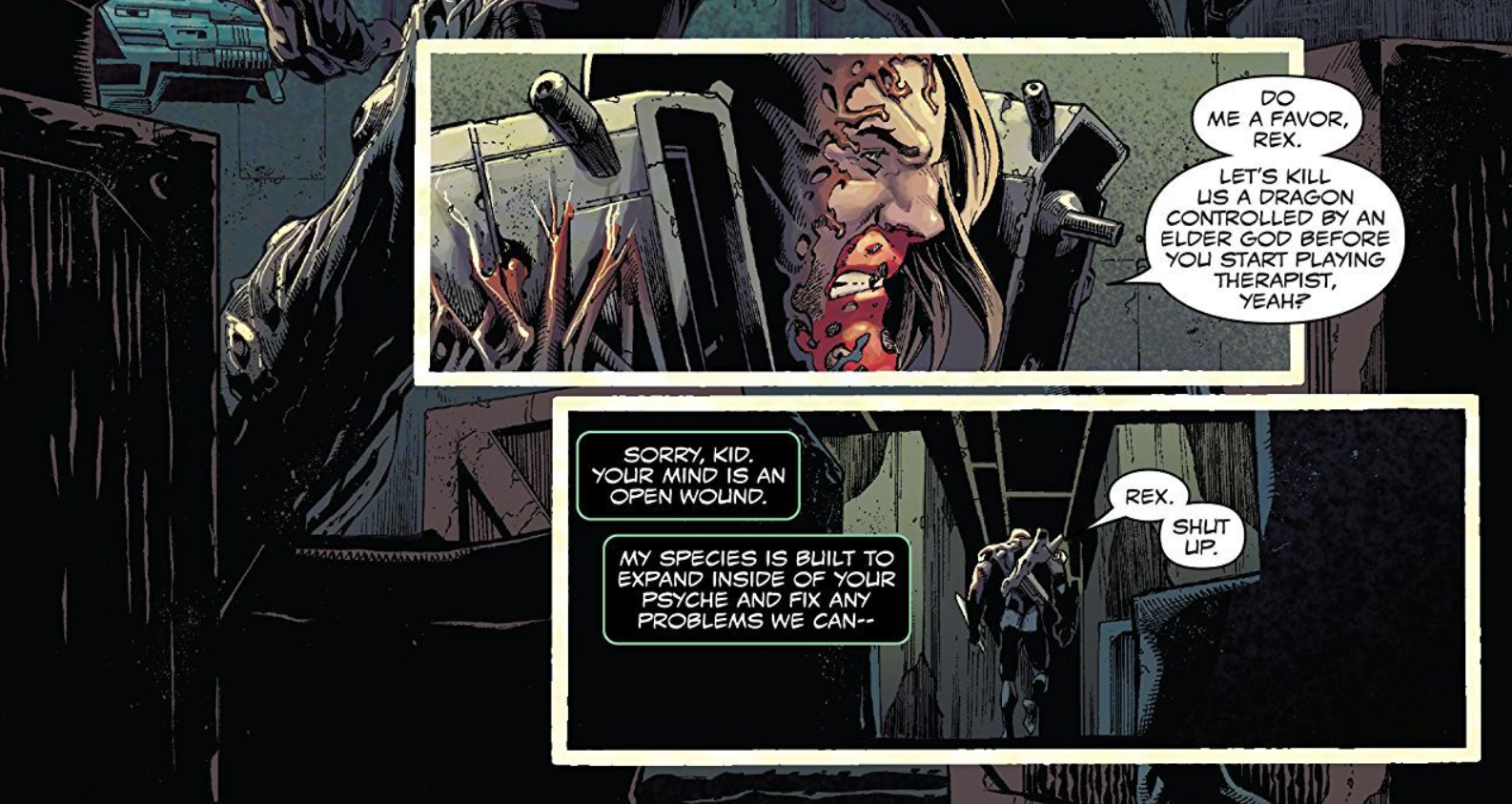 This relative inaction is nowhere more apparent than in the book's second primary issue: the lack of emotional growth or capacity in Eddie and the Symbiote's relationship and narrowly, the lack of romance.
No singular scene is more indicative of this than the final issue, where Eddie calls the Symbiote, now reduced to a kind of guard dog for the Brock family "old friend." a kind of cowardly sidestep to acknowledging the textual fact that Eddie and the Symbiote are romantically engaged, are in love, and one that Cates, again and again, forgoes throughout the series in favor of reductive explorations of fatherhood and toxic masculinity. A reduction of queer romance into a barely nominal subplot to the detriment of the book both in and outside of the text.
Images like Venom laced with rocket launchers, grenades, knives and assault rifles like seen in issue #6 are undeniably cool, that essential levity, but that visual loudness and machismo ring hollow without the tenderness that had previously become more and more essential to the character. When Eddie asks Rex to stop "playing therapist" in that scene, the readers might as well take it as a direction to themselves, the returns diminishing from here on out.
As time passes, early narrative points like Eddie taking drugs to reduce the Symbiote's voice become less and less potent, the exploration of a toxic relationship undergoes the transition to one about power and legacy with little investigation or reason, ignoring Eddie and the Symbiote's shared history for a more singular one about sci-fi worldbuilding.
This isn't without significant impact both to the audience and to the character. Plot points like Eddie carrying the Symbiote's child (textual MPREG) in writer Mike Costa's preceding run are important to fans, and here their only impact is the inclusion of Sleeper, their son, despite the book taking place at best, a handful of years after those events. Again still, Eddie and the Symbiote do not share words of affirmation or affection in normal moments. The discussion of love, the presence of it, is reduced to a narrative stake, and not an assurance. The handful of times where Eddie and the Symbiote tell each other they love them come on the precipice of death — almost suggesting that those emotions are a sign of weakness, always being associated with loss rather than strength.
Where anthologies and AUs running at the same time explore Eddie's queer love and identity, Cates' vision refuses to. Where Leah Williams writes them in Marvel Presents #5 engaging in physical love, Eddie wields and distorts the Symbiote like a weapon in the central text, and in return, it threatens his body with cancer-like symptoms. The book is obsessed with Eddie and the Symbiote's bodies, but in a very different way than the fans and the text before it would suggest or ask for, twisting the emotional rawness and tenderness of Eddie and the Symbiote's relationship instead into one of mutual violence. This isn't to say that Eddie's queer love should be a point of intentional weakness, a problem that many other depictions especially by non-LGBTQ+ writers fall into, but rather that it should be a constant, open for explorations of both weakness and strength rather than the one-dimensional note it is.
This is, of course, a difficult new norm for the queer fan (including myself) but it is also in part a rebuke of what the run inherently does well. Eddie and the Symbiote's love is canonical. When the book accepts every other piece of the preexisting text — codex — wholesale and often directly integrates their narrative and visual influences, Cates and Stegman stifle the queerness.
The clumsy, penultimate Beyond is the clearest example of this. Here, an alternate universe take on Eddie's ex-wife Annie Weying is hastily elevated to a point that she is more impactful to Eddie's life than the Symbiote itself. Yes, she is the mother of Dylan, and her relationship with him is used effectively to forward both Eddie's desire and need to be a better father.
But she's also depicted as someone Eddie lost, loved, and paradoxically, needs again despite the book not exploring these lingering feelings or needs previously. Eddie's emotional capacity and growth, in part, artificially regresses to make her role more significant, and then, like nearly every other female character in the series (a major weakness of the run, and of Cates' writing in general), the narrative then discards her anyways to return to Eddie and the Symbiote with no measure of change or significance in their relationship leaving readers what the tangible effect of Annie's inclusion was meant to be other than a cheap escape for the Maker and Virus plotlines to be left almost entirely unresolved.
The final arc of the book, in part reliant on the idea of Dylan being trapped between the dark impulses of Knull, his quasi-father, and Eddie, his actual father's caring, empathy, and humaneness rings false because we don't see much of things Eddie should care about or that he cares for, his own partner included, in favor of some kind of generalized goodness. The stakes are dictated, not depicted, and time and time again the book looks for and fails at finding new ways to make Eddie Brock feel relatable when the simplest way to do it is to let him love and be loved.
Of all the lack of agency that characterizes Eddie throughout, potentially the worst is that he doesn't choose to love the Symbiote back and that the text refuses to even suggest that he would — rendered as singular and one-note as Knull himself is meant to be.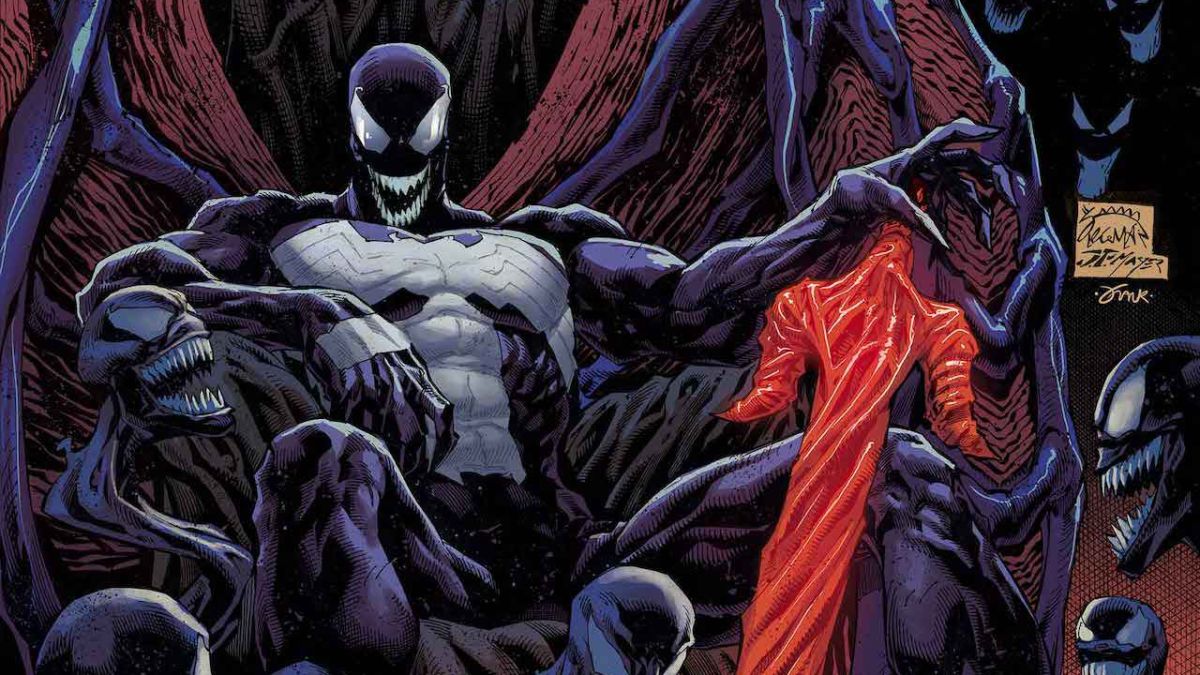 Venom: The End
Ultimately, Cates and Stegman's Venom is an often compelling, usually bombastic story that successfully changes the scope and scale of Eddie Brock and the Symbiote's world, but also one that consistently fails to act on its narrative promises and one that treats essential components of the character's lives with shame. The conceptualization of Eddie as someone who has been wronged time and time again by the world but wants better for it regardless is a favorable one, but rarely to nowhere in the text do we find Eddie actually acting to ensure such a world.
When spinoffs like Marvel Presents
and The End
 present more novel interpretations and visions for the titular character's life and his impact on the universe, something is wrong.
The new legacy-tinged take on Venom's life suggests and at times desperately asserts he will never be the same, but at the end of the road that feels both right and wrong, and not in equal measure. A unique celebration of history to be sure, but also a misunderstanding of the essential components of destiny has found Eddie and the Symbiote with a need to re-invent yet again, just after arduous years of doing that same thing.