NOTE: The end of this piece WILL spoil HELLIONS #1, so if that matters to you, please bookmark this and enjoy later!
My selection for largely unheralded (pun intended) comic story of the recent decade is a timely and strategic choice. Back in the early 1980s, when the X-Men were busy fighting the Brood in space and Carol Danvers (Captain Marvel of MCU fame had heavy history with our merry mutants back in the day) was busy becoming Binary, an eventual member of the Starjammers, Professor Charles Xavier thought they were dead. Because of this, he founded a class of…well…New Mutants. This would be long-time writer Chris Claremont's second ongoing series (Ed. Note: Art by Bob Mcleod!). He handed the keys over to Louise Simonson roughly halfway through the book's 100-issue run. Near the end, artist Rob Liefeld took over writing the book, introducing characters like Cable, Domino and Deadpool that are X-Men mainstays (and movie stars!) to this day.
Related Reading Orders:
Support For Comic Book Herald:
Comic Book Herald is reader-supported. When you buy through links on our site, we may earn a qualifying affiliate commission.
Comic Book Herald's reading orders and guides are also made possible by reader support on Patreon, and generous reader donations.
Any size contribution will help keep CBH alive and full of new comics guides and content. Support CBH on Patreon for exclusive rewards, or Donate here! Thank you for reading!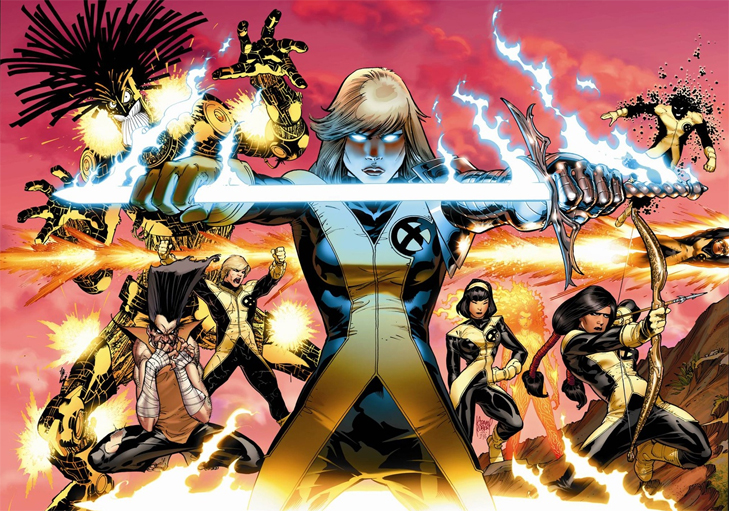 All that's to say, since the early days of the New Mutants, Cannonball, Sunspot, Mirage, etc. have been fan favorites among X-Men aficionados. Attempts to recapture that initial magic (Magik?) have met with mixed results over the past decades. That is, until Zeb Wells got the chance to helm a relaunch of the title in 2009. The same Zeb Wells that just had a Dawn of X title launch in March. The Zeb Wells writing Hellions. And the last couple pages of that issue, along with solicitations for future issues, make it clear that Wells is going down a certain road, and revisiting a certain part of the X-Men's past—that being "Inferno
."
"The Fall and Rise of the New Mutants" arcs (#15-21) are how Dawn of X readers can trust they're in for a hell(ion) of a ride. 
The story kicks off in New Mutants #15. This is the Utopia period of the X-Men, where a pre-Phoenix Five Cyclops leads a mutant island off the West Coast of the United States. What makes this a hidden gem is that it came about in the middle of a bunch of other stuff that wasn't all great. "Messiah Complex" and X-Men Legacy
were both stand-outs from this era, but you also had Necrosha, Age of X, and a big storyline involving Norman Osborn and "Dark" hero teams. If you weren't reading everything X-Men the way earlier eras often inspired readers to do, this may not have even pinged on your radar. I didn't read it myself until last year, ten years after it came out. The Necrosha storyline had wrapped up just before this, involving the immortal Selene and all manner of resurrected X-Men related characters.
Cannonball's team of X-Men—the old-school New Mutants (Sunspot, Karma, Mirage, Magma, Magik, Warlock and Cypher)—need some rest and recuperation. It doesn't last long. A young mutant-in-training, Pixie, is kidnapped by General Ulysses, a soldier who was sent into Limbo (Magik's demon realm) with his men, four years in the Marvel Universe's past.  Pixie, for newer readers, is one of Mastermind's daughters, and a teleporting sorceress with an awkward relationship with both Magik and Limbo. You can see her in issue #1 of the new Cable series. Her relationship with Limbo is exactly why she was targeted. Ulysses and his men want to complete the bloodstone amulet Belasco started for Illyana in the Magik limited series and get revenge on the demons of Limbo for the torture the soldiers faced there.
During the flashbacks that open New Mutants #16, we see exactly what sent the General's initial mission to Limbo into motion. Well-read fans of the X-Men remember the "Inferno" crossover, which heavily involved Limbo, demons, Cyclops' wife Madelyne Pryor, and, most important to our current discussion, a set of mutant babies used by Madelyne to open a portal to Limbo by which demonic forces would take over New York. The babies were a huge part of this crossover. The demon N'astirh's quest to obtain babies for the ritual helped introduce Nanny and Orphan Maker (X-Factor #34), whom Wells is using in Hellions. Their acquisition was a major plot-point in the X-Terminators limited series, which tied into "Inferno" and led to the original X-Factor's young mutant wards (Boom-Boom, Rictor, Rusty and Skids) being folded into the New Mutants team. And when Madelyne, the Goblin Queen, was defeated, the babies were handed over to the US government, never to be seen again. 
Until now.
A secret, government project used the babies to open a gateway to Limbo and then sent the soldiers through to raise the babies and experiment with demons, both as potential weapons in the never-ending struggle against mutantkind. Of course, because this is Limbo, things go wrong. By the time the soldiers make it back, twenty-six years had passed for them, all spent in Limbo, and they were both horribly twisted and bent on revenge. 
By the end of the Fall arc, we have all the makings of a killer X-Men story I think Claremont himself would be proud to have inspired. There's an old, dangling plot thread in play, humans doing the wrong thing for what they feel are good reasons, and interesting villains that you can still feel for. Even though the team our heroes face are cruel and ruthless, they grew up in Limbo being experimented on, indoctrinated and lied to by soldiers who weren't exactly recruiting poster material before they got screwed over by their bosses and stranded in a demon realm. 
The ending is a bit of a deux ex machina, but the seeds are planted for it, and really, getting to that point over the course of six issues is the real ride. Cannonball and Mirage (depowered on M-Day) in particular get deconstructed, Cypher's arc is interesting and Karma (fresh off losing her leg during Necrosha) really gets some time to shine. Having grown up reading Claremont, Scott Lobdell and Fabian Nicieza's runs—over two decades of relatively flawless continuity—it's always been a major bummer when later writers forget these things happened, or don't let it inform their interpretations of characters. It's plain to see from this storyline that Zeb Wells really loves, and more importantly, gets, Eighties X-Men. This is anxiety-soothing intel when his new book has a Marauder on the team and has all his old running mates strung up as sacrifices in a Goblin Queen ritual on the last page. 
Zeb Wells' X-Men books are love letters to my favorite time-period of X-Men, and I am there for it every damn time.