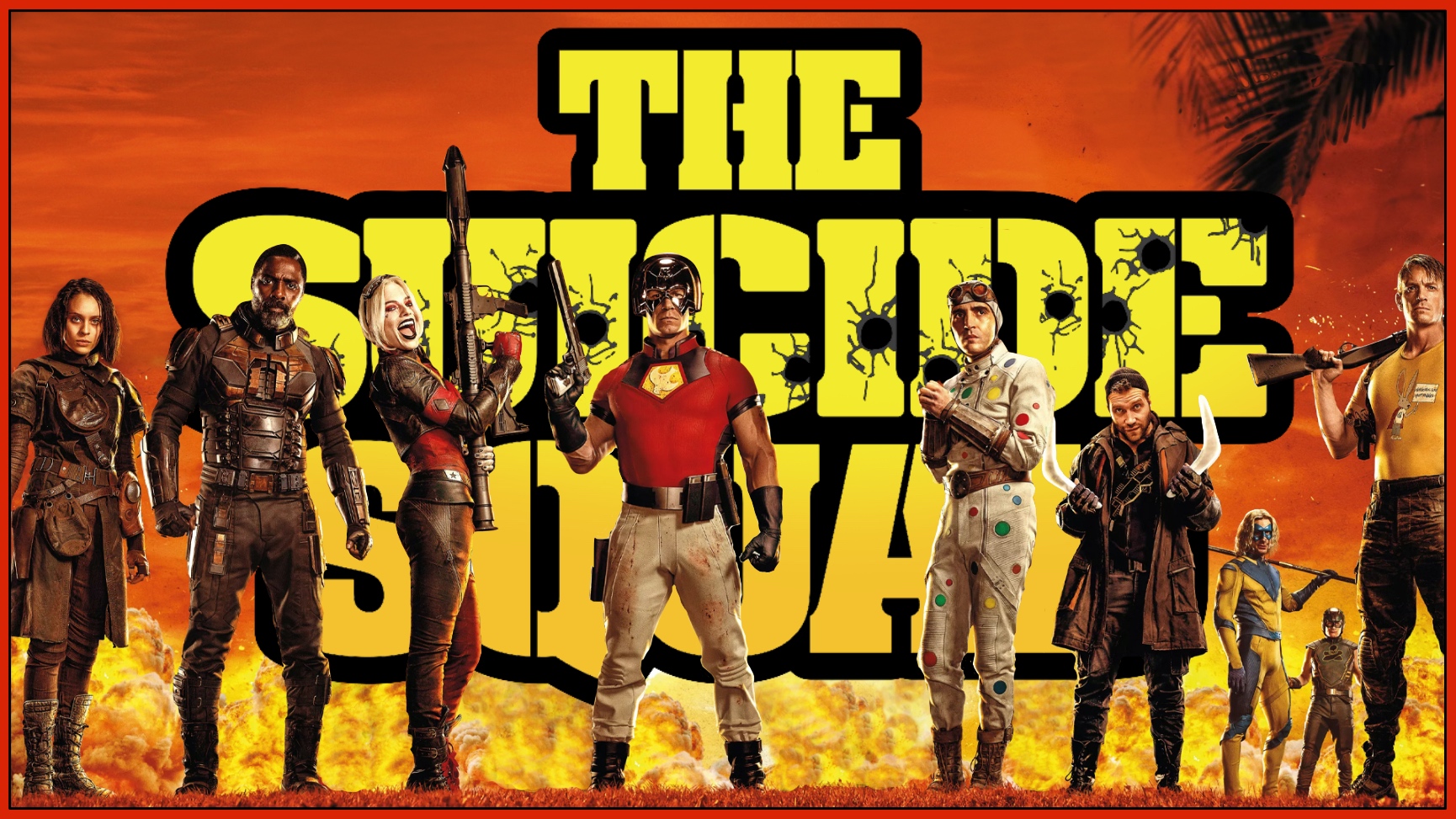 Even the lowliest of creatures have purpose in the world.
In a nutshell, that's the driving idea behind James Gunn's The Suicide Squad – a return to the deadly adventures of Task Force X and one of the goriest, most subversive, most heartfelt comic book movies ever made.
If you're reading this, then you probably already know the general hook of the new DC Comics film. Task Force X, nicknamed The Suicide Squad, is composed of imprisoned super villains who complete dangerous missions in return for time off their prison sentence. It's a long-running comic book concept
first brought to the screen in David Ayer's disappointing and heavily re-edited 2016 film. But in Gunn's hands, the squad is brought back to life for a second chance at glory. Now rated R and with all the violence, language, and filth that can be fit into that rating.
From its gore-filled early scenes to its kaiju battle climax, the thrill of The Suicide Squad is in never really knowing where Gunn is going to take his movie, but always knowing that you want to be wherever these characters are. And usually, wherever they are, something terrible happens. Extremely funny. But terrible.
Although I was already excited to see Gunn's film when the news broke about him writing and directing the relaunch based on John Ostrander, Kim Yale, and Luke McDonnell's comic book, what struck me about The Suicide Squad was how much I came to adore its characters and, in the days following my first watch of the movie, how I came to appreciate the film even more.
Support For Comic Book Herald:
Comic Book Herald is reader-supported. When you buy through links on our site, we may earn a qualifying affiliate commission.
Comic Book Herald's reading orders and guides are also made possible by reader support on Patreon, and generous reader donations.
Any size contribution will help keep CBH alive and full of new comics guides and content. Support CBH on Patreon for exclusive rewards, or Donate here! Thank you for reading!
In the midst of a very scattered DCEU and an MCU Phase 4 that is still in the early stages of defining what it is, what makes The Suicide Squad so compelling to me is that it knows exactly what it is and what it wants to say. No need for franchise building or lore exposition. No strings attached to characters for the sake of long term studio plans. Instead, Gunn's film is a fully formed story that simultaneously sits in the gross-out work of his early career and the family friendly movies of his time at Marvel.
In short, The Suicide Squad is filled with heart and sickening violence. Just the way I like it.
* Some light spoilers ahead *
While sharing a name, Gunn's Squad functions as a soft reboot of David Ayer's 2016 film about Task Force X. But besides Gunn bringing back a few crucial characters (Margot Robbie's Harley Quinn (more independent than ever), Viola Davis' Amanda Waller (meaner than ever), and Joel Kinnaman's Rick Flagg (now with a personality)) the two are only aligned in basic concept. And really, there's no point in comparing the two.
Instead, The Suicide Squad leans heavily into the ridiculousness of its premise, using a fairly simple plot (infiltrate the Cuba-like island nation of Corto Maltese and destroy their super weapon) with all the outlandish flourishes we should expect from the filmmaker by now. The plot itself isn't anything terribly innovative but what's remarkable is how it's injected with equal measures of comedy, gore, pathos, and heart. Gunn knows that the world he's operating in is inherently silly. That's easy to see when the bright colorful costumes and strange powers are contrasted against the stark violence of a face being blown off. But there's two ways that this extreme contrast could be played in The Suicide Squad:
Either Gunn could come off as completely disillusioned with the genre or more invested than ever. Instead, the filmmaker does both.
The early violence highlights the lunacy and, frankly, idiocy (you really shouldn't try to take down a helicopter by jumping on it) of his characters, only to later take that physical vulnerability and translate it into an emotional vulnerability. When grotesque, permanent death is a real possibility for men and women who aren't protected by plot armor, name recognition, or long term franchise investment, the walls come down and the human fragility within is exposed.
A huge selling point of Gunn's movie is that its R rating and hands off studio approach means that Gunn could kill whoever, however, and how-many-ever characters he wanted. With there being a large demand for R-rated comic book movies these days and still only a few that fulfill that appetite, the idea is enticing enough for most who would be interested. And its extremity means that some may be totally turned off in the first few minutes. But the best part of that blood-soaked approach is that The Suicide Squad reaches something very few comic book movies have these days – true unpredictability. The fact that anyone could die at any time, a threat Gunn reinforces with a gore-filled opening fakeout, means that every fight has higher stakes and the narrative can go in any direction.
Harley's solo fight is brutally silly with Louis Prima's "Just a Gigolo" underscoring a scene that builds on her previously established aerial silk skills, and a late film escape from a collapsing building is both insane in its escalation and extremely tense in its dangerously high stakes.
Gunn's film can move from jungle stealth that echoes Predator to a short film about Harley Quinn to a giant kaiju spectacle. And the use of interstitials, which reinforce the magical realism lived out through Ratcatcher 2's powers and Harley's delusions, separate the film into chapters that echo the serialized nature of the film's comic book origins. Each chapter brings a new direction and a new challenge for a rapidly dwindling cast of characters unmoored from any predictable outcome.
But as the film moves further away from its early comedic shocks, it accomplishes the one thing it absolutely needs to do in order to succeed – it makes us understand and care about its main characters.
Combine this with the fact that nearly every character here is a C- or D-list DC Comics villain and you have no discernable way of totally knowing how Gunn will shape his story. And much like his work on the Guardians movies, the thrill comes from seeing this ragtag group of characters that not even die-hard comic book fans would really care about come to life with fully shaped unique personalities and satisfying narrative arcs.
Without entirely giving away who's dead meat in the first few minutes, Gunn chooses to focus on a handful of criminals who are largely shaped by some sort of family trauma or loss. And much like the Guardians, the squad becomes a type of surrogate family that allows them to overcome their internal struggles.
Idris Elba's Bloodsport is challenged to take responsibility as a leader, David Dastmalchian's Polka Dot Man has some hilariously extreme mommy issues, Sylvester Stallone's King Shark needs to stop eating people so he can make friends, and John Cena's Peacemaker, well, he just loves peace. A lot. These are extreme, colorful characters who live out their flaws in a vivid, external way. And whether they succeed or fail in overcoming them is never guaranteed because of the cutthroat nature of the story.
But the true standout here is Daniela Melchior's Ratcatcher 2 – a woman with the power to control hordes of rats and whose tragic backstory gives her a massive amount of pathos and motivation. Melchior plays her as a sleepy, understated heroine who sees the value in people because she's owned nothing of value her entire life. Really, it isn't the mission or the stakes that change the members of the squad, it's Ratcatcher's belief in their worth. While Harley may be the most outsized personality (and given agency that continues her arc from the actually really good Birds of Prey) and King Shark may be cuddly in a homicidal way, Ratcatcher 2 is the key to The Suicide Squad's meaning. The idea that everyone has worth, and if you're willing to extend a hand to the people cast out by society, you'll find that there's more to life than you thought possible.
It's an idea lived out in an extended hand in Guardians of the Galaxy, a surrogate father's sacrifice in Guardians Volume 2, and now through a horde of rats in The Suicide Squad.
It's a message that doesn't get lost amidst all the torn apart bodies and exploded heads, which makes it even more remarkable. Because those early deaths are seen through the eyes of Waller (and by extension the American government), and in her eyes the purpose and value of a person is only found in how they can serve her. But late in the film, each death is suddenly heartbreaking, because now we see through Ratcatcher's eyes, and know that the value and purpose of a life comes from simply being alive.
Gunn's film is the rare blockbuster movie that manages to both entertain in the ways audiences want from a movie like this, and also let its themes play out in full, instead of being overwhelmed by the spectacle. With a sizable critique of U.S interventionism in Latin America becoming part of the film's plot feeling like something that would absolutely never happen in a Marvel movie today.
If superheroes give us a fantasy where our best selves are amplified through incredible powers and super villains let us indulge in our worst impulses without fear, then the criminals of The Suicide Squad speak to our most realistic desires. Men and women who know their own faults and are trying to do something, anything, right and in the process slowly becoming better people. Not perfect in the end, but better in ways we could see ourselves becoming.
For the outcast, that's only possible because we band together, see the value in each other, and bring out the best in who we come to love like family. In the world of James Gunn's The Suicide Squad, we're all the outcast in some way.