He didn't even want the book, but to hear him tell it, Brian Azzarello saved the Wonder Woman New 52 series
. In an interview with Boom Studios CEO, Ross Richie, Azzarello explained that he only took the Wonder Woman title because he was "appalled" at what DC was going to do with the character for the reboot. Azzarello recalls being at a dinner with DC publisher Dan Didio, where they discussed his plans for a different New 52 series. When Didio told Azzarello DC's plans for Wonder Woman, which Azzarello thought would have "fundamentally hurt that character," Azzarello spent the rest of that dinner coming up with a brand new pitch for the series that eventually became the Wonder Woman we got ten years ago.
At its core, this Wonder Woman series was a family drama. It worked because the creative team made the family a central part of the story. In fact, Wonder Woman doesn't even show up until ten pages into the first issue because Azzarello and artist Cliff Chiang devoted that space to the conflict surrounding a few important family members: Zola, a mortal impregnated by Zeus, and Sun, a god whose powers include clairvoyance. Aside from Orion, there weren't any major characters in the series' first 24 issues that weren't part of the family.
Related:
Support For Comic Book Herald:
Comic Book Herald is reader-supported. When you buy through links on our site, we may earn a qualifying affiliate commission.
Comic Book Herald's reading orders and guides are also made possible by reader support on Patreon, and generous reader donations.
Any size contribution will help keep CBH alive and full of new comics guides and content. Support CBH on Patreon for exclusive rewards, or Donate here! Thank you for reading!
Azzarello told Gizmodo that his inspiration was the 2012 Republican presidential primary. He said the candidates "have to act like they all like each other, but they are sticking knives in each other's backs."[1] No family is better at playing that part than the Greek gods whose mythology is rife with betrayal, jealousy and dark secrets. What makes Greek mythology so enduring isn't just the dysfunctional family dynamics, but that the gods internal squabbles often have consequences for mortals on earth. In fact, the gods usually treat mortals as playthings either for their own amusement or to strike back against another god. Azzarello, Chiang and others explore the damage a family quarrel can cause when they have both limitless power and impunity. Wonder Woman is a good foil for this because she is not only kind and empathetic, but has been a symbol of literal restraint since her inception.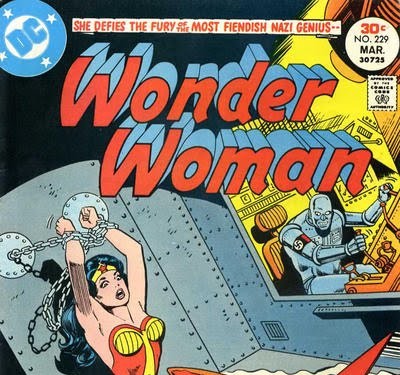 It's no secret that Wonder Woman imagery was filled with explicit depictions of bondage from the start. Covers of Wonder Woman and Sensation Comics often depicted her tied up, tying someone up, or otherwise using her lasso of truth. Her lasso for some time was her most iconic weapon, although it is conspicuously absent in the commemorative stamps the USPS made for her 75th anniversary. There's a lot that has been written and said of her creator, William Moulton Marston, in connection to Wonder Woman's propensity for restraint so I won't go into it here because the sort of restraint Wonder Woman displays in this series is symbolic. Restraint here is about power, but not in the terms of having power over others so much as how one should use the power they possess.
A good example of this restraint is Wonder Woman's battles with Moon. They fight three times. While Moon easily defeats her in front of Zola's home, Wonder Woman wins the rematch in Olympus because she removes her bracelets. The bracelets limit her power, so without them she is able to defeat the goddess. In their third fight, back on earth, Moon is confused that Wonder Woman hasn't removed her bracelets. Letting loose that kind of power could endanger mortal lives and cause damage to infrastructure. You know, typical superhero collateral damage. Wonder Woman decides to hold back, and Moon admonishes her for purposely fighting with a disadvantage. Moon interprets this as Wonder Woman misunderstanding power, thinking that if power isn't used, it'll lead to one's own destruction, but it is with restraint that Wonder Woman is able to defeat Moon.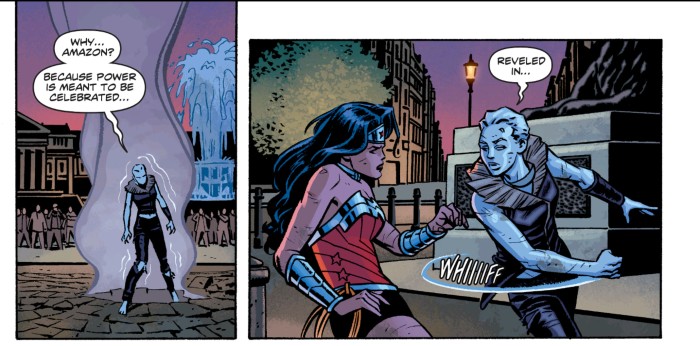 Restraint here isn't submission to another, but a form of respect. Wonder Woman shows it is wrong to wield power carelessly even if it is for a good cause. She stands in contrast to the Olympian gods who, at their worst, act to destroy the lives of individuals, and, at their best, fail to be concerned for the consequences of their own actions. Wonder Woman herself is depicted as Strife's own plaything as she seeks to sow discord among the Amazons in art reminiscent of Tom and Jerry.
In that same Gizmodo interview I quoted, which came out after the first issue, Chiang suggests that the series would avoid origin stories altogether, but we get two of them in the first three issues of the series. The first story explains why Wonder Woman is so different from the other Amazons on Themyscira: she was made of clay and brought to life by Zeus. Here, Azzarello and Chiang use the origin to explore how Wonder Woman is a stranger in her own land. The other children cruelly nickname her "clay," and Wonder Woman shows reverence to her mother, treating her more as queen than parent. When she brings Zola to Themyscira, Wonder Woman bows to Queen Hippolyta, lowering her head.
Strife's arrival unravels that comfortable myth and exposes a dark family secret that upturns Wonder Woman's entire world. She learns that she is really another one of Zeus' extramarital children, like Zola's baby. Hippolyta made up the clay story and swore the other Amazons to secrecy to conceal it from Hera. This embroils Wonder Woman into two family conflicts: the betrayal of her mother who lied to her for twenty-three years, and the realization that her fight with the gods pits her against her own relatives. Wonder woman later learns even more disturbing truths about her past, but while the betrayal angers her, she doesn't suffer an existential crisis. She doesn't go through a moment of self-doubt or betray her values by giving in to the petty cruelty most of the gods display. Instead, she stays true to the principles she has held since she was a child.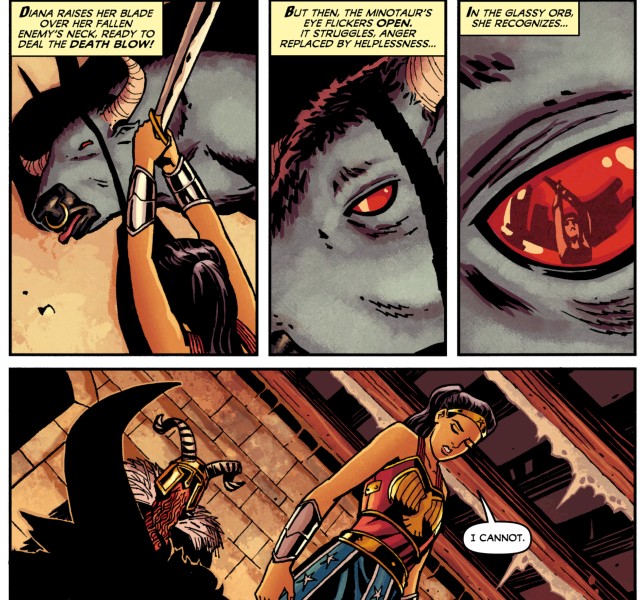 Serialized stories are often perpetually stuck in Act Two. Act One is the origin story, and Act Three is the end that never comes because stories with these characters are lucrative investments. A reboot, like New 52, is attractive because it gives creative teams a chance to at least do Act One and Act Two of a story before handing the character off to another creative team. Though these are technically origin stories in that they explain why Wonder Woman has her powers, they don't show her struggling and growing as a person. Perhaps that's what Chiang really meant about avoiding origin stories. However, after Issue 12, Azzarello and Chiang made Wonder Woman 0, advertised as happening before the 52 which is where we get just such an origin story. Diana, faced with a defeated Minotaur, shows mercy. She prioritizes this over gaining the approval of her mentor, and that is the core of the character we get in this series. She doesn't learn the lesson that showing mercy is good, she learns that showing mercy is difficult.
Wonder Woman doesn't change throughout the series, and she doesn't learn how to become a better person. She was always a good person who always chose to do the right thing. She just learns how to deal with the adversity that comes from her moral consistency. Instead of her changing, she changes the world around her. Nowhere is this more evident than when we look at how she changes Hera and Zola.
At the beginning of the series, Hera was a goddess scorned. Enraged over yet another of Zeus' infidelities with a mortal, she came after a pregnant Zola intent on killing her. Though she failed in that endeavor, when Wonder Woman learned of her own true origins, Hera carried out retribution against Hippolyta and the Amazons. Throughout the story, Zeus was missing and the absence of the father figure for the Olympians made for intriguing subtext. Someone had to deal with the prophecy and take over Zeus' throne on earth. While Poseidon and Hell considered making claims for it, Hera saw that Sun wanted it and convinced him to take it. She believed Zeus was just hiding and would return to strike down any usurper of his throne. Instead, Zeus never returned and Sun stripped Hera of her godhood.
Hera's fall from the divine forces her to turn to Wonder Woman. The problem is that Wonder Woman is protecting Zola, so Hera and Zola have to live together under the same roof. They don't get along. Hera makes rude remarks at Zola expense, and in return Zola physically assaults her, repeatedly, making Hera bleed, revealing that she has indeed become mortal. Zola is still angry at Hera for trying to kill her and she gets even more angry at Wonder Woman for breaking up a fight between the two of them. Zola feels betrayed by her friend, but in reality, Wonder Woman is making the two of them better.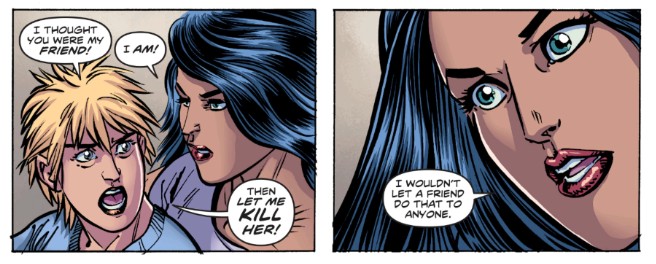 Over the course of the series, Zola learns forgiveness and Hera learns kindness. Hera helps find Zola's baby and the two of them, once at each other's throats, become friends on the run from the other gods. In fact, Zola's request in those two panels above is exactly the sort of reasoning the gods live by: help your friends and hurt your enemies. The gods don't worry about what is right or wrong objectively, they just behave out of loyalty to a friend or vengeance against a foe. Wonder Woman doesn't want enemies. She loves everyone, and her first instinct is to resolve problems peacefully. The fact that she has been this way the entire time throughout this run is symbolic of her moral consistency, and that moral consistency rubs off on those around her.
We'll never know what DC originally planned for this series, but what we got is a story that is true to Wonder Woman. Azzarello and Chiang used this reboot as an opportunity to change the world around Wonder Woman, but kept the core of the character intact. They emphasized the toxic relationships inherent in Greek myth, gave them a modern spin, and challenged Wonder Woman to stay true to her values even when facing overwhelming odds, which made for one of the best runs in her eighty years of existence.
He doesn't know how prophetic this is. In February 2012, Rick Santorum released an ad where an actor dressed as Mitt Romney used a machine gun to shoot mud at a cardboard cutout of Santorum. Trying to kill family members is a theme Azzarello happily borrows from Greek myth. ↑