Comic books were under attack. After the publication in 1954 of his book Seduction of the Innocent, psychiatrist Frederic Wertham launched a campaign against comic books for inspiring what he believed to be negative behavior in children. The campaign was so successful it caught congressional attention, with Senator Estes Kefauver – the same man who took on organized crime – deciding to hold hearings investigating Wertham's claims. In response, the Comics Magazine Association of America, a group of comic book publishers from across the industry, banded together to form the Comics Code Authority. Fearful of government regulators meddling in their industry, the CCA was created to be a self-censoring control group meant to assure consumers that any comic book affixed with its seal met certain standards and was acceptable for all ages.
One of Wertham's frequent targets in his campaign were the extremely popular horror comics of the time, many of which were published by EC Comics. As a result, the initial regulations handed down by the CCA were meant to purge all but the most benign elements of horror stories from the industry (the specific banning from comic book titles of the words "crime", "horror", and "terror", frequently invoked by EC Comics, led its publisher Charles Gaines to believe the other publishers were specifically using the CCA to hurt his line and put him out of business). Out were vampires, werewolves, zombies and their ilk; the only monsters allowed to appear in comics were more outlandish science fiction-inspired creatures featured in things like the Atlas-era monster books from Marvel in the late 50s and early 60s.
Cut to 1971. In the years since the formation of the CCA, superheroes have ascended to become the most popular and prolific form of comic book stories. Stan Lee, who, alongside artistic collaborators like Steve Ditko and John Romita, has spent 100 issues chronicling the adventures of Spider-Man in the pages of The Amazing Spider-Man, hands over the reins of the series to his protege, Roy Thomas. Meanwhile, responding to a widespread and growing cultural fascination with horror stories and monster characters, the CCA loosens their restrictions to allow for the return of more classical monsters to the pages of comic books.
Enter Morbius, the Living Vampire. Attempting to cure himself of a rare blood disease, a combination of electricity and chemical ingestion transforms scientist Michael Morbius into a being with many of the strengths of vampires, but few of their weaknesses – except for the need to consume the blood of others. It is sometimes thought that Morbius' specific designation as a living vampire was an attempt by Roy Thomas, who co-created the character along with artist Gil Kane, to get around the CCA's restrictions on horror elements and monsters.
However, as Brian Cronin chronicles in his book Was Superman A Spy?, Morbius' unique condition simply came about as a result of Thomas wanting to do something a little different with the vampire archetype. According to Thomas in Back Issue #36, on Stan Lee's way out the door, he and Thomas discussed taking advantage of the newly-loosened Comics Code regulations in the pages of Amazing Spider-Man. They talked about doing something with Dracula, but Lee wanted a costumed villain. This prompted Thomas to come up with Morbius, a riff on the traditional vampire who wore not the elegant collared cape of Dracula but more garb more familiar to comic book readers, with his powers born not of Old World mysticism but of Atomic Age science.
Support For Comic Book Herald:
Comic Book Herald is reader-supported. When you buy through links on our site, we may earn a qualifying affiliate commission.
Comic Book Herald's reading orders and guides are also made possible by reader support on Patreon, and generous reader donations.
Any size contribution will help keep CBH alive and full of new comics guides and content. Support CBH on Patreon for exclusive rewards, or Donate here! Thank you for reading!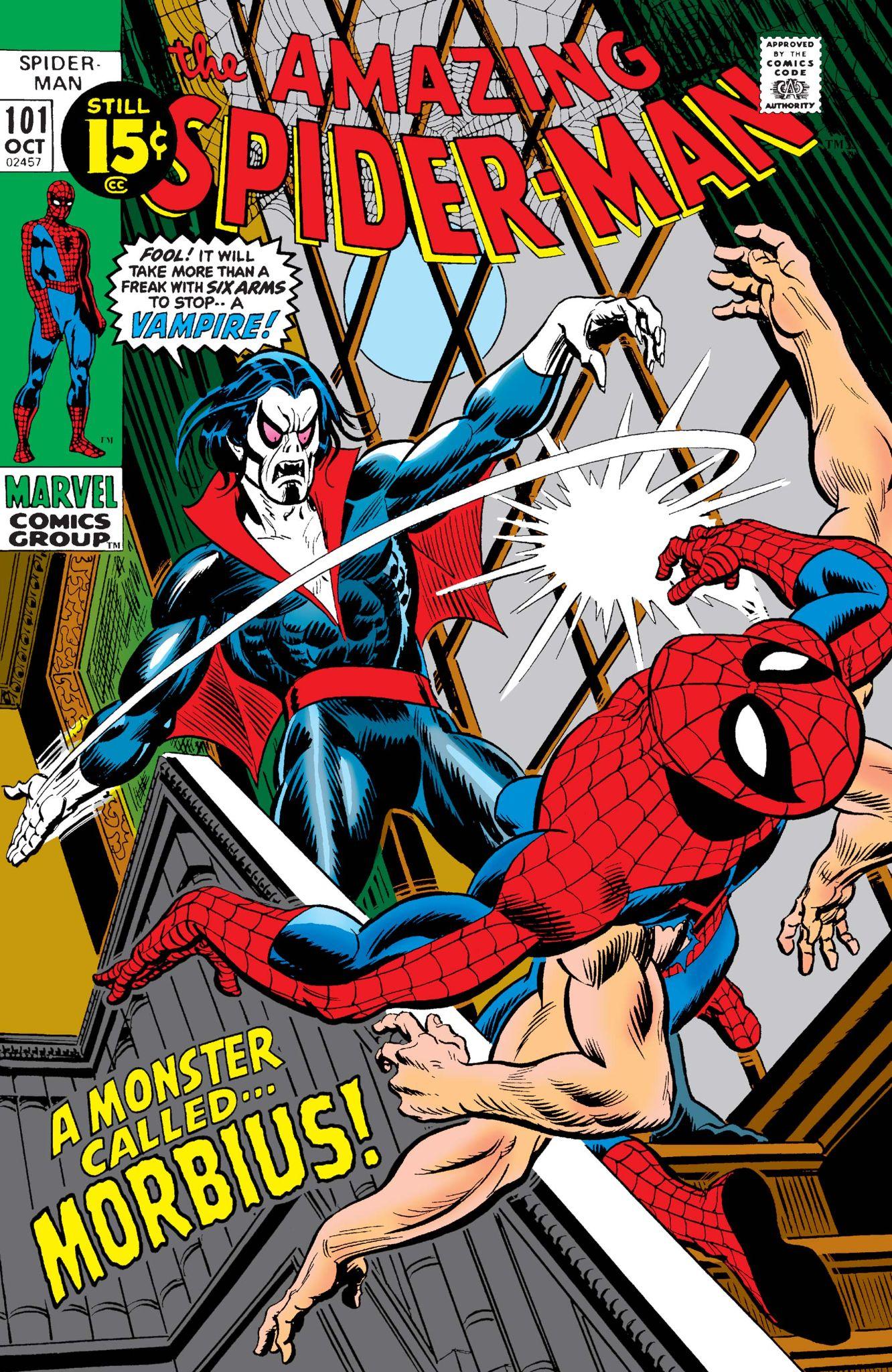 Just as Morbius' creation was not an attempt to skirt the Comics Code restrictions on vampires, his success obviously also didn't lead to the loosening of that restriction (another widely held urban legend about the character); the changes to the Comics Code which allowed for the return of traditional monsters to comics came about in February of 1971, whereas Morbius didn't make his first appearance until Amazing Spider-Man
#101, cover dated October 1971. However, in as much as Morbius was born as a result of those loosened restrictions and he is not responsible for the easing of the Comics Code himself, his creation does mark the beginning of an entire wave of horror-driven comics at Marvel.
Monsters Unleashed
Horror got big in the 1970s, and Marvel was never shy about chasing fads in their attempt to boost sales and dominate the comic book market. In the same way that characters like Luke Cage, Iron Fist, and Shang-Chi were created in an effort to capitalize on the success of the blaxploitation and kung-fu fads of the 70s, Morbius became the vanguard to an entire sub-line of horror-inspired comics and magazines from Marvel throughout the decade (made possible by the changes to the comics code in 1971). After Morbius' debut came Man-Wolf, another attempt to inject sci-fi trappings into a horror archetype via a Spider-Man supporting character (Man-Wolf is John Jameson, the astronaut son of Daily Bugle publisher J. Jonah Jameson who is transformed into a wolf-like space god via a magic moon rock). 1972 also saw the debut of the hilariously-named Jack Russell, Werewolf by Night, a character more in line with the typical beats of a werewolf story.
Frankenstein's Monster, which had skirted the previous rules to make a few pre-Morbius appearances, gained its own series in 1972 as well. Stan Lee may have passed on Spider-Man battling Dracula, but midway through 1972 Dracula started appearing in his own series, Tomb of Dracula, which is still regarded today as one of the highlights of 70s era Marvel Comics. The demonic, flame-skulled Ghost Rider debuted in August 1972, while the lesser known N'Kantu, the Living Mummy, made his first appearance in August 1973. The spawn of the devil himself, Daimon Hellstrom, following in September 1973; by 1974, Marvel was publishing comics with the title "Son of Satan
" emblazoned across the top (EC Comics had long since stopped publishing comics).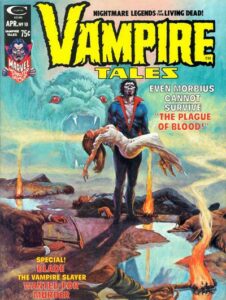 Meanwhile, Morbius, the living vampire who started it all, continued to make semi-regular appearances in Amazing Spider-Man and its spinoff series, Spectacular Spider-Man and Marvel Team-Up. He also headlined his own feature in the anthology series Adventures into Fear from issues #20-32 while also regularly appearing in Vampire Tales, a black-and-white horror magazine which, being a magazine, wasn't subjected to the Comics Code and could thus feature more graphic violence and gore than even the loosened Comics Code of 1971 would allow. Horror was firmly entrenched at Marvel as a big business, and business was booming.
Marvel Zuvembies
While Morbius' status as a "living" vampire born of science was a creative decision on Roy Thomas' part and not the result of him trying to work around Comics Code restrictions, one place where Thomas did employ a loophole during Marvel's 70s horror boom was in the matter of zombies. The 1971 code changes were predicated on the notion that horror characters could be allowed in comics so long as they functioned within the "literary" traditions of vampires, werewolves and whatnot (classic novels > comics in the eyes of the CCA, so characters inspired by classic novels were okay to appear in comics, the reasoning went). While that was all well and good for the likes of Dracula and Frankenstein's Monster, there was very little classical literary tradition involving zombies, making it difficult to use them in comics even after the door had been opened for other monsters.
When Thomas, still looking to turn out more horror content, relaunched Strange Tales in 1973 with a feature starring Brother Voodoo, he wanted to use zombies in the story (given the strong connection between voodoo tradition and zombies). But the code wouldn't allow for it. So Thomas lifted a term used by fantasy writer Robert E. Howard and called his zombie-like beings "zuvembies" instead. While Howard had used the term to denote female zombies, for Thomas it was simply a case of "they look like zombies, they act like zombies, but as far as anyone – especially the CCA – is concerned, they're not zombies!" The use of zuvembies was short-lived, however, as soon the CCA relented and, having opened the door to other monsters, modified the Comics Code once more to allow in traditional zombies as well. This led to the addition of characters like Simon Garth, the undead star of Tales of the Zombie, to Marvel's horror output.
Bust and Boom and Bust
The problem with chasing fads is that while they can burn extremely bright, they also tend to burn quickly, and by the early 1980s, the horror boom – like so many other 70s era fads – began to bust. One by one, various horror comics came to an end as sales dropped and the monsters which starred in them faded into comic book limbo. Tomb of Dracula, long the standard bearer of the genre at Marvel, concluded its run in 1979; a black-and-white magazine intended to continue the series ran for six issues before ending in 1980. Ghost Rider rode off into the sunset (for a time) in 1983. And In 1980's Spectacular Spider-Man #38, Morbius, the monster who started it all for Marvel, is struck by lightning while biting Spider-Man, and as a result, he loses his vampiric abilities.
The decidedly-less monstrous Morbius hung around throughout the 80s, making appearances in places like Fantastic Four and Savage She-Hulk. But he wouldn't return to his "living vampire" ways until the next decade. In 1990, the comics industry was booming, as the proliferation of specialty comic book shops and fervor over hot new artists led to ever-increasing sales. Marvel, looking to dominate market share and put out as many series as possible to capitalize on the demand, began dusting off old characters from the 70s to headline new books. One of those was a revamped Ghost Rider. This new take on the old character proved to be one of the most popular characters of the first half of the decade, and, like Morbius before him, heralded the creation of another horror boom. Under the "Midnight Sons" banner, Ghost Rider headed up an entire "family" of titles, starring characters like Blade (a vampire hunter from Tomb of Dracula), the Son of Satan, Daimon Hellstrom, and the original living vampire, Morbius. Regaining his vampiric powers and starring in his own self-titled series for the first time, Morbius was once again a featured player in Marvel's horror comics, roughly twenty years after his debut.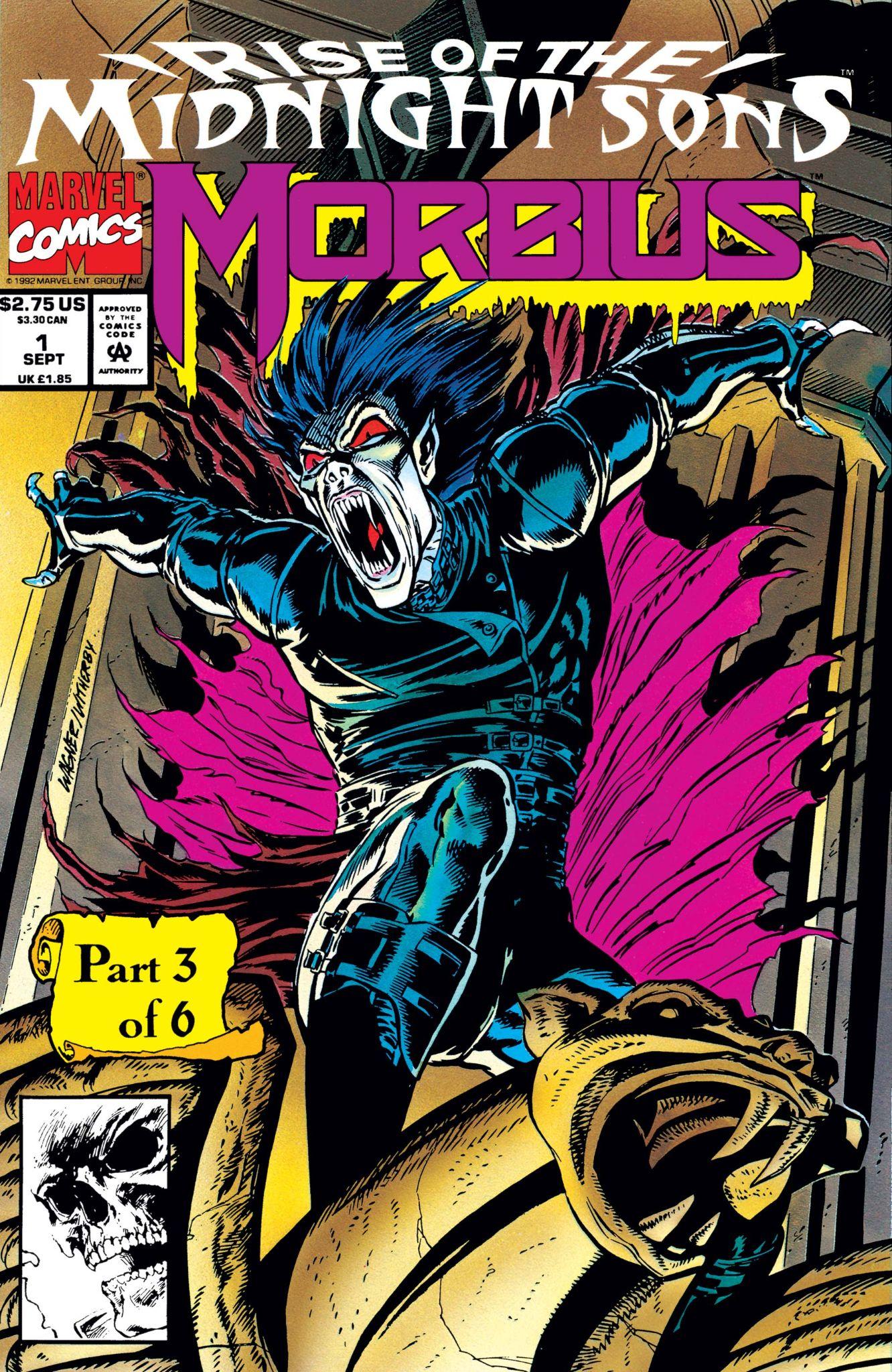 Yet once again, the horror bubble burst, brought down this time by the general contraction of the comics industry in the mid-90s, as the boom times driven by speculators snatching up every semi-notable issue featuring foil-embossed holographic covers and the ever-increasing number of series being published (which had the downside of draining the mean quality of the books overall) came to a crashing halt. Marvel filed for bankruptcy – due less to dwindling sales and more to corporate shenanigans and mishandling, but the end result was still a general contraction of the market and a refocus on more mainstream, perennial bestselling characters. Morbius didn't disappear entirely, though. His series was canceled, but thanks to his origins which rooted him in both the horror and superhero worlds, he hung around as a sometimes-ally, sometimes-antagonist of Spider-Man and other superheroes. It would, however, take another boom – this time, in movies inspired by comics books – to put the character back in the spotlight, after he is tapped to become the next Spider-Man character to star in his own feature film.
From a science-driven riff on Dracula to a Midnight Son to a movie star, Morbius has proven remarkably resilient over the years, especially when compared to the horror characters who followed in his wake. His status as a "living vampire" may not have been the result of an effort to skirt the restrictions of the Comics Code Authority and do a vampire story without a vampire, but by capitalizing on the loosening of those restrictions while using his unique origin to tether him to the larger world of superheroes, Morbius both showed there was still an audience for more monstrous and supernatural characters within the larger world of comic books, paving the way for an entire subgenre of Marvel horror books, and also how those characters could fit and function in the dominant form of superhero stories.