Do you believe in magic in a young girl's heart
How the music can free her whenever it starts? (…)
I'll tell you about the magic, and it'll free your soul (…)
If you believe in magic, don't bother to choose
The Lovin' Spoonful

Do You Believe in Magic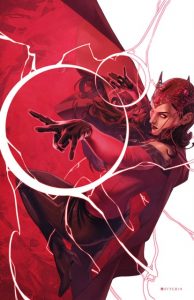 For decades, the Scarlet Witch has been an enigmatic character. Her "hex powers" have made stories more interesting, her life is filled with drama, and she has got hands-down the best of Jack Kirby's "weird headgear and stage performer" aesthetics going. But she's also been a runaway powerhouse, smashing through the Marvel universe, its laws, and her own good-will with fans. She's a character that can do seemingly anything… so why is it these pitfalls happen? Why can't Scarlet Witch's character get out of this madness-shame-power-up pattern? And how could it be fixed?
We'll take a deep-dive into Wanda and find out. I'll be citing my references, but fans may still want to take a crack at our reading order for the Scarlet Witch before we begin.
Scarlet Witch's Powers
Wanda Maximoff is, at present, the most powerful woman in the Marvel comic universe. Possibly the most powerful anything. As statements go, it's a good one for a character to make. But it's also maybe the last definitive statement we can make about the character.
Because given her history and inconsistent capabilities, I could not tell you when she became this exactly, nor do I know whatbeyond her level looks like. In fact, after more than 60 years of publication, we don't have a real sense of her at all.
Reality Warping
At present, the Scarlet Witch is classified as a "reality warper." It's a broad class, with some real heavy hitters in it, like:
Support For Comic Book Herald:
Comic Book Herald is reader-supported. When you buy through links on our site, we may earn a qualifying affiliate commission.
Comic Book Herald's reading orders and guides are also made possible by reader support on Patreon, and generous reader donations.
Any size contribution will help keep CBH alive and full of new comics guides and content. Support CBH on Patreon for exclusive rewards, or Donate here! Thank you for reading!
Cable/X-Man – Telepathic (physical) warping

Negasonic Teenage Warhead – Quantum (non-temporal) manipulation

Living Tribunal – Divine manipulation (boundless control and integration over physical, temporal, and logical reality)

Gwenpool – Medium interaction (interacts with her reality at the comic book/real-world level)
Scarlet Witch's Probability Manipulation
Scarlet Witch debuts in The X-Men #4, making her a creation of Lee and Kirby themselves. To start, her power was very nearly undefined. Scarlet Witch would wave her hand and, intentionally or unintentionally, whoever or whatever she waved at would suffer "bad luck."
Over the years, we'd learn that Wanda was a probability manipulator like Domino or Longshot. But where those two had powers that stacked the odds in their own favor, Scarlet Witch "cursed" targets to have the odds stacked against them.
We'll get into this in detail later, but for now, we're only concerned with two parts of this:
Luck-based powers are notoriously unpredictable – Luck, as a concept, has a high degree of random chance. So too is it with luck powers, as they tend to be outside of their users' full control. This means results can be exciting, humorous, or ironic. But those results belong only so much to their wielder.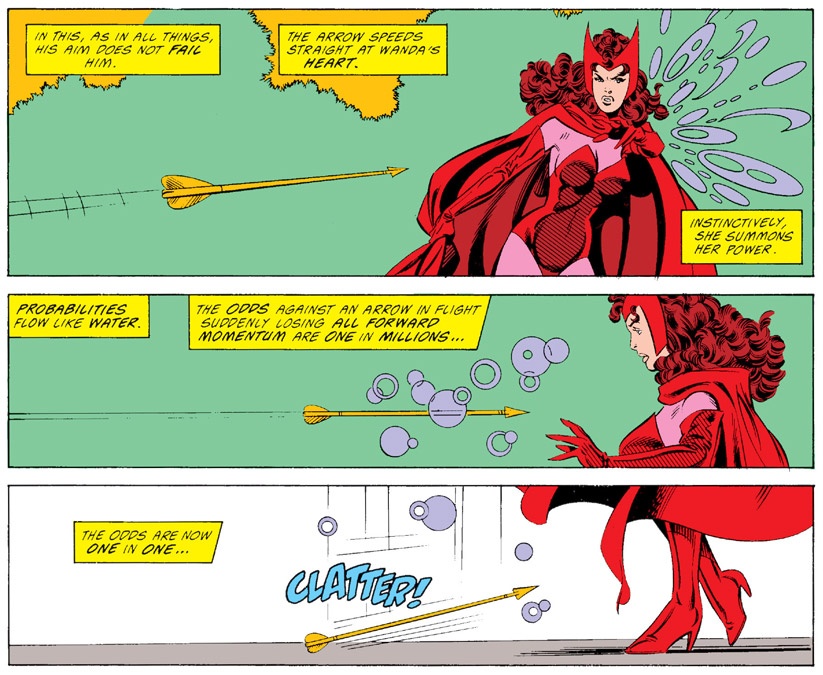 Luck Powers and Abstraction
Scarlet Witch has a vague purpose (e.g., "stop that person.")

She makes an unspectacular gesture.

Invisible math happens

The person has a wall fall on them.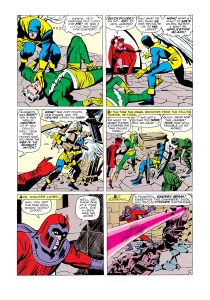 There's a gulf between 1 and 4. One that means readers can see Wanda's effect on the battle but struggle to evaluate her success in it. After all, Scarlet Witch doesn't have "retaining wall" powers. This isn't like Magneto with metal or Storm and lightning. Further, Wanda didn't declare she'd cause a collapse, so it's hard to measure her intent. Particularly when there was an equal likelihood of her powers causing a fissure to open beneath her target, a meteorite strike, or their sudden arrest for tax evasion.
So how can you build a character that's outshined by masonry?
Magic
The answer was to give her something equally impossible that she could control. Roy Thomas, Steve Englehart, and Kurt Busiek either gave or increased the "Witch" part in Scarlet Witch. This gave Wanda the free-associating powers of her "hex spheres" and the focused intent of spellcraft. Things like summoning fire or tossing energy bolts gave her character a better sense of success.
Furthermore, they allowed her to engage with non-probability based problems. Her hex powers hold incredible potential, but those actions still need available, physical reality to happen. 
More Powers, More Problems
Scarlet Witch's Reality Warping
Wanda Maximoff's hex spheres and their probability manipulation is, in fact, a lot like time travel. Both are examples of a higher-order form of reality manipulation called Causal Manipulation, or the power to alter reality at the level of cause and effect. 
As science fiction has taught us, a hero going back in time to kill Hitler may return to a future with no Hitler but filled with unintended consequences. Without World War II, the Beatles might never form, or Diet Dr. Pepper might taste less like Regular. Or maybe World Wars III and IV.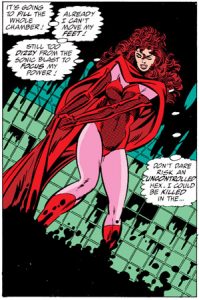 Time travel shows the interconnectivity of things and how the power can make wide changes, but through a cascade that's constantly moving reality further and further from normal. This means unintended side effects. But it also means unintended effects (the thing about the power to alter the likelihood of events is that it often changes events to make the power itself more or less likely).
It's also notoriously hard to turn on and off. In Grant Morrison's New X-Men, Domino's power turns a safe's code into her ex-boyfriend's number, making it a simple crack. That power also means a guard walks by at the wrong time, tripping the alarm early. That's the thing when you play with cause and effect; you always change more than you know. And when you have powers that change the likelihood of events, it tends to mean your power changes its own likelihood.
Scarlet Witch's Magic
Much like with causal manipulation, magic has its own universal problem. Magic costs.
Luck powers work within physical reality to change physical reality. It's thermodynamically neutral; nothing created, nothing destroyed.
On the other hand, Magic uses an external source (divine interaction, mana, souls, whatever) to change the quantity of physical reality. However, it's precisely defined; it's an exchange. And there is always a sacrifice. Mortal casters must always pay an extra tax of some kind, with common clauses being chickens, snakes, lifetime, souls, memories, and so on.
This spell cost is often unpredictable, as are the spells themselves, which are subject to unexpected side effects, just like probability manipulation. Even non-magic based reality-manipulators like Vulcan operate on a spell-cost/consequence model!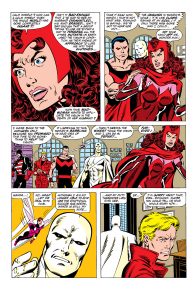 How Scarlet Witch's Powers Have Broken Wanda Maximoff
Scarlet Witch has two powers that should revolve entirely around paying costs. Yet from the very beginning, her writers have done their best to refuse that. This means that Scarlet Witch, a character who alters cause and effect, cannot have her own cause or an effect. Allow me to establish a few points of reference:
Magical False-Pregnancy
This is an oft-reviewed period of Wanda's history, and we'll touch on it in more detail later. For now, just know this order of events:
Wanda got super god-tier power and for only a limited window (only a few pages).

She used these powers first to blow up a holy mountain, killing an entire witch culture (and its people.)

Seconds after this pogrom, she used that same destructive power to make her kids.

But since she was low on juice, she also needed 40% of Mephisto's soul.
Look, we all make mistakes, especially with the Prince of Lies. But call me conservative, I feel like giving birth to the devil in pieces is a mistake you get to do exactly zero times. But then, I have no idea where you start reprimanding:
The first time someone allows a form of Satan into themselves?

The first time they play with soul magic?

Certainly at someone's

first

genocide, right?
But I guess this kind of inconsistency is why they're called "the black arts."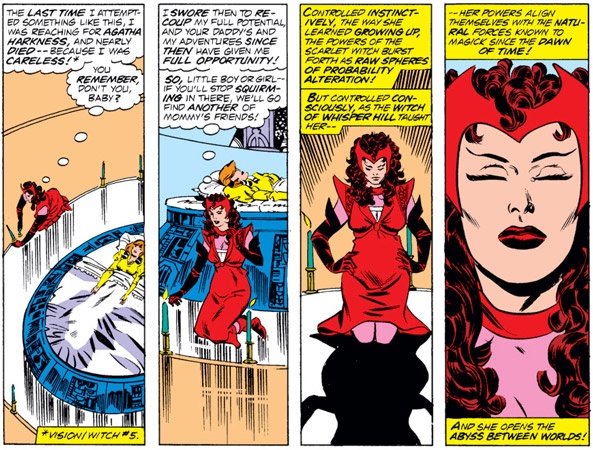 Sins Against the Living
The Witch has some incredibly unhealthy relationships, but the Wanda Maximoff / Simon Williams (Wonder Man) / Vision necromantic love triangle has got to take the undead cake. So much happens there, but we've only got space for two highlights:
We learn that Wanda is in love with a single mind shared between two bodies — Wonder Man (the original) and Vision (brain-pattern copy and husband)
At one point, Wonder Man dies, and Scarlet Witch up and brings him back from the dead. That has to be against her promise about staying magically clear of life, death, and Mephisto. Then again, Wanda sort of does all of this accidentally (I feel that's not making things better). Somehow, this affront to metaphysics is made worse when Wanda enters into an extremely unethical romance with the lightning-bodied zombie she's just created and indebted to her. She does so right in front of Vision.
Sins Against the Dead
And what is it with Wanda and the undead?!
During Avengers: Vision and the Scarlet Witch – A Year In The Life, the newlywed witch and robot buy their first house, and the instant they set foot on it, there's a zombie attack. Is something wrong with this picture? Does something seem strange to you? A mortal magic user and a super-intelligent mandroid get married, settle down, and are instantly attacked by an army of the undead lead by a chicken man? In the middle of a bright spring day. Does that sound odd? Yes. How did they find a whole home in Manhattan with enough yard for that many revenants? What's the probability of that?
Sure, when it happens during Empyre, she's just trying to bring all of Genosha back to life. Again, I really feel like that's against her promise, and I feel I'm proven right when the Witch only succeeds in raising more shambling corpses.
At this point, we have to talk about how Wanda learned/was given magic from the dark eldritch god Chthon. The Lovecraftian nightmare that made the first canonical zombies (from Marvel's underrated Darkhold storyline.) Anyway, Scarlet Witch has been possessed by pseudo-thulhu on two separate occasions. He has a permanent piece of satanic sorcerer soul in her because of him, and I'm not sure how long we can buy this whole "I didn't mean to make an abomination unto God" excuse.
Especially considering she knew some of those zombies in Empyre… and even put them there in the first place…
Team Killing
Wanda Maximoff is potentially dangerous. But at this point, it seems like she's the greatest threat to her friends. This can't be a total surprise as she was a founding member of the Brotherhood of Evil Mutants. And though she left it for the Avengers, she wound up returning decades later. Maybe the Avengers shouldn't have let her back in because, over the last few years, Scarlet Witch has:

Equal and Opposite
Over the years, Marvel has done a great job showing how much potential Wanda has as a character by pitting her into impossible situations, holding her own or more against some of the strongest icons in the universe.
In Vision Quest, a tearful wife comes to the Avengers for help, and Scarlet Witch treats her like utter garbage. There's no repercussion, not even after Wanda flies off the handle and gets captured and experimented on.
James Robinson's solo run had the Witch off to "fix what's wrong with magic." And she did this unsupervised. But that's really just the tip of the iceberg as far as that book goes; I strongly suggest readers check out Vishal Gullapalli's excellent review of Robinson's series over here.
But, Marvel never seems to have known how to bring Wanda back from this. And at this point, I'm not sure even Jonathan Hickman can fix it.

AvX is Worse in Context
By now, we're probably all familiar with the backstory here. But for those who aren't: I've mentioned Scarlet Witch used magic to make herself children. She lost them, was brainwashed to forget about them, forgot her brainwashing, and effectively "lost" those children a second time. This drove her over the brink, causing her to kill several Avengers and wipe out 90% of the mutant populace.  (The comics do not seem ready to confront any of this, either)
Scarlet Witch takes a powder for a while after that, but things don't get much better. In fact, the whole mutant situation gets pretty desperate.
Then there are Messiah Complex/War,  Homecoming/Second Coming, and Generation Hope. These take us from the birth of Hope Summers (the first mutant childbirth since M-Day) and a whole host of new problems… not the least of which is that the Avengers try to kidnap the infant in question from her adoptive family. The Avengers are just so darn sure about this that they kick off a full-scale war with the X-Men.
Above is the first attempt to recruit Wanda into that war during AvX. Again, addressing things is near to impossible. Tony Stark has been here the entire time, and he's afraid the Avengers were rude? (Because if there's one member of the Avengers that needs a talking-to more, it's that brilliant dullard.) But seriously, given all of Wanda's past, her bad blood with the team, and her horrific history with mutants, Tony — an old friend of Wanda's — is concerned about manners. That's how he prioritizes this situation.
But then, Scarlet Witch is no better. Hope Summers should raise every red head-piece Wanda owns. A miracle child born with magical properties, adopted by a man that's more machine than human. That said, Cable (the adoptive father) is also the son of some of her oldest friends, which seems almost secondary compared to everything else.
Everyone understands that if Wanda joined the Avengers here, she would help the people she tried to kill attack the people she tried to exterminate to help achieve her absolute worst nightmare.
And yet, this qualifies as the Scarlet Witch's first redemption arc.
 Do you know what it means to find yourselves face to face with a madman — with one who shakes the foundations of all you have built up in yourselves, (…) the logic of your construction. Madmen, lucky folk, construct without logic, or rather with a logic that flies like a feather (…) for them everything can be.
— Shakespeare
,
Henry IV
Madness as a Form of Power
Marvel has a long, long history of equating heightened emotions and mental instability with increased powers. Carnage, Dark Phoenix, the Hulk, Thor, and Wolverine have all had powers based in some part upon madness. Even simpler powers like strength or speed are subject to wild variances due to heightened emotional states (see, Spider-Man example.)
But these are temporary states. They have nothing on unalloyed "madness."
Madness is frequently seen as the basis of reality-warping powers themselves. Both Legion and Mad Jim Jaspers both rely at least in part on some mystical component of mental disorder to make their power possible. Three more blatant examples are Deadpool, Gwenpool, and Slapstick, each of whom has some undisclosed form of reality detachment that allows for "genre awareness." Basically, each breaks reality at a logical level simply because of their unique disorder(s)—even the Living Tribunal as of three minds.
Hell, Possession, and Other Narrative Traps
These heightened states — along with satanic influence or temporary occupation by a cosmic or divine presence/energy — don't simply act as force-multipliers. They're also a convenient "not guilty by reason of…"
Wanda's "murder, alternate reality imprisonment, genocide" hat trick between Disassembled and 198 was an enormous fall from grace. It became clear that madness wasn't going to provide cover on this one, and Marvel had already tried sharing blame with everyone from Wanda's family to the entire Avengers, and finally Doctor Doom. All to no avail.
So Marvel did the only logical thing left: say Scarlet Witch was possessed by two divine entities at the same time, have her sacrifice herself, and then use Speed and Wiccan — real kids, yet still Wanda's fake children — talk about how great she was until it was agreed.
It is convenient for everybody to insist that certain people are mad, so they can be shut up. Do you know why? Because it is impossible to hear them speak (…)
— Shakespeare
,
Henry IV
Madness and Lack of Ownership
It all comes back to her problems with probability.
Scarlet Witch has a vague purpose (e.g., "save her kids… again?")

She makes a spectacular gesture (killing her friends, nearly the whole mutant race)

Invisible influence happens (shared blame, possession)

Two kids have an obligation drop on them.
Once again, Wanda is abstracted out of the process. Because her blame has been so spread around, she doesn't have enough to hold onto for her own path to redemption. Again, the action belongs more to other things — Wiccan, Speed, the dark god Chthon, and her status as the conduit of all magic.
And when Wanda (or characters in a similar situation) can't be blamed, the fault is sometimes mitigated weirdly through stereotypes. Scarlet Witch is another example of "hysterical" women and how sex and gender matters get associated with literal demonology. I'm not positive Vision Quest / Darker than Scarlet was intended that way. Still, certainly today, it reads like a series of sexist jokes, starting with the Avengers constantly questioning her dating life to her husband not being a "real man" and ending with Wanda turning to a very complicated form of infidelity to address her baby craziness. Acts and impulse demonstrated to be sinful through the involvement of the actual Devil.
And while that's worrisome enough, the fact it's literally dismissed is even worse. Wanda's a magic-user who got mixed up with Satan and played with the forces of life and death… and no one seems to care enough or think enough of Wanda to cause a reckoning right then and there.
It's almost like she doesn't factor in.

Recap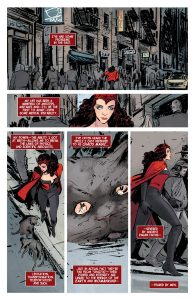 Wanda Maximoff is still, at present, the most powerful woman in the Marvel comic universe. Possibly the most powerful anything. But whatever else she is after that, your guess is as good as mine.
She was a mutant, a terrorist, and an Avenger. Officially, she is no longer any of these, yet she's constantly making big statements on all three. Then there was her association with motherhood, which was so important that she killed an incalculable number of people, some of them friends (Her two false children were the world to her; real kids, on the other hand, never seem to measure up the same.)
I can understand some of these choices. I can particularly empathize with Marvel editorial making desperate attempts not to trap Wanda in an endless loop of shame and self-flagellation. But their "solution" of distributing blame, increasing power level, and decreasing mental stability is not better.
And what, exactly, is the measure of Wanda Maximoff? Surely she'd need a stable origin and character for that. But even within a category, a power class. How can Wanda be a "reality warper" if she's supposed to be so out of touch with reality? What control does she exhibit: are her problems still out of her hands due to probability and madness? Or do they give her clarity to Earth-616 and imagine 58163 instead, making one world "right" where another was "wrong?"
How To Make a Better Witch — A Rare Proposal
So how does one improve a situation like Wanda? Personally, I usually refrain from such public efforts because I'm an internet clown man who has no obligation to follow editorial standards, work with actual human beings, make ideas work at the publication level, or keep them working. 
All of which is moot because whatever other problems Marvel has going, they're not dumb enough to cut me checks. And without those financial stakes, I'm just proposing trades for the Yankees, right?
But Scarlet Witch? I feel after all this time; the character is fair game.
Backmatter
| Nexus Beings and H.P. Lovecraft
As we know, Wanda Maximoff's initial probability-based hex powers posed some problems, leading to them being "fixed" through magic. Well, it turns out both of those needed their own fixes.
First, Abnett and Lanning introduced the idea that Wanda was a "Nexus being" during the first Scarlet Witch mini-series. Basically, each multiverse has a being who exists to be the focal gateway for all magic in that realm. Naturally, in the main continuity, that's Wanda. This upgraded her to be capable of situational cosmic feat. (This series is a ton of fun, by the way. Easily the most enjoyable read in this article, particularly for it's occasional Kirby influences and delightfully purple prose. I highly recommend it.)
But "magic conduit" isn't as good as "cosmic being," which leads to Kurt Busiek retconning things so that Wanda got her powers from the dark elder god Chthon (basically Marvel's Cthulhu.) This move also better explains how Wanda, a mortal, can hold and use power on a universal scale without being destroyed by it.
I propose, however, that Marvel has been fixing the wrong thing.

Scarlet Witch |
A Proposal
Broad Strokes
To my mind, giving Wanda magic, cosmic, and deific attributes hasn't made her more powerful; it's just made less of her. She now has way too many ability types, sources, intermediaries, and other abstractions to make any of her truly comprehensible. 
I think we can cut her down to one power, one wrinkle, and get a clearer, more interesting, and much deeper character.
I propose we go back to her probability manipulation, then route that through a tweaked version of the "Nexus being" concept.
Pitch
Wanda Maximoff is unstuck from relativity. It's an occurrence so rare; it's thought to exist only once in a universe. What we'll come to know is that in every universe, it's always Wanda.

What we've been able to determine is that when Wanda Maximoff takes any action, she does so as the Gods do: by existing (partially) outside of her own reality, making her virtually unbound by its restrictions.
She's mad, but she's magic. There's no lie in her fire.
―Bukowski
The extreme unlikelihood of Maximoff's existence, exacerbated by her still mortal status, leaves her able to only operate on the base level of reality manipulation: probability. In science terms, Wanda interacts with the universe any time she creates a "hex bubble" that uncollapses the quantum superposition of things. In other words, it's said that a single coin toss splits the universe in two — one where the coin lands heads, the other tails. Wanda's supercomputer subconscious allows her to swap coins. Or National Mints.
Controlling where and when these hex bubbles happen is hard enough; at present (if such a term exists here), controlling their impossible results is… well… nearly impossible. At least for anyone actually bound by reality. 
This means that within the universe, and only by the very, very sharpest, wisest observer, Wanda Maximofff appears to be elemental chaos. And that's the good news.
The world is full of magic things, patiently waiting for our senses to grow sharper.
―Yates
The bad news is her power, and Wanda herself isn't bound to just this planar existence. Something has happened. Somewhere, a die won't stop rolling, or a coin refuses to land, and Wanda Maximoff cannot fully occupy or remain in her correct reality. She keeps moving through some kind of multiversal middle-space, connected to places like the Phoenix's White Hot Room, the Jungle of the Panther God, or the Unburning Library of Mad Jim Jaspers that keeps bringing her back. The Wanda Maximoff of our world is trapped in infinite, un-resolving possibility, and she needs to get home. Permanently.
Because every time she's not here, another Wanda Maximoff is in her body from elsewhere in the multiverse. And the choice might be anything but random.
Like an exotic particle, Wanda Maximoff only exists under the strictest observation. Blink, and she's changed. And you are too. The sharpest, wisest observers will see that each time the world changes, every time the seas turn to fire or a pasta dish becomes rice, the being known collectively as Wanda Maximoff bends reality around her. You can see it in the way light bends and distorts as space-time changes distances, altering each photon's wavelength. Shifting it red.

This is why they call her what they call her.
Themes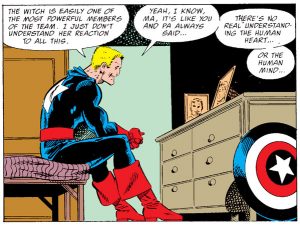 In her current state, the Scarlet Witch feels like the exception to too many of Marvel's rules. To the point that I feel it's messing with her agency, growth, even simple cause/effect dynamics!
Thus far, I feel writers have tried to fix the chaos surrounding her by applying higher and higher orders, the way the Catholic church added epicycles to their geocentric model of our solar system.
I think Wanda's problem is an over-abundance of order in a life that prevents that. Having her learn to accept that control is fleeting and finite seems a vastly cleaner, healthier approach. It might also make things matter more; by turning away from the impossibility of perfection, she could turn towards the more probable choice of acceptance and change.