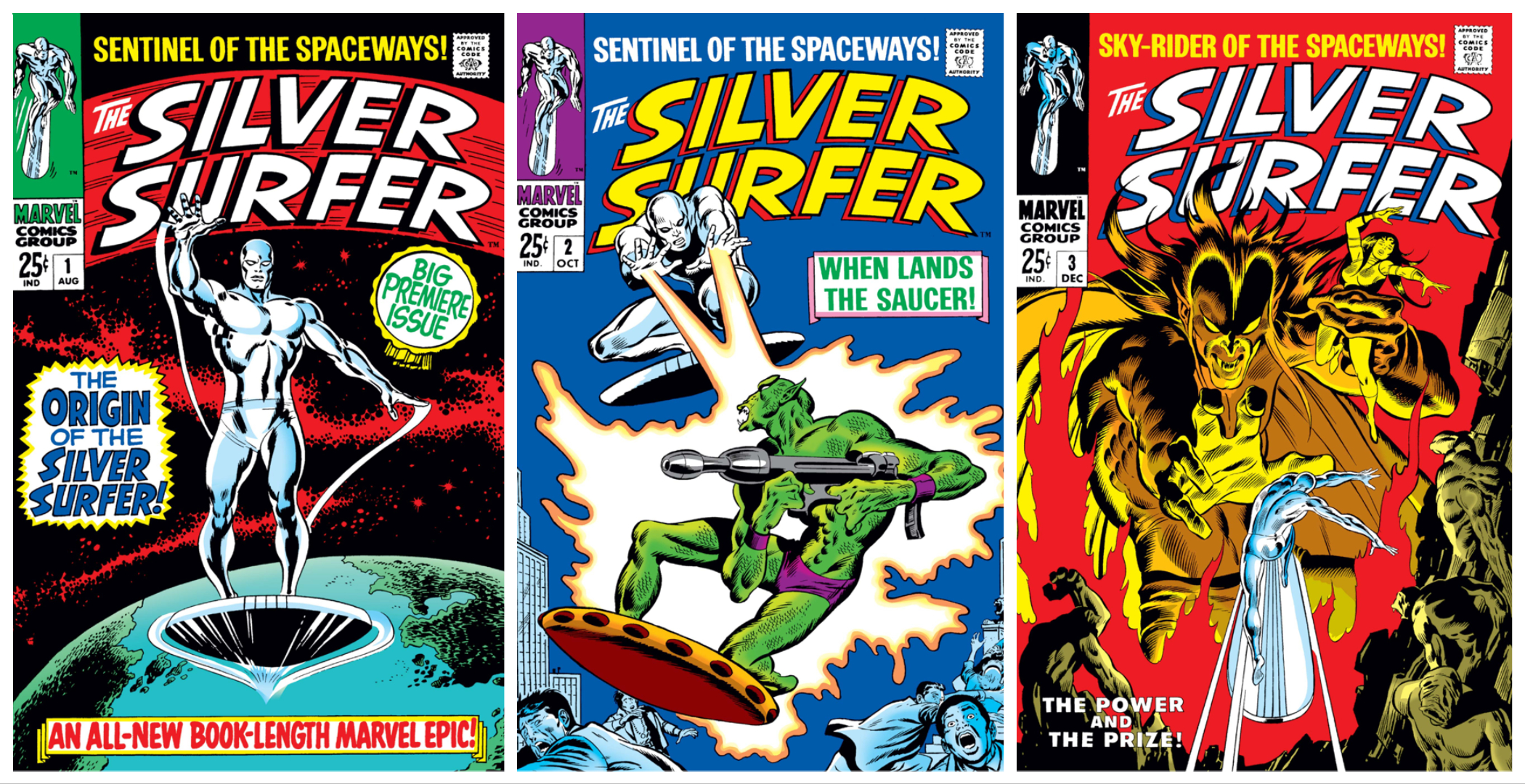 [covers by John Buscema & Joe Sinnott]
If you missed our 1967 entry, check it out! You can link back to previous entries there, as well.
Probably Marvel's second-best cosmic-themed adventure of 1968 (after the debut of the fearsome Mangog in Thor; next time) was the return of Galactus in Fantastic Four #74-77. Of course, that's no endorsement for how everyone treats Sue Richards there; also, the story itself doesn't make a heck of a lot of sense and anyhow, it doesn't push the envelope on Marvel Cosmic—although these issues are a visual wonder. Kirby takes flight with the Silver Surfer, especially as he escapes to the Microverse to avoid Galactus, who's come back to Earth to beg for the return of his Herald. The Microverse's Psycho-Man, recently introduced in Fantastic Four Annual #5, also appears. This unusually decompressed arc is also noteworthy for being Kirby's farewell to one of his favorite creations, as the Surfer's adventures continue in his own solo book, which was Stan's full appropriation of the character for his own ideas—read: heavy soapboxing—while bringing aboard wonderful artist John Buscema whose art, however elegant, never popped and shattered banal reality/received aesthetics like that wondrous weird Kirby crackle. Of course, few artists have ever matched the King; further, as with any sensible up-and-coming artist, Buscema's work ethic was about fulfilling his role to the utmost without causing trouble with the boss. We'll return to this below in our entry on the first few extra-sized issues of The Silver Surfer title.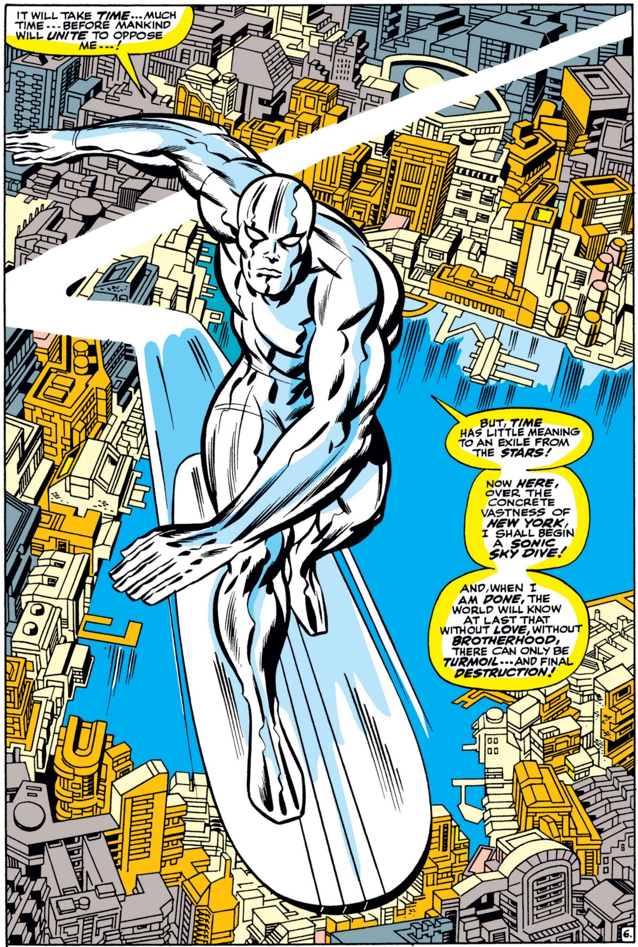 [Kirby and Sinnott, Fantastic Four #74]
Other than the Mangog and Galactus stories mentioned above, the other interesting Marvel Cosmic story that we'll be looking at for 1968 is Fantastic Four Annual #6, which sees for the first time 3/4 of the team journeying into the Negative Zone and more importantly, introduces Annihilus, and reveals that Sue's pregnancy may go awry due to the cosmic radiation she absorbed in the Fab Four's origin story (the reason given, historically, for Franklin Richards' status as a mutant). But these two new mighty bruisers of cosmic horror will have to wait until next time, as there's more of interest in what was going on behind the scenes in the making of both the Captain Marvel and Silver Surfer titles than in the very slight adventures found therein.
Support For Comic Book Herald:
Comic Book Herald is reader-supported. When you buy through links on our site, we may earn a qualifying affiliate commission.
Comic Book Herald's reading orders and guides are also made possible by reader support on Patreon, and generous reader donations.
Any size contribution will help keep CBH alive and full of new comics guides and content. Support CBH on Patreon for exclusive rewards, or Donate here! Thank you for reading!
I. Captain Marvel (Marvel Super-Heroes #12-13, Captain Marvel #1, 12.1967-5.1968)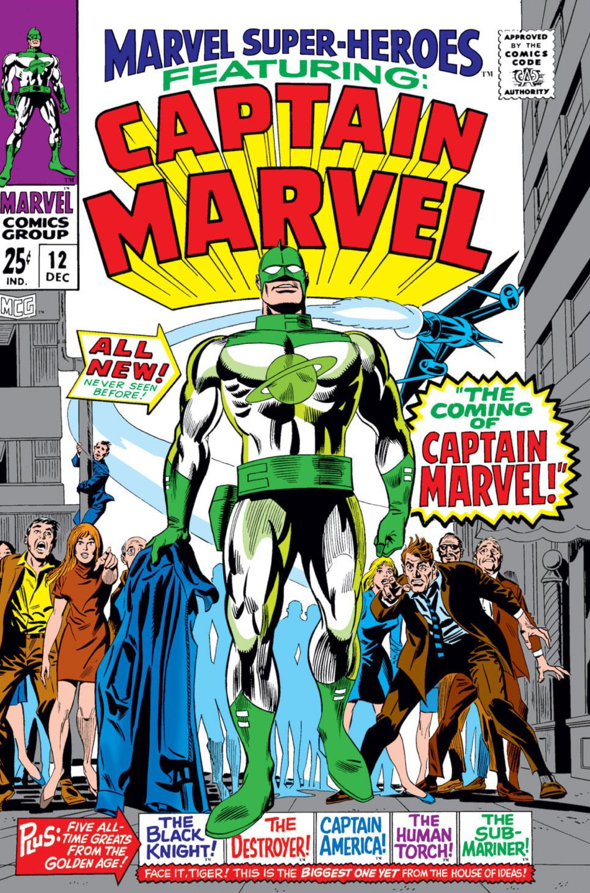 [cover by Gene Colan, Frank Giacoia and Stan Goldberg]
Kree warrior Mar-Vell was meant to be the next big thing at Marvel, and who knows, Stan Lee might have thought rebranding the Golden Age reprints title Fantasy Masterpieces as Marvel Super-Heroes would make issue #12 sort of like a debut issue—even though apart from the leading Mar-Vell story, the series was otherwise exactly the same as before. The next issue's installment is written by Roy Thomas but still drawn by Gene Colan. Even with Colan's artistry, however, this new space-themed superhero was a hard sell. Nowadays, if modern readers are aware of the current Captain Marvel's precursor at all, they likely don't know, much less remember, his original lame green-and-white look; he also went from fit middle-agedness with short, white hair to the '70s surfer star god we all fell in love with in Jim Starlin's "Thanos War," which really kicked off Bronze Age Marvel Cosmic, in 1973—sorry, Roy Thomas, "The Kree/Skrull War" wasn't the one; although that was Mar-Vell's first big, classic story. And to be fair, his blue-and-red costume with the starburst, the legacy look, debuted in 1969's Captain Marvel #17, a response to flagging sales on the title; the design was by Gil Kane* (and colorist Michelle Robinson, about whom nothing else seems to be publicly known). But the flowing blond hair would have to wait till Starlin, which at this point in history is probably Captain Marvel's real claim to lasting fame—as that's clearly his greatest gift to his boy Teddy.
(*Kane would also soon revamp Adam Warlock's look, forming the basis for what Starlin started with, and then, also with Thomas, introduced Iron Fist in 1974; he'd already long since established his industry cred, first in 1959 with the reinvention of DC's Green Lantern for the Silver Age, along with writer John Broome, and then doing the same for the Atom in 1961 in collaboration with Gardner Fox.)
Really, though, Marvel publisher Martin Goodman simply saw it as fitting that the Captain Marvel name should belong to his company, although it had originally belonged to Fawcett Comics, which in 1940 had introduced the first Captain Marvel of superhero comics (along with the Marvel Family, Billy Batson and Shazam)—which they had to cease publishing in 1953 after being sued by DC precursor National Comics for his close similarity to Superman and for blatantly plagiarizing some of Supes' own adventures. But Marvel didn't snatch up the trademark for quite a while, not until 1968, two years after short-lived company M. F. Enterprises published their own very lame Captain Marvel android hero. Goodman's strategy here was simple: Publish Marvel's own Captain Marvel comic hot on the heels of the previous company's closure and settle with publisher Myron Fass for $4,500. Case closed.
It was also the first time that Marvel had the word Marvel in a comic title (at least since the Golden Age, since Goodman published the Marvel Comics and Marvel Mystery Comics series under Timely Comics, his first publishing venture; Marvel would be his third lucky try at it starting in 1961).
(In a sad twist, however, Carl Burgos, creator of the Golden Age Human Torch in 1939's Marvel Comics #1, the rights to which he lost to Marvel, also created M. F. Enterprise's android Captain Marvel. Still, he remained in comics for life. Unsung hero? Might-have-been? Happily unambitious?)
The most fannish, the fannishest, Marvel comics writer of the Silver and Bronze Ages, Roy Thomas, who took the reins on Captain Marvel's adventures one issue after Stan had introduced the character, would even bring in eternal fanboy Rick Jones to be the Billy Batson to Marvel's own Captain Marvel—because he was just that much of a fanboy himself. This silly homage would quickly overstay its welcome, going on much too long, to the irritation/bafflement of most readers. That pairing was no shazam worth the name! That's why Rick's catchphrase would instead be: "Faaaan-tastic!" Get it? (Okay, who knows if it was meant to be a pun, but it's impossible not to hear the wheedling geekiness squawking its preadolescent fervor down the decades; oh, what mythopoeic icons our elders' wild youth has left us grappling with to this day.)
Okay, so what about this Captain Mar-Vell guy—what's his own story? Well, he's a Kree warrior; remember, Kirby created the Kree (Stan probably had a little input but FF had really become Kirby's workshop of ideas), and now Marvel wanted to figure out how to put Kirby's wild concepts and designs to work in titles of their own. To do so, they had to be storyable, at least in Stan's terms, which meant easily digestible, although to most readers the more apt term would be "indigestible," full of cliched melodrama familiar from any number of other forgotten pulp adventure and romance magazines. The Silver Surfer would undergo the same process in 1968, as well.
However silly the debut of Ronan and the Supreme Intelligence read in Fantastic Four #65, then or now, it was freaky fun compared to the dry-as-dust Mar-Vell and company: Mar-Vell's girlfriend Una, a medic, has caught the eye of Colonel Yon-Rogg, who sends the captain on a one-man mission to conquer Earth, intending him to die, of course, so he can win Una's affection without competition. Apparently, he wasn't concerned that such a crap invasion plan would alert Earth's defenders to the Kree's hostile intentions (again—though it's not clear the FF ever actually warned anyone about them, beyond the public seeing them attacked by Ronan in Manhattan; maybe they didn't want to scare ordinary folk with evidence of alien life).
Mar-Vell is armed with only a uni-beam gun, which he believes more advanced than anything on Earth (apparently, neither the Supreme Intelligence nor Ronan warned him about the FF). But while he's not superpowered back home, relative to Earthlings, Mar-Vell's physique is superhuman because the Kree live under higher gravity (in fact, Stan says the entire Kree galaxy is under greater gravitational force, which doesn't make any sense); so yeah, a lot like Superman, he's naturally super everything on Earth. However, he can't actually fly; he just leaps far. But if he stays too long on our planet, he becomes just like us—unless he takes special medicines. Sure.
And why conquer Earth now? Why, for exactly the same reason Ronan came to punish the FF—for destroying one of their precious Sentry robots, even though it was sleeping away the millennia doing nothing. Now, the Kree want to punish the entire planet for this heinous crime. Unsurprisingly, though, Mar-Vell's second appearance, with writing duties now taken over by Roy Thomas, sees our hero immediately taking the Mary Sue route: He's come to Earth simply as a visitor, studying the world and humanity until his imperial masters make up their mind about what to do with us. He checks into a hotel, quickly deciding to pass himself as Mr. Marvel, thus obscuring his alien name.
As for his first conflict on Earth, we see the Kree Sentry polished off and booted back up to wreak havoc at Cape Canaveral—which the heroic Mar-Vell immediately feels he must put a stop to even though the FF doing the same thing is what prompted his people to put together their amateur-hour invasion plan.
Is this actually the devolution of Marvel Cosmic?
Colonel Yon-Rogg, frustrated that Mar-Vell still lives, tries to kill him himself, firing a laser beam down from space—but he instead downs the plane of scientist Walter Lawson, whose blandly handsome features bear a striking resemblance to Mar-Vell's own! No longer does the Kree spy have to rely on his own lame imagination for a cover identity; he'll just take over Lawson's. This alien spy business is easy-peasy.
Of course, it'd be pretty sad if Mr. Lawson's contribution to Marvel history was just his convenient death—but soon, Roy Thomas will flex his genius for recycling in lieu of inventing, revealing that Lawson had invented a few lethal pieces of tech for the underworld Organization, which Mar-Vell will spend a few issues fighting off.
But hey now!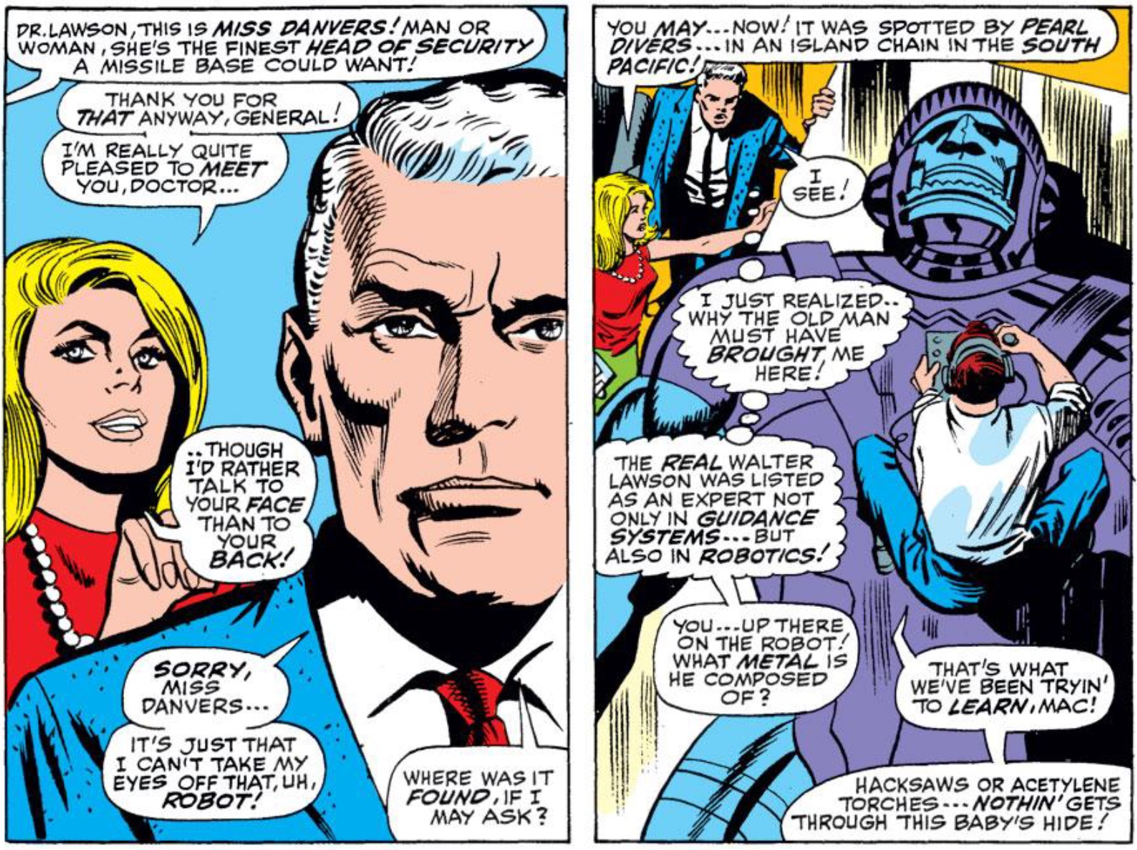 Roy did give us Carol Danvers, debuting in Marvel Super-Heroes #13, as head of security for the site now known, thanks to our previous chump in command, as Cape Canaveral Space Force Station. And yeah, that's pretty progressive to have a woman in such a position of authority in the late '60s. Even so, someone had to regularly show up as Mar-Vell's romantic interest, and with everything being space-themed, well, she couldn't very well just be, like, a go-go dancer or society girl. Seriously, though, this would eventually turn out to be quite the serendipitous decision on Roy's part.
However, what makes this material hard to revisit just for fun is the art—which might be shocking to fans of Gene Colan, a classic artist of urban adventure, especially in Daredevil and Captain America. But his talent was not for science fiction and space opera. And if you're tracing Marvel Cosmic's evolution, the transition from Kirby to the first handful of Captain Marvel stories is really jarring. Colan's work here just falls flat, like he was going through the motions, dreaming of getting back to his comfort zone. Fortunately for him, he's off the title after issue #4. Unfortunately for Captain Marvel, this is the best it gets until Jim Starlin arrives a few years later (though that gap makes it easy for us to skip over; Ronan does show up frequently throughout the series, the imperial zealot Yon-Rogg couldn't hope to be, and thus providing more tension as he urges Mar-Vell to get on with conquering humanity already—with the title's cancellation in 1978, he'll disappear completely from Marvel Comics for a full decade).
II. Silver Surfer goes solo—and meets the Badoon, and then Mephisto (Silver Surfer #1-3, 9-11.1968)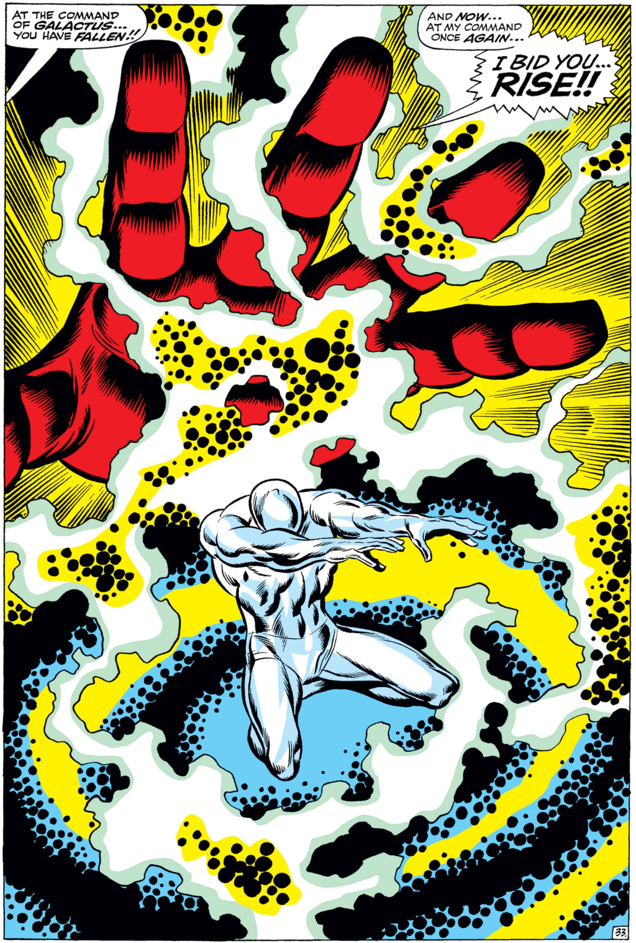 Sadly, Big Daddy G's fallen Herald, already an established fan-favorite, then the most popular at Marvel without his own title (unless the Thing counts, even though FF is almost half Ben's book, all told) would prove to be much less critical to the growing storyworld of Marvel Cosmic than the much less interesting Mar-Vell (that conservative gent's dream of a polite white eugenicist utopia).
With The Silver Surfer's inaugural solo issue written by Stan Lee and drawn by John Buscema, the Surfer is no longer purely a Power Cosmic creation out of Galactus' quiddity—as Kirby had conceived him. Instead, under Stan's conception, he was once an ordinary (but vaguely long-lived) mortal, from the planet Zenn-La! One day, the childish legend of Galactus turned out to be a waking nightmare when the Devourer arrived hungry for Norrin Radd's fecund world, one which Norrin had long been in despairing boredom of, for advanced technology had made life effortless (and, in their static 1950s American-style dream of the future the Zenn-Lavians had apparently permanently cemented the same exact dominant gender roles recognizable to anyone from 20th-century Anglo-America). Incidentally, this is Kang's own backstory recycled almost exactly, really just diverging where one discovers time travel and the other is faced with Armageddon.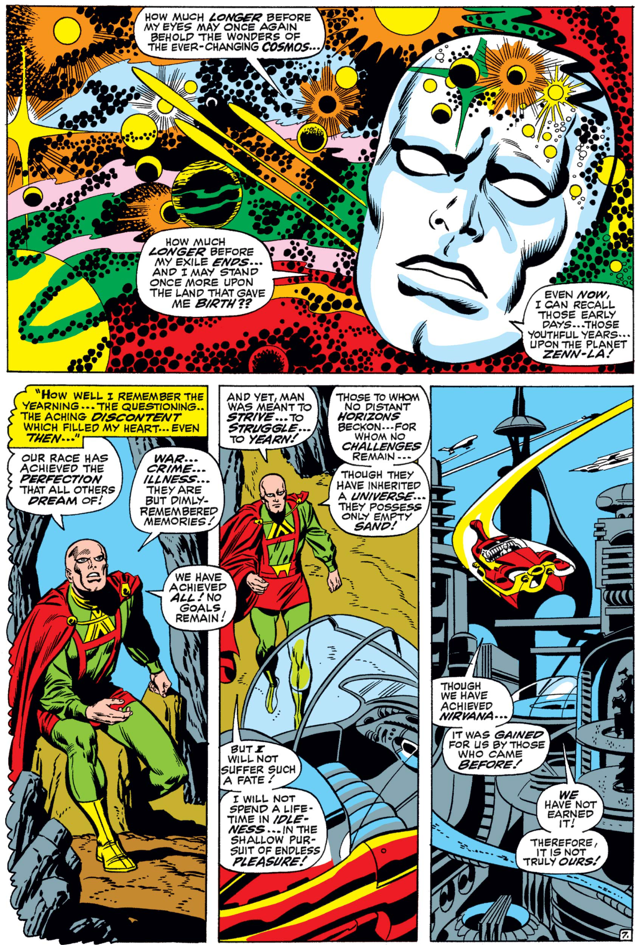 Great Buscema art, albeit rendering another version of that polite white eugenicist utopia mentioned above, albeit a smoothly hairless one (homogenously marking cis-het gender identities, no less; note the lack of hair seated in Zenn-Lavian parliament):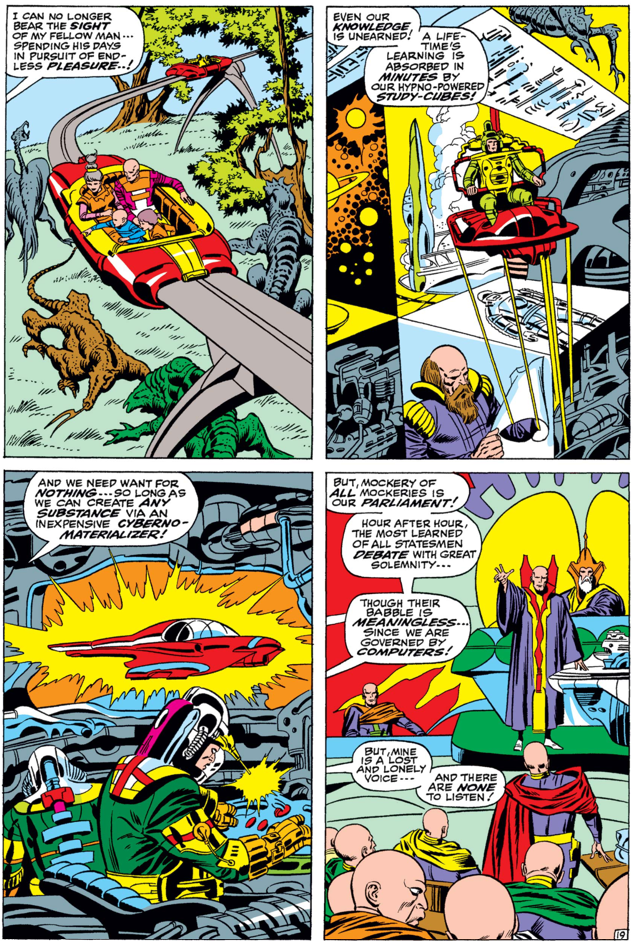 Faced with the legendary threat of Galactus (at last, something for Norrin Radd to get excited about, since clearly hottie Shalla-Bal ain't doing it for him), the super-science menfolk unleash of their "Weapon Supreme," to no avail—merely destroying most of their own planet, and allowing Buscema some wild visuals.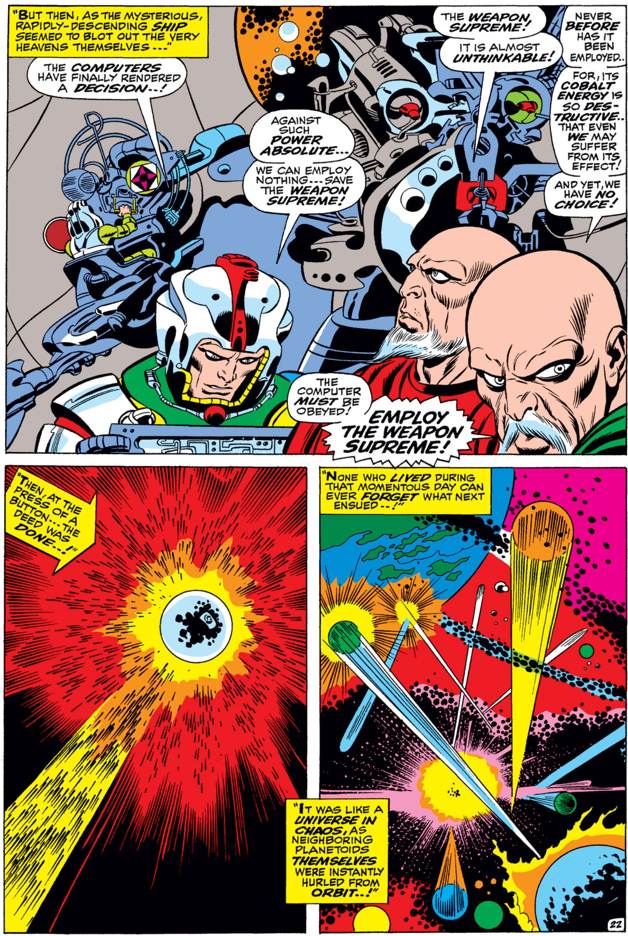 Alone among the Zenn-Lavian menfolk, the noble individualist (that impossible thing in that homogenous tyranny of stasis and ennui), Norrin is champing at the bit to sock it to the Big Daddy Eats. Of course, harnessing the new super-science tech of the supposedly lackluster scientists he's always made fun of although he clearly doesn't know how to make anything himself), he doesn't even put a dent in the Devourer's day, not yet anyway. It's his nobility of spirit that wins through, now that he's up close with He of the Great Appetite, who's been shrugging off responsibility for eating inhabited worlds (whaddayawant, guy's gotta eat sometime); Norrin's solution is simple and inevitable, offering to become Galactus' Supper Herald, if he would spare his beloved Zenn-La.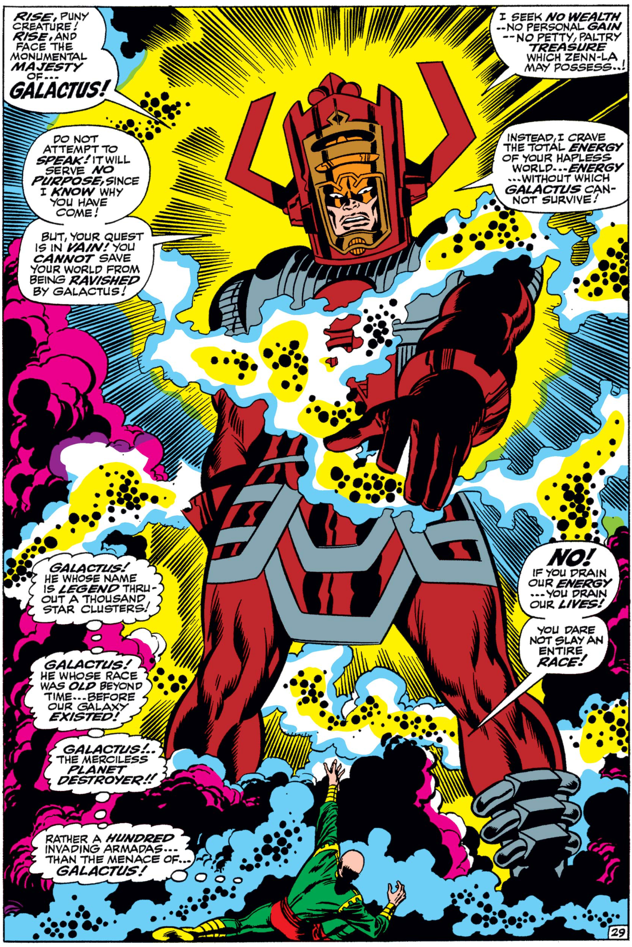 Really, though, readers will repeatedly be told in very clear terms that this bored romantic is doing exactly what he has always wanted: escaping his dull home-world (and the beautiful, ever-wilting Shalla-Bal whom he clearly doesn't actually love); the Surfer's dream would only come crashing down if he had to serve to his master any world supporting sentient life (I don't think anything's explicitly said about non-sentient creatures, biological or otherwise). But that is exactly what almost happens in his debut story, "The Galactus Trilogy" (FF #48-50), wherein his original very remote and detached characterization obviously doesn't jibe with Stan's reinterpretation.
Witness the moment Norrin abandons a traumatized Shalla-Bal in the immediate aftermath of the desperate Zenn-Lavians wrecking their planet by firing off the Weapon Supreme: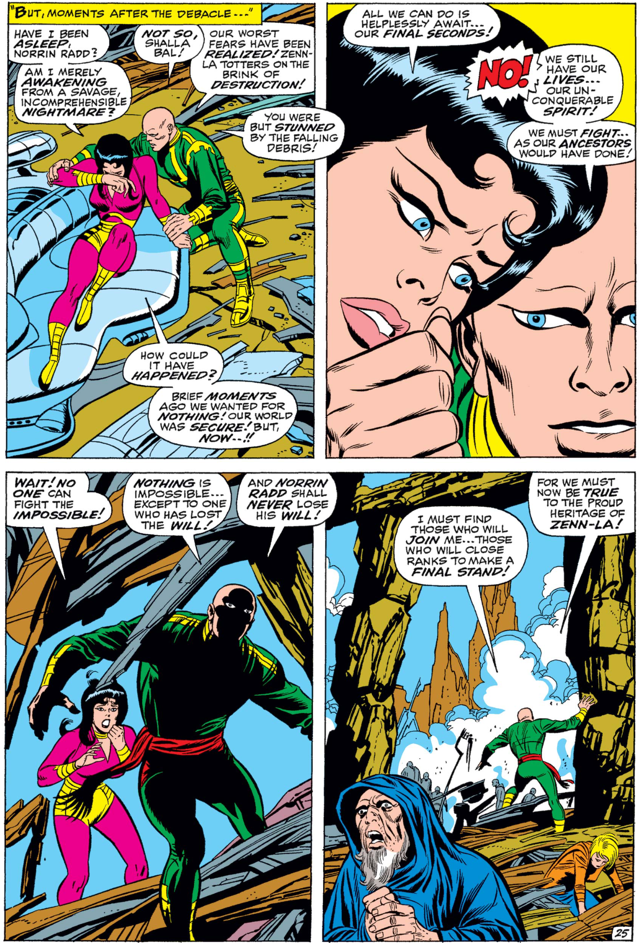 Sure, it all works out perfectly, except for Shalla-Bal, but we still might wonder at Norrin's behavior here; perhaps those not quite at his stratospheric level of nobility must be handled brusquely for the greater good.
So, it turns out the Silver Surfer has always had a complex, recognizably human conscience. This direction may have been compatible with Jack's vision for the character, except that I think his version would have started off as that blank slate we got in "The Galactus Trilogy"; the Surfer's subsequent appearances in FF, however, are clearly in retrospect Stan's early attempts at appropriating this tabula rasa figure for his own increasing penchant for soapboxing about all the banal evils of man (none of which is rigorously examined, ever), indulging in high melodrama through the proxy of this cartoonishly "pure" and messianic figure.
Neither is there much coherence and consistency in the world-building of the Surfer's retconned origin. Having once been of the mortal (albeit vaguely long-lived) Zenn-Lavians, and his contemporaries still alive up to present day, he can't have been Galactus' Herald for that long, not for countless millennia, anyway. While I'm not sure exactly where Zenn-Lavian life expectancy is established, Stan certainly doesn't do so within the first few issues of Silver Surfer—truly, what matters the Man here is his opportunity to soapbox, endlessly, about the banal evils of mankind (yes, let's use that old-fashioned term here), for 18 issues.
This was the definitive direction Stan wanted for the character—and Kirby was actually disinvited from working on the series despite having started work on the first issue. In fact, I believe it was this project that finally broke Stan and Jack's already strained professional relationship; by this point, they certainly weren't friends, and it was around this time that their collaborative dynamic had begun to deteriorate rapidly, although Jack still had almost two years left on FF and Thor, and as he was wrapping up those all-time runs he was invited back to draw Silver Surfer's last issue.
Now, beyond the Surfer's revised and still-canon origin story in the first issue, what does this unique series provide in terms of entertainment and lasting world-building elements? Well, other than the Badoon and, um, Mephisto of all the devils in space*—nothing at all. Except Buscema really gets to show off throughout, which is great. Unfortunately, Stan is the real problem with this title, specifically Stan's version of the Surfer, which is why no one really reads it anymore; there's no comparison between this iteration and the second (or third if you're counting the 1982 Stan Lee/John Byrne one-shot, pure nostalgia) that begins in 1987 and soon leads into Infinity Gauntlet (not that on the whole it's consistently the hottest thing since toast).
*A passing thought that instantly put me in mind of a full-on space horror book from the Silver Age—but that's just my imagination; it doesn't exist, but now I must spend the rest of my life searching to be proven wrong, to discover this decadent pop-culture artifact that should have been inevitable but never happened because the '60s really weren't all that. Please, universe prove otherwise; bring me Space Satan wreathed with Kirby Crackle, 102 issues of dread and wonder in obscene congress.
Instead of the Great Space Satan—just too good to be true—what Stan left us with here is Mephisto, who's let's say at least Cosmic-adjacent. He debuts in issue #3, and to be honest it has nothing to do with space. The Surfer is on Earth getting upset about humanity, again, the devil takes note, attempts to corrupt him and predictably fails—Stan's Surfer is by far his most Mary Sue character, he's just so pure, simple and good—despite initially tempting the Surfer by bringing to him, magically, his long-lost Shalla-Bal.
Mephisto would become most famous in Marvel Cosmic history for rubbing shoulders with the Mad Titan, trying for mordant space comedy, since how else could he share the stage with far more impressive entities whether cosmic (Thanos) or abstract (Death). But long before Jim Starlin's Infinity Gauntlet, the devil was, oddly enough, the most prevalent antagonist of the original Silver Surfer series. Still, there's nothing cosmic about it; he simply can't stand the thought of allowing the Surfer to model his nobility of spirit for humanity when fallen mortals are Mephisto's necessary diet, not an unlimited resource he's willing to share.
Designed in the most clichéd style of a vaudeville devil (though elegantly rendered as such by Buscema), Mephisto is just another trope for Stan to deploy in his 18-issue saga about a tormented messianic figure who is both impossible purity and insufferable temper tantrum simultaneously.
Even so, Mephisto has always had crossover appeal: he moves through all the Marvel mythologies, grumbles in envy over the more powerful or fundamental abstract entities of the Multiverse (as well as ineptly wooing Death), has even tried to weasel the Beyonder of his/its godlike powers and really has it in for a particular silver-skinned alien. As revealed in 1990's Silver Surfer #44-45, Mephisto is descended from the Multiverse's first sentient beings, an ultimately "evil" demonic race of the First Cosmos—or is simply one of those original demons reborn in the current iteration of the Multiverse (or rather, prior to Secret Wars (2015), the sixth; that initial Cosmos was not a Multiverse—just a universe, or a lonely guy named Nemesis—so the Seventh Cosmos was the sixth Multiverse; see the above issues and Thanos Quest #2, all by Starlin).
Again, Buscema's art is a real treat—elegant and dramatic, but a bit wasted on a title that's not space horror, the styles for which he was best suited were anything gothic or romantic, though Shalla-Bal's return to Zenn-La, following her abduction by Mephisto and some Stan the Man-brand allegories, provides a perfect moment for Buscema, with the suddenly supernatural Shalla-Bal seeding new life wherever her bare feet touch the barren soil of a world wrecked by a weapon of last resort.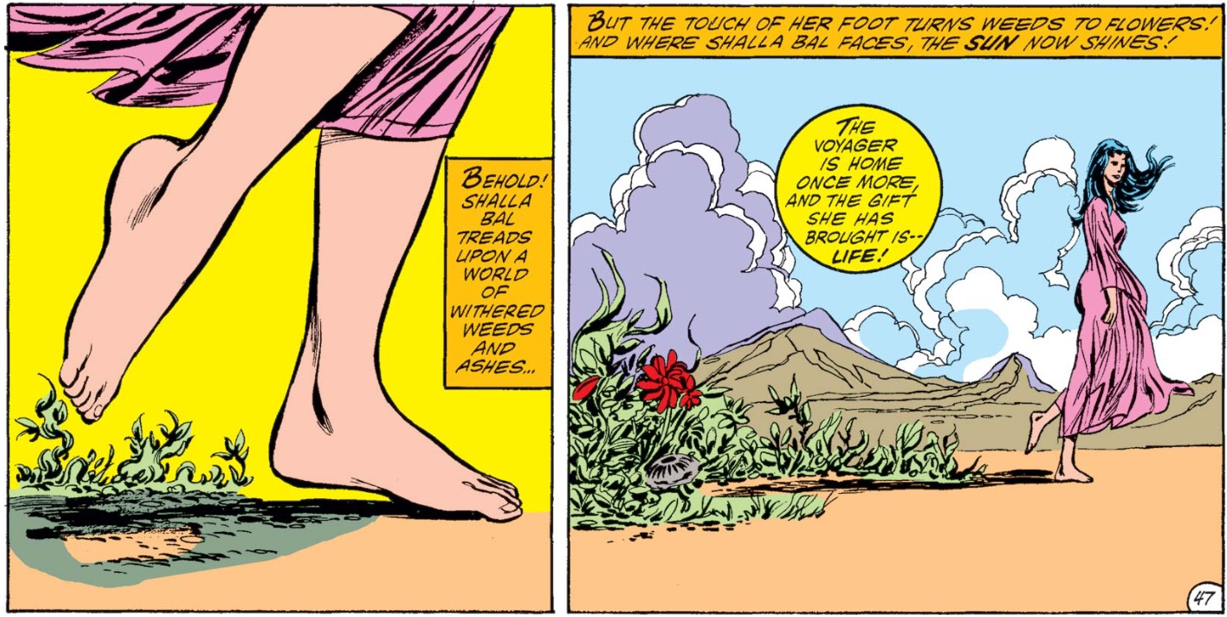 The Badoon, debuting in Silver Surfer #2, are more directly relevant to Marvel Cosmic, the fifth alien race Marvel introduced that had any staying power beyond the Silver Age (after the Skrulls, Watchers, Rigellians and Kree; notably only one deviation from "Earth-standard" humanoid, the Skrullian, was given any focus and depth for decades. Readers would really have to wait until Chris Claremont for a significant advance, with the Shi'ar and the totally nonhumanoid Brood. (And as we noted last time, whoever can claim Blastaar as in any way representative of their people, they really haven't been developed with any interest or originality.)
In other words, the Badoon, cruel reptilian humanoids, haven't enjoyed much development since 1968—until very recently! But I haven't caught up with this year's "Reckoning War" event and can't speak to that. However, the Brotherhood of the Badoon, their surprisingly small cadre enacting a one-world government, or presumably a unified interstellar empire, is also now known to have annihilated Gamora's people, Gamora being the last of her kind (see the 2017 Gamora mini with stunning art by Marco Checchetto); and if you want to include the alternate far-future of the original Guardians of the Galaxy (whom we'll cover soon), the Badoon of that time have recently brutally conquered the human solar system.
But as in all these stories, the why and wherefore of the Badoon invasion plans don't bear reasoning out, not that any of Marvel's other alien peoples quite persuade us to the reality of their societies; they're typically much too flattened out, but the Badoon's debut is as about as cartoonish as it gets. Unfortunately, there's little inspiring in their design to distract us from the hackishness of everything in the comic—except for Buscema's art, the only thing that saves it. But think how different this is from Kirby's wild designs for almost wholly original aliens. The aliens Buscema gives us wear almost nothing, and thus have no fashion, whereas Kirby's extraterrestrials always compelled with their outré strangeness; even in their couture, Skrulls and especially Rigellians boldly announced their foreignness, even while tapping into something both new and classic in 20th-century modern aesthetics and pushing it in a quirky pop-art direction. It's a rare talent that blazes their own cosmic trail in which so many others will follow after in wonder, confusion and defeat. (Someone today like Tradd Moore has the masterful chops and free-flowing imagination for such a career, but there's the overwhelming problem of belatedness, with the many fields of the industry so oversaturated already; but see Moore's 2019 Silver Surfer: Black mini with Donny Cates for the greatest Surfer adventure of the past 30 years.)
Brother Royal, introduced here as basically the Badoon emperor, has barely over a dozen appearances before getting killed off in 2016, near the end of Brian Michael Bendis' Guardians run. Also debuting, the Monster of the Badoon is the first instance of a whole breed of monstrous, mass-engineered super-soldiers.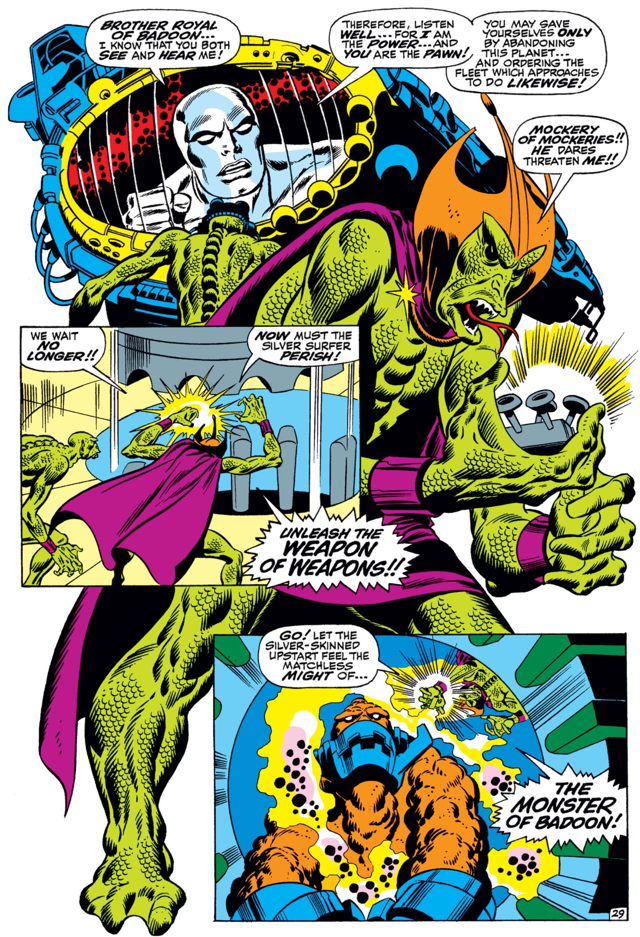 By the way, Silver Surfer #1 wasn't just an origin story. What else did it do with its 37 pages (the next two are 40 each)? Well, he gets attacked by Yetis in the Himalayas (they're no better than people, I guess) and then a bunch of stuff makes him upset about humanity and his lot in life, and he ends up saving that guy that Spidey saved in his own Amazing Spider-Man debut issue. (That Colonel John Jameson lives to be rescued by heroes proving themselves for the first time—and sometimes, as an afterthought, he remembers he can turn into the Man-Wolf, but only does so briefly, and even less those days, having long realized that no one will ever care.)
Issue #4 sees Norrin encountering Thor, Loki, the Warriors Three, etc.—so not this series isn't trying to expand Marvel Cosmic. Oddly enough, that's Thor's role at this time over in his Kirby-helmed title, where he's about to set off for space and an epic three-way confrontation with Ego and Galactus, coming soon.
NEXT TIME: Mangog and Annihilus!