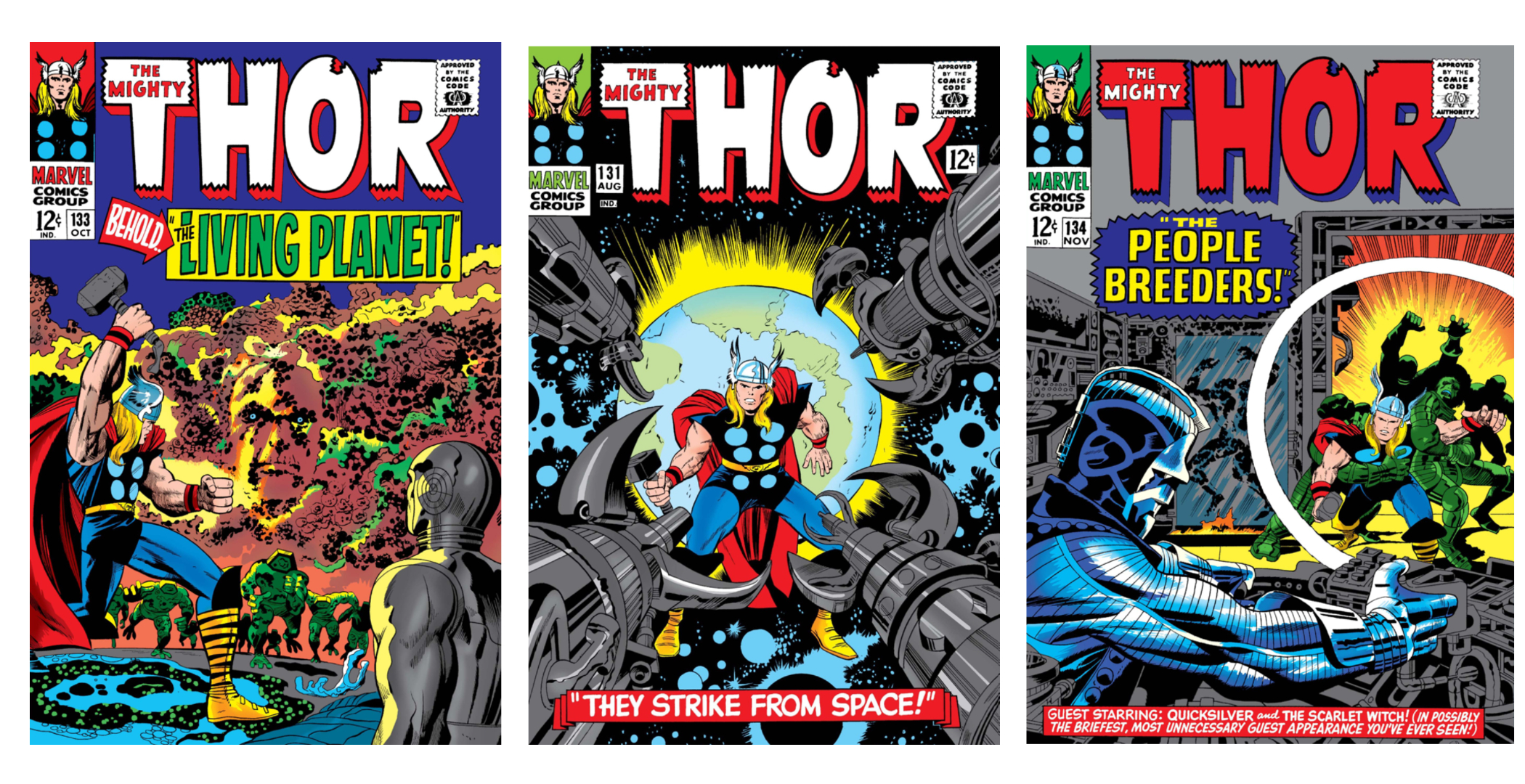 [covers & interiors by Jack Kirby (p), Vince Colletta (i), Stan Goldberg (c), Artie Simek/Sam Rosen (l)]
Part 3 of this "Evolution of Marvel Cosmic" series is here, along with links to previous posts.
Before the introduction of the imperial but adorable Rigellians—of the fictional galaxy Rigel, a name taken from a real star in the Milky Way, part of the Orion constellation—Jack Kirby and Stan Lee's Thor comics were thoroughly rooted in two things: a pulpy, streamlined reinterpretation of Thor-centric Norse myths, squeezed into backstories (excellent stuff, really), and very silly, mostly mundane villains for him to fight (like Cobra and Mr. Hyde)—but there was a lot of potential with screwball ideas like the Absorbing Man (imbued with Asgardian enchantments courtesy of the God of Lies) and having the Nordic Thunder God encounter the gods and heroes of Ancient Greece (Ares and Hercules).
But with the Journey into Mystery/Thor title primarily borne out of Kirby's passions more than Stan's, it was inevitable that the series starring a being who could withstand the rigors of space would eventually go cosmic. Kirby was clearly fascinated with Norse mythology, but several years in on Thor, he'd amassed substantial reworkings of that source material (a serious accomplishment in the history of the medium that no comics reader should pass up). So, it seems it was time for the King, at the height of his powers, to merge his mature stylings—the mythic and the cosmic. Really, his cosmos-inspired creations had always been rooted in a classical design sense, albeit often through the bizarro lens of midcentury visual pop culture (think Uatu in his toga but also Galactus with his space-kingly stature).
Still, Kirby's Thor would never match his Fantastic Four in terms of the sheer output of cosmic creations, but it was his only other Marvel work to significantly add to the evolution of Marvel Cosmic (unsurprisingly, given the relative brevity of his work on Avengers and X-Men). These two Kirby runs were the bedrock of his reputation in the 1960s. (To be sure, his work on Captain America, beginning with Tales of Suspense, is also a major accomplishment.) But while I'm deemphasizing Stan's contributions here, there's no doubt Stan was the other half of the equation on these titles—but maybe it was a bit less than half, on average.
Support For Comic Book Herald:
Comic Book Herald is reader-supported. When you buy through links on our site, we may earn a qualifying affiliate commission.
Comic Book Herald's reading orders and guides are also made possible by reader support on Patreon, and generous reader donations.
Any size contribution will help keep CBH alive and full of new comics guides and content. Support CBH on Patreon for exclusive rewards, or Donate here! Thank you for reading!
Part of the cliché about these two very different creators is that Stan was the gregarious down-to-earth guy, quite a contrast with quiet Jack's serious but always dynamic cosmic ponderings. The heart and soul of Stan's achievement is his Amazing Spider-Man run with first Steve Ditko and then John Romita Senior, but while there are clear Stan Lee elements on every page of dialogue in his Fantastic Four work and myriad other titles, it was really Kirby who fueled that book and Journey into Mystery/Thor.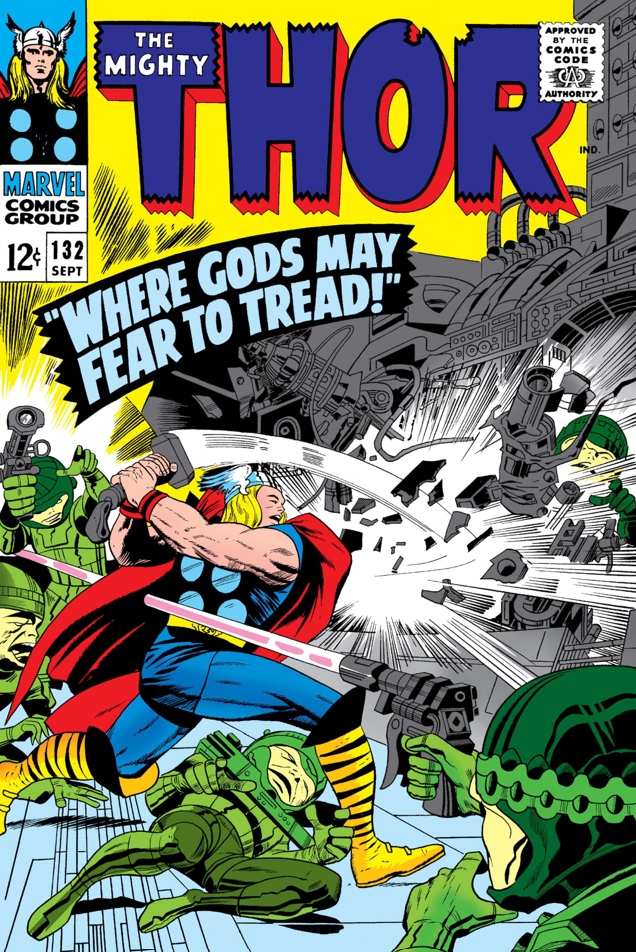 Let's put it this way: With each of these titles, Stan was sort of stuck coming up with lines for Sue Richards, Jane Foster and Sharon Carter—whereas Jack was just drawing these underserved leading ladies into scenery rather than making them generative of story. Stan's banter, by turns melodramatic and cheesy, often both simultaneously, brought these stories down to earth, at least a little bit. I'm not saying Stan's imagination wasn't capable of highly original (as well as lazily derivative) gonzo zaniness, but his work without Kirby or Ditko was nowhere near as remarkable in terms of introducing classic, larger-than-life characters.
And while it took a few years before Kirby was ready to use Thor as another seedbed for Marvel Cosmic, which was still at least a decade away from being identifiable as an almost wholly distinct venue and mythos within the wider MU, he'd already been on a white-hot streak of creativity, matched at the time only by Fantastic Four and Amazing Spider-Man. After introducing the alien society that would admittedly turn out something of an adorable C-list creation, he gives us Ego the Living Planet and then the High Evolutionary, both third or fourth-tier, as well—but this is after giving almost all we know of Marvel's version of Asgard and some classic Thor villains. Soon, Galactus will show up for two three-issue story arcs (one of which includes a fairly lame one-issue origin story), making Big Daddy G one of Thor's big features of the mid/late 1960s, on par with his handful of appearances in Stan and Jack's FF; Super-Skrull will appear in a couple issues, more accomplished by far than his first pair of one-offs; and the Kirby Thor run climaxes with the debut of Mangog in 1968, a sublimely grotesque melding of the mythic and the alien.
But well before we get to the high drama of that late Kirby Thor yarn, let's dive into pure zany fun, first with the imperial Rigellians, then the Galactus-level threat (from the Rigellian viewpoint) of Ego the Living Planet and the sudden wild curveball of the High Evolutionary and his "uplifted" New Men.
I. The Bizarre Revelation of Rigellians on Planet Earth! (Thor #129-131, 6-8.1966)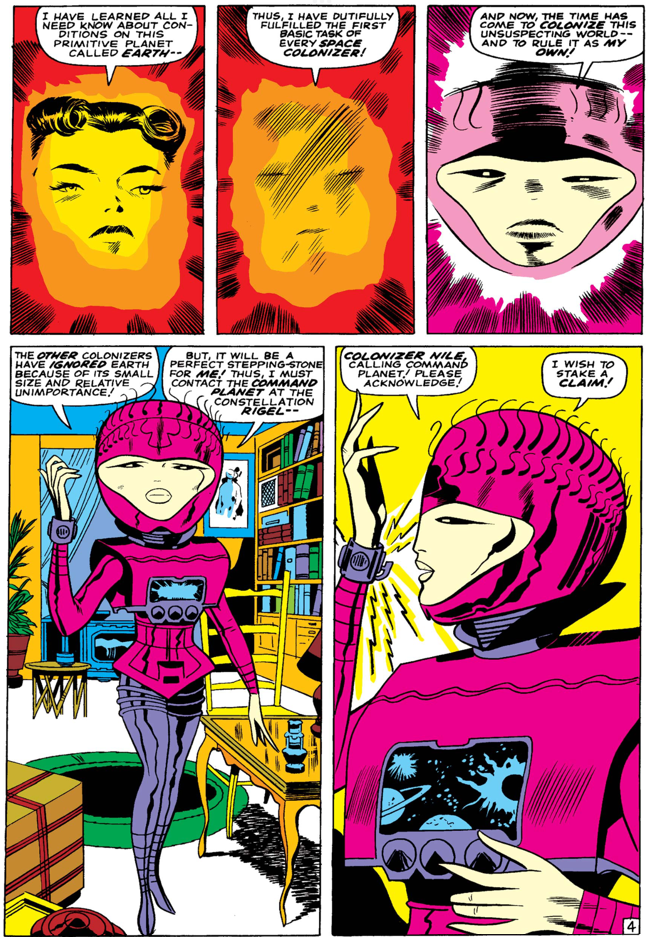 [If this image strikes you as insultingly orientalist, even racist in how the artists decided to depict this humanoid alien, you're not alone! Has anyone ever really brought this up, though? Nope; at least not on the Interwebs. Maybe you want to give them the benefit of the doubt, but then you keep seeing Rigellians depicted here according to grossly reductive and exotifying tropes Whites have long held regarding Asians. Call it a failure of imagination, intelligence and humanity; yes, even Kirby could fail, it's true! But while I'm not familiar with the evolution of how Rigellians were drawn and colored in the 20th century, at least in the past 20 years, more recent creators have often tried tone down caricaturist features but still maintain the original look overall – or simply draw Rigellians differently, more humanlike; certainly, they've not been colored with the same bloodless whitish yellow 1960s Marvel otherwise reserved for caricatured Asians, most typically either evil commies or hapless peasants.]
Like many other Silver Age Stan and Jack productions, Thor #129 doesn't just start in medias res—the story that begins to take shape does so only vaguely at first, and not until about the middle of the issue. Previously, Thor had been dallying with the recently debuted Hercules, strutting like magnificent peacocks for each other rather than actually fighting, belying Thor's boast to winsome nurse Jane Foster (perpetually entranced by the Thunder God yet disappointed in her true love, her boss, Dr. Don Blake) that he "acquitted [himself] with honor!" But mysteriously, Jane's new mysterious roommate, Tana Nile, appears, looking like Kirby might've intended her to be beautiful yet with a hint of the strange and weird, but it's really just the strangeness that wins out, emphasized further by the Asgardian princeling suddenly kneeling before this diminutive personage wearing a hairstyle that can't ever have been fashionable and accentuating the strangely flat-topped crown of her otherwise disproportionately spherical head.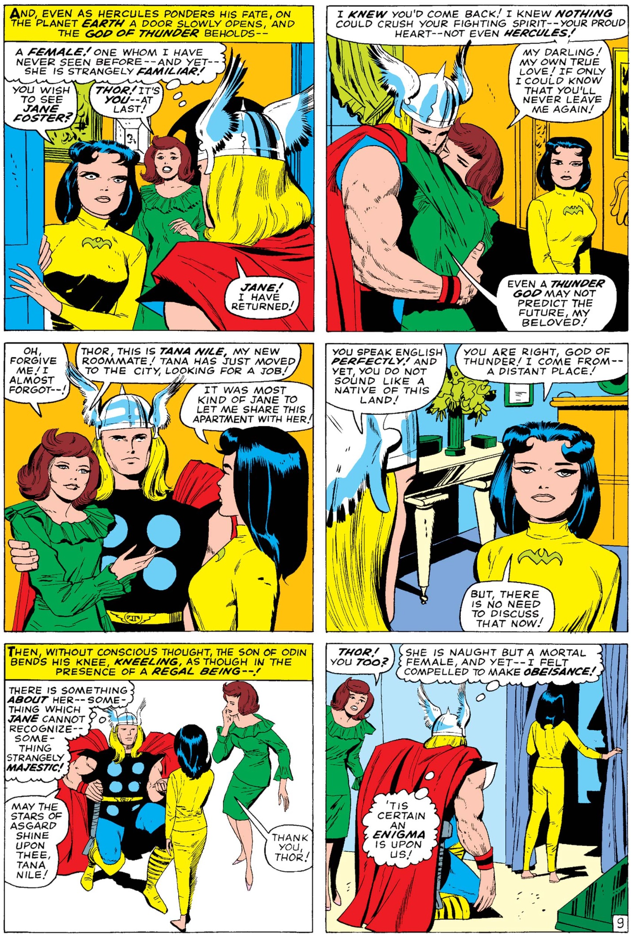 [Notice, then, that Tana is disguised as a white (human) lady – compare with above image.]
Thor's thoughts let us know he doesn't know much more than the reader as to why he's taken the knee, except that "there is something about her—something which Jane cannot recognize—something strangely majestic!" Jane's concern seems to be that Thor didn't do likewise upon first encountering herself and declaring, "May the stars of Asgard shine upon thee!"
But that's okay, because Tana is instantly forgotten as Thor turns to Jane to tell her he's off to Asgard to request his father's permission to marry his alter ego's employee—and thus permanently become Blake, upon renouncing his godhood. Or something. It's really not clear what Blake's fate would've been here, since this was well before the revelation of his true nature as a construct of Odin (in Thor #159), although Jane's world had recently been rocked by Thor/Blake revealing their shared existence.
Poor Jane! None of this works out well for her, possibly the most underdeveloped, neglected and abandoned Marvel love interest during the Silver Age (that qualification is, of course, critical since that means we don't have to directly compare her fate in the 1960s with the later fates of the likes of Karen Page or even Janet Van Dyne; Sue Richards at least couldn't be kicked off her own team permanently, though Stan and Jack did try it for a brief stretch, and Betty Brant managed now and then to step back with dignity from the abyss of irrelevance).
First, though, Thor realizes it's fate that he must help rescue that vain oaf Hercules from his movie contract with Pluto—the Lion of Olympus had been dazzled by the devil of Hollywood. Don't worry about it!
And don't miss the brief debut of Ares in issue #130!
Meanwhile, Tana Nile turns out to be a creepy roommate from hell when she easily convinces Jane to go take a hike and never come back home to her own apartment. Something is off, but it remains mysterious until next issue.
So, wait, did I say a new story was starting, one with cosmic relevance? Well, sure, um, by issue #131 we're starting to get there. First, the Thunder Princeling has to fight Ares, a much more likely foe for Thor than the lusty-lovin' Herc. But Herc's half-bro lucks out as he blows hot and cold with his bellicose boasts, because Odin's golden boy realizes he doesn't need to go making even more blustery foes at the moment.
Again, meanwhile, Tana Nile, now alone in Jane's commandeered apartment transforms into her true self—as her head balloons even more in softening grotesquerie, framed by a strange Kirby helm with little strands of hair for a crown or something (maybe gnarly psi-feelers, who can say?). In the original, her costume, something like a vacuum suit or robot chassis, and sort of potentially sexy, is green on yellow-green but sexier by far in the reprint in a pink on purple scheme. Two miniscule dots were also added for nostrils.
This is Tana's moment, now that she's commandeered lowly Nurse Jane's apartment, to commander everything else on the face of this backwater world! For Rigellians are born and bred to colonize the stars, as she soliloquizes in a high, grand manner (see again that first Tana image). And here the reader probably realizes that (beyond the racial stereotyping of the Rigellian visual design), Stan and Jack are writing pure juvenile comedy (which I certainly don't mean entirely pejoratively, except that I'm uncomfortably certain they meant the grossly stereotyping visuals to be funny, as well).
A nameless bureaucrat brays in response, almost 900 light years away (I wanted to look that up since all Stan says is that Rigel is "so distant it beggars our poor, mortal power of description") brays his response, seemingly echoing through the great open space of a gleaming post-Space Age city among the stars, bustling mildly with skinny little Rigellians scooting through the air on skimpy hover pads.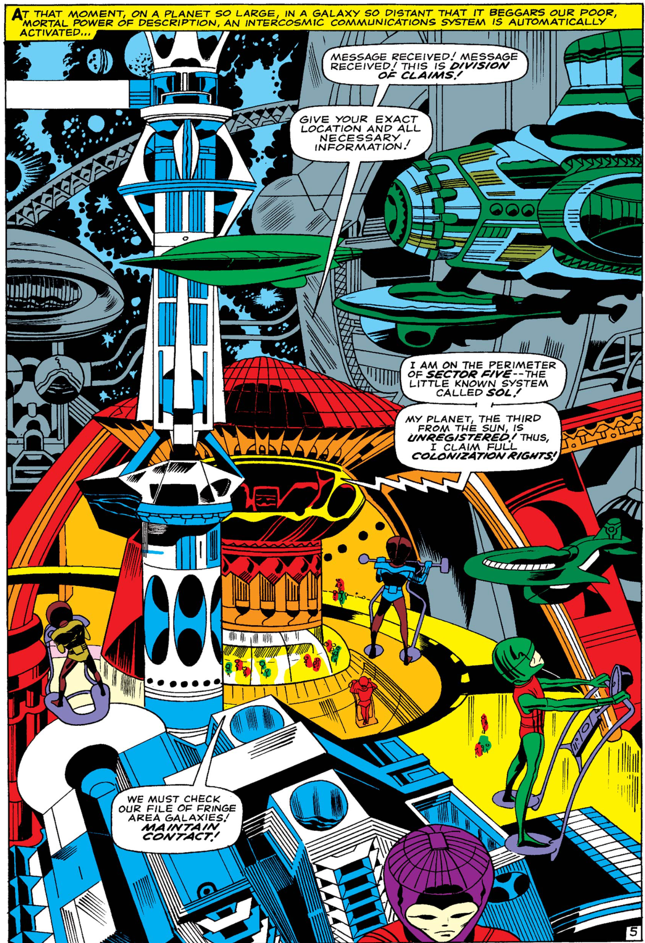 Readers get the sense right off that Rigel is a majestic hub of intergalactic imperial might! This was as heady as anything introduced in the pages of Stan and Jack's FF up until that time.
Yet where the Skrulls can be effectively creepy and have recently been reconceived so that creators aren't simply painting an entire sentient species as a race of super-creeps, the Rigellians have always just seemed like a lark—too goofy to be treated as real villains, even though they're avid imperialists. Unfortunately, little in the past 60 years has been done to develop their society and empire any further than what we get here in 1966. (Note that the Kree, whose debut we'll cover next time, have had quite a legacy since 1967, rivaled only to their Skrull enemies; like the later Shi'ar from the imagination of Chris Claremont, they've simply been more comfortable for White American artists, of course completely sidestepping the challenge of actually drawing advanced sentient aliens.)
Thor, meanwhile, stands by as his father trounces another Asgardian in a game of "Celestial Chess," and when at last he gets to the business of his visit, it turns out he need not relinquish his godhood, after all—because Odin, in the flush of his little chess victory, doesn't seem to have any problem with his son marrying a mortal; indeed, "And he who sayeth nay shall feel the wrath of Odin!" Like the classic Yahweh, however, Odin is nothing if not flighty, inconstant and temperamental.
Of course, when Thor returns "home" with the wonderful news, he finds not one but three Rigellians—and no Jane Foster! When he arrives, he destroys the outer wall of Jane's apartment making his entrance. Now, it's some pretty bizarre alien logic that Tana Nile decided to stay on there, even before she acted on—or rather, simply declared her imperial design to at once to an empty room and a far-off space empire—but she just assumed this god-tier being whom she already knew to be an immortal Asgardian, not an Earthling, would "waste precious hours searching for [his beloved] until [Tana Nile's] task was completed!"
But who needs practice subtlety when the standard Rigellian colonizer can perform "a simple mindthrust" to enthrall even a Norse god! Thus, Thor does at last bow before his "master." Yet one of her minions must fire "a proton coagulant ray" at "maximum intensity" to bring the immortal to heel in "an unshatterable cage of proton particles"!
These particles or whatever indeed coagulate into, well, an unshatterable glass cage? These two Rigellians aren't really Tana's minions, but rather inspectors come to inspect the world she's laid claim to and thence reward Tana ownership of a brand-new colony planet! The gift of a "wrist-control" "space lock" allows her to take total control of Earth "at will!"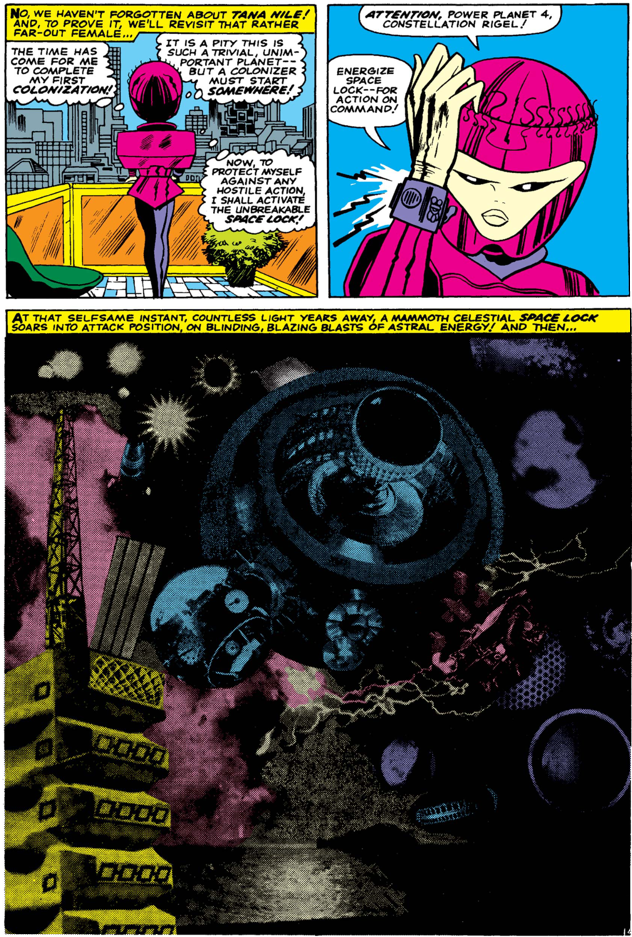 [Jack's following up here on his recent photo collage experiments in FF!]
Apparently, though, Thor's just biding his time, listening to the devious aliens, allowing them, however, to stow him aboard their ship and take off for the stars; but once he's heard enough, he swings Mjolnir, shattering the unshatterable—"No such artificial device can long restrain the son of Odin!"
Yet these anonymous bureaucrats have some awesome powers, like "the power of unlimited density," which arrives like a karate chop to Thor's liver, but much more powerful, for "a blow from an inspector is equal to the force of a cosmic tornado!"
This only riles up the Thunder Princeling even more, though. And while this is too early in Marvel history for readers to have seen Thor's berserker rage, he does for the first time here furiously declare himself "master of the storms of space!"
Thus ends the first issue revealing the cosmic menace from Rigel—with Thor's inaugural trip to the stars, already the "master" of their elemental storms!
Issue #132 opens with the Rigellian ship still on approach for "Sky-Station 14-R"—which a wondering Thor likens to "an earthly toll booth … guarding the route to Rigel!" But Stan's lines here certainly don't describe Jack's psychedelic metal-hulled sculpture in space; quite the odd couple, they were.
And hey, 900 light years in a couple of panels—get used to it, you Space Age kiddies!
When the Sky-Station's vid-link reveals no Rigellians on deck (they're out cold on the floor) but just this blond, red-caped stranger, they declare he's not a "colonizer"—"Therefore, you must be an enemy!" This is of course very sophisticated thinking for a Type III civilization.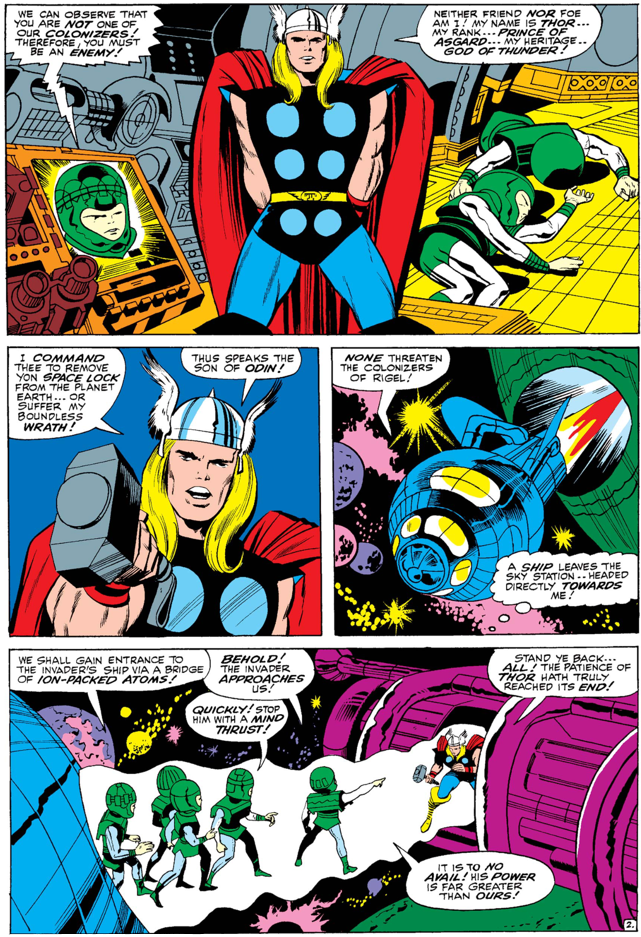 After Rigellian troops sent from the Sky-Station fail to dislodge the Thunder God (can't he fight in space?) they send in their Darkseid-lookalike (several years before Darkseid's debut when Kirby moved to DC)—"Indestructible," the robot! But Thor quickly manages to turn the robot's "immobilizer beam" in its fist back on itself; huzzah!
Meanwhile, Tana Nile strides the gritty streets of Manhattan! Pedestrians stop and stare, but she keeps quiet while assuming that she's simply "allow[ing] [her] subjects to recognize their new master!" She assumes that their "mystified" astonishment signifies their "helpless" acceptance of her imperial rule.
Really, she's simply been waiting for her "wrist computoscope" to tell her when "the space lock beam has completely encircled this planet!" When she decides it's time to declare her worldwide coup, a cop just happens to politely accost her while inwardly scoffing. So, he's the first to be told of the "new sovereign … Tana the First!" His befuddled response is pretty funny.
Back in Rigellian space, Thor gets the Rigellians to pilot his commandeered craft to "the space lock" that's holding Earth in Tana's thrall. There he encounters the Grand Commissioner of Imperial Rigel—who throws a curveball at the no-nonsense godling, and the readers! "Before you hurl your accursed hammer … heed my words! The fate of a galaxy now hangs in the balance!"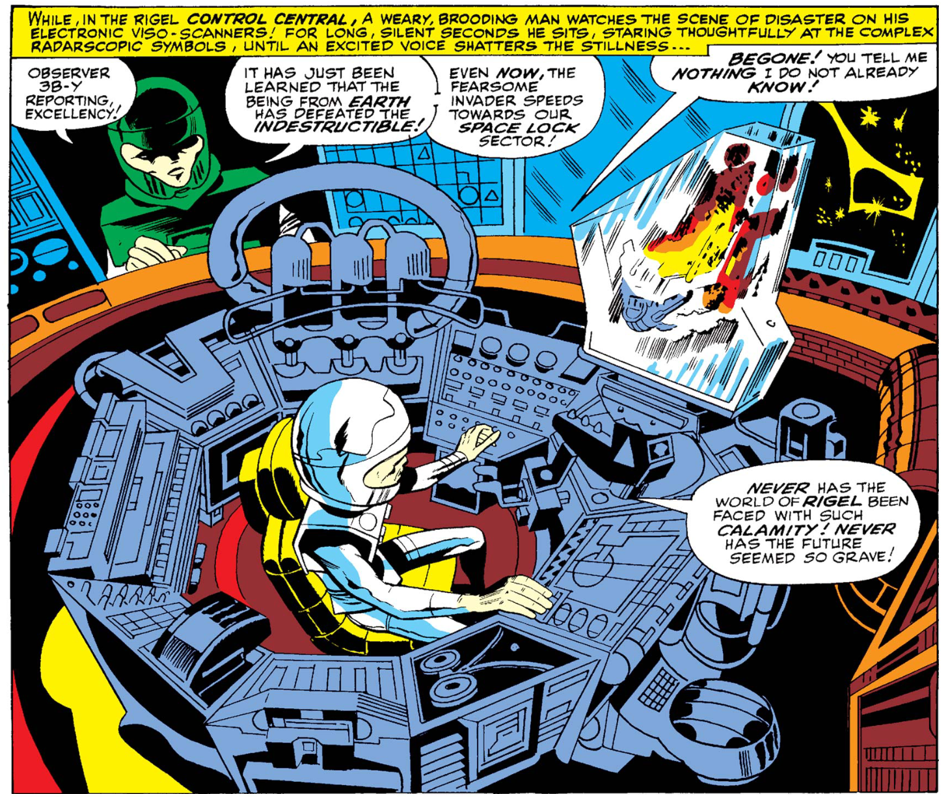 [Commish has got a killer space music production setup.]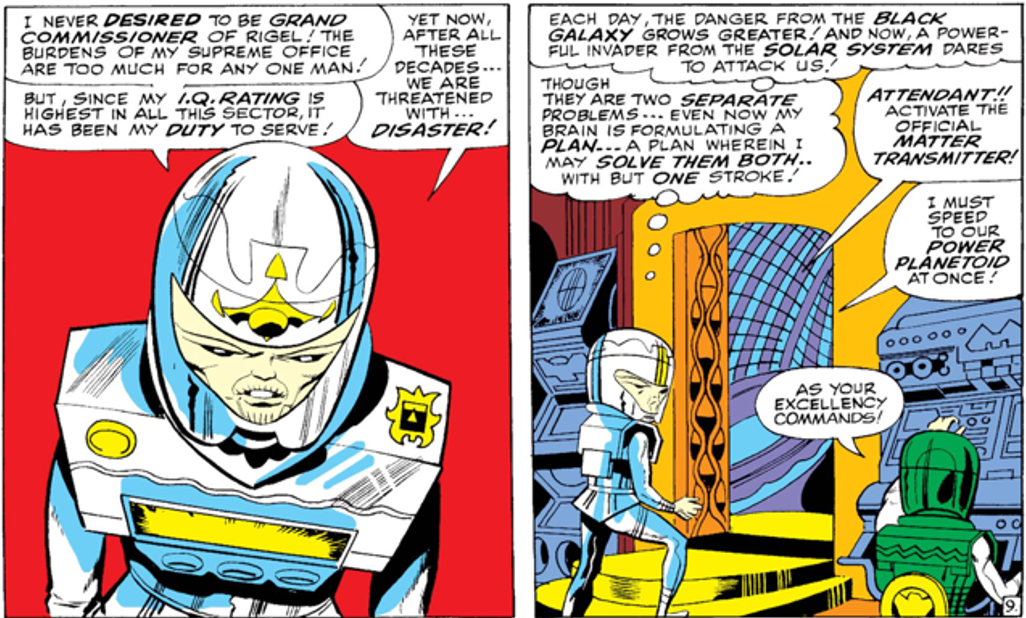 The Commissioner's brief characterization here is a nice touch from Stan, considering the happy(?) fate planned for Tana Nile, as we'll see later.
II. Ego the Living Planet (Thor #132-133, 9-10.1966)
Since entering Rigellian space, we've seen Rigellians here and there making muttered asides about something called a "Black Galaxy," which they seem to fear and dread to the same degree that the Skrulls live in terror of Galactus (and, since their first encounter with the Fab Four, literal comic-book monsters; see FF #2).
We even get one big panel of "a gigantic, heavily armed Rigel space cruiser attacked and destroyed by a deadly beam from the Forbidden Galaxy!" It's menacing purple ray that just seems to explode from the featureless blackness of space.
Now, the savvy, chrome-plated Commissioner makes the blustery Thunder God an offer he can't refuse and still call himself a hero to mortals everywhere: End the menace of the Black Galaxy—and the Rigellians won't colonize Earth. Of course, he'd have gone anyway, without the coercive terms.
And so, Thor's off to yet another galaxy—and how many light years it is from Rigel, who can say. Somehow, manned intergalactic trips need not have more than one crew member; here, it's humanoid robot Recorder, in his debut appearance, piloting Thor into "not a universe" (how another galaxy become another universe, again, we can only say Stan Demiurge Lee moves in mysterious ways!) but something "far more fantastic"—it's a "bio-verse!"—"an incredible universe composed of living, biological matter!" But the Black Galaxy doesn't itself appear to be the menace but rather a living planet! With an angry old white man's face (however purple-tinted in the de rigueur super-villain fashion of the Silver Age).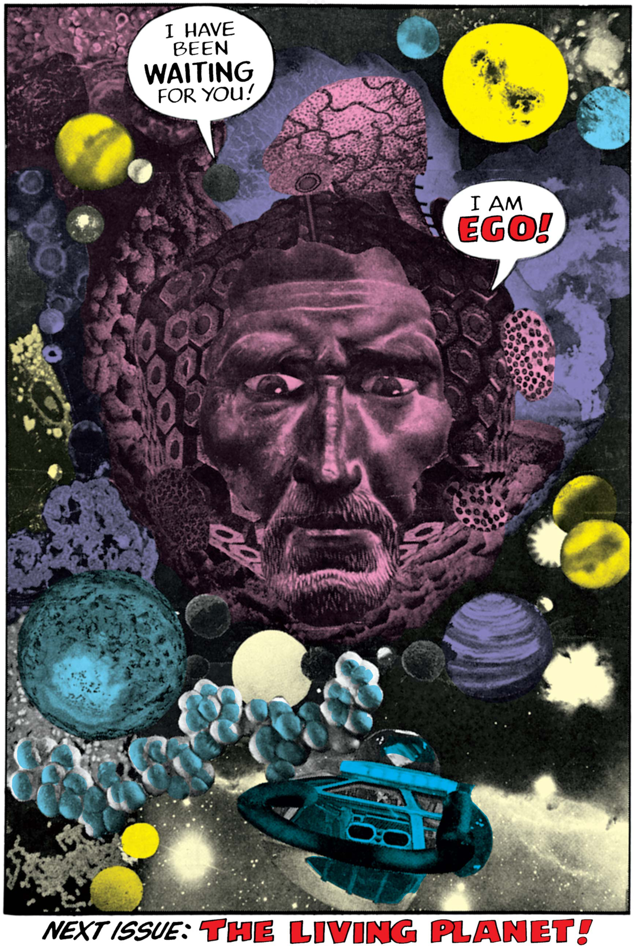 Thor #133 is just an all-out cosmic battle—the first issue of its kind at Marvel! The hero and his robot land on palpitating, patchwork and particolored crust of the old man's planetary scalp. The face shortly emerges in miniature, though still twice Thor's height, out of what looks like an eructating thicket of fleshy polyps, perhaps a fungal mass of parasitic symbiotes, or just another of Ego's own variegated, geological growths. What matters is that the planet's vast sentience somehow allowed him to either already know what humans, and their gods, look like or, upon the very moment of young Dunderhead's arrival, shape a countenance comprehensible to our bellicose goldilocks.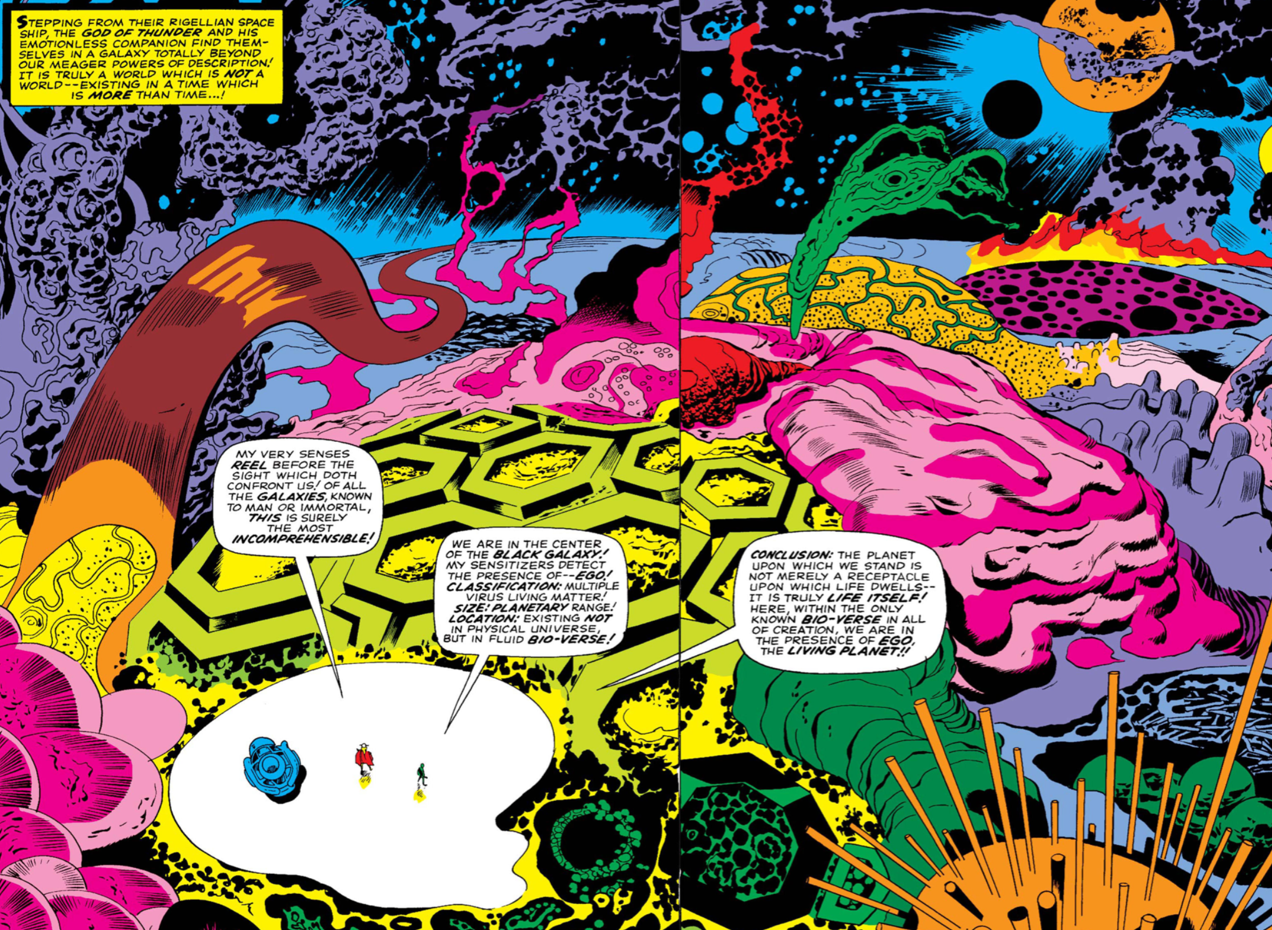 Unlike his (its?) subsequent appearances, Ego begins manifesting as smaller, separate entities, like a knight astride a white horse, which begins to sap some of the story's momentum, at least for modern readers who've already seen the planet go to toe-to-crust with the likes of Galactus.
Something we do see in future appearances, though, are Ego's antibodies (which here are most humanoid) and as Ego psychedelically conjures the first one, using Thor as its "molecular model," whatever that means, the Recorder has to stop recording, apparently overwhelmed, and briefly recharge its circuits. In seconds, though, he/it is busy dragging young Dunderhead from the scornful polyp face: "You cannot threaten one who is an entire world unto himself!"
As the planet tries drowning the two diminutive interlopers in an ocean (of its own secretions, I guess!), they take refuge in one of Ego's spacious pores—just chockfull of all manner of psychedelic encrustations and artfully shaped goo or plasms. Shortly, the pair trek down gloomy, luridly red folds of viscera; it looks like some awkward going over those undulant fleshy bits.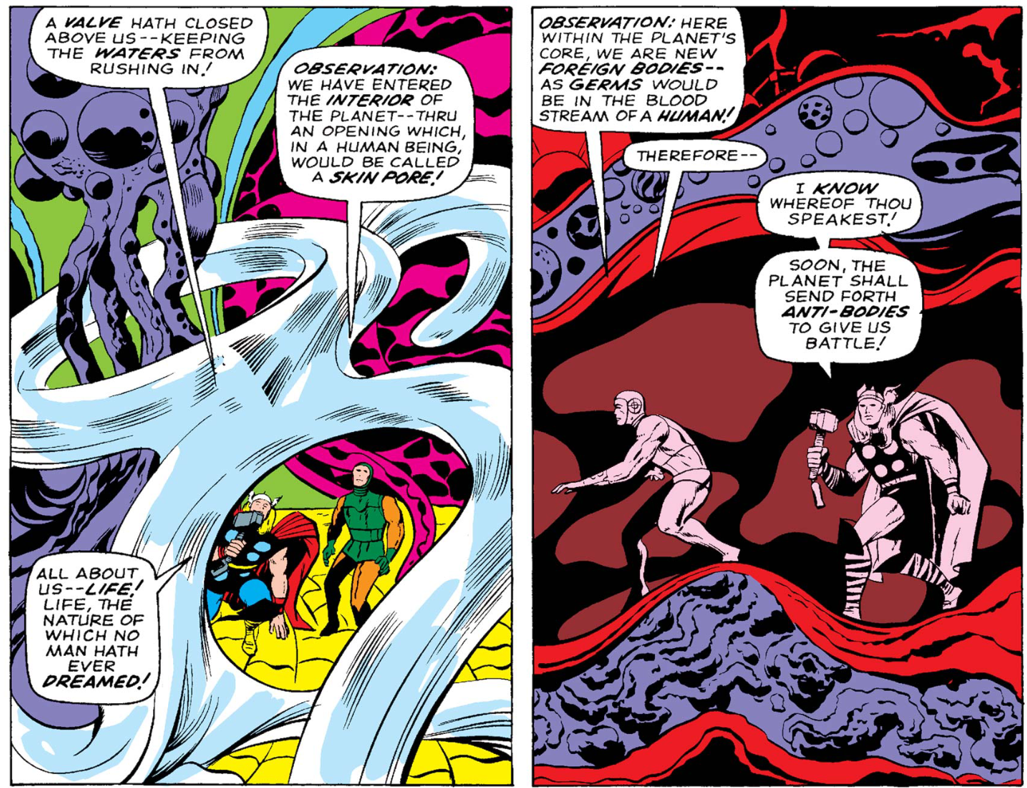 Suddenly, the Thor-templated antibodies strike from all sides, but Thor vanquishes all, with the help of rocks falling—from gaps in the viscera, I guess(?)—though he then has to unbury his robot companion, who realizes he's made a friend: "Observation! For the first time—a Recorder feels—the emotion of—gratitude!" Ego can sense where they are, though, and begins heating up his sector of his world noggin, like a vast oven, but neither god nor construct are vulnerable to Ego's geological fever.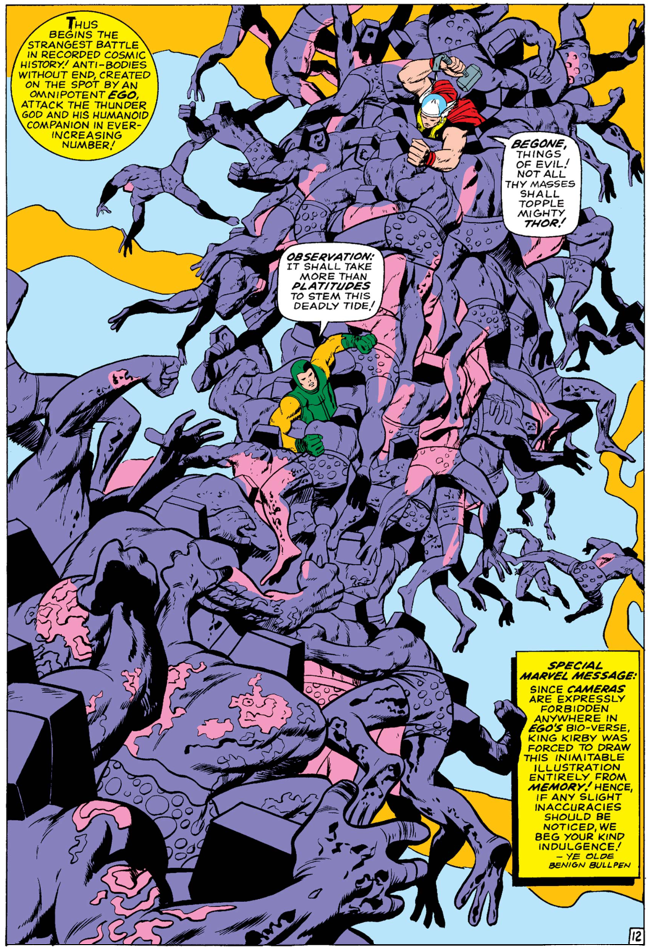 Unable to defeat Thor, Ego must simply expel the interlopers, admitting defeat in a manner not unlike Galactus faced with the Ultimate Nullifier or the Skrulls discovering the horror of comic-book monsters: The Living Planet shall never again attack anyone. And yet of course, like those other classic villains, returning and complexifying over time, he'll have plenty of opportunity to go back on his promise.
But how did Thor achieve this mighty rout? Well, he simply filled his mighty lungs and declaimed verse worthy of a god but not quite the Bard—thankfully, Stan deployed his iambs in doggerel tetrameter lines rather than pentameter. Eight such lines wherein the end rhymes include "thunder" and "asunder" and "core" and "Thor"—and Ego can no longer hold back an Ego-quaking ruction of geologic flatulence: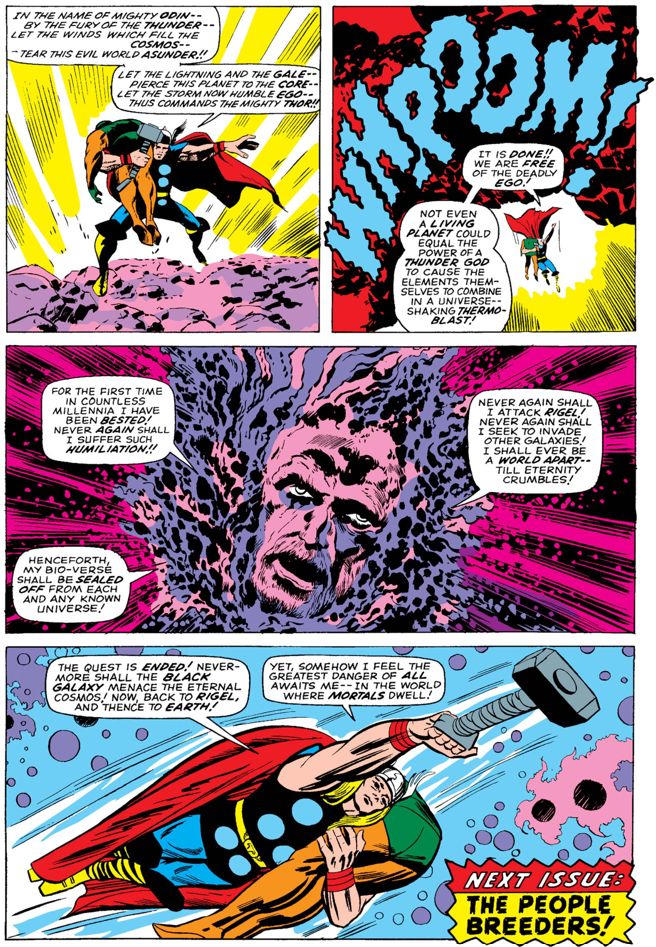 It's too bad we've never seen the Thunder God fell any of his other mighty foes with a bit of sublime verse that can rearrange reality's local "elements" so comprehensively it results in something like an H-bomb. Simply put, for all Mjolnir's limitless might, in the face—or rather on the surface—of such a planet-sized foe, the cosmic storm-powered mallet had to sit this one out, and yet even so, Thor doesn't come unprepared—now if only we got to see him verbally declaim his thunder against the Devourer! But I guess Galactus has more conventional features that make a good hammer-smack more satisfying. (All this would seem to undercut Thor's threatening boast to the Rigellians in the previous issue, that Mjolnir "doth shatter a sun easily as a stone!")
For all such a blast's destructive power on our ordinary mortal scale, this "humiliation" is nothing more than the lancing of a boil or zit on the vast and untamed polyp-turfed crust of the Living Planet.
Hilariously, Tana Nile finds herself in a suddenly impotent rant at the local Manhattan police station when she requests via wrist-link that the "space-lock" or cosmic tractor beam speed up its process of stealing Earth (she doesn't seem to care if the planet remains habitable, as long as she shows Rigellian society that she's come into her maturity by staking a claim on at least a crumb of already inhabited rock, however backwater), but Rigel's Division of Claims only then notifies her that the Grand Commissioner has ordered Earth's release, with no explanation to the poor would-be imperialist. (This happens before Thor's victory is even assured*, and the Rigellians, unlike just about any other aliens in the MU, remain true to their pledge.) Apparently, the cops find the one-woman parade either too bizarre or too humorous, or too much of both, to lock up. A lucky gal—how many overpoliced earthlings would fare so lightly after a momentary outbreak of such harmless high drama? Of course, it's a glaring mystery as to why Tana's mind-control powers, which Thor barely surmounted, have suddenly deserted her when they would matter most!
(*Actually, who knows the precise sequence of events spread across three galaxies. Apparently, Einstein wasn't consulted on how the narrative might work out at such relativistic velocities and distances.)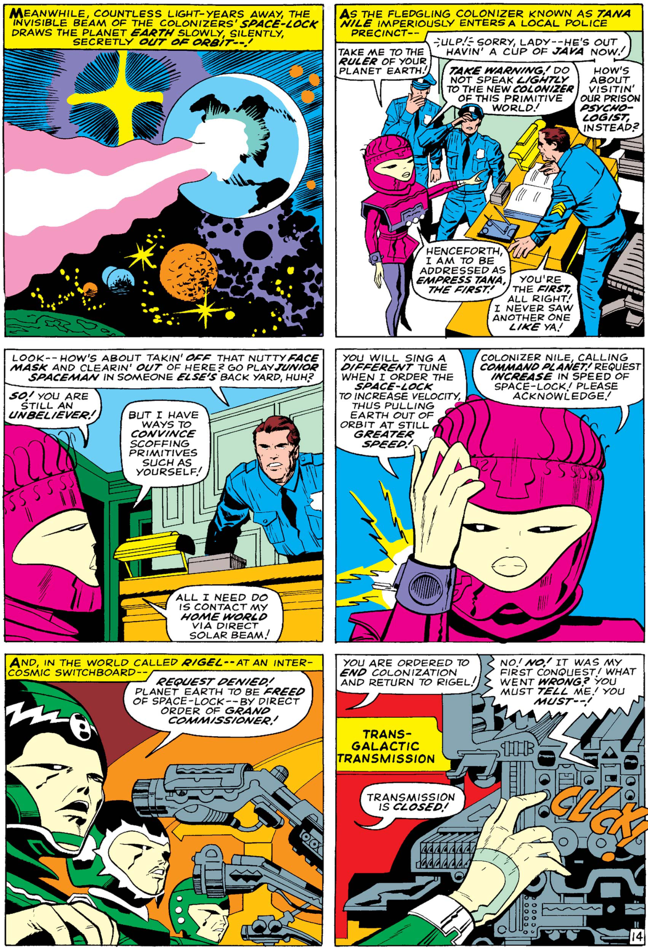 This bathetic end for Tana's imperial ambitions is a funny counterpoint to her earlier depicted fantasy, as she related it to a cowed Thunder God: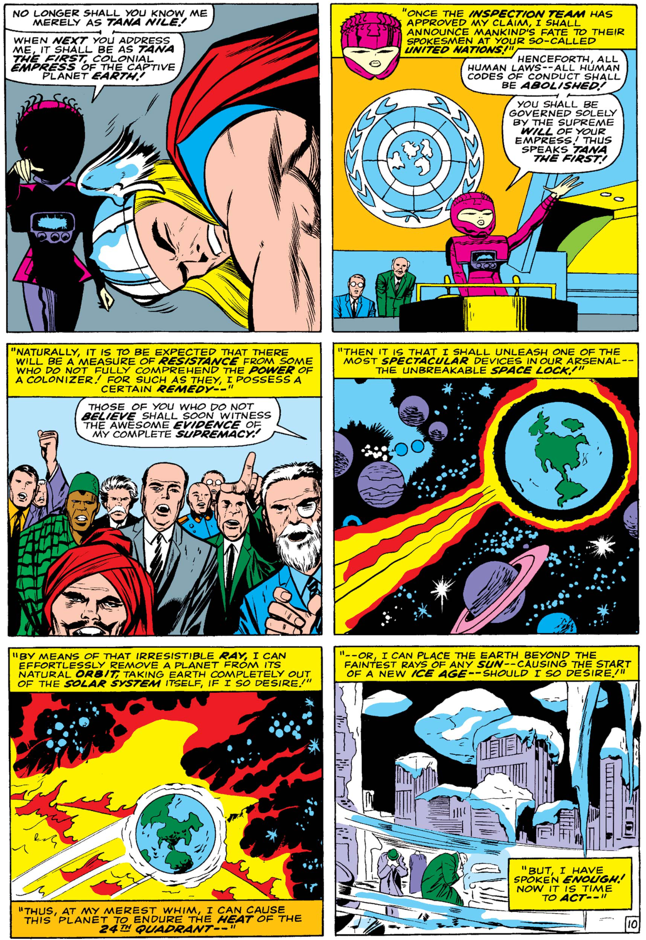 III. The High Evolutionary (also: a much too brief Galactus cameo; Thor #134-135, 11-12.1966)
Alright, so the start of a brand-new saga with issue #134 – right?
Well, actually, we're not done with the rascally Rigellians quite yet! Besides, the story stops where necessary, even if it's in the middle of an issue that's supposed to be the start of something totally different!
Thor is accompanied back to Earth with perhaps the same two inspectors that had captured and then been knocked out by him before, and after parking the craft on the roof, they march right into the precinct where Tana is still arguing with her wrist-link, much to the dismay of the cops, themselves still locked in gestures and stances of wonder and dismay. Their impotent silence is broken, with equal impotence, only when Thor and his guard come marching in to tell stymied imperialist what's what.
The cops admit they don't have anything to go on for locking up any of these loons, even if they could. But one cop wonders if everyone present, themselves included, shouldn't be tossed in a padded cell. Now, this was a time in the MU when even earthly authorities would deny the evidence of their own senses and dismiss any notion of actual gods and aliens—they're all just counterculture weirdos in flamboyant getups.
Escorted to the Rigellians' strangely translucent ship, the crestfallen Tana is informed of her new assignment that will have her ruling no mere planet—but an entire galaxy! Rigel itself! For "the High Commissioner has chosen you…for his wife!" So, not only is the Rigellian intergalactic empire grossly imperialist; it's also, unsurprisingly, thoroughly patriarchal.
That's alright by Tana, though! For she has loved the Commissioner "from afar for years," and he is truly her "heart's desire!" Meanwhile, the Rigellians have left Thor with a small bit of proprietary tech, something called a "psyche-search gauge," which will allow him to locate the one he loves! And so, Jane's location lights up, a beacon to the Thunder God in his desperation. This is all a grand weird science opera.
So, where will Thor find his Jane?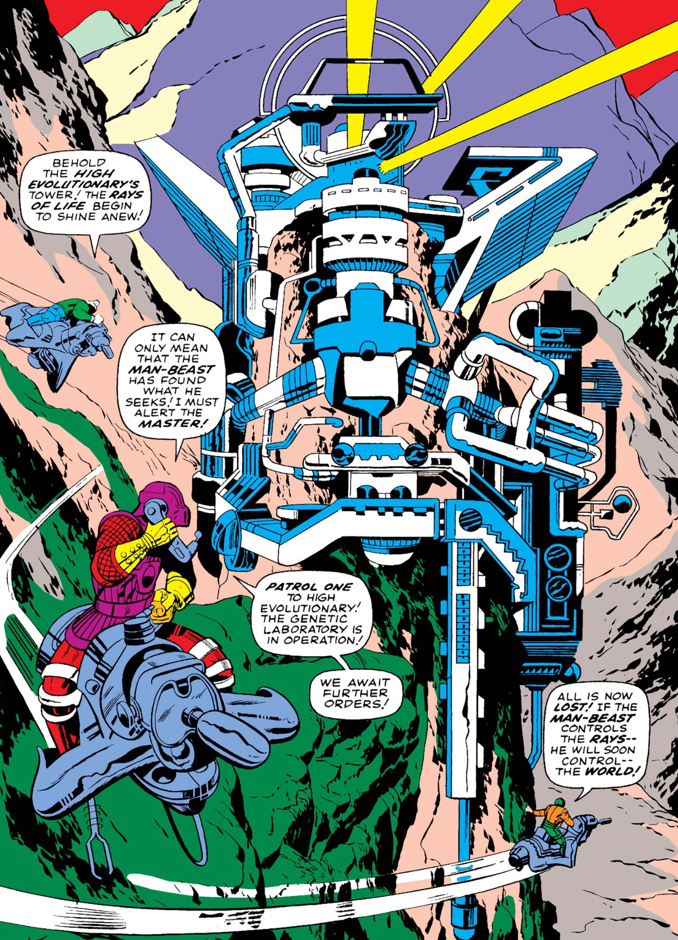 Yep. Quite a journey she took! Wait till you see who her new students are.
Students?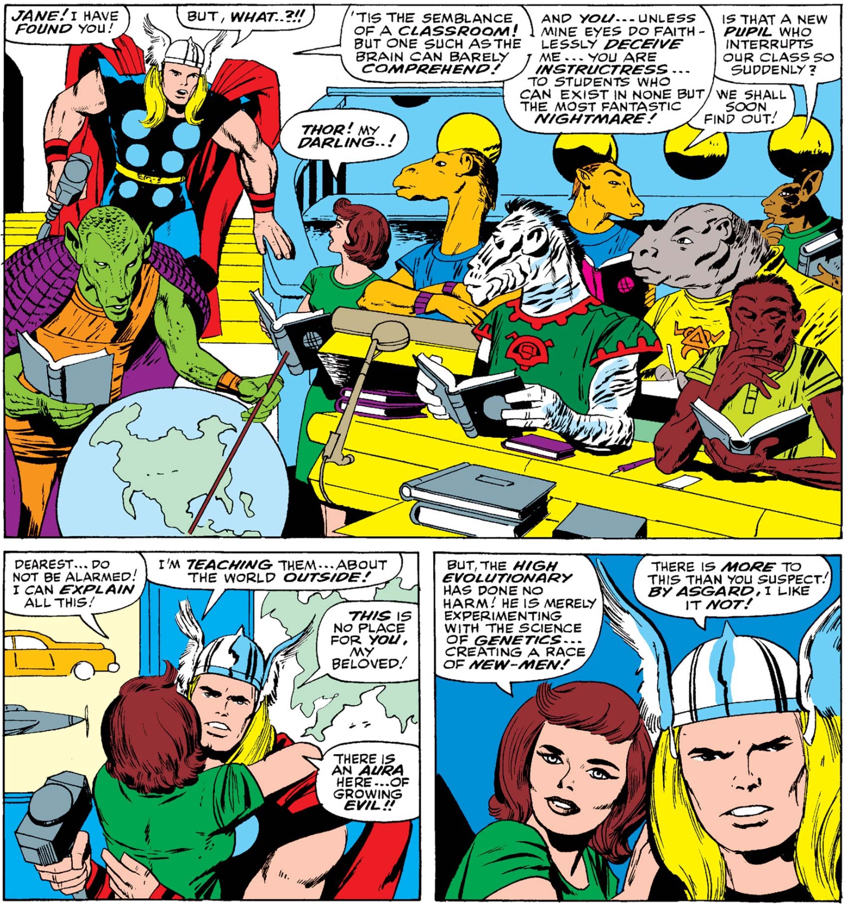 Where exactly do Jane's very temporary charges come from?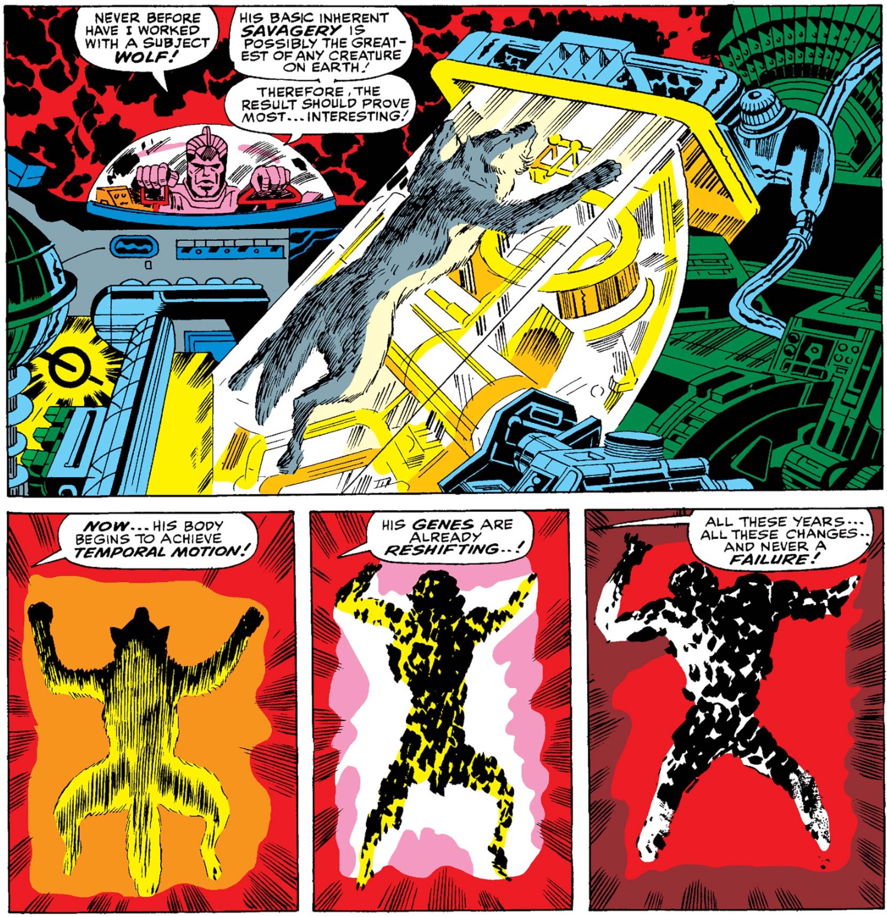 Seems like the Evolutionary is stealing his queues from Dr. Moreau! Or rather, Stan and Jack have named him, in part, in honor of H.G. Wells (author of The Island of Doctor Moreau, the first mad proto-geneticist tale, although Wells' intent was much more serious than Stan and Jack's pulp homage; the Moreau story clearly though implicitly condemned slavery and imperialism, like its partial inspiration, The Ebb-Tide by Robert Louis Stevenson).
As to the lead up to this new story beginning in the middle of Thor #134 ("The People Breeders!"), it actually kicked off already during the Rigellian/Black Galaxy saga, when Tana Nile hypnotized and ousted Jane from her apartment—sending her on a dazed journey, apparently without any kind of agency, and though we don't see it happening, presumably paying her way without any sort of awareness of what she's doing or where she's going, much less any kind of plan or even luggage, at all. So, she finds herself, following a bus ride who knows where, flying via commercial airliner seemingly straight into Soviet bloc Eastern Europe—without anyone asking her what her business was there. Now, while having been only 8 when the Berlin Wall came down, I'm still pretty sure Westerners were not simply allowed to fly beyond the Iron Curtain in a stupefied daze with no idea of their destination
Poor Jane!
But as it would soon turn out, publication-wise, Wundagore Mountain, which debuts in Thor #134, is simply based in a country that's just an obvious but extremely superficial analogue to Romania—Transia, which is only identified as such several months later in Avengers #36 (but not in relation to Wundagore, even though Wanda and Pietro's cameo here in Thor briefly and mystically suggests a connection there).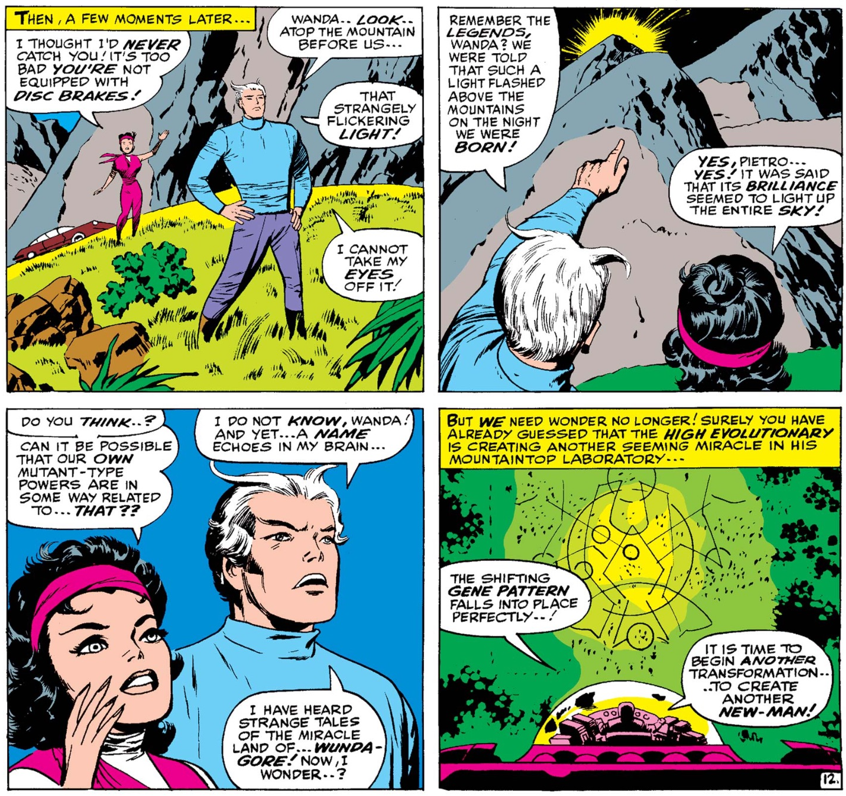 Transia turns out to be a vanishingly small (fictional) country, smaller even than Macedonia, perhaps even Kosovo, and conveniently, Stan and Jack carved out a little pocket of superficial Balkans timelessness, between the Greek hinterland and the hard border with the Iron Curtain; Marvel's later mapmakers set it adjacent to Serbia and Bulgaria.
The High Evolutionary (Herbert Wyndham; no doubt in honor of UK authors Herbert George Wells and John Wyndham's legacies as the greatest early and mid-20th century British sci-fi storytellers*) has his New Men either disguised as burly humans of rustic Mitteleuropa stock when traveling abroad or fully concealed in cod medieval armor when defending their master and creator's great keep, as the Knights of Wundagore!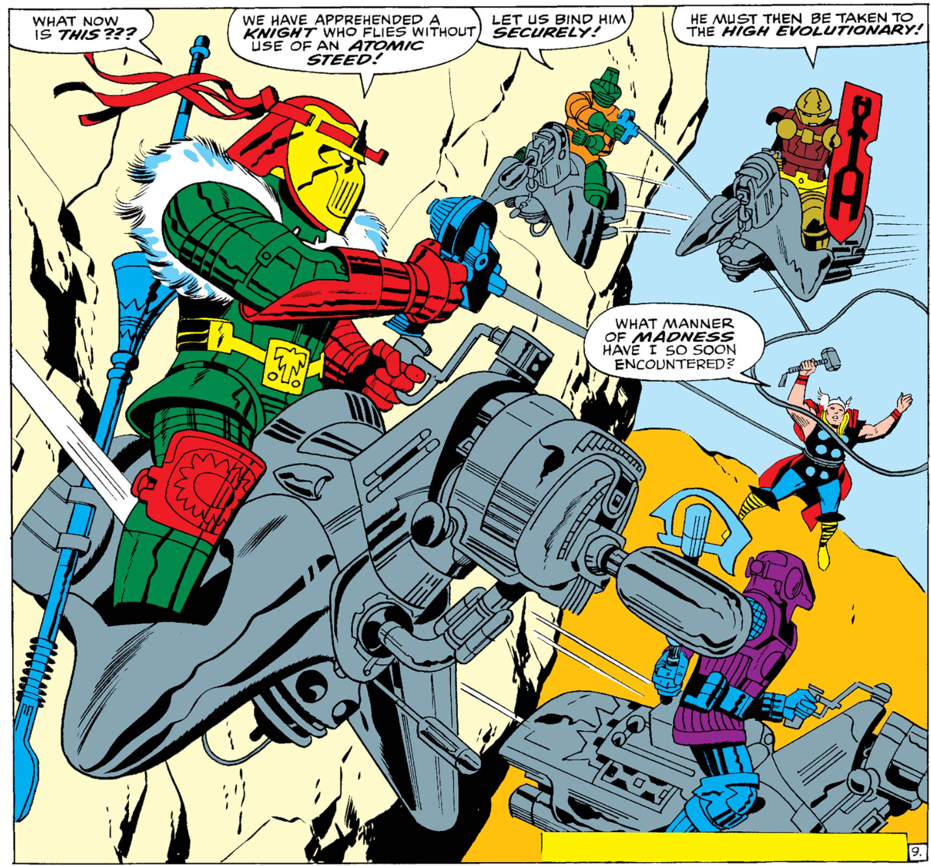 It seems as if once Marvel had carved up the region of Europe least understood by America and the West, they finally figured out that they'd run out of real estate for fictional countries—without balkanizing those real ones already there. Poor Romania! It used to be the home of the Transylvanian Mountains; now, there's just the country of Transylvania. Another Marvel land is identified simply as Ruritania, a name that isn't under copyright—it's an actual trope in fantasy fiction, beginning in 1894 with The Prisoner of Zenda by Anthony Hope, a story of doppelgangers and mistaken identities in an exoticized imaginary country frozen in a medieval wonderland without any of the nasty features of actual medieval society. (For some fun Ruritania-style tales, see Avram Davidson's Adventures of Doctor Eszterhazy, stories written between 1975 and 1988, and mainly set in the lands under the Empire of Scythia-Pannonia-Transbalkania, which borders Ruritania and Graustark. You too, dear reader, can have a nation named Ruritania, and none can say you nay.)
Regardless! Stan and Jack send the High Evolutionary into space in Thor #135, though his fate thereafter isn't picked up on until 1972's Marvel Premiere #1—which we'll get to eventually! (Not that it's a classic 😉).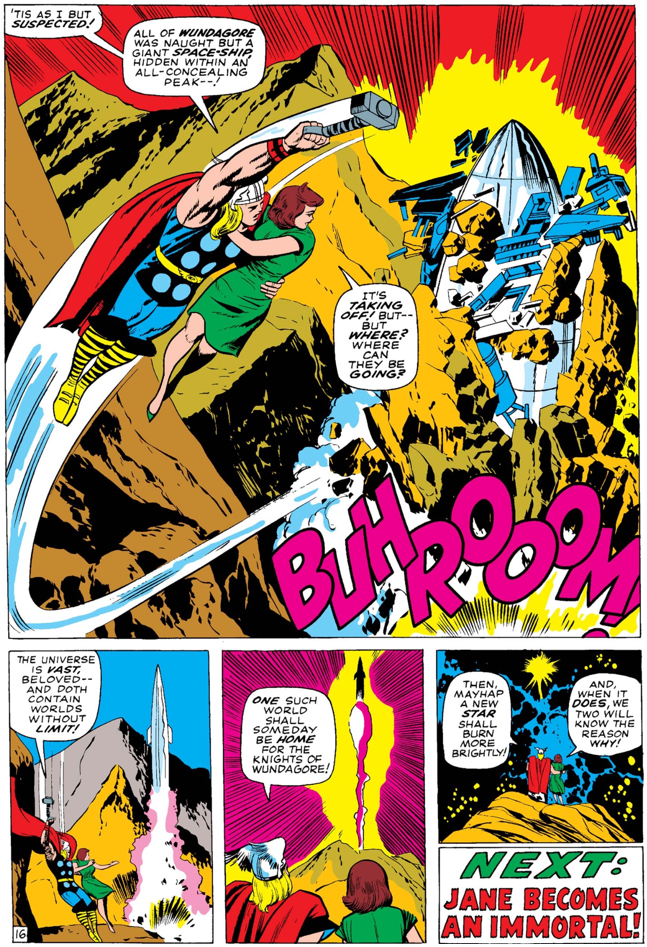 Of course, most of this section didn't really have any bearing on Marvel Cosmic beyond introducing someone who much later become a small-time cosmic player—and this brief arc is very shaky on story logic, much shakier than the Ego epic, even!
Still, I highly recommend checking it out, despite or rather because of its goofiness. So, here are some pics to convince you to take a fun psychedelic journey to—Transia!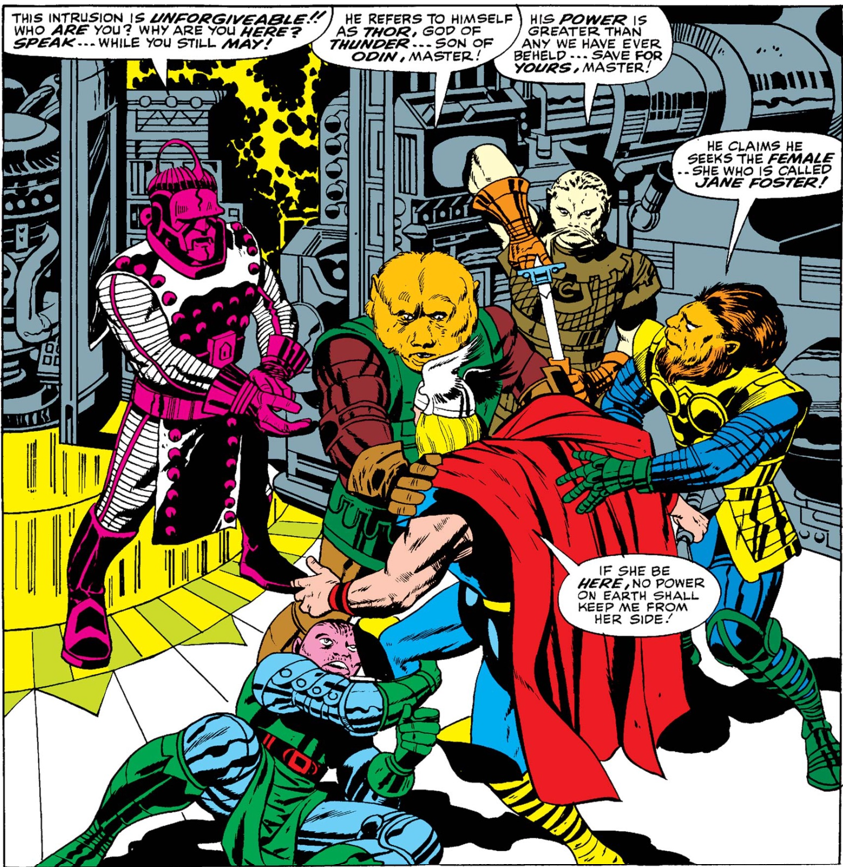 NEXT TIME: Marvel Cosmic Embiggens—with the Kree Empire's debut, as well as Him (Adam Warlock), Blastaar and the Living Tribunal. Be there! 1967.