It's a special kind of comic book hero that enters as a teen outsider and ultimately becomes a mainstay and leader of the supercrew. DC Comics is more frequently referenced for legacies passed on to the likes of Nightwing or Wally West (Flash). Kitty Pryde is a similar comp for the X-Men, progressing from inexperienced adolescence to principal of the Jean Grey School for Gifted Youngsters.
Kitty's also unique to the X-Men as a character who has taken on roles across a variety of teams, from Excalibur to the Guardians of the Galaxy. Plus, anyone who calls out Professor X for being a JERK is absolute A+ material in my book.
Below you'll find a complete reading order to Kitty Pryde comics. Let me know any feedback or thoughts you have in the comments, and as always, enjoy the comics!
Related Reading Orders:
Support For Comic Book Herald:
Comic Book Herald is reader-supported. When you buy through links on our site, we may earn a qualifying affiliate commission.
Comic Book Herald's reading orders and guides are also made possible by reader support on Patreon, and generous reader donations.
Any size contribution will help keep CBH alive and full of new comics guides and content. Support CBH on Patreon for exclusive rewards, or Donate here! Thank you for reading!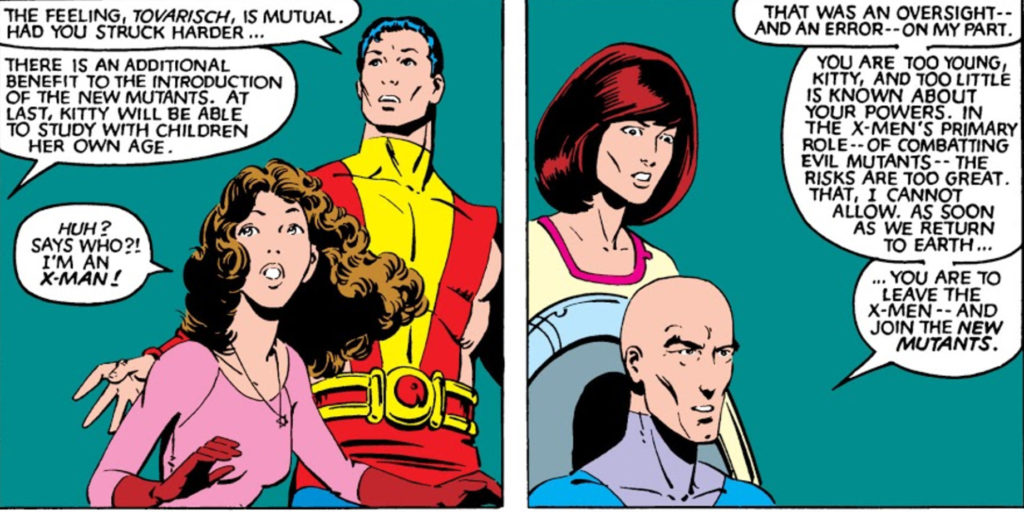 The Best Kitty Pryde Comics (In Chronological Order)
Kitty debuted in Uncanny X-Men #129, right in the "Dark Phoenix Saga," which is probably a huge reason why she resonated so strongly as a point of view character as the X-Men's problems scaled cosmic. Frankly, you can read Uncanny X-Men from this point through about Marvel's publishing calendar in 1988, and get loads of essential Kitty Pryde comics.
Uncanny X-Men #141 to #143 is probably the greatest three issue stretch in Kitty Pryde history (and frankly, ranks up there with three consecutive issues of Uncanny for any individual X-Men), spinning from "Days of Future Past" into "Demon," the classic issue where's Kitty's alone in the mansion with a vicious alien!
In Uncanny X-Men #168 you get the classic 'Professor X is a Jerk!' scene, as the Professor decides Kitty's place should actually be with the New Mutants instead of the X-Men. It's actually far from his worst decision, but I love Kitty's response throughout the issue.
This six issue miniseries is Kitty's first taste of the namebrand limelight, joining a post Claremont / Frank Miller Wolverine in his return to Japan. Wolvy has a long history of taking on the role of overprotective uncle to the youngest women in the X-Men, and it takes off here in Kitty Pryde & Wolverine. We also get a lot of new information about Kitty's family, and a focus on her that the team books can't normally provide.
In 1988, Chris Claremont and Alan Davis launched a new X-Men spinoff series known as Excalibur and Kitty (along with X-Men Nightcrawler and Rachel Summers) joined Captain Britain and Meggan in a series of cross-time capers. It's a good fit for Kitty outside of Uncanny X-Men and she'd remain with the team deep into the 1990's.
I recommend Age of Apocalypse literally any chance I get, but AoA Kitty pretty actively stands out from the crowd, adapting a more vicious mentality for the dystopia, and applying her own set of Wolverine-like claws to her arsenal.
The Chris Claremont written X-Treme X-Men in the early 2000's can be a seriously inconsistent affair, but this look at Kitty's life post-Genosha, as she attempts to go to college and carve out some non X-Men experience, is a highlight for the character.
Speaking of 2000's Kitty, I'd also recommend fans check out Ultimate Spider-Man
 for some of the most interesting use of the character in the decade. You can get the full Ultimate Universe experience with Comic Book Herald's complete guide.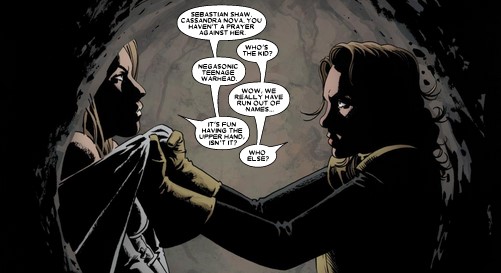 I love Astonishing X-Men by Joss Whedon and John Cassaday for a whole lot of reasons, but one of the biggest ones is the return of a more "adult" Kitty Pryde to the X-Mansion. This is POV Kitty with the history of the Claremont run behind her, and it's a history that butts heads with the new 2000's vision of New X-Men writer Grant Morrison.
I don't like to play favorites on essentials lists – you should read them all! – but if you only have time for one, the entire Astonishing X-Men run through the Giant-Sized conclusion after issue #24 is a great pick.
During the Matt Fraction written run on Uncanny X-Men, Magneto proves himself to the new look X-Men by trying to bring Kitty Pryde back from her end in Astonishing X-Men.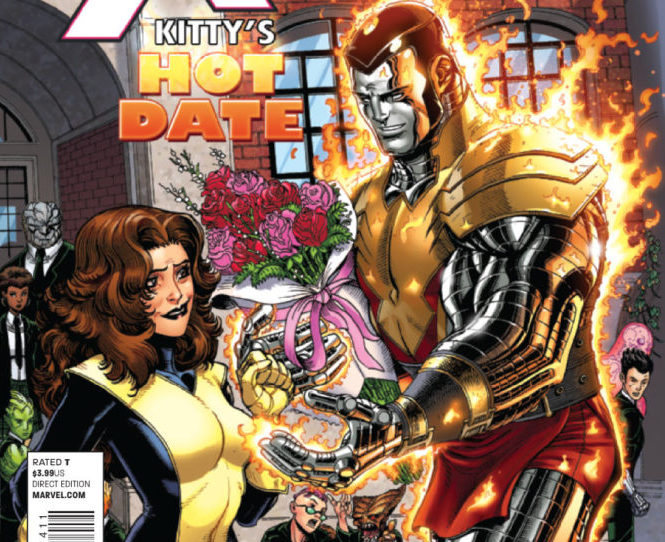 Throughout the 2010's, Kitty frequently falls into the role of elder statesmen for the X-Men, with her experience naturally building to a leadership role for all of mutant-kind. You can see some of this in a series like X-Men Gold, but my favorite is when she joins a post Schism Wolverine as headmaster of the new Jean Grey institute.
It's a delightful series overall, and a particularly great role for Kitty!
During the stretch of time Kitty dated Peter Quill, she became a regular player in the Brian Michael Bendis written Guardians of the Galaxy. This is likely to go down as more of an odd footnote in the character's history, but it's interesting to see Kitty with an entirely new team.