Thor #3 follows the cliffhanger appearance of Beta Ray Bill, cosmic powerhouse, frequent player in the Donny Cates cosmic Marvel universe, and oath-brother to Thor. The story by Donny Cates, Nic Klein, Matthew Wilson, and Joe Sabino is an all out action issue fixating on a brawl between Bill and Thor. Beta Ray Bill views Thor's work with Galactus as an absolute breach of his worthiness to hold Mjolnir, and initially seeks to attack the devourer in order to free Thor from what Bill assumes is some sort of mind control or bewitching.
Podcast: Play in new window | Download
Today I'll answer:
+ Who is Beta Ray Bill and what's his history with Thor and Galactus?
Support For Comic Book Herald:
Comic Book Herald is reader-supported. When you buy through links on our site, we may earn a qualifying affiliate commission.
Comic Book Herald's reading orders and guides are also made possible by reader support on Patreon, and generous reader donations.
Any size contribution will help keep CBH alive and full of new comics guides and content. Support CBH on Patreon for exclusive rewards, or Donate here! Thank you for reading!
+ Where are we at in the Donny Cates and Nic Klein Thor story through three issues, and where is the series heading?
For related reading orders on Comic Book Herald:
Beta Ray Bill is even more enraged when he learns that Thor is working with Galactus of his own free will, and despite Thor's clear advantages as the combination Lord of Asgard / Herald of Galactus, fights Thor until Stormbreaker, Bill's enchanted hammer, is literally smashed to pieces.
Beta Ray Bill is even more enraged when he learns that Thor is working with Galactus of his own free will, and despite Thor's clear advantages as the combination Lord of Asgard / Herald of Galactus, fights Thor until Stormbreaker, Bill's enchanted hammer, is literally smashed to pieces.
To help explain why Beta Ray Bill is so enraged by the trajectory of Thor's course with Galactus, it helps to look at the character's history in the Marvel Universe.
In my favorite Beta Ray Bill story of the 2000's, and the one with the most relevance for the Cates and Klein run to date, the three issue Beta Ray Bill: Godhunter by Kieron Gillen and Kano follows Bill as he seeks revenge on Galactus. Thor questions the wisdom of Bill's vendetta against the world devourer, and actually denies him aid.
Bill's plan is to starve Galactus, choosing to employ strategy over pure brawn in a way that highlights why Beta Ray Bill is a cosmic powerhouse.
The story is also a nice inversion of the usual conclusion Marvel heroes come to about Galactus operating as a monstrous but necessary force in the galactic balance. Famously, in the pages of the John Byrne era of Fantastic Four, Reed Richards even makes a case for Galactus during a space trial, which is frankly a lot like making a case for a serial killer in front of the aggrieved family.
Bill wants nothing to do with this philosophy or science, though. In the words of every review of stories involving Thor and Beta Ray Bill ever: It's hammertime.
Bill comes very close to succeeding too, taking on the likes of the Silver Surfer as he seeks an end to the World Devourer. His position as Galactus' status as necessary force of nature is clear too, at one point telling the Surfer: "You serve Galactus. Thurs your hands are bloody red. What do we have to talk about?"
Nonetheless, Bill's obsession with revenge and his methods of planetary annihilation to murder Galactus result in him becoming unworthy of Stormbreaker. It's only after he halts his bloodthirsty quest that he's able to wield the enchanted weapon again.
With all that in mind, it's hardly surprising that Beta Ray Bill would bumrush the show in Thor #3, however foolhardy that proves.
Although he has to learn a lesson by the end of Godhunter, I don't think there's any reason to believe Beta Ray doesn't still hate Galactus with a raging fury.
After Thor's well and truly beaten Beta Ray Bill, the issue concludes with the former love interest of both Beta Ray Bill and Thor, Lady Sif, now Sif the all-seeing following the events of King Thor. Presumably issue #4 will kick off with a brouhaha between Thor and Sif, although I hope Cates & Klein are more clever than that.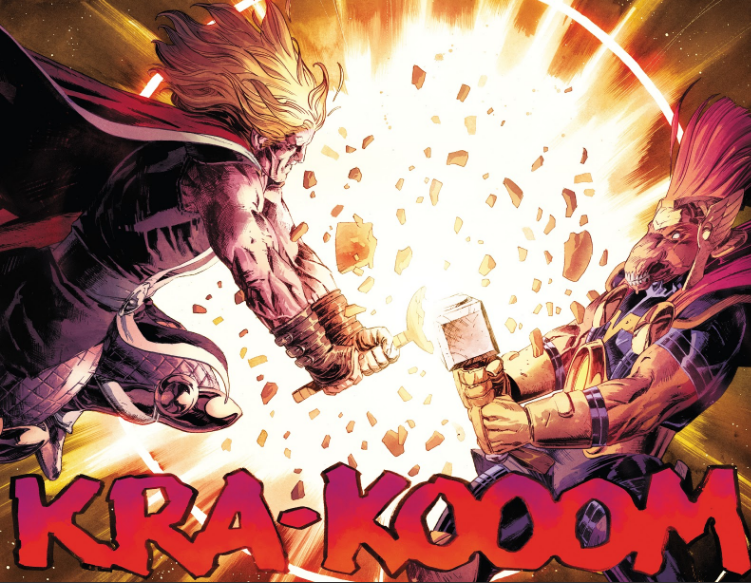 Because Thor #3 is so action-heavy – and again, so one-sided – there's a lightness to this issue that leaves little to grasp onto. It's perhaps important to show how far beyond his normal status quo King Thor has risen – he makes Bill look like a featherweight – but doing so a second time against an ally would feel beyond repetitive.
The most interesting thing this "Herald of Thunder" storyline is doing is asking how complicit Thor is, or should feel about his newfound role aiding Galactus' planet consumption. There's a crucial moment in issue #3 where Galactus seeks to control Thor's power cosmic, and Thor tells him "Nay!!! I took your power." instead of the other way around. The scene reminds me a lot of my toddler when I tell him I'm going to play with the best dinosaur action figure, but nonetheless it reveals a clear distinction Thor is making that he is, in fact, in control of his actions and working with Galactus because it needs to be done.
I think Cates and Klein are interested in asking questions about Thor's humanity as King, even calling him the new "God of Genocide" in issue #2, but that angle is falling very flat for me. Firstly, the question was explored so thoroughly in Jonathan Hickman's New Avengers that clearing the bar is a tall order, and this does not yet come close to measuring up. Second, there's a very good reason Thor is working with Galactus, and it's a threat to all universes! I'm yet to in any way think Thor has lost his sense of what's right, although perhaps as the book progresses and more planets are endangered, we may see that trend.
In Thor #4, I'm looking forward to Thor and Sif putting down hammer and sword, and discussing a plan to use the Bifrost to fully save future planets like they tried to do with Clypse on the fly. We're three issues into the first story of this era of King Thor, and he's yet to do much by way of governing. It's time to put the fists down and see what Thor is thinking, lest this series devolve into nothing but shattered hammers.
——————————————————————————————————-
Music for Best Comics Ever by Anthony Weis. Check out more music at anthonyweis.com.
To learn how you can support Best Comics Ever and receive more exclusive content from Comic Book Herald, check out the Patreon: https://www.patreon.com/comicbookherald
For the Comic Book Herald reading club through every year of Marvel Comics, check out mymarvelousyear.com