Doctor Doom is a wonderfully complex character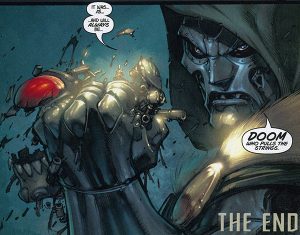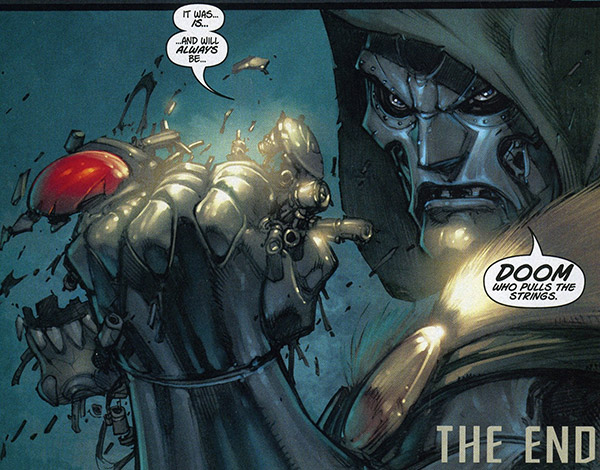 To my mind, he's the first Marvel supervillain as he set the relatable, tortured archetype that everyone from Magneto to Gorr would follow after. And, rumor has it, he was a big inspiration on Darth Vader (it's embarrassing to just realize, this year, that Vader's weird mouth second on his mask looks a fair bit like Jack Kirby's illustrations of DOOM shouting.) Not to mention Raul Julia's M. Bison. Two equally great, enduring symbols of villainy.
It's easy to see why so many have enjoyed Doom for so long. That iconic metal mask of his is utterly grotesque and ostensibly hides a face much worse. But then, the horror of the first only adds to the mystery of the second. Then there's the whole "hooded cape over armor" look. Who the hell thought that would be evergreen?! Plus he's got magic, crazy inventions, his own castle, the very best in names… the list goes on. At the top of the list of things we love about Doom has to be his dialogue, which is simply the best in the business.
No one speaks with the ridiculous pomp and camp of Doom. Yet, no one, not even Thanos, has his finality.
But these things are just ornamentation. Nothing more than armor polish and melted loved ones. Let's see what matters.
The Two Halves of Doom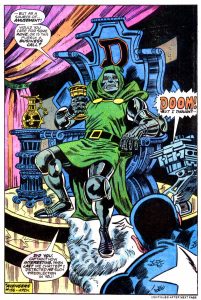 Calling
Doom feels set apart by destiny and burdened by greatness. We can see this in his arrogance and just how often he looks down on hero and villain alike. But it's also in the goals he chooses, the standards he sets for himself, and the demands he places on everyone around him.
Support For Comic Book Herald:
Comic Book Herald is reader-supported. When you buy through links on our site, we may earn a qualifying affiliate commission.
Comic Book Herald's reading orders and guides are also made possible by reader support on Patreon, and generous reader donations.
Any size contribution will help keep CBH alive and full of new comics guides and content. Support CBH on Patreon for exclusive rewards, or Donate here! Thank you for reading!
The Doctor Doom I remember might be ruthless and cold — But he had honor and nobility too.
Fantastic Four (v1) 116
Heck, he's not just called "Doctor Doom." He went to school and he earned that title. One he could have simply taken as easily as if it was a pile of vibranium. But no, he worked and earned that degree because it might make no difference to anyone else, but it does to Doom.
Sacrifice
Doom, in spite of his power and standard reader expectations, has very little in the way of true pleasure in his life. He may have declared himself the royal ruler of a country. One he rules with absolute authority. And yet he takes this as more of a responsibility than ego boost it seems.
"Thus falls DOOM? What is paint to one such as I? I-I will shut it out, other men fall, pray to the very spectre of death… when her cold embrace seems imminent… they simply swoon into her arms! But I… I am DOOM. I-I deny you, death! Victor von Doom must not die!"
Secret Wars (1985) #10
For this reason, I think Doom's sense of risk and cost that drives his rage. His calling is mere ambition, where this is stakes. Doctor Doom knows the constant obstruction of a world not built to his standards, along with the empathetic pain of someone who knows how much that world can take. This makes Doom's wrath so opulent; he rages in a way we all wish to rage, with nobility, presence, and black magic body armor. When we lose our keys, drop our cellphones, or miss an appointment because we played video games too long, we all become Victor Von Doom.
In the Beginning, There was Doom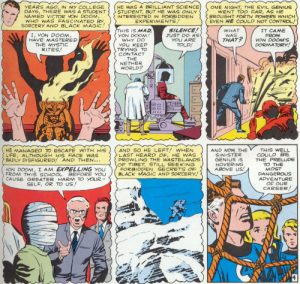 Doctor Doom's Origin Story
Doctor Doom has been a fixture of Marvel since his inception. As such, he's changed a fair amount of the years, and his origin has been altered to match. Still, there are some foundational elements that crafted Victor von Doom, Future MD, Tyrant, God, all-around card, 
The Zefiro
Victor, his mother Cynthia and his father, Werner, are members of the:"Zefiro," a Romani clan native to Latveria. (So is Valeria, but we'll get to her.) Throughout young Victor's childhood, the Zefiro are forced into a Nomadic life by the cruel Barrons of Latveria.
Victor
This is a story about a boy born into two worlds. And born running away from them both. The world demands so much of him before it takes everything he has. Even his "inferior" culture. It's no wonder Doom is so arrogant and determined. So irredeemable.
Cynthia von Doom (Mother)
Victor's mother, a witch, solicits the aid of the Devil in order to free her people. These things tend not to work out, but Cynthia being burned at the stake would likely still have been traumatic for her son. (Maybe not as traumatic as Mephisto sweetening his initial deal by saying Doom could grow up to be a king)

Werner von Doom (Father)
By contrast, Victor's father was a healer and a man of science. Cynthia has better stories about her, and she clearly represents Doom's goal, magical affinity, and his lust for power (and saving his people.) However, it's my belief that Werner has the most important parallel with their son; both men want to fix things, save people, and put things to order. Sadly, Werner dies saving Victor in the Latverian mountains.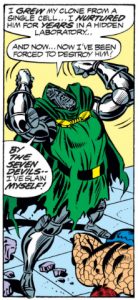 Victor van Damme
CBH has spoken at length about Warren Ellis and how his taking advantage of young women in the industry has dealt it irreparable harm. And of how ethically difficult it is to keep his work in the medium's continuing conversation.
In this case, I think there's enough irony in his story about "van Damme's" childhood spent being tortured by the seats of power in the world that it's worth mentioning here.
The infamous birthday scene still works, and still exemplifies how rooted any version of Doom is to sacrifice and loss.
If You Can Read Only One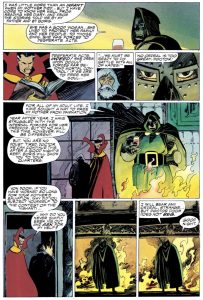 If one were to pick an "FF hall of fame" list, I think it's safe to say that Lee, Conway, and Byrne would make up the first hundred names on it. Particularly when it comes to Doom issues. But if there's a downside to that (and I'm not positive there is) it would be how these three wrote long, long format which I think can intimidate a new reader.
By contrast, Stern's graphic novel manages the trick of being both rich in canon but also tightly focused. The story is audacious, showing what Doom can achieve and what he will endure. Or make other endure; Strange's true fate is in question at the end of the book. And whether he's damned, saved, or both has everything to do with The Will of Doom. Without spoiling anything, when you get to end of the book, I suggest rereading it. Only this time, follow "the bouncing McGuffin" for a show of Doom's tactical mind… and a heck of a magic trick.
The book is also filled with subtext and metaphor. One of my favorite being the complexity of Doom's request for help from Strange. It's not just that request could be seen as a classic Doctor Doom "wheels within wheels" tactic, or that it could be some vulnerable sincerity out of the masked villain. It also goes beyond the clear mutual respect that passes between these two unlikely allies. For me, I think it's that Doom sees some of his father in Strange: two healers that met their fates on the mountains. Both possessed by a desire for order.
Of course, I could be seeing things. And with a young Mike Mignola on art, I probably am. Mignola's work is everything you could hope for here. Especially with Mike Badger's inks and colors making every panel feel by fire and magic. Each page feels like a cross between a gouache storybook plate and an old pinball playfield.
Early Doom | Doctor Doom's Opening Gambit Against That Fool, Richards
"Prisoners of Doctor Doom" only contains a snippet of that story. The bulk of the issue involves Doom's first trap for the FF. That master plan gets a fair amount of good-natured teasing for its cheesy story about Doom sending Richards and his team back in time to steal Blackbeard's gold. Yes, the pirate. And okay, if you want to get technical, the comic does sorta feel like an over budget children's breakfast cereal advert.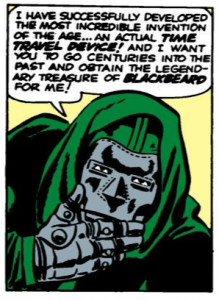 But, there's a much better way to look at it:
Doom blames his disfiguration and numerous setbacks on Richards.

So his first act is to kidnap the Fantastic Four like it's nothing.

Doom then brings them to his castle, located in his private kingdom of Latveria.

Victor reveals he's created a time machine, a feat Reed hadn't gotten close to duplicating at the time.

And Doom has done all of this simply to send the team on a ridiculous mission to

Treasure Island

.
That's the flex.
Doom didn't need those jewels; the guy lives in a castle and those things are lousy with sapphires, emeralds, and so on. No, he just wrecked his "college buddies'" plans by making them pick up some milk while they're out using the proof of his undeniable genius.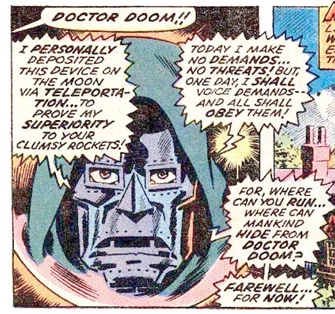 Doom lives in a sweet suit of armor, in a cool castle, in the country he controls, in a world that knows his name without asking. And he makes temporal paradoxes for fun. But Richards, my stupidest foe, the point isn't that I have a time machine. It's that I made a time machine. I'll let this Doombot tell you all about it like this is the Hall of Presidents… this gives Doom an idea…
And why shouldn't he be? Doom grows up to be nothing less than the enemy of Marvel's version of the Devil.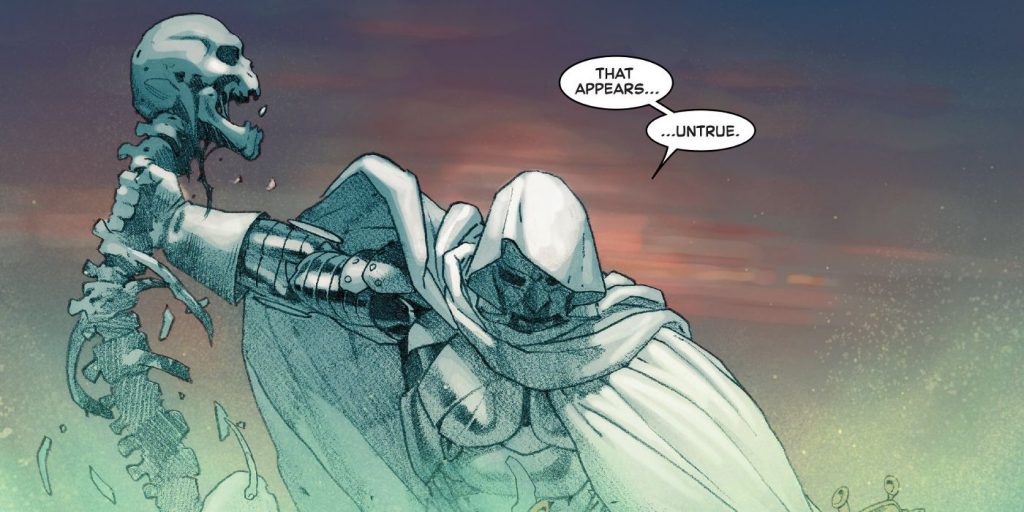 God Emperor
| Doctor Doom vs. the World, the Universe, and Latveria
Doom, simply put, is a ruler. He came from nothing to become the monarch of his home country. He's a self-taught genius of both science and the mystic arts, two seemingly opposing disciplines that only his clever mind could unravel and join together. Add to that, Victor von Doom simply has the temperament for a throne — along with an ironic endorsement from the underworld. It's little wonder why so many of Doom's greatest stories involve this aspect of his identity.
The Fantastic Four stage a coup, deposing Doctor Doom from the Latverian throne. The team screws this up so terribly that they wind up asking Doom if they can help him get his throne back. All of this is accompanied by Doom play a stone organ so hard it surely must have killed Andrew Llyod Webber.
Doom Quest: Tony and Victor go to futuristic Camelot in this unofficial prequel to Thanos Wins
Purple Man is running amok with his mind control powers and, inevitably, runs afoul of Doom. Spoilers for this 1987 classic.
The story is told almost entirely from Doom's perspective, marking him a protagonist by default. Doom defeats the lavender larcenist, stealing his mind control, but it's what Doom does with those powers that makes his the story's hero.
True to his word, Doom takes over the world. But unlike most arches, Doom actually delivers the world he promised. Sure, it takes mind control and an iron fist, but people are happy. There's less crime, fewer issues, even health is improving worldwide.
But sadly, Doom isn't the only one sticking to the script. The Avengers fight back and Doom eventually steps down. But at the end of the book, Cap and the rest go home with a look like "what have we done?"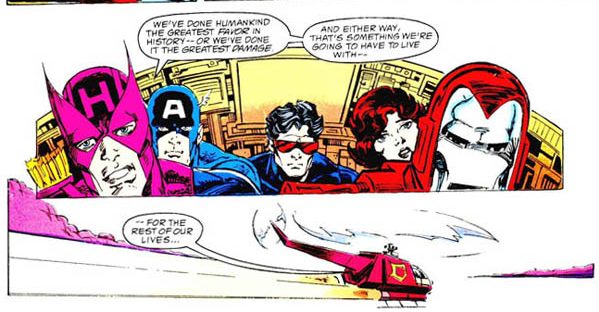 Cosmic Threat
Doom tricks Silver Surfer, gaining the power cosmic in the process. This sets up Doom to later steal Galactus' powers, as well. Actually, a few times over.
One, decade's long story about Doom's constant ascension to his rightful place: Godhood. They're all fantastic, but I think FF#318-319 deserves special attention as it shows just how dangerous Doctor Doom can be. It's wild enough that the story center's on this metal-encased mortal being able to wield the powers of the Beyonders, but it goes the extra distance to depict Doom as a man strong enough to ask for help from his enemies, but powerful enough to take what he wants himself.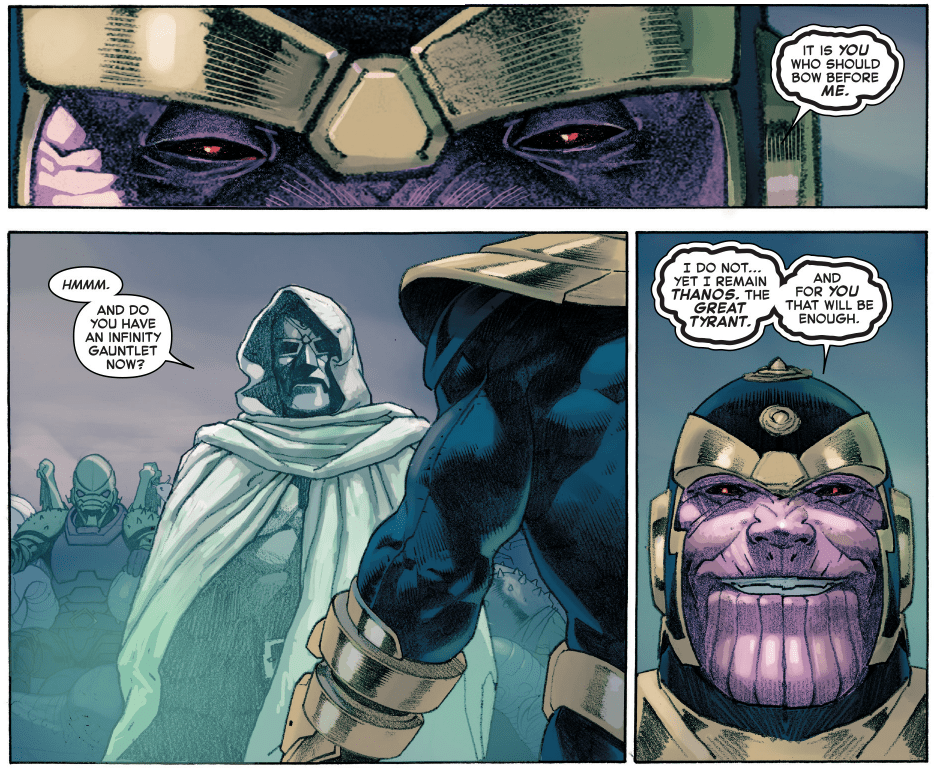 God Emperor – Payoff
2015's Secret Wars is an absolute masterpiece of a book, as well as a love letter to everyone's favorite despotic ruler.
The crossover plays hard to Doom's character, validating him in a way I find almost infinitely satisfying. Doom once again takes on the power of the Beyonders. He overthrows Thanos' Black Order by himself, then kills the Mad Titan for his impudence (a move so assuredly arrogant only Doom could pull it off.)
He uses his powers creatively (he has an army of Thors. An army.)
And wisely (deputizing Stephan Strange.)
But the story behind the story is that we finally, truly see the promise of Byrne's FF #258 POV issue. Looked at in a certain light, this event tells the story Doom has been fighting to make heard: that Reed Richards is destroying all of reality, and Doom is the only one who can or will stop it. Doom's rule as God Emperor shows this further, revealing the way his cruel authoritarianism and superiority complex still comes with a kind of empathy and magnanimity. Of course, nothing good can last. In the end, that infernal Richards has to usurp his power. But the way Doom takes that is probably his single greatest act of nobility.
I could spend all day talking about this, but instead, let's focus on the time Doctor Doom was an even bigger cosmic threat.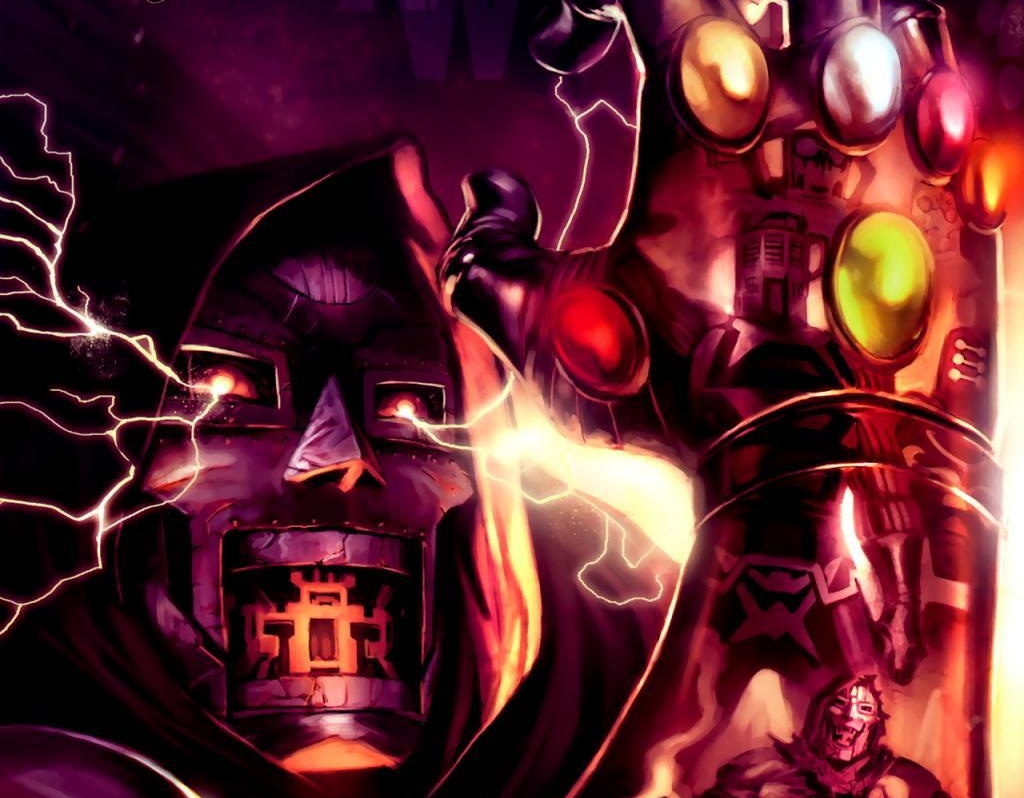 This comic is from 2009, some six years before Hickman's. However, like it's 2015 counterpart, this story imagines a world in which Doctor Doom never relinquished his power.
The story happens fast, as one might expect, as it rushes headlong into a 1v5 fight between Doom and the Celestials. Between that introduction and conclusion, we're treated to a story told almost entirely through inner dialogue (feeling very much like a nod to Byrne's pov tale.) 
We watch as Doom remakes the universe for the first time, wiping out all those who would rule in order to give humanity a fair shake. And, much like in Emperor Doom, those people may live under his forceful rule but they live happy.
Reading the book, seeing all that Doom goes through, the supreme effort of it all. It makes you appreciate that this could all sacrifice. Doom has his satisfaction, but heavy lays the crown. Thankfully, he rules as he lives: as Doom.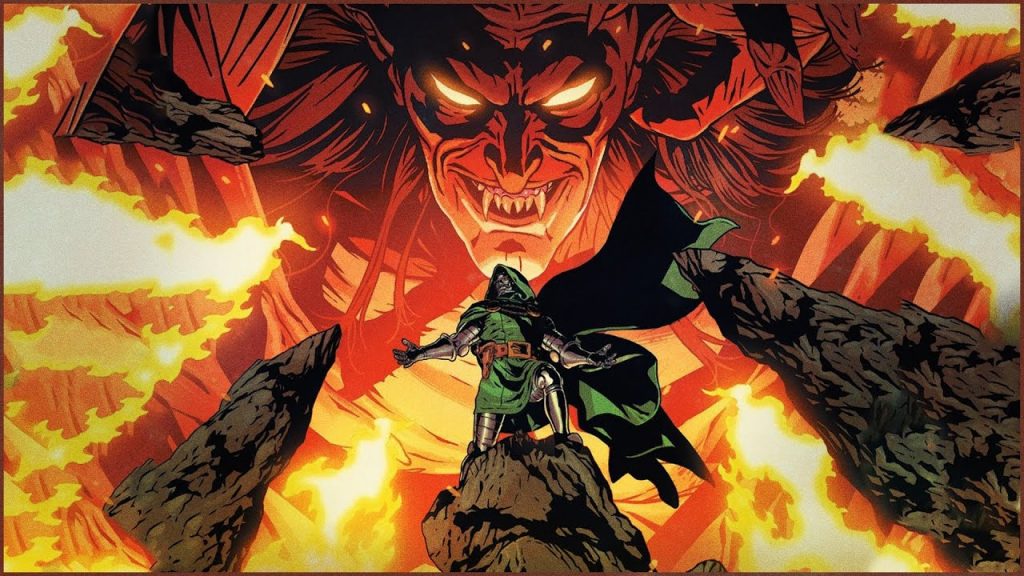 Antihero
| Doctor Doom vs. the Forces of Darkness
I've seen a number of articles asking how powerful is Doom's armor, magic, or mind. The real question behind all three being: "just how dangerous is Victor von Doom." 
The Devil has called Doom his arch enemy. 
That's right. Mephisto's nemesis is not Silver Surfer, not Doctor Strange, not any hero. It's Victor Von Doom. Because Doom is a man known for his plots (usually) being works of subtlety, craft, and unbelievable threat.
And has been shown time and again, virtually every scheme the Latverian makes is aimed at only one thing: gathering enough power to free Cynthia Von Doom from Hell.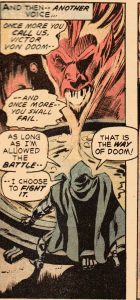 He's so persistent and becomes such an enormous problem that Mephisto had to promise Victor that they would have an annual anniversary dedicated to Doom trying to outwit, humiliate, and kill the Devil himself. And thus far, the Prince of Lies has kept that promise, but although he fights pure evil like Mephisto, Doom has never been much of an actual hero. A fact that has weighed on his conscience on numerous occasions.
Doom's first act of heroism, defeating the Over-Mind. Not a critical read, but it's good for context.
One day in the life of Doom, as told from his perspective. A character-defining masterpiece.
Winter Soldier  
• Ed Brubaker & Butch Guice
Bucky and Black Widow must pair up with Doom to stop a hit that's out on the Latverian ruler. Also, Bucky fights a gorilla. One of these things is my favorite part of the book.
Fantastic Four (v2) #258-60
• John Byrne
Doom sacrifices himself to save the world from the problem he created. Which was a new herald of Galactus, but for himself. Frankly, I'm impressed he could do any of that, so I think this counts.

The Antihero – Payoff
Infamous Iron Man
• Brian Michael Bendis & Alex Maleev
When reality is restored at the end of Hickman's magnum opus, Doom goes out to find the heroism he now believes missing in himself.
Doom's war with Mephisto stops being a shadow game and becomes real. An escalation Doom meets but grabbing some of Tony Stark's arc reactor suits, adapting them to his new mission, and then using this new, combined power to start slaughtering pretenders to Doom's metaphorical throne.
Doom's sense of "calling" comes into play hard in this story as he cuts a swath through the world. In effect, Doom tries changing himself by going at any villains trying to be him, including:
El Diablo,

a chemist who pretended at magical abilities with a name that pretended at "the dark lord."

The Hood,

an arms enthusiast who fancies himself the antichrist. 

Madame Masque

, a master tactician who uses advanced technology and bio-duplicates in her plans for domination.

The Thing, Agent of S.H.I.E.L.D., a former football player with a unique relationship to Doom. Grimm makes the mistake of underestimating "Vic," getting his geodes handed to him in the process.

We haven't seen this kind of character work on Doom since John Byrne's Fantastic Four 258. That said, I fundamentally reject the idea Infamous' core conceit:  that Doom would ever go by any other moniker, title, or adjective.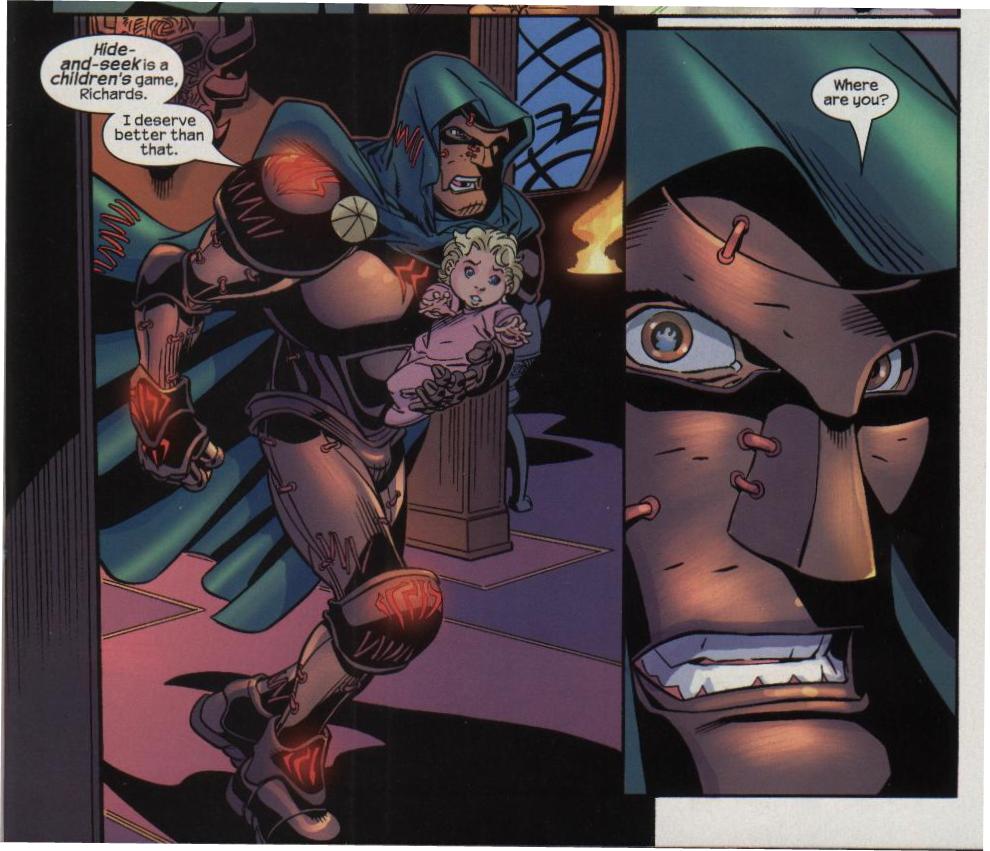 Misunderstand Doom
| We Have to Talk About Valeria. Both of Them.
Sometimes, Doom's iconic status is an impediment to good Doom stories. In the wrong hands, he becomes cartoonish, a stack of powers and quips. Like Tony Stark, it's very easy for authors to write for the suit, not the man.
This story introduces Valeria, fellow member of the Zefiro clan and the woman destined to be Victor Von Doom's lost love. But the Victor she knew as a child is dead and something far colder is in its place. Thomas's story gives a rich introduction for Valeria shows us a Victor Von Doom before the mask. So her realization that Victor is gone, and only Doom remains, goes beyond tragic. It shows us more of who Victor was, is, and might have been. We are able to read the anguish on his metal face.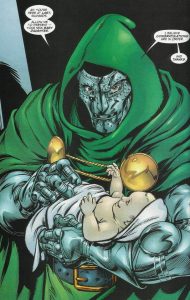 Unthinkable
Waid's story leverages Thomas', causing Unthinkable to be frequently listed as a prime example of Doctor Doom's ruthless quest for power. In truth, it's a point-by-point on how not to write the villain.
Setup
Time Travel and dimension-hopping is a tricky business. Sometimes you get the Future Foundation; sometimes Sue Storm gets extremely pregnant. When it was clear that Sue might lose the child, Johnny Storm did the smartest thing possible: he called up Doom. The Doctor was only too delighted to deliver the young girl as well as name her after his old flame, just to show up that festering jerk called "her dad." As a cherry on top, Doom casually cured Johnny of something as a bonus. After that, nothing happens. Nothing.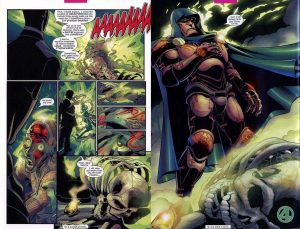 Something Happens
Fine, look, Doom cursed the baby Valeria to be his familiar. What, you thought I was going to bring up how he turned the original Valeria into soup and made armor out of her? Because that happens too in this same story.
And okay, credit where it's due, the scene looks great. Waid always had a talent for gratuitous violence.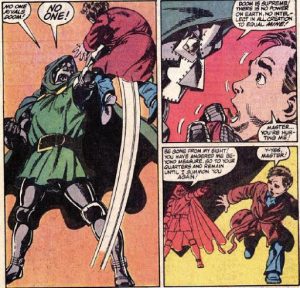 But here are six reasons Waid's choices just aggressively don't make sense.
Doom is the kind of guy that takes titles seriously. Like "Doctor," "Ruler of Latveria," "Godfather," that kind thing. He's big on ceremony. So why would he enter into this situation

and

break if like this?

Furthermore, why is he shown as a horrifyingly great "Uncle" to the girl both before and after this?

Why would he name his future familiar "Valeria?" Isn't that name sacred to him, per Thomas' story?

Also, please explain why Victor Von Doom of all people would burn a woman alive and send her to Hell. He's he spent his entire life fighting Mephisto over his mom's soul?

If Doom is always amassing power to either control the world or save his mother, why did he kill a woman just to mess with the Fantastic Four? Also, why did he send Reed, Sue, Johnny, Ben, and Franklin to… wait for it… also Hell?

Why doesn't the armor even have a good name? (Officially, the suit is named "Doctor Doom's Mystical Armor." He made a deal with Hell for RPG vendor trash?!)
No True Latverian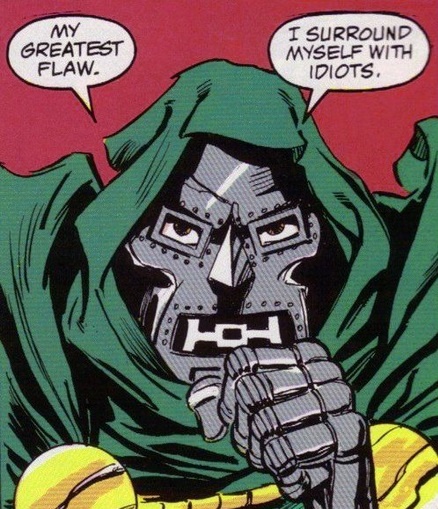 Generally, Doom's plots are masterpieces of subterfuge and daring. Particularly his non-pirate based ones.
When Doom wants to get revenge, he travels directly into Hell and makes Mephisto his enemy. There's poetry in how he brought Valeria into this world and then saved the multiverse. Both necessary because of the baffoonish Richards. (He is as stretchy as he is incompetent.) There's also a finality and simplicity to them, such as when Namor asked Doom's help in dealing with Thanos. Victor turned him down, seemingly sealing reality's fate because he was Namor's second choice.
Ultimately, I think Waid's story is much like Thomas': we learn about Doom through his absence.