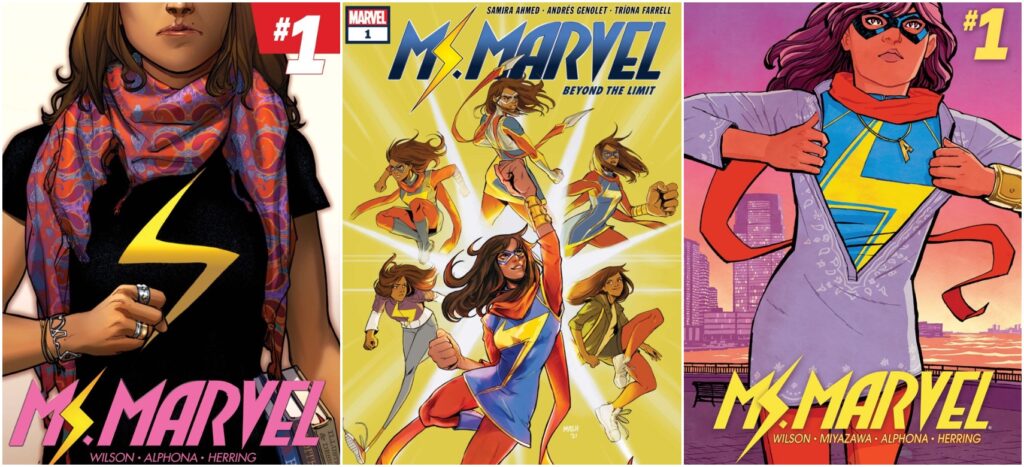 [covers by Sara Pichelli & Justin Ponsor; Mashal Ahmed; and Cliff Chiang]
The world seems to slip by so fast these days—hence, why the past decade feels like two decades! (And yes, that's the usual cliché inverted, because it's truer!) Somehow, in 2022, it seems like Kamala Khan has always been with us and yet only a little more than eight years have passed since her January 2014 debut. Now obviously, it's not like she's there in the comics before 2014's historic Marvel Now relaunch (not a reboot), but really, so much has been done to assure Marvel readers, especially those who came of age in the 2010s, that this Ms. Marvel, from a Jersey City Pakistani immigrant family and a diverse high school, is even more than just the Peter Parker of her time. Kamala is unique for a star Big Two superhero because whereas most superheroes are sped through what would realistically be their gradual, formative phase, to get them away from their families and their everyday, relatable lives and settings, to launch them into cosmic battles and world-ending dramas, Marvel has from the beginning to the present moment stewarded this character to guarantee that she is what has been all too rare in superhero comics: an authentic in-universe viewpoint for an entire generation of fans, a position she shares perhaps only with Spider-Man Miles Morales.
Unlike countless characters introduced in the past decade, Kamala has almost never missed a month (barring recent supply chain chaos) since her debut in the anthology All-New Marvel NOW! Point One one-shot, which was followed in February 2014 by Ms. Marvel (vol3) #1 (though the story fits between issues #5 and 6). And after 19 issues, despite the "world-ending" Secret Wars event, her series restarted without missing a beat; the next volume ran another 38 issues—both volumes written by G. Willow Wilson, one of Marvel's embarrassment of riches, a powerful young novelist the company was very lucky to have for a time. Again, right on schedule, Kamala's next phase dropped, The Magnificent Ms. Marvel from Saladin Ahmed, yet another successful young novelist and lucky win for Marvel. However, his run of 18 issues was no doubt meant to be significantly longer, but after 2020's five-month pandemic/supply-chain abyss (industry-wide), the title's decent, second-tier sales had fallen off—and yet, who knows, there was likely a confluence of reasons for cancelation; life, alas, moves on in the real world even when comics go on pause. Most of a year would go by, somewhat surprisingly, before another Ms. Marvel solo title debuted, at the very end of 2021—although it's only a five-issue miniseries wrapping up this month. Yet with Ms. Marvel: Beyond the Limit penned by YA author Samira Ahmed—whose star is on the rise—all the serial Ms. Marvel writers have been American Muslims—as are the creators of 2021's middle-grade graphic novel Ms. Marvel: Stretched Thin
, Nadia Shammas and Nabi H. Ali.
With Kamala's solo stories all penned by authors who share at least a couple of the teen heroine's identities, Marvel has never been more consistent in handling a nonwhite female lead—which is truly remarkable (although obviously it should be less so, especially going forward).
And yet she's missed nary a month? Yep, as the clear leader and moral heart of the teen Champions (and before that a staple of All-New, All-Different Avengers, 2015-2016) and a consistent guest-star in other titles (and a feature protagonist in the otherwise dire event Civil War II), she's been appearing on average in more than 3.5 books per month since her debut—very impressive!
Support For Comic Book Herald:
Comic Book Herald is reader-supported. When you buy through links on our site, we may earn a qualifying affiliate commission.
Comic Book Herald's reading orders and guides are also made possible by reader support on Patreon, and generous reader donations.
Any size contribution will help keep CBH alive and full of new comics guides and content. Support CBH on Patreon for exclusive rewards, or Donate here! Thank you for reading!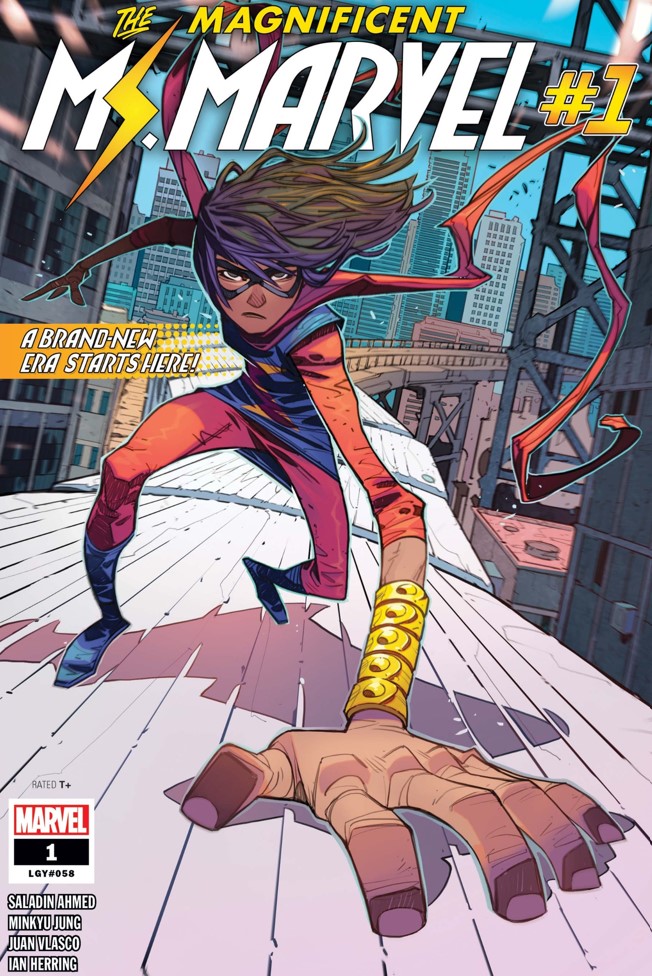 [Eduard Petrovich]
But admittedly, after three volumes and 48 issues of Champions, with the last issue dropping just before Beyond the Limit started and no follow-up yet in sight, Kamala's on-panel momentum has waned somewhat; yet given that she was swinging toward Spidey and Wolvie levels of saturation, that might not be a bad thing. There's no reason to think Marvel is backpedaling on her development or prominence; again, this is a character they've taken a lot of care with, and in all likelihood, they'll want to continue making sure they're getting the best fit among the top talent for the job of carrying forward the career of Kamala Khan, Ms. Marvel.
While I would be very surprised if a new solo title isn't announced this summer, sometime before or after the premiere of the Ms. Marvel Disney show this June, Marvel did just announce a series of three one-shots by Jody Houser and Zé Carlos, each story featuring a team-up between Ms. Marvel and, respectively, Wolverine, Moon Knight and Venom—which is, yeah, surprising! But Kamala isn't simply going to be plunged into the dark side of the Marvel Universe; rather, the team-ups look to be a study in contrasts, and the first issue, out in July, will also heavily feature other superstar Krakoans.
Until then, what should a new reader wanting to catch up do?! The answer is obvious: Read all her comics! Her solo issues total 83 comics, including the middle-grade OGN (which is the length of about six comics), an annual and a Generations one-shot.
But if you insist on just the highlights, here's a list of 10 of her essential narratives, most of which are standard-length arcs, while the first one listed is, as it must be, her entire first volume (a mere 19 issues)!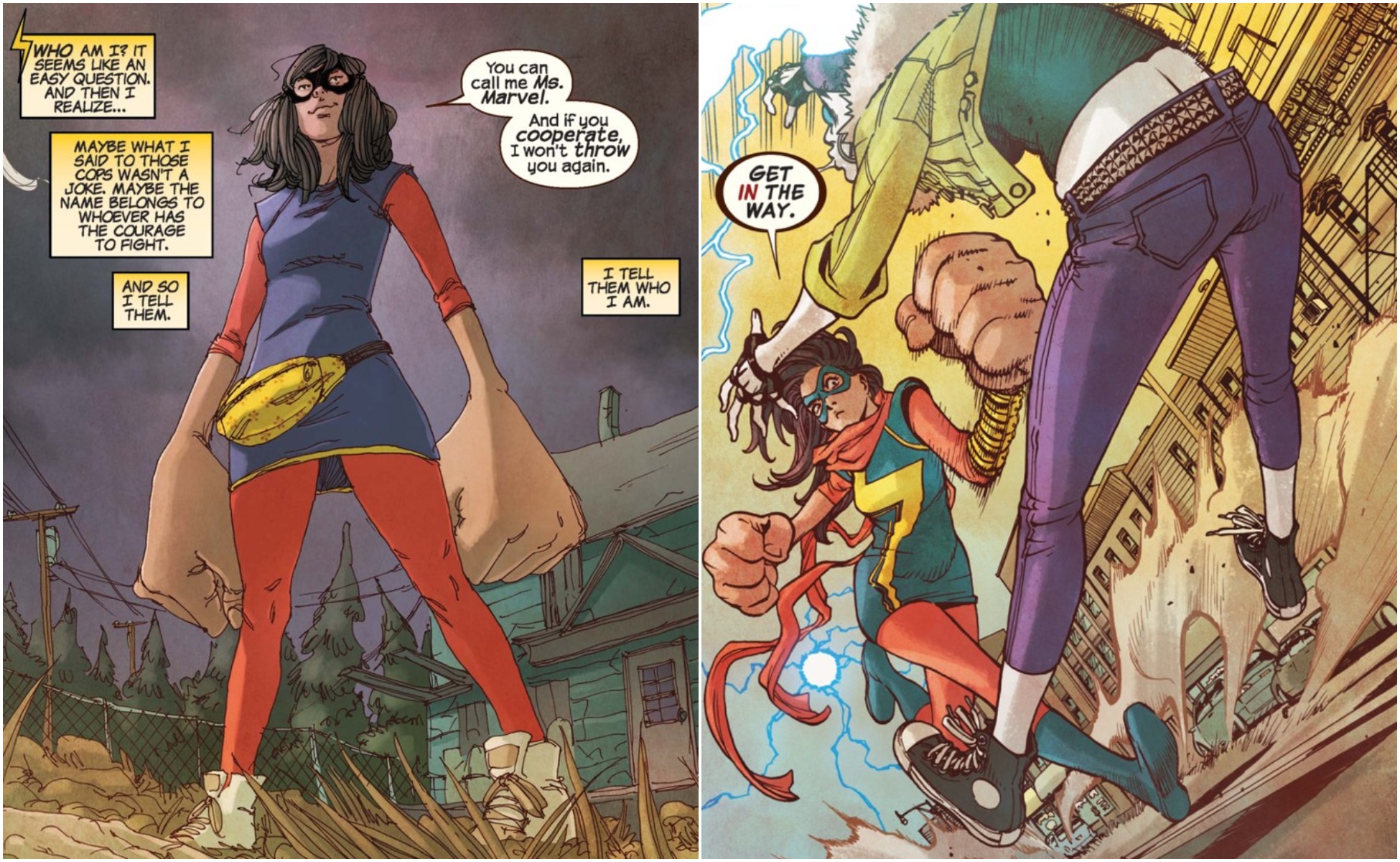 [art: Alphona and Miyazawa; colors: Ian Herring]
Looking back at Kamala's first series, I'm struck by how many headliner guest-stars pop up—a sign that Marvel wasn't yet sure the new Ms. Marvel's success was guaranteed? Probably—but understandable! (Although it is certainly ridiculous that they're still only just breaking into the middle-grade OGN market, so that lack of basic business sense in catering to a younger readership is all down to their dinosaur thinking.) Regardless, all the Ms. Marvel supporting cast, Kamala's family, friends and other classmates, are introduced in the debut issue, which is also a very straightforward origin story—her Inhuman powers triggered by the floating Terrigen cloud*. Yet the broader Marvel Universe particulars at play here, surprisingly and blessedly, don't really matter, and beyond these first 19 issues, they'll signify even less! Unlike the close legacy relationship between Miles Morales and Peter Parker (who are both down to earth), Kamala Khan could never be boxed in by the weird Silver Age mythos of the Inhumans; she's simply too relatable and, in her own way, larger than life. Indeed, as we'll see, even her dynamic with Carol Danvers (who languished for far too long as the initial Ms. Marvel) is more aspirational than anything else. In fact, unusually for Big Two comics, it's the ordinary, everyday venues and scenarios in a real-life city that define her character; built out from the Khan family home, the Circle Q bodega and Coles Academic High, Kamala's Jersey City is the genius of both the greatest new American superhero to emerge in the 2010s and her cocreators, particularly writer G. Willow Wilson and editor Sana Amanat.
*Ms. Marvel was launched in the wake of the Inhuman-centric Infinity event, which again isn't essential when it comes to enjoying Kamala's adventures.
If pressed, I'd say the first eleven issues are the most essential here, and they cohere as one extended arc. Issue #12, a Valentine's Day school dance story guest-starring Loki, works as a nice pendant, too, releasing some of the Kamala/Bruno tension. But even the rest of the volume is foundational—just feel free to ignore the Inhuman stuff, which was already clearly second fiddle to Wilson's primary interest in building out Kamala's world.
Kamala's costume designer, Jamie McKelvie (artist of Young Avengers and The Wicked + The Divine), doesn't pencil any of her stories, but in the first volume, artists Adrian Alphona and Takeshi Miyazawa define the look and feel of a Kamala Khan story, each in their own brilliant, inimitable style. (Granted, Miyazawa's contribution is limited to issues #13-15, but he's a mainstay of the next series.) And yet, visually, the most consistent element throughout Wilson's tenure is the coloring; amazingly, Ian Herring colors every issue of both volumes. His warm but muted palette is, throughout, a subtle reminder that we're in a recognizably ordinary and comfortingly relatable setting—particularly if you live in a northern city.
But critically, Kamala's home is not New York City; Jersey City is the city on the other side of the Hudson, which means that for all that it appears geographically close, it can feel much more remote from Manhattan than Brooklyn, Queens or even the Bronx. So in this sense, Kamala Khan outdoes modest Queens native Peter Parker in being from a (big) humble town that needs its own heroes, rather than another hero who hops and/or rides across the (much narrower East) river to play in the Manhattan big leagues.
And hey, it's about time Jersey City got some of its thunder back—after all, Ellis Island, gateway for millions of immigrants into the United States, is much closer to its shores than to Manhattan (even though, inevitably, in the popular imagination, it's a quintessentially New York venue).
(Note that while there is an omnibus, the first volume of Ms. Marvel (Kamala Khan) is much more affordable in two collected editions; the digital versions can be found here (these trades are also still in print as paperbacks and hardbacks).
Ms. Marvel: Super Famous – "All-New, All-Different" (the MU soft reboot after Secret Wars)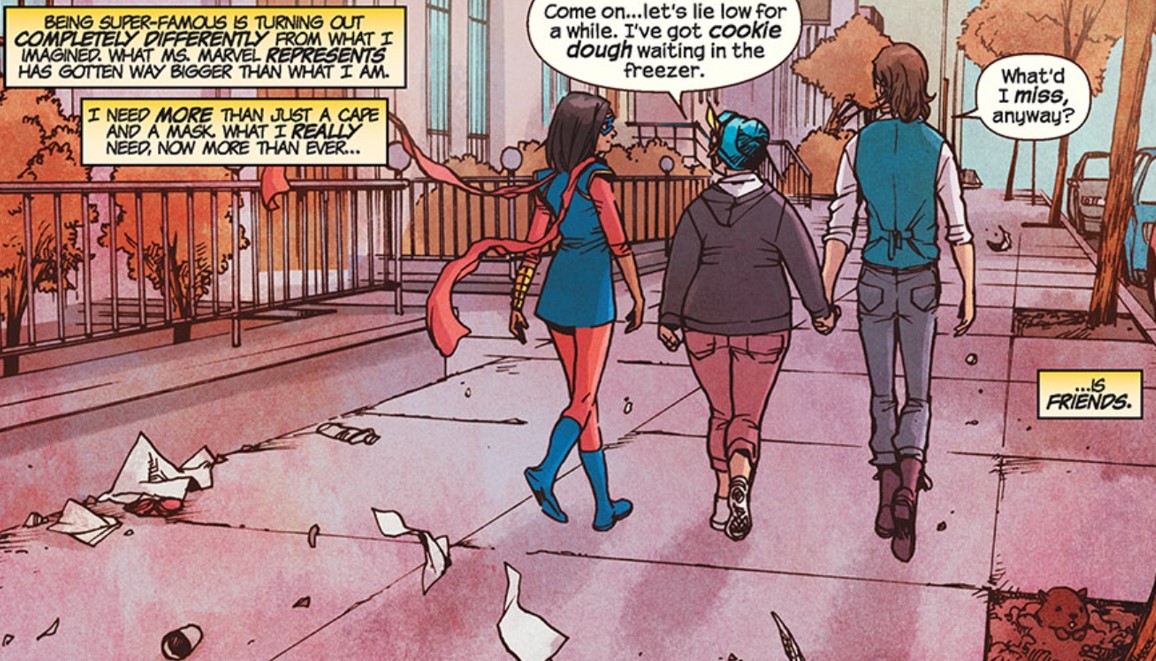 [Miyazawa]
While this arc is available in its own trade (see the above link), I highly recommend the collected edition (linked to below) that comprises the first twelve issues of the post-Secret Wars volume of Ms. Marvel.
Again, Ms. Marvel (2015) #1 dropped just a month after issue #19 of the previous series, and yet there is not only an eight-month gap in-universe—the first three issues ("Super Famous") establishes a paradigm shift in storytelling: The new Ms. Marvel is a phenom who doesn't need backup from the Marvel establishment as she battles such everyday local villainies as gentrification and, later, "predictive justice" and even gerrymandering—in each case personified by an organization and figurehead who perfectly embody everything we love to despise about these unjust systems that are so hard to fight (albeit all of it PG-rated). The training wheels are off—and Kamala must defend her image and reputation on her merits! But fortunately, with more than a little help (and charming disaster) from her friends.
Nico Leon draws the second, three-issue arc and later returns for the last 13 issues of the volume; admittedly, he is my least favorite regular Ms. Marvel artist, but even his sketchier, more cartoonish style has grown on me and still faithfully strikes the quirky, oddball balance between strangeness and coziness, and zaniness and earnestness, that is so characteristic of Kamala's world.
The Only Redeeming Feature of Civil War II: Ms. Marvel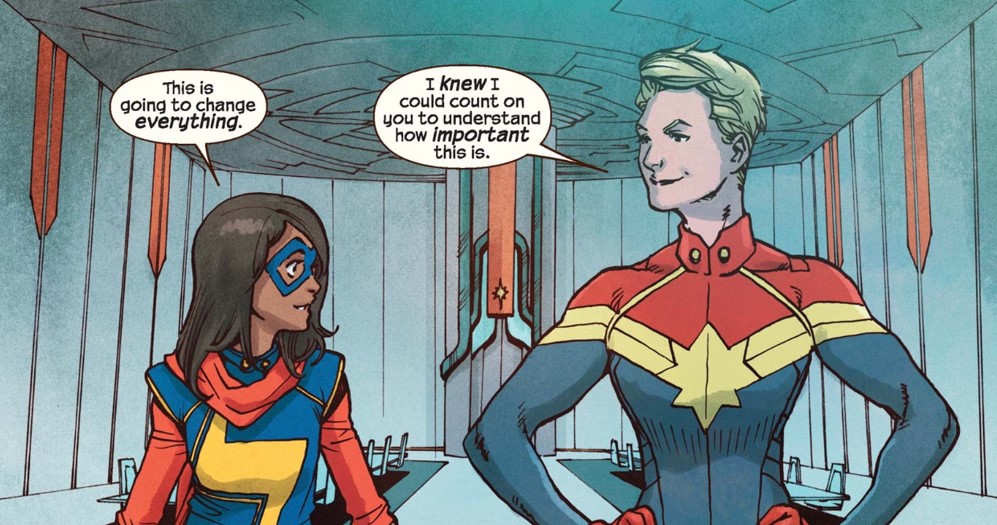 [Miyazawa]
Civil War II and Secret Empire may be the worst companywide Marvel events of the past 20 years, and with one hot on the heels of the other, Marvel really felt like it was in the dumps throughout 2016-2017. (But hey, the world itself was changing drastically, and it took us all some time to get used to the new weird—maybe the pre-pandemic years prepared us for even worse better than we care to admit!) Yet somehow, there was one title that, in its own small corner, redeemed the basic conceit of the 2016 event (and then, thankfully, completely ignored the next one). Essentially, Kamala's distant role model, Carol Danvers (who wasn't an Avenger when Kamala was, briefly), has a Minority Report-style precog working for her and, overall, the drama is predictable and predictably exhausting throughout the event series and all the tie-ins (152 issues total!).
But Ms. Marvel (2015) #7-11 is a perfect little arc wherein Wilson takes the theme of "predictive justice" into Jersey City's neighborhoods, resulting in (only nearly lethal) tragedy. It remains the saddest and darkest stretch of Kamala's solo series, beginning with her perfectly understandable disenchantment with namesake Captain Marvel (whom we all remember as the villain of the event!)—and culminating in a major shift for her personal life. Ms. Marvel also gains her most effectively irritating nemesis so far, Becky St. Jude (Lockdown).
Issue #12 is a reset story for Kamala, who travels to Karachi to stay with family, and it serves as the debut of Red Dagger, a Pakistani street hero and occasional supporting cast member in future issues. This chapter is a kind of "Ms. Marvel No More" interlude that allows the reader to thankfully not worry at all about how Civil War II wraps up. It's also a lot of fun and adds further complexity to Kamala's life.
The real coda, however, is issue #13, wherein Kamala has returned to Jersey City with a renewed sense of purpose, and Ms. Marvel joins her community in fighting—gerrymandering and voter apathy. Which maybe is a first for superhero comics? And for once, democracy wins. Looking back, though, what's really striking is how differently we framed these and similar challenges than we do now, little more than five years later. This isn't Wilson's fault; the world has just drastically changed. Yet the communal impulse toward justice remains timeless. In lieu of fisticuffs, we have canvassing with friends and neighbors, and that's refreshing.
Ms. Marvel Founds the Champions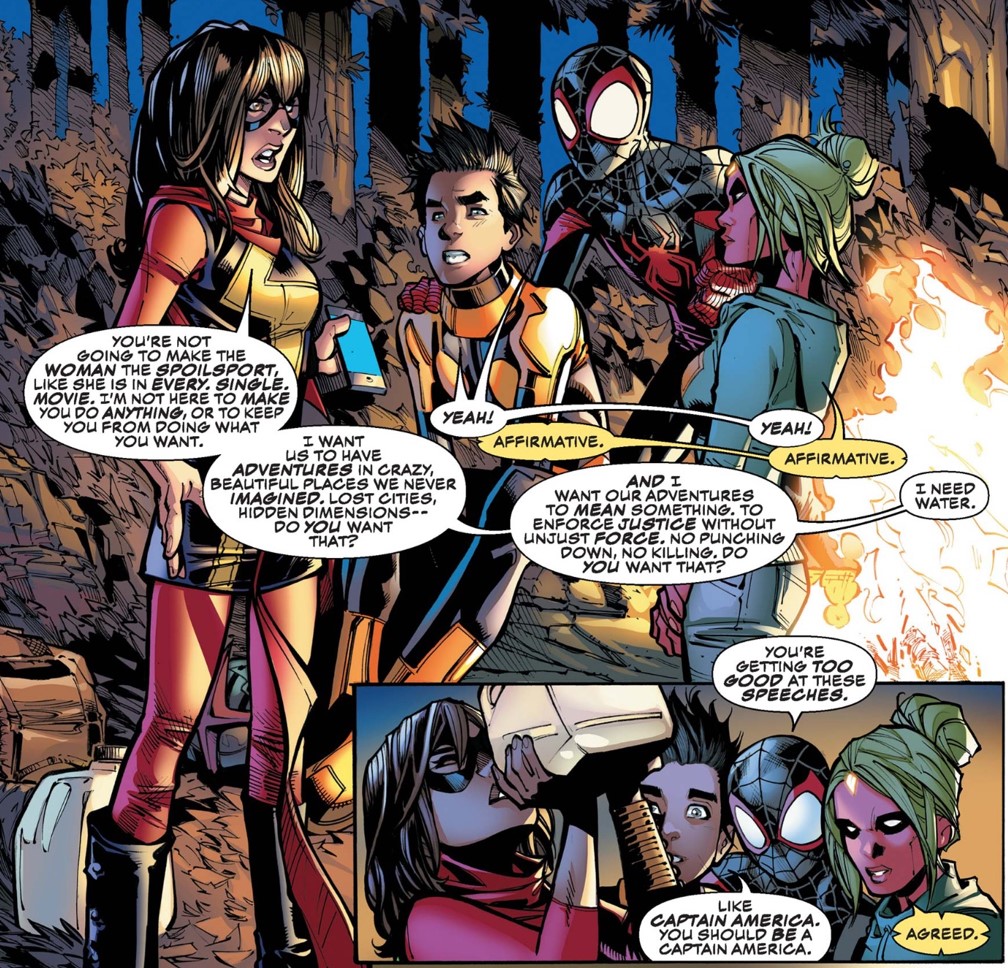 [Humberto Ramos, Victor Olazaba, Edgar Delgado]
In the aftermath of all the super-adults acting like idiots and causing nearly as much damage as any villain, former Avengers Ms. Marvel, Spider-Man (Miles Morales) and Nova (Sam Alexander) found a new team of teen heroes. But really, it's Kamala who calls them together and inspires them to be the shining example their own role models so miserably failed to be. They quickly pick up the new Hulk, Amadeus Cho, Viv (the Vision's synthezoid daughter) and lastly, the time-displaced teenage Cyclops, with whom Kamala forms a close (platonic) bond in the field (which the adult Scott Summers still happily remembers, lol/sigh). Also memorably, Kamala in issue #5 finds herself earnestly arguing with Gwenpool, trying to get her to understand the banality of evil and that one cannot simply treat all foes as cartoon villains; these two are just fundamentally at odds with each other.
Overall, the crises the team face in these early issues aren't handled impeccably or particularly memorably, except where the teens are developing their internal dynamic and the team's raison d'être; Mark Waid is certainly the oldest (and whitest) writer on this list—though his heart is in the right place even when he fumbles. Humberto Ramos' art, which before this series I found too off-putting, really begins to work here; his frenetic style had become less sketchy, grounded with the greater texture and dimensionality that characterize his recent peak in Strange Academy). Yet Ramos was certainly drawing in a different style from the Ms. Marvel artists, and for Kamala fans mileage on this title may vary. Regardless, we have here a defining moment: Marvel's teen hero of the 2010s establishes her own super team ideologically against the grain of most Marvel superheroes. The promise of this concept, however, has perhaps only just started to bear fruit recently, with Danny Lore's five-issue Champions run (see below).
Black Mirror-style: Kamala fights the Internet! (Ms. Marvel, 2015, #14-17)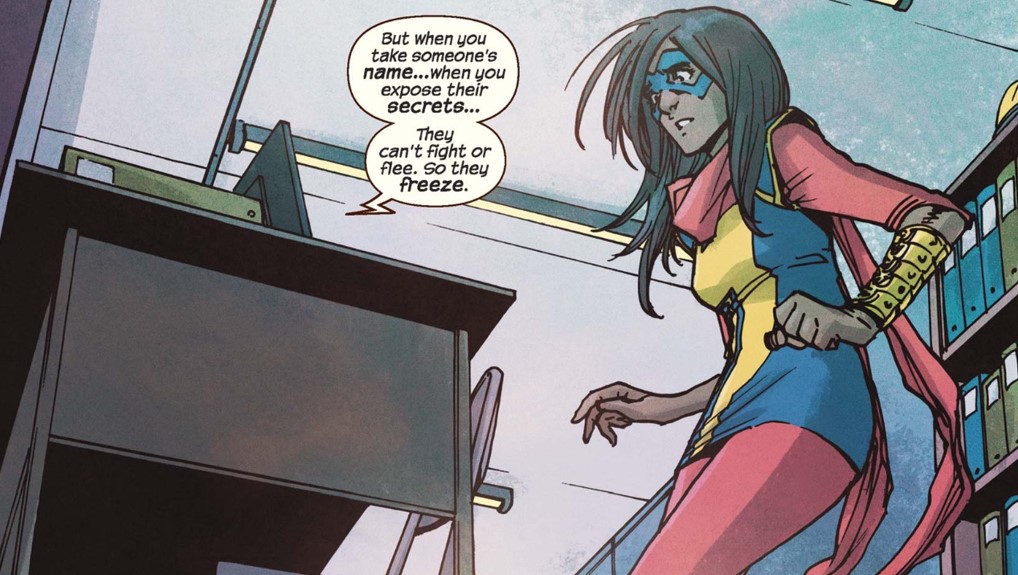 [Miyazawa]
Again, not unlike the Lee/Ditko/Romita era of Amazing Spider-Man, the 58-issue G. Willow Wilson is essential for laying the groundwork of Kamala's world, and there isn't a single dud there, so bottom line, I simply recommend the next 12-issue collection of Ms. Marvel (issues #13-24).
But to focus on one arc here in particular, "Damage per Second" seems like another first, developing online privacy vulnerabilities into a comic-book foe, a viral AI taking command of everyday devices for lethal ends—or perhaps simply to be a troll. Threatening to dox Kamala and those she cares for, Doc.X is ultimately responsible for two major developments in Kamala's personal life: One of her best friends coming out. This is the emotional core of the story, and it's handled surprisingly well and realistically. And in this moment of vulnerability, Ms. Marvel reveals her true identity to her friend, who (like MJ!) has already known for a long time.
Gorgeous Miyazawa art throughout.
Additionally, issues #19-22 (excellently drawn by Marco Failla) pick up on both the first three-issue arc (against gentrification) and Lockdown from the Civil War II tie-ins, making for a nasty villains incorporated.
The Return of the Red Dagger—and a Jersey City State of Mind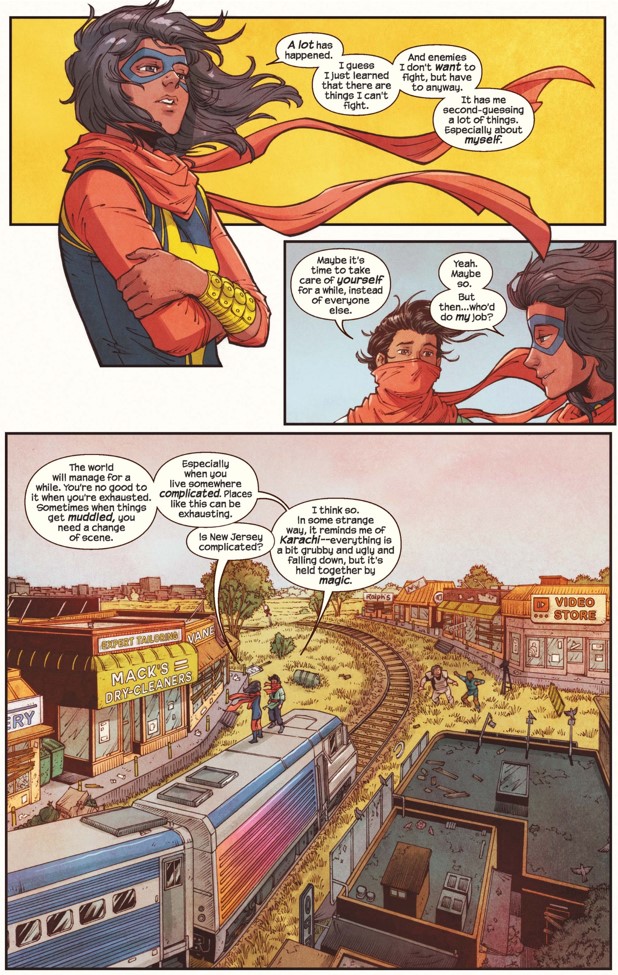 [Olortegui]
Once again, I simply recommend the final collected volume of Wilson's run (issues #25-38).
However, there are two or three major highlights here, all connected. First, Kamala's family friend and peer Kareem, aka Red Dagger, visits as an exchange student at Cole Academic High while living with the Khans—and acting as unpowered superhero in his downtime. He seems to surmise Ms. Marvel's identity before Kamala gloms on to his, but neither outs the other. The (not quite romantic) romance of their adventure is at its height with issues #23-24, which I think of simply as the train adventure. This little arc might just be my favorite story here. The Diego Olortegui art is gorgeous, and the creative constraint of limiting the action to these two heroes atop a relatively slow but implacable runaway train allows the creators to highlight each character's unique skills, all while developing their fascinating dynamic further and providing surprisingly interesting insights and perspectives on railroads, railroad history and post-industrial America.
Red Dagger remains through issue #30, but Kamala disappears for several issues after the train debacle, leaving Jersey City at a loss as regular folk struggle to carry the mantle and keep Ms. Marvel legacy alive (this was the brief "Legacy" era). With Kamala's return, her ex-best friend Bruno also happens to return, and issues #29-30 see this sudden love triangle resolved in a refreshingly non-tropey manner—unsurprisingly, given Wilson's penchant for emotionally realistic character arcs with resolutions that are healthy and mature if not traditionally "happy." (But there's plenty of fisticuffs along the way with the return of an "old" villain, whose nastiness is, as ever, highly relevant to our youthful cast.)
And yet issue #31, solicited as an "oversized 50th issue spectacular," does give us Kamala and co.'s version of realistic happiness—best friends who truly see each other, without secrets. Still, our heroine manages to exhaust herself rushing about too many places at once, even on slumber party night. Even so, she proves much better at friendship than Peter Parker.
(Don't miss out on the one-and-done coda to the series, issue #37, which sees most of the cast reappearing here and there on the suddenly flooded streets of Jersey City, helping one another out, even a flying baby.)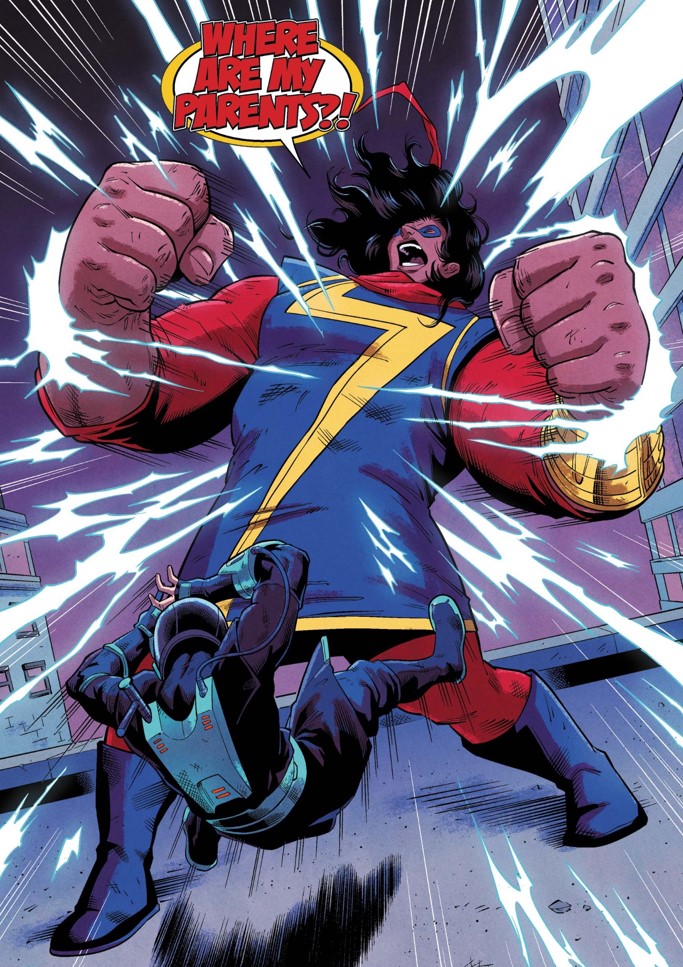 [Minkyu Jung, Juan Vlasco, Ian Herring]
Saladin Ahmed's Magnificent Ms. Marvel run started off with such promise, but while the issues with Kamala's family do get resolved before the title was canceled, the cosmic elements introduced at the start never get picked up again—beyond the Kree-made power-suit with its own malignant machine intelligence. But there are suggestions that perhaps the Khans' Inhuman ancestry has some still-relevant connection to happenings in the broader context of the Kree Empire. Who knows!
On its own merit, this opening arc presents some fascinating worldbuilding elements, most especially with the alien science-fantasy venue that's loosely but strikingly modeled on West and South Asian patterns rather than the overfamiliar European style.
The story also redefines Kamala's dynamic with her parents, and her father's challenges become central to the run going forward—the rest of which I still recommend to any serious Ms. Marvel fans, however much the sudden end due to cancelation is a real disappointment.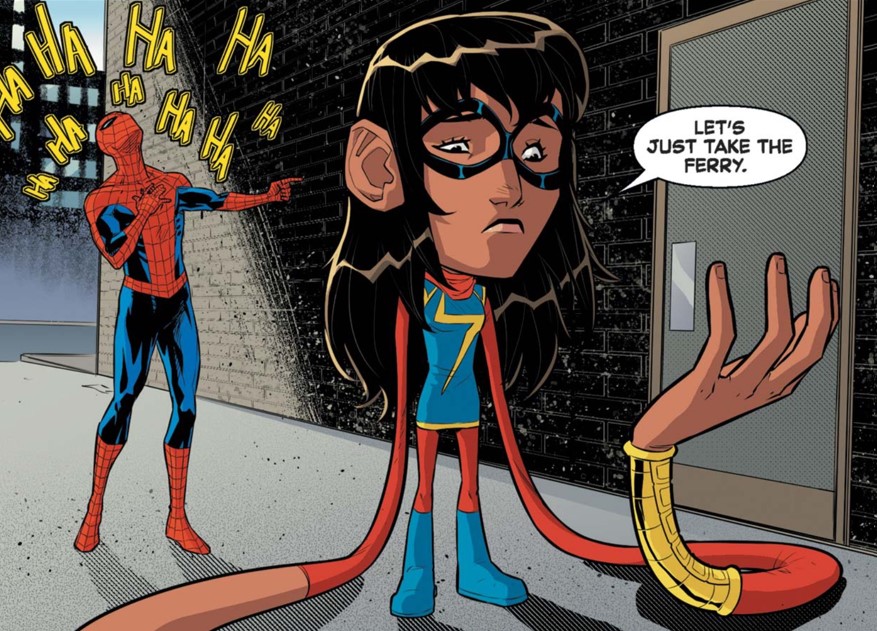 [Joey Vazquez & Felipe Sobreiro]
Eve Ewing's better-known Ms. Marvel material is in her Champions arc, part of the Outlawed event, which never quite left the ground and felt overly familiar in concept. Before that, she had written this fun little arc with the bright poppy art of Joey Vazquez. A quick, light read, this story at last delivers the natural pairing of Ms. Marvel and Spider-Man Peter Parker (which, again, doesn't work with Carol Danvers). And Ewing, understanding what a no-brainer this team-up was going to be, brilliantly literalizes the implicit analogy by making the two reluctant partners undergo a mindswap. Now, obviously, if you stop and think about, this is a cringe-inducing scenario—and yet she keeps things moving at the right clip, with Kamala in Pete's body and vice versa, each trying to deal with a typical day either looking for work or going to school, while the two try to remedy this disaster before it's too late. Meaningfully, each appreciates what the other experiences, the good, the bad and the awkward.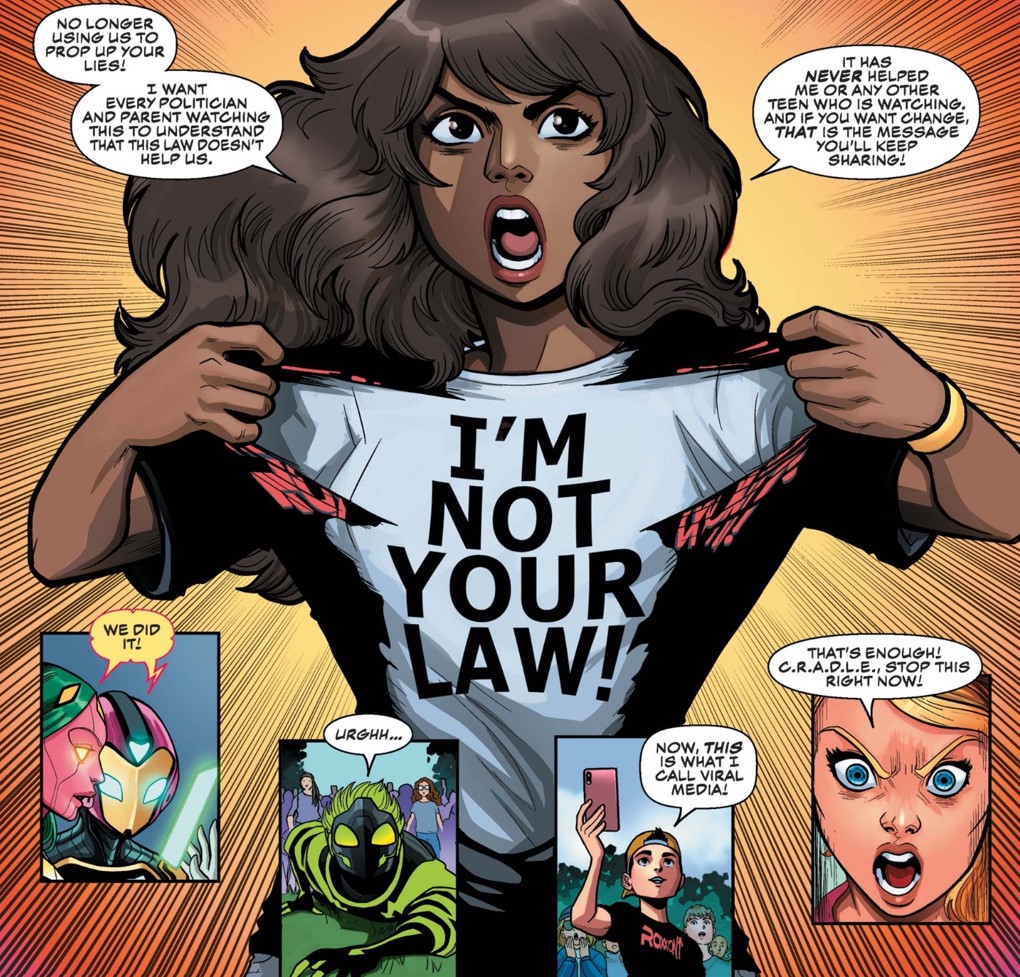 [Luciano Vecchio & Federico Blee]
With this latest Champions arc, from young queer creators Danny Lore and Luciano Vecchio, this team seems to have at last found its core internal dynamic and most relevant mission statement. Certainly, it is one of the chattier modern superhero stories I've read in recent memory—but this isn't your uncle's Bendis, tbs! I'm not the target age audience for this social media-centric story, but I recognize its relevance to younger audiences, and in my reading experience, it's one of the first contemporary Marvel comics that actually feels like a young creator speaking to their generation.
Apparently, the latest volume of Champions was supposed to have been canceled after Eve Ewing's arc, but even Marvel seemed surprised to be allowed this brief extension—which appears to have been more popular than the preceding "Outlawed" material, at least among critics and devoted fans. This critic is no exception. So I can only hope that Lore gets another chance at writing this teen team or someone takes this success seriously, because they really figured out how to write the core group of five teens (which by now includes Riri Williams (Ironheart) but not Amadeus Cho). And even as each teammate contributes their own brand of drama, they're becoming the closest of friends and have never played so well to each other's strengths (and weaknesses). But while the proceedings are punctuated by dramatic action, much of the story is built around intrigue and smart teenager spycraft.
As ever, Kamala remains the heart of the team's activist spirit, and she and creators Lore and Vecchio have delivered the team from the doldrums of Outlawed, giving the teen Champions the strongest chance to hit the ground running whenever they get the next chance.

[Andrés Genolet & Triona Farrell]
The latest Ms. Marvel solo adventure is maybe the third Kamalas-of-the-multiverse sort of tale, but this one is my favorite—and perhaps the most subtle. Because Kamala's nemesis here, Qarin (transliterated Arabic for a djinn that's also a doppelganger, though I'm doubtless missing a great deal of nuance here), isn't Kamala from another Earth; the situation is more complex than that. Even so, this story is straightforward despite its interdimensional premise, and its focus on depth of character allows an entertaining buildup toward greater suspense punctuated by increasingly high-stakes action—and the crisp, expressive art of Andrés Genolet sells it. While the final issue is due out by the time this piece is published, ultimately—without getting into spoilers—Samira Ahmed's miniseries seems to be a modern, sophisticated take on another classic Peter Parker theme: With great power comes great responsibility. But the thematic framing is characteristically earnest but zany in the now inimitable Kamala Khan fashion.