For the next 10 weeks, we'll be posting 10 selections from the upcoming CBH guide to the best 100 DC Comics since Crisis on Infinite Earths (1985). Once released, all 100 will be published together for one mega guide in general chronological order!
Picks 61 through 70 cover comics released in the mid 2000's through the late 2000's. We'll release the full list of selection criteria with the best 100 comics guide, but for now here are some caveats:
Although the books are numbered, this is not a rank! The books are listed in general chronology or by era, so readers could proceed from the first entry through to the 100th and move through time from 1986 to present day. If you want to see where these comics are ranked, check out the best comics of all time list!
The write-ups are the work of various writers across Comic Book Herald. That said, any weird picks are definitely the work of CBH editor-in-chief Dave, so please direct your befuddled confusion that way! And definitely provide some of your own favorites for consideration!
Without further ado, check out our picks for the best DC Comics to read!
Previously: The Best 100 DC Comics Since Crisis!
Creators: Greg Rucka, Jesus Saiz
Support For Comic Book Herald:
Comic Book Herald is reader-supported. When you buy through links on our site, we may earn a qualifying affiliate commission.
Comic Book Herald's reading orders and guides are also made possible by reader support on Patreon, and generous reader donations.
Any size contribution will help keep CBH alive and full of new comics guides and content. Support CBH on Patreon for exclusive rewards, or Donate here! Thank you for reading!
Issues: Checkmate #1 to #12
After Infinite Crisis, the world turned against heroes, which perfectly set the stage for the super-secret spy agency Checkmate to return and pick up where teams like JLA fell. That political tension makes the book a taut thriller, almost like JLA's own version of Gotham Central, except half "war on terror," half "cold war." By keeping fights to just the meaningful ones and cutting out other distractions, the book became more about characters outmaneuvering one another. The stakes aren't just high, they're argued until we understand all sides. And with that knowledge, the danger seems far more real than another monster or time-quake. Also, respect for basically reintroducing Alan Scott and Mr. Terrific. — John Galati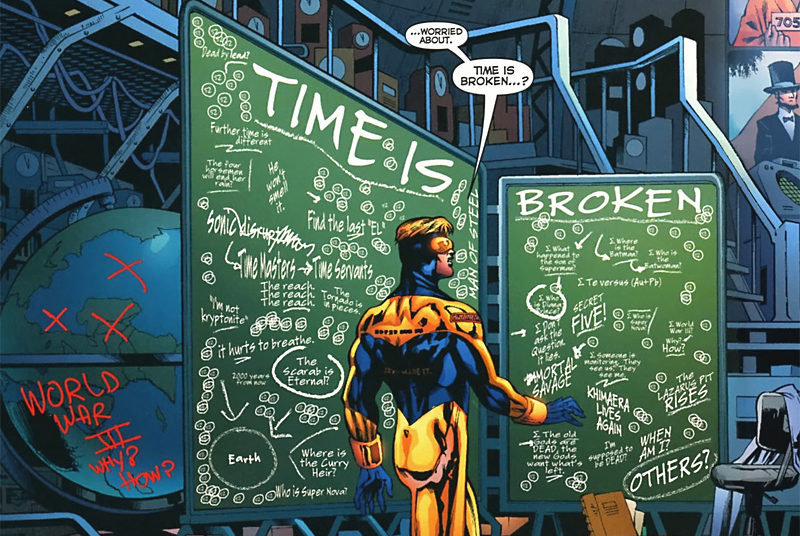 Creators: Grant Morrison, Mark Waid, Geoff Johns, Greg Rucka, Keith Giffen, Various
Issues: 52 #1 to #52
A weekly comic book bouncing around all corners of the DC Universe, from the minds of four celebrated writers at the peak of their powers, with Keith Giffen's artistic vision centering everything…. there's no way that would work, right? Against all odds, 52 tells a wide variety of compelling stories, from the Mad Scientist Island to Renee Montoya and Vic Sage's journey to Booster Gold trying to figure out broken timelines. 52 is a remarkable follow up to Infinite Crisis, the rare moment in superhero comics where the fallout of an event actually gets dealt with in all kinds of meaningful ways instead of just moving on to the "next crisis." Likewise, it's thrilling to find a book at the center of DC that so expressly and purposefully pulls the familiar Justice League faces from the story's center. The rest of the world gets to shine, and serves as a reminder why we fell for this universe in the first place. — Dave
Creators: Geoff Johns, Black Lives Matter, Ivan Reis, Carlos Pacheco, Various
Issues: Green Lantern Rebirth #1-6, Green Lantern Corps Recharge #1-5, Green Lantern #1-25, Green Lantern Corps #14-18, Green Lantern: Sinestro Corps Special #1, Green Lantern Secret Files 2005 #1, Tales of the Sinestro Corps: Superman Prime #1 and Green Lantern/Sinestro Corps Secret Files #1
2020 me realizes it sure as hell isn't "cool" for Hal Jordan to be your favorite Green Lantern, but getting into DC Comics for the first time and watching Hal conquer fear with nothing but a Han Solo attitude and willpower sure left a mark. I have an increasingly difficult time enjoying the work of Geoff Johns, but perhaps so much of it is I'm chasing the highs of Green Lantern and just know I won't reasonably ever get back there. From the course correction of 90's era Hal into a modern rejuvenation of the corps to the build-up of the Sinestro Corps War and the Yellow Lantern leader finally feeling like a DC supervillain worthy of a spot on the Legion of Doom, this era of Green Lantern became the center of the DC Universe until the New 52.  — Dave
Creators: Keith Giffen, Cully Hammer
Issues: Blue Beetle #1 to #12
2000's era DC Comics definitely becomes more resistant to legacy characters, which is unfortunate because it's consistently one of the shared universe's biggest advantages. Nonetheless, there are bright spots in the grand tradition, and the creation of Jaime Reyes as the new Blue Beetle following the events of Countdown to Infinite Crisis
is a personal highlight. It's far from a perfect book, but Jaime is a great addition to DC, in a series that taps into the rare Peter Parker energy the DC Universe is often missing. — Dave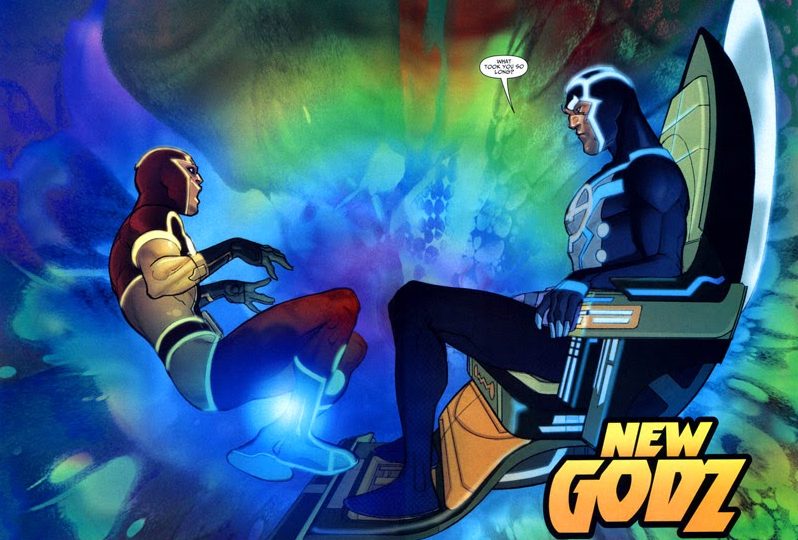 Creators: Grant Morrison, JH Williams III, Simone Bianchi, Doug Mahnke, Various
Issues: Full Event/Crossovers
What does a 'Team Book' where none of the members ever actually meet look like? Can something like that even be done? Is that even possible? Can you tell a sweeping, massive narrative with a team of characters, and pull that off? That's at the crux of Seven Soldiers, as is the idea of taking the iconic NYC, the hub of Marvel, and asking what it looks like in the DC world.

The proto-Multiversity
, and the prelude to Final Crisis, Seven Soldiers is Morrison's triumphant DC return, with him at his most experimental and bold, let loose from tradition to pursue and revamp a diverse array of ideas and characters in radically distinct comics. And joining him are some of the best artists in comics, from your J. H Williams' to Doug Mahnkes, they're all here. And they're all doing interesting structural, and narrative experiments, laying out an intricate macro-structure that is still wildly idiosyncratic. — Ritesh Babu
Creators: Geoff Johns, Richard Donner, Adam Kubert
Issues: Action Comics #844-846, #851, 866-870, And Action Comics Annual #11
A lot of times when big nerd culture celebrities are brought in to work on a comics project it's 9/10ths marketing, but in the case of Superman
Director Richard Donner listed as co-writer alongside Geoff Johns, the work is very strong, and decidedly in sync with Donner's celebrated vision. It's interesting watching one of the earliest cinematic Superman visions get to expand in comics alongside Johns and Adam Kubert.– Dave
Creators: Geoff Johns, Gary Frank
Issues: Superman: Secret Origin #1-6
Before they were Doomsdaying all over DC's precious Watchmen license, Geoff Johns and Gary Frank were telling some actually solid Superman stories in the format of the "Secret Origin" flashbacks. It's a nice excuse to look back at Superboy, the Legion of Super-Heroes, and young Lex Luthor.– Dave
Creators: Paul Dini, Guillem March
Issues: Gotham City Sirens #1 to #26
Paul Dini's certainly best known for his incredible role shepherding Batman: The Animated Series, but his DC Comics work is no slouch, and there's little I enjoy more than Gotham City Sirens. Circling the space between Birds of Prey and Harley Quinn & The Birds of Prey, "Sirens" is a team-up book between Catwoman, Poison Ivy, and Harley Quinn. It's a perfect and needed tonal interjection into the dour heart of Gotham, sexy, funny and unpredictable. I don't know that it starts here, but the rise of Harley Quinn as a cultural force certainly has strong roots in this work, expanded upon in everything from the Birds of Prey movie to the absolutely excellent Harley Quinn animated series.  — Dave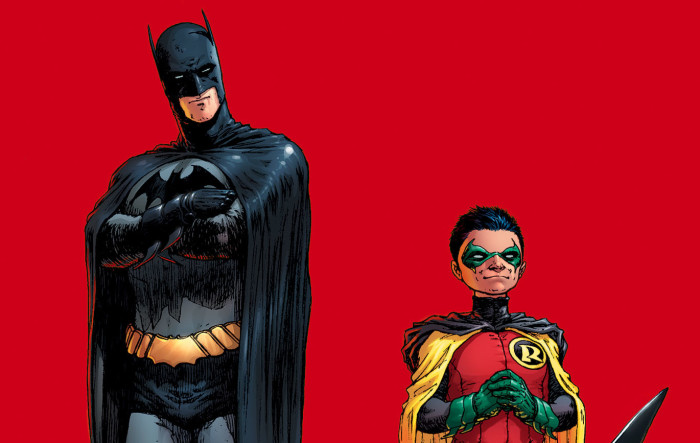 Creators: Grant Morrison, Andy Kubert, JH Williams III, Frank Quitely, JG Jones, Various
Issues: See the reading order!
What happens when you give the keys to the Batman kingdom to famed Scottish writer, Grant Morrison? A man who tends to focus heavily on the metaphysical and the idea of the metanarrative. You get DCs Silver Age reborn in the 2000s. The Morrison era of Batman begins with the introduction of Damian Wayne, Batman's estranged son, before jumping headfirst down a rabbit whole involving The Batman of Zurr-En-Arh, and a journey through time, post Final Crisis
. Morrison's run on Batman truly challenges what it means to be Batman or a member of the Batman Family. Roles change hands when needed, as characters define what it means to live up to expectations, and take on the responsibility of the Bat to the world. — Mikayla Laird
Creators: Bryan Miller, Lee Garbett
Issues: Batgirl #1 to #24
Ask comic book fans to name members of the Bat family and you'll get a wide variety of answers, but it's certainly going to be a shock when the few, the proud, the Miller/Garbett Batgirl fans drop Stephanie Brown into the conversation. Miller and Garbett's Batgirl falls in a perfect landscape of opportunity, during the Morrison / Quitely Batman and Robin era of Gotham, meaning Stephanie gets to come up as the new Batgirl in a field with Dick Grayson, Damian Wayne, and Barbara Gordon as Oracle.  — Dave