Blade is one of the most disgustingly slept-on vigilantes in all comics. The dhampiric Marvel character made his debut in the 70s Tomb of Dracula, and has bounced around quite a bit since then. His books don't fly off the shelves like those of the X-Men, he isn't everyone's favorite hero like Spider-Man, and his supernatural tales are often outdone by the likes of Dr. Strange and Ghost Rider. Blade's books have always been long ignored and soon forgotten as series after series is canceled and, eventually, reborn. Under the hit-or-miss pen of Jason Aaron on Avengers and the Heroes Reborn event, his latest appearance has left much to be desired.
With Mahershala Ali cast as the titular hero in the upcoming Marvel Cinematic Universe reboot/interpretation of everyone's favorite daywalker, it's only a matter of time before we get the inevitable new Blade comic series. Jason Aaron and Javier Garron's recent run on Avengers has been a decent showing of his prowess, and the Heroes Reborn series has been interesting, to say the least. But not enough to sell a new comic readerthat this edgy vampire dude is, in fact, an undeniable bad-ass.
Related:
Heroes Reborn (2021) reading order
So, I wanted to run down the top 5 best series centered around the daywalker in hopes of shedding some light on one of Marvel's most criminally underrated characters to ever come out of the House of Ideas.
Support For Comic Book Herald:
Comic Book Herald is reader-supported. When you buy through links on our site, we may earn a qualifying affiliate commission.
Comic Book Herald's reading orders and guides are also made possible by reader support on Patreon, and generous reader donations.
Any size contribution will help keep CBH alive and full of new comics guides and content. Support CBH on Patreon for exclusive rewards, or Donate here! Thank you for reading!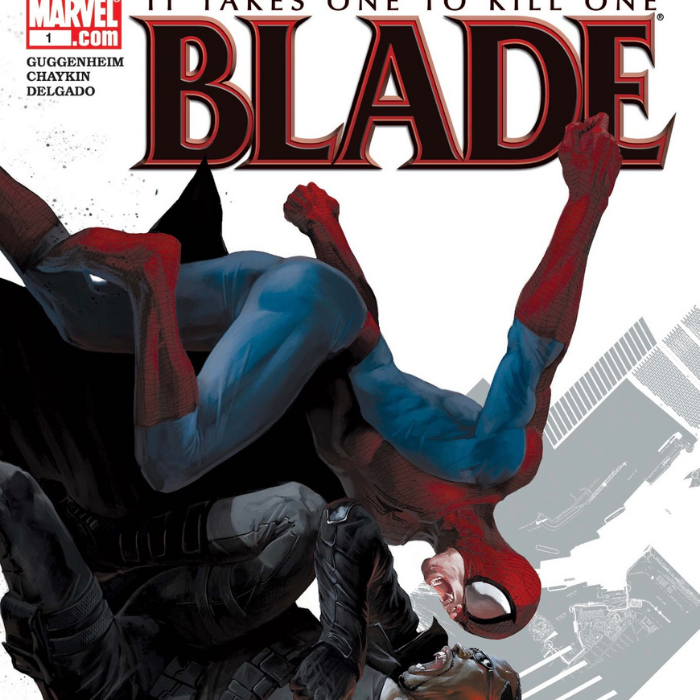 This 12-issue offering from the minds of Marc Guggenheim and Howard Chaykin is a great starting point for old and new Blade fans. The book offers a bit of a retcon to the origin of Blade and works to flesh out and expand upon the disturbingly dark beginnings of the daywalker. Beginning with a battle with a vampiric Spider-Man, seemingly infected by Dracula, then shifting to battling a horde of SHIELD agents who have been turned, the comic's action makes for an explosive first issue.
As the story progresses with each issue, we're also presented with a bit of a mystery. As mentioned before, the series simultaneously tackles Blade's present and his past, adding a "Lost"-Esque layer of mystery to the story. Readers are introduced to shady figures that may or may not have played a role in making Eric Brooks the monster that he is. "Undead Again" is a series that helps to redefine the foundation of who Eric Brooks is without sacrificing the integrity that makes him Blade.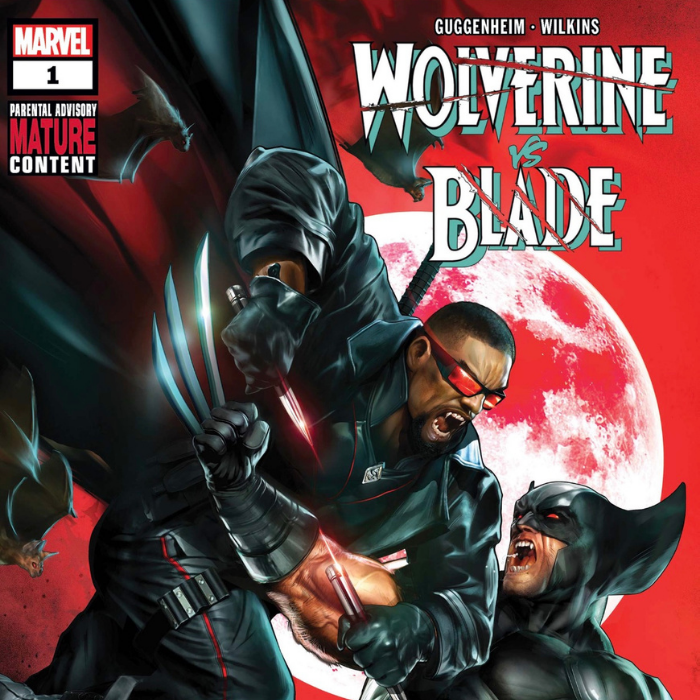 Gritty, gory, blood-soaked, and relentless, this book is jam-packed with fighting scenes that look akin to Mortal Kombat Brutalities. Much like the title and cover art suggests, this book is a gruesome battle between two of Marvel's most savage fighters: Wolverine and Blade. The Creed, a mysterious cult of vampires, is attempting to bring forth the prophecy of Varkis, a prophecy that Varkis will return and bring unity to the three vampire houses. Blade and Wolverine find clues of the cult and follow the trail leading each hunter to Belize, where they face off. That is until they discover the truth about Varkis.
This story does a fantastic job setting up the plot twists and how it handles its fight scenes. Guggenheim's writing shines the brightest when paired with equally dynamic art, and artist Dave Wilkins brings an almost cinematic approach to this book. Every stroke of red intensifies each action sequence in a way that shows how hard and fast both Wolverine and Blade are moving. Blade's snarky, sassy, no-nonsense personality is on full display here under Guggenheim's pen, and it makes for a thrilling, suspenseful read.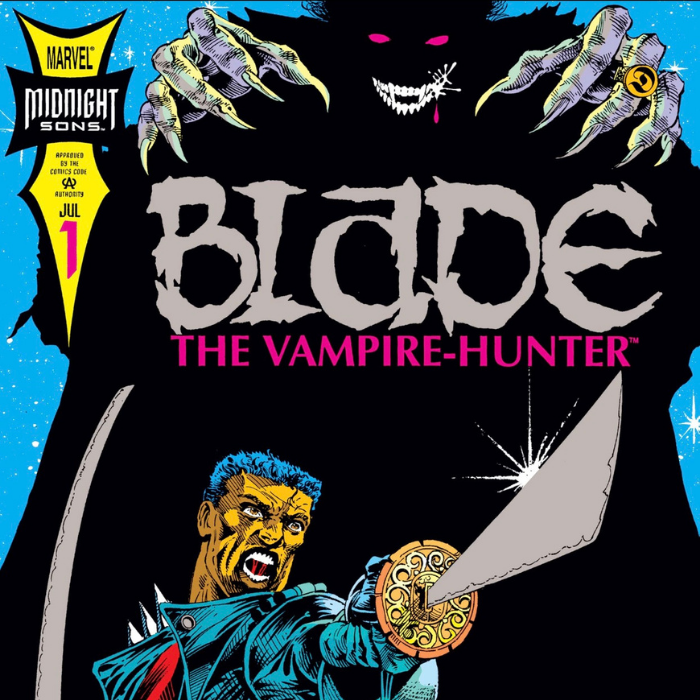 Blade's first solo ongoing series ever, Blade: The Vampire Hunter, was a way for Marvel to drag the character out of the deep dark depths of the House of Ideas and toss him back into thehearts of modern day readers. Writer Ian Edington gives us a pretty standard Blade story here: Blade goes to NYC to turn his life around and give up vampire-hunting after two of his friends, Frank and Hannibal, died in an explosion. Later that night, Blade is met with a vision of Dracula taking over NYC in a hostile vampiric invasion, but Eric Brooks shrugs it off, going back to his life under the radar. His retirement doesn't last long as, you guessed it, vampires begin showing up in the Big Apple.
While the story is okay, the actual selling point of this book is the art by artist Doug Wheatley in all its 90s glory; the heavy pencil shading, faint moody facial expressions and the dramatic, grungy scenes make the book more intriguing than it reads. This book is a slog at times, but halfway through the series, it picks up with its wacky (albeit outdated) plot twists that still make for an exciting series as a whole.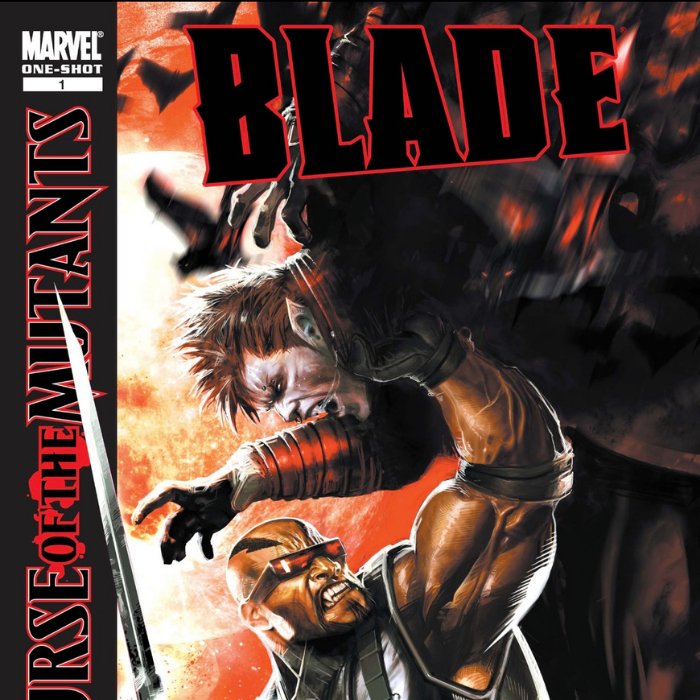 After an unknown figure has seemingly taken out Dracula, vampire slayers worldwide begin getting murdered one by one. Blade, finding himself to be next, decides to follow the clues that have been laid out for him and begins looking for our mysterious assailant. This all comes to a head when it leads him directly to Xarus, the son of Dracula. Blade rounds up all the vampire slayers he can find, and they decide to do battle with the son of Dracula. It doesn't go too hot, but Blade figures out the mystery of Xarus and his grand scheme. To put a stop to the new lord of the vampires, Blade's gonna need the same group of heroes that Xarus is after: the X-Men.
This book is a tie-in to the larger X-Men: "Curse of the Mutants
" storyline, but the slow-burn of the overall story is nothing short of amazing. Add in Blade (because vampires, duh), and you have one hell of a series.
Serving as a prequel to the New Line Cinema movie starring Wesley Snipes, Blade: Sins of the Father is an enthralling and captivating read from start to finish. Written by Marc Andreyko, the story follows a rather cinematic technique as it invites you into its world beginning in the past; a mob gets absolutely wrecked by a couple of vampires resulting in the mob boss being turned into a vampire himself. The mob boss then loses his mind, kills his wife, and when his daughter is of age, turns her into a vampire, too. Flash forward to the present, we see Blade, who is paid a visit by the daughter, a vampire. She tells Eric Brooks that her father must die for what he did to her mother and turning her into a vampire against her will. The story takes a sharp left turn as the book progresses, and the audience is met with a plot twist worth savoring.
A companion to the early old-school Marvel film, Blade: Sins of the Father is a great story that takes a peek into how great a Blade comic book could be and how amazing the first movie would end up being. If you have Marvel Unlimited, I highly recommend this Blade story as it is one of the best and most complete stories in all of Blade's 49-year existence.