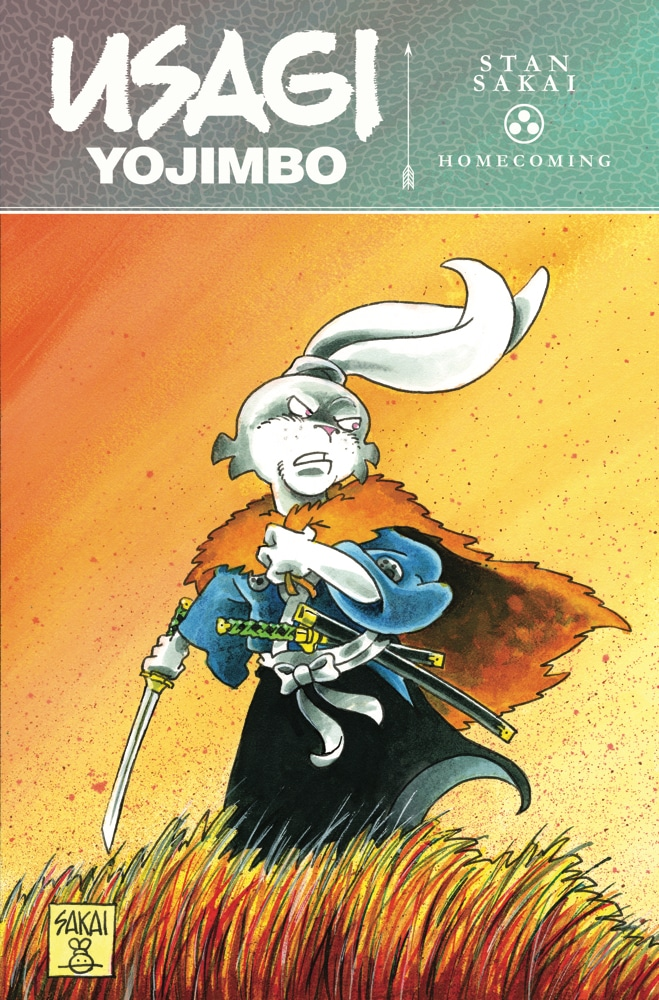 In 2019, Stan Sakai announced that he would be moving Usagi Yojimbo to IDW from Dark Horse, his publisher for more than 20 years. Certainly it wasn't the first time that Usagi had moved houses, with early stories at Thoughts & Images, then Fantagraphics and a brief stint at Mirage Studios, but despite all of these moves, the collected format of these comics had remained remarkably consistent.
The trade collections, numbered volumes 1-33 (available in paperback and limited hardcover editions
), maintained the same size (roughly 6" x 9") and, for collectors, looked really nice all collected on a shelf. The smaller-than-floppy size wasn't a huge drawback, because Sakai's uncolored clean lines and lettering lent themselves to being resized while retaining the beauty of the art. With the paperback editions kept perpetually in print, these were the most convenient way to collect the series.
The omnibus editions of the series consisted of a special edition hardcover slipcase from Fantagraphics which was later republished as a paperback which has become almost equally hard to find (though there are rumors of a reprint hardcover edition coming later this year). From Dark Horse, the limited hardcover Usagi Yojimbo Saga collections (volumes 1-9 and Legends, collecting non-canonical stories), remain something of a gold standard for omnibus collectors. These editions feature full comic sized pages, and each collects three of the numbered editions.
Which is a long, circuitous way of saying that, moving forward, IDW will not be publishing new Usagi content collections consistent with the Fantagraphics and Dark Horse collections. The smaller 6" x 9" format for trade collections has been abandoned in favor of full-sized editions. This presents the art in a larger format that's more consistent with the monthly comics, but, as many collectors find important, it won't gel well on the shelf with prior collections. The numbering scheme has also been restarted, with "Bunraku and Other Stories" being the new volume 1, and "Homecoming," the collection under discussion, as the new volume two. [Read more…] about Best New Graphic Novel: Usagi Yojimbo – Homecoming