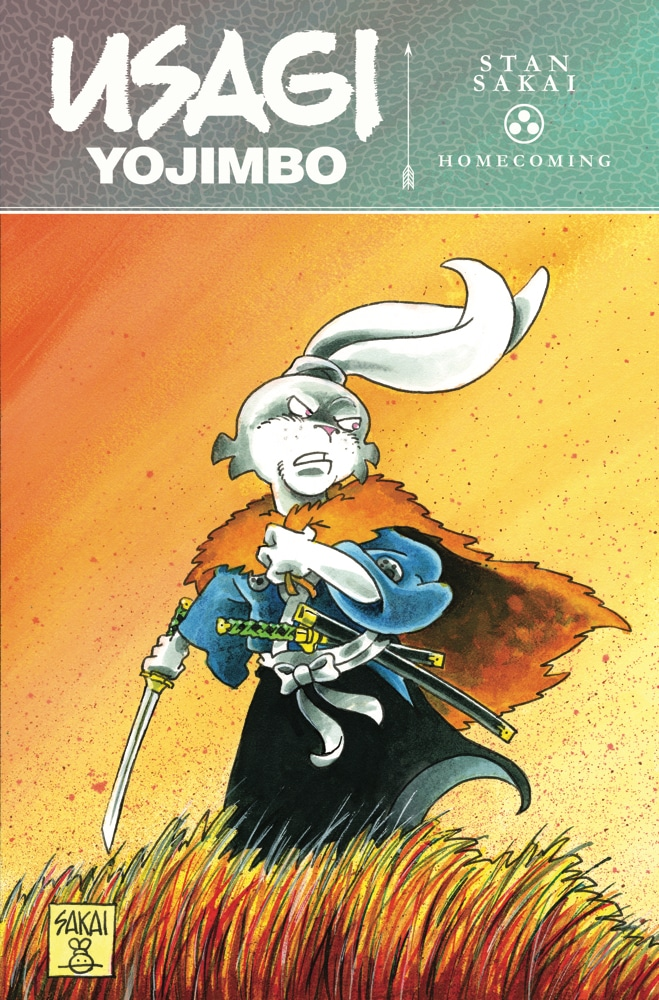 In 2019, Stan Sakai announced that he would be moving Usagi Yojimbo to IDW from Dark Horse, his publisher for more than 20 years. Certainly it wasn't the first time that Usagi had moved houses, with early stories at Thoughts & Images, then Fantagraphics and a brief stint at Mirage Studios, but despite all of these moves, the collected format of these comics had remained remarkably consistent.
The trade collections, numbered volumes 1-33 (available in paperback and limited hardcover editions
), maintained the same size (roughly 6" x 9") and, for collectors, looked really nice all collected on a shelf. The smaller-than-floppy size wasn't a huge drawback, because Sakai's uncolored clean lines and lettering lent themselves to being resized while retaining the beauty of the art. With the paperback editions kept perpetually in print, these were the most convenient way to collect the series.
The omnibus editions of the series consisted of a special edition hardcover slipcase from Fantagraphics which was later republished as a paperback which has become almost equally hard to find (though there are rumors of a reprint hardcover edition coming later this year). From Dark Horse, the limited hardcover Usagi Yojimbo Saga collections (volumes 1-9 and Legends, collecting non-canonical stories), remain something of a gold standard for omnibus collectors. These editions feature full comic sized pages, and each collects three of the numbered editions.
Which is a long, circuitous way of saying that, moving forward, IDW will not be publishing new Usagi content collections consistent with the Fantagraphics and Dark Horse collections. The smaller 6" x 9" format for trade collections has been abandoned in favor of full-sized editions. This presents the art in a larger format that's more consistent with the monthly comics, but, as many collectors find important, it won't gel well on the shelf with prior collections. The numbering scheme has also been restarted, with "Bunraku and Other Stories" being the new volume 1, and "Homecoming," the collection under discussion, as the new volume two.
Support For Comic Book Herald:
Comic Book Herald is reader-supported. When you buy through links on our site, we may earn a qualifying affiliate commission.
Comic Book Herald's reading orders and guides are also made possible by reader support on Patreon, and generous reader donations.
Any size contribution will help keep CBH alive and full of new comics guides and content. Support CBH on Patreon for exclusive rewards, or Donate here! Thank you for reading!
The art has also substantially changed with the move to IDW: for the first time, the monthly Usagi Yojimbo series is being presented in color, with coloring done by Sakai's longtime collaborator Tom Luth. Luth might be familiar to readers as the colorist of Sergio Aragonés' Groo series and has colored many of Sakai's Usagi Yojimbo covers and short stories. Sakai's line art remains exquisite, though he employs less cross-hatching, preferring to let the colors handle the task of shading the art.
IDW has also published a massive number of variants for the relaunched series. With limited and incentive variants by top-notch artists like Geof Darrow, Peach Momoko and Daniel Warren Johnson, IDW has provided a boon to collectors of Usagi single issues. The publisher has even gone back and begun colorizing early stories and publishing them as single issues and trade collections.
Which brings us to IDW's latest collection, "Homecoming," collecting issues 8 through 14 of the relaunched series (volume 4). This volume collects three stories: "Tatami" (issues 8 & 9), "Mon" (issue 10) and "The Return" (issues 11-14). The title of the collection is an interesting choice, as it shares its name with one of the earliest Usagi stories, collected way back in volume 1, "The Ronin." The early story involves Usagi returning to his home village, which is now under the control of Lord Hikiji, the usurper who killed Usagi's master, Lord Mifune. Usagi meets with his childhood sweetheart Mariko, who is now married to his childhood rival Kenichi. Mariko and Kenichi are raising a boy named Jotaro, who is secretly Usagi's son. After an attack by Mogura (mole) ninjas, Usagi leaves the village, as his presence stirs up old feelings among his former peers. The recent collection "Homecoming" tells a continuation of that old story, reintroducing us to Mariko, Kenichi and Jotaro.
Usagi Yojimbo stories fall into roughly two categories: pure samurai adventure stories (Usagi fights a duel!) and informative stories about life in feudal Japan (Usagi learns about how soy sauce is made and gets in over his head). "Tatami" neatly splits the difference. It begins with a purely didactic explanation of how straw tatami mats are made, from the cutting of the straw all the way through the two year process to make a finished mat. The story then makes a hard transition when Usagi learns that these are special mats that will be used in a tea ceremony between Lord Gifu and an emissary of the Shogun (military dictator). Usagi follows the procession transporting the tatami and protects it when it is attacked by Neko (cat) ninjas who try to destroy it.
It's somewhat shocking that the people in this story are willing to kill and die over straw mats. To a new reader of the series, it provides a blunt introduction to the wildly different value systems at play in the setting. To an experienced reader, it serves as a reminder of just how little the lives of their vassals mean to the true power players of feudal society. As samurai, Usagi and Kazuo (the samurai tasked with guarding the delivery of the tatami) have a certain amount of social standing, but their lives can be ended over a matter as seemingly trivial as a floor covering.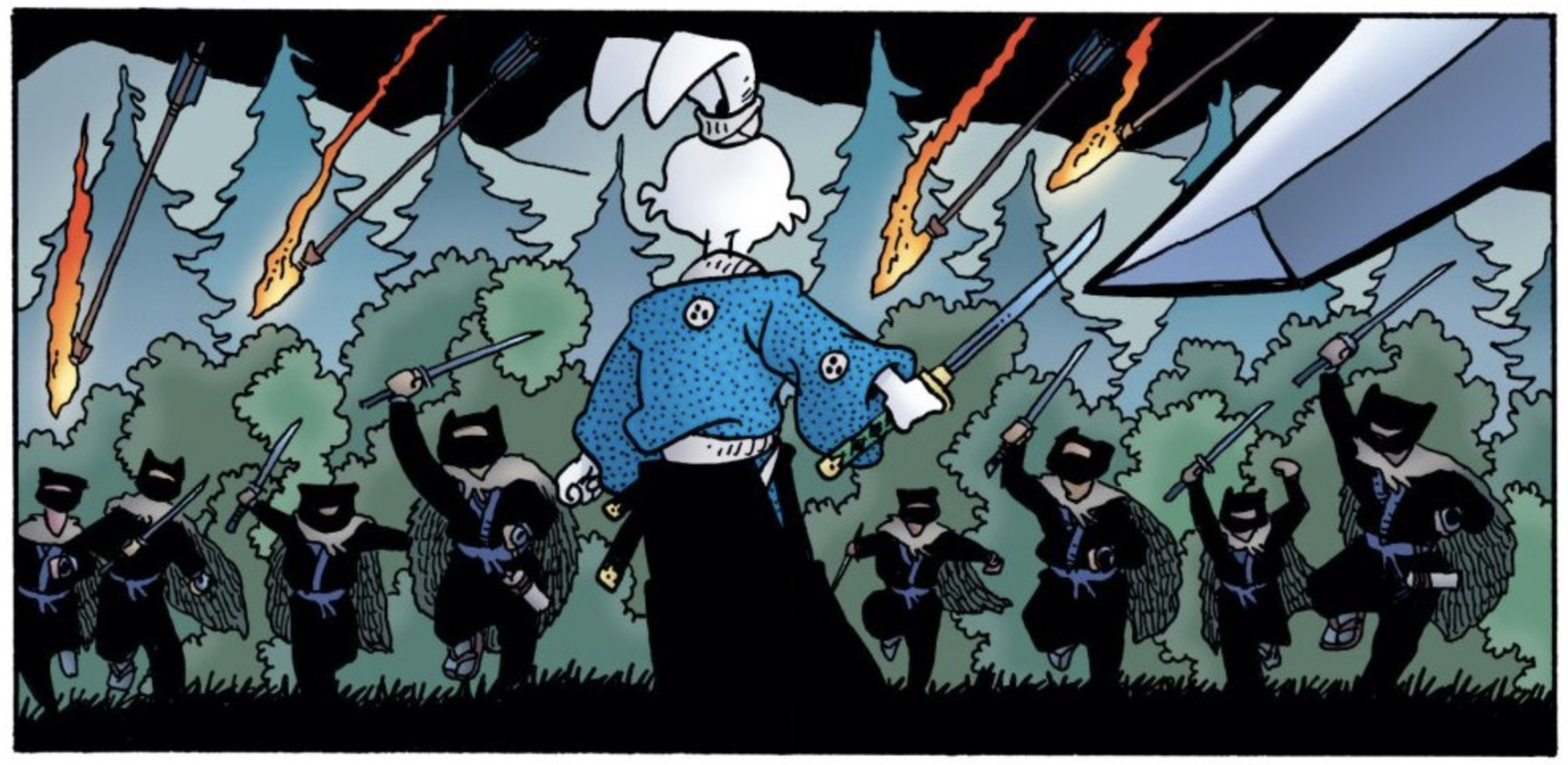 I should also praise Luth's coloring in these issues. Issue 8 ends with a sunset and 9 happens mostly at night, ending on a sunrise. When Kazuo utters one of the final lines of dialogue, "It is a beautiful sunrise," Luth's colors contrast the natural beauty to the bittersweet futility of the final scene of the comic; a breathtaking moment that stands out in my mind.
Issue 10, the single issue story "Mon" continues Usagi's journey to the village of his birth. When he arrives at a village looking for a meal, the villagers become visibly agitated by his appearance. A local innkeeper recognizes the mon (clan crest) he wears and tells him that even though his lord Mifune was defeated many years prior, many of the locals remember the battle and harbor a sense of bitterness toward those who fought for Mifune. In Hikiji lands, it has become a provocation for Usagi to wear the crest of his dead master and doing so has put Usagi in danger.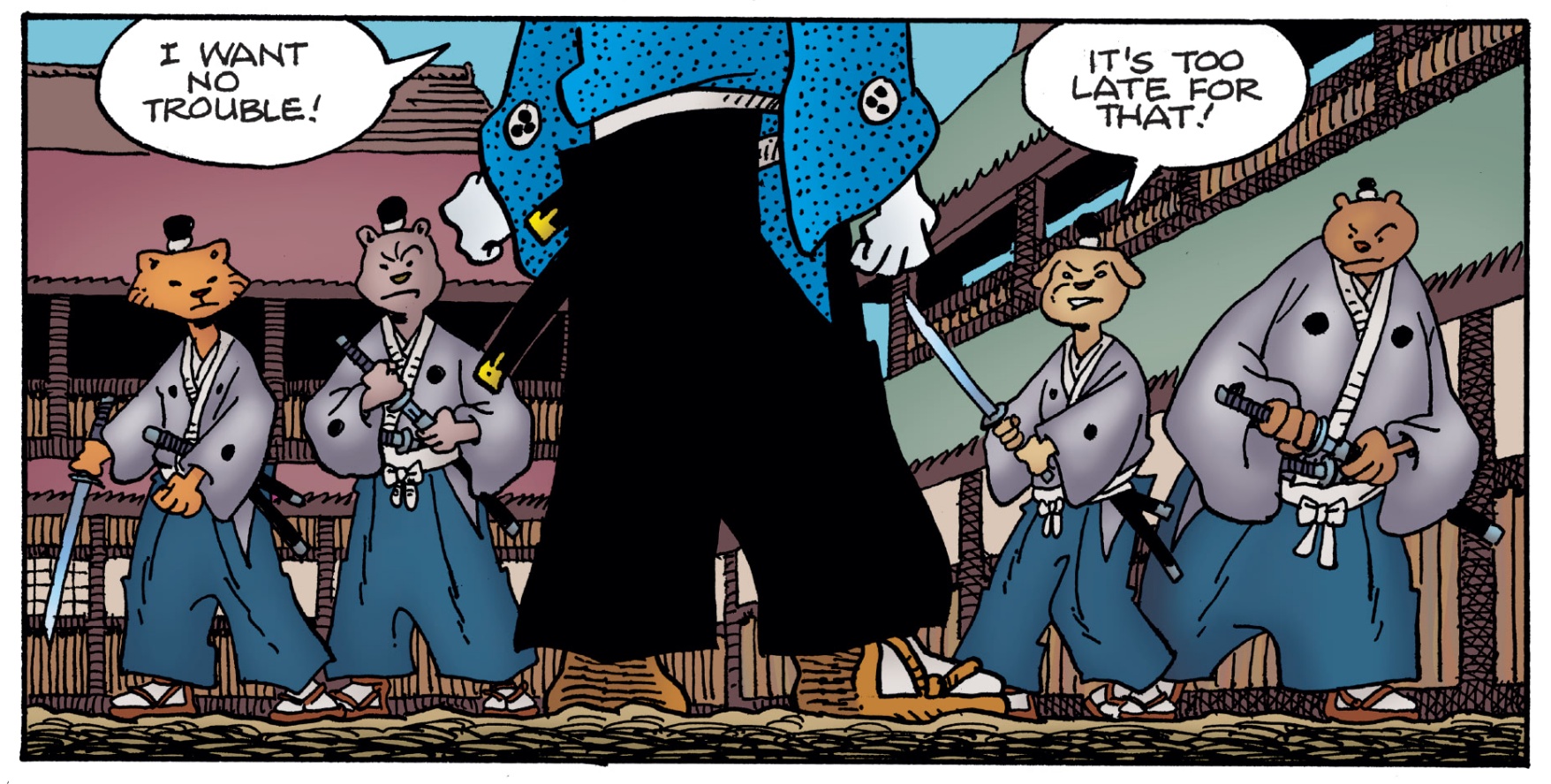 As usual, there's a fight with a gang of samurai who want to claim a bounty on Usagi's head, but of particular interest is the innkeeper. He serves as a reminder that there is no such thing as staying out of politics. He comes across as a pragmatist, just trying to keep his head low, but he makes his decision and becomes a pivotal character in Usagi's story.
Unfortunately, unlike the estrangement one finds in the societal priorities in "Tatami," it's not a huge leap for a reader to understand why the display of a mon would be a provocative act. Tribalism is never far from the surface of contemporary discourse, whether it be a mon, a flag, a pin, or the coded language of a talking head on television.
Finally, "The Return" makes up the bulk of this collection, comprising the remaining four issues. As it marks Usagi's return to his home village, so too does it mark a return of long-missed characters. Usagi meets his long lost love Mariko, his childhood rival Kenichi, and his son Jotaro, for the first time since 2004's "Fathers and Sons." The story revolves around an assassination attempt on the Shogun's emissary during his visit to the village. The twist is that the conspirators are Mifune (Usagi's dead master) loyalists, and failure to stop the assassination would lead to the slaughter of the entire village.
This story is Usagi Yojimbo at its very best, contending with some of the great Usagi stories, with equal parts fun, action, humor and heartbreak. Usagi finally meets fellow samurai who are carrying the same torch that he does, but at an awful price. He returns to the village of his birth, but learns that it will never be his home again. And so, as always he must set out on the Wanderer's Road, his ultimate goals and destiny unclear.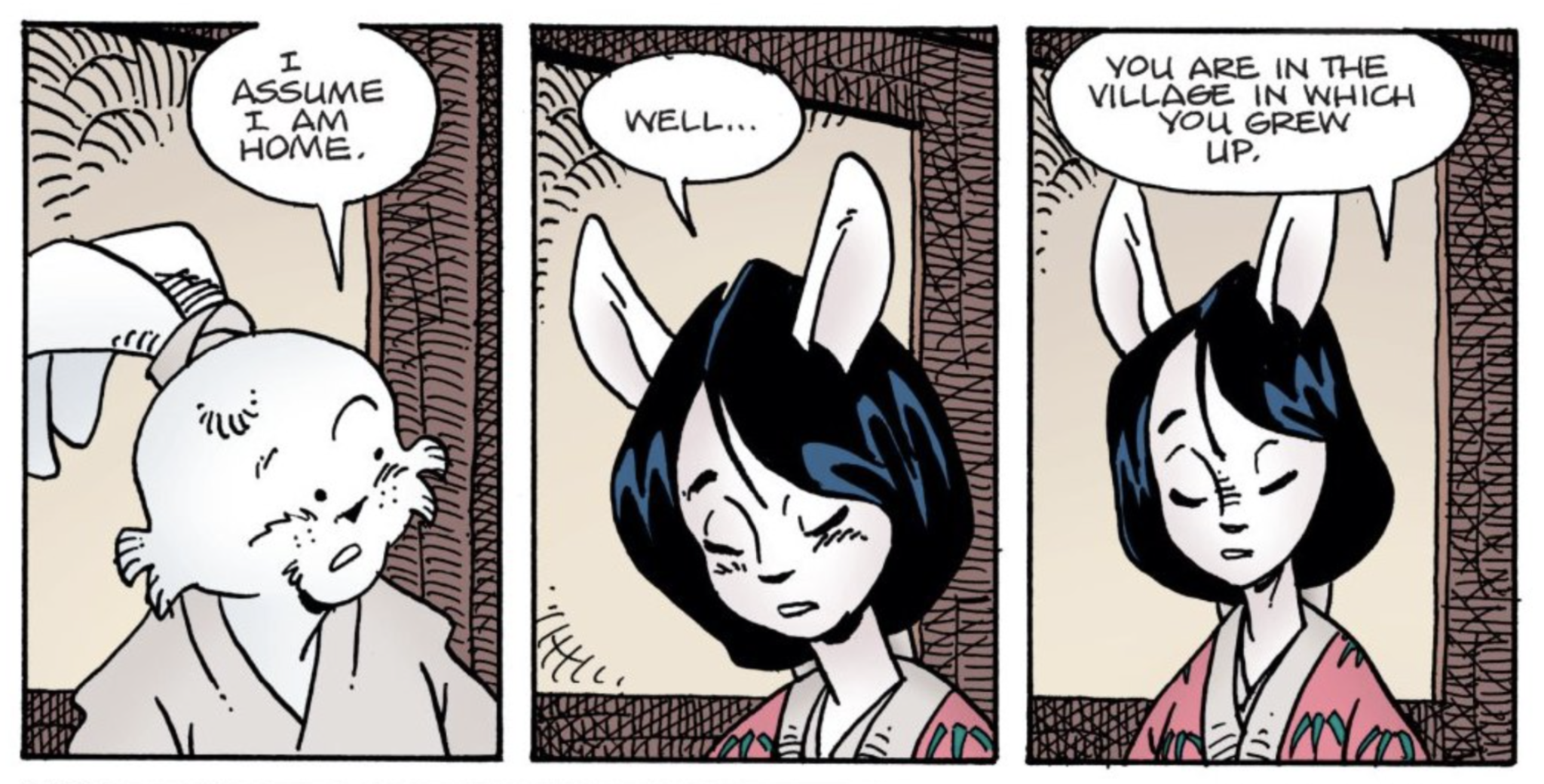 This collection also marks the final Usagi work of colorist Tom Luth, who is retiring. His final color work will appear in the upcoming Groo Meets Tarzan and Gods Against Groo miniseries. As the main colorist for Usagi and the colorist for Groo for nearly 40 years, his work on these titles can't be overstated and he will be missed.
Usagi Yojimbo might seem intimidating to the new reader, but Sakai always writes with new readers in mind. I myself only started reading the title in 2015, picking up the latest issue and starting there and did not feel lost at any point. But if you do start here, you'll likely find you want to go back and read the full series.
I should also note that the previous collection, "Bunraku and Other Stories" also got a release as a signed numbered hardcover collection, limited to 750 copies. IDW has kept it as a convention exclusive, and therefore has only sold it during virtual convention season, but Stan Sakai sells them at his own shop year-round. Unfortunately, Sakai has confirmed that Homecoming will not get a hardcover edition.