A series in which we attempt to find the single, perfect superpower by reviewing each one on a five-star scale.
Previous Superpowers reviewed:
This Installment:
Transformation
OPERATIVE DEFINITION:
The ability to change into one or many distinct biological forms and then return to baseline. Additionally, the two forms should share some degree of the same memories, personalities, and drives.
EXAMPLES:
Magical (Shazam, He-Man, Thor)

Supernatural disease (eg. Lycanthropy and other animistic afflictions)

Biological mutation (Prime, Feral Wolverine, Angel/Archangel)

Scientific (Hulk, Beast Boy, Man-Bat)
DISCLAIMER:
We're gonna talk quite a lot about religion.
"Behold, I teach you the overman: he is this lightning, he is this madness!"—
Friedrich Nietzsche
This time of year makes me think about this story from anthropology. It's about the kind of people we were before we were people and how before our ancient ancestors conquered fire, they learned to steal it from nature. They'd look for lightning strikes, wild fires, even lava flows and carry back a makeshift torch which they'd touch to logs piled near the mouth of their caves. And then they'd take turns, tending it all night, making sure it never went out. That the cold never came in. And here is where the story was born, out of a desperate attempt to pass the stressful hours. Myths say that voice of the fire told these people tales to tell their children. The world telling people how to live within it, changing us into the next step of evolution.
Support For Comic Book Herald:
Comic Book Herald is reader-supported. When you buy through links on our site, we may earn a qualifying affiliate commission.
Comic Book Herald's reading orders and guides are also made possible by reader support on Patreon, and generous reader donations.
Any size contribution will help keep CBH alive and full of new comics guides and content. Support CBH on Patreon for exclusive rewards, or Donate here! Thank you for reading!
In Praise of Transformation
Symbolism and History
Transformation was almost certainly the first superpower ever created, with an evidence record dating back at least 200,000 years. Our best theory is that early transformation rituals were thought to bring protection or good fortune to the tribe, either currying favor with the Gods, deriving strength from subject of worship, or offering of sacrifice (real or ceremonial).
Mythology
Totems

– Totems are closely tied with animistic religions (worship of nature) and act as a mixture of focal point, teaching tool, and power source of transformation. And of course, social bonding. This goes back to the beginning with evidence of Neanderthals performing these rituals.

Shamanism

– Shamanism is closely tied to totemism but focuses on the human body instead of pillars, stones, or ritual fetish sculptures. Instead, shamanism was about getting the human body into an ecstatic state through physical exertion (dance or skirmishes), loud sound (singing, shouting, music), temperature exhaustion (exposure, fire, wearing heavy outfits), and drugs (alcohol, psychedelics). Shamanism has been practiced on every single continent and is still alive and well in certain parts of the world. Including the Lên đồng rituals of Viet Nam, the natigai of Mongolia, and witchcraft throughout Europe and the Americas.

Folklore –

The cultural prevalence of transformative beasts, such as werewolves and skinwalkers.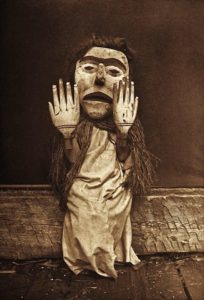 Spiritual Advancements
The easiest way to talk about transformation is in supernatural terms. Shamanism and, specifically transformation rituals, are the beginning of our concept of the human soul. 
I have to get pedantic a moment. Transformation, by definition, is the movement between two things. This means that those who believe in it must have a unified understanding or how and why the two things are separate. 
So transformation becomes the mechanism by which a culture agrees upon the rules and philosophies about separates humans from animals or rocks, and us from one another. And thus, transformation gives us our understanding of who and what we are as individuals.
Cultural Advancements
Transformation also gives us an idea of mental health. Of when we are not ourselves. And it gives hope for a change. (For further information, see my review of telepathy)
Lastly, and most importantly, shamanism was critical to humanity's transition from a nomadic lifestyle to an agrarian. I say this because hunter-gatherer societies require all members to be involved in the production of calories, whereas "priest(ess)" classes are purely about building social cohesion. So either humanity's advancements are partly a result of shamanism or the other way around.
How Christian Theology Changed Transformation Forever
Transubstantiation
This is a foundational requirement of pre-Reformation Christianity and it requires accepting two facts as absolute gospel:
The ritual of communion physically transforms bread and wine into the flesh and blood of God.

This is only made possible because God died on the cross to save humanity.
This, as it turns out, is a really big problem.
Role Inversion
For roughly 200,000 years of human history, religion works exactly one way: humans transform themselves and make sacrifices for their Gods. This is how it goes from our time in the caves right up to early Judaism. And then, in the first century, Christianity pulls an Alan Moore and flips everything upside down.
Christianity says "God sacrificed for humans. God has changed itself. There is no need to curry favor, only to follow these ten rules."
I want to keep this on topic and not get sidetracked by digressions on post-Christianity changes to art, economics, and city planning. So instead I'll suggest that if you're interested in the impact, look to Chinua Achebe's Things Fall Apart
as a fantastic starting point. Then there's Paine's The Age of Reason, which investigates language as well as Twain's Letters from the Earth, which goes into gender.
What that Means for Transformation
What is the value of transformation if God has already redeemed you? Why go through the pain of ritual and ordeal if you can simply petition? How can you define "better" when you have the ultimate reward already?
And what exactly can you do if the only change possible is through God?
The Old Testament may have made shamanistic practices explicitly illegal, but this shift in power made shaman practices all but impossible to sell. Because where shamans asked for commitments of sweat, blood, and dangerous levels of intoxication, Christianity just said "you're good already, now try not to be jerks."
Magic, Voodoo, etc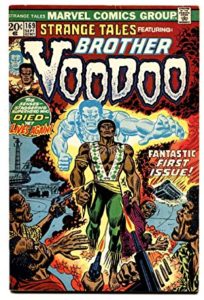 Hilariously, though, Christianity eventually did great things for ritual magic. As Christianity was sold to and adapted for various folk and animistic cultures, transubstantiation turned into something even more unexpected: Leverage.
Voodoo, Santaria, Stregheria, Brujeria, and more all saw transubstantiation as means of using Jesus, Mary, the saints, and all of the Heavenly Host as supplicants in their magicks. Each of these religions/practices came preloaded with rituals for summoning spirits, ancestors, or divine beings. The Christian Bible was nothing more than an updated contact list.
This may be the oddest transformation to this point.
Recap
Historically speaking, there appears to be an almost primal need for transformation. Yet over the years, it's been altered, taken out of people's hands. Modern religion has stepped in as a gatekeeper to something our cave-dwelling ancestors had.
Transformation in Comics
Universality
Transformation is everywhere in comics. Arguably, it's the stock and trade of the entire genre, including:
Kevin / Prime

Jason Blood / Etrigan

Eddie Brock / Venom 

Thor / host body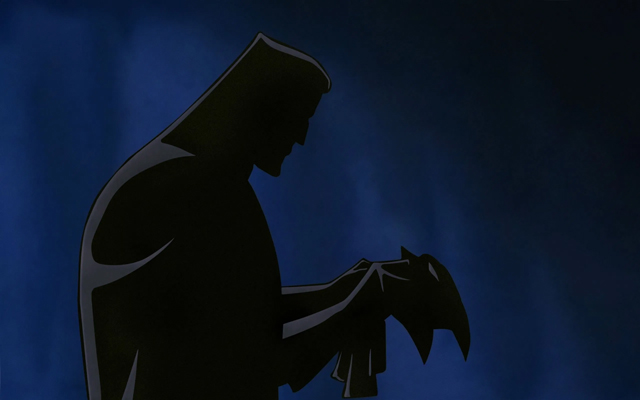 Yet comics are arguably even more full of even subtler examples, But there are three that always grab me:
Bruce Wayne putting on a cowl to "transform" into Batman

Clark Kent, opening his shirt to become Superman

Peter Parker getting into costume to become Spider-Man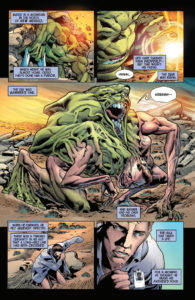 Unlike the first set of heroes, these characters have access to their powers at all times, but they voluntarily restrict themselves based on clothing. Is this an "According to Hoyle" transformation? I do not know. But it fascinates.
Of Werewolves and Hulks
Traditionally, lycanthropy is considered more of a curse than a power. Sufferers are routinely shown exhibiting limited personality overlap between forms as well as limited memory sharing. Essentially, it's two creatures rather than one that switches shape. This duality seems purposeful, given that were-animal myths have been used to explain everything from mental illness to women's menstrual cycles.
Compounding matters here is the fact that the Hulk has been known to exhibit similar symptoms. The Hulk phenomenon exists on a wide spectrum, with some incarnations sharing a blended psyche with Banner, whereas others have virtually no shared mental space at all. Over time, this very instability (or "curse") has become a central theme of the book itself. For more information on whether Banner is a man, a monster or both, check out the deep dive podcast Dave and I did on Immortal Hulk.
Marvelman
Alan Moore and Transformation
Secret Origins
Modern comics began in 1985 with the publication of Warrior Magazine #1. And it began with a bootleg.
"Marvelman" was England's cheap knock-off of DC's Captain Marvel. A cash grab, right down to the whole "kid + magic word = superpowered adult" thing. Marvelman later became "Miracleman" which hints at its sordid legal history of licensing disputes, petty vengeance, and portents for Moore's career. But we'll save that for another time.
Instead, let's focus on the book itself. Alan Moore and artist Alan Davis dusted Marvelman off and brought him back to publication after more than 20 years of absence. This feat alone should count as the first transformation of this book. But there is so much more, as the story immediately pummels use with three monumental conceits:
What if a famous hero's origin story was, in fact, a lie to cover up some horrifying truth?

How would ordinary people living in the real world react if given real superpowers?

Why can't authors remove all of a superhero's restraint and let them become an actual God?
This was big stuff by early 80s standards and would turn into the pattern for Moore's future work. And thus the rest of modern comics. And that could be considered its second transformation. But we've barely scratched the surface.
Role Inversion
I said above that Marvelman began life as a straight lift of Captain Marvel (Shazam!) before sitting fallow for 20 years. Moore took a radical approach of factoring both of these real-world facts into his reboot.
Moore's story begins two decades after the last one ended and Mickey Moran is no longer the boy who could magically transform into a heroic adult. Instead, he's the middle-aged man who's lost his magic word. An adult who's woken up to find himself old. So when Moran does regain his power, he's shocked to learn that Marvelman is now the younger man.
This simple inversion turns the entire story on its head. Suddenly, Marvelman moves away from its classic youthful escapism and becomes a rumination on aging. In Moore's hands, it turns into a story about looking back with regret at not becoming the person your younger self imagined themselves to be. Or, in this particular case, the adult Moran literally could be.
It's also a parable for Thatcher's England, the nation that — in Moore's eyes — had grown old and forgotten how to be heroic. Even Marvelman's classic secret word, "Kimota!," takes on a new meaning in the story. It was always "atomic" backwards, owing to the A-bomb excitement of the 1950s when the comic was first published. But in the 80s, poorer counties all across the UK were taking on American "Anti-Soviet" atomic rocket sites and suddenly "Kimota!" became a fearful thing. Just like the book.
More than the other two, it was this mature, thoughtful, poetic approach to creation that changed comics. Moore transformed everything by simply taking comics seriously.
The Red King Syndrome
But for my money, where Miracle Man shines brightest is that virtually everything about the book reinforces its theme of transformation. Every character exhibiting Moore's unembarrassed love of Golden Age comics feels like a step towards maturity for the medium.
Summation
"Transformation" is ingrained in all fiction, but closely identified with comics due to the medium's patterning off classic heroic works. In fact, Joseph Campbell's famous "Hero's Journey" story template contains a dedicated spot for "transformation" (often cited as "The Ultimate Boon.")
The Trouble with Transformation
How We Talk About Heroes' Brains
However way you want to look at it, transformation is a kind of violence. What has been is destroyed by what will be. Which means that when fans talk about heroes who exemplify some kind of transformation, they often use violent terms like:
Split personality

Multiple personality disorder

Psychosis/psychotic

Schizophrenic
In truth, there are comparatively few examples of these in comics. But the reason has to much more with how we're observing the behavior than the admittedly pedantic DSM-5.
Dissociation 
Operative definition: A mental experience, most often brought on by trauma, in which the experiencer feels removed from their immediate surroundings, physical sensations, emotions, and/or identity.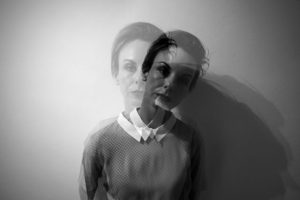 Put more plainly, dissociation is a sort of filter between us and the world. One that can distance between our core identity and some stressor, by some mixture of (mentally) removing us from a location, reducing painful emotions or sensations, or having us feel as if we're someone else. Dissociation is classified as a "maladaptive coping mechanism," meaning it treats the symptoms of the stress (suffering, anguish, etc) without addressing the cause of the problem (painful realization, traumatic event, etc).
That's not to say it's universally bad. I'll illustrate what I mean. Imagine you're standing on a street corner and a car drives too close to you. You jump back, the situation feeling suddenly unreal. This is classic fight or flight, but it's also a form of dissociation (your mind, expecting pain, has thrown up a filter.) 
Also, dissociation is extremely common. Psychological evaluations have shown that between 60-65% of respondents say they've experienced milder, non-clinical forms of dissociation.
What this potentially means
Clinically, there's a much stronger concurrence of dissociation and heroic transformations than with other psychological maladies. Note that all heroes here share memories, histories, and internal personalities with their "masks."
Batman wears a cowl and takes on unrealistic responsibility as he dissociates from trauma. Batman puts on the Bruce Wayne "mask" out of either guilt, obligation, or hope.

Daredevil is Matt Murdock's rage and self-indulgence. Murdock is a lawyer because of his guilt for needing to be Daredevil (to say nothing of Catholic and familial guilt.)

Black Widow's entire emotional exterior is dissociation, keeping her separated from taking full responsibility for her actions and pushing her far away from childhood trauma.
Conclusion
A Dream of Flight
Extended periods of dissociation can be extremely unhealthy, as they actually reinforce the stress pattern rather than cure it. The two things — trauma and coping — form a system that goes on and on, building steam as it heads towards an inevitable crash.
I know this. But still, the dream of becoming someone else is impossible to shake.
As young children, we're told that growing up will turn each of us into some better self. We'll become bigger, they say, and stronger, smarter, better looking. A future version of us that is now, already, better able to deal with the problems of today. And the best part is, we're only separated from them by time. All of this becomes an inevitability.
"Become who you are."—
Friedrich Nietzsche
Here Comes Tomorrow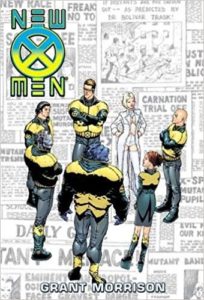 Sometime, right around when this nation was growing a new and terrifying vocabulary, Grant Morrison dragged me back into the safety of comics.
And in retrospect, it had to be Morrison who did it. Because his tone was perfect for the moment and his imagination was endless and because in absolutely all of my thinking, Moore and Morrison orbit one another. But most of all, more than anything, it had to be him because I needed back into comics. And New X-Men was the perfect mixture of fan service to reel me in and psychedelics to keep me dissociating from the national nightmare surrounding me.
There were sentinels here and evil twins and a Frenchman that could telepathically blind you with body language. There were Logan and Jean, reunited on a doomed spaceship. I'd lost touch with comics as I rushed my way out of high school. In college, the medium turned into serious literature, the kind that lacks things like "fun." I'd gotten my first job and lost it and was now wondering who I was.
But there was Logan, still heartbroken over the love he couldn't have. Right where I'd left him.
But most of all, there was the end.
"Here Comes Tomorrow," a celebration and acceleration of everything the run had been. An enormous brass marching band playing the apocalypse. A wave goodbye with acid trails.
And as much as I love that series for all it was and is, and everything it means to me, it's the last issue of the run that I remember.
The White Hot Room
WARNING: Spoilers for New X-Men
In the story, Beast has been infected by a sentient, evil virus. Jean has died, become the phoenix, died again in order to be reborn as "the White Phoenix" (a clever homage to Claremont.) In the final pages of the series, the White Phoenix uses her cosmic powers to turn back the universe, and as she does, she tells something to Hank (left).
It's this tiny, gentle joke that did me in. The tender assurance that transformation, sought after or not, is inevitable. I read this and imagined myself looking down from the Phoenixes' White Hot Room above all existence and understanding, finally, that my life wasn't about "key moments" like dotted landmarks on a lap. It was an unbroken line. And the man I was so afraid I was turning into would, in time, turn into someone else again.
This is what the fire told me.
I give transformation 5 stars