A series in which we attempt to find the single, perfect superpower by reviewing each one on a five-star scale.
DISCLAIMER:
This installment talks about real death and the human body. 
This Installment:
Flight
OPERATIVE DEFINITION:
The ability to naturally defy gravity and travel in a non-parabolic fashion.
EXAMPLES:
Biomechanical (Angel/Archangel, Hawkman)

Magical (Doctor Fate, Doctor Strange)

Force projection (Magneto, Jean Grey)

Gravity manipulation (Sentry, Doctor Manhattan)
It's a bird. It's a plane.
To talk about flight in comics is to talk about Superman. It's not because of the comics, or the costume and the iconic cape, or even Christopher Reeve films. I think it was because of the motto. That famous intro from the 1940s cartoon show with the voice of Jackson Beck giving people the world over a message millions learned by heart:
This is part of us now. A shared memory that is both modern and timeless, American and global.
In Praise of Flight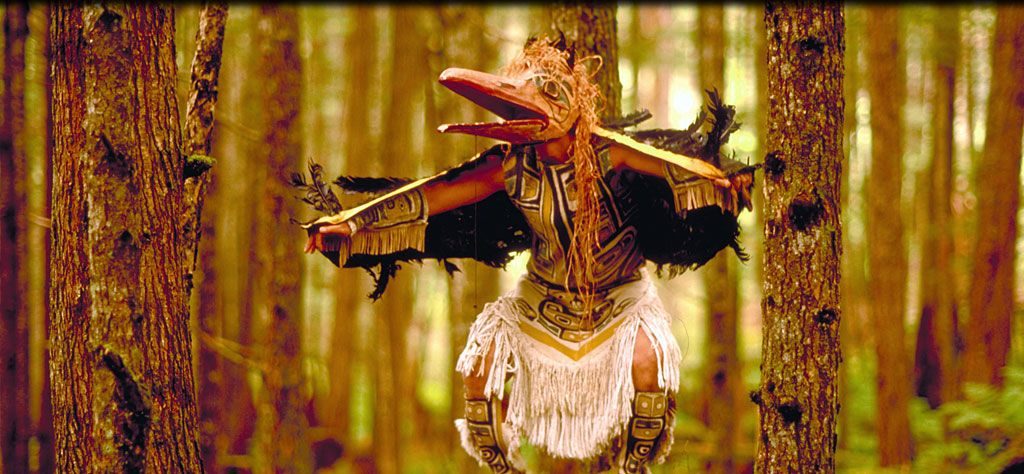 Symbolism and History
Flight is one of the oldest superpowers in narrative storytelling, dating back to some of our earliest myths and oral traditions. Virtually all known religions feature some form of flight to signify their divinities, from Hermes to the winged seraphim of Christianity to the birdlike Garuda of Hinduism and Buddhism. Flight has also been routinely been seen as a mark of cleverness (if not outright intelligence). Such is the case with Raven, who stole fire and gave it to Native Americans as well as the ibis-headed Thoth, Egyptian God of language, equilibrium, and the judge of deadmen's hearts.
Support For Comic Book Herald:
Comic Book Herald is reader-supported. When you buy through links on our site, we may earn a qualifying affiliate commission.
Comic Book Herald's reading orders and guides are also made possible by reader support on Patreon, and generous reader donations.
Any size contribution will help keep CBH alive and full of new comics guides and content. Support CBH on Patreon for exclusive rewards, or Donate here! Thank you for reading!
Simply put, a hero that can fly among the clouds but chooses to walk among those who can't appears like a link to the divine.

Practicality
From a pure storyteller point of view, flight gives a character the ability to gain a new perspective. To see and hear differently. And most importantly, to be anywhere.
That last part makes the perfect justification for why a particular story can be somewhere exotic or unusual and can make the travel time as long or as short as the story demands. Terrestrial characters tend to become hometown heroes (as evidenced by the way ancient Greek, Roman, and Egyptian cities tend to favor particular temples and specific holidays).
But flight — not strength or ice breath — made it so Superman could be the hero of the entire universe.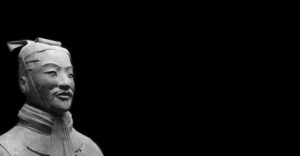 Strategic Value
Fighting from an elevated position is said to be easier for many tactical reasons. Holding the high ground offers an elevated vantage point with a wide field of view, enabling surveillance of the surrounding landscape, in contrast to valleys which offer a limited field of view. (…)
Additionally, soldiers fighting uphill are assumed to tire more quickly and will move more slowly, when compared to soldiers fighting downhill, who do not have to struggle against the forces of gravity alongside natural obstacles in the terrain. Furthermore, soldiers who are elevated above their enemies can get greater range out of low-speed projectiles (…), whereas low-speed projectiles have a shorter range when thrown uphill. (From Wikipedia)
Summation
Flight gives a character more gravitas, better mobility, access to wider kinds of stories, and tactical advantage over terrestrial characters.
The Trouble with Flight
The Flying Brick
Superman's popularity drove a lot of imitations, to the point that his oft-copied powerset is frequently referred to as "the Flying Brick set." 
BRICK BASELINE:
Enhanced

Strength

Speed

Senses

Durability and/or Healing Factor

Energy Projection

Flight
EXAMPLES:
The commonality of this powerset speaks plainly to how flight, by itself, is a useless power. Strength is needed because most humans need their legs (and solid ground to push off) for lifting. Speed, because humans aren't known for either high speeds or sustained speeds. Senses, because our eyes and ears can't deal with the high winds found at elevations of even a few stories. And durability because we are fragile, even to something as simple as the cold found in the upper atmosphere (to say nothing of convection caused by wind).
Able to Leap Tall Buildings
Superman, the hero most often associated with flight, started out unable to do that. In fact, in Action Comics #1, it's stated that Superman can leap "1/8th of a mile high" (I miss the delightful specifics of Jerry Siegel's age).
Superman didn't fly until Leo Nowak accidentally made him fly in Superman #10 (1941). It's an easy enough mistake to make, but it was still canonically wrong. Superman was grounded in the comics for another two years.
It wasn't until the radio program made Superman fly, followed by the Fleischer cartoons showing him in the air that DC relented and gave Kal the ability in Action Comics #65 (1943).
I'm telling you this because I need you to understand me when I say that Superman was never intended to fly.
Wartime Problems
I am convinced that Superman gained the ability to fly as part of the war effort. Both DC and Marvel recognized the sales potential of WWII and dove into war comics. Suddenly, masked heroes were duking it out with the Axis powers, making both companies a small fortune.
But DC and Marvel faced an interesting problem: transportation.
DC heroes were predominantly based in fictional US cities at the time while Marvel stuck to actual American landmarks. Meaning popular heroes were an ocean away from the fight. And people knew how planes worked (and worse yet, we wouldn't break the sound barrier for decades to come) so the public wasn't going to buy routine transatlantic flights.
Namor, the first hero to fly, could easily get from New York to Paris or Berlin. Same goes for the Human Torch, who learned to fly around this time. Captain America and Bucky had to settle for permanent deployment for the most part.
But Superman? He had to be in Metropolis for one issue, and the front lines the next. That's much, much more than his 1/8th of a mile range. From a practical standpoint, flight just made sense.
But comics weren't the height of that power's popularity, and they certainly wouldn't be the end of DC's wartime profits.
The Shameful History of the Man of Steel
The 1950s
Superman's iconic status didn't reach its height until George Reeves took on the character in The Adventures of Superman on television (1952). This was the first time anyone had seen a flesh and blood superhero. He even flew.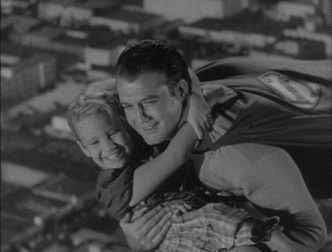 But Reeves was a reluctant hero. He took the role out of financial desperation, lamenting to friends that "no one wants to see a grown man in tights pretend to fly." When the show became a smashing success, it only made things harder on Reeves. He became proud of himself as a hero to children (to the point he cut the iconic "S" from each uniform and mailed them to children in need) while also deeply uncomfortable with wearing the tights.
And the network censors weren't much happier. Because George Reeves being the first superhero to fly also meant he was the first man in tights, flying in profile, on television. In front of countless Americans.
Which brings us to the real problems:
How revealing tights are. And how America had collectively never seen a human body before, I guess.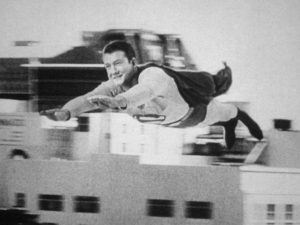 Putting a man in tight-fitting clothing is problematic enough, but adding flight means constantly confronting that he's not just Superman, but Superman. Shooting George's "flight" in profile was dramatic and easy to do, but the position put his crotch in heroic profile as well. This was a big problem with 1950s television standards. Network censors suggested codpieces, athletic cups, and any manner of restraint or obfuscation. This only became worse during the show's third season, when Seduction of the Innocent was published and became a national scandal.
The show had to pay Reeves more and more money to keep him in those tights. But ultimately, it wasn't enough to quell whatever fears he had. In 1959, just before the start of the next season, George Reeves held a party at his house, walked upstairs, stripped naked, and committed suicide.
The reasons for this decision died with him, and I don't pretend to know the exact one that passed through his mind right before the end. But I cannot help but feel the costume played a part. His fears over it making him ridiculous. The symbolic destruction of cutting out each emblem. The fact that Reeves' coworkers, the network executives, the US Department of the Treasury, and the entire American Public made comment on his barely concealed body.
The fact that he died without anything on; his naked self, George Reeves, and not Superman.
I cannot help but feel something in that desperation. Some entirely mortal shame. Some fear of scrutiny and judgment.
The 1970s & 80s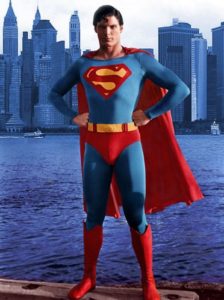 It would take another 20 years before the George Reeves scandal died down enough for DC to feel comfortable in making another live-action Superman. As if by destiny, the role went to Christopher Reeve. The man simply was Kal-El. He had the character's grace and patience as well as his outsider sense of humor.
But unfortunately, he had the same wardrobe problem as his predecessor. Particularly because of a new problem: Richard Donner wanted Superman to fly directly at the audience.
This alignment meant it would be virtually impossible to have Reeve's determined face, powerful, outstretched fists, and flapping cape in the frame — all the things we need visually to understand that he's flying — without getting something else in the shot, too. 
This is because foreshortening means that perspective puts Reeve's face impossibly, unavoidably close to his… "General Zod."
And the whole thing would be projected on a screen several stories high, and it would all be flying dramatically at millions of American faces.
This, of course, meant censors. And thus begins the codpiece wars.
The studio, of course, wanted a piece of hardware that would make Superman "smooth." Like a Ken doll, I guess. Hilariously, Alexander and Ilya Salkind, the film's producers, are said to have wanted the exact, polar opposite. Legend has it Ilya shouted "either he has a big one, or he has nothing!" during a meeting I wish I'd attended.
The final compromise was to give Reeve's Superman a fortress of solitude that wouldn't quite block out our yellow sun but was made from metal, giving it both some heft and an overengineered quality that screams "this is America.".
Super Bathingsuit Area of the Future
Somehow, inexplicably, this trend continues. From Nick Cage's suit, which is right out on display in a deeply, profoundly uncomfortable manner. That anyone would think to give Cage a dingus that powerful is criminal.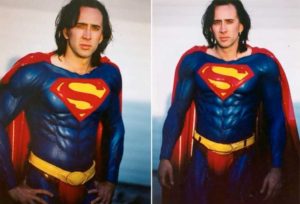 Then there's 2006's Superman Returns, which had a whisper marketing campaign that was downright insane. If you're not familiar with what a "whisper marketing" campaign is, it's where studios pay interns and attractive people to leak rumors to journalists, seed stories online, and tell people in bars about how lead actor Brandon Routh's package had to be "digitally reduced" because test audiences found it "distracting," "unsettling," and "scary." This is a thing that people were paid to do in real life.
There are other stories, but I just can't right now.
Look, Up In The Sky…
Ultimately, flight is a great means of conveyance. What's more, it is visually arresting in a way that perhaps no other power is. Being unbound by gravity looks, to those of us on the ground, as though this man or woman is some middle point between humans and god. A perfect metaphor. We have been trained for millennia to think nothing else.
But there is another side as well. Without strength, speed, or the rest of the brick, flight is almost meaningless. And that shows by how few heroes have "only flight" as their power. Even X-men's Angel has undergone enough power creep to be nearly a brick. But it's not just superheroes.
Former literary agent and minor television celebrity John Hodgeman conducted an unscientific study and found that those who pick the power of flight as their desired superpower tend to do so out of selfish, unaltruistic reasons.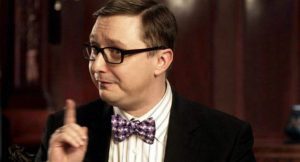 But I think Hodgman found something else. Some lab accident that has given us all the power to see things as they are. That flight, when you get right down to it, is one of the most visible powers.
Run fast enough and you're invisible. Have super strength and you can work behind the scenes. But flight? You are there, for everyone to see. A being for them to literally look up to and judge you against everything that film, television, and story has promised them.
And here you are, just a person in tights trying to hold onto the wind.
I give flight 3.5 stars