DC Rebirth was huge. Nearly five years after The New 52 started, the company announced they were changing course. The reboot was successful in gathering immediate sales and eyes, but neglected their longtime fans. DC understood that people wanted to read the characters they fell in love with, and The New 52 had maybe not done the best job at getting its readers to fall in love with most of the universe. At the center of this conflict was Superman.
Related:
The Final Days of (New 52) Superman
In The New 52, Superman was immediately given an identity by Grant Morrison in Action Comics, but aside from some ambitious swings by Greg Pak and Gene Yang, their work was mostly left by the wayside to reenact older story lines like "Death of Superman." The New 52 iteration of the character was a great concept that Eddie Berganza derailed at every opportunity with cumbersome crossovers and creative team shuffling, and fans were vocally clamoring for the return of their Blue Boy Scout from the Post-Crisis continuity.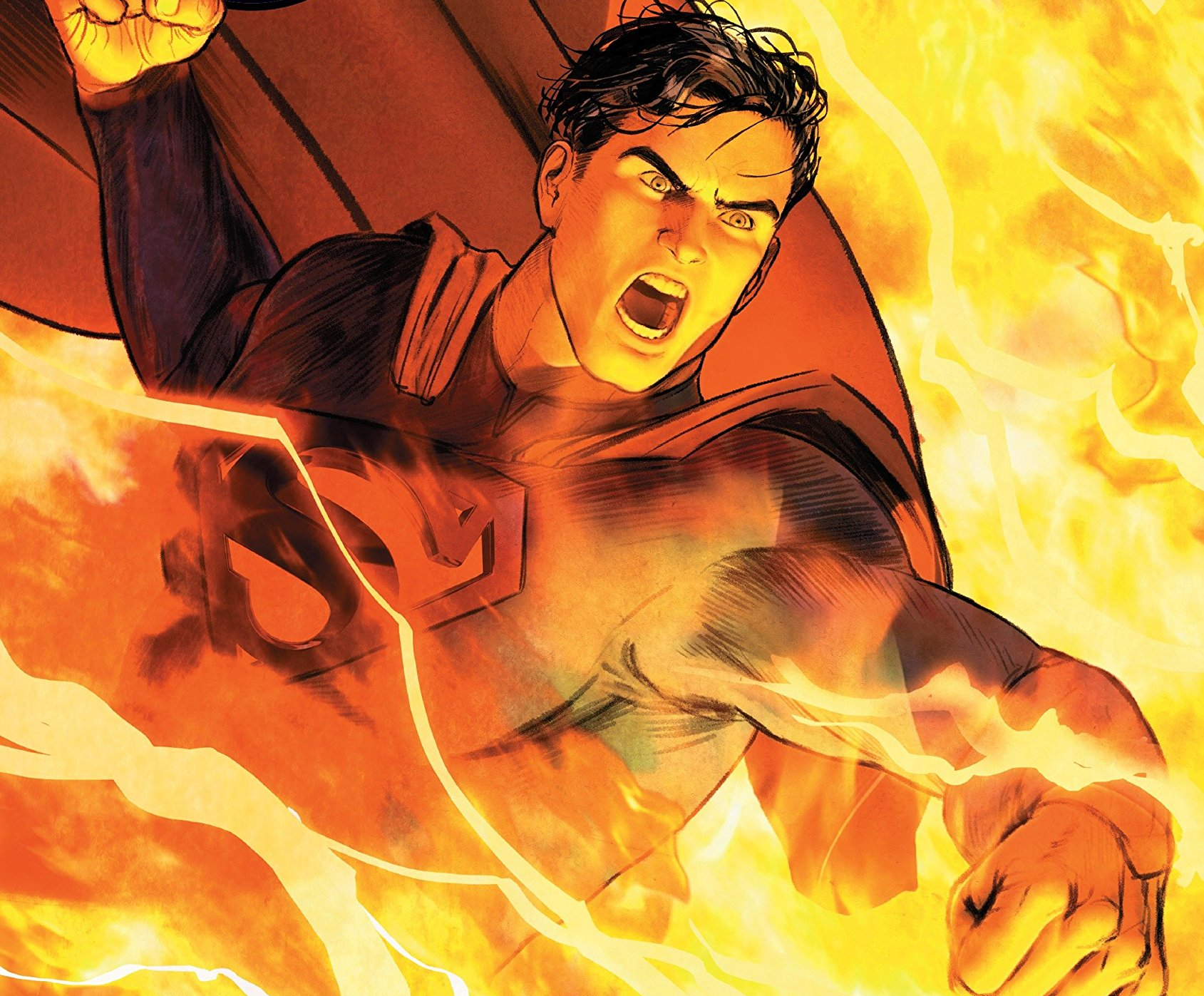 So of course DC brought in their trusty nostalgia farmer Dan Jurgens to do the job, bringing over a Superman and Lois Lane who resembled the ones fans were begging for, with one notable difference: they had a son named Jon. Then, to seal the deal and end The New 52's era of Superman for good, they killed off the New 52 Superman in a crossover penned by Peter Tomasi. And when they subsequently ran their livestream announcing Rebirth, they informed the fans that Peter Tomasi and Patrick Gleason would be writing the biweekly Superman title, focusing on the older Superman and Lois Lane raising Jon on a farm in Kansas.
Support For Comic Book Herald:
Comic Book Herald is reader-supported. When you buy through links on our site, we may earn a qualifying affiliate commission.
Comic Book Herald's reading orders and guides are also made possible by reader support on Patreon, and generous reader donations.
Any size contribution will help keep CBH alive and full of new comics guides and content. Support CBH on Patreon for exclusive rewards, or Donate here! Thank you for reading!
But all this context is ultimately irrelevant. Rebirth was intended to be a jumping-on point for new and lapsed readers, who would have no intention of going back and catching up with "The Final Days of Superman." Fans who wanted to get to see this new status quo of Superman as a father were told to pick up Superman: Rebirth #1, then follow it with the ongoing. If they had waited a little bit longer, they could have started with Superman Rebirth Vol 1: Son of Superman. Finally, at long last, they can devour the whole thing with the Superman by Peter J. Tomasi and Patrick Gleason Omnibus. Let's dive into that.
Collects: Superman #1-25, #27-28, #33-39, #42-45, Superman Annual #1, Superman: Rebirth #1, Superman Special #1, Action Comics #975-976, #1000, Super Sons #11-12, and Teen Titans #975-976.
False Promises
Right off the bat, this omnibus is weird. It starts on Superman: Rebirth #1, a one-shot dedicated to the Superman this book is going to follow eulogizing the New 52 Superman. The whole thing is more a sequel or epilogue to "Final Days of Superman" than it is an introduction to this new Rebirth version of the character. We get to see New 52 Lana Lang and tour the New 52 Fortress of Solitude, and also get a little bit of a glimpse at our older Superman's history (which really ends up being a boring retelling of the "Death of Superman"). It's… a strange opening to the run, and it doesn't really get less strange.
The first arc is centered around Jon's status as the son of Superman. He's a kid whose powers are starting to develop, and he doesn't have full control of them. This is a solid premise, one that could work—until Jon incinerates Lois's pet cat. Honestly, this moment stuck out to me so strongly that even as the plot developed it was all I could think about. The cat dies and by the time Jon tells his mom it happened, they don't even grieve for her. Superman tells Jon that Lois would be "proud" of him for admitting he killed her cat. I legitimately don't understand how this was supposed to endear us to this fairly new character, because it didn't work for me at all.
Right off the bat, too, the art is incredibly inconsistent and throws off the entire book. Pat Gleason's a good artist a lot of the time, but he's rushed on every page and it's not pleasant. Doug Mahnke is similar, with the additional problem of not being an artist whose style fits children. Jorge Jimenez is the best artist in the entire book; his issues are gorgeous, and while they're not as polished as his more recent work on Justice League and Batman, he's still a fantastic artist in 2016. The double shipping schedule ended up hurting the run more than it helped, though—when the majority of the artists draw Jon in a genuinely unsettling way, there's a problem.
The first arc, unfortunately, does not improve from the bizarre opening of Jon Kent killing a cat. There are some ideas that Tomasi and Gleason are clearly trying to explore, such as Jon's mixed parentage making him unique and interesting rather than an aberration, but they're lost in the mire of quite honestly dull action sequences and an uncomfortably aggressive Superman. It makes sense that Superman would behave differently and be more protective of his son, but watching him do the superhero equivalent of shooting first and asking questions later feels wrong. And ultimately the entire arc's message is undercut by the big victory page where Clark stands in front of the American flag on the moon, letting the entire world know that "Superman is here to stay!"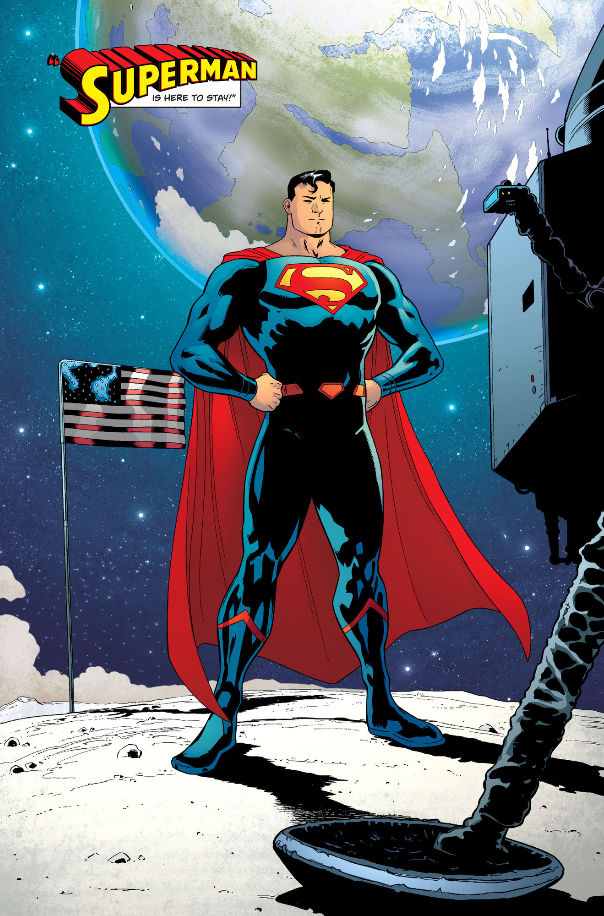 But right after this opening that could at best be considered a mixed bag, the famous fair issue appears. And honestly, this one has earned its reputation. It's a fun little slice-of-life story that doesn't try to be more than it is, and is probably the best proof of concept that Dad Superman could have. Plus, Jorge Jimenez draws it. You can't ask for more than that.
The next little portion of the run is a bunch of short arcs, all doing different things at varying levels of quality. There's a Dinosaur Island two-parter that ends up feeling more like a military history lesson than it does a Superman story. There's an annual with Swamp Thing where Superman is needlessly hostile, which also ends on a message of "You need to forget about the old continuity and embrace the new." There's a two-parter with Frankenstein that, once again, has an overly hostile Superman and could easily have been resolved in one issue if we didn't have to deal with macho men trying to fight each other instead of talk. The best part of this little portion is the team-up with Batman and Robin. Tomasi and Gleason's run on Batman and Robin in The New 52 is a fan favorite for a reason, after all. But honestly, none of these end up being very substantive—the best arc just spins off into the Super Sons
title, so we don't get to see much of the new dynamic duo.
The next story arc is a bigger one: "Multiplicity." It's a sequel to Grant Morrison's Multiversity, which was a formally ambitious and genre-defying experience that is still one of my favorite comics ever. Unfortunately, "Multiplicity" is not good. The villains are forgettable Darkseid-style bad guys. And Tomasi himself lacks any of the imagination that made the original Multiversity so enjoyable: when given the opportunity to establish one of the seven Earths that Morrison left as "undiscovered," Tomasi makes the "Justice League of Assassins," who just look like ninja versions of the Justice League. In addition, he kills Red Racer in a Crisis on Infinite Earths riff, missing the entire point of the character—he was a gay Barry Allen stand-in designed to subvert both Barry's death in Crisis and the "bury your gays" trope. The only real positive of the arc is the artwork, which is mostly great between Ryan Sook, Ivan Reis, and Clay Mann, but even then Tony Daniel has to come in and abruptly hurt the visual cohesion with his more generic 2000s style.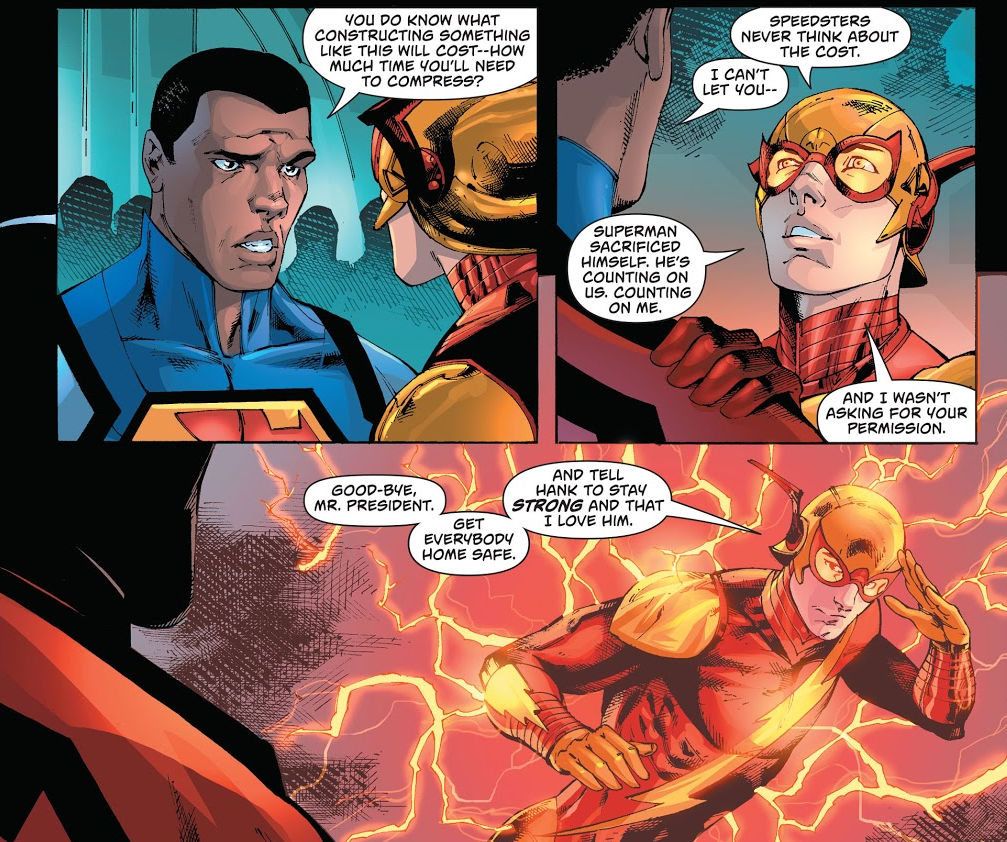 What follows is another fun little one-off, drawn by Sebastian Fiumara, about Jon and the local girl he's friends with exploring the spooky woods. Once again, the one-offs are the best part of the series, small pockets of genuine quality amidst what would otherwise be charitably called a mess.
That's what's so frustrating about this run: it promises to build this status quo of Superman raising his son, Jon becoming a more complete character, and a "return to basics" for Superman in the wake of The New 52. But what we mostly get is mediocre story arcs, some of which don't even include Jon, and then a couple of short stories that serve as scraps compared to what the series was supposed to be. What's even worse is that this is probably the strongest segment of arcs in the run; there's only one more promising arc to come, the rest of the run wavering between "forgettable" and "offensive."
Continuity Woes
But let's start with the arc immediately following "Multiplicity" and the story of the spooky woods: "Superman Reborn." I've talked about the two-Supermans situation going into this run, and the fact that the first issue of this run is a strange eulogy to New 52 Superman that never really got picked up again. Well, it gets picked up here!
Apparently, DC was very unhappy with the status of Superman continuity. This is completely understandable; as it stands, the DC Universe rebooted, its Superman died, and a Superman that was very similar to the one from before the reboot with one HUGE difference entered this new reality and replaced him. It's confusing even to me, an avid DC reader. Where did Jon actually come from? When was he born? How does any of this work? So, in order to stop people from asking these questions, DC messed around with continuity a little more. This time will be different, right?
Sadly, the answer is no. What this arc does is fuse the two Supermans together using a strange Superman Red/Superman Blue reference. This in turn creates a new continuity where Superman died in Death of Superman, had a kid with Lois when he was temporarily depowered after his return, and otherwise continued to exist and do Superman things for another ten years, up until now. So in continuity, there's always been one Superman, and he's had his son for ten years. Of course, none of this is true, and there are no stories from before "Superman Reborn" you can read that would make any of this true, but it's what we have to work with for now.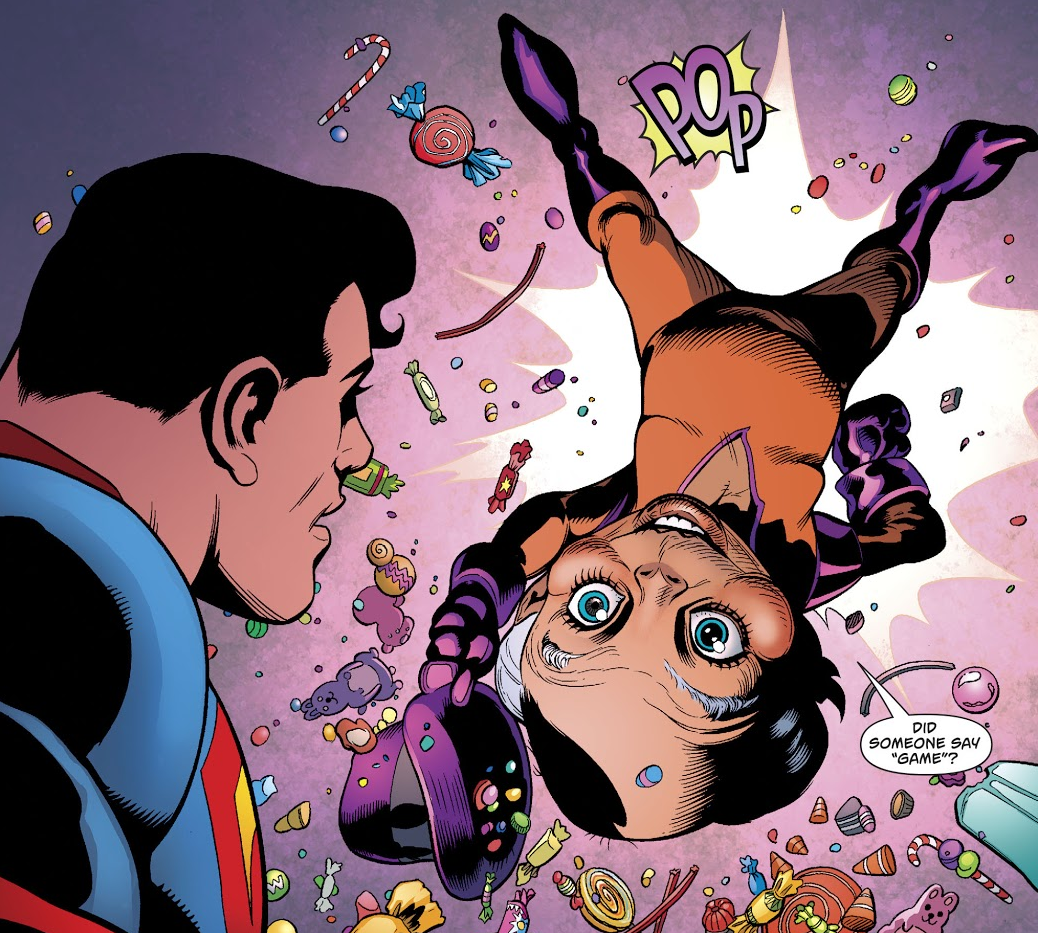 It especially doesn't help that "Superman Reborn" does not actually make any of this clear in the arc we get to read in this omnibus—most of this explanation takes place in the two issues of Action Comics right after the crossover, which aren't collected here. What we end up getting is four issues of a weird conflict with Mr. Mxyzptlk that ends on yet another triumphant page of Superman being with his family, only now the entire first act of the series has been invalidated. Oh, and a reference to a Mr. Oz person who has a presence in the run but never actually appears, since his plot is reserved to Action Comics.
Immediately following this arc, the Kents' mailbox says "Kent" on it, since they don't have to hide their real names anymore because the events of New 52 Superman mostly did not happen. But again, this is not made clear within the story. All this is coming from my recollection, having been following both Superman books as they were coming out. For a reader who just wanted to read about Superman raising his son, this is just one more level of complexity and unnecessary baggage that hurts the experience.
A Flawed Centerpiece
The point of this run, though, was Superman raising his son and the change in the character and his dynamics with the rest of the world because of it. That's how it was pitched, that's how it was advertised. And it's made most evident by the capstone arc of the first year of the run: "Black Dawn."
The core of this arc is genuinely interesting: someone's been watching Superman and Jon since they came to this earth—eek, that's the old continuity!—since they came to their farm, and has actually been controlling everything that's happened to them in Hamilton since the first issue of this series (again, with some weird continuity discrepancies). Now, a little inside baseball knowledge informs me that the original plan was for this to be Brainiac—the aesthetic of the secret figure watching them and their MO as depicted later all lines up with this—but for some reason, Brainiac was taken off the table, and instead the arc had to use Manchester Black.
Manchester Black's purpose in his original story was to convince Superman that Truth, Justice, and the American Way were overrated. To do this, he created a team called the Elite, a group of Punisher-style vigilante superheroes. Superman defeated him both ideologically and physically, and from what I understand, Black remained unimportant until this arc. Black's new motivation is one that genuinely really works for the story being told: he wants to convince Jon that his father's ways are outdated, and to embrace his vision. It's the ultimate conflict for this version of Superman—a negative influence taking hold of his son, and his son losing faith in him.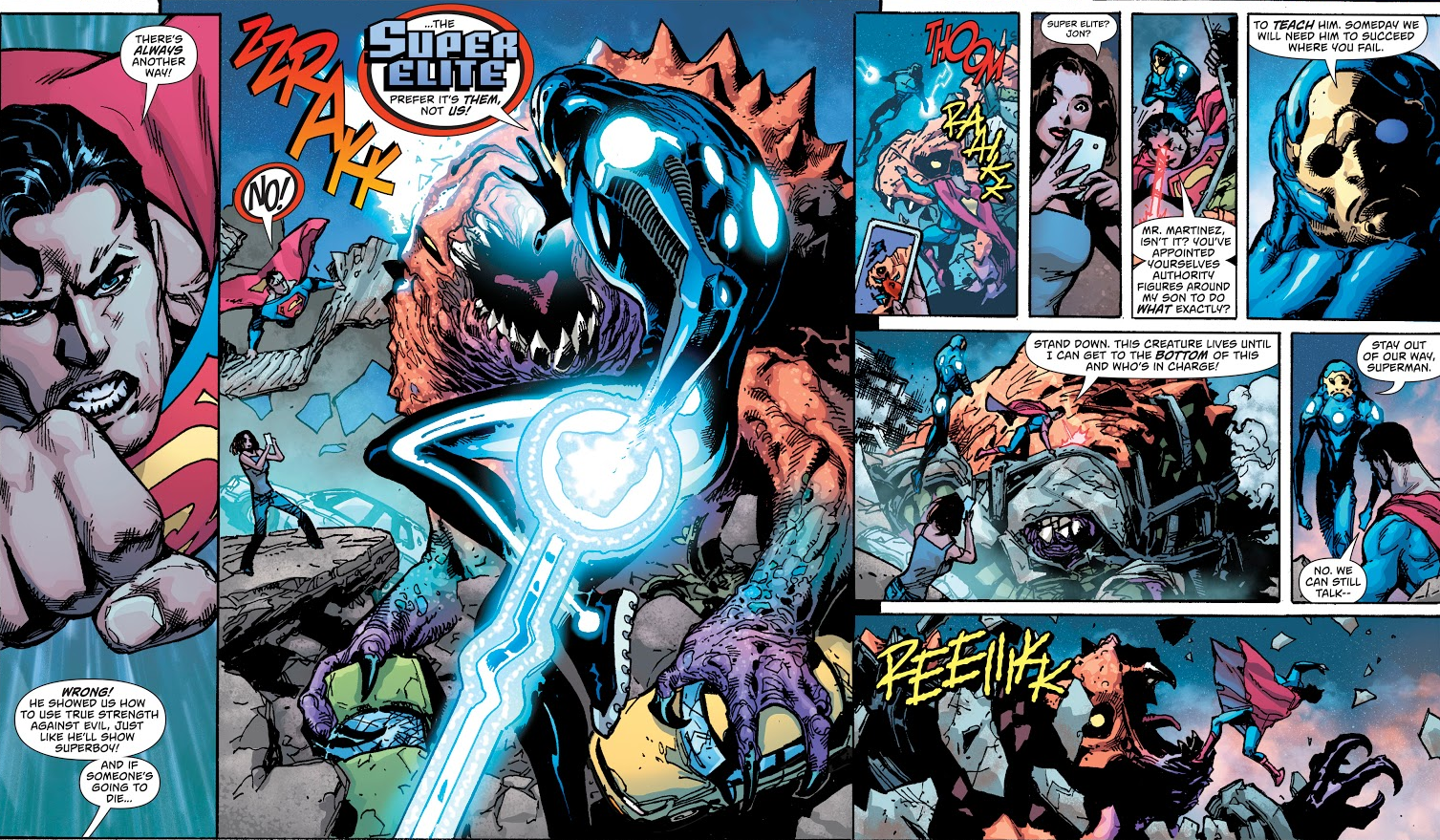 Manchester Black's plan was essentially to have giant threats attack Hamilton, only able to be stopped with extreme force, so that Clark's compassionate approach would not help, and Jon would impulsively finish the job against his father's wishes. The people of Hamilton, all controlled by Black, would praise Jon for this, claiming that he was doing the job that Superman needed to be doing. From then, Black had Superman's friends and allies kidnapped one by one and put him up against the brainwashed people of Hamilton, a conflict that Superman would not be able to punch his way out of. He then kidnapped Jon and forced him to watch as Superman's inability to stop these masses of civilians led to Lois getting maimed—she literally has a leg chopped off. This part is especially frustrating because it just treats Lois as an object of the story rather than a character with her own agency, a common occurrence in this run.
But what's really strange about this arc is that it was clearly the originally planned climax to the first year of the run—all the arcs play into it in some way, shape, or form, and its conclusion feels like an affirmation of all the "morals" Clark has been teaching Jon since the first issue. Quite honestly, it's the strongest full arc of the entire run. But it's still not very good. The art switches between Gleason and Mahnke with both of them being incredibly rushed, and the actual punchy conflict gets in the way of the story being told. While I do genuinely love the idea that Black realized he couldn't convince Superman and instead orchestrated a situation to get Superman's son on his side, it doesn't make up for incredibly muddled storytelling before and after.
Lack of Clarity
The rest of this run is just a mess. It jumps between disconnected arcs until it ends with no real purpose. Some of these arcs are simply forgettable, but the first one after "Black Dawn" is outright offensive. Plot-wise, it's Superman and Lois taking Jon on a road trip through important places in American history, but the arc actually serves as propaganda for the US and its military. It's honestly gross—they shame people who don't support the military (bizarre in a post-Iraq and Afghanistan world) and claim that the Founding Fathers fought for everyone's equality when this is blatantly false.
I can only imagine this arc was written to serve as propaganda for any children who might be reading the Superman title, because it serves no narrative or character purpose. It's legitimately just two issues of "America is the greatest country in the world" with a little bit of "good people on both sides" thrown in. Quite honestly, this two-part arc is the worst Superman story I've ever read. It spits in the face of what the character should mean.
The next arc is a team-up with Lex Luthor, who until this point was a hero in the Rebirth status quo. Before "Superman Reborn," the New 52 Lex was inspired to be a hero by New 52 Superman's death and genuinely tried to honor his legacy. I don't know what his motivation was after the continuity shuffle, but I don't think anyone else really knew either.
The plot of the arc is that Lex gets kidnapped by Apokolips and asks Superman for help, and Superman ignores him because he doesn't care about Lex and would rather have a night to spend with his family. Eventually, Superman gets forced over to Apokolips along with Jon and Lois, and we have to endure Peter Tomasi's rendition of Jack Kirby's New Gods. If "Multiplicity" wasn't enough to prove that Tomasi wasn't a good fit for high-concept art, his New Gods in "Imperious Lex" are the nail in that coffin.
Eventually, the plot gets resolved: Superman becomes a God of Apokolips, tells them "be good to each other," and leaves. When Lex confronts Superman for literally abandoning him to die, Superman claims that he was justified in leaving Lex because Lex wouldn't take no for an answer. Of course, he seems to be forgetting that Lex was in mortal danger and Superman is supposed to be the greatest superhero ever. The arc ends on Lex crushing the Superman emblem he'd been wearing and presumably becoming evil again, because interesting status quos aren't allowed to last.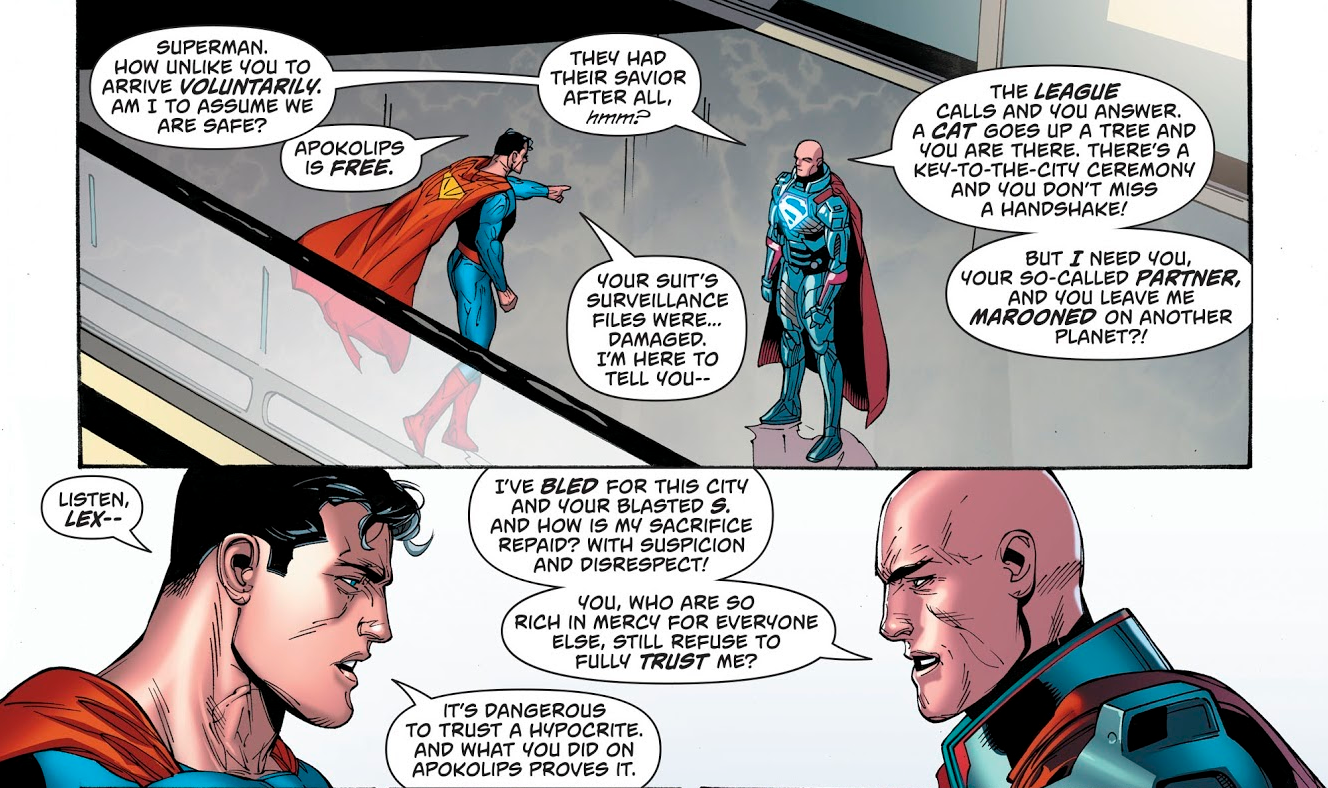 Next is a crossover with Super Sons and Teen Titans called "Super Sons of Tomorrow," which once again deals with continuity baggage from another book. Mr. Oz had kidnapped Tim Drake in James Tynion IV's Detective Comics, and when Tim escaped he also freed an alternate Tim Drake from the "Teen Titans of Tomorrow" future. This alternate, evil Tim is now convinced that killing Jon is the only way to prevent his bad future from happening. In addition, there's some drama around Jon wanting to join the Teen Titans. I don't really have much to say about this arc—Superman's written as incredibly hostile, the drama is tiring, and honestly I kind of supported the evil Tim Drake. Jon has really added nothing of substance in anything he's done so far. But the arc ends with essentially nothing changed: Evil Tim is back where he belongs, Jon is not on the Teen Titans, and Superman keeps chugging along.
There's another fun one-shot drawn by Barry Kitson that's basically the Justice League doing Make-A-Wish for kids in the hospital. It's sweet and there's literally nothing to complain about.
The last arc of the run is a Bizarro arc, where Bizarro has a son and hijinks ensue. There are some fun bits here—instead of incinerating the family cat, Boyzarro accidentally freezes the dog. But honestly, Bizarro arcs are tenuous at best. Writers often struggle with making Bizarro's reverse speech understandable, and Tomasi does not succeed at his attempt. The arc's very difficult to parse, and at a certain point, I decided it was not worth the effort I was making to understand it. The ending of the arc is that Htrae, the Bizarro World, is exploding, and Bizarro sends Boyzarro off in the only rocket to escape in an attempt to mirror Superman's origin. Unfortunately, it's muddled and the emotions don't land the way they should, but that's par for the course for this run.
Tomasi and Gleason's Superman run ends by tying up the last of its major threads. The Kents all leave Hamilton to move to Metropolis in time for Bendis's run to start, and Superman and Jon go back to Dinosaur Island and save the soldier who was stranded there. There are no morals, no grand finale, nothing to tie the run together; there is just an assurance that Tomasi and Gleason's story ideas won't have any lingering presence. Which, ultimately, was perhaps the only way this run could have ended.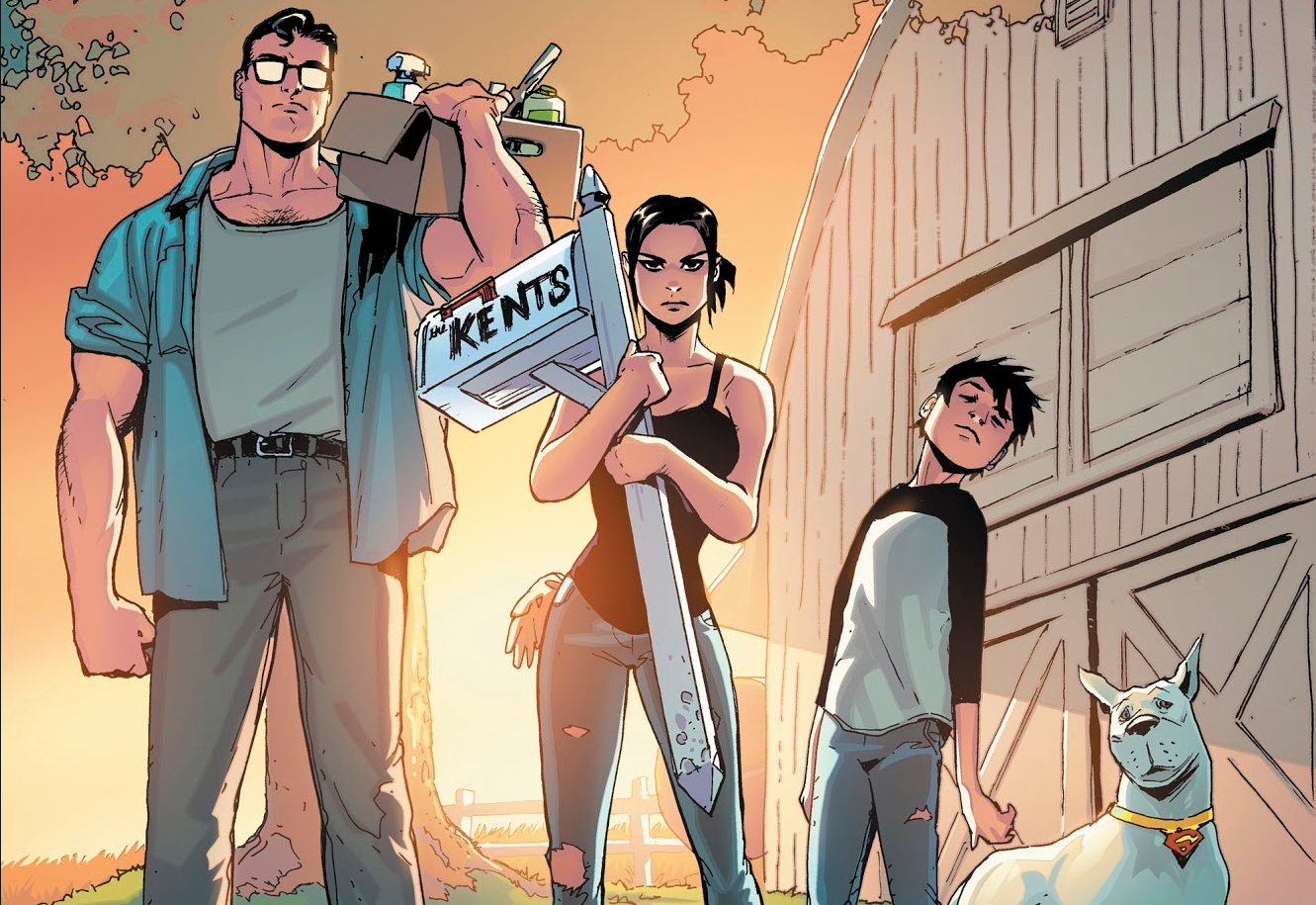 When reading the whole run together, it becomes clear that Tomasi and Gleason only had really planned for the first year of stories, and quickly ran out of ideas for what to do next. There are a lot of fill-in writers throughout the back half of the run, starting literally the issue after "Black Dawn" concluded. It's not a cohesive story, and there isn't a consistent vision. It really just feels like the entire fandom for the run is built more around the status quo this series promised than any coherent storytelling it delivered.
Continuity-wise, this run is a bizarre remnant of the mess that was DC Rebirth. It will probably remain a cult hit for being the only run to have any semblance of focus on Jon Kent's childhood years, given that he was immediately aged up by Bendis just a month after it ended. But as a whole—as a series of comic book stories—Tomasi and Gleason's Superman is just not good.