Comic books are a medium defined by constant evolution, by stories that are told and retold over the decades for new generations of readers. But how does a writer build on a story after it grows so popular, it becomes mythic? How do you redefine an icon?
To many, Superman is the face of American comic books, a character so timeless and iconic that his legacy can be felt through a single page. The character has undergone plenty of changes in his 83-year history, moving from a champion of the people to a wholesome all-ages hero to a conflicted but ultimately incorruptible figure. But by the early 2000's, DC Comics was looking to redefine the character again, replacing the origin told in John Byrne's classic Man of Steel
series and finally bringing Superman into the 21st century. This new take on the character would arrive in the 2003 miniseries Superman: Birthright
, created by writer Mark Waid along with artists Lenil Francis Yu, Gerry Alanguilan, and Dave McCaig. While the 12-issue miniseries celebrates and modernizes a number of points from the Man of Steel's history, Waid and his team also used Birthright to redefine the character of Superman; examining his identity in a new, more cynical era, and how it shapes him, his chosen family, and eventually the world at large.

You can watch the full video retrospective on the series here:
A Legacy Reborn
Birthright's story begins where most of its predecessors do; following scientists Jor-El and Lara as they desperately prepare a means to save their son from a coming apocalypse. Writers have explored Krypton in a number of ways through the years, but through a heartfelt scene between Superman's birth parents, Waid channels the full history of Krypton, a history that now rests with the infant Kal-El. Superman's story has always carried a kind of immigrant subtext, but through Birthright, Waid brings that subtext to the forefront, focusing on Clark's journey to connect with and protect his heritage.

This focus on otherness and identity becomes the bedrock Waid builds Superman's journey on, following Kal-El, now Clark Kent, as he grows up in a world shaped by xenophobia and insecurity. Pulling from the real-world paranoia and prejudice from the time, Waid makes Clark's powers and heritage less of a wholesome call to adventure and more of a complicating factor in his life. Much of the series' first three issues explores this sense of isolation, with Clark traveling the world trying to find acceptance only to face rejection each time he's forced to intervene and use his powers, but the most pointed exploration of Clark's otherness in these chapters comes through his new complex relationship with his parents. The Kents have always been integral to Clark's development as Superman, often shown as the source of his unwavering moral character. However, Waid also adds new depth to the family's dynamic through Jonathan Kent, and his growing jealousy of Clark's heritage. While still a loving father, Jonathan grows distant and bitter as Clark continues to look into his birthplace, causing him to lash out at his son. It's only after a near-death experience that Waid finally addresses the pull between Superman's identities: he's just as much Clark as he is Kal-El, and it's only by accepting both halves that he can truly become who he was meant to be.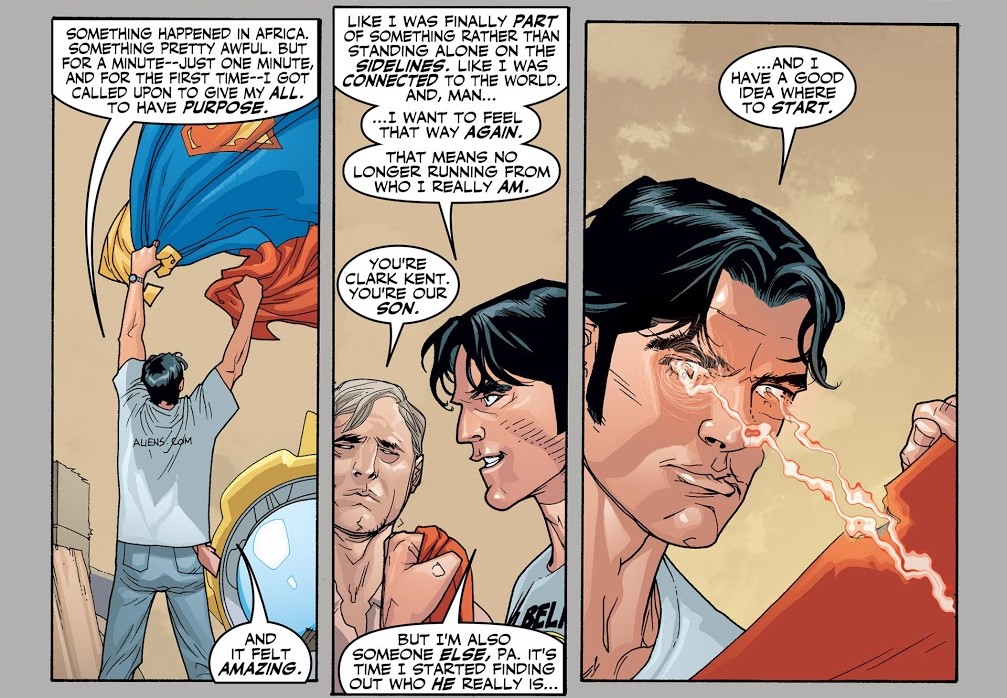 Birthright's beginnings have all the hallmarks of classic Superman, but Waid's use of identity, heritage, and discrimination ultimately transform the character and his mythos, leaving readers with a more conflicted hero struggling to find his identity in a colder, more hostile world.
Support For Comic Book Herald:
Comic Book Herald is reader-supported. When you buy through links on our site, we may earn a qualifying affiliate commission.
Comic Book Herald's reading orders and guides are also made possible by reader support on Patreon, and generous reader donations.
Any size contribution will help keep CBH alive and full of new comics guides and content. Support CBH on Patreon for exclusive rewards, or Donate here! Thank you for reading!
The series' artwork builds perfectly on the hero's evolution. Leinil Francis Yu's pencils, bring a somber weight to Clark's younger years, heightened by Gerry Alanguilan's rich, shadow-heavy inks. Fittingly, Superman's arrival is nothing but spectacular: towering, bold, and thanks to Dave McCaig's colors, as timeless as ever. Claiming his birthright as a son of Krypton, Clark has become something monolithic and unbreakable: A true Man of Steel.
"The problem with keeping your light hidden under a bushel…is that it tends to isolate you," states Waid.

"We all need to feel that we're a part of something, and there's no time that we feel more a part of something than when we're doing what we do best and when we're letting our light shine."
As Clark comes to accept both halves of himself, Waid transforms the character's signature "S-crest" into a symbol of his dual heritage, finally putting Clark on the path to becoming Superman. But through the judgement and paranoia of this modern world, Waid also issues the Man of Steel a challenge: Can the hero use his new identity to inspire the public, and break through their fear? Or will their prejudice end Superman before he even begins?
Friend or Foe?
With Clark emerging as Superman, Birthright also explores how such a mythic figure could fit into a more modern world, specifically one grappling with fear and hatred of outsiders. The world of Birthright is one steeped in the nationalism of the War on Terror, lending a more oppressive, indifferent energy to the city of Metropolis that leaves both halves of the hero feeling isolated. Instead of a wholesome symbol of hope, the people of Metropolis see Superman as enigmatic, even threatening, a feeling that's focused through Waid's vision of the hero's arch-nemesis, Lex Luthor. Reimagined as a childhood friend of Clark's, Waid uses the themes of isolation and alienation to parallel the characters, as well as foreshadow their respective arcs. While Clark is able to overcome his isolation, even building a persona to show that connection, Lex is wholly consumed by his bitterness and lust for power, attempting to demonize the incorruptible Superman in the eyes of the public.
Using images and artifacts he's collected, Lex attempts to weaponize Krypton's past against its last son, fabricating evidence that the Man of Steel is the first of an army of invaders. Waid's critique here, shown through the many uses of the hero's crest, is obvious: in the modern world, Superman isn't just a superhero, but a symbol, whose status ultimately keeps him distant from the very people he's trying to help.
"Once I got deeply into the story, I began to realize that…it seems more unrealistic than ever that someone with these powers and abilities might actually choose to go public–while wearing a big, red cape, no less," explains Waid.


"Until now, the answer to the question 'Why would he?' has simply been 'Because it's the right thing to do.' I wanted a much deeper answer than that, and I think we've found one…The Superman identity is now more tied up in Clark's need to belong to the world rather than stand apart from it. It's tied up in his desire to explore his alien heritage, and in a need to find and fulfill his own murky destiny."
While Lex is able to co-opt the symbol of Superman, it's the hero's own compassion and human connections that allow him to endure. These connections are shown through the steady changes in Superman's media portrayals, and Jimmy Olsen literally reclaiming the hero's crest, but Clark's greatest strength comes in his developing relationship with Lois Lane. Writers have often used Lois to define Clark's humanity, acting as a moral compass and grounding an otherwise godlike being, but through Birthright's immigrant parable, Waid manages to deepen the pair's relationship even further. Through Lois, Clark finds someone who finally trusts and accepts him for who he is. And it's that acceptance that gives him the strength to keep fighting for the people of Metropolis, even if they don't feel the same.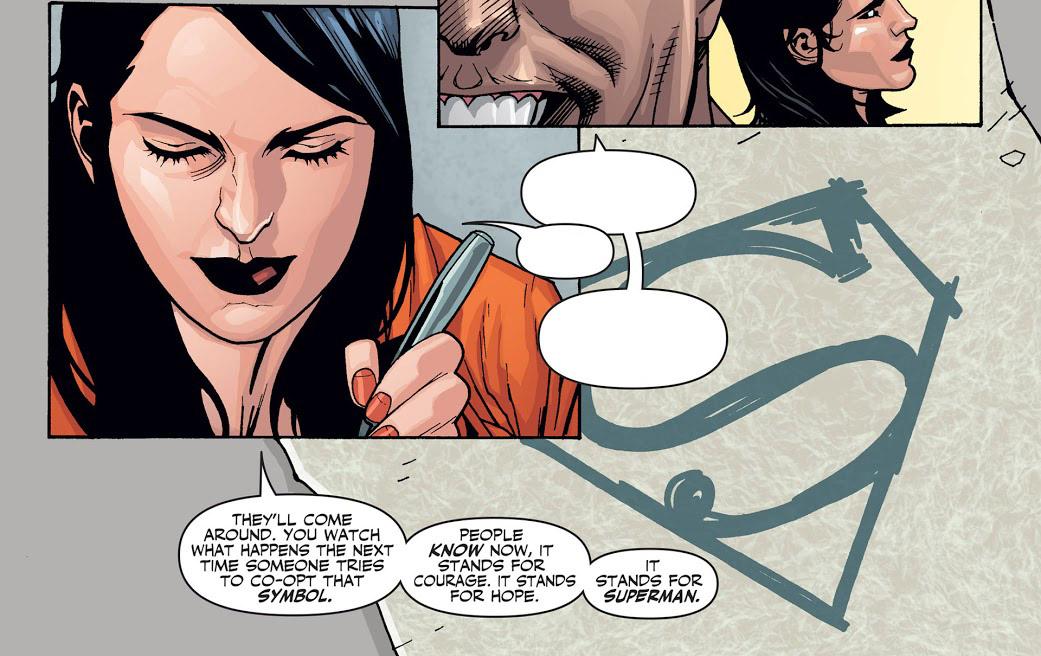 The Hero Emerges
Birthright's tenure as a definitive origin didn't last long; being quickly eclipsed by 2005's Infinite Crisis along with the character's tie-in, Superman: Secret Origin. However, the miniseries' legacy can be seen in the Man of Steel's mythology to this day, through more nuanced, grounded takes on the character and a growing focus on his status as an inherently political figure.
"My biggest point of pride with this series may be its long-tail reception," states Waid.

"At the time it was published – my dream project, after all – I joked that it was like finally being able to play Carnegie Hall but no one was in the audience. But the audience the story has built since is far more rewarding. I'm proud that my name is on a perennial."

In a world where publishers continue to deem the character "irrelevant," Birthright remains the perfect argument of why Superman means so much to so many people: through striking imagery, layered characterizations and an intense focus on identity and heritage, Waid and his collaborators demonstrate the real strength at the heart of the hero: he's a symbol of hope for two worlds; a testament to our ability to endure, carry on our past, and give our all to help shape a better future for the next generation.
Sources:
https://www.cbr.com/gonna-party-like-its-yer-birfright-part-1-mark-waid-talks-superman-birthright
https://www.comicbookherald.com/the-man-of-steel-by-john-byrne-the-definition-of-superman-but-not-the-meaning/
https://www.comicsbookcase.com/updates/tag/Superman+Birthright
http://voicesfromkrypton.net/superman-birthright-turns-10-digital-book-excerpt/