In 1986, John Byrne did the seemingly impossible: he remade the most famous comic hero of them all. The Man of Steel mini-series (tMoS) was the new, public unveiling of not just Superman but, in a larger sense, the entire DC post-Crisis universe. Now, DC has finally made an omnibus collecting all six issues of that seminal mini, along with Byrne's entire Superman run from 1986-88 (plus his brief return in 2011).
But seeing Byrne's work collected changes it for me. It seems almost impossible now that one of comic's most troubled creators could have saved Superman. Or that a story so filled with humanity could doom him. But this amazing and flawed mini-series masterpiece, like its creator, is filled with contradictions. And like both, my opinion has changed as I've gotten older.
What's Good About The Man of Steel
Virtually All of the Illustration
The easiest place to start would be the artwork. Here, my opinions remain unchanged: John Byrne's Superman is my Superman. Byrne's iconic style, a balance of naturalism and its life-giving accuracy juxtaposed with minimalism and its engineered clarity, still feels fantastic and clear. This is only bolstered by Byrne's transparent admiration for Fleischer, Kirby, Ditko, Adams, and other gold and silver age masters. Byrne was a contemporary of the last three, and their influence feels more like seamless integration here than mere homage.
The result is a Superman reminiscent of yet unlike any other that came before. A character that was more human than human; who was so strong and powerful that he could wear naked, totally unguarded emotion. A character with character, a Superman so obviously filled with hope and wonder that it's downright disarming. Perhaps Byrne's work isn't timeless for its technique. Maybe instead it's because Byrne's Superman is a child's idea of a hero… that makes adults feel like children.
Much of the Writing
But tMoS isn't just about the artwork. Byrne's contributions to the fullness of Superman's origins held for decades. Much like the subtlety in his character's expressions, it's the little things that work so well here.
Support For Comic Book Herald:
Comic Book Herald is reader-supported. When you buy through links on our site, we may earn a qualifying affiliate commission.
Comic Book Herald's reading orders and guides are also made possible by reader support on Patreon, and generous reader donations.
Any size contribution will help keep CBH alive and full of new comics guides and content. Support CBH on Patreon for exclusive rewards, or Donate here! Thank you for reading!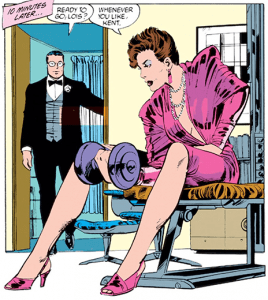 The new cause of the destruction of Krypton is rewritten to finally "prove" why kryptonite is so deadly. Now, the Krypton explodes because all of the elements from top soil down are undergoing nuclear fusion, turning them into a radioactive metal, dubbed "kryptonite." The metal's radiation begins killing people even before the core goes critical, meaning kryptonite's radiation is actually a weaker form of its true destructive purpose.
Jonathan and Martha Kent are rewritten younger, with Martha being the source of Clark Kent's "good mischief" style of adventuring, making Jonathan the root of Clark's paternal worries over the human race and his protectiveness of the planet.
Byrne's Lois Lane is so whip-smart and daring that in this universe, it's Superman who falls in love first with this woman who seems farther along on her hero's journey than our new superhero.
On the other hand, Byrne's turned Lex Luthor into an evil business mogul, which transforms the hero/villain battle into a battle over whose definition of "power, leadership, strength, and public good" is the best.
Even the inclusion of Batman as an integral part of Superman's origin is a nice touch. It shows a Superman who can be flexible, follow someone else's lead, and change his mind. That chapter ends with a little hint that the friendship between those two characters is so powerful, it reaches across the universal divide.
Unfortunately, for all its strengths, tMoS contains one flaw. A single decision that unravels not just mini-series but Superman himself. And like Krypton, the series itself is doomed from the very beginning by something from within.
The Case of the Birthing Matrix:

Where The Man of Steel Went Wrong
With tMoS, Byrne set out to make a Superman that was more realistic, down to earth, and above all, more human. This was his signature creative approach, the one that returned Fantastic Four to hit status. He was, for a moment, so good that he publicly called himself "the Fixer" and nobody called the cops. Other people called it Byrne's "rehabilitation" approach, but call it whatever you want: DC hired him for it. Then, as now, fans take issue with Byrne's take here, but I want to be very clear: I don't think a "smaller, more human" Superman is the problem. I think it was the intended goal of DC brass, Wolfman, and Byrne himself.
So I don't necessarily find it a problem that post-Crisis Superman is technically born on Earth. But it is the start of all of our problems.
Because of Byrne's retcon of the destruction of Krypton, infant Superman now needs to be protected from radiation. This is why we see his fetal form inside of something called a "birthing matrix." That matrix seals him away from Krypton, it's radiation, its explosion, the vacuum of space, and finally through Earth's atmosphere and his crash landing.  It's only when the ship reaches Kansas and the waiting Kents that the birthing matrix's purpose is finished.
This machine is what ensures that the child of Jor-El and Lana is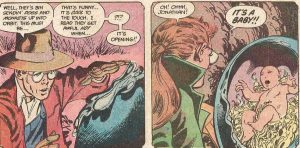 effectively "born" instead to Martha and Jonathan.
This seemingly small revision turns out to be world-shaking. Because this Superman has never breathed Kryptonian air, basked in its sun, or felt its people. All he knows, all he'll ever truly know, is Kansas. And that's a problem.
Byrne by Byrne
To his new creator, Superman's righteousness was proof of only one thing: The Kryptonian had to be American. That comes straight from his notes. It seems to have been part of his earliest inspiration for The Man of Steel and honestly, it sorta fits with how Golden Superman worked. Part of him represents the early 20th century "American Dream" concept regarding immigrants. It's also true, though to a lesser extent, with many subsequent iterations of the character who always seems to have a flag or a president handy.
But because this is our lives now, we don't stop there.
"Being an immigrant myself, I have something of an insight, I think, into the way Clark's mind works. I was born in England, and I am proud of my English heritage (I was also quite a lot older than Kal-El when I left "home," so my connections would be stronger) but I grew up in Canada and I have lived for the last 25 years in the US, and I don't ever—ever—feel like a "displaced Englishman. (…)Clark would be proud, too, of his Kryptonian heritage, but later portrayals of him have tried to shoehorn in too much of the pychobabble of adopted children longing for and seeking out their biological parents. Excuse my French, but to me, they fall under the heading of "ungrateful little shits.(…)Clark grew up as human, thinks as a human, reacts as a human. He lives and loves as a human. And that is what really defines him."
For something with no thought put into it, there's a lot there. The claims are laughably easy to refute. For starters,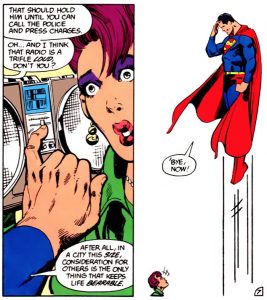 behavioral neuroscience demonstrably doesn't work that way. Second, pick up Super Boys by Brad Ricca, it'll tell you how important Jerry Siegel and Joe Schuster's Jewish heritage was to the young creators. And to Superman. But we're not here to go word-by-word, because then we really would have to make the rest of this article about his horrible views. And yet, that's sorta what this entire article is unavoidably about.
There's an old adage about how writers write about what they know. At the very least, I think they write about what they believe. And I simply cannot see Superman believing as John Byrne. But when Superman flies in out of nowhere to make kids turn their radios down, there's Byrne. And when Superman is belittling random, human criminals and lording his power over them, there's Byrne. And when Batman is in an issue and he's not only talking about breaking a criminal's legs, but joking to himself about it…
Born Down in a Dead Man's Planet
Some pieces of art become a litmus test for the culture that created them. Alanis Morissette's "Ironic." Naked Lunch by William S. Burroughs. "Every Breath You Take" by the Police. Ken Kesey's acid tests.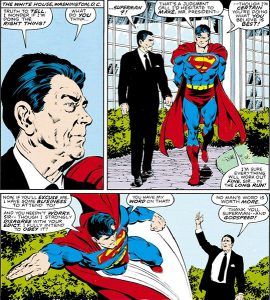 In 1984, Bruce Springtsteen released the song "Born in the U.S.A." It's not a song, or a story, but a list of things like "small-town cruelty," "economic desperation," "government betrayal," and the entire Viet Nam War. And is a warning of all the way that America will kill a man, and it runs, unflinchingly, atop one of the catchiest beats of its decade. An astonishing percentage of the country failed the test. But none more spectacularly than Ronald Reagan, who mistook it for an upbeat song about patriotism and all the good things Ronnie wanted to be associated with his campaign. Though where those good things are in the song, or what the Former President actually heard are both completely unknown. What is certain is that Reagan went and did the stupidest thing possible, and they began using it as their own anthem. And, in a cruel act of irony, they didn't ask before they took.
I'm telling you that story to make this one shorter: This omnibus contains John Byrne's celebrated 1986-88 run on Superman. It's stated purpose was, at least in part, to make the character more American and a symbol of that pride. During this same time, the same Reagan administration was rocked by some of the worst scandals in recent memory. Ones that disproportionately affected America's most vulnerable citizens. Members of the administration and the President himself were routinely on the news, answering or apologizing for something. Numerous people went to jail.
It is extremely important to understand things like the Iran Contra Affair, The Savings and Loan Crisis, the 30% cut to national funding for mental health services, the ramp-up on the war on drugs and the beginning of police militarization… all of it was everywhere, all of the time. As clear and as inescapable as the fates inside Springsteen's song.
And John Byrne wanted to use Superman as Reagan's anthem.
"I may be a criminal lunatic, but I'm an AMERICAN criminal lunatic!"
Despite the objections of the time, the problem with tMoS isn't that Superman is "weaker." The problem is that Clark Kent is entirely too strong. Here's a synopsis of the first issue and "origin story." See if you can spot the cascade problem.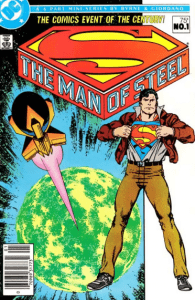 Due to the Birthing Matrix, Superman is born Clark Kent of Earth instead of Kal-El of Krypton.
Clark Kent becomes a star high school football player thanks to his powers (which are somehow reduced during this period).
And it's Clark Kent who (anonymously) saves the day first…
…Only to be accosted by greedy commoners. Clark realizes that he can't remain "Clark Kent" and save people.
"Superman" is now a headline before an identity. He's a convenient invention created by the media, for the media.
It's only later that he is appropriated by Clark.
Who bases his famous emblem off the newspaper headline.
To Recap: The space baby grows up to be Clark Kent, American. Superman isn't a Kryptonian destiny, he's an American media sensation. Because of this, Superman's iconic symbol is no longer the House of Jor-El.
The symbol is officially retconned to an "S," for "Superman," A word printed in English by a quintessential small-town newspaper rerunning Lois Lane's story.
Lois becomes the reason Clark becomes a reporter, which somehow becomes the most American cliche ever.
Clark Kent is now the most cliched "real American" ever: A former varsity footballer, possibly without even a high school degree, now gone out to the coast to give them big city people some down-home country, honest wisdom. He's a newspaperman, which is an honest profession provided you wear a tie and a hat and you don't let them make you forget where you came from.
Okay, it's not quite that bad. But you can see there from here.
The Jor-El Hologram: the Final Light Nail in the Space Coffin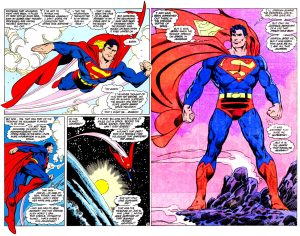 A father is desperate and afraid for a son he'll never see grow up. A hopeless man clings to duty by training a boy. Richard Donner, Christopher Reeve, and Marlon Brando turned this scene into an indelible part of the mythos. But to Byrne, it seems like like another bent nail to rehab. In tMoS, the hologram scene isn't about overcoming fear through hope and love, as we feel none of them. Nor is it about how we are all connected to everyone, even those far away, even those gone because there is no relief. And it isn't really training, because knowledge isn't worked towards.
Instead, Byrne makes Jor-El's hologram rather forcibly download the history of Krypton into Superman's brain. No effort or agency on Superman's part is more than just a terrible look for a hero. It also means the information has reduced value to Superman, which is proven when he dismisses it and reaffirms he identifies exclusively as American. (Jor-El's being a foreigner, his use of force, and foreign/American purity conflict really echo of Byrne's insane quote, huh?)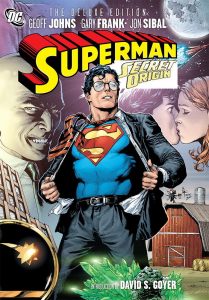 If You're Looking for a Better Version…
…of Superman's Origin
A Superman for All Seasons by Jeph Loeb, Tim Sale
Superman: Secret Origin by Geoff Johns, Gary Frank, Jon Sibal
Action Comics #1 by Jerry Siegel, Joe Shuster
…of Byrne's The Man of Steel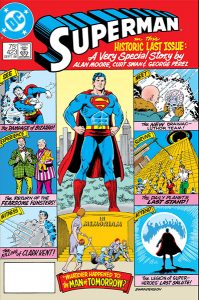 Action Comics #500: "The Life Story of Superman" by Martin Pasko, Curt Swan, Frank Chiaramonte, Adrienne Roy
That murderer's row of creatives nailed Byrne's same "tell the whole history" approach seven years before tMoS. And these guys did it in a single issue.
DC: New Frontier by Darwyn Cooke
Also made by one creator. Filled by the same themes (American, hope, achieving the impossible, humanity, etc). But with so much more wonder and childish joy.
All-Star Superman by Grant Morrisson, Frank Quitely
A slightly more abstract encapsulation of Superman's life and character. Possibly the perfect Superman book by feel alone.
Karen Berger's tenure as Vertigo's executive editor
Swamp Thing. Animal Man. Sandman. Berger's run is filled with utterly brilliant recreations of DC properties. Pick literally any one of them.
The Best Contained Superman Story
This is a little unorthodox, I know. But I'm disappointed to think that anyone could come here looking for modern Superman and his famous origin story. But while Byrne couldn't give you that, I can.
If you want the promise of The Man of Steel and a whole lot more, turn to legendary author J. Michael Straczynski. His two-part character study of Superman is as near to perfect as I can imagine. Although technically, both parts came well after Byrne's run. Also, and again technically, one of JMS' books has absolutely zero Superman in it. Still, if the birth matrix didn't stop Byrne, this shouldn't stop us.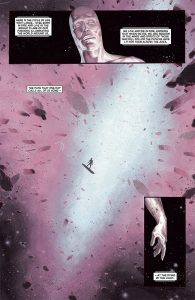 To begin with, Superman: Earth One and Silver Surfer: Requiem are beautifully told stories. I'm not sure that romantic prose is necessarily required for a Superman story, but reading JMS' work (or Whatever Ever Happened…?, For The Man Who Has Everything, All-Star, etc) makes one realize just how much it adds, and how appropriate it feels for this specific hero. Lofty prose for a lofty here, I guess.
And I think that romantic approach makes the deep subject matter here work. Earth One is the story of why someone would want to have that kind of power. And Requiem is the story of why a hero, having had such power, would want to lay it down again. Taken together, that desire shows us why we, as a comics reading audience, want Superman to exist. They're not about the origins of a character, but the origin of our love for one.
Byrne's artwork is clean, iconic, and full of hope. And I think that's what his writing tried to be. I think his "rehabilitation" approach was, ultimately, about refining the language of comics. Making it efficient through measured exposition and invention, accurate through continuity, and cogent through conflict.
But my preferred pick, Straczynski, seems to take a poet's route, picking just the right words to let his subject speak. What they build towards isn't a battle or a speech. These stories are bookends to a life.  They work in fondness, empathy, and dignity… not tradition. And certainly not efficiency.
My Final Review of the Man of Steel
After re-reading, it's hard not to find this 1,100+ page omnibus to be… thin.  Much of its artwork is still beautiful, and some of its ideas are clever. But it's not good, by nearly any sense of the word.
The current complaint about the book is that there's too much John Byrne. The criticism in the 1980s was that Superman was either more human or less powerful.  I think both are close. To me, the problem is this:
There's too much John Byrne, and that means there's less Superman. The character is smaller for his additions and smaller still for the flag he's bound in. There is an inescapable feeling that Superman's powers aren't diminished because of Crisis or the Birthing Matrix. There's an impression that Byrne may have believed that a Superman who was as rich, vibrant, and mysterious or just too above-average would shame everyone else for their mortality. That a Superman with global perspective backed up by a rich, blended history… one who was a true defender of the world… would somehow diminish America, if only by his love not being exclusive.
There's a part in the miniseries where Clark Kent has returned home and is sitting in the dark. His father finds him, immediately concerned, only to hear the sound of his son's voice in terror say that when he saved people, they kept wanting things from him. This is what turns him into Superman in the story. Not altruism, not some Kryptonian destiny, but this. A man terrified of people who had just seen a miracle and could not restrain themselves. In this story, I think Clark Kent is out there on his own. A man in a homemade cape, who deep down is afraid of people needing him. And I don't think he's up there to inspire us beyond our limits, because that's not the example he's setting. I think here, in John Byrne's hands, Superman is a warning about all the ways America will kiss someone. It takes their home, their heart, and their name from them; and then it puts them out there on display.