Squirrel Girl's trajectory in the Marvel Universe is nothing short of remarkable. The early 90's Steve Ditko and Will Murray creation has gone from running joke to Great Lakes Avenger to one of the most popular and excellent superheroes in Marvel's lineup. 
In short, she eats nuts and kicks butts.
Below you'll find every Squirrel Girl comic book appearance, and how to best get started with all her comics. If you're totally new to the character, I'd recommend starting with Ryan North and Erica Henderson's modern reboot of Squirrel Girl, starting towards the tail-end of Marvel NOW in 2015.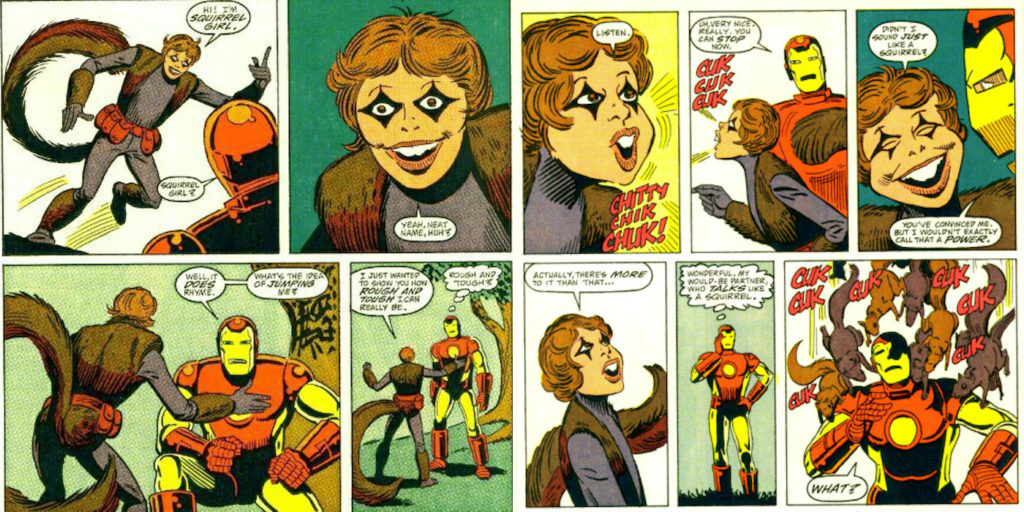 Squirrel Girl Origins Through Great Lakes Avengers Status
The Unbeatable Squirrel Girl & the Great Lakes Avengers
One of the wonderful things about Squirrel Girl (of which there are plenty) is that her early comics appearances are so scattered they all fit within one collection.
I've ordered Squirrel Girls first appearances below. Although Doreen Green debuted in a story alongside Iron Man (and Doctor Doom) in 1990, she wouldn't really return to the Marvel Universe until Dan Slott reintroduced her as a member of the Great Lakes Avengers in the mid-2000's.
These GLA comics are intentionally quite funny, but with plenty of black humor (the premise of the series is literally one death per issue). Squirrel Girl's association with the GLA also leads to one of my favorite Deadpool gags, oddly enough during a Civil War tie-in issue.
I've ordered the issues in this collection below chronologically, and according to how they are listed (if they are listed) in Marvel Unlimited.
Collects: Marvel Super-Heroes (1990) #8, G.L.A. (2005) #1 to #4, Glx-Mas Special #1, The Thing (2005) #8, Cable & Deadpool #30, Deadpool/Gli – Summer Fun Spectacular #1, I (Heart) Marvel #3: Masked Intentions, Age Of Heroes #3, I Am An Avenger #1

Support For Comic Book Herald:
Comic Book Herald's reading orders and guides are made possible by reader support on Patreon, and generous reader donations.
If you like Comic Book Herald reading orders and want exclusive reader rewards, your support on Patreon would be tremendously appreciated! Rewards include:
Custom monthly reading playlists
Priority reading order requests + Q&A
Weekly continuity updates
Reading order update logs
A direct hand in growing CBH!
Any size contribution will help keep CBH alive and full of new comics guides and content. Support CBH on Patreon for exclusive rewards, or Donate here! Thank you for reading!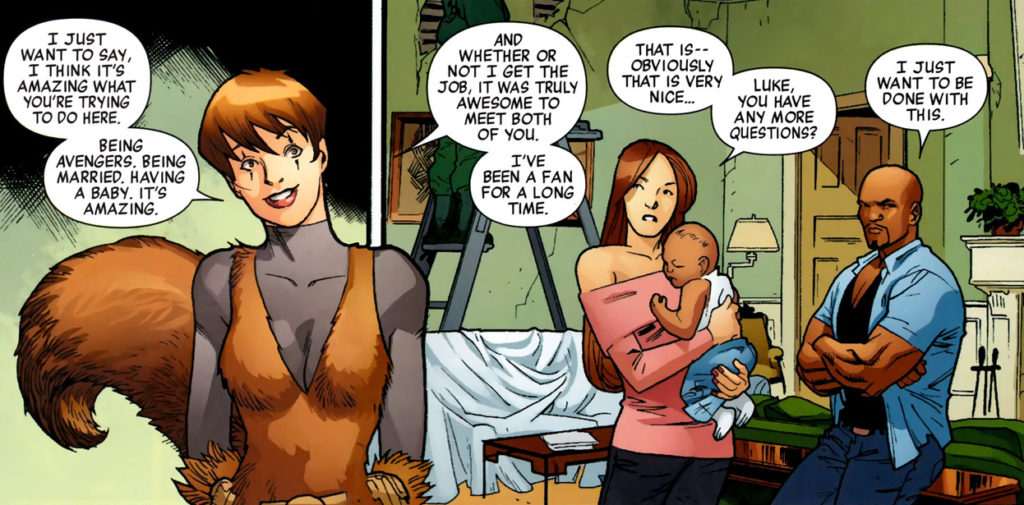 Squirrel Girl the New Avenger (nanny)
New Avengers, Vol. 2
Don't let it be said that Squirrel Girl's ascent to Marvel Comics superstardom did not come gradually. Before the Unbeatable Squirrel Girl, Doreen Green put in her time as the superpowered nanny of Jessica Jones and Luke Cage while they were out New Avenger-ing.
It's worth noting – several times over – that this Heroic Age New Avengers run from Brian Michael Bendis is not focused on Squirrel Girl at all. This is more for absolute continuity and Marvel history buffs.
Nonetheless, Squirrel Girl is a regularly recurring character from New Avengers #7 to its conclusion with New Avengers #34.
Issues: New Avengers #7 to #34
The Unbeatable Squirrel Girl
The Unbeatable Squirrel Girl Vol. 1: Squirrel Power
Ryan North and Erica Henderson's reconfiguration of all things Squirrel Girl is unquestionably one of Marvel's finest character reconstructions this millennium. Unbeatable Squirrel Girl is a joyous, funny romp through the Marvel Universe, with the most positive, least angsty character in the entire Marvel comics landscape.
Note for Marvel Unlimited readers that Squirrel Girl launched two Unbeatable series in 2015. The first run is merely designated The Unbeatable Squirrel Girl (2015) and contains 8 issues, with the first published January 7, 2015.
Collects: The Unbeatable Squirrel Girl (2015) #1 to #4
The Unbeatable Squirrel Girl Vol. 2: Squirrel You Know It's True
It's worth noting that the second volume collecting Squirrel Girl's first year of Unbeatable stories (from 2015) also includes some stories originally collected in the first collection on this order.
Collects: The Unbeatable Squirrel Girl (2015) #5 to #8
The Unbeatable Squirrel Girl Vol. 3: Squirrel, You Really Got Me Now
The third volume of collected Squirrel Girl comics marks the renumbered launch of an All-New Unbeatable Squirrel Girl #1 (within the same calendar year). From this point forward the Unbeatable Squirrel Girl issues on Marvel Unlimited should begin with the first issue published October 28, 2015.
Collects: The Unbeatable Squirrel Girl (2015 – Present) #1 to #6, Howard the Duck (2015 – Present) #6
New Avengers: A.I.M. Vol. 1: Everything is New
No longer just the nanny, Squirrel Girl is an official member of the post-Secret Wars New avengers. Note for fans of the Ryan North and Erica Henderson run that New Avengers is an entirely separate creative team, and does not overlap significantly with Doreen's adventures in Unbeatable Squirrel Girl.
That said, if you want to Squirrel Girl as an Avenger, this is the place to do it. New Avengers never reaches the best of 2016 heights of Al Ewings other Marvel series, Ultimates, but it has a lot of potential and interesting ideas.
Collects: New Avengers (2015 – Present) #1 to #6
The Unbeatable Squirrel Girl Beats Up The Marvel Universe
Squirrel Girl has risen to such prominence that she now gets her very own graphic novel, in a format previously reserved for violent sociopaths like The Punisher and Deadpool!
The Unbeatable Squirrel Girl Vol. 4: I Kissed a Squirrel and I Liked It
Collects: The Unbeatable Squirrel Girl (2015 – Present) #7 to #11
The Unbeatable Squirrel Girl Vol. 5: Like I'm the Only Squirrel in the World
Collects: The Unbeatable Squirrel Girl (2015 – Present) #12 to #16
There you have it – the complete Squirrel Girl reading order!