One of the big issues with everyone's favorite scrappy neighborhood superhero (Spider-Man) is how to write him growing up. The comics that deal with an aging Spider-Man have to strike the balance between his youthful insouciance and more adult problems. In Todd McFarlane's run of Spider-Man in 1990
, he chose to up the stakes of the damage that could be inflicted on Peter as Spider-Man and made the general tone of Spider-Man a lot heavier and darker. Throughout his run in 1990, McFarlane introduced Spider-Man to more horror-inspired iterations of his foes. Many of these decisions about how to handle the Spider-Man character (and his relationship with Mary Jane Watson) in this run feel indicative of McFarlane's later development of the standalone comics series Spawn.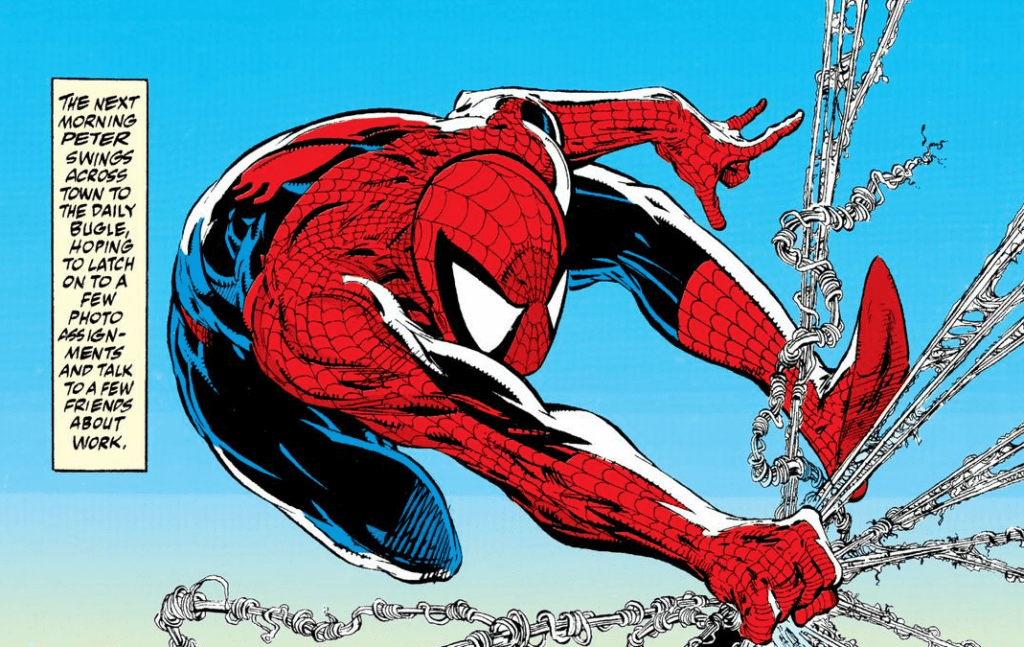 McFarlane's Spider-Man run in 1990 (issues 1-14, 16), and then his addition to X-Force, have recurring themes of horror of darkness. His roster of villains is more intense and destructive than usual, which is probably indicative of McFarlane pushing an older narrative on the friendly neighborhood Spider-Man. The neighborhood is a lot less friendly in general, with a focus on the dark streets of Manhattan and the morally reprehensible people that populate them.
Although not a family man, Peter is a little more settled in life than his teenage crime-fighting days. Married to Mary Jane and living in an apartment in Manhattan, the criminals he's dealing with are much more in line with New York City's underbelly. The art style is much more detailed, with McFarlane's detailed webbing on full display on the title page. In addition to the depth of detail in Spider-Man himself, all of the background characters have much more detailed faces. Throughout McFarlane's run of Spider-Man, there are craggy faces and hard-drawn expressions that serve to raise the stakes of Peter's fights.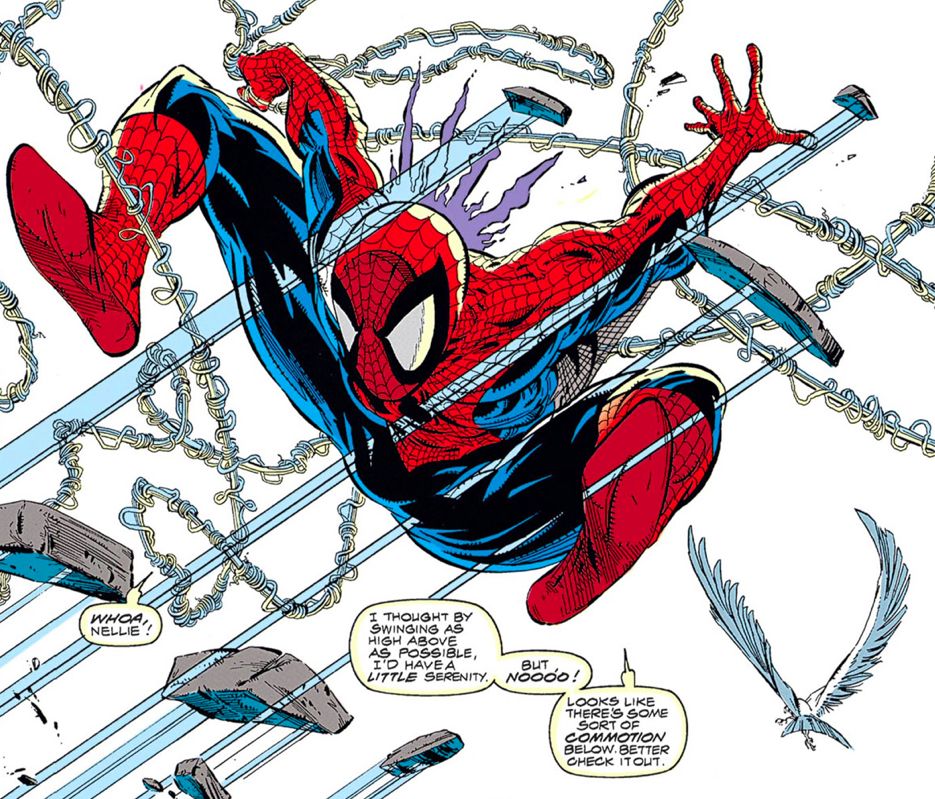 Although Mary Jane is always around, she doesn't get a lot to do throughout these comics other than waiting for Peter to come home. There are some mentions of her past trauma, especially when Peter dons the black suit and she can't help but remember Venom. Mary Jane is very stuck in the supportive girlfriend/wife role instead of being able to do much on her own. One of the unintentionally funnier images of Mary Jane is her ridiculous sleeping getup in issue six when she confronts Peter as he's coming home—she looks like a Playboy model mid-shoot and it's completely impractical. However, I find it kind of hilarious as a relic of nineties comics' approach to their female characters.
Throughout McFarlane's run, Peter encounters familiar foes who have horror movie twists. When we first glimpse the Lizard, he rises out of the water like the creature from the Black Lagoon. Instead of enacting a plan, the Lizard is just a force of destruction. The human behind the villain is gone, making him more terrifying and confusing to readers. We're used to expecting some kind of humanity and reasoning behind the villain so they're as compelling a character as the hero, but in this case the villains are simplistic in their terror. While Peter swings above the city, this abstract horror is lurking below him.
Support For Comic Book Herald:
Comic Book Herald is reader-supported. When you buy through links on our site, we may earn a qualifying affiliate commission.
Comic Book Herald's reading orders and guides are also made possible by reader support on Patreon, and generous reader donations.
Any size contribution will help keep CBH alive and full of new comics guides and content. Support CBH on Patreon for exclusive rewards, or Donate here! Thank you for reading!
When he does finally fight the Lizard in issue two, we get to see the dynamic Spidey moves that made McFarlane so famous with the character. It is also a hugely destructive fight, with pieces of the room spraying around them in chaos.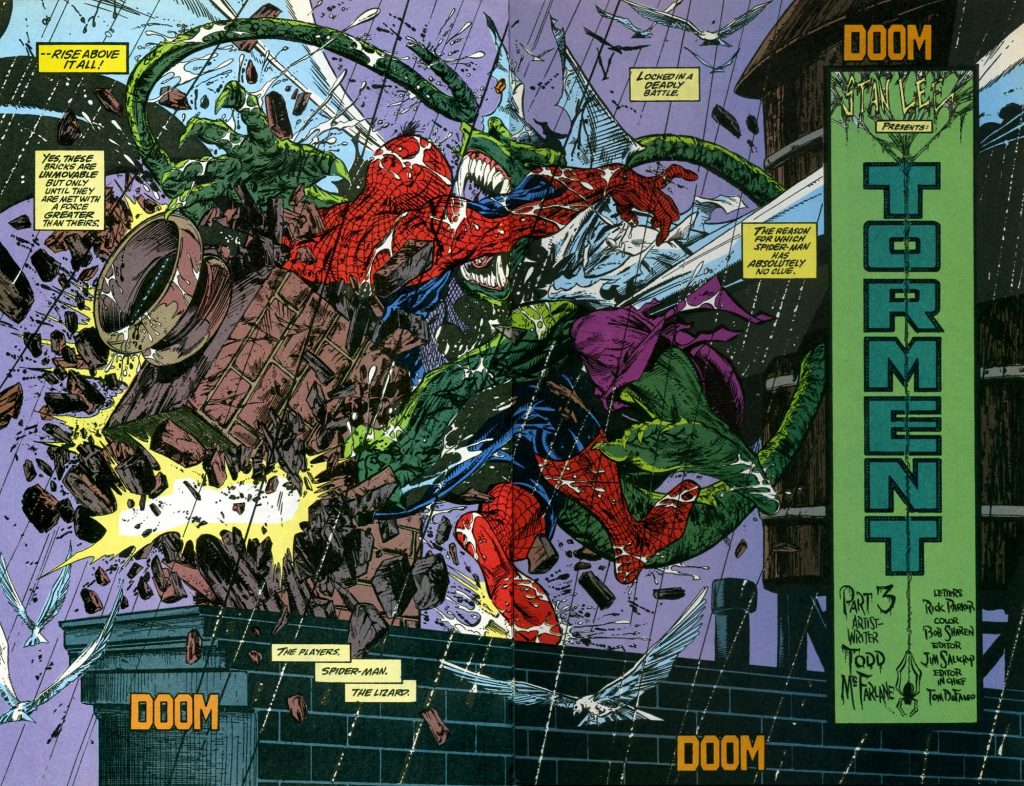 Calypso, who controls the Lizard in "Torment", is a figure of pure terror. Instead of having a specific reason for going after Spider-Man, she seems to be most delighted by the torture and destruction. The problem with this arc for Spider-Man is that there's a lot of chaos, but it's missing the joy of Spider-Man. The intensity of these fights leaves little room for Peter to deliver any classic Spider-Man zingers, and instead there are these heavy, overwrought inner monologues and narration about how intense and chaotic the fights are. It becomes repetitive across five issues.
It was extremely bold to start with a storyline that brought back some well-known characters and put them under reality-distorting mind control. Since comics characters can continue for so many decades, creators are always trying to find ways to pull them out of stasis. Once Peter thought he knew the rules of his various foes and how to defeat them, they come back with a piece missing and they're a whole lot more vicious. As opposed to mirror images of Peter's struggles with his own powers and how to wield them, the adversaries in these issues feel like abstract representations of Peter's fears and the changes in his superhero life.
In the second story in McFarlane's run ("Masques"), Peter again faces an incredibly dark and serious threat—the Hobgoblin capturing a kid and Ghost Rider trying to intervene and deliver justice against these dark forces. The story feels particularly gritty and mob-inspired, but it also feels a bit repetitive following Torment. While the inclusion of Ghost Rider is fun, he doesn't add a whole lot to the story. He's less interested in saving the child from the Hobgoblin, so Spider-Man seems like a more moderate, human-saving force in comparison.
The following series, "Perceptions" (issues 8-12), picks up a little bit because Peter lives the city to report on a supposed Bigfoot sighting and runs into Wolverine. The mystery aspect, coupled with the journalism plotline, feels a bit more like a zippy Spider-Man story instead of an overwrought meditation on the horrors of New York City's crime-infested underbelly. Wolverine makes an appearance to protect the creature terrorizing the forest, and he and Spider-Man have some fun interactions. The mystery-solving aspect of this series makes it more compelling to follow, and there are some interesting questions between Spidey and Wolverine about how to handle Wendigo.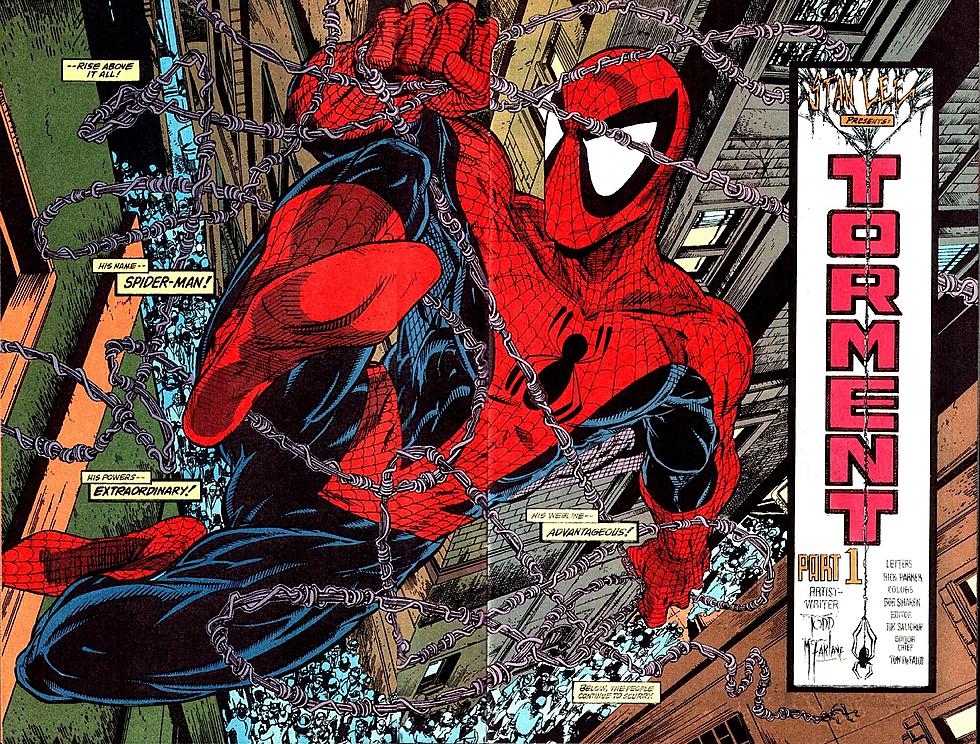 Rounding out the cameos of classic Spider-Man villains, Spider-Man goes after Morbius in the final two issues of McFarlane's standalone stories ("Sub-City"). In order to pursue him, Spidey wears his black suit to get to Morbius and fight him. The fighting is stylized and destructive, but there's a little more fun banter between Spider-Man and Morbius that feels more in-spirit with the character. After a few stories where Spidey was thrust into dramatic, horror-inspired circumstances, this two-issue series focuses on
In issue 16, Spider-Man joins up with the X-Force in a crossover issue, and it's mostly fun because we see Peter looking down on other, younger heroes. He teams up with them against the Juggernaut, but has a somewhat funny tired-older-man approach to the "kid" superheroes.
McFarlane's run with Spider-Man actually presents an interesting view into how the current Spider-Man movie franchises are choosing to handle the character. When Tom Holland took over the character, Peter went even further back into high school so he would have more time as a friendly teenager with fewer adult problems. Miles Morales in Into The Spider-Verse starts at 14, and since it's an animated series, he can stay a teenager for as long as they see fit. The more serious, "adult" parts of the Spider-Man universe are probably going to continue to come out in the Sony movies, from the uncanny weirdness of Venom to whatever craziness they're going to do with Morbius.
Even though McFarlane's visual style of the character was an interesting departure from the regular Spider-Man storylines, his overall storytelling and writing were pretty inconsistent. The artistic flair he brought to Spidey with the hyper-detailed webbing and attention he paid to the faces and bodies of all the characters created a moodier, more intense atmosphere for Spider-Man than fans might have been accustomed to. It makes sense that his next major character was a horror-inspired antihero with Spawn. The issue with him working on Spider-Man was that attempting to age him up doesn't have to mean sacrificing the lighter aspects of the character. He can still deal with serious threats without giving up the fundamental fun that defines Spider-Man.