The 1970s were hot on horror and supernatural comics. Marvel was no exception with Tomb of Dracula and Ghost Rider putting up respectable numbers. This lead to Stan Lee making the buck-wild suggestion that Marvel should do a comic about Satan himself. Editor Roy Thomas decided "baby steps" and pitched doing Satan's son instead. And thus was born Daimon Hellstrom, "The Son of Satan," who was demonic enough to appear in Ghost Rider, but man-in-tights enough to be in Marvel 2-in-1 adventures.
His biography is simple:
The various Lords of Hell had wanted a child born on Earth in order to act as a living doorway between the various Hells and the Earth. To accomplish this, Lord Marduk Kurios took a piece of the essence of each Hell Lord with him to Earth. How he got to Earth when they needed that living doorway is unclear. Anyway, Marduk assumed a human identity, took a human wife, and sired Daimon "the Son of Satan" Hellstrom, the boy who would have the boldest look in Marvel: luchador pants, a cape, and no shirt (to show off the pentagram brand on his bare chest).
Daimon is a natural magician, able to instantly cast virtually any spell — even those that take a human lifetime to master. He carries with him a trident made from a psychosenstive element ("netharanium") which amplifies his powers further. This means he may have no upper limit in terms of power as he can shoot "soul fire" as strong as any Ghost Rider and has even been shown manipulating time.
Daimon has an extremely complicated relationship with the hero Hellcat.
Support For Comic Book Herald:
Comic Book Herald is reader-supported. When you buy through links on our site, we may earn a qualifying affiliate commission.
Comic Book Herald's reading orders and guides are also made possible by reader support on Patreon, and generous reader donations.
Any size contribution will help keep CBH alive and full of new comics guides and content. Support CBH on Patreon for exclusive rewards, or Donate here! Thank you for reading!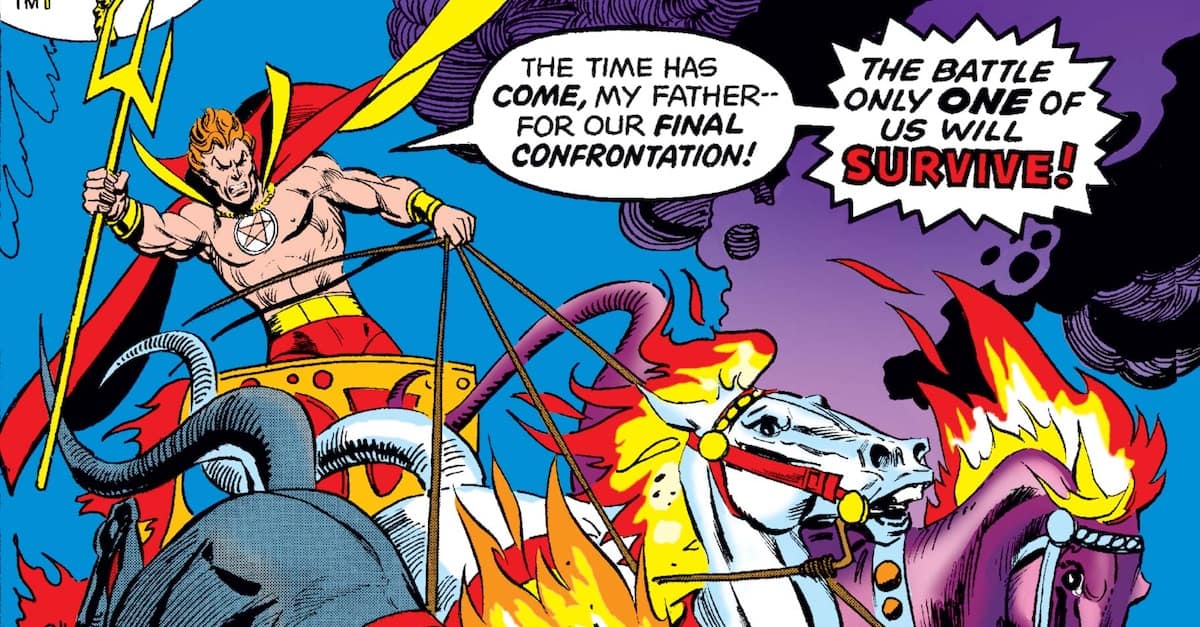 I) Hellstrom's Beginnings (1970s & 80s)
Collects: Ghost Rider (1973) 1-2, Marvel Spotlight (1971) 12-24, Marvel Team-Up (1972) 32, Son Of Satan 1-8, Marvel Two-in-One (1974) 14
Sion of Satan got off to a strong start in Ghost Rider and Marvel Spotlight, but wasn't quite ready for a solo series at this point in time. Fan reaction was split between 'too much Satanism/Wiccanism" and "not enough."
Collects: Defenders #61-91.
Steve Gerber added Helstrom to the Defenders during his run, saving the character from the ash heap of history.
Collects: Defenders (1972) #92-106, Marvel Team-Up (1972) #101, #11, #116, And Captain America (1968) #268.
There's a big subplot in which Hellstrom meets Patsy Walker, the woman who would become his wife.
Collects: The Defenders #107 (May 1982) To #125 (November 1983); Avengers Annual #11 (1982); And Marvel Team-Up #119 (July 1982)
Hellstrom and Patsy Walker get married and leave the team in order to become paranormal investigators.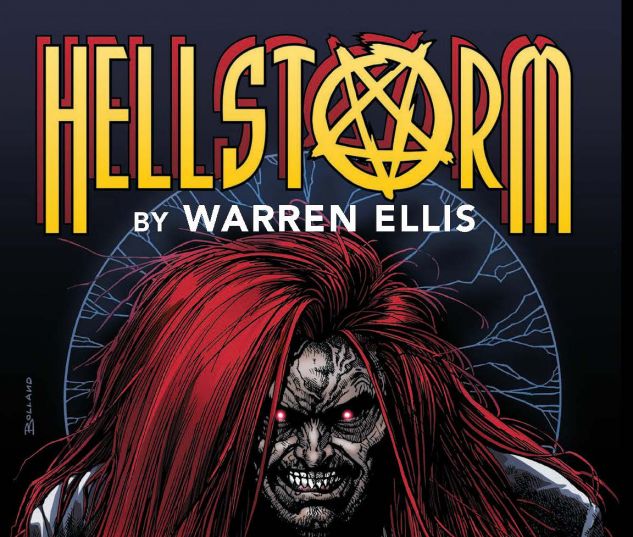 II) Hellstorm: Prince of Lies and Marvel MAX Mini
During the 90s and early 2000s, Marvel tried to reboot "Son of Satan" twice. Both times under the vastly more logical name "Hellstorm."
Collects: Hellstorm 1-11
This may never have been collected as a TPB. It's out of print regardless and not showing up on Comixology or Marvel Unlimited. In fact, it's hard to find anything by Nieves at all…
Hellstorm by Warren Ellis Omnibus
Collects: Hellstorm 12-21, Druid 1-4
This was Warren Ellis' very first time writing in America!
The strain of being occult husband and wife investigators is too much for Patsy. She is driven mad and kills herself.
This sets up Daimon to go mad as well, driving him to become Lord of Hell.
Collects: Avengers #35-40 And Annual 2000-2001, Thunderbolts Annual 2000, Avengers: The Ultron Imperative And Avengers Infinity #1-4.
Hellstrom brings Pasty Walker back to life in a two-part story between Avengers 2000 and Thunderbolts 2000.
However, Patsy comes back from hell with superpowers all her own, making her Hellcat.
Hellstorm: Son of Satan – Equinox
Collects: Marvel Max Hellstorm: Son Of Satan #1-5.
This story takes place in post-Katrina New Orleans. It's a solid idea, putting Daimon into "hell itself" this way, and the contrast between his fire-based powers and a flooded city is nice. But it never quite pulls it off.
Collects: Ghost Rider: Heaven'S On Fire #1-6
Jason Aaron's run on Ghost Rider pulls together every bit of the character's history, including a nice, juicy role for Daimon!
Collects: Astonishing Spider-Man & Wolverine 1-6; Wolverine (2010) 1-20, 5.1, 300-304; X-Men: Schism 1-5; Material From Wolverine: Road To Hell
Jason Aaron strikes again with this fantastically fun Wolverine run.
III) Chaos War
Hellstrom is featured in the "Chaos King" and "God Squad" stories.
Read the full story here, with Comic Book Herald's Chaos War reading order.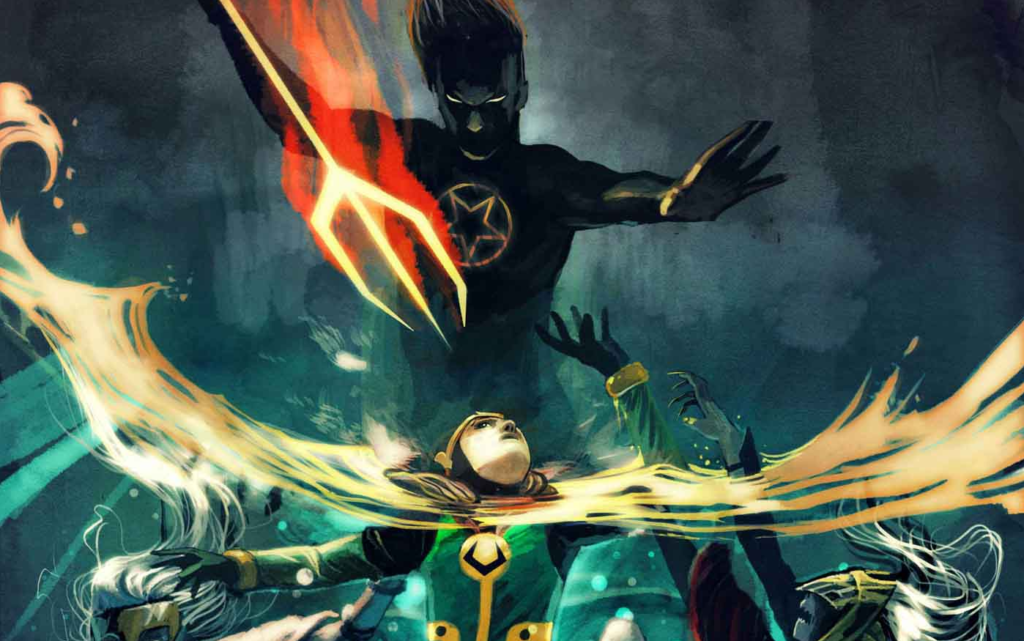 IV) Fear Itself aka Hellstrom Agent of Hydra
Read Hellstrom's role in this event via Comic Book Herald's complete Fear Itself reading order.
Collects: Venom 10-13, 13.1-13.4, 14
After the events of Fear Itself, Hellstrom joins Hydra's Department of Occult Armaments in an attempt to create an army of evil monsters.
So when Hell starts to pour out of Las Vegas, it's little wonder that The Son of Satan is nearby. Then again, so are Agent Venom, Rulk, X-23, and a new Ghost Rider.
Collects: Venom (2011) 23-42, 27.1; Minimum Carnage: Alpha, Omega; Scarlet Spider (2012) 10-11
Daimon has his monster… Hell-Venom!
Avengers Undercover: The Complete Collection
Collects: Avengers Undercover #1-10
A group of traumatized teens with super powers decides to take down evil organizations from within.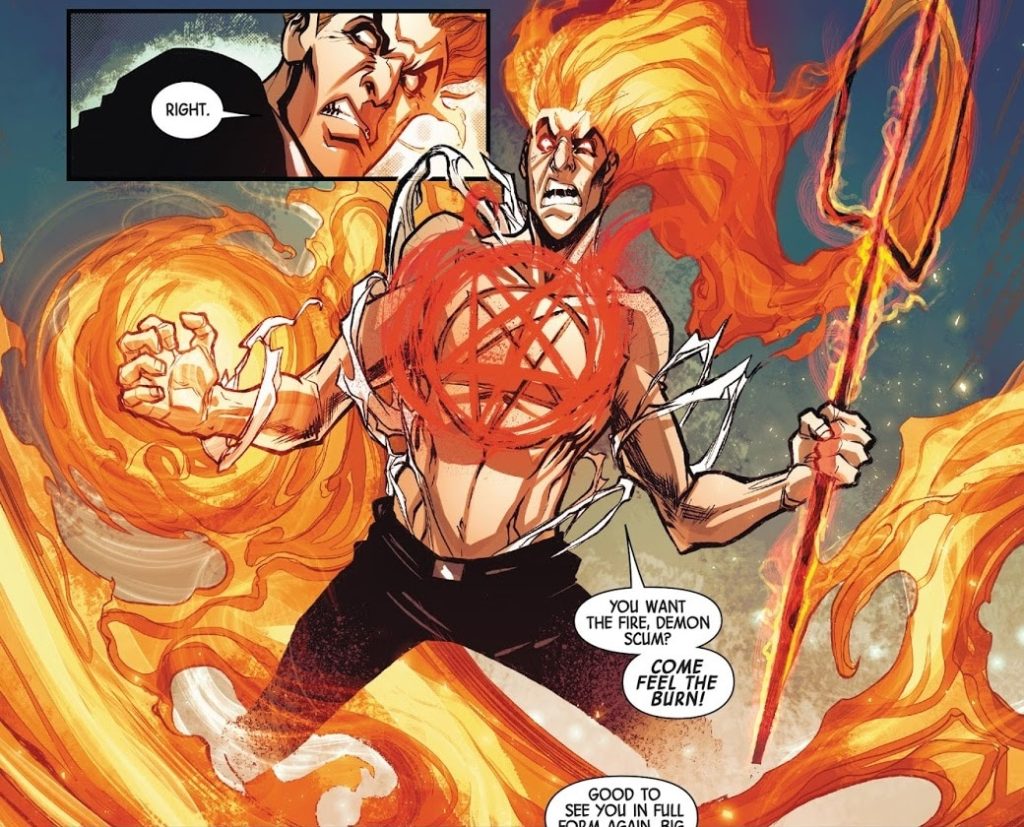 V) Free from Hydra
Doctor Strange Vol. 1: The Way of the Weird
Collects: Doctor Strange 1-5
Jason Aaron's returns! This time, Aaron explains the ethereal plane, how it overlaps with Earth, and just how bonded magic users are to one another.
Things get interesting when we learn that something is jumping from realm to realm, destroying magic and magicians.
"Doctor Strange Vol. 2: The Last Days of Magic
Collects: Doctor Strange 6-10, Doctor Strange: Last Days Of Magic 1
The big battle kicks off. Earth's last magicians go against THE EMPIRIKUL, the group that are destroying magic everywhere.
It's big magic versus bigger robots.
Patsy Walker, A.K.A. Hellcat! Vol. 1: Hooked On A Feline
Collects: Patsy Walker, A.K.A. Hellcat! 1-6
This series picks up after all of that and really focuses on both the humor and the psycho-drama of Patsy and Daimon's romance.
Patsy Walker, A.K.A. Hellcat! Vol. 2: Don't Stop Me-Ow
Collects: Patsy Walker, A.K.A. Hellcat! 7-12
Patsy Walker, A.K.A. Hellcat! Vol. 3: Careless Whisker(s)
Collects: Patsy Walker, A.K.A. Hellcat! 13-17
Spirits of Vengeance: War at the Gates of Hell
Collects: Spirits Of Vengeance 1-5
The band is back together! 90's heartthrobs Ghost Rider, Blade, Satana, and Hellstrom are all investigate the death of an angel.
Collects: Doctor Strange 381-390, Doctor Strange: Damnation 1-4