One of the best Thanos stories ever told! Involving the Silver Surfer and setting the stage for Infinity Gauntlet! Full review to come – keep reading for the Comic Book Herald overview.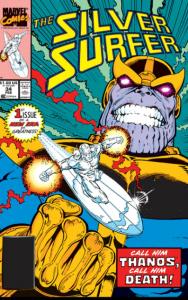 Comic Book Run: Silver Surfer: Rebirth of Thanos
Publication Dates: Feb 1990 – Jun 1990
Writer: Jim Starlin    Artist: Starlin, and Various
CBH Score: 9.2
Continuity Relevance?: Yes, major.
Who Needs It?: Infinity Gauntlet all starts here! If you haven't quite figured out why Thanos is one of the coolest characters in the Marvel Universe yet, this arc will do it.
Want more on Thanos? See the Complete Thanos Reading Order.