Cindy Moon (aka "Silk") first appeared in The Amazing Spider-Man #1 (2014). Created by Dan Slott and Huberto Ramos, this Korean-American journalist is one of three members of the Spider-Women; she's been a member of both the Protectors and Agents of Atlas; and is a co-founder of The Order of the Web.
In her recent appearances, Silk has really come into her own as a superhero by stepping out of Peter Parker's shadow and learning to open up to others after ten years of isolation resulted in her developing anxiety and her family going missing.
Not only has Cindy Moon reunited with her family and saved the multiverse. All while finding time to  but she has also been:
An Agent of Atlas
A Protector
A co-founding member of The Order of The Web
In three solo series…
…And more than a few team-ups
Silk has woven her own excellent web of stories. Since it was recently announced that a Silk live-action television series is currently in development, Silk's future seems very bright.
Related Reading Order: Amazing Spider-Man
Support For Comic Book Herald:
Comic Book Herald is reader-supported. When you buy through links on our site, we may earn a qualifying affiliate commission.
Comic Book Herald's reading orders and guides are also made possible by reader support on Patreon, and generous reader donations.
Any size contribution will help keep CBH alive and full of new comics guides and content. Support CBH on Patreon for exclusive rewards, or Donate here! Thank you for reading!
A New Spider Begins Weaving
Collects: issues #1-6
Silk first appeared when the mercenary known as Orb killed the alien being known as The Watcher and revealed several of his secrets to The Avengers. With Moon's existence being one of those secrets, Peter Parker rushed to the bunker where she had been isolated and set her free (see also the Marvel Now! Reading Order list for more of Amazing Spider-Man)
Cindy Moon immediately chastised Peter since setting her free would make her existence known to Morlun, a dangerous being hunting Spider-people. Peter, assuming Morlun had been defeated, told Cindy she was free and she quickly improvised an outfit of webbing before swinging into New York. Due to a weird Spidey-Sense connection, Moon and Parker begin an intimate relationship.
Although green as a superhero, Silk manages to help Parker's Spider-Man fight off the thief Black Cat and the criminal Electro. The final issue also sees Cindy Moon getting a strategic internship at Fact Channel News in order to use their resources to help find her missing family.
See also: Spider-Verse Reading Order
Even though Peter Parker thought Morlun, the ultimate enemy of Spider-people, was dead, Parker was very wrong. Now, Morlun has begun hunting Spider-people across different universes. Of course, it will take a multiverse's worth of Spider-people — including Silk — to stop the multi-dimensional monster.
Silk ends up being recruited by the UK counterpart of Spider-Man, whose team also included Spider-Man 2099, Spider-Girl, and Spider-Woman. Although Silk's lack of superhero experience causes her to make mistakes and earn the ire of Spider-Gwen, she and the rest of the Spiders manage to defeat Morlun and his family of Inheritors.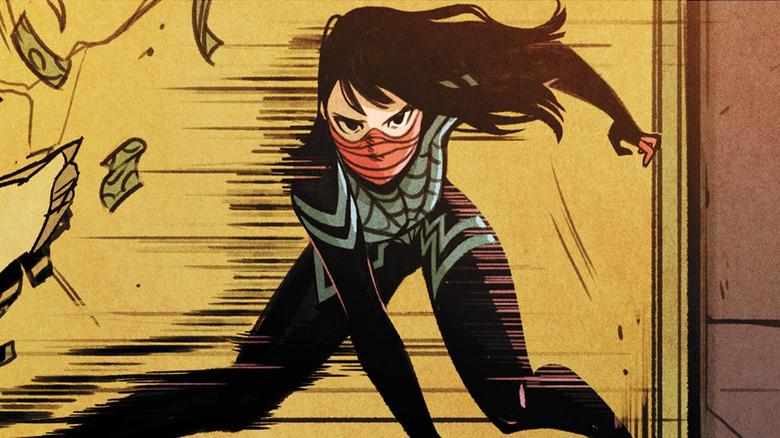 Silk's Solo Adventures Begin
Collects: (#1-7)
Cindy Moon's very first series has her continuing to work at Fact Channel News while hunting leads on her missing family and taking her first steps as a superhero. The problem is her Silk Sense (aka her version of the Spider-Sense) has been off since Spider-Verse and it's not entirely the fault of a multi-verse crossover.
After reluctantly meeting with Dr. Reed Richards of The Fantastic Four, Cindy learns that she has anxiety. As her physical and emotional walls gradually start to break down, Cindy starts to realize that it is okay to ask for and seek help. Although the "Last Days" multiverse event ends the Marvel universe as she knows it, Cindy gets some newfound hope when she decides to see a psychiatrist and finds her younger brother Albert.
Collects: (#1-6, Amazing Spider-Man 2015 #1)
Silk's second series kicks off with her being a double agent for Mockingbird, agent of S.H.E.I..L.D., and the criminal Black Cat. In exchange for pretending to work for Black Cat in order to steal tech for S.H.I.E.L.D., Mockingbird will use her superhero connections to help Moon find the rest of her family.
Pretending to be a villain while trying to be a hero isn't easy, a fact illustrated here when Moon butts heads with Peter Park when both take on The Goblin King. While being a double agent has also been an outlet for Moon, anxiety, Cindy soon finds that she can't avoid the anger at the root of it forever.
Additional note: Silk Vol. 0 and Silk Vol. 1 can also be read in Silk: Out of The Spider-Verse, which also collects her debut in issues 4-6 of Amazing Spider-Man)
Collects: (#9-13)
Up to this point, Silk has been a double agent for Black Cat and Mockingbird with minimal issues. However, Black Cat starts to become suspicious of Silk's true intentions and leading to a confrontation that nearly gets Moon killed.
However, Black Cat is only the start of the danger as Moon and her friends finally find where the young hero's family may have gone: an alternate dimension known as The Negative Zone. This volume is particularly emotional as Cindy finally reunites with her family and confronts the source of her internal anger.
Collects: (#14-19)
Part of a tie-in event known as the clone conspiracy, this volume features Silk struggling to adjust to her family's return and her deepening friendship. However, she gets a major reality check when she is flown to the East Coast and finds that Mattie Franklin — J. Jonah Jameson's surrogate daughter and former Spider-Woman — may have been brought back to life through cloning.
Despite being a tie-in, this volume also manages to tie up some loose ends remaining in Silk's second solo series. Not only does Silk finally confront the mysterious figure that has been tailing her all throughout the series, but she finally comes to realize how happy life can be as she looks forward to the future.
Currently Ongoing: #1-3 available as of this writing
In her current ongoing series written by Maurene Goo with art by Takeshi Miyazawa, Cindy Moon now works as a journalist for Jonah Jameson's news website Threats and Menaces while working as Silk at night.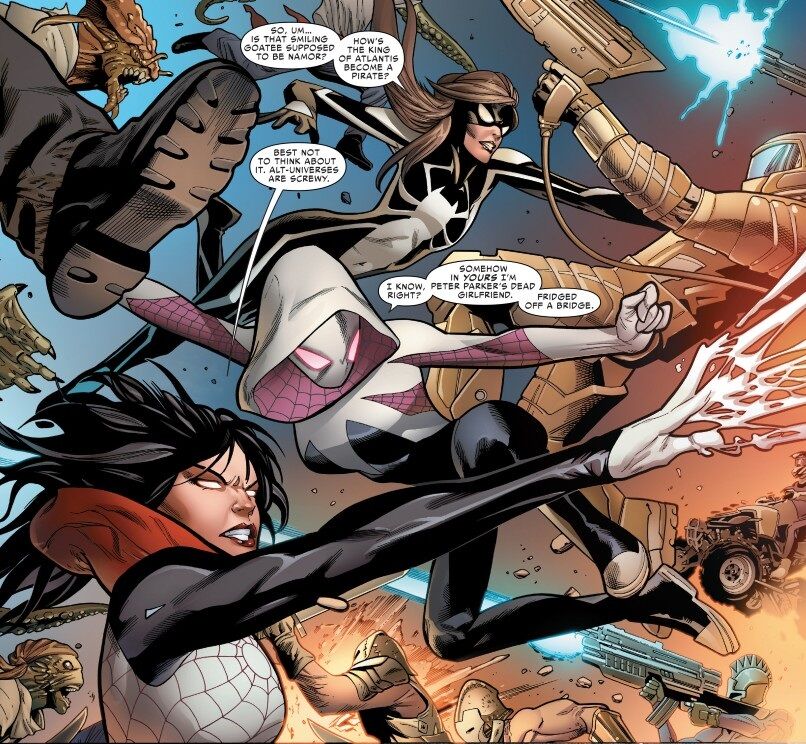 Silk's Team Up Adventures
Collects: (Spider-Women Alpha #1, Silk (2015B) #7-8, Spider-Gwen (2015B) #7-8, Spider-Woman (2015) #6-7, Spider-Women Omega #1)
This team-up event takes place across all three Spider-Women titles — Silk's (second series), Spider-Woman (reading order), and Spider-Gwen (reading order). However, Silk's story can be enjoyed by itself, without having read the other two.
This story revolves around Silk, Spider-Woman Jessica Drew, and Spider-Gwen getting trapped by a mysterious enemy. The three of them have to learn to work together in order to find a way back to their respective Earths and figure out who attacked them in the first place.
Not only do we get glimpses into each Spider-Woman's life, but this team-up event also has a major impact on Silk. Cindy Moon sees an alternate version of her family and has her life on her own Earth turned upside down by the mysterious villain behind the attack on Earth-65.
Collects: #1-8
Taking place during the events of Silk #3, this team-up event features Peter Parker and Cindy Moon getting sent back in time by someone in a robot dinosaur outfit calling themselves "Chronosaurus Rex."
Our two heroes find themselves transported into their own, shared past: the fateful science fair where they encountered the spider that gave them their powers. Parker and Moon must figure out how to get back to the present without accidentally wiping themselves from existence. It's a strange yet interesting romp that delves into Parker and Moon's shaky history and relationship by giving them a common threat.
Collects: #13-18
In this volume, Silk ends up working alongside fellow Asian and Asian American heroes Kamala Khan (Ms. Marvel), kung-fu master Shang-Chi, S.H.E.I.L.D. agent Jimmy Woo, and genius Hulk Amadeus Cho.
After a cute meet'n'greet with kids, the four of them and civilian inhabitants of The Big Apple end up transported to the moon by intergalactic aliens. During this incident, Jimmy Woo dubs this team "The Protectors."
Collects: (#1-4)
This tie-in book to the War of The Realms comic book event (see the reading order here) features The Protectors becoming members of Agents of Atlas as seemingly every Asian superhero is called to defend the Pacific Rim from fire queen Sindr.
With such a massive cast of characters, Silk nor anyone else gets to play a particularly large role. Yet, the action in battle and out make this book worth reading. One such moment is seeing Silk fangirl over Luna Snow, a South Koren K-pop idol / superhero with ice powers.
Collects: (#1-4)
After the events of War of The Realms, the Agents of Atlas must defend the cross-Asian portal city of Pan from dragons and an even magic-science threat from within its own walls. Chaos also ensues when the original members of Agents of Atlas make an appearance.
Collects: (Amazing Spider-Man (2018) #48, Spider-Man: The Sins of Norman Osborn (2020) #1, Amazing Spider-Man (2018) #49, Free Comic Book Day 2020 (Spider-Man/Venom) 1 (Spider-Man story))
When Spider-heroes witness a shared vision of Peter Parker being killed by a demonic entity ( Amazing Spider-Man(2018) #44), Silk and other Spider-folk must race to his side. To make matters even juicier, this particular volume sees Peter Parker going up against heavy hitters that include Sin Eater, Kindred, and Green Goblin Norman Osborn.
In order to help Peter Parker against all of these foes, Silk forms the Order of The Web alongside fellow Spider-individuals Madame Web (aka Julia Carpenter), Miles Morales, Spider-Gwen, Jessica Drew, and Anya.
Collects: (#50-55)
Picking up from where Vol. 10 left off, Cindy and the other members of the Order of The Web become possessed by demons sent by Kindred to kill Peter Parker. To that end, Peter Parker must now turn to Doctor Strange for assistance.