When I signed up to write about the She-Hulk by Dan Slott Omnibus, I was coming in with the context of it being a fairly popular run that I saw a lot of people hold up as the definitive She-Hulk run. What I got instead was a very uncomfortable depiction of a textually strong female character as essentially a stereotypical (in 2004) comic book fan's ideal female protagonist. Right from the first page, Jen is depicted as a woman who is so insecure in her self image that she just has to sleep with different men almost every night to cope with it. And while, sure, Slott points out that this isn't a healthy way to live, the entire thing just feels like the creative team is leering at her. Every single page of this book reminds the reader that it was created entirely by men.
Related Reading Orders:
There's technically two volumes of Slott's She-Hulk in this collection. The first was a 12-issue run in 2004, and the second was a 21-issue run that started in 2005. The first volume feels like Slott's attempt to define the character and the setting, so that the second volume gets to dive into the continuity jokes and deep dives he actually wants to do. The problem is, his definition of She-Hulk and the world she inhabits isn't very good. There's the aforementioned male view of women's sexuality that's the entire basis for how the character is depicted, but there's also everything to do with comics and the culture around them.
Support For Comic Book Herald:
Comic Book Herald is reader-supported. When you buy through links on our site, we may earn a qualifying affiliate commission.
Comic Book Herald's reading orders and guides are also made possible by reader support on Patreon, and generous reader donations.
Any size contribution will help keep CBH alive and full of new comics guides and content. Support CBH on Patreon for exclusive rewards, or Donate here! Thank you for reading!
One of the main premises of the run is that Marvel Comics exist in the Marvel Universe, seemingly unchanged from the ones that we read in the real world. The main difference is that in the Marvel Universe, comics approved by the Comics Code of America are legally admissible as evidence in court, and otherwise guaranteed to depict the absolute truth of their contents.
This means that comic shops sell history books, and comic fans arguing over continuity are more akin to historians arguing if something actually happened. It's a fun concept, but one that ends up glorifying the Comics Code as something that certifies quality rather than a horribly bigoted organization that existed to prevent people who weren't straight white men from prominently featuring in comics. And to some people, this isn't an issue, but as someone who's a part of the demographic that the Code tried to suppress, this rubs me the wrong way.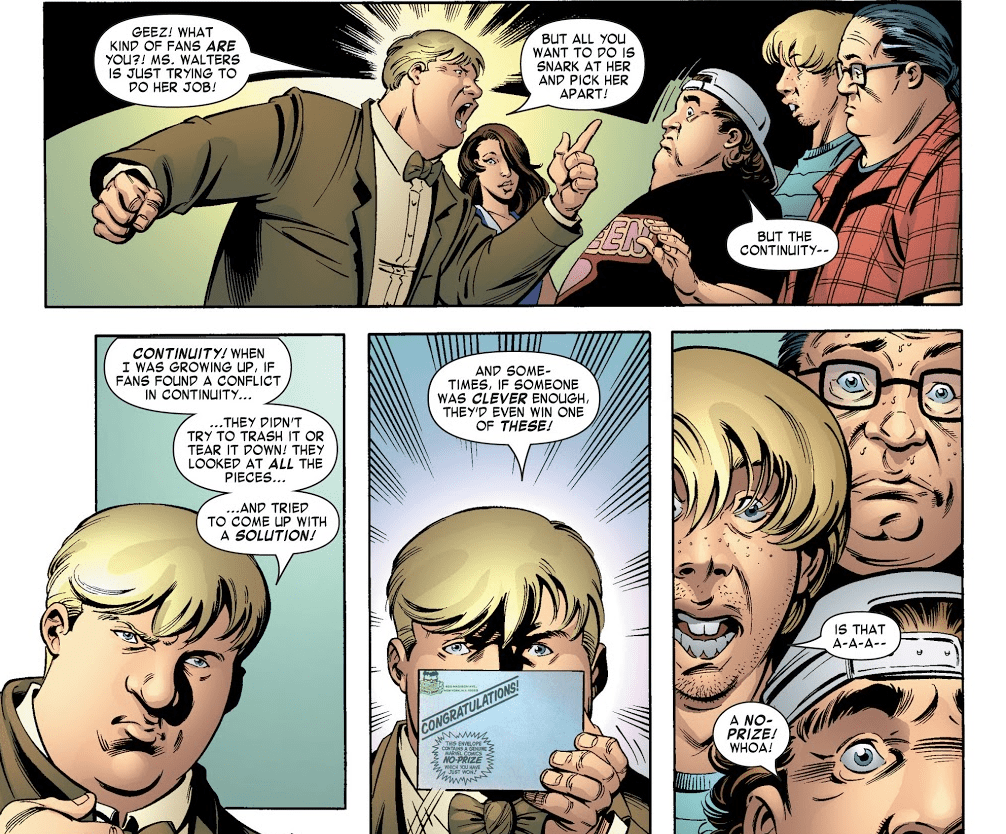 In addition, the book seems to think it's aware of the failure of comic shops and comic fans, but misses the mark entirely. There's a scene towards the end of the first volume that has Jen digging through back issues in a comic shop to gather evidence for a case, and she's being condescended to and heckled by a bunch of people acting like the Comic Shop Guy from The Simpsons. The guy in the shop who's helping her realizes what's happening, and starts yelling at everyone for being jerks. But instead of pointing out that their behavior is frankly misogynistic and part of a culture that keeps women out of comic shops, he just goes on a rant about how caring about continuity is silly before pulling out a No-Prize he got and essentially declaring himself King of the nerds. This is a scene that's framed as a triumph of gatekeeping nerds getting over themselves, but it instead just feels like complete ignorance of the actual problem with a lot of comic book culture.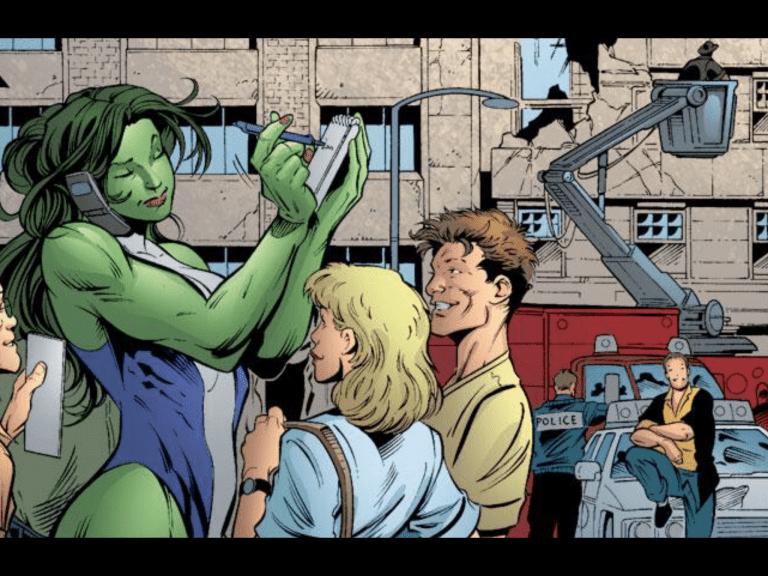 This focus on comic book continuity and nerd culture at the expense of legitimate misogyny isn't just part of this one gag, though – it permeates the book and the way She-Hulk is written. I mentioned above that Jen's entire character in the book is that she's so insecure about herself that she sleeps with a lot of men. This dynamic is treated as both a flaw in Jen's personality that she needs to get over, but also presented in a way that frequently feels like it's leering at Jen.
This is made worse by a scene where a man literally shames Jen for having slept with the Juggernaut – and rather than point out the misogynistic implications of that kind of shaming, Jen just argues that she never slept with him using petty continuity in the vein of the nerds who were gatekeeping her at that comic shop. It's something that's made more blatant by the all-male creative team and the way Jen's drawn in so much of the book. Frequently it presents itself as empowering for her, but the book never shakes the sense that it's inviting the readers to leer at the title character.
This feeling that Jen's being objectified throughout the book isn't helped by the art in a lot of it. Juan Bobillo does a pretty good job not falling into this trap, and deserves some praise for his art on this book. But the decent work he puts in is immediately devalued when Paul Pelletier comes in, either as a fill-in or as the replacement artist, because everything he draws makes the whole book feel like a cheesecake comic.
Pelletier does the entire back half of the first volume, where the aforementioned comic shop scene takes place, and really doesn't help the overall tone feel in any way empowering. Under Bobillo, Jen works out and changes from having the figure of a supermodel to that of a bodybuilder. It's a really good change, but it's almost completely negated once Pelletier takes over and he puts at least 2 unnecessary breast or butt shots in each issue. Jen is a character that's suffered a lot at the hands of male creators in the past, and unfortunately the contents of this omnibus don't really improve that track record.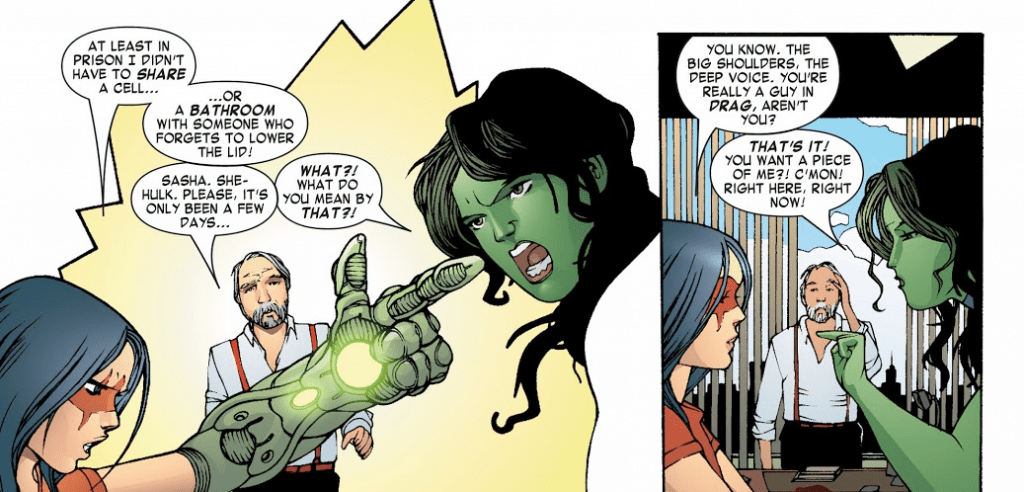 We're almost to the end of my airing out all the parts of the book that were incredibly uncomfortable to read, but unfortunately I've ended up saving the best for last. As I've mentioned a couple times, the humor in this book ends up feeling misogynistic because it's about a woman but by a bunch of men. This is made infinitely worse when Slott has a character accuse She-Hulk of actually being a man. This scene is one that's intended to be funny, but considering the misogynistic and transphobic groups that try to make these claims about women in real life – especially athletic women of color – this scene is pretty hard to read as anything well-intentioned.
It's made even worse when Slott writes the punchline to this "joke" – The Watcher claims that "She is female, and she always keeps the [toilet] lid down." Leaving aside the absurdly creepy implications that the Watcher does see and pay attention to what Jen does in the bathroom, the implication that "real" women keep the toilet lid down is a ridiculous one that borders on transphobic. My kindest reading is that this was a poorly thought out joke that may have landed better in 2005, but in 2020 it's something that made me want to stop reading the book entirely.
So, how is this book when you've managed to look past all of these problems? It's… fine. The second volume is an improvement, not because the creators' attitude towards the main character has changed, but because their take on the character takes more of a backseat as they focus more on the plot. There's some charming stuff in there, and there's a clear love of comics and superheroes baked into the story. But honestly, there's very little here that you couldn't find in other books that don't have the problematic content that this run is rife with. There's better books with female leads, there's better books about lawyers, and there's better books about She-Hulk herself. If you're looking to get into She-Hulk, I'd recommend giving this omnibus a pass.