The early days of the "Sensational" era of She-Hulk – originally debuting in 1989, the beginning of which is collected in She-Hulk Epic Collection: Breaking the Fourth Wall – are a case study in inconsistent tone. On one hand, you have The Sensational She-Hulk: Ceremony, an ultra-serious two-issue mini-series published at the beginning of 1989 that centers on She-Hulk's relationship with Wyatt Wingfoot and her concerns about her biological clock. On the other hand is the eponymous Sensational She-Hulk series launched a few months later by writer/artist John Byrne, which is full to the brim with hijinks, the absolute Z-est-list villains and guest stars, and the aforementioned fourth-wall-breaking that is the hallmark of the run. Character reinterpretations go hand in hand with superhero comics of course, but I find myself hard-pressed to think of a more jarring shift in characterization in a similarly short amount of time.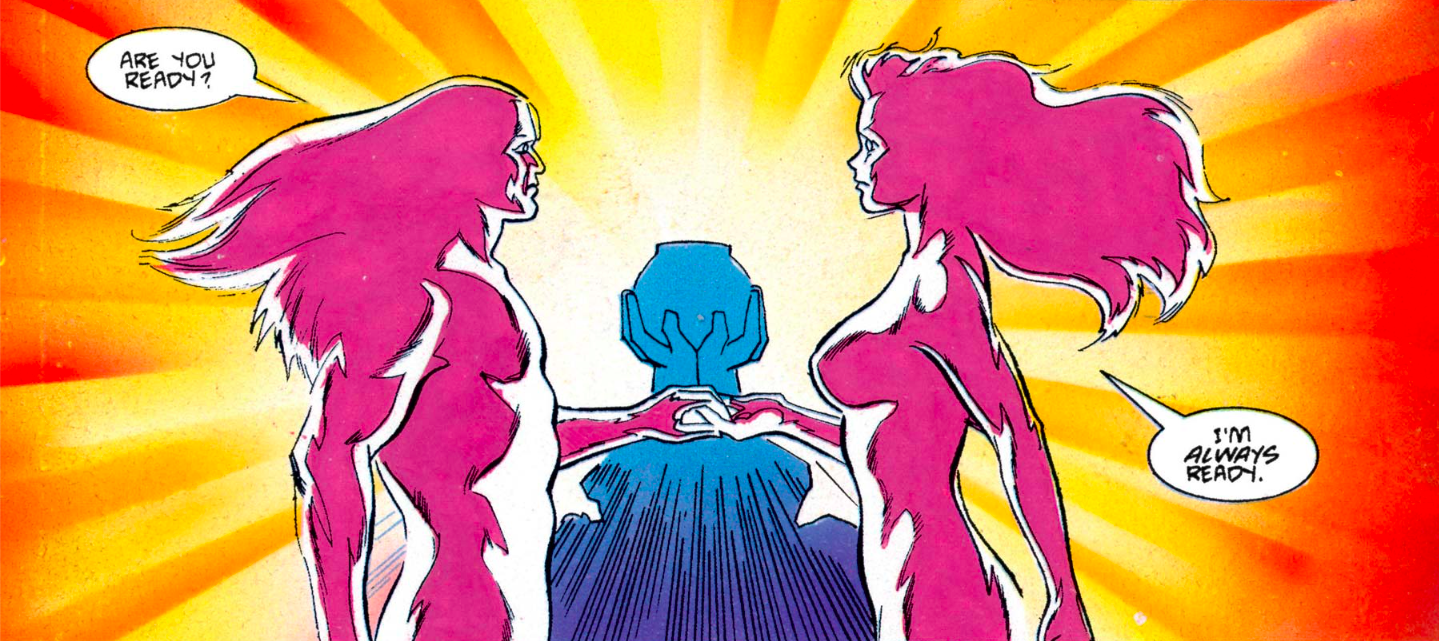 Related:
A Stilted Ceremony
While the bulk of this era of She-Hulk of course comes from her main title, I want to talk through these stories in publication order to better get into the mindset of readers in 1989. The Sensational She-Hulk: Ceremony – written by Dwayne McDuffie with art by June Brigman – is Jen Walters' first solo spotlight since the series that introduced her, 1980's Savage She-Hulk. Naturally, McDuffie takes the opportunity to focus on the former Avenger and Fantastic Four member's personal life as Jen assesses her recent break-up with Wyatt Wingfoot and her desire for a family. Unfortunately, while the story is ostensibly about She-Hulk, McDuffie gives Jen relatively little agency, and what unfolds winds up feeling trite and disjointed.
One of the problems with this mini is that the things that happen to Jen feel contrived and rushed, with the goal of each scene being just to get her to the next. Often, this means that 1) She-Hulk makes choices that seem to come out of nowhere or have tenuous reasoning and 2) a lot of the plot just…happens. Characters know things they shouldn't or say things that are never followed up on The flimsy basis for the central decision that sets up Ceremony – She-Hulk choosing to reconnect with Wyatt – sets the tone: Alone on her couch, Jen is moved nearly to tears by a loving sitcom family and goes for a walk to clear her head and ponder whether she wants to have a baby. On her stroll, she happens to pass by a family planning clinic being picketed by anti-abortion activists, one of whom loudly proclaims he put a bomb in the clinic's safe. (How'd he get access to the safe? Who's to say!) A bystander tells She-Hulk about the danger and Jen rushes into the building, where she finds two of the clinic's employees trying to get the safe open. Turns out, Jen happens to know one of the women – she's named Mavis (I have no clue if we ever see her again but she doesn't even get a page on the Marvel wiki). She-Hulk can't defuse the bomb and the clinic is destroyed in the ensuing explosion. After catching the bomber – who happens to be one of three people still in the vicinity and whose name Jen somehow knows – she and Mavis hang out at Mavis' apartment. Jen shares her thoughts about having a family and Mavis asks her who she'd want to be the father of her baby. Jen then (apparently – it happens off-panel) gets in touch with Wyatt.
This kind of over-reliance on coincidence as a narrative tool plagues the rest of Ceremony once the main plot kicks in. In short (considering how long that plot summary went in the last paragraph!), right as She-Hulk is reconnecting with Wyatt, evil capitalist/shaman Carlton Beatrice – founder of Carlton Industries (yes, he gave his company his first name) – begins the last phase of his plan to steal the souls of everyone on Earth through the co-opting of various Native American artifacts, including a basket/Macguffin that Wyatt's grandmother sends to Jen for safekeeping. Within less than a week, Jen and Wyatt get engaged, Wyatt learns he must develop his own shaman abilities to counter Carlton's, She-Hulk helps him, and they break up again. It's all a bit of a mess of exposition that is both too much and too vague, and doesn't give She-Hulk much of a character arc. At the end of Ceremony, Jen basically winds up right back where she started.
Support For Comic Book Herald:
Comic Book Herald is reader-supported. When you buy through links on our site, we may earn a qualifying affiliate commission.
Comic Book Herald's reading orders and guides are also made possible by reader support on Patreon, and generous reader donations.
Any size contribution will help keep CBH alive and full of new comics guides and content. Support CBH on Patreon for exclusive rewards, or Donate here! Thank you for reading!
I wish I had enjoyed Ceremony more because there are plenty of pieces here with potential – it just felt like for every one thing I like, there were two I didn't. It's never bad when a Big Two book spends more than a cursory amount of time focusing on non-white characters. Ceremony introduces Wyatt Wingfoot's sister and grandmother and gives them a good bit to do, so McDuffie and company 100% get and deserve credit for that decision. However it's a little frustrating that most of the role those characters play is centered around mysticism, a trope that so many Marvel comics fall back on any time a character of Native American descent is included.
And while I found June Brigman's pencils to be mostly flat, they are elevated by Paul Mounts' colors. His work adds some pop to action set pieces that are otherwise lacking in dynamic movement, and his backgrounds – in particular for scenes that take place on the astral/spiritual plane – are quite eye-catching.
All told, The Sensational She-Hulk: Ceremony is a lackluster story that doesn't quite do any one thing well enough to leave an impression.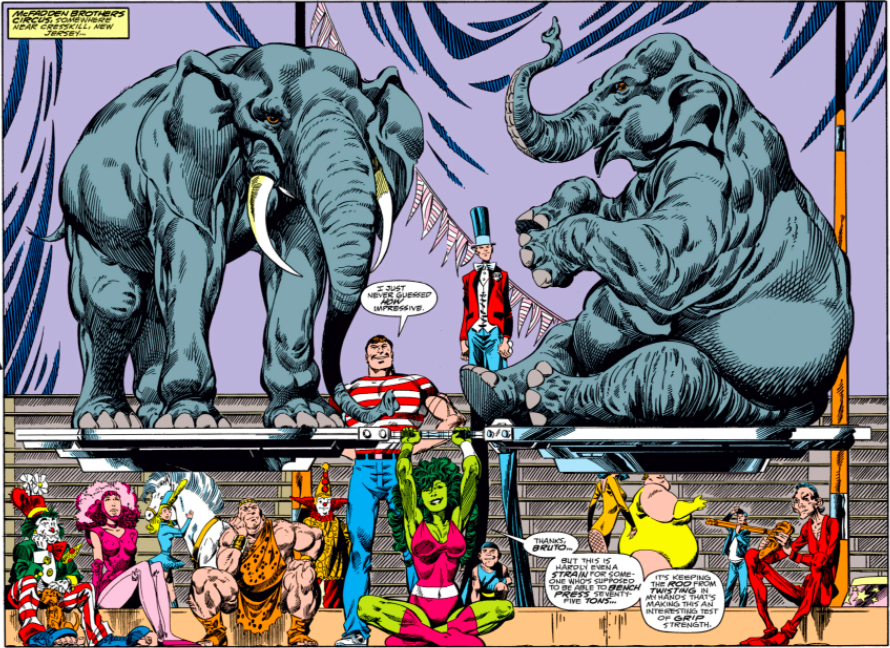 How Sensational is Sensational?
Fortunately, if I had to say just one thing to sum up Sensational She-Hulk (especially the first eight issues before writer/artist John Byrne was kicked off the book), it would be that it leaves an impression. This book is colorful. It is wacky. It is silly and fun in some places and dumb and non-sensical (but still fun!) in others. I wouldn't necessarily say it all works, but I was never, ever bored. All told, this feels like the book that comes from a creator throwing on the page every wild idea he's ever had but has never been allowed to use until now.
Sensational She-Hulk opens with Jen training at a circus, and I can't quite think of a more fitting description for the series that follows. Byrne sets the tone early, putting She-Hulk up against the Headmen – rogue scientists whose schtick as a group seems to be genetic experimentation and oh by the way one of them had his head transplanted onto the body of a gorilla by other gorillas as revenge and he's just like that now – in the first arc, who are pulling strings in the background to test She-Hulk's capabilities before attempting to transplant one of their number's head onto her body (yes, really). Those – and I can't stress this enough – goofy bad guys are followed by a parade of similarly bottom-of-the-barrel henchman types (except for A-lister, Stilt-Man!), all haranguing She-Hulk while she's just trying to get her life together and hold down her new job at the District Attorney's office.
It's basically impossible not to view these first 12 issues of Sensational in distinct chunks – Byrne, and After-Byrne (heh). Byrne's issues – he's on the book through #8 – are equal parts fun and disorienting, as the likes of Doctor Bong (he has a whole bell theme going on), Xemnu (He Has No Mouth and He Is Mean!), space trucker (???) U.S. Archer, and Santa Claus – excuse me, Nick St. Christopher, diminutive private investigator – all show up to wreak their own unique kind of havoc on She-Hulk's life. I felt my brow furrow with confusion many, many times reading these issues, but Byrne's writing is so snappy and his art pops so much that I enjoyed the ride nonetheless. The After-Byrne period loses some of that life. There's a sense that the fill-in writers – Richard Starkings, Glen Wright, Steve Gerber, and Peter David – aren't quite sure what to do with the world they've been handed, and issues 9-12, while they try to capture the zaniness of Byrne, mostly miss the mark.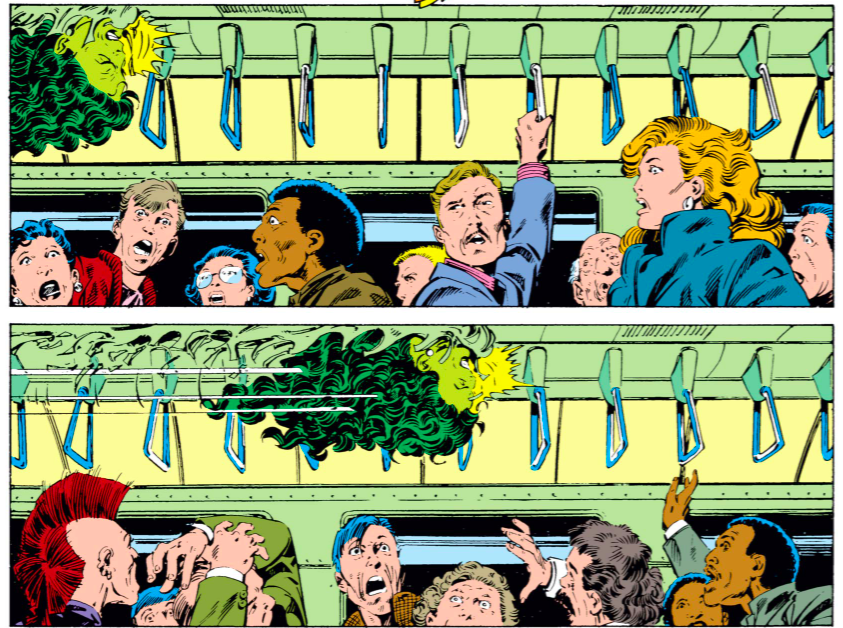 Back to that Byrne zaniness. As the title of the Epic Collection indicates, the calling card of Sensational She-Hulk is that She-Hulk breaks the fourth wall, frequently talking directly to the reader because she knows she's in a comic book. This can be a fun conceit, and Byrne does indeed have a lot of fun with it – Jen not only speaks to the reader, her editors, and Byrne himself, but she even starts walking from one panel to the next in her own version of video-game-style fast travel. The issue I have – and maybe this is just a hang-up of my own – is that there is zero internal logic to it. Why does She-Hulk know she's in a comic book? Why do some of She-Hulk's supporting characters also have this knowledge – namely her new co-worker, '40s comic book star Louise Mason, aka the Blonde Phantom – but others like Spider-Man and U.S. Archer don't?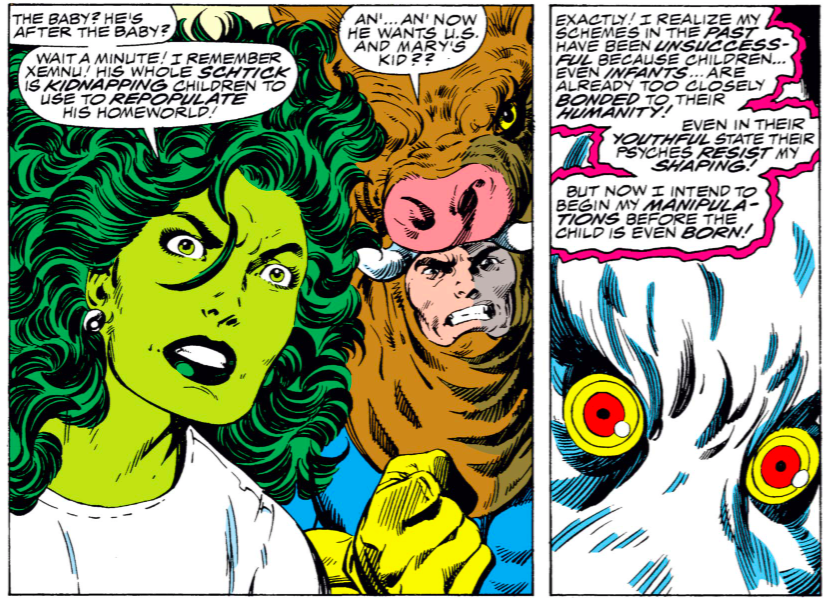 I'd imagine that part of the reason Byrne includes such offbeat characters in his run on Sensational is because he had a blast drawing them. It certainly feels like Byrne is having just as much fun on the art side as he is on the scripts. His faces are incredibly expressive, and his action setpieces are dynamic and exciting. Beyond all that, his choice of characters provides plenty of opportunities for Byrne to just show off. The hypnotic eyes of Xemnu and the hallucinations he creates; the intergalactic truck stop run by U.S. Archer's friend Poppa Wheelie (yes, you read that right); and the grotesque Headmen are all delightfully depicted. The After-Byrne art – mostly by Bryan Hitch – is pretty solid overall, but as with the writing in issues 9-12, is lacking the energy that Byrne created and makes the early issues stand out.
There is one area I'd argue Byrne might be having too much fun, though: cheesecake. Every issue of his run includes a set-piece that results in She-Hulk either changing or losing her clothes, so that she winds up fighting at least one good fight in her skivvies or some other skin-tight outfit. Don't get me wrong, I'm all for showing these super-fit men and women of the Marvel universe for the hotties they are! But it starts to feel forced and male-gazey by the third consecutive issue where Jen's clothes have been shredded in battle. Cool your jets, John Byrne, is what I'm saying.
That sentiment – "cool your jets" – pretty much sums up my feelings about the Sensational era of She-Hulk as a whole. There are elements here I enjoy – particularly when Byrne is on the book, the art is immaculate and She-Hulk herself is a lot of fun to read. But wacky adventures and a cheeky protagonist aren't quite enough for this book to live up to its title, though I guess Perfectly Average, Mostly Entertaining She-Hulk probably wouldn't have flown off the shelves.