When everything ends, there is only Secret Wars.
Jonathan Hickman and Esad Ribic's cataclysmic 2015 Marvel Comics event is the culmination of years of stories about The Fantastic Four and Future Foundation and the inevitable conclusion to his multiversal heat death saga of Avengers and New Avengers. It's a 9-issue epic that sees every universe destroyed until only a single composite Battleword remains, with constant turmoil lorded over by one man who has declared himself god emperor – DOOM.
Related Reading Orders:
Every Secret Wars Tie-In Ranked!
Support For Comic Book Herald:
Comic Book Herald is reader-supported. When you buy through links on our site, we may earn a qualifying affiliate commission.
Comic Book Herald's reading orders and guides are also made possible by reader support on Patreon, and generous reader donations.
Any size contribution will help keep CBH alive and full of new comics guides and content. Support CBH on Patreon for exclusive rewards, or Donate here! Thank you for reading!
Secret Wars' publication is the biggest event in Marvel Comics history, with every ongoing comic ended when the miniseries began and dozens of spinoff miniseries spilling out of this cosmically feudal event. It's a story that promised the end of the Marvel Universe and delivered on it immediately, only to bring a strange new world out of that annihilation.
Secret Wars is a story of desperate gambles and overwhelming odds where our very existence hangs in the balance.
Secret Wars begins with the end of everything. The otherworldly godlike beings known as The Beyonders have orchestrated the complete destruction of the multiverse, with every universe's earth systematically colliding and being destroyed until only the Marvel Universe and Ultimate Marvel remain. Issue 1 begins with this final incursion already underway and both universes battling one another as The Fantastic Four and their fellow heroes attempt to survive the death of the multiverse.
But this last hope for life after the end of everything is snuffed out when Sue Storm, Ben Grimm, Johnny Storm, and the Future Foundation are lost in the explosion, leaving only a devastated Reed Richards and a few heroes behind to try and rebuild.
Hickman's dueling Avengers and New Avengers series that detailed the incursions that destroyed every universe within the Marvel multiverse were built on a single idea:
Everything dies.
That entropic promise is fulfilled in Secret Wars.
And from the entropy comes Battleworld, an earth cobbled together from fragments of alternate universes by Doctor Doom, who now holds the power of the Beyonders.
Doom's Battleworld is the last desperate struggle to hold onto some remnant of life and power when everything else in the multiverse has died. But this isn't the assertion of life. It's a patchwork, ill-fitting world built on a lie that Doom is God and that this creation is good.
Secret Wars is the journey from hopelessness to hope, from death to life, from the end of everything to everything's beginning. To embrace a new beginning, we have to let go of the past. We have to believe that everything lives. But how can we believe when everything has already died?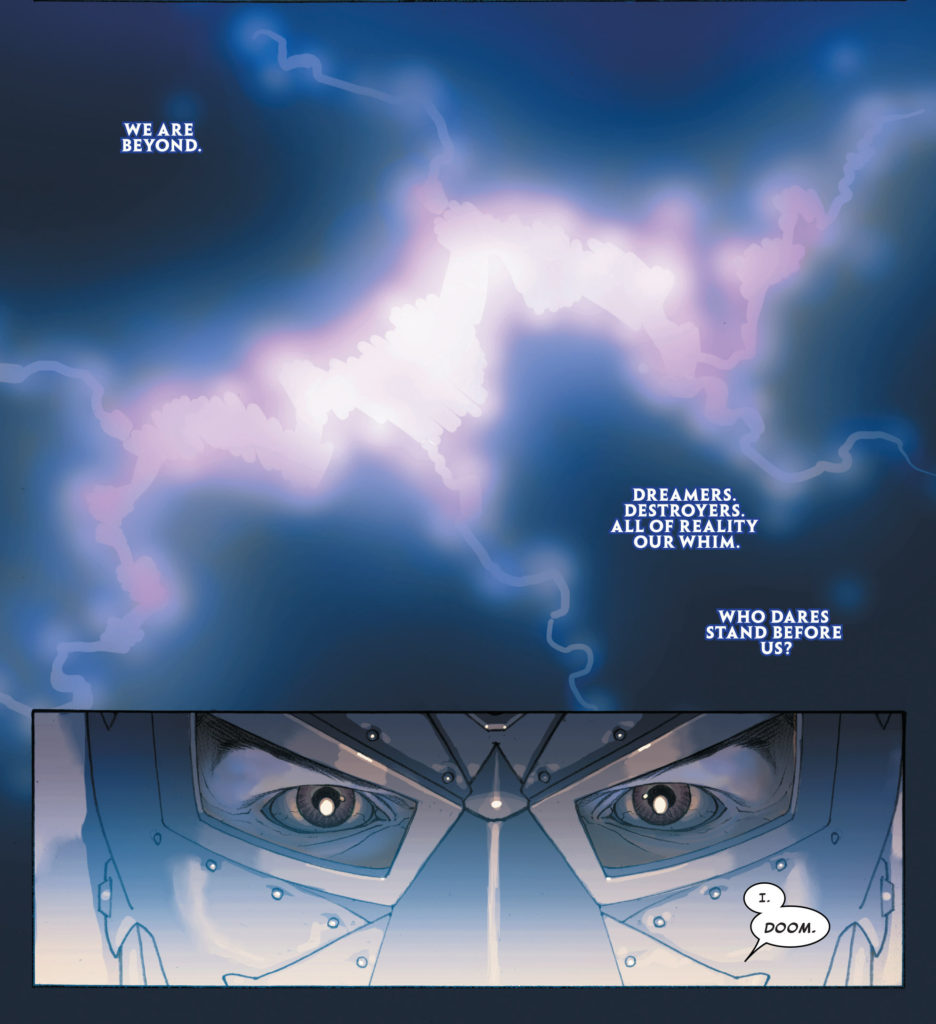 —-
Everything Dies
—-
The theory of the heat death of the universe is based on the second law of thermodynamics. This law states that entropy – a measure of disorder or the number of ways a system can be arranged – always increases over time. As such, the universe that began with The Big Bang will eventually reach maximum disorder as it expands and expands. This process will cause all the energy in our cosmos to be spread out until there is no more heat remaining to fuel life.
This belief in the constant expansion of the universe and inevitable consumption of all its energy would reach its conclusion after millennia upon millennia, with some speculating that this would not occur for 10 to the 100th power years (approximately 10 duotrigintillion years or 1 googol years). But it's an inevitable conclusion to existence itself for a finite universe.
—-
Secret Wars works as the finale to the entire Marvel Universe, wrapping up decades of storylines with a cataclysm that destroys everything that came before. And while it also ends the Ultimate Universe, this is really a story about the original Marvel Universe and its first family – The Fantastic Four. What better way to end everything than with the family that started it all?
As such, Secret Wars burns away everything until only the Fantastic Four and their greatest enemy remains. And to aid in this catastrophic reduction, Secret Wars and the series leading up to it homage and pay off many different storylines, with each given some sort of conclusion.
Of course, by naming the series after the 1984 original, Secret Wars acts as a spiritual sequel. Beyonders are the source of the multiverse being destroyed, much like The Beyonder forced heroes and villains into the original's conflict. Doctor Doom steals the Beyonder's power once again, only this time to rule over the conflict from the very start. And everything takes place in the conglomerate Battleworld.
But Hickman's series raises the stakes far beyond the original, with heroes and villains fighting for the future of existence itself instead of simply returning home. In this way, Secret Wars homages DC's Crisis on Infinite Earths far more than its namesake. But while Crisis details the slow destruction of the multiverse throughout much of its series, everything ends in Secret Wars issue 1.
That includes The Ultimate Universe. While Ultimate Marvel had been met with stunning success when it first launched its flagship titles, sales steadily dropped after the disastrous Ultimatum, with no event ever truly reviving the imprint. These waning sales figures led to the decision to close the line down, with the collision of the original Marvel Universe and Ultimate Marvel in issue 1 serving as the end (no, I don't count Bendis' Ultimate End miniseries, it blows).
Beyond these major endpoints, Secret Wars concludes many different individual character arcs. There's the long-running uneasy partnership of Doctors Doom and Strange, with their rule over Battleworld homaging their trip to hell in Triumph and Torment. There's The Maker (an evil Reed Richards from Ultimate Marvel) and his quest to rule over an evolved world shaped in his image. The friendship between Peter Parker and Miles Morales that began in Spider-Men helps change the future. Black Panther's long-running struggle to save the world and give Wakanda a brighter future comes to a head in the final battle. And each member of The Fantastic Four, and their decades-long feud with Doctor Doom, shapes Battleworld in a critical way.
There's a running theme of false gods whose true natures are revealed through their crippling self doubts that runs throughout Secret Wars and becomes the cause of many characters' fall. In the face of both the incursions and the enormous fight to restore the universe from Battleworld, it's easy for both heroes and villains to fall prey to these weaknesses.
On Battleworld, a Phoenix-empowered Cyclops believes himself to be the indomitable future, only to be brought to a sudden end by Doom with a sickening snap. Thanos believes himself to be above the limitations of Doom's human godhood but is given a quick and violent end. And The Maker despises the weakness of attachments in his heroic counterpart of Mister Fantastic, seeing himself as the only one strong enough to take power, but is brought down by his hubris.
But it's the dueling poles of self doubt and the presumption of godhood that define the one man holding Battleworld together – Victor Von Doom.

—-
The Heavy Heart of Doom
—-
The Big Rip theory regarding the ultimate fate of the universe postulates that the repulsive force of dark energy within existence will eventually grow to the point where it is powerful enough to overcome gravitation and all matter in the universe. The result is that celestial bodies that are gravitationally bound, like our galaxy, our planet, ourselves, will one day be violently ripped apart until nothing remains but a vacuum.
Whereas heat death is the slow winddown of existence, The Big Rip is the untimely, sudden, violent end of everything.
—-
Secret Wars is, at its core, a Fantastic Four story. And specifically a Doctor Doom story.
That may be surprising when read in the context of this event being seeded by Hickman's Avengers and New Avengers, but the end of both of those series and the first issue of Secret Wars essentially eliminates the Avengers. Captain America and Iron Man both die while fighting each other during the final incursion and the few heroes that are left work to bring about Mr. Fantastic's final chance for salvation.
Doctor Doom has stood as one of the great Marvel villains ever since his introduction in Fantastic Four #5 in 1962. In the decades since, Doom has morphed from pure evil to antihero to ally, but has always been defined as the ultimate rival of Reed Richards. Having these two geniuses with diametrically opposed views on how to save the world highlights the humanity within Reed, who would descend into cold calculation without his family, and the inner torment within Doom, who denies his own humanity for the sake of achieving his life's pursuit.
Hickman's event series is about Reed Richards being stripped down to nothing at its start and then rebuilding himself while rebuilding the multiverse alongside him by the end. Conversely, Secret Wars sees Doctor Doom refusing to be broken down. And it's only when he finally gives in that everything can truly live once again.
Victor Von Doom is a fascinating character rendered complex through the many different interpretations given to him over the years by writers with different outlooks on him. All of these work in concert with one another in Marvel's never-rebooting continuity, turning Doom into someone who is all of these ideas at once.
"Doom is a very tragic figure," said his co-creator, Jack Kirby. "Doom has one fallacy: he thinks he's ugly. He's afraid to take that mask off. Doom is an extremist; he's a paranoid. He thinks in extremes. If Doom had an enemy, he'd have to wipe him out. And if Doom thought that anybody was smarter than himself, he'd kill 'em, because Doom would have to be the smartest man in the world."
"Everybody has Doctor Doom misunderstood," said co-creator Stan Lee. "Everybody thinks he's a criminal, but all he wants is to rule the world. It's not a crime to want to rule the world. Maybe he could do a better job of it."
"The truism that Victor von Doom is, despite his villainy, a noble person is absolute crap," said former FF writer Mark Waid. "A man whose entire motivating force is jealousy is ridiculously petty, not grandly noble."
"Doom was born a [Romani]," said comics author and journalist Ta-Nehisi Coates. "Put differently, he was one of us. His aspect was scarred from his attempts to transcend himself, and so he donned a mask. Comics are the literature of outcasts, of pariahs, of Jews, of gays, of Blacks. It's really no mistake that we saw ourselves in Doom."
Doom is both an egomaniacal tyrant fueled by his jealousy of Reed Richards and a benevolent ruler who believes that the old world must die and be reborn through his vision to bring peace. These two halves are why Doom can seize control from The Beyonders and create Battleworld but can't restart the universe.
Doom works to save what little he can and is tormented by his inability to make something better. There's a fundamental self doubt within Doom that reveals his deepest, darkest belief that he is not as good as he thinks he is. That he's not as good at being a God as Reed Richards could be. It's why he's unable to fix his horribly disfigured face, shown here in full for the first time.
There's something fractured within Doom's soul. And this is why Battleworld is fractured in its composition.
And that jealousy of Reed is why he steals his rival's life, saving the Fantastic Four during the multiverse's destruction, only to claim Sue as his wife, make Franklin and Valeria his children, and turn The Human Torch into the sun and The Thing into The Shield. Even after 8 years of ruling as god, Doom is haunted by the thought-dead Richards.
The sudden reappearance of Reed, along with the other heroes and villains who survived the incursion and have been in suspended animation, challenges the idea of Doom's godhood for both his followers and Doom himself.
Secret Wars is named Secret Wars to evoke Marvel's foundational event, which was named Secret Wars because Marvel editorial thought these words would sell well. But Hickman also centers his event on a central secret – Doom is no god. And once the secret is out, the already barely tenable Battleworld is consumed by war.
The fallout is rendered in spectacular detail by artist Esad Ribic, who juxtaposes massive scenes of battle against closeup busts limned with blank white panels, and colorist Ive Svorcina, who uses a watercolor aesthetic for beautiful soft lighting. Battleworld is almost constantly hazy, covered in smoke and debris from endless war, and filled with all manner of monstrous creatures. These threats are only kept in check by Doom's status as god. And once this is undone, the entropy of Battleworld begins again.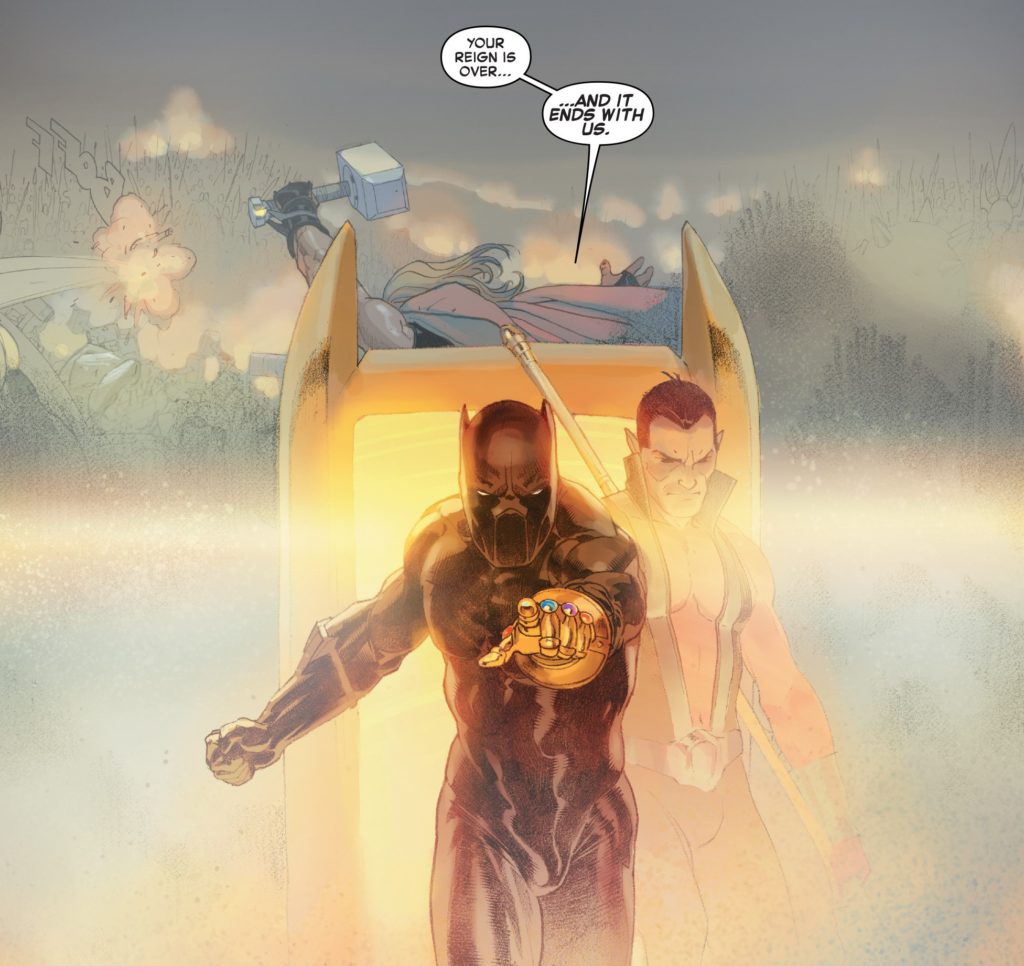 —-
Everything Lives
—-
There is another theory on the ultimate fate of our universe.
The Big Crunch is the hypothesis that the density of matter throughout the universe is great enough that it will eventually overcome the expansion which began with The Big Bang. As the universe's expansion slows and eventually stops, its gravitational attraction will reverse and create a universal recollapse that accelerates over time. This recollapse will condense all energy back into its original state, only to trigger a new Big Bang and the rebirth of the universe. It's just one of the many possible fates for an existence that will never be completely understood, but one that embraces the concept of universal infinity.
—-
What makes Secret Wars such a success and a standout in a sea of comic book events is that it tells a cohesive standalone story with its own fully fleshed out ideas while also creating a robust world that provides ample room for other creators. Those creators have the chance to tell their own stories in spinoff miniseries, but whether they were good or not (and the Secret Wars minis were certainly a mixed bag), the central narrative didn't require readers to pursue a dozen different plot threads in a dozen different books.
Beyond its philosophical musings and character development, Hickman and Ribic give readers dozens of fantastic moments that pop off the page. The deadly war between Marvel universes, the last stand of The Punisher, the reveal of Doom's Thors, the horrors beyond The Shield, the coming of The Cabal, the arrival of our last heroes, the breaking of The Shield, The World Tree-infused Groot, the final all-out war for Battleworld, and Black Panther's restoration of Wakanda. These are moments that pay off years of character development and often undercut what readers expect for the series.
Because in the end, the fate of the universe could only come down to the physical and ideological battle between Reed Richards and Victor Von Doom.
Throughout Hickman's Avengers, we see a Reed Richards keenly aware that everything in existence will eventually die and struggling to maintain his morals while protecting his family from the universe's inevitable end. Reed is desperately trying to hold onto everything out of fear and anger, but loses it all in the final incursion. The rest of the event follows a Doctor Doom who has taken hold of what little was left in existence and refuses to let go due to his trademark overconfidence and his crippling self doubt.
Secret Wars concludes with both men being able to let go of their fears and face themselves with honesty. Only then can Molecule Man relieve Doom of his godhood and give Reed the power to restart the universe. A true universe, not a broken Battleworld as fractured as its maker.
The ending of Secret Wars gave Marvel editorial the chance to embrace a new life and a new direction for their world. While the main Marvel Universe was seemingly restored, who knew what changes and additions had happened in its reformation? And as Reed, Sue, Franklin, Valeria, and The Future Foundation left Earth to create new universes and explore them, unlimited new realities were now possible.
Which is why the post-Secret Wars era of "All New All Different Marvel" feels disappointing. It's a return to status quo that doesn't embrace the opportunity provided by Hickman's event and its inherent affirmation of progress, and instead treats Secret Wars as a blip in the ongoing stories.
At the very end of Secret Wars, the multiverse is restored through truth and mercy. Truth in Doom admitting that Reed would be a greater god than he would be and mercy in how Reed uses that godlike power.
Power is not meant to be used to bring others under your rule, but to give life the chance to flourish free from systems of abuse and hatred. Reed, Molecule Man, Franklin, Sue, and the Future Foundation take godlike power and redistribute it to recreate the multiverse, one cosmos at a time. And in doing so, deny the theories of heat death and Big Rip through a post-Big Crunch re-expansion.
Giving life the chance to flourish once again is an act of mercy. And so is Reed's act of restoring Doom's face. An act of love that gives a man defined by his weaknesses the chance to do something truly good in the world.
Everything Lives. It's the bold declaration that there is still a future for us. A belief that life will go on and that we, in our present, must be better than our past. We cannot rely on the fatalistic belief that everything will die, which may excuse us to wallow in grief and self-pity. If everything lives, this moment is everything.
We're called on to be better. The future awaits us.
Everything lives.
Sources:
https://www.ign.com/articles/2015/05/12/talking-to-the-man-who-destroyed-the-marvel-universe
https://ew.com/article/2015/01/29/jonathan-hickman-secret-wars-its-end-horror-story/
https://www.polygon.com/2020/4/6/21209537/marvel-comics-infinity-gauntlet-black-panther-iron-man-jonathan-hickman-secret-wars-x-men
https://tvtropes.org/pmwiki/pmwiki.php/Quotes/DoctorDoom
https://www.cbr.com/stan-lee-explains-why-doctor-doom-isnt-a-villain/